In the City of Brampton, the Springdale Library and Komagata Maru Park provides the suburban community with a new public library and community park.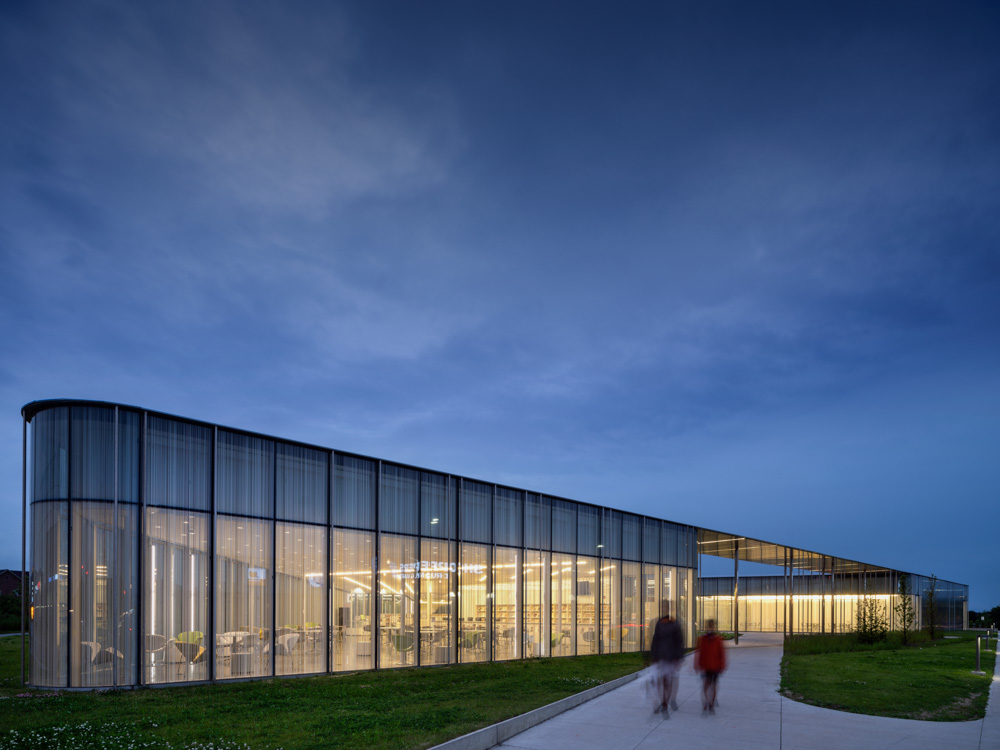 The project site was physically constrained, framed by a commercial plaza to the east, a main road to the south, and a natural ravine to the north and west. The architects positioned the library as close to the street as possible, in order to solidify the building's presence with the street, preserve the site's natural topography and irrigation patterns, and channel interior views towards the ravine. This siting also maximized room in the rear for a neighbourood park, and a parking and drop-off sequence with a canopied entry forecourt. The building is connected a landscape: from the organically shaped perimeter; and the creation of an undulating topography between the fluidly shaped ceiling and mountainous green roof; and the sloping floor slab of the interior and the flat landscape of the park. The park is comprised of a series of terraced contemplative gardens for older users as well as a splashpad and childrens' play area organized around the word "Imagine."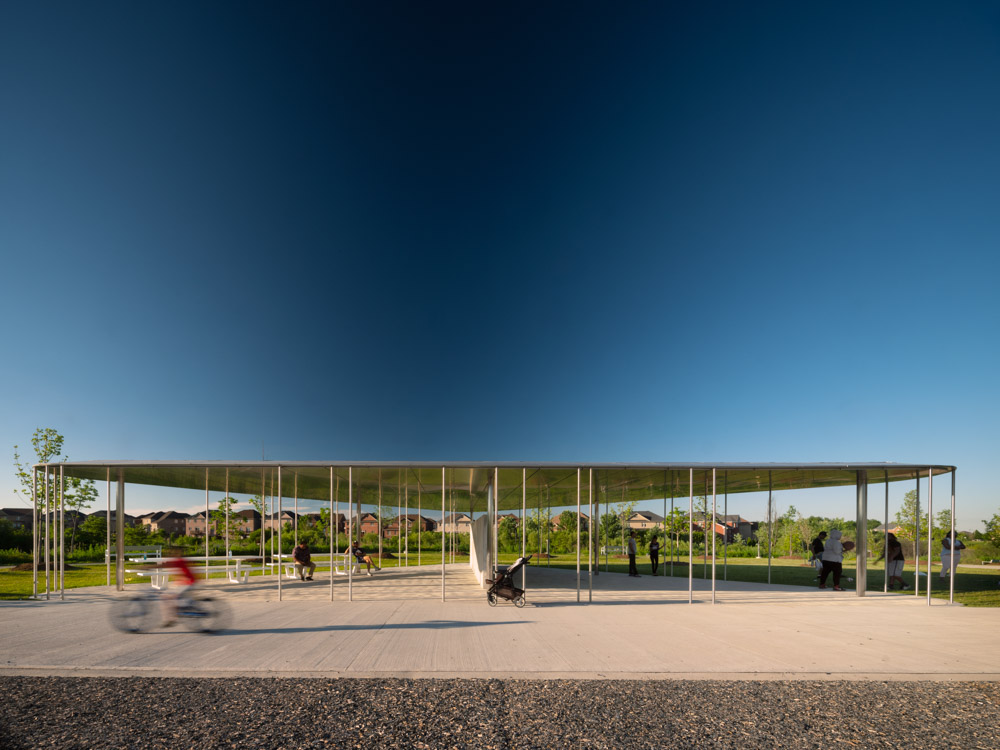 The interior program is comprised of library program space, combined with a community multi-purpose room. Springdale's oculus, fashioned from perforated drywall fixed to off-the-shelf framing components, temper the noise levels and the way that light spreads within the library, to inspire a sense of awe and wonder - and an unusual sense of shelter and togetherness.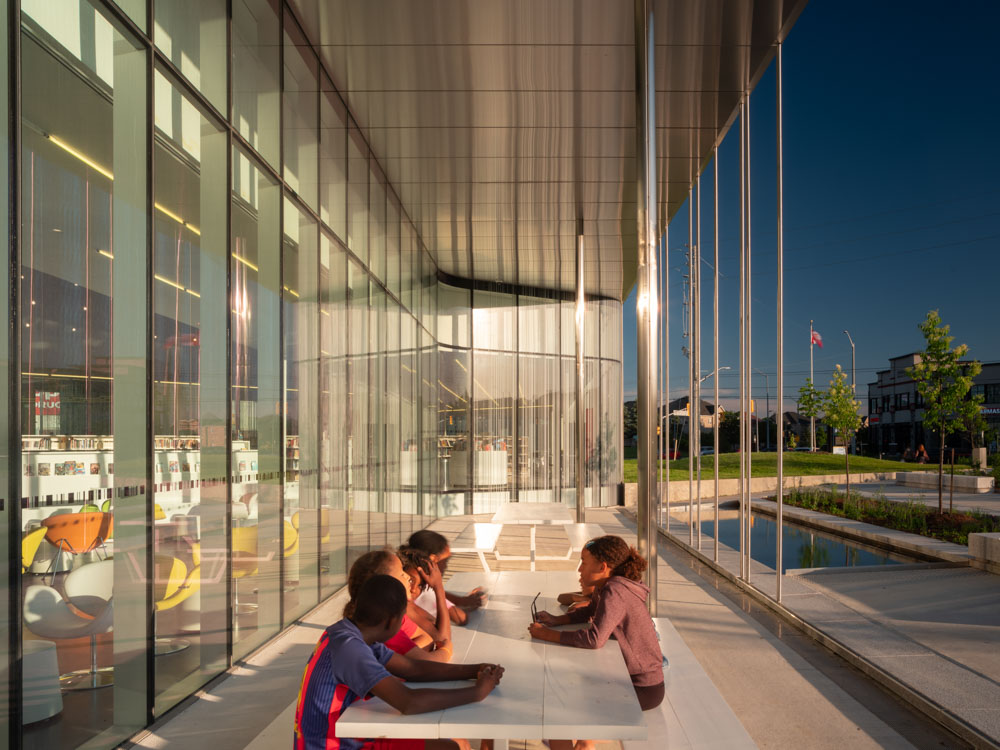 A solar-responsive ceramic frit pattern on the building's windows is striated patterns range from white to dark gray expanding and contracting based on solar orientations, while also visually merging with a series of stainless steel rods that add an additional layer of solar resistance while supporting the glazed units and forming the courtyard enclosures. These elements are conceived as a functional abstraction of two combined metaphors: the turning pages of a library book and the trunks of trees in a forest. Expressing inclusivity, innovation, dedication to learning, collaboration, curiosity, courage and accountability the new building reflects the vision of the institution. The new Springdale branch provides Brampton Library with an emboldened presence and a valuable resource to the Springdale community.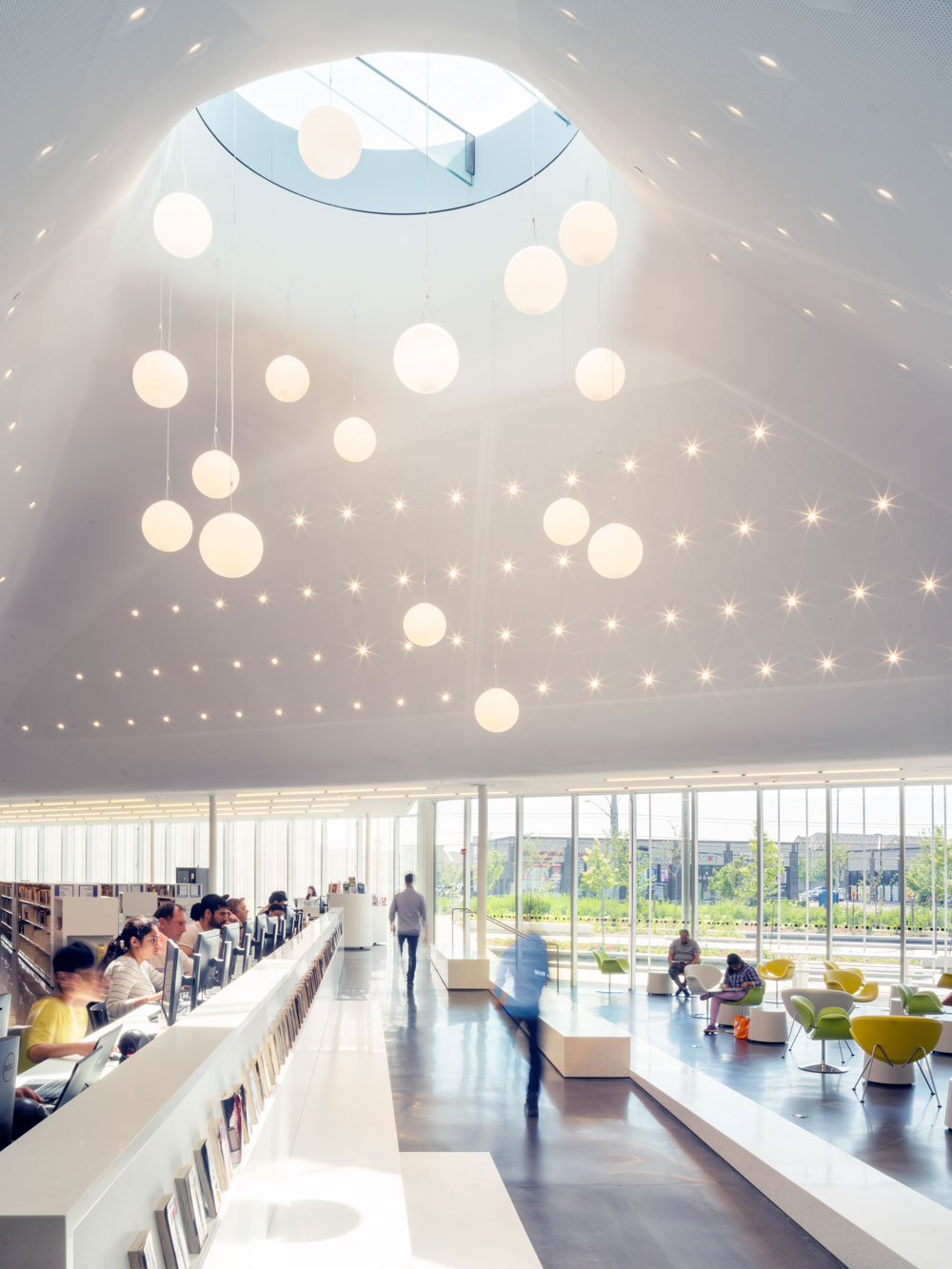 *공원과 함께 조성된 은유와 상상이 담긴 유기적 형태의 도서관, 스프링데일 공공도서관 *
스프링데일 공공도서관과 고마가타 마루 공원은 토론토에서 서쪽으로 45분 정도 떨어진 브램턴에 세워진 새로운 공공도서관과 공원이다.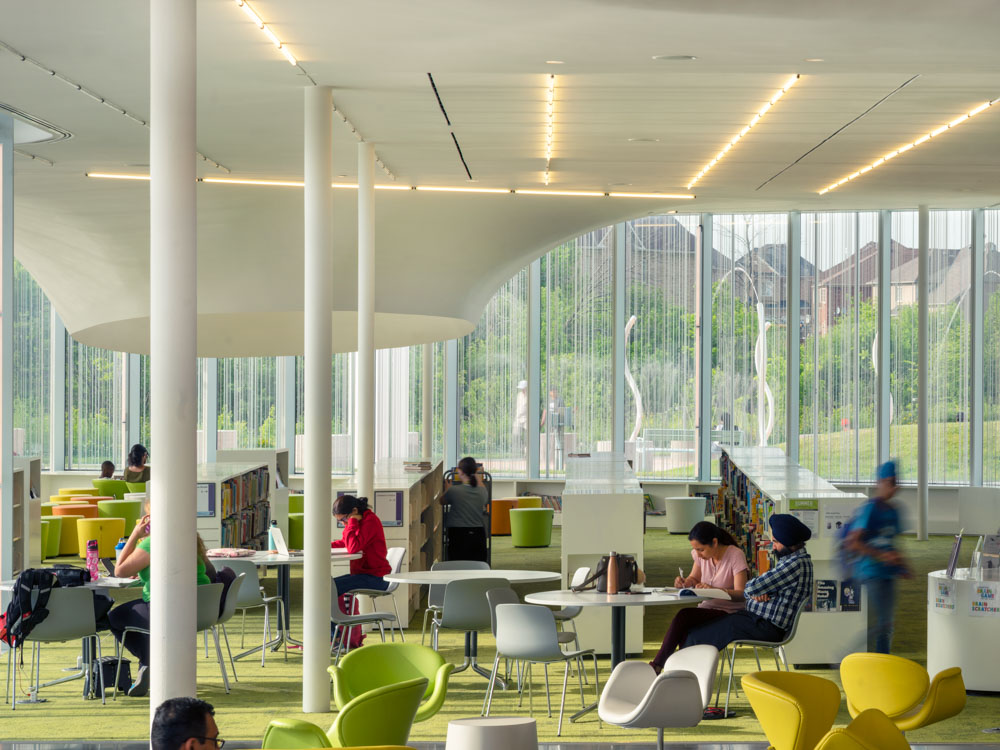 동쪽으로는 상업적 목적의 광장이, 남쪽으로는 간선도로, 북쪽과 서쪽으로는 협곡이 있는 곳이다. 이런 대지에서 건축가는 주변 도로로부터 도서관 건축물의 입지를 공고히 하고, 대지의 자연 지형과 관계를 유지하면서 협곡(자연)쪽을 조망하기 위한 도서관을 구성했다. 도서관은 대지에서도 최대한 주요 도로와 가깝게 배치되어 있으며, 근처 공원을 위한 뒤쪽의 공간과 캐노피가 있는 입구쪽 앞마당을 주차 및 승하차 공간의 시퀀스는 극대화됐다. 이렇게 건축물과 마당을 연결하는 유기적 형태를 가진 도서관은 자연스러운 스프링데일 지역의 풍경 속 일부로 자리잡고 있다. 뿐만 아니라, 지붕 사이에 작은 녹색 동산은 평평한 도서관과 주변의 풍경 속 재미를 더하며, 내부에서도 둥글게 솟아오르는 듯한 천정은 이 도서관만의 몽환적이고 상상력을 불러일으키는 공간을 연출해낸다. 공원은 어르신들을 위한 사색 정원과 어린이 놀이공간이 '상상 속 공간'처럼 조성되어 있다.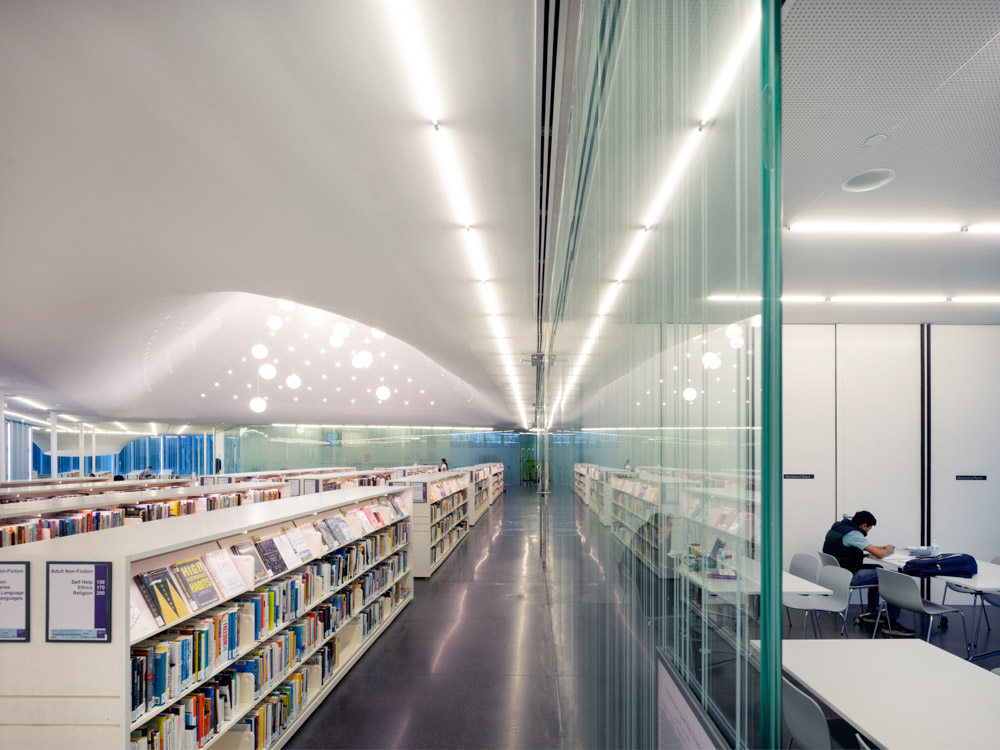 내부 디자인은 도서관 프로그램 공간과 공공 다목적실로 구분되며, 도서관의 각 요소들이 범위 안에서 상세하게 드러내고 있다. 예를 들어, 스프링데일의 오쿨러스는 구멍 뚫린 건식벽에서 기성 프레임 구성 요소에 이르기까지, 도서관 내에서 빛이 퍼지는 소음 수준과 도서관 내에서 빛이 퍼지는 방식을 조절하여 경외감과 경이로움을 불러 일으키고 동네 아지트 같은 공간의 특이한 느낌을 준다.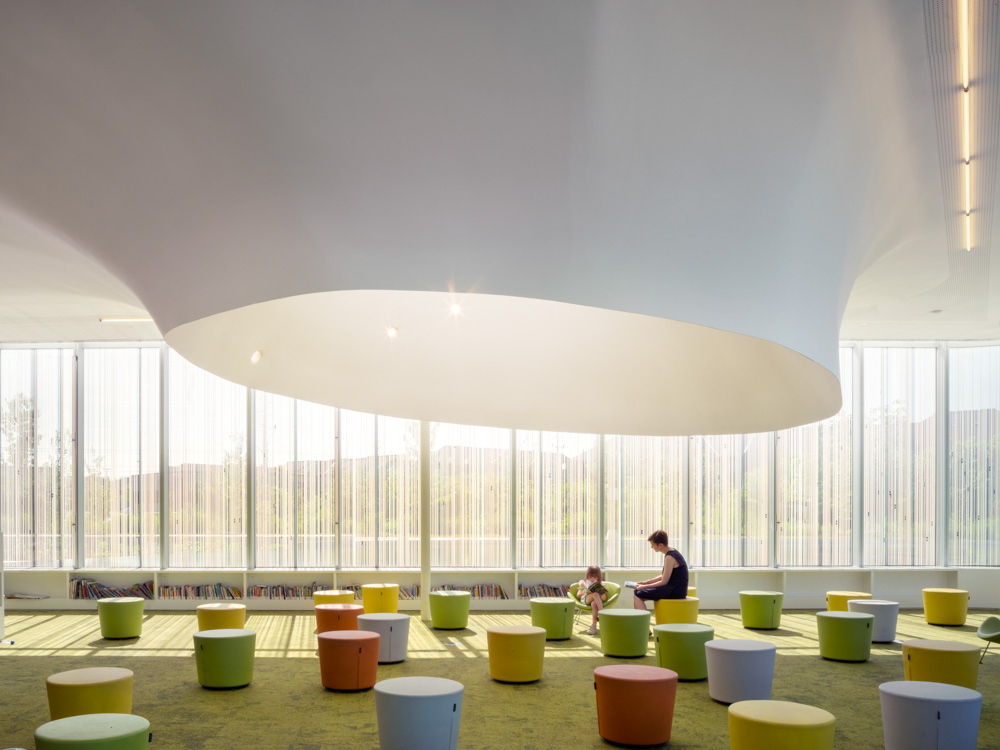 건물의 창문에 설치된 태양열 세라믹 착시 패턴은 줄무늬 모양으로, 흰색에서 짙은 회색까지 태양 방향에 따라 확장되고 축소된다. 또한 유리로 이뤄진 벽면을 지지하는 요소이며 안뜰을 구분 짓거나, 태양열을 가려주는 스테인리스 스틸 막대와 합쳐지면서 건축물 벽면을 아름답게 보이도록 만든다. 이 두 개의 결합된 얇은 기둥들은 도서관 책을 넘길 때 보여지는 페이지들처럼 보이기도 한다. 새 스프링데일 지점은 브램튼 도서관에서 공동체에 더욱 대담해진 존재감과 귀중한 자원을 제공한다.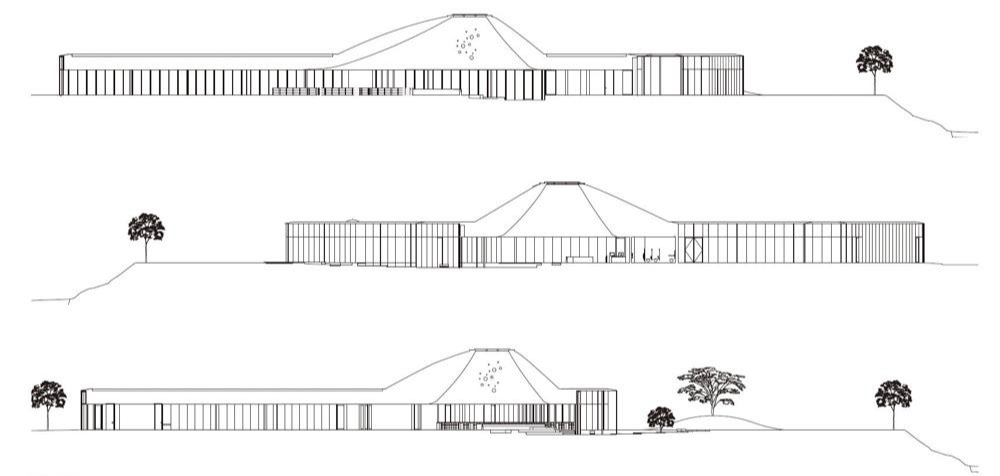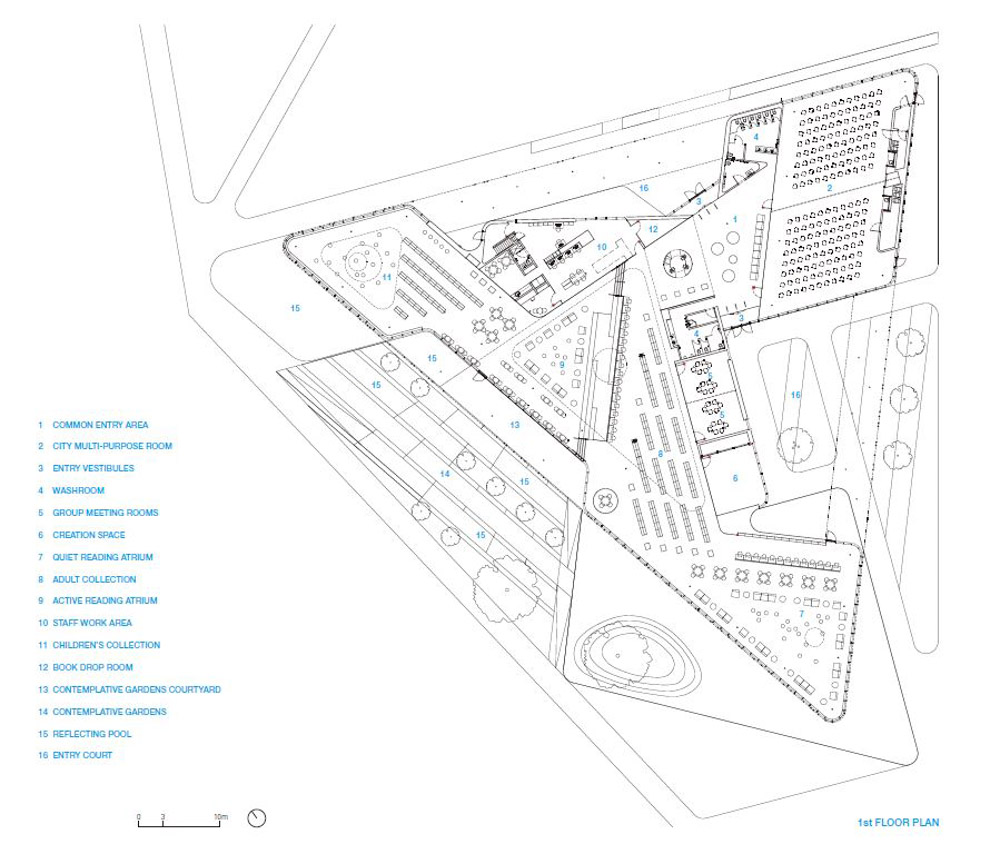 Architects RDH ARCHITECTS INC.
Location Brampton, Ontario, Canada
Gross floor area 2,418m2
Completion 2019
Principal architect Tyler Sharp
Managing principal architect Bob Goyeche
Project manager Sanjoy Pal
Design team Shelley Vanderwal, Carlos Tavares, Juan Caballero, Soo-Jin Rim, Gladys Cheung, Lisa Sato, Simon Routh, Anton Freundorfer Structural engineer WSP Canada, Andrew Dionne
Mechanical engineer Jain Sustainability Consultants, Ezzat Mitri & Mohammed Khan
Electrical engineer Jain Sustainability Consultants, Raed Hindi
LEED consultant Jain Sustainability Consultants, Brad Hollebrandse
Civil engineer Valdor Engineering, David Giugovaz
Landscape architect NAK Design Strategies, Robert Ng
Water features consultant Resicom, Rob Brogee
Specifications DGS Consulting Services, Don Shortreed
Client City of Brampton
Photographer Nic Lehoux


해당 프로젝트는 건축문화 2021년 1월호(Vol. 476)에 게재 되었습니다.

The project was published in the January, 2021 issue of the magazine(Vol. 476).
---
마실와이드 | 등록번호 : 서울, 아03630 | 등록일자 : 2015년 03월 11일 | 마실와이드 | 발행ㆍ편집인 : 김명규 | 청소년보호책임자 : 최지희 | 발행소 : 서울시 마포구 월드컵로8길 45-8 1층 | 발행일자 : 매일