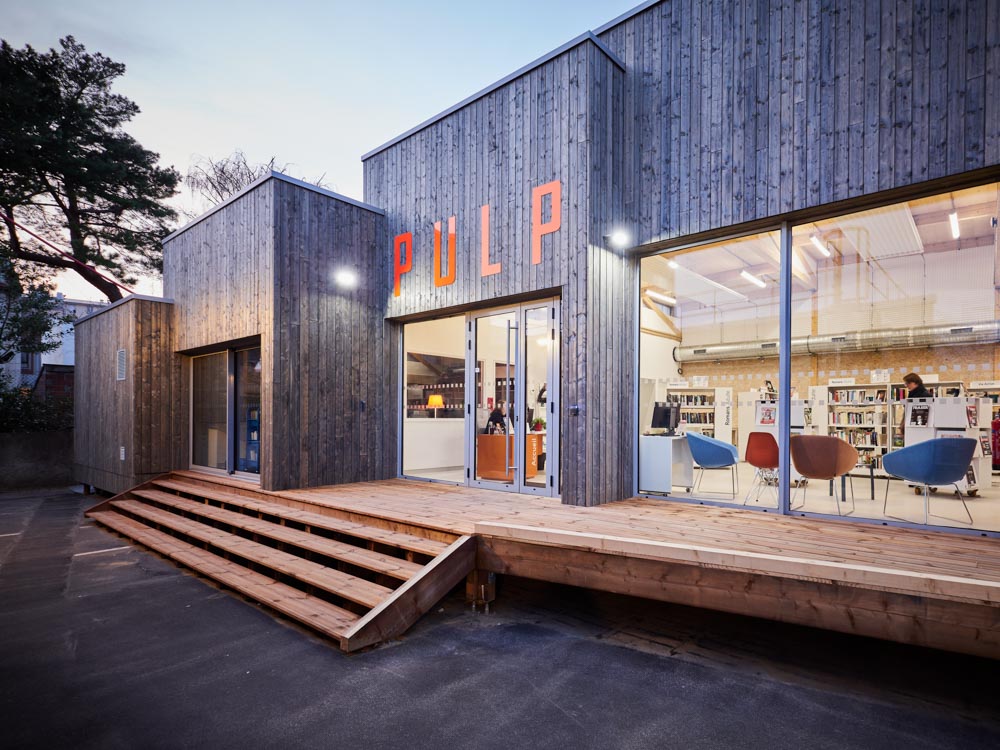 The town hall of Villejuif wants to offer a new cultural center for its citizens by constructing two movable and local libraries who can take place in different city neighborhoods. Each unit, of 230m², aims to be a social condenser using culture and media as interface. They are local services made to promote cultural diversity and generations crossovers.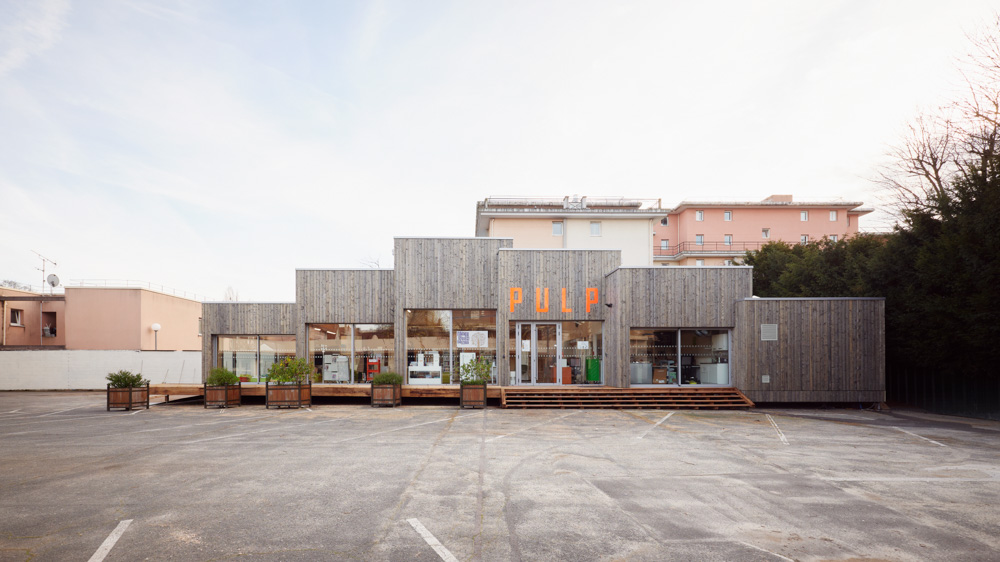 The architect works on an architectural strategy of differences in unity. The aim to conceive a building which can adapt itself to any kind of site or orientation, offering different properties(light, opening, volume) and that can be welcoming even if it is meant to be removed.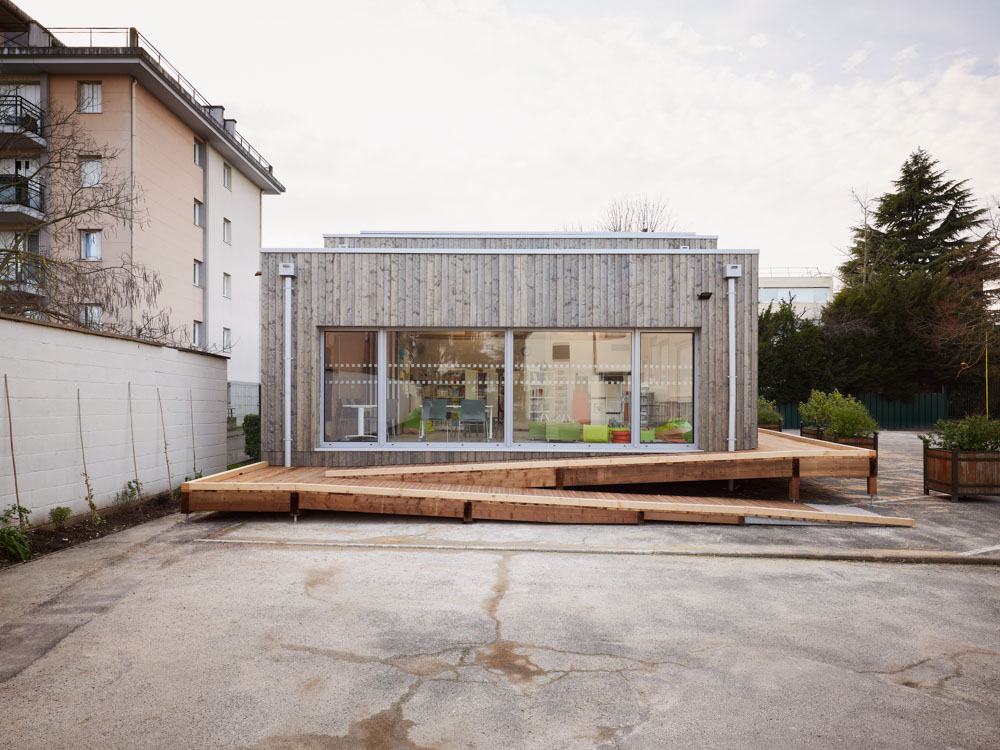 The project is based on a rectangular unit which repeat itself to create a sequence with variation in two axes(plan and section). The "cascade" effect gives to the libraries a multiplicity of readings. Two buildings create a mirror effect: they are the same but different.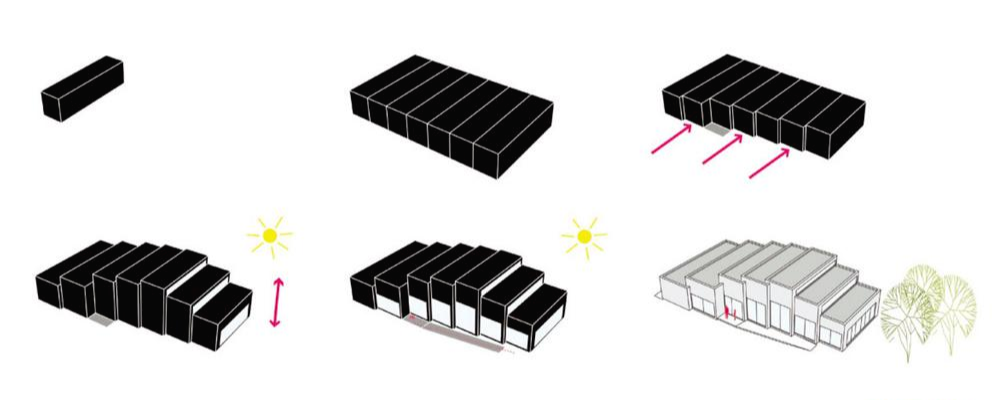 Both buildings share a similar organization. The lower volume is dedicated to the fixed services(storage, toilets and office) and the main volume is free for the library space itself. This main volume can adapt to different activities. A movable partition wall allows to divide the main space into a smaller unit for lectures, video projections, workshop, etc. The movable furniture, which can be stored, allows to free the space for gathering and other events.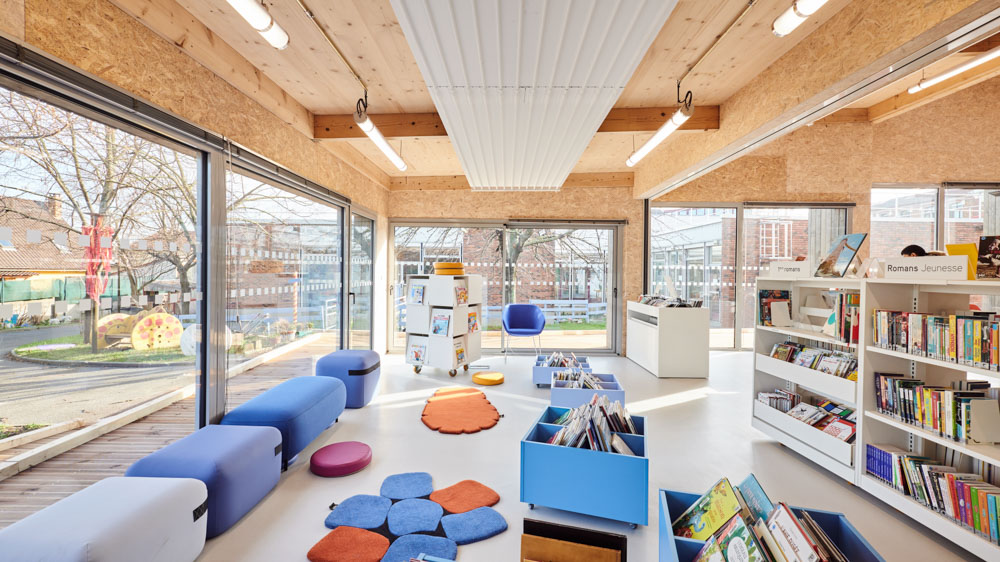 The structure of the whole buildings is made in wood(main structure, walls, slabs, wall finishing). It was built off site and assemble on site within five months included the interior finishing. This choice of structure allowed us to minimize the impact on the site thinking about the removal later on.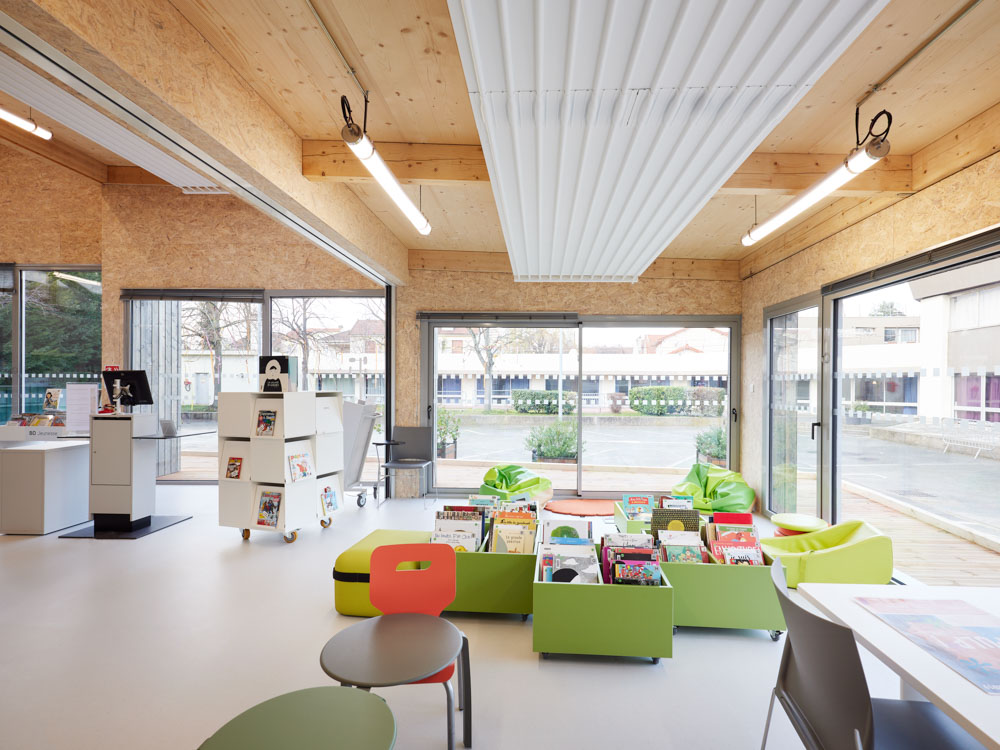 다용도로 사용되는 두 개의 목재 이동식 도서관, 펄프 간이도서관
펄프 간이도서관은 빌레주이프(Villejuif) 시청 주도 하에 다른 도시에서도 설치하여 시민들에게 새로운 문화센터를 제공하고자 만든 두 개의 이동식 지역 도서관이다. 각각 약 230m2 규모이며, 문화와 미디어를 접근 매체로 사용하여 지역에 커뮤니티를 형성할 수 있도록 하는 장소다. 문화적 다양성과 세대를 넘나들며 사용될 수 있는 지역 서비스 공간이자, 이러한 사회적 통합 공간에 차별을 줄 수 있는 이동식 도서관이다.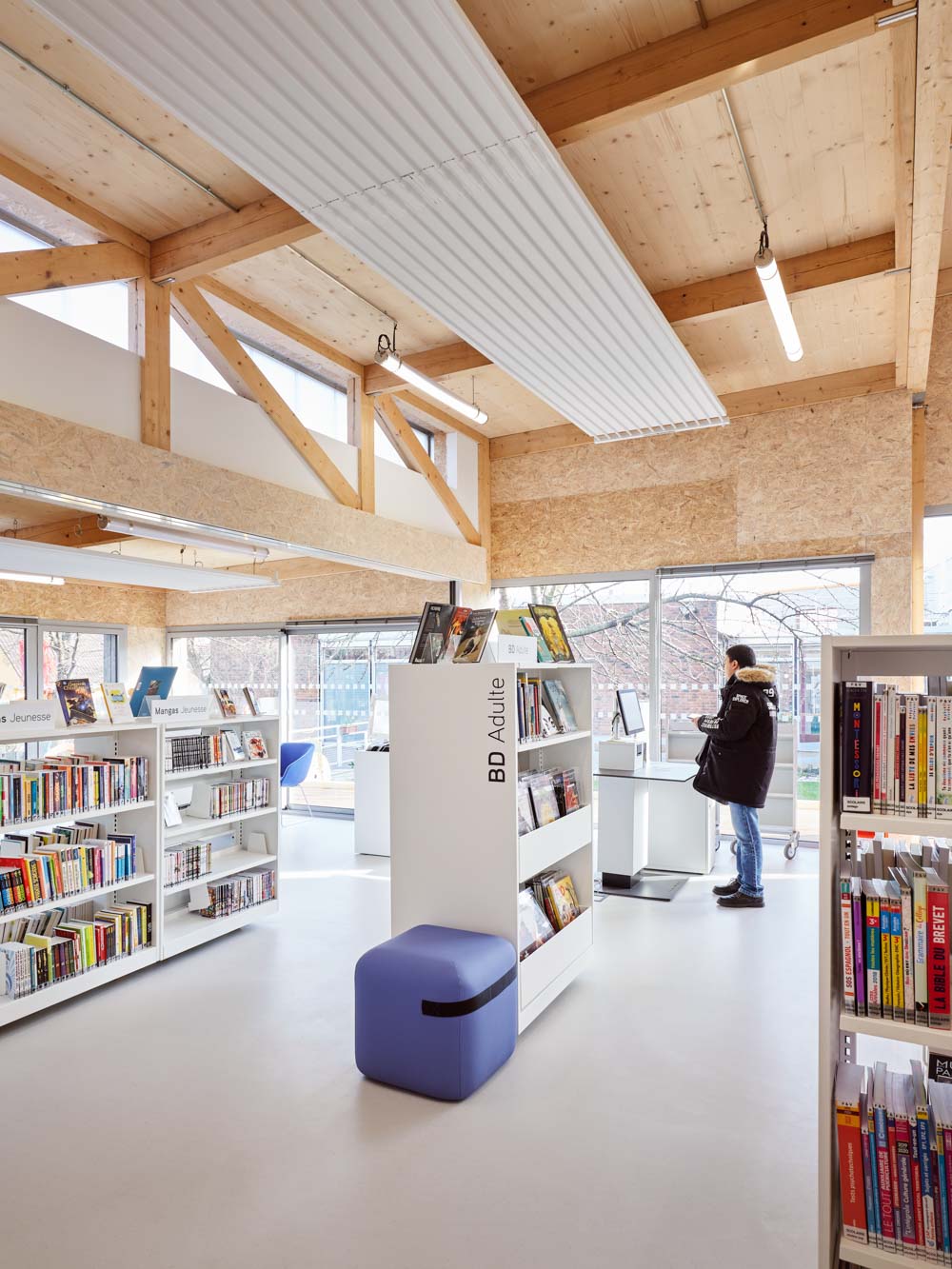 각각의 장소에서 다른 속성(빛, 개방, 부피)을 제공하면서 어떤 대지에서나 건축물 스스로 적응할 수 있는 건물을 구상해냈다. 이렇게 펄프의 두 공간은 두 축(평면과 단면)에서 변형된 시퀀스를 만들기 위해 반복되는 직사각형 단위를 기반으로 한다. 건축물의 오르락 내리락하는 매스는 마치 도서관에 꽂혀 있는 다양한 읽을거리를 표현하는 것처럼 보이기도 한다.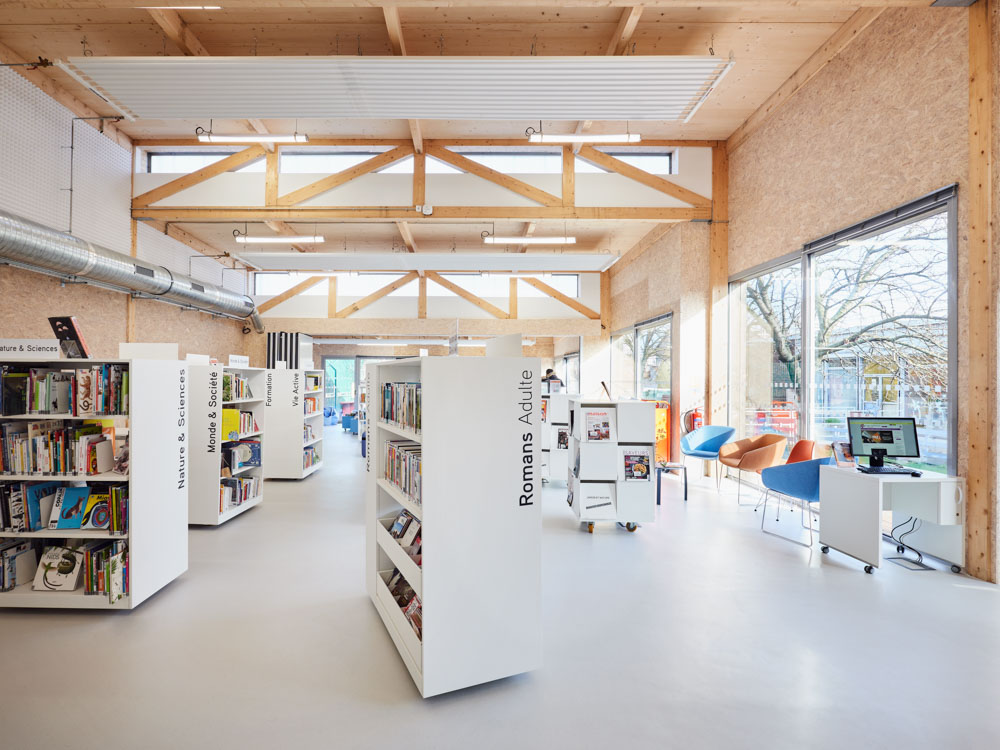 두 건물 모두 비슷한 구조를 가지는데, 낮은 공간은 기본적인 서비스 공간(보관소, 화장실, 사무실) 전용이며, 메인 공간은 도서관으로 이용된다. 이곳은 시민들 누구에게나 열려있는 무료 공간이다. 또한, 메인 공간에서는 다양한 활동이 열릴 수도 있다. 이동식 칸막이 벽은 강의, 비디오 프로젝션, 워크숍 등을 위한 더 작은 단위로 공간을 나눌 수 있도록 만들며, 이동식 가구는 모임, 기타 행사를 위해 별도의 보관이 가능하여 추가 공간을 확보할 수 있도록 만든다.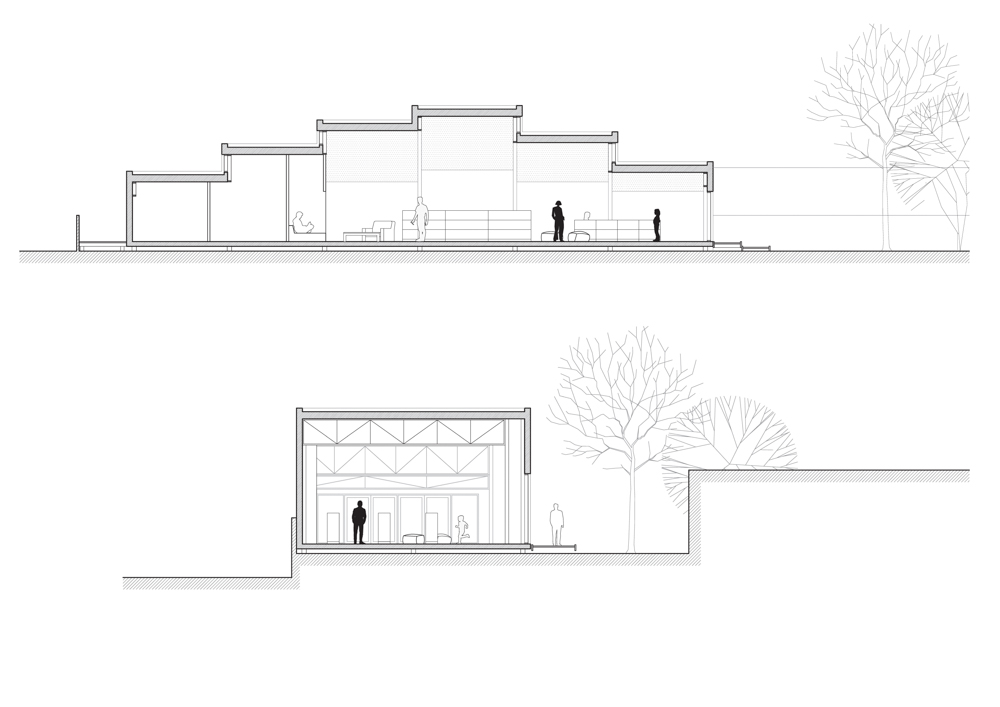 전체적인 건물의 구조인 주요 구조물, 벽면, 바닥은 모두 목재로 지어졌는데, 이 자재들은 이미 만들어진 자재로 현장에서 5개월만에 조립된 것이다. 이러한 간편한 해체와 조립을 위한 구조는 추후 건축물의 철거 과정을 효과적으로 단축시킬 수 있으며, 현장에서 발생하는 안좋은 영향 또한 최소화 할 수 있도록 만든다.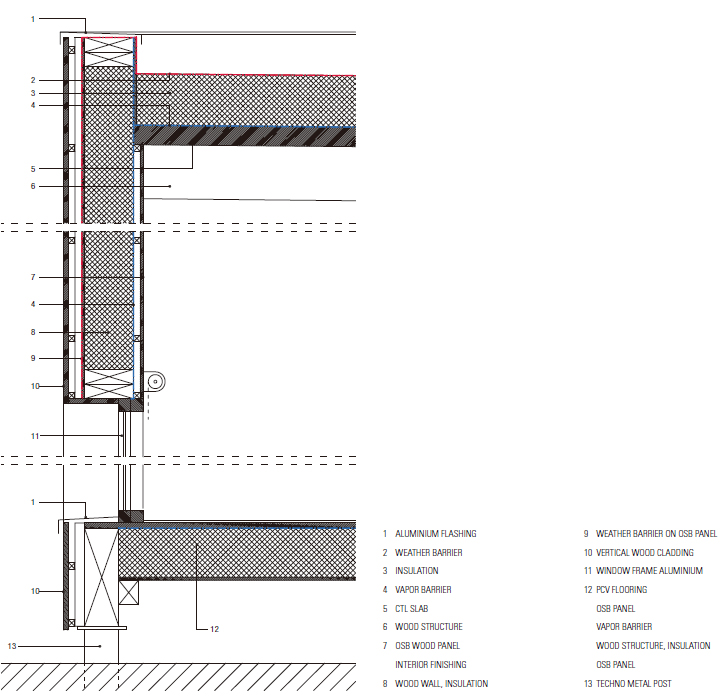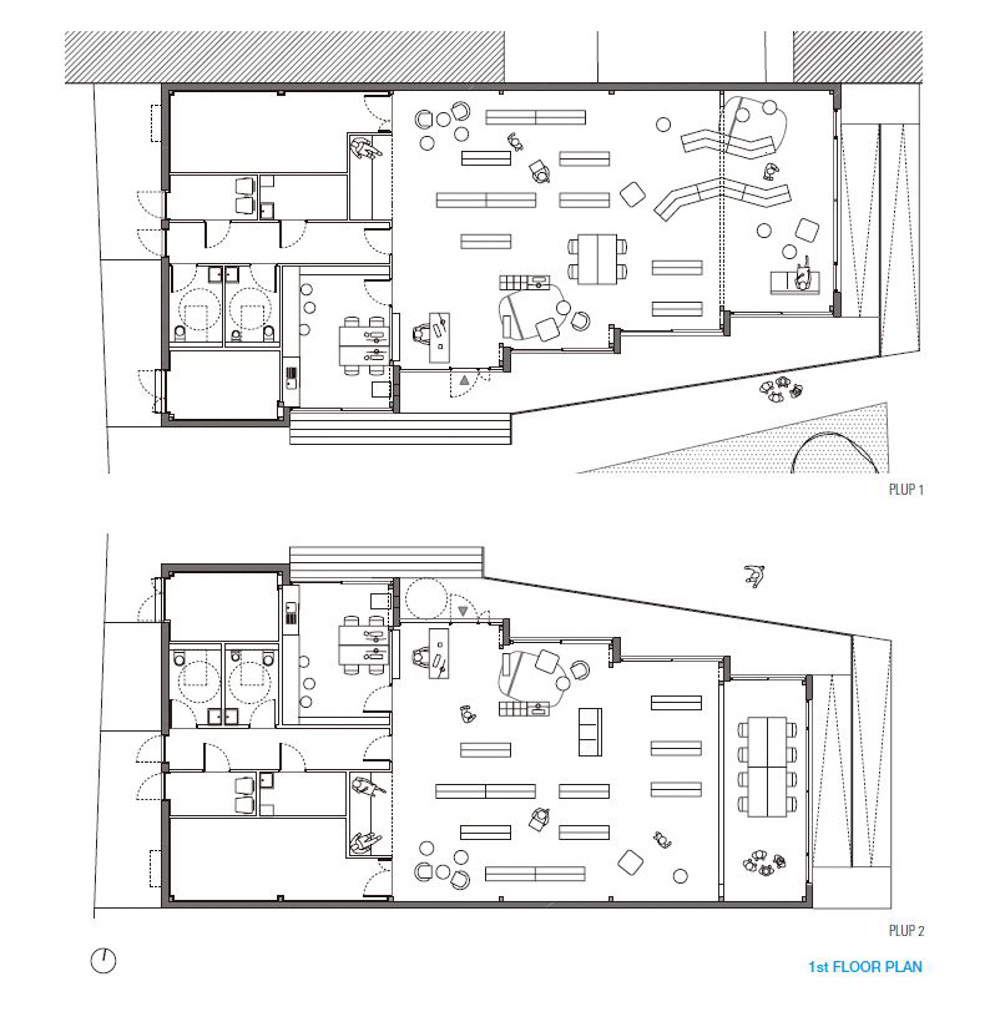 Architects OVERCODE ARCHITECTURE URBANISME
Location Villejuif, France
Program Library
Building area (Pulp 1) 230m2 / (Pulp 2) 230m2
Gross floor area (Pulp1) 230m2 / (Pulp 2) 230m2
Building scope B1, 6F
Design period 2019. 1 - 2019. 4
Construction period 2019. 8 - 2019. 12
Project architect Claire Garcia Barriet, Alejandro Garcia Marta
Design team Claire Garcia Barriet, Alejandro Garcia Marta
Engineer team I+A laboratoire des structures, WOR, MOTEEC, ACOUSTIBEL
Construction CENOMANE
Client Villejuif townhall
Photographer David Foessel
해당 프로젝트는 건축문화 2021년 1월호(Vol. 476)에 게재 되었습니다.
The project was published in the January, 2021 issue of the magazine(Vol. 476).
---
마실와이드 | 등록번호 : 서울, 아03630 | 등록일자 : 2015년 03월 11일 | 마실와이드 | 발행ㆍ편집인 : 김명규 | 청소년보호책임자 : 최지희 | 발행소 : 서울시 마포구 월드컵로8길 45-8 1층 | 발행일자 : 매일