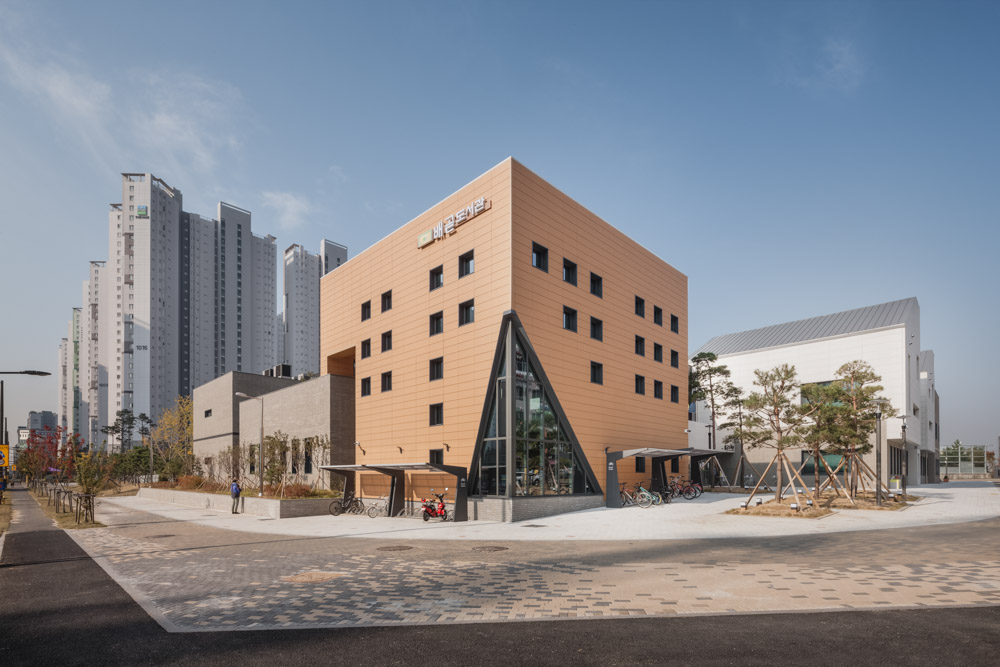 The most important issue that was faced when designing Baegot library was the land being large compared to the scale of its. Architecture is not free from the floor area ratio. Individual floor area ratio are fiercely taking place throughout the newly formed Baegot new city as well. In that event, what kind of appearance should a library being built in this land have? Would it be right to design a library with a stylish form, a fun and dynamic interior space and a wide yard for citizens to share in front of the library, just like the appearance of a library that immediately came to mind, as if it were being designed in Seoul or other cities in the metropolitan area? The design started with asking such questions to ourselves.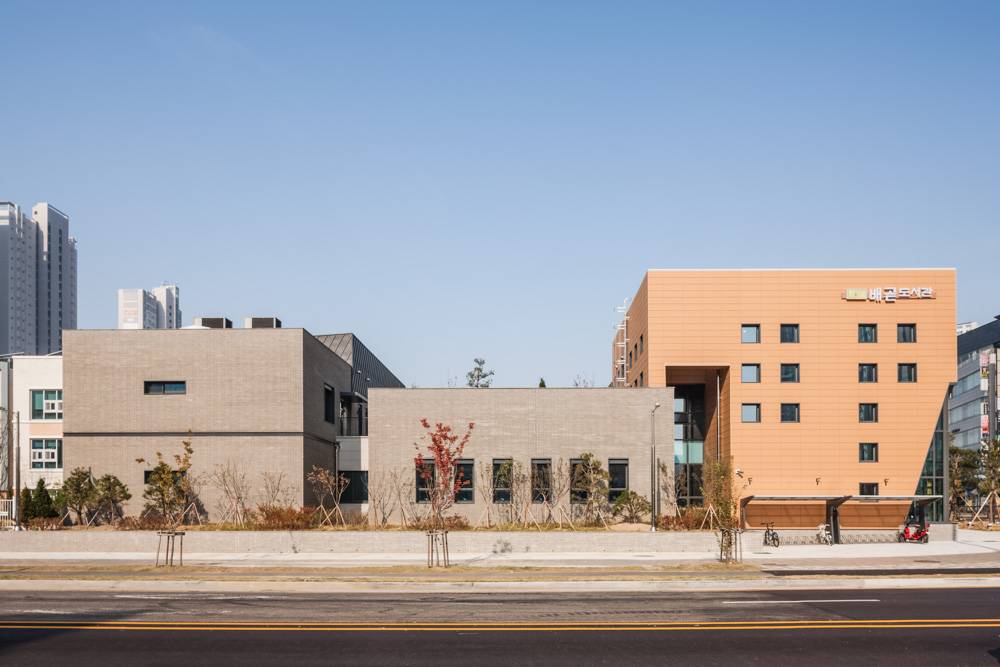 First, we proposed a courtyard library that utilized the entire site. The courtyard not only connects every program in the library but can also become a community's central space where numerous visual encounters can take place. We hoped that the people who hastily moved with purposeful circulations when they went to libraries would move slowly at the Baegot Library. The courtyard was expected to induce such a movement. The Library has an entirely different appearance depending on where it is seen from. It feels as if multiple buildings have gathered and formed a library. The group of masses that seems to be a collection of several buildings becomes one with the book platform and the courtyard. Each program was separated and arranged by personality, and the convenience of users was maximized by arranging one program on one floor.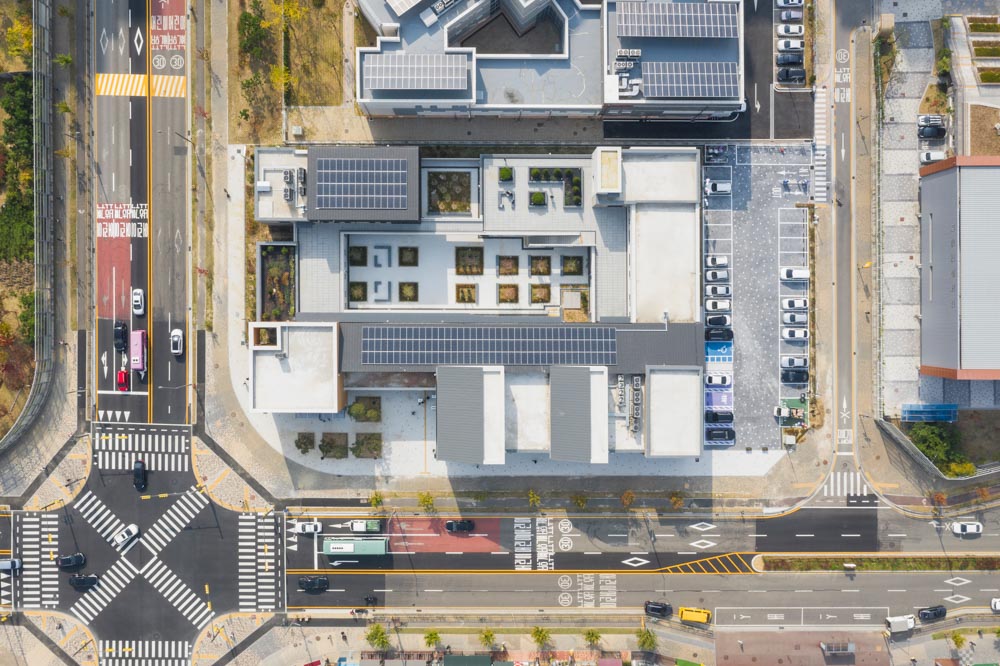 The book platform is the main space of the library that connects the reading room area and the cultural education area and is the main communication space within the library where the resting lounge that connects to the exterior space and the exhibition area, as well as the browsing world, reading stairs, etc. are connected.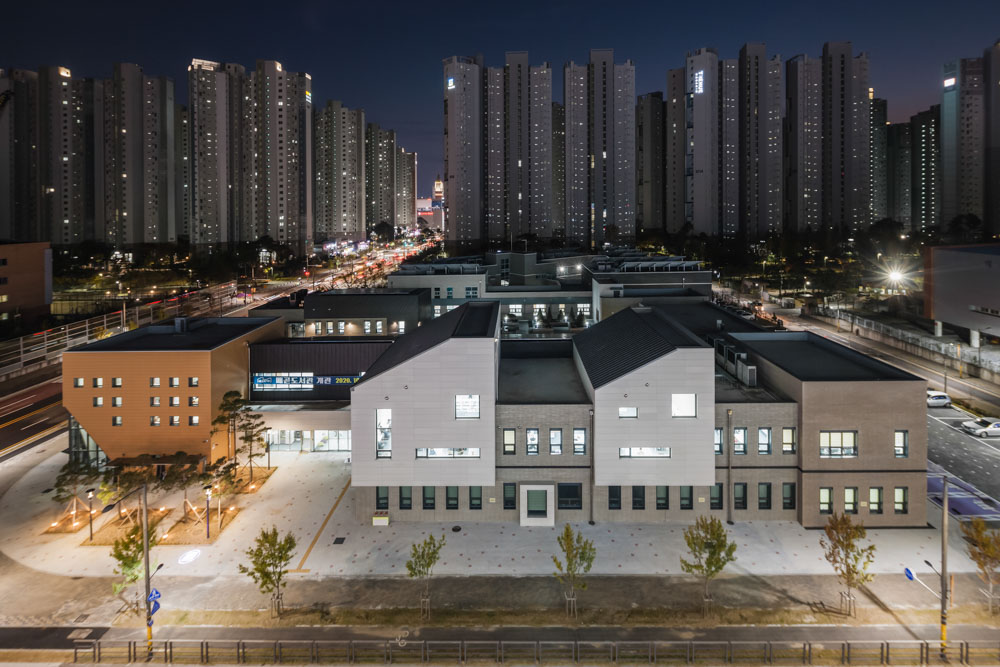 As a library that can respond to changes in programs and increase in required spaces, and as partial extension is possible using the piloti space.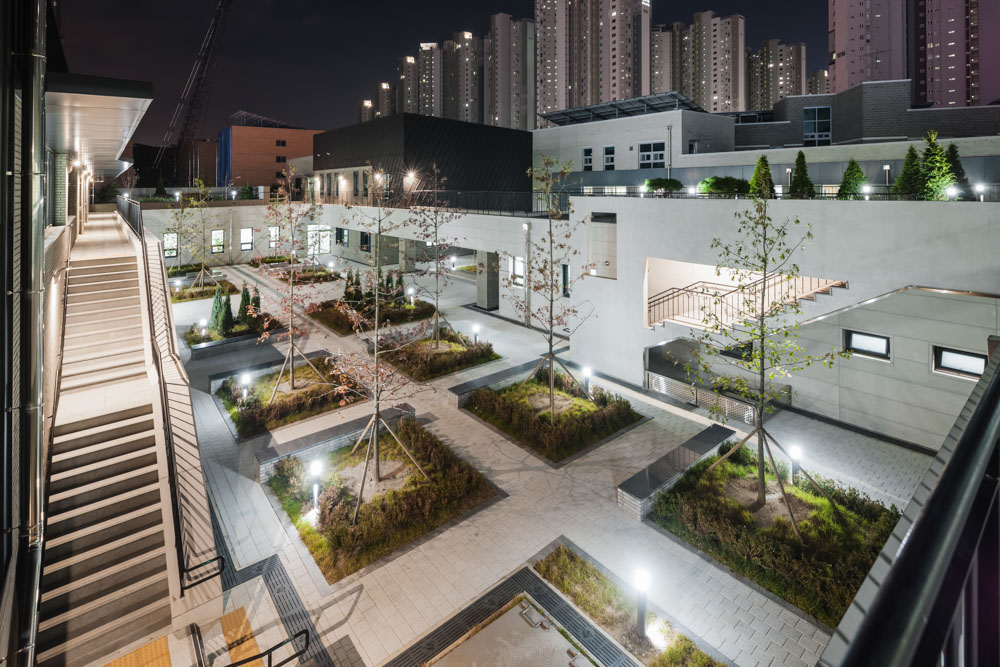 일상에 문화를 더하는 중정형 도서관, 배곧도서관
배곧도서관의 설계할 때 가장 큰 이슈는 도서관의 규모에 비해서 꽤 큰 편인 땅이었다. '어떤 형식의 건축이어야 할까'가 가장 큰 고민이었다. 건축은 용적률에서 자유롭지 못한 경우가 대부분이다. 심지어 새로 만들어지는 배곧 신도시에서도 도시 전체에서 용적률이 치열하게 일어나고 있다. 그렇다면 이 땅에 들어서는 도서관은 어떤 모습이어야 할 것인가? 가장 먼저 떠올랐던 도서관의 모습인 서울이나 수도권 다른 도시에 설계하듯이 멋있는 형태와 재밌고 역동적인 내부 공간, 그리고 도서관 앞에 시민이 공유할 넓은 마당을 가진 도서관을 설계하는 것이 맞는 것일까? 그런 질문을 스스로 던지면서 설계를 시작하게 됐다.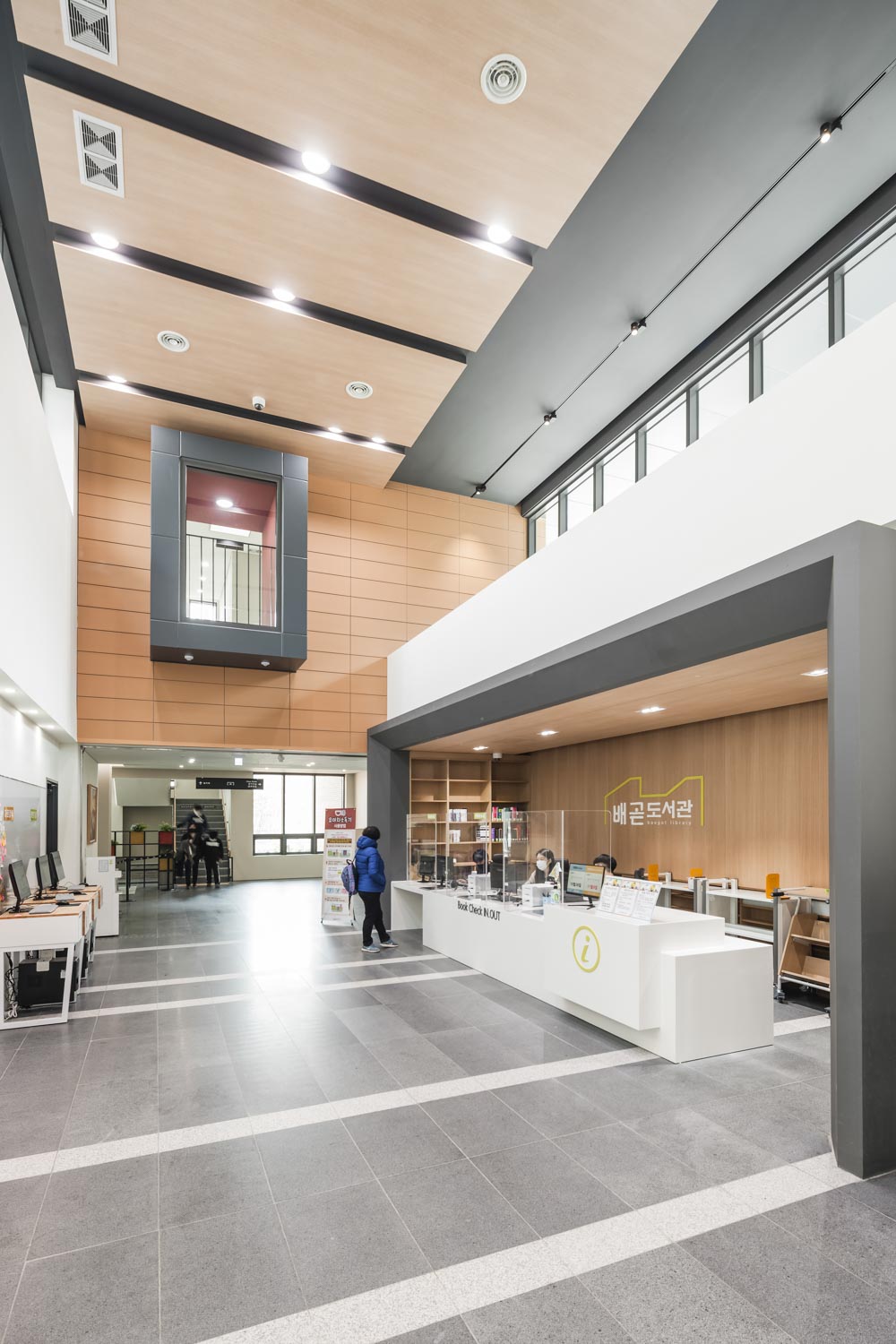 먼저, 부지 전체를 활용한 중정형 도서관을 제안했다. 중정은 도서관 모든 프로그램을 연결할 뿐만 아니라 수많은 시각적 조우가 일어날 수 있는 커뮤니티의 중심공간이다. 도서관에 오면 목적 동선을 가지고 바쁘게 움직이던 사람들이 배곧도서관에서는 천천히 움직이길 바랐다. 중정이 그런 움직임을 유도할 수 있을 거라 기대했다.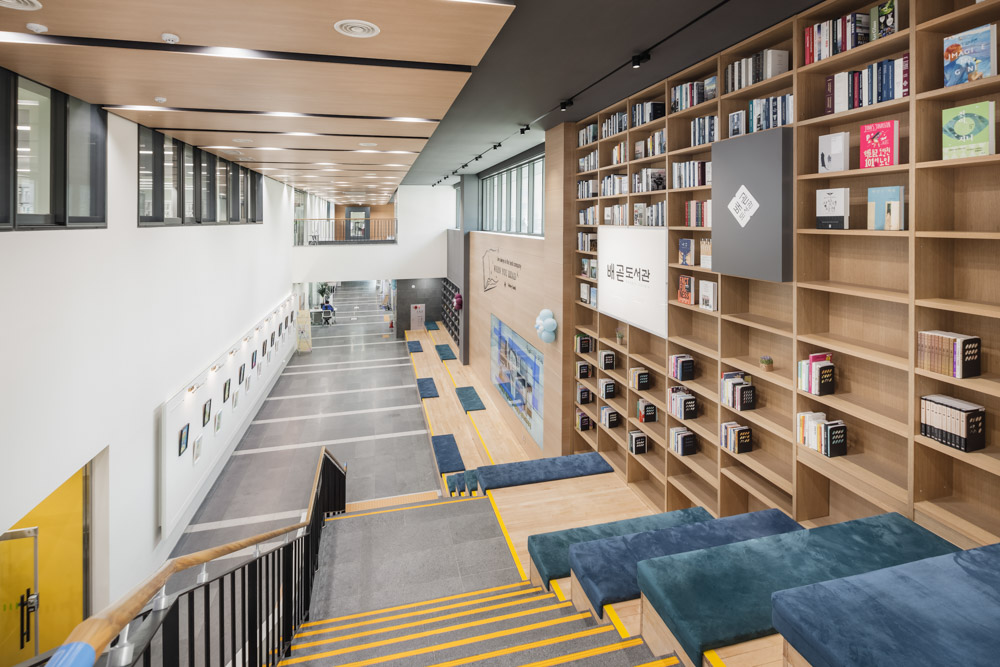 배곧도서관은 도서관을 바라보는 위치에 따라 완전히 다른 모습을 가지고 있다. 마치 여러 개의 건물이 모여 하나의 도서관을 만든 느낌이다. 이렇게 여러 개의 건물이 모여 있는 듯한 매스 조합은 북 플랫폼과 중정으로 하나가 된다. 각각의 프로그램을 성격별로 분리하여 배치하고 하나의 프로그램은 하나의 층에 배치하여 이용자의 편의를 극대화했다.
북 플랫폼은 열람실 영역과 문화교육 영역을 연결하는 도서관의 메인 공간으로서 외부 공간과 연계된 라운지와 전시영역, 브라우징 세상, 책 읽는 계단 등이 연결된 도서관 내부 주요 소통공간이다.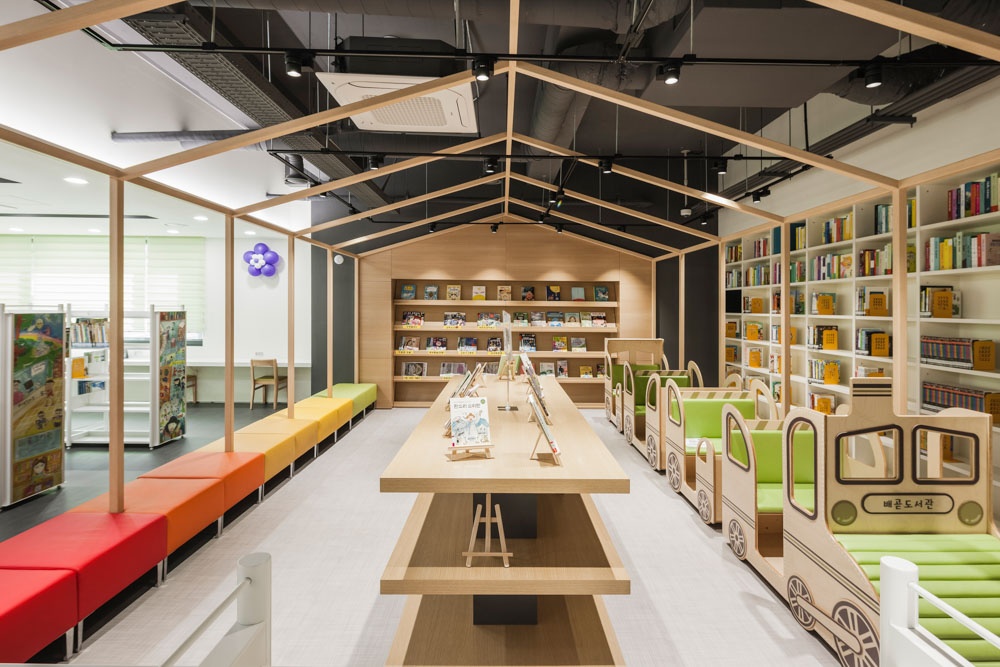 또한, 프로그램의 변화와 소요공간의 증대에 대응할 수 있으며, 필로티 공간을 활용하여 부분적 증축이 가능하기도 하다.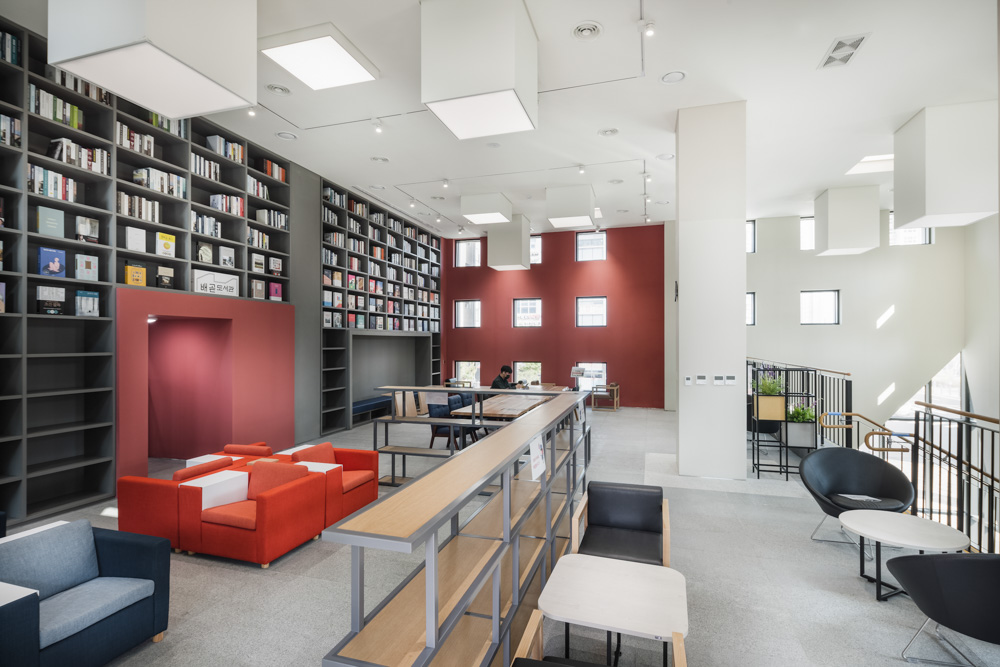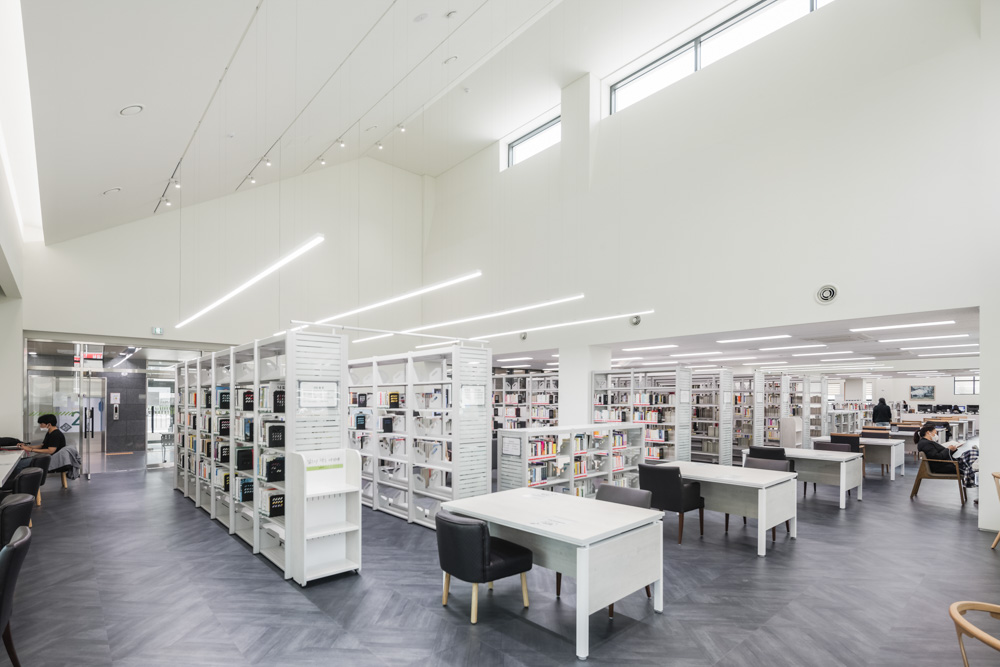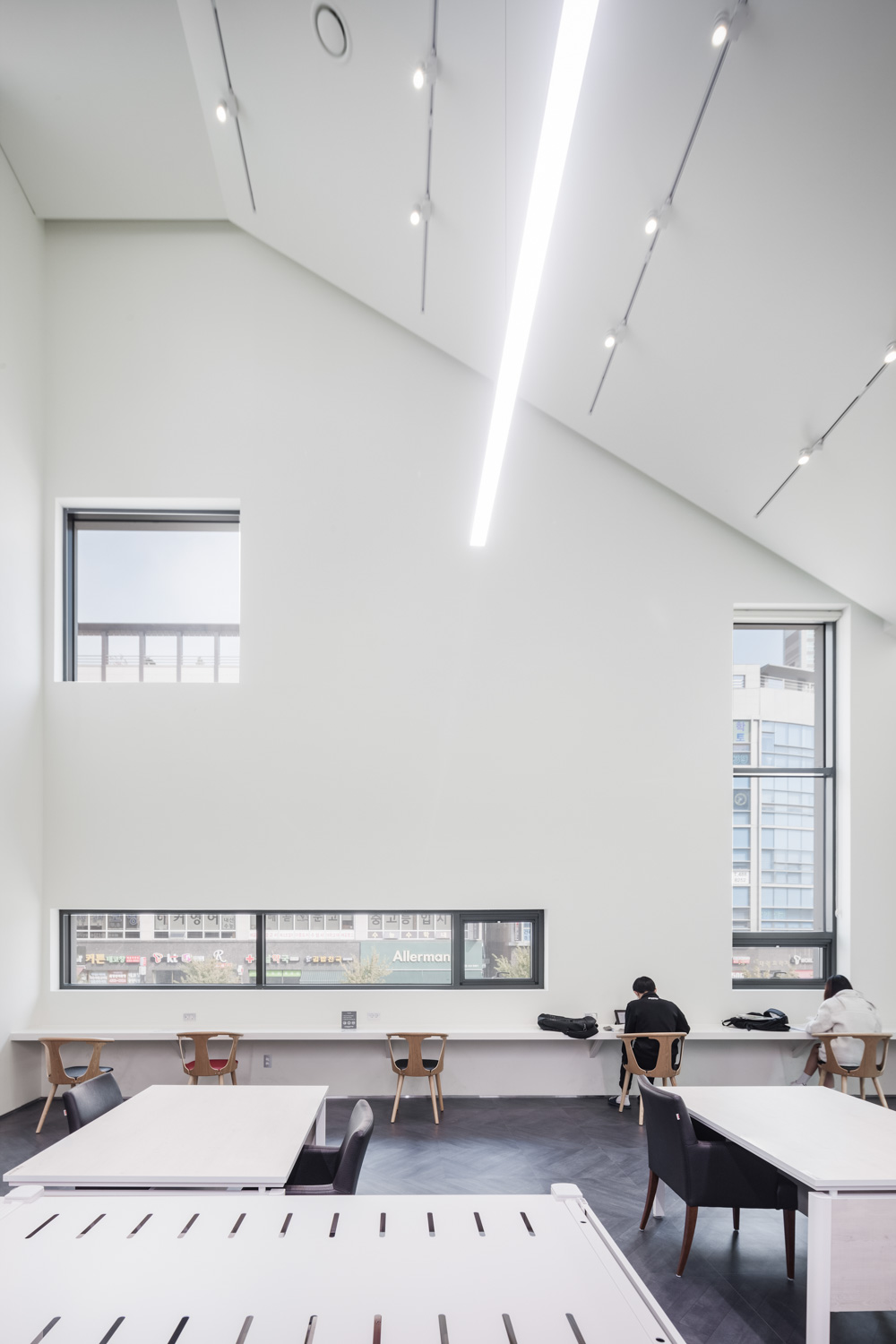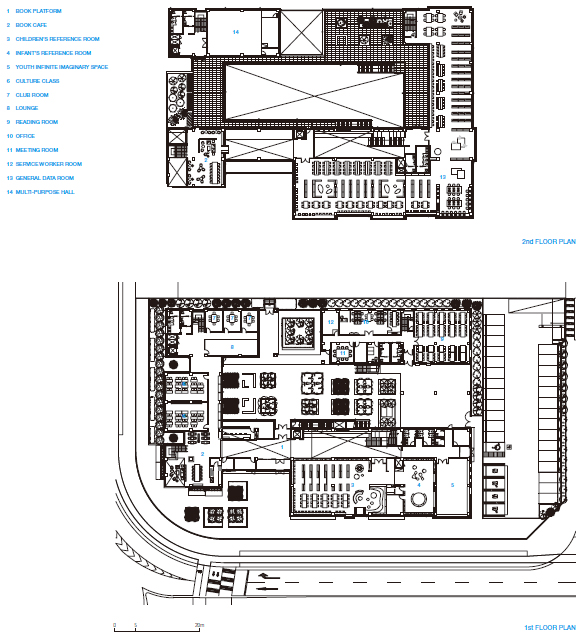 Architects SPACEDEN ARCHITECTS
Location Baegot 4-ro, Siheung-si, Gyeonggi-do, Republic of Korea
Site area 5,579.4m2
Building area 2,469.70m2
Gross floor area 3,896.13m2
Building scope B1, 2F
Building to land ratio 44.26%
Floor area ratio 62.69%
Design period 2018. 1 - 8
Construction period 2019. 4 - 2020. 8
Completion 2020. 8
Principal architect Hongkeun Park
Project architect Hongkeun Park
Design team Jongmyung Park, Seongyup Lee, Eunhong Kim
Interior design mos international
Structural engineer THEVOO Engineering
Mechanical engineer HITEC Engineering
Electrical engineer HITEC EPC
Construction Sin-Samho
Client Siheung-si
Photographer Woochul Jung


해당 프로젝트는 건축문화 2021년 1월호(Vol. 476)에 게재 되었습니다.

The project was published in the January, 2021 issue of the magazine(Vol. 476).
---
마실와이드 | 등록번호 : 서울, 아03630 | 등록일자 : 2015년 03월 11일 | 마실와이드 | 발행ㆍ편집인 : 김명규 | 청소년보호책임자 : 최지희 | 발행소 : 서울시 마포구 월드컵로8길 45-8 1층 | 발행일자 : 매일