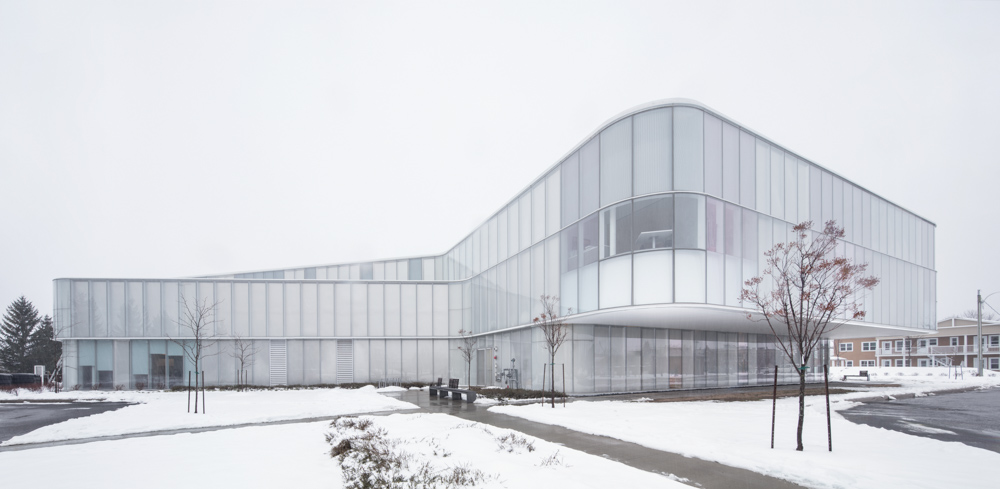 The Drummondville Public Library transposes the historical, cultural and poetic essence of the region into a studied urban and architectural composition, which became a new dynamic civic space in the heart of the city center.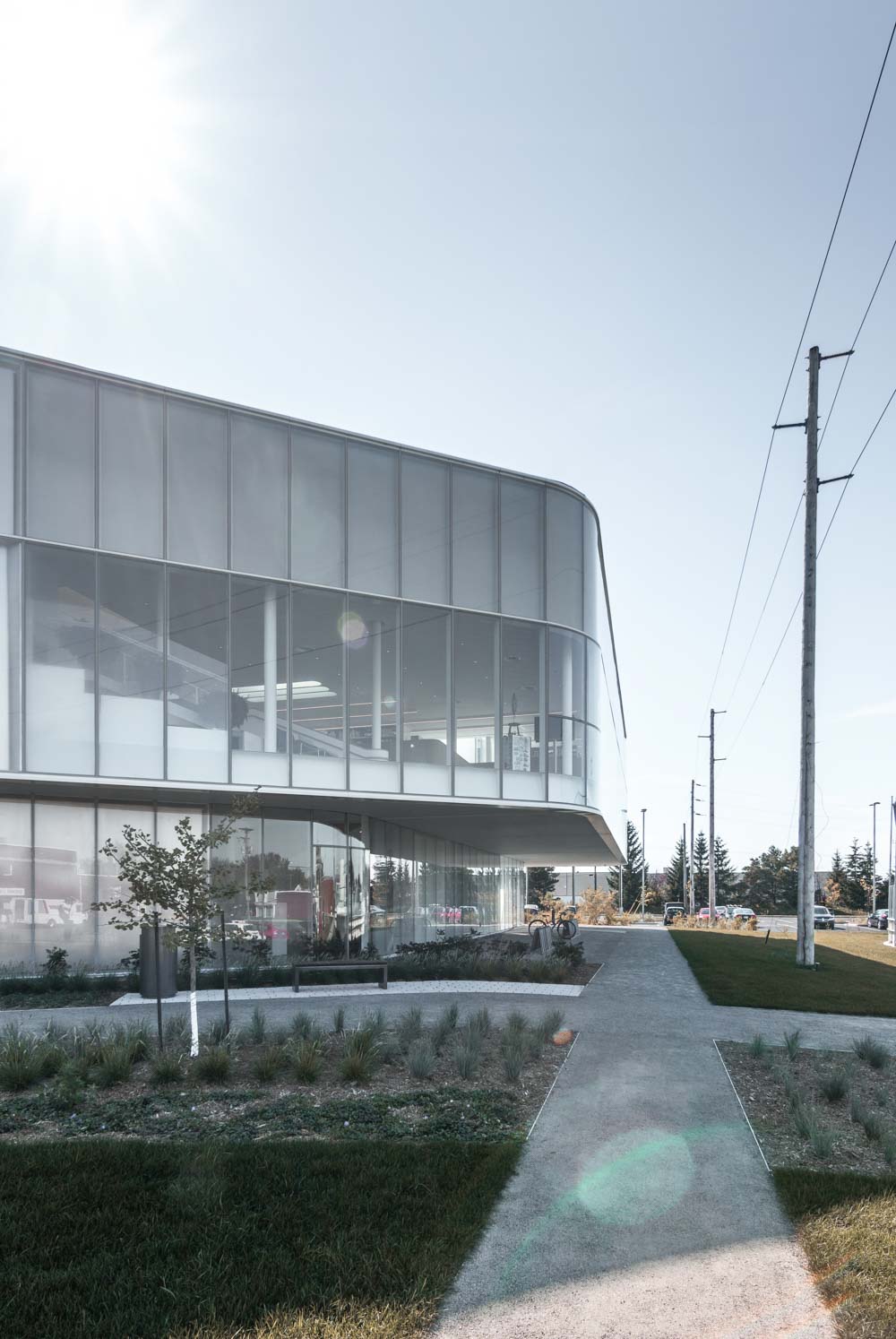 Historically, the city developed its industrial economy through a series of hydroelectric dams on the St-François River. In a vast double height space in the building's heart, a sculptural turbine-staircase, composed of two off-centered helical stairs, opens multiple viewpoints on to the library while the large intermediate landing offers the occasion for a pause or change of direction, reinforcing the idea of free circulation.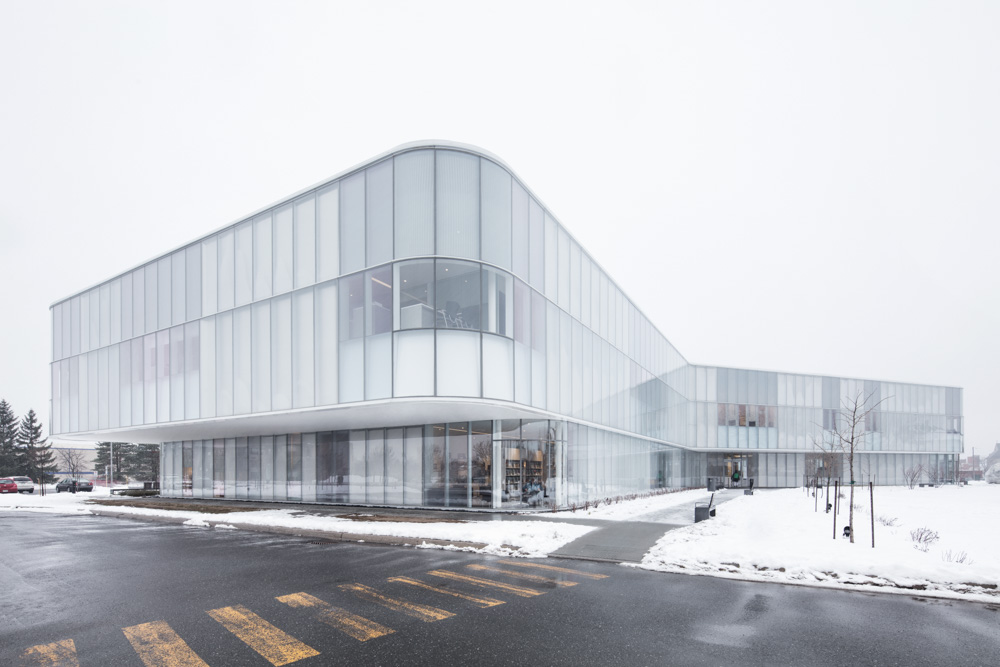 Hockey is at the core of Drummondville's identity; the region welcomes the highest number of public ice rinks per capita in the province. It only seemed natural for the architects to include the future neighbouring rink as an active element in the project, both visually and physically. In response, the bleachers were located inside to create a space for families, and to bridge the adolescent, youth and adult sections, while offering a prime view on the rink. The library and rink are also connected through a shared energy program, which is part of a global sustainable strategy where heat generated by the rink's cooling system contributes to heating the library during winter months.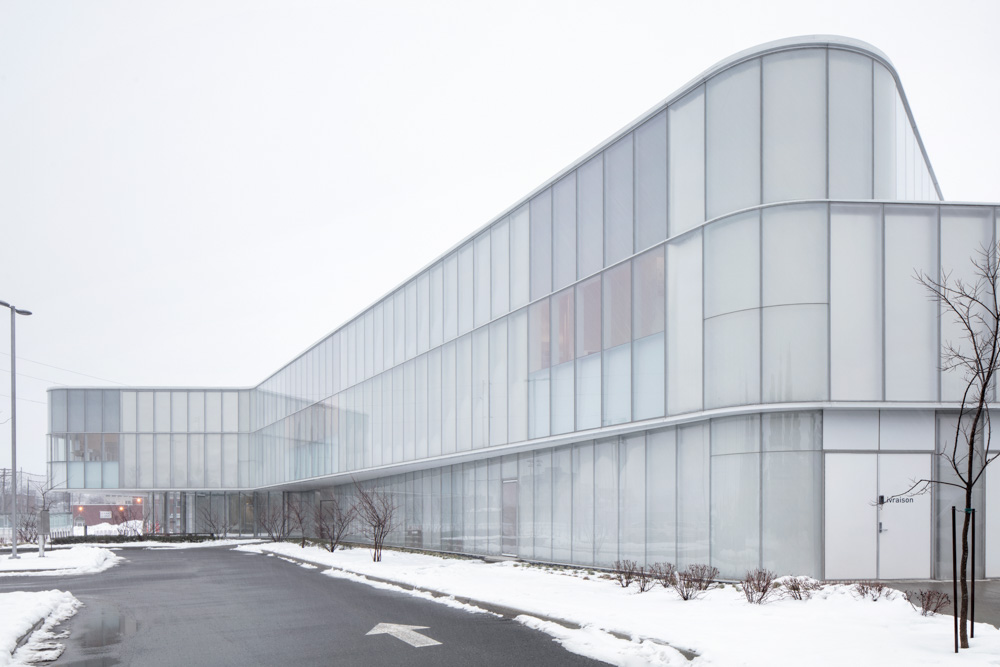 The library is also home to a public multipurpose room where shows and lectures are presented independently. The innovative combination of interior and exterior civic infrastructures allows the area to become not only a lively gathering place where culture and sports meet and compliment each other, but also a successful innovative model for the sustainable development of our cities.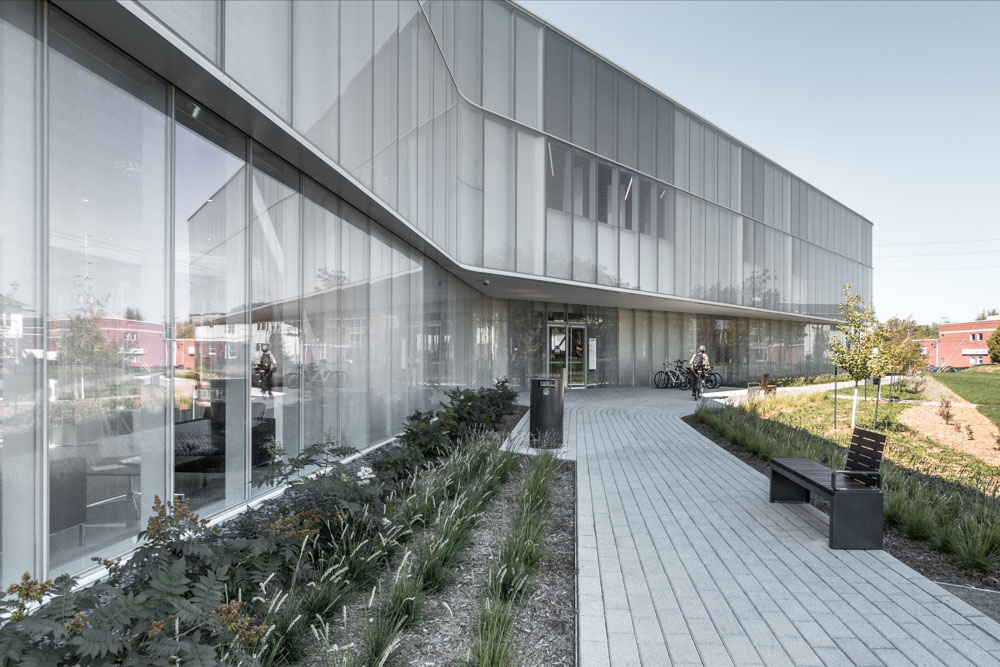 지역의 지속가능한 발전을 위한 공공도서관, 아이스링크가 있는 드러먼드빌 공공도서관 드러먼드빌 공공도서관은 이 지역의 역사적, 문화적, 시적 본질을 바탕으로 한 도시건축의 결과물로, 현재 드러먼드빌 도심 중심부에 새롭고 역동적인 시민의 공간으로 사용되고 있다.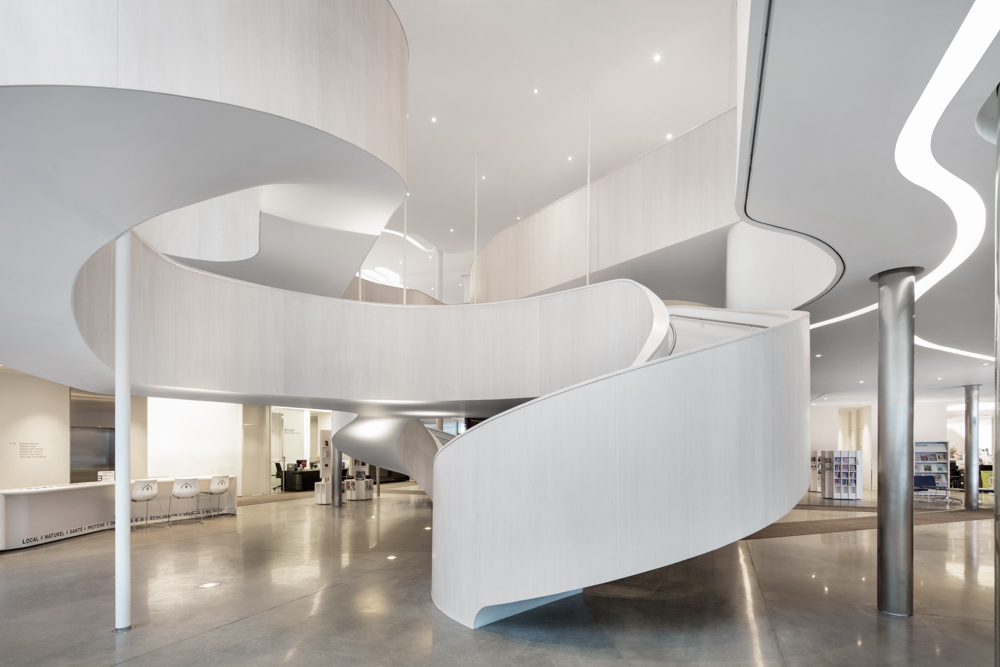 역사 속 드러먼드빌은 세인트 프랑수아(St-François) 강에 있는 일련의 수력 발전 댐을 통해 산업 경제를 발전켜왔던 곳으로, 이러한 역사적 발전의 토대는 건축적 아이디어로 이용되었다. 건축가는 건물 심장부의 넓은 이중 높이 공간에는 두 개의 중심을 벗어난(Off-centered) 조형적인 나선형 계단을 만들어내어 도서관 공간 안에서 교차되는 다양한 시야를 열어주는 반면, 계단 중간 중간 마련된 간이 공간(참)에서 다른 곳을 향해 방향을 바꾸거나 멈출 수 있는 기회를 만들어줌으로써 자유로운 순환의 과정을 방문객들에게 선사한다.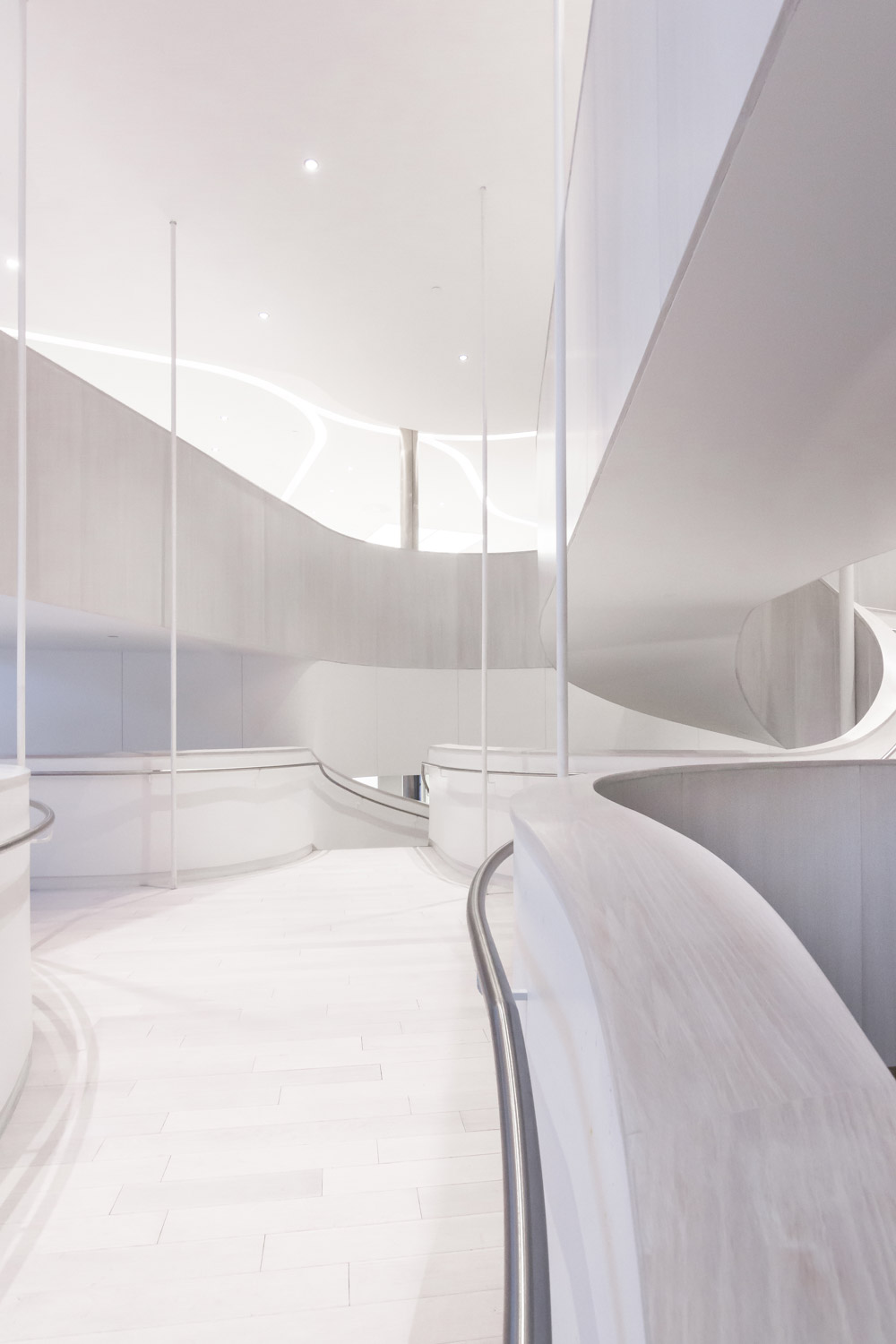 뿐만 아니라, 하키는 이 지역만의 정체성이자 핵심이기도 한 스포츠로 드러먼드빌은 1인당 가장 많은 수의 공공 아이스링크를 가진 지역이다. 건축가는 이런 지역적 문화를 받아들이고, 도서관 주변의 아이스링크를 시각적으로나 물리적인 형태로 도서관에 포함시켰다. 이렇게 실내에는 가족 단위를 위한 공공의 정적인 독서 환경을 공간을 조성하면서 청소년들과의 접점을 형성했으며, 청소년 및 성인 섹션을 연결하며 아이스링크장을 향한 주요한 전망을 열어 놓았다. 도서관과 아이스링크는 공유 에너지 프로그램을 통해 연결되는데, 이는 링크의 냉각 시스템에서 발생하는 열이 겨울철 도서관 난방에 기여하는 지속가능성 전략의 일부 방법이다.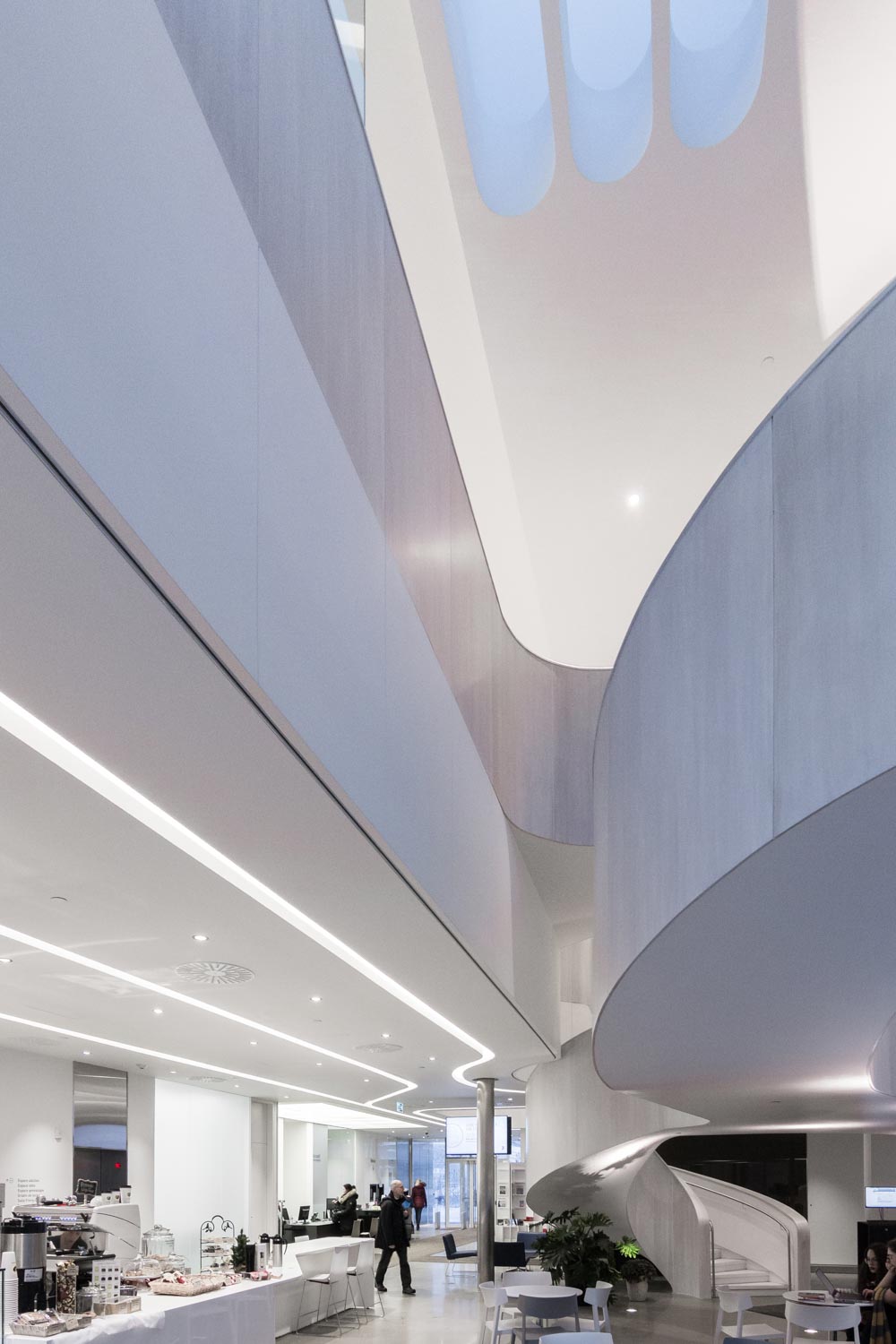 도서관에 마련된 공공 다목적실 또한, 시민들을 위해 열린 공간으로 제공되며 전반적으로 내부 및 외부의 인프라를 지역에 제공하는 공공도서관으로서의 역할을 드러먼드빌 공공도서관은 톡톡히 해내고 있다. 지역의 문화 공간과 스포츠 공간이 서로 만나면서 시너지 효과를 만들어냄으로써, 지역을 활발하게 만들고 도시의 지속 가능한 발전에 앞서나가는 사례일 것이다.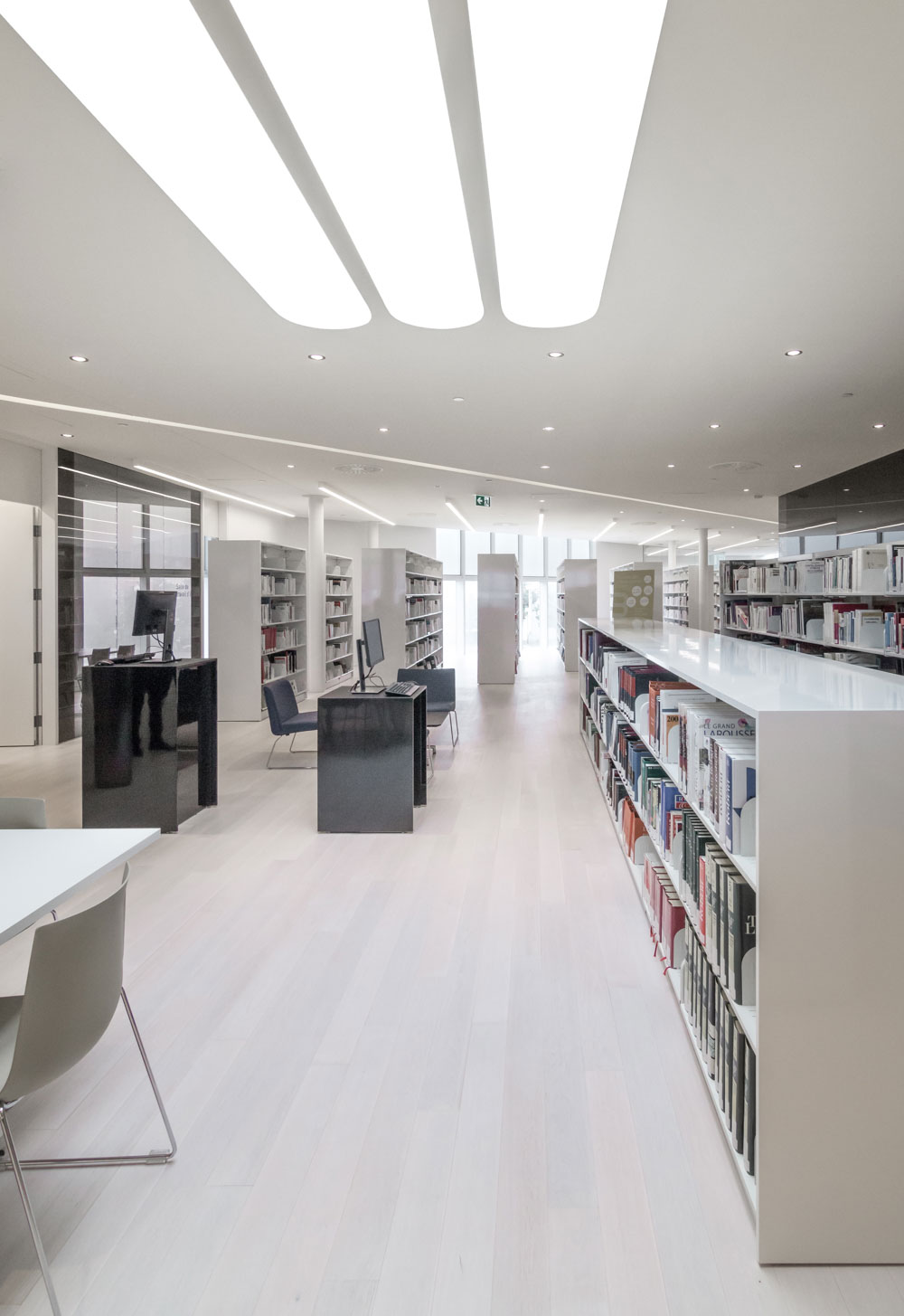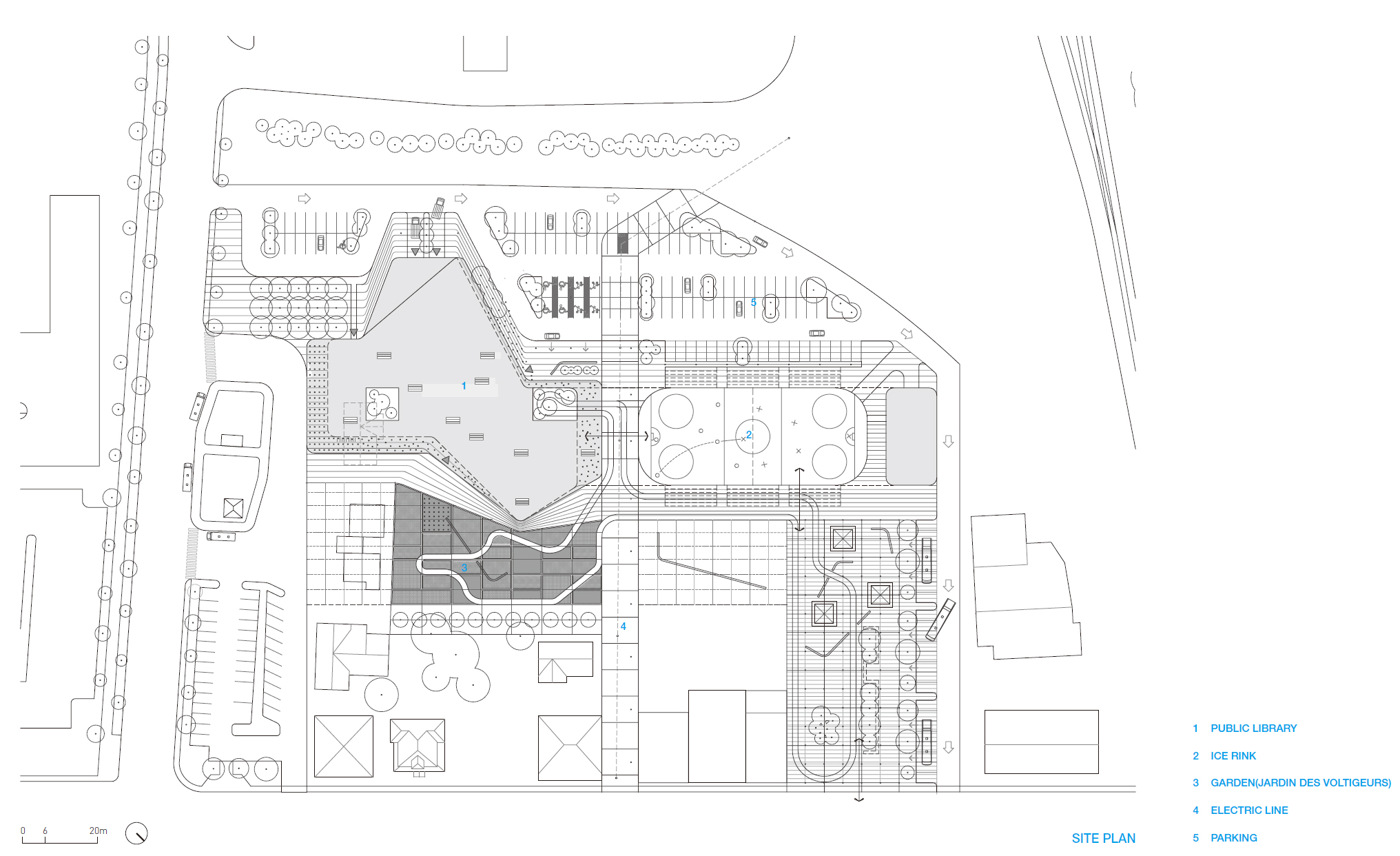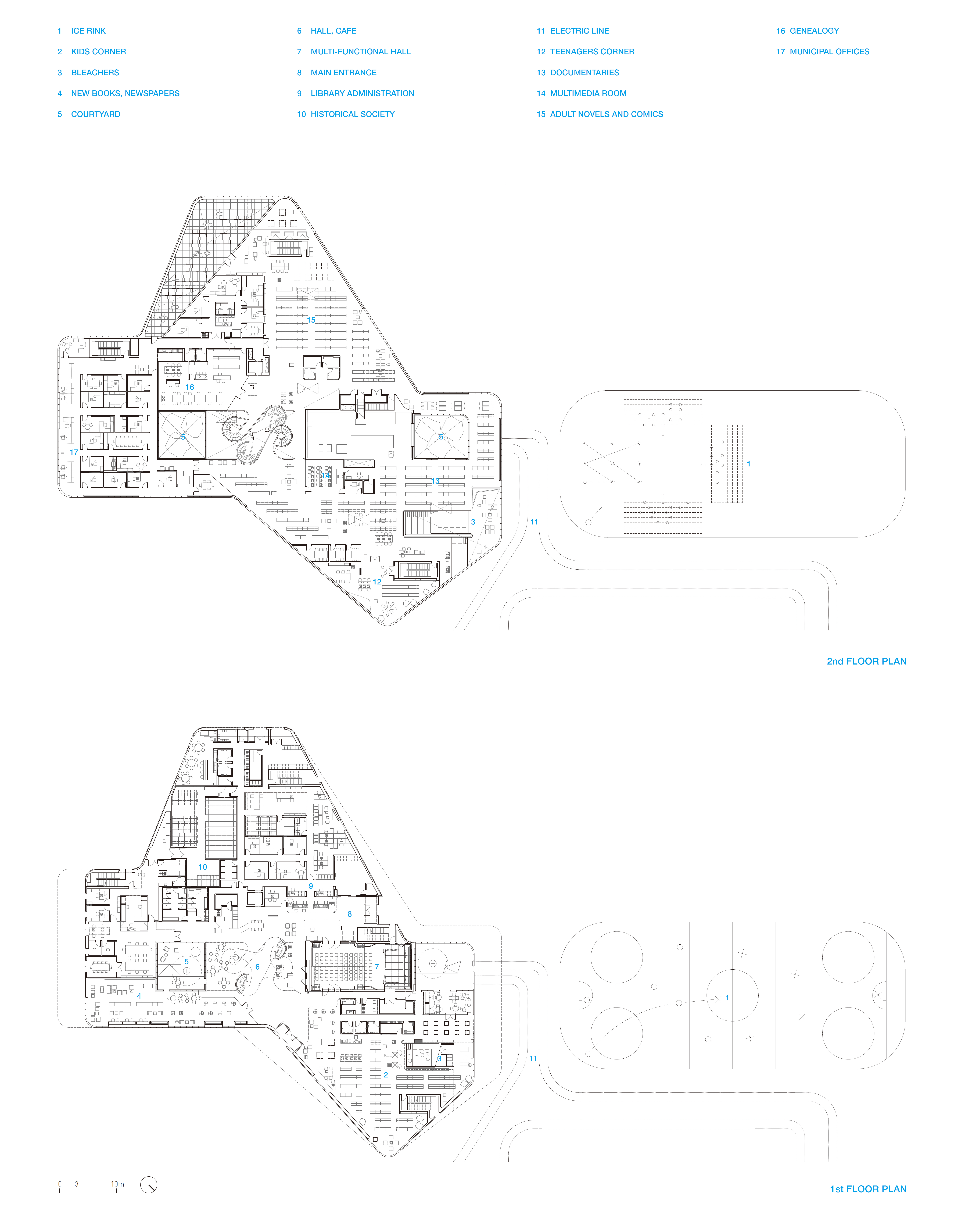 Architects CHEVALIER MORALES
Location Drummondville, Quebec, Canada
Gross floor area 5,750m2
Competition period 2014
Construction period 2016. 3 - 2017. 9
Completion 2019
Principal architect Chevalier Morales
Project architect Chevalier Morales, DMA Architects
Design team (Chevalier Morales) Stephan Chevalier, Sergio Morales, Alexandre Massé
Consortium DMA Architects
Landscape architects civiliti
Engineers WSP
Client Ville de Drummondville(City of Drummondville)
Photographer Adrien Williams, Chevalier Morales
해당 프로젝트는 건축문화 2021년 1월호(Vol. 476)에 게재 되었습니다.

The project was published in the January, 2021 issue of the magazine(Vol. 476).
---
마실와이드 | 등록번호 : 서울, 아03630 | 등록일자 : 2015년 03월 11일 | 마실와이드 | 발행ㆍ편집인 : 김명규 | 청소년보호책임자 : 최지희 | 발행소 : 서울시 마포구 월드컵로8길 45-8 1층 | 발행일자 : 매일