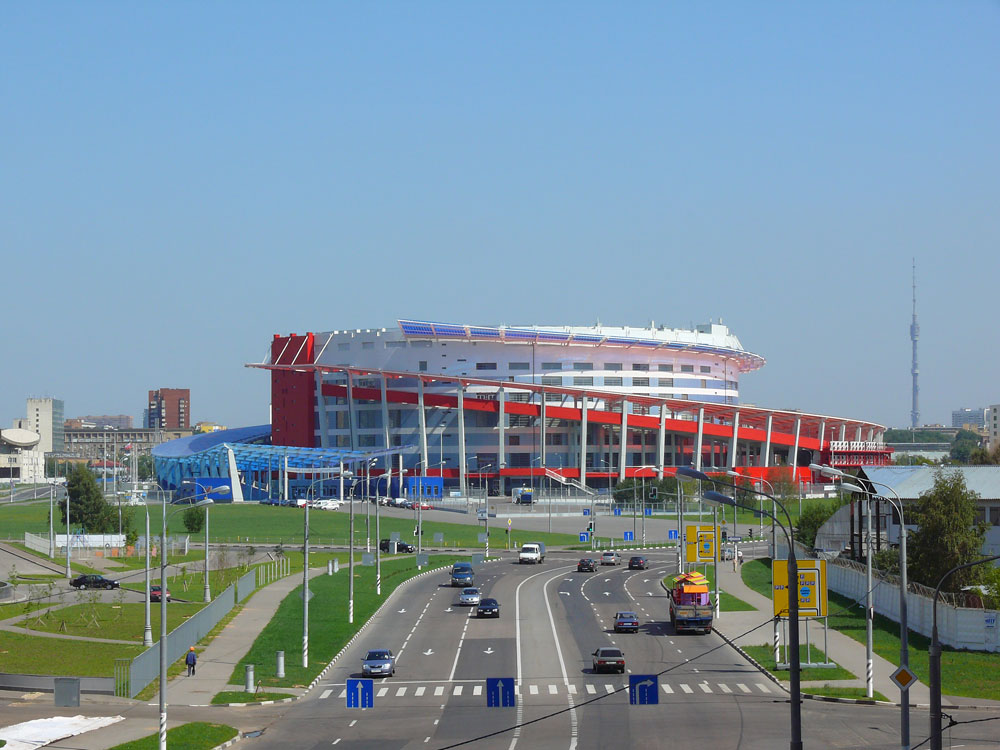 The Ice sports Palace was designed and built for 2006 Ice Hockey World Championship in Moscow. The Palace building was considered as an integral part of overall concept of urban planning solutions for the entire territory of the Khodynka field, offering, among other things: to preserve the Khodynka field as an element of the landscape and reflect the historical uniqueness of this place; to recreate the traditions of folk festivals and population entertainment on it. The Volumetric-spatial solution of Ice Palace building logically follows from the General urban planning solution of the block - the passages to it through the block are picked up by wide ramps that spiral around the cylinder of the main volume of the Palace building and lift the audience to the upper levels, where, starting from the second floor, lobbies and foyers are designed. The direction of the entrance ramps movement is repeated by the light-transmitting canopies above them, in turn, passing into the roof canopy of the building.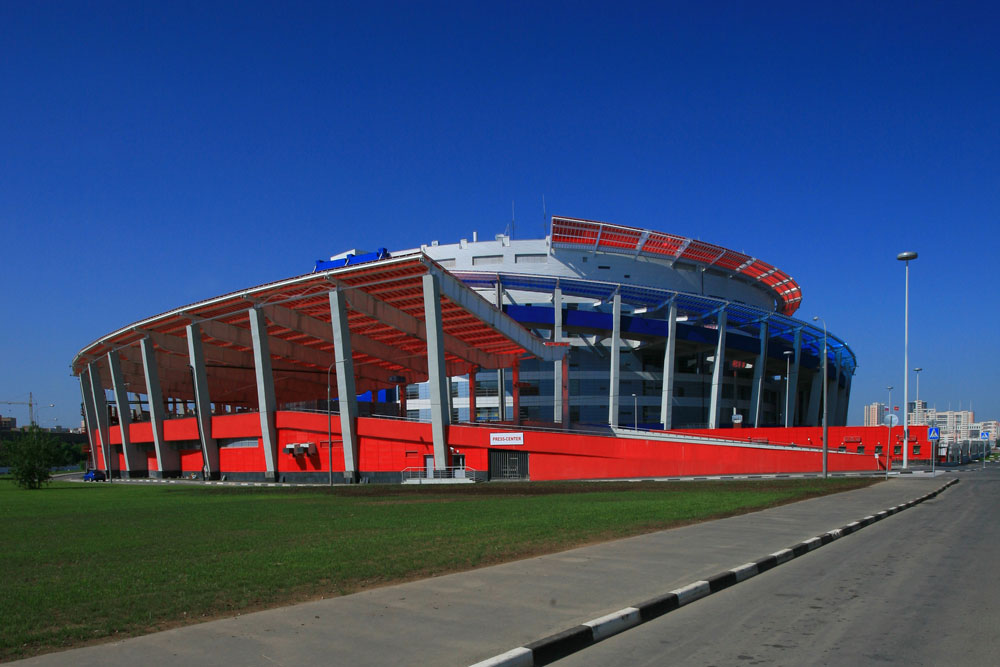 코딘카 종합하키경기장은 2006 모스크바에서 열린 아이스하키 월드 챔피언십을 위해 설계, 건설됐다. 건물은 코딘카라는 지구의 전체적인 도시규모의 계획을 따르며, 전체적인 콘셉트에 맞춰 중요한 한 부분을 차지한다. 무엇보다도 코딘카 경기장은 이 지역 풍경의 한 요소로 보존되는 것이 중요했다. 장소의 역사적 독창성을 토대로 디자인된 경기장은 민속 축제와 지역 속 즐길 거리의 전통을 재현하고 있다. 전체적인 공간은 일반적인 도시 계획에서의 블록에 대한 설루션을 논리적으로 따른다. 아이스 팰리스와 연결되는 길은 블록을 통과하여 팰리스 건물 주 매스의 원통 주위를 나선형으로 둘러싼 넓은 경사로로 연결되고, 로비와 휴게실이 설계되어 있는 2층 위로 방문자를 이끈다. 입구 경사로 이동의 방향은 그 위에서 빛을 투과하는 캐노피에 의해 반복되며, 차례로 건물 지붕의 캐노피로 이어진다.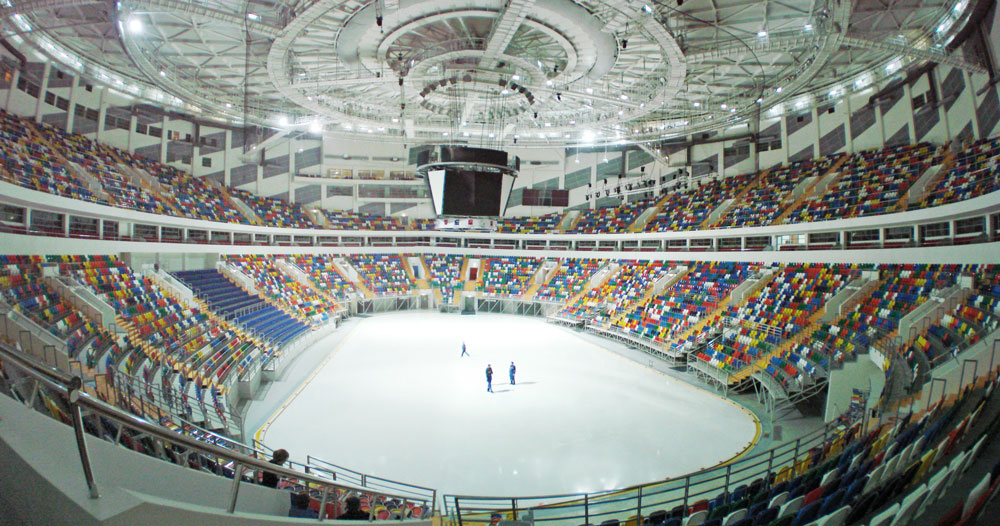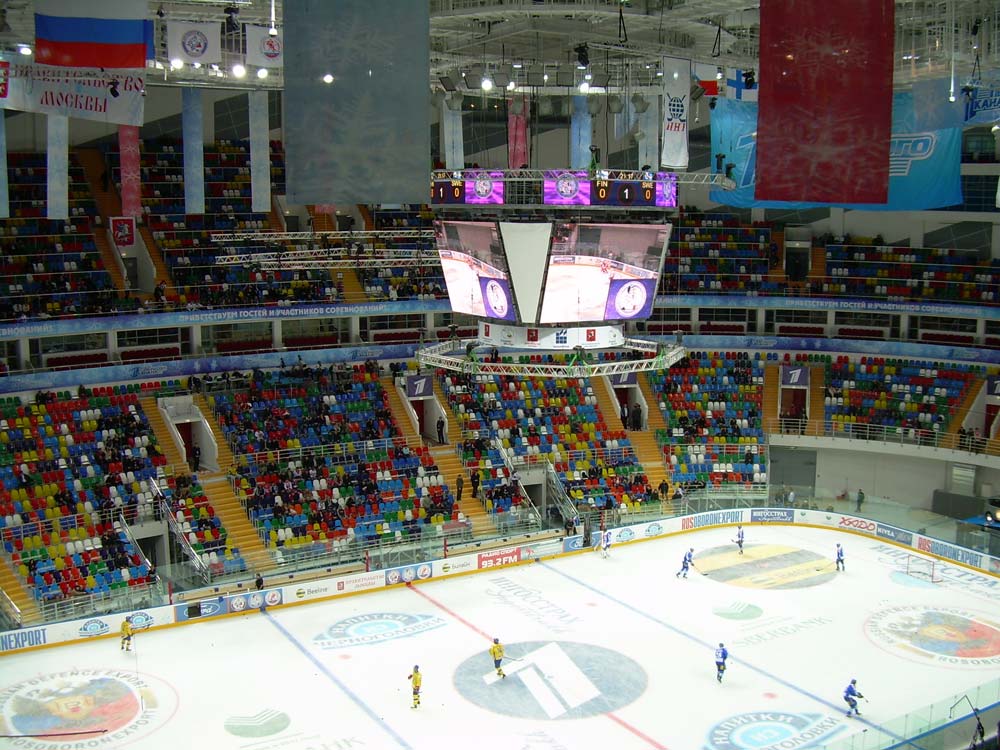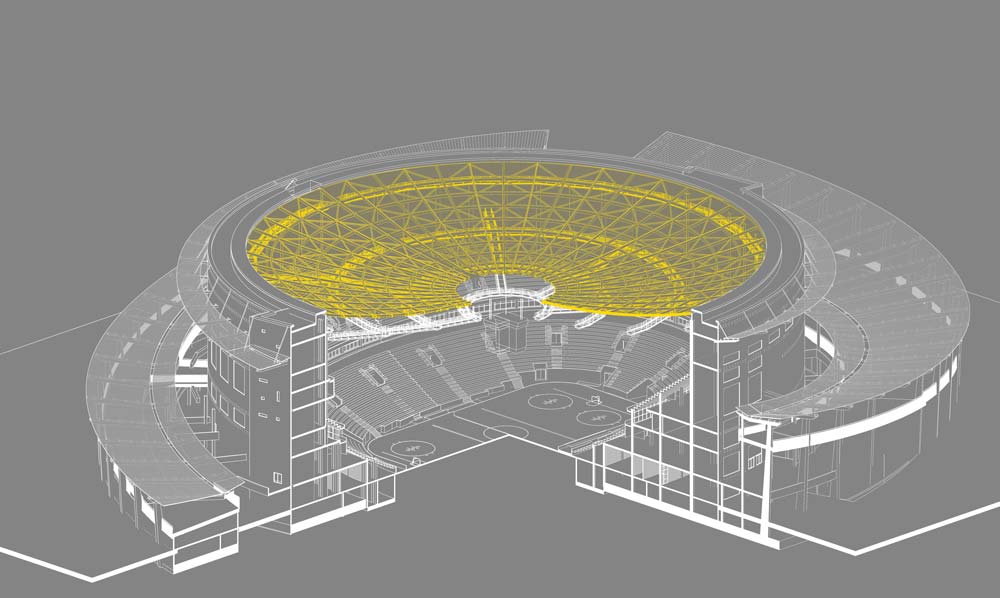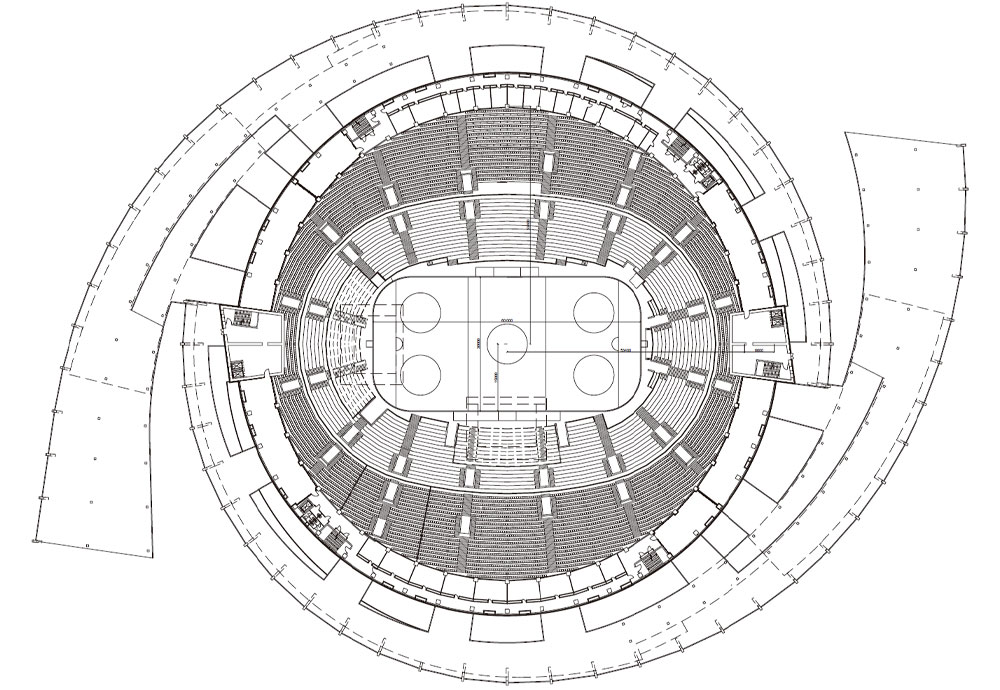 Architect PI-ARENA
Location Khodynska field, Moscow, Russia
Program Multifunctional Complex for s for 2006 Ice Hockey World Championship in Moscow
Site area 4.18ha
Building area 20,500.00㎡
Gross floor area 57,500.00㎡
Height 42m
Capacity About 14,000
Design period 2004. 1 - 2006. 3
Construction period 2005. 10 - 2006. 12
Completion 2006
Principal architect Dmitry Bush
Project architect Sergey Chuklov
Architect Andrey Bokov, Oleg Gak, Valentin Valuyskikh, Lyudmila Romanova, Zviad Burchuladze, Anna Zolotova, Alexander Timokhov
Cooperation MNIIP
Master plan Vladimir Timofeev, Nadezhda Odrova, Larisa Davydova
Interior Leonardo LLC Alexey Shvets
Structural engineer Pavel Eremeev, LLC "GK-Tekhstroy": Mikhail Kelman, Alexander Proskurnin, Pavel Zolotov Mechanical engineer Mark Livshin, Erlan Bekmukhamedov, Oleg Starikov, Alexey Ivanov
Electrical engineer Elena Ikoeva
Technologist Svetlana Kanavina, Nadezhda Morozova, Olga Tishina
Construction Group of Companies "MONARKH"
Client ZAO "General Directorate "Center"
Photographer Vladimir Svetashkov
해당 프로젝트는 건축문화 2021년 9월호(Vol. 484)에 게재되었습니다.
The project was published in the September, 2021 issue of the magazine(Vol. 484).
---
마실와이드 | 등록번호 : 서울, 아03630 | 등록일자 : 2015년 03월 11일 | 마실와이드 | 발행ㆍ편집인 : 김명규 | 청소년보호책임자 : 최지희 | 발행소 : 서울시 마포구 월드컵로8길 45-8 1층 | 발행일자 : 매일