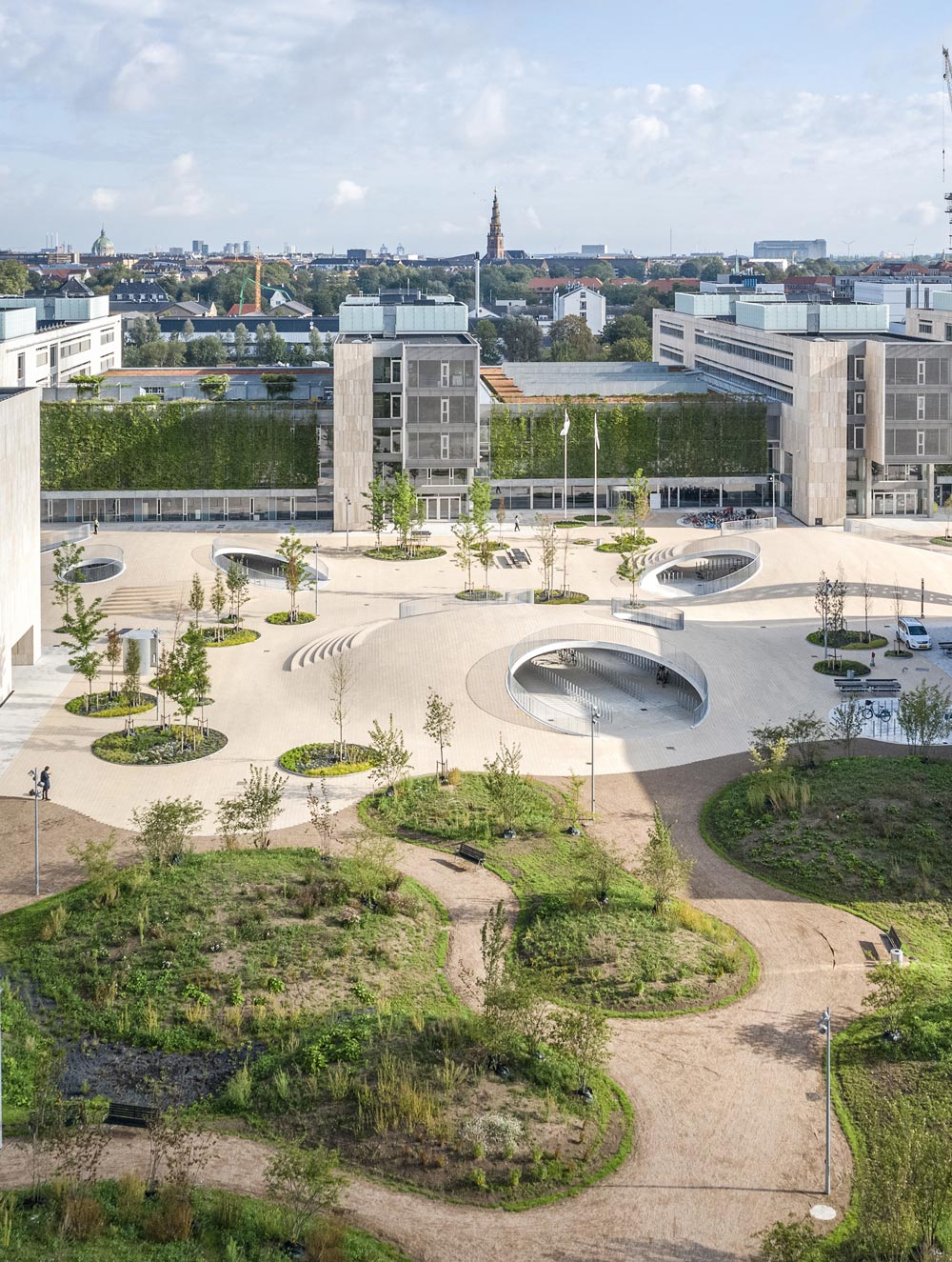 At more than 20,000m2 Karen Blixens Plads is one of the largest public squares in Copenhagen. Situated between the University of Copenhagen and the Royal Danish Library at the university's campus, the open and welcoming urban space is an innovative, spectacular and multi-functional design that accommodates and promotes green transportation, climate change adaptation and biodiversity.
The project was supported by a donation from the private Danish foundation A.P. Møller Fonden. The combined public square and university plaza are designed as a carpet that covers an undulating terrain of small hills and breaks the large space up into smaller zones with room for activities both on and inside the hills.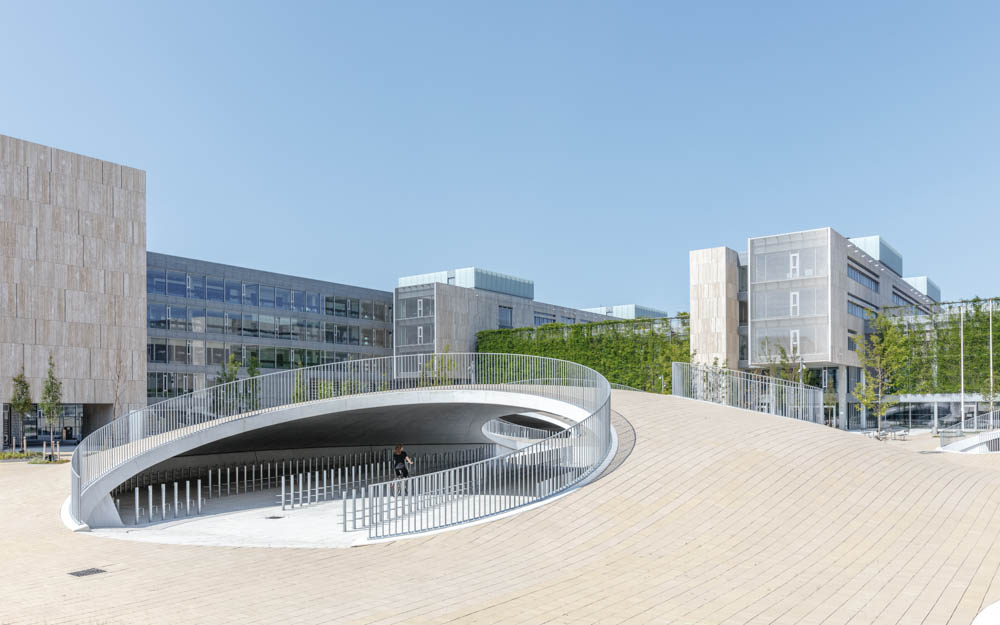 The three bicycle hills were created as cast concrete shells clad with hand-laid tiles in colours echoing the exteriors of the surrounding university buildings. In addition to serving as an active meeting place for students, employees and locals, the square also contains a high-capacity bicycle parking space for the many users of the university, including 16,000 students and 2,000 employees. The innovative and unique design has room for more than 2,000 parked bicycles. In a soft transition, Karen Blixens Plads brings together the university's need for urban spaces with the open landscape of the neighbouring commons. The north side of the square, where the three main entrances to the university are located, is an open and multi-purpose space. To the south, hilly, undulating meadowland connects the campus with the commons.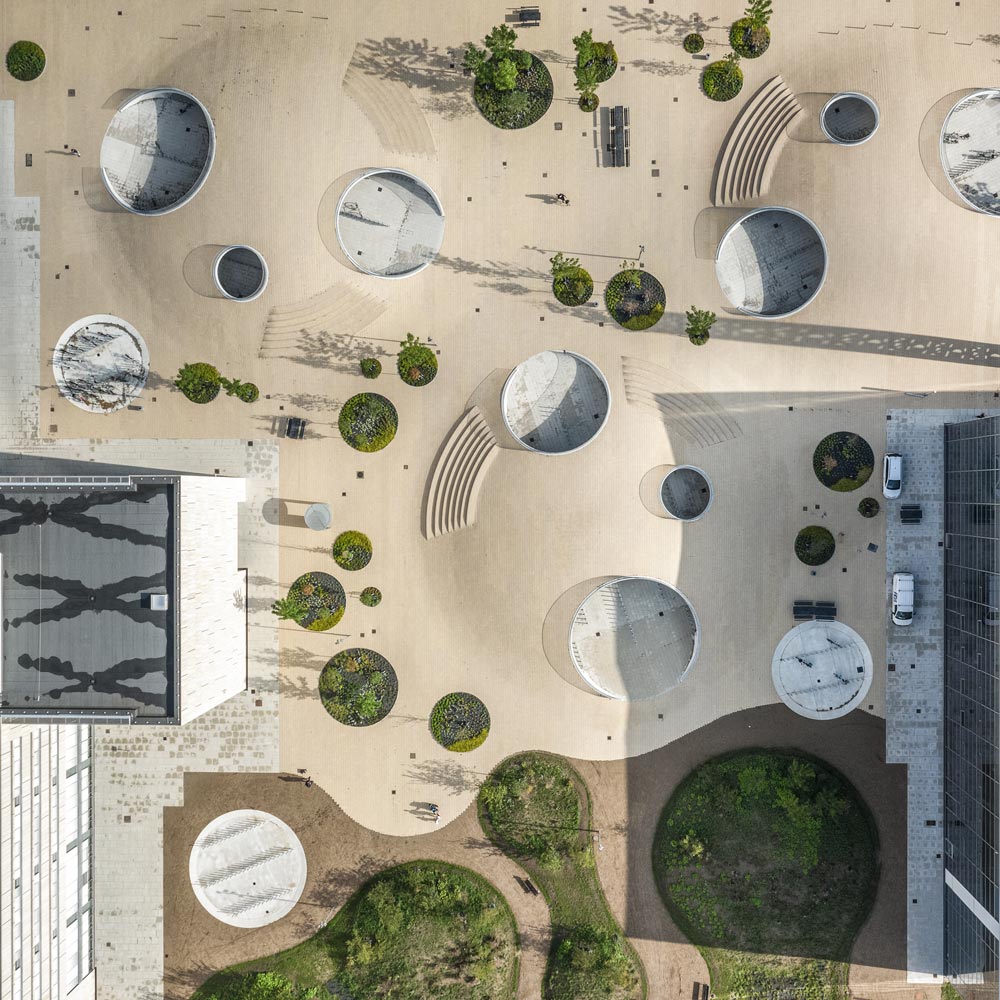 In addition to bringing nature into the campus the landscape also contributes to climate change adaptation by adding a capacity to handle stormwater. Delaying rainwater in depressions in the landscape utilizes the recreational values of the water and creates small wet biotopes that support biodiversity, enable rainwater evaporation and supplements the canal in case of extreme precipitation, thus contributing to climate change adaptation. The design uses simple, sturdy and durable materials, just as lighting and furnishings are kept to a few, simple elements to ensure a sustainable urban space. All the selected elements are low-maintenance and contribute to the square's green profile. A central feature is an outdoor auditorium with seating for up to 1,000 people on the manmade hills. The hilltops offer additional standing room for concerts or other large public events.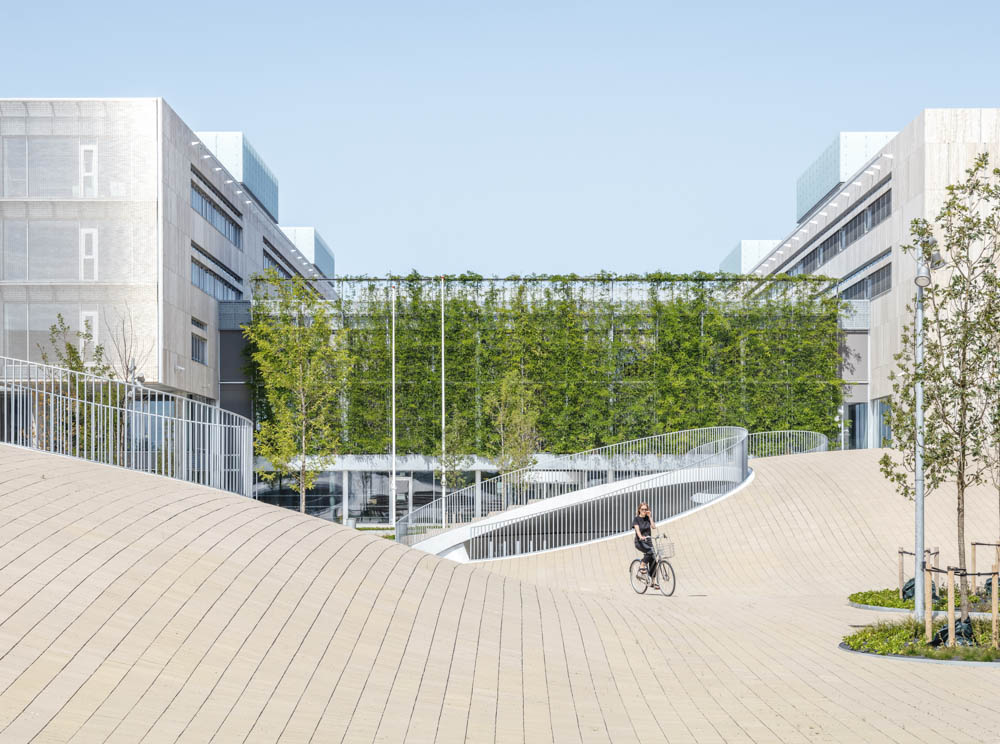 카안 블릭슨스 플래스 광장(Karen Blixens Plads)은 코펜하겐에서 가장 큰 공공 광장 중 하나다. 코펜하겐 대학교와 대학 캠퍼스의 덴마크 왕립 도서관 사이에 위치한 이곳은 개방적이고 환영받는 도시 공간이면서 녹색 교통, 기후 변화 적응 및 생물 다양성을 수용하고 촉진하는 혁신적이고 화려하며 다기능적인 디자인으로 조성됐다.
복합 공공 광장과 대학 광장은 작은 언덕의 굴곡진 지형을 커버하고 넓은 공간을 작은 구역으로 분할하여 언덕 위나 안에서 활동할 수 있는 둥글게 부푼 카펫 같다. 세 개의 언덕은 주변 대학 건물의 외관과 비슷한 톤으로 맞춰졌으며 콘크리트로 만들어진 셸 구조를 모두 수공 타일로 덮고 있다.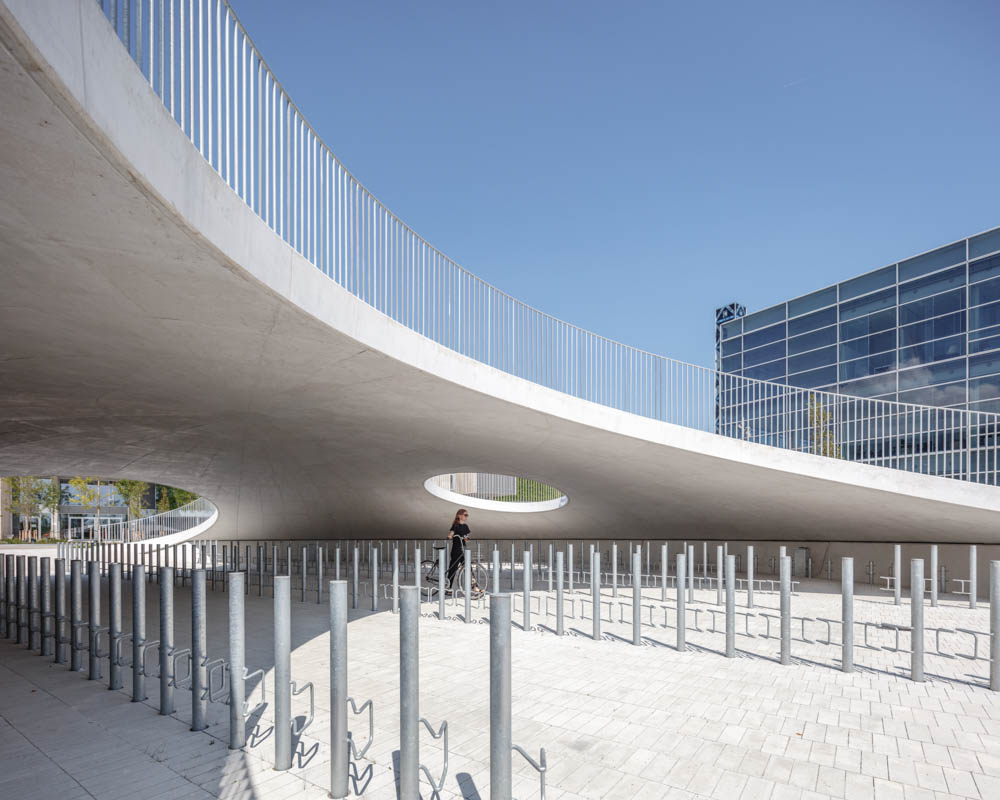 광장은 학생, 직원, 지역 주민의 활발한 만남을 위한 장소이자, 학생 1만 6천여 명, 직원 2천여 명 등 근처 대학의 자전거 이용자들을 위한 2,000대 이상의 자전거 주차가 가능한 대형 자전거 주차 공간이다. 카안 블릭슨스 플래스 광장은 이웃 공유지의 열린 풍경과 결합한다. 대학의 세 개의 정문이 있는 광장의 북쪽은 개방형 다목적 공간이다. 남쪽에는 언덕이 많고 기복이 있는 초원이 캠퍼스와 공유지를 연결한다.

자연을 캠퍼스로 끌어들여오는 것 외에도 조경의 일부는 우수 처리를 도와 기후 변화 적응에 기여하기도 한다. 조경의 움푹 팬 곳에서 빗물의 배수를 지연시키는 것은 물의 순환이용 가치를 활용하고 생물 다양성을 지원하며 빗물 증발을 가능케 하여 극심한 강수량의 경우 운하를 보충하여 기후 변화 적응에 기여하는 작은 습식 비오톱을 생성한다. 디자인은 지속 가능한 도시 공간을 보장하기 위해 조명과 가구가 몇 가지 간단한 요소로 유지되는 것처럼 단순하고 견고한 내구성 재료가 사용됐으며, 선택한 모든 요소는 유지 관리가 용이하다. 또한, 이렇게 조성된 인공 언덕은 1,000명까지 앉을 수 있는 야외 강당이 되기도 하며, 언덕 윗부분에서 콘서트나 다른 대규모 공공 행사를 열 수도 있다.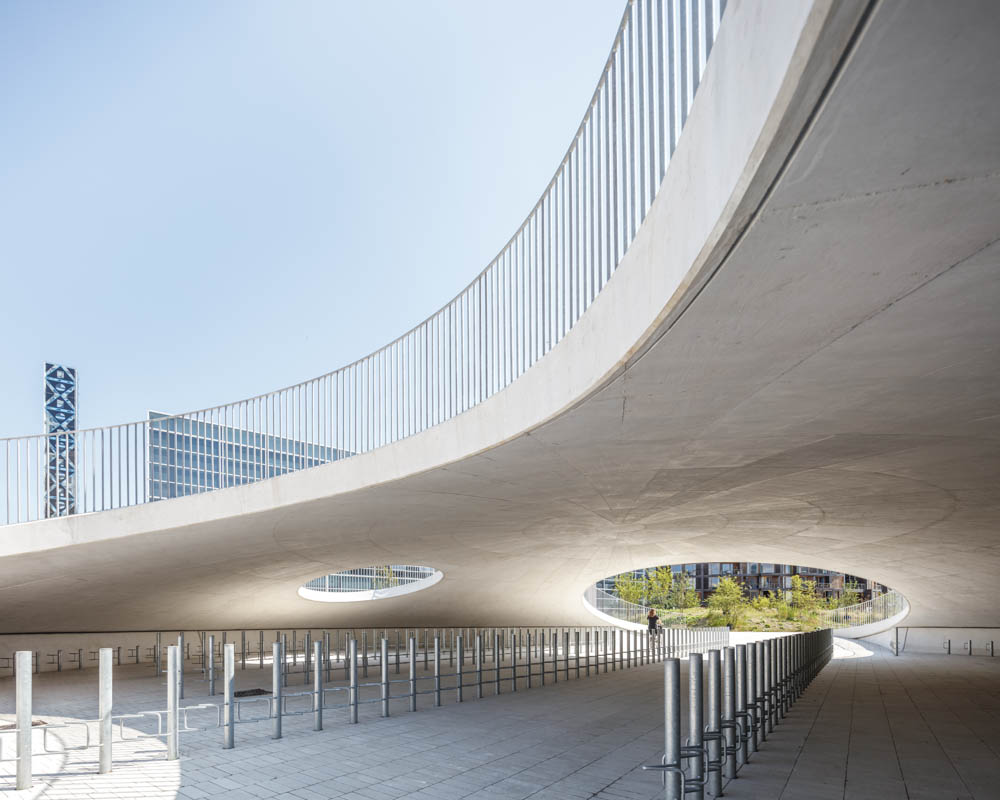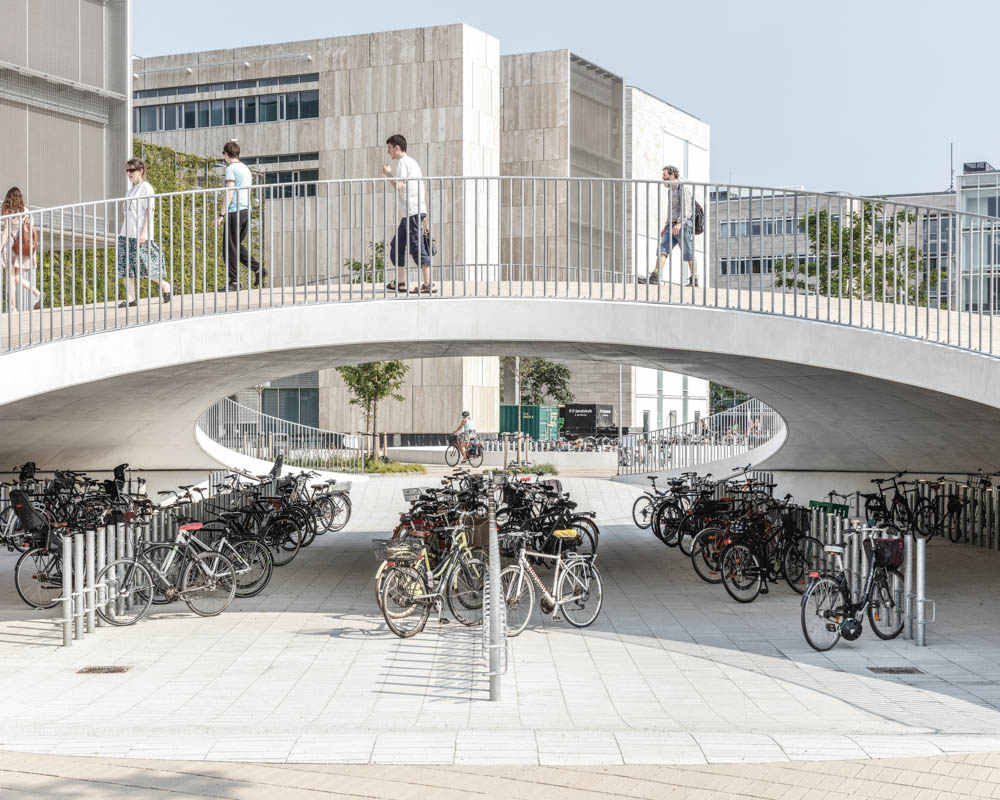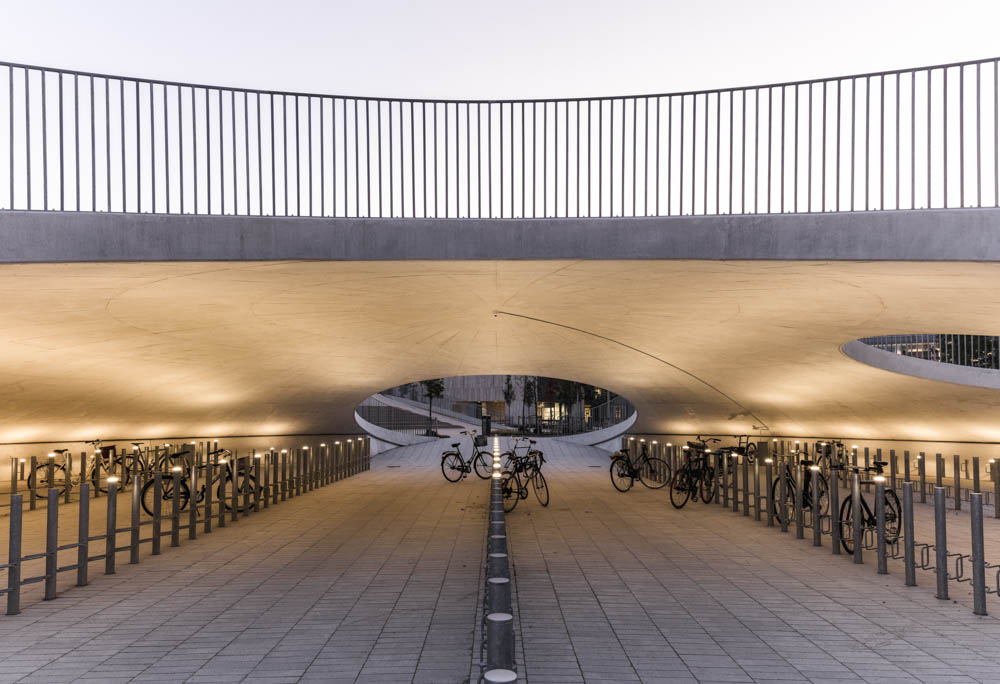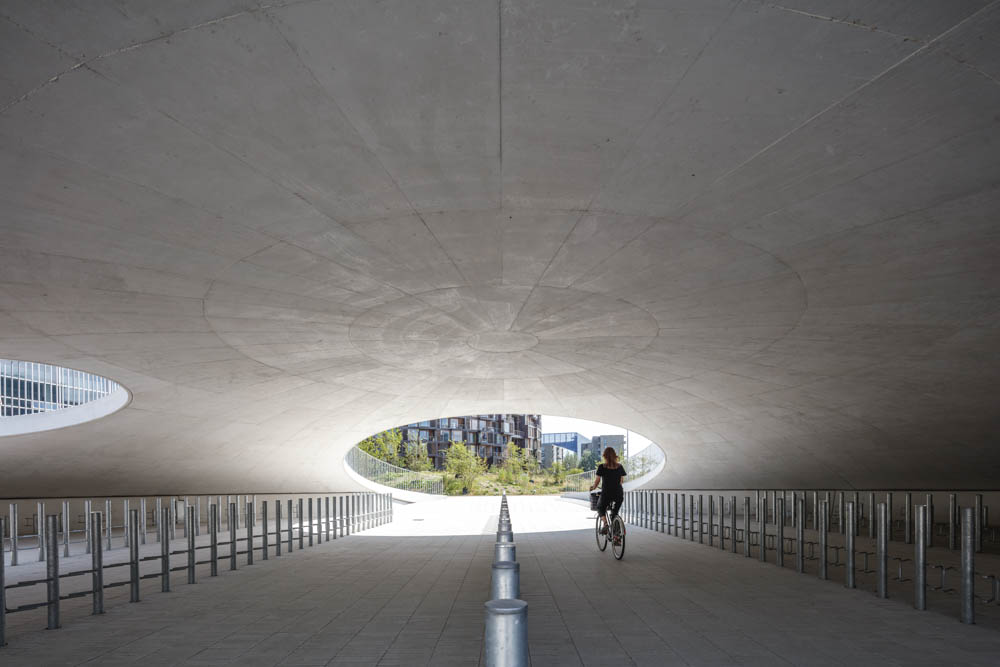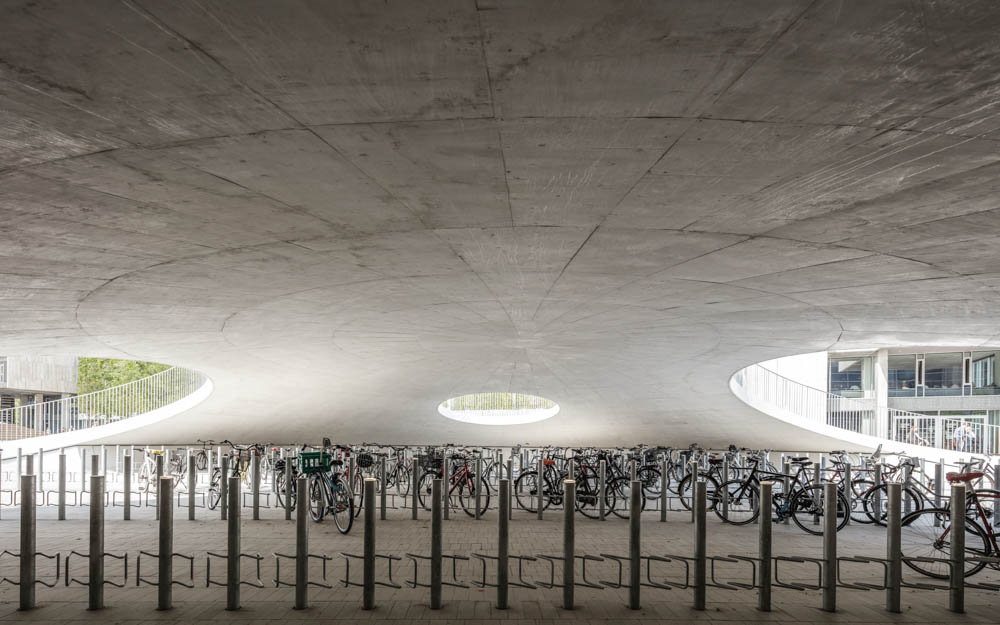 Architect COBE
Location Copenhagen, Denmark
Program Public Space
Site area 21,415m2
Completion 2019
Engineer EKJ Consulting Engineers, CN3, Vind-Vind
Construction M. J. Eriksson, NCC Denmark
Private donation A.P. Møller og Hustru Chastine Mc-Kinney Møllers Fond til almene Formaal
Client Danish Building and Property Agency
Photographer Rasmus Hjortshøj – COAST.
해당 프로젝트는 건축문화 2021년 5월호(Vol. 480)에 게재 되었습니다.

The project was published in the May, 2021 issue of the magazine(Vol. 480).
---
마실와이드 | 등록번호 : 서울, 아03630 | 등록일자 : 2015년 03월 11일 | 마실와이드 | 발행ㆍ편집인 : 김명규 | 청소년보호책임자 : 최지희 | 발행소 : 서울시 마포구 월드컵로8길 45-8 1층 | 발행일자 : 매일