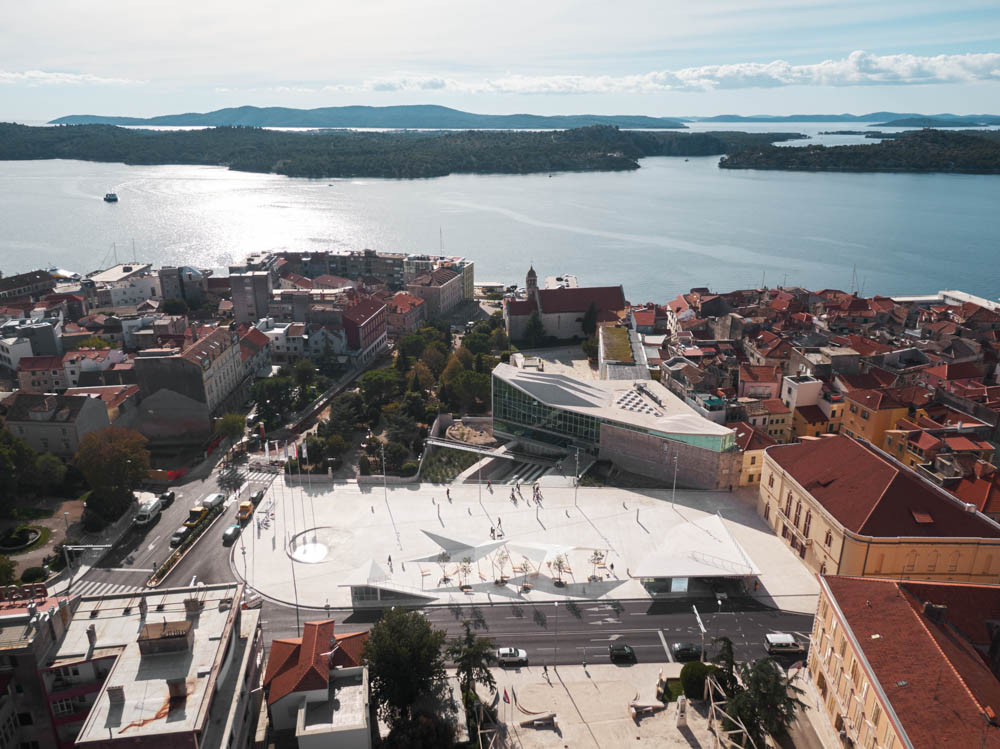 The new Šibenik main square with archaeological park and a garage/logistics center underneath is designed as an integrated urban, social and infrastructural field setting an open dialogue between the medieval, modern, and contemporary city, creating a vast community of astonishing potential that holds the sky aloft. Poljana was originally a flat summit of a rocky promontory right in front of the Medieval city gate. In the contemporary city structure, Poljana square is an unframed dynamic space, intersected with different routes and grids, a central connecting mechanism for the city's public places.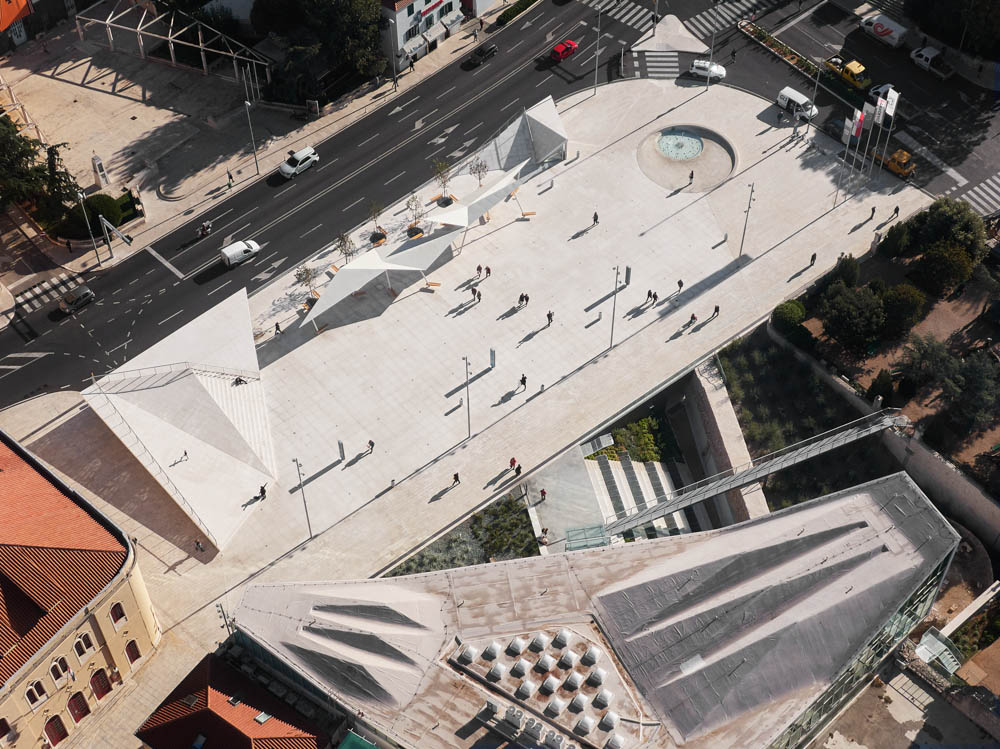 The site program integrates archaeological park with the social zone and infrastructural logistic center underneath. Spatial folds form places of social gathering. Urban lines create tensions and dynamics in the platform while stone networks with infrastructural boxes enable the flexible organization of the field.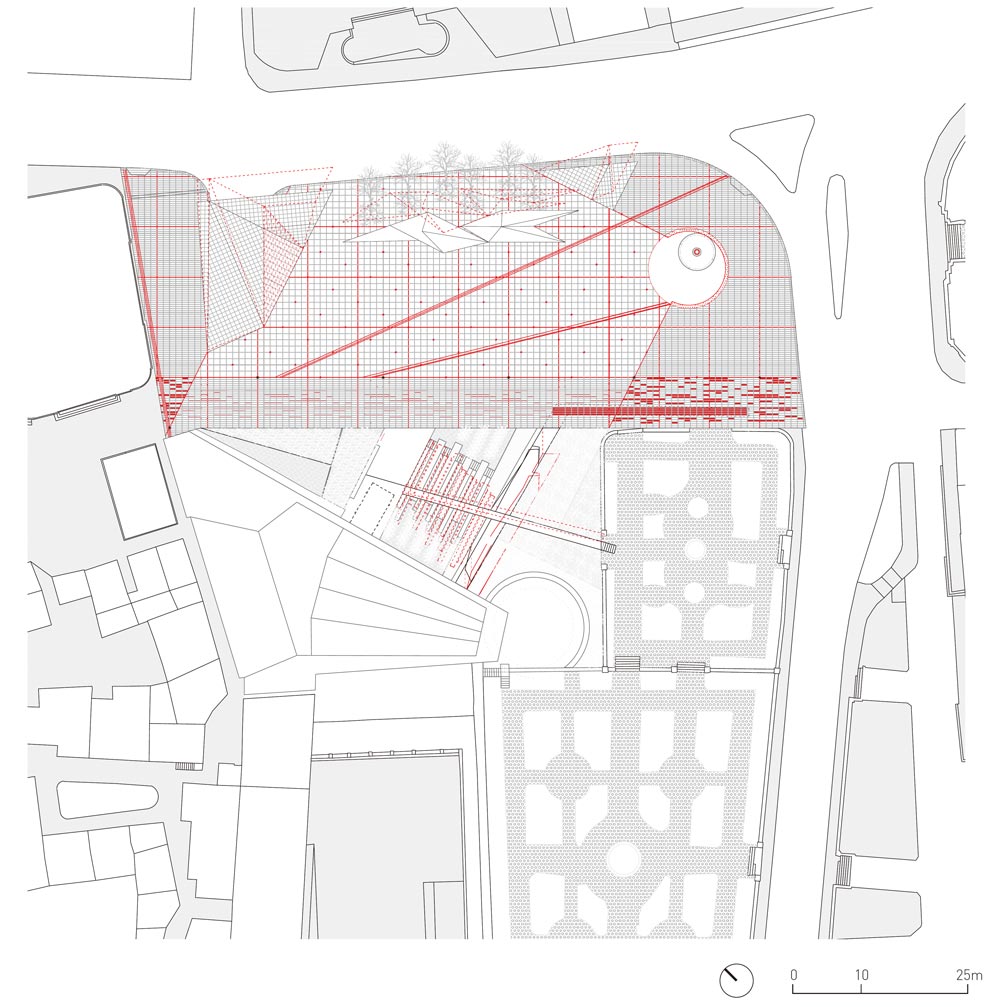 The Poljana square is designed as a continuous three-dimensional urban platform (field) without any obtrusive solid volumes, which accommodates various social events and mediates between historical and modern urban artefacts. The surface of the square superimposes two networks, a classic grid /towards the theatre/ and a flexible square field of points /directed by the logic of the library building and historical ramparts/ with spatial accents in corners which introduce the surrounding features into the space of the Poljana. The surface is activated by movement directions recognized in everyday life and history – and in meeting places along with them. In network intersecting areas, spatial folds form extended, raised surfaces on the roofs of the pavilions. The canopy, a floating dynamic artifact, provides a link and defines the spatial boundary of the square, thus creating a dialogue and continuity of forms in the new age.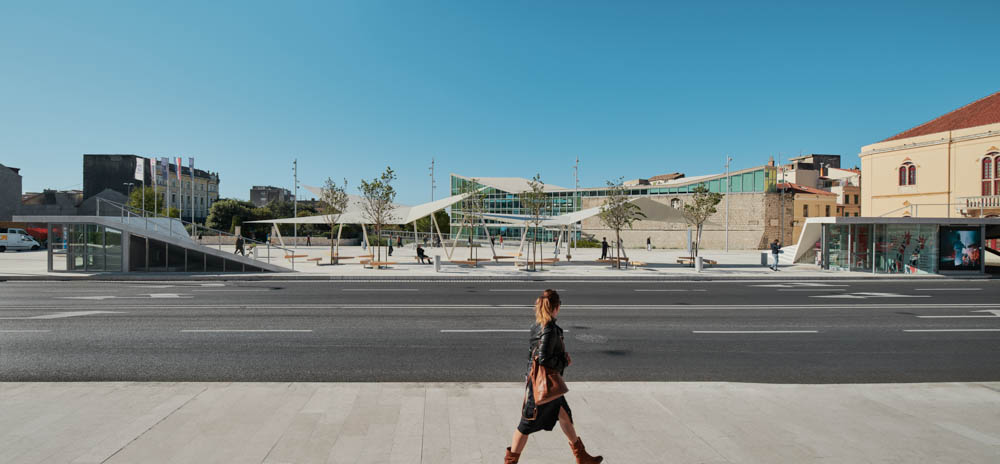 The design consists of an underground and an above-ground part integrated by a modern interpretation in the traditional Mediterranean and industrial materials. The structure of the canopy, pre-manufactured in the Split shipyard, was designed to run an active formal dialogue with the modernist library buildings. The flexibly organized infrastructural field visible in the square area, composed of connection points /urban box elements/ for the reception of urban fixtures, allows for easy creation of various event scenarios and artistic performances.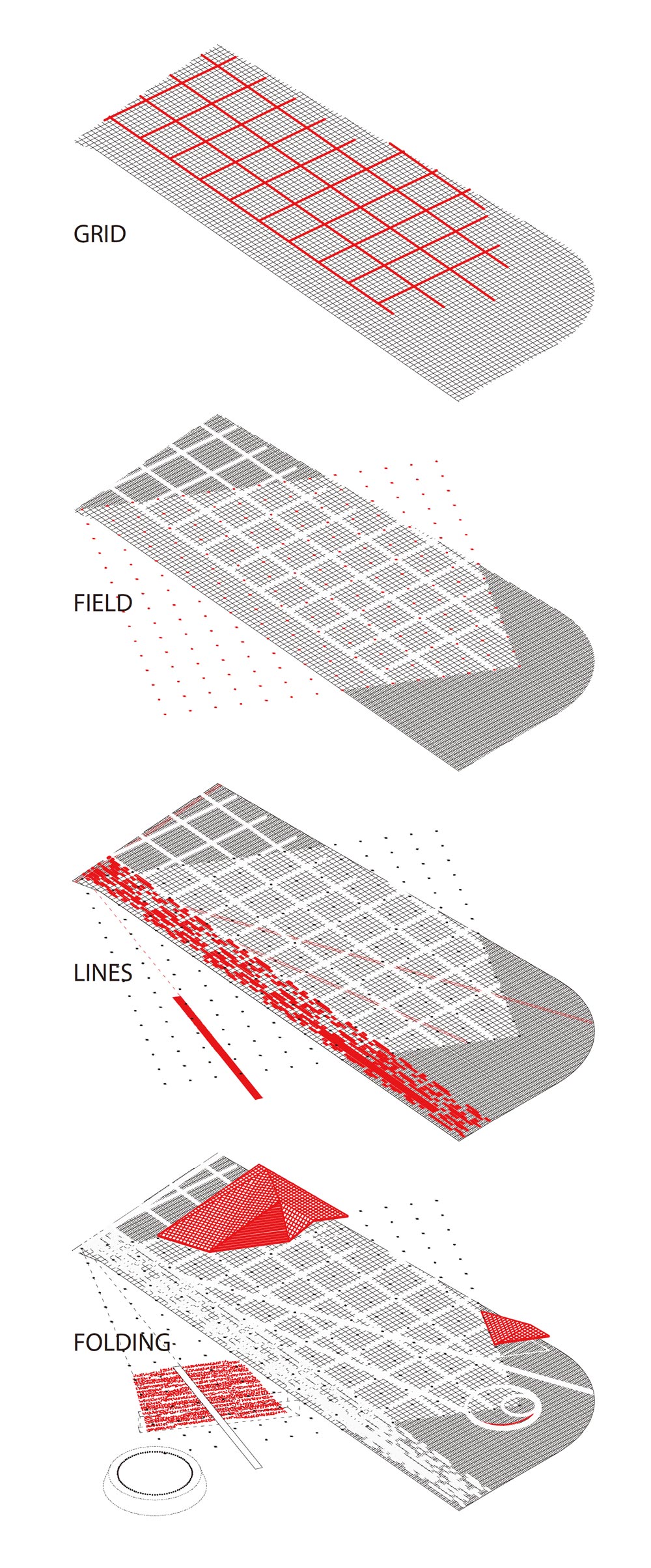 시베니크에 들어선 폴야나 광장은 아래에 고공원(古公園)과 주차장 겸 물류 센터를 포함하고 있어, 중세·근대·현대 도시 사이에 열린 대화를 유도하는 장소다. 도시, 사회, 인프라가 통합적으로 어우러져 잠재력을 지닌 광대한 공동체를 만들어낼 곳이다. 폴야나 광장은 원래 중세 성문 바로 앞, 바위로 된 곶(串)의 평평한 일대이었다. 현대 도시 구조에서 이 광장은 다양한 경로와 그리드가 교차하는 프레임이 없는 역동적인 공간이며, 도시의 공공장소를 연결하는 중앙 연결 메커니즘이다.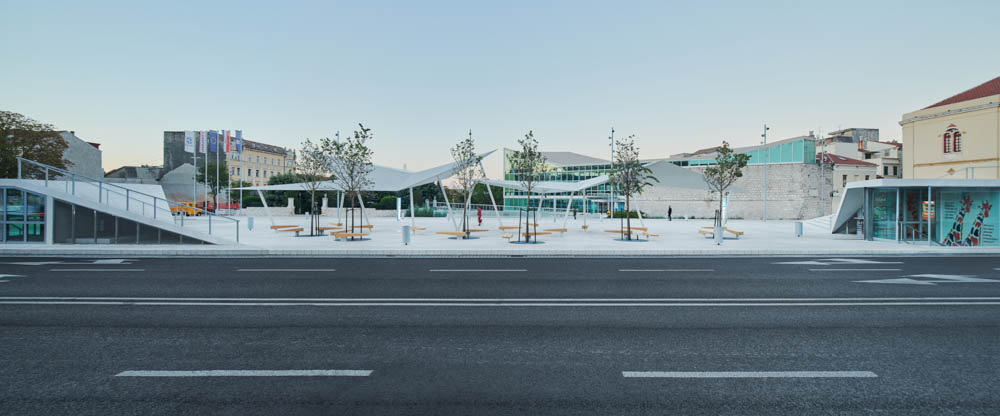 부지의 프로그램은 고공원과 사회 구역 및 그 아래에 인프라 물류 센터를 통합한다. 공간적 주름은 친목 모임의 장소를 형성한다. 도시의 선들은 플랫폼에 긴장감과 역동성을 생성하는 반면 인프라 상자가 있는 석재 네트워크는 현장의 구성을 유연하게 한다.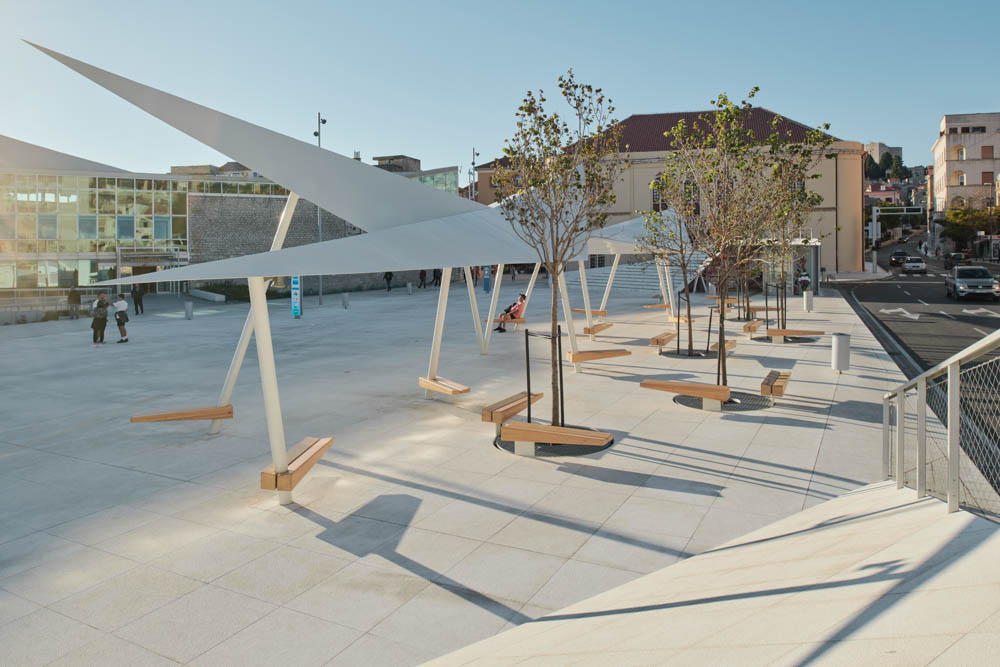 폴야나 광장은 눈에 띄는 매스가 없는 연속적인 3차원 도시 플랫폼(필드)으로 설계되었는데, 다양한 사회적 행사를 적극적으로 수용하고 역사적이면서도 현대적 도시 속 환경의 중간 역할을 한다. 광장의 표면은 두 개의 네트워크, 즉 극장을 향한 고전적인 격자와 도서관 건물의 논리를 따르는 유연한 정사각형 지점 및 모서리에 공간적 악센트가 있는 역사적인 성벽이 중첩되면서 주변 기능이 폴야나 공간에 도입되어 있다.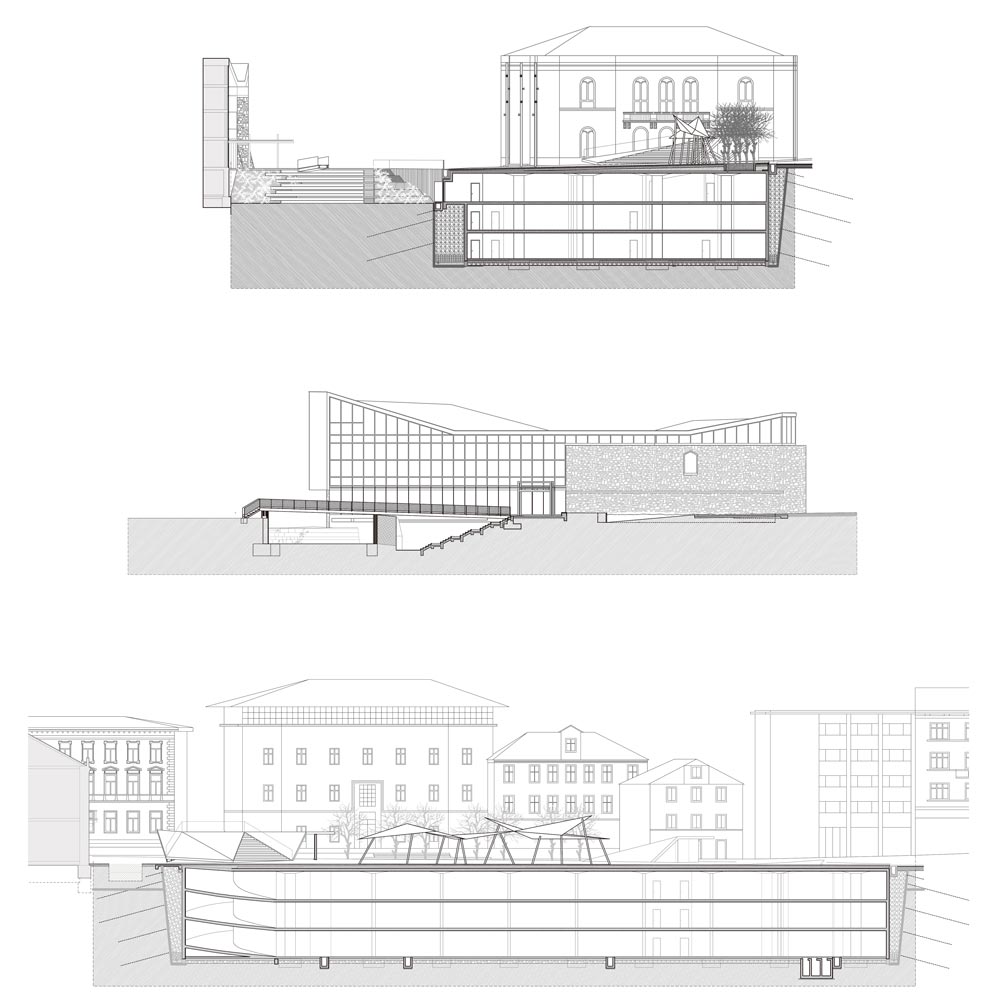 일상생활과 역사에서 인식되는 움직임 방향과 함께 만남의 장소로서 활성화된다. 네트워크 교차 영역에서 공간적 주름이 파빌리온 지붕에 확장되고 돌출된 표면을 형성한다. 떠다니는 듯한 동적 구조물인 캐노피는 광장의 경계를 정의하여 새로운 시대와 역사적 공간의 연결하는 연속성의 구간을 만든다.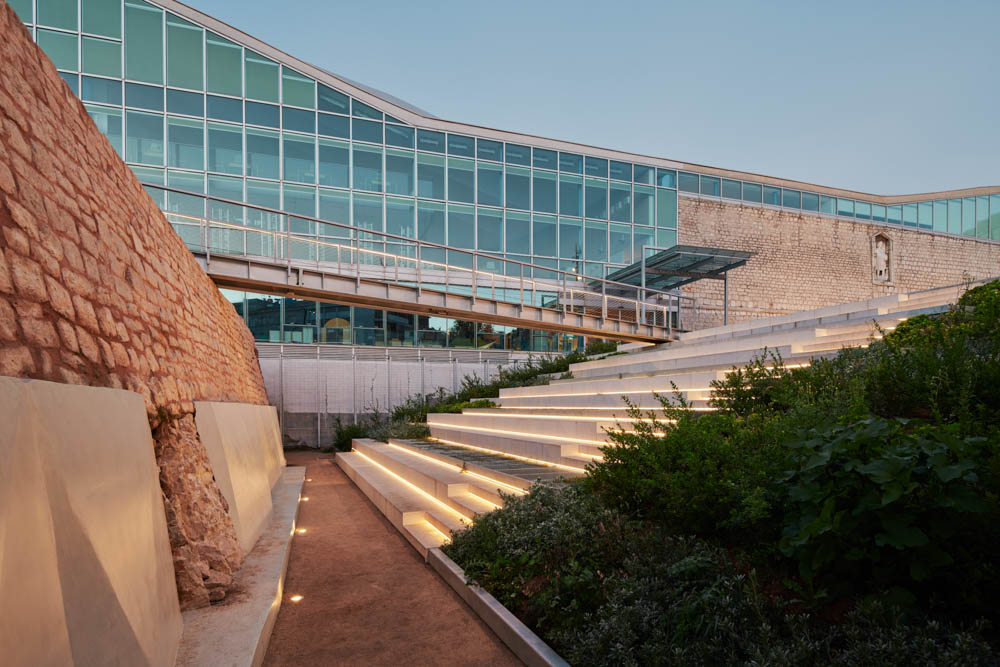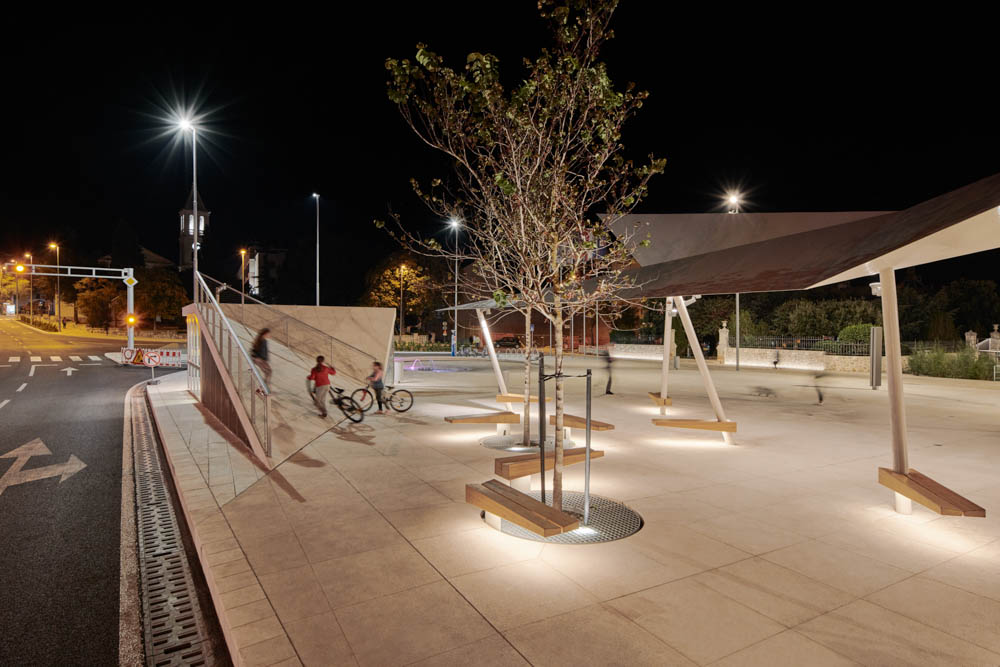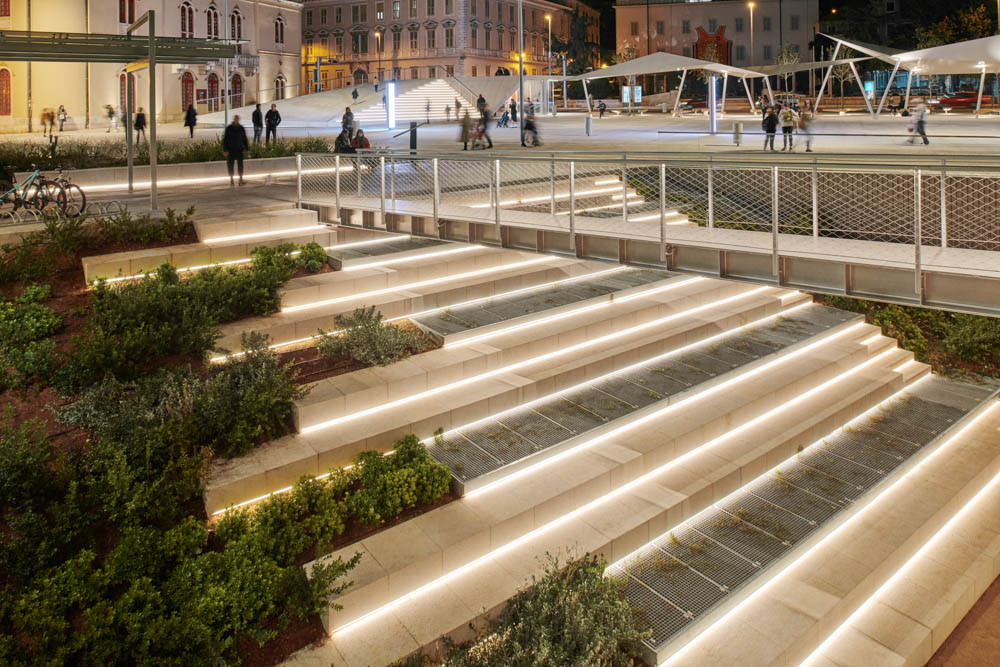 광장의 디자인은 전통적인 지중해 및 산업 자재에 대한 현대적인 해석으로 통합된 지하 및 지상 부분으로 구성된다. 스플리트 조선소에서 사전 제작된 캐노피의 구조는 현대풍의 도서관 건물과 활발하면서도 도서관을 배려하는 위치에 자리하는 것을 볼 수 있다. 광장의 자유로우면서도 유연하게 조직된 인프라들은 사회의 공동체를 연결하는 지점이며, 다양한 행사와 예술 공연을 위해 사용되는 다양성을 가진다.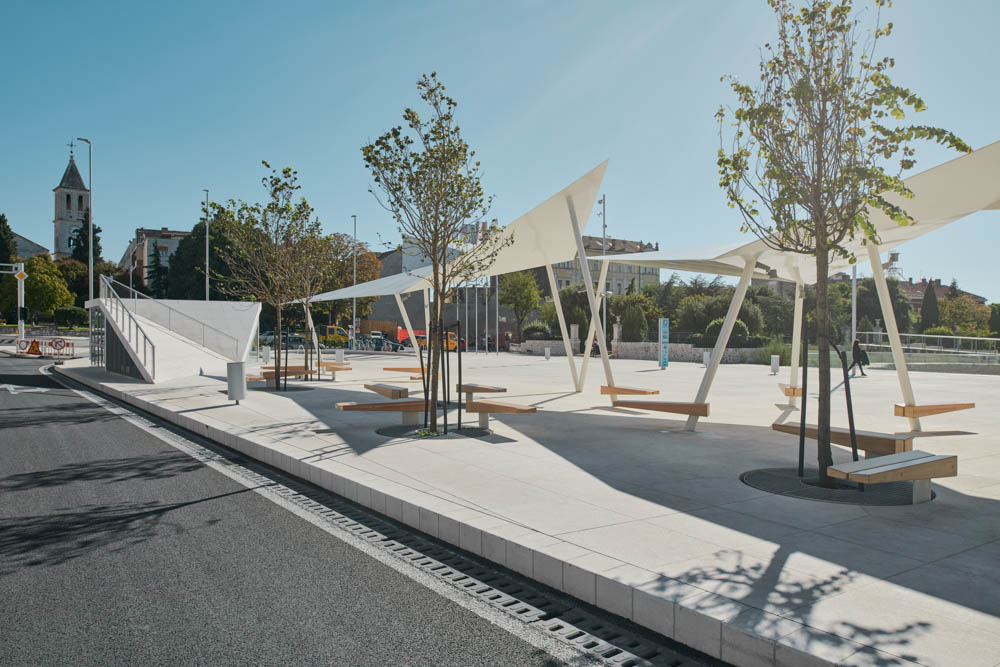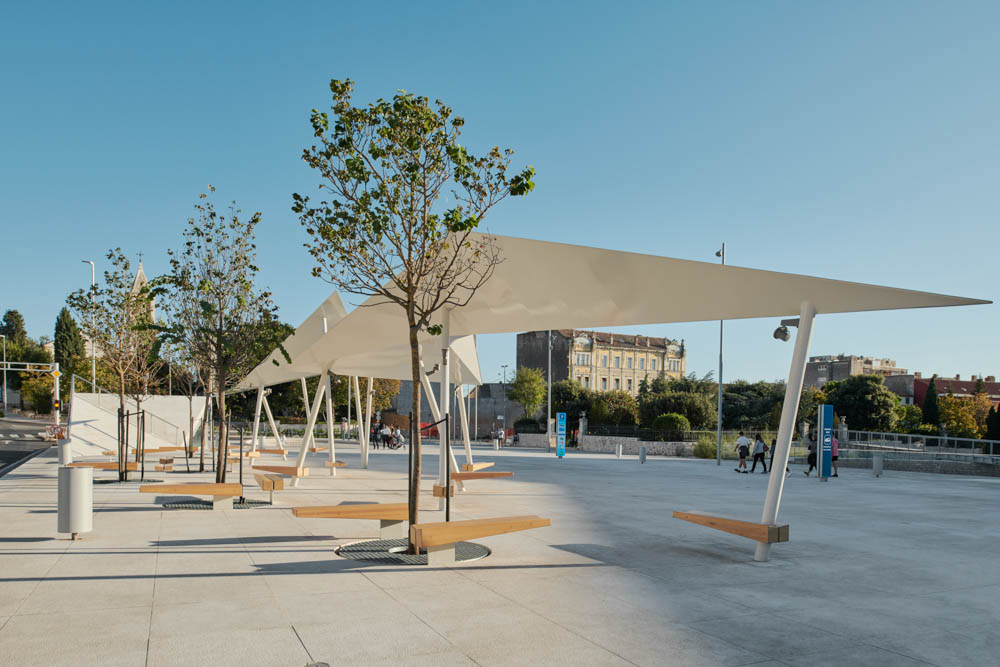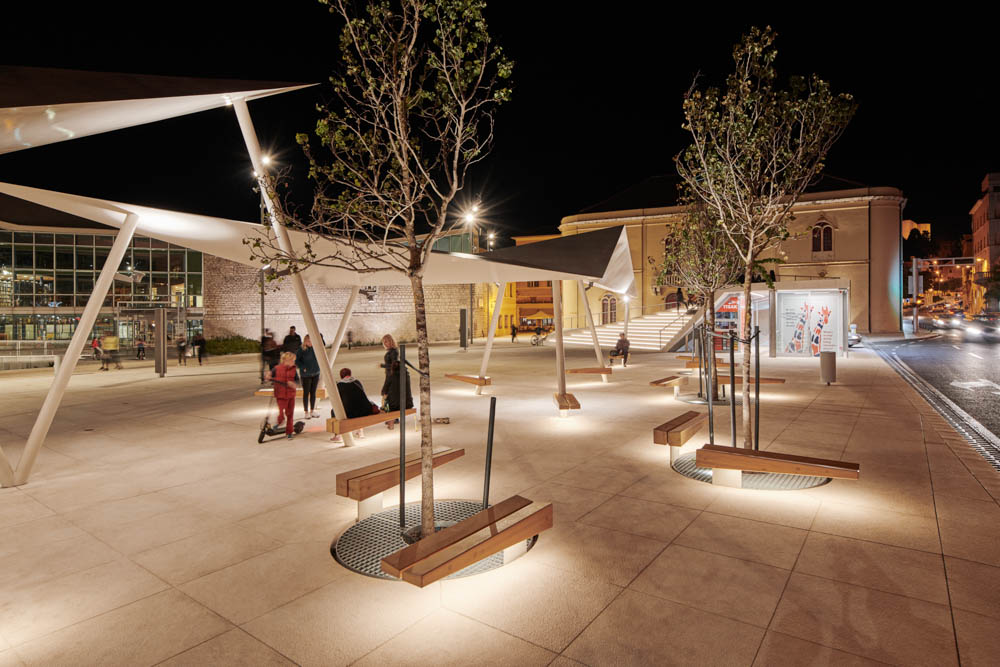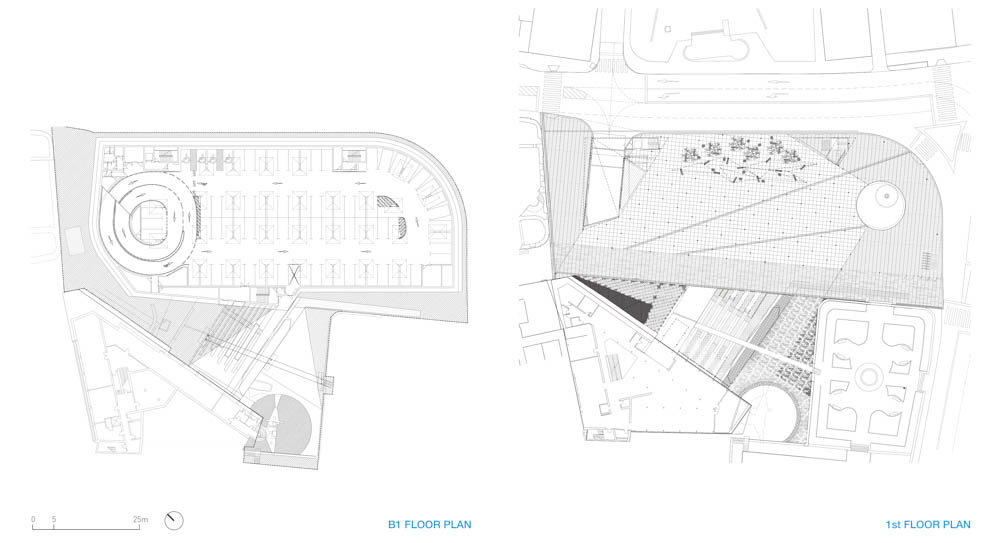 Architect ATELIER MINERVA + INSTITUTE FOR ARCHITECTURE + FACULTY OF ARCHITECTURE, UNIVERSITY OF ZAGREB
Location Šibenik, Croatia
Program Public Space, Archaeological Park, Garage/Logistics Center
Site area 4,884m2
Building area 12,673m2
Building scope B3, 1F
Floor area ratio 242%
Design period 2011. 7 - 2020. 4
Construction period 2018.10 - 2020. 6
Completion 2020
Principal architect Nedjeljka Bobanović
Project architect Ivana Tutek, Paula Šimetin, Iva Dubovečak, Izvor Simonović Majcan
Project team Ivana Curić, Bernarda Lukač, Lucija Megla
Design team (Product design) Numen/For Use, ACO / (Interior design) Ivana Tutek, Bernarda Lukač / (Graphic design) Stanislav Habjan, Petikat / (Landscape design) Ksenija Diminić
Structural engineer Kap4
Mechanical engineer Šprem-projekt d.o.o., Inspekting d.o.o.
Electrical engineer Telektra, Grid d.o.o.
Construction LAVČEVIĆ INŽENJERING d.o.o.
Collaborators Adria građevinski projekti d.o.o., Brodosplit d.d., Kamen d.d. Pazin, ACO
Client City of Šibenik + Gradski Parking d.o.o.
Photographer Marko Mihaljević, Ervin Husedžinović
해당 프로젝트는 건축문화 2021년 5월호(Vol. 480)에 게재 되었습니다.

The project was published in the May, 2021 issue of the magazine(Vol. 480).
---
마실와이드 | 등록번호 : 서울, 아03630 | 등록일자 : 2015년 03월 11일 | 마실와이드 | 발행ㆍ편집인 : 김명규 | 청소년보호책임자 : 최지희 | 발행소 : 서울시 마포구 월드컵로8길 45-8 1층 | 발행일자 : 매일