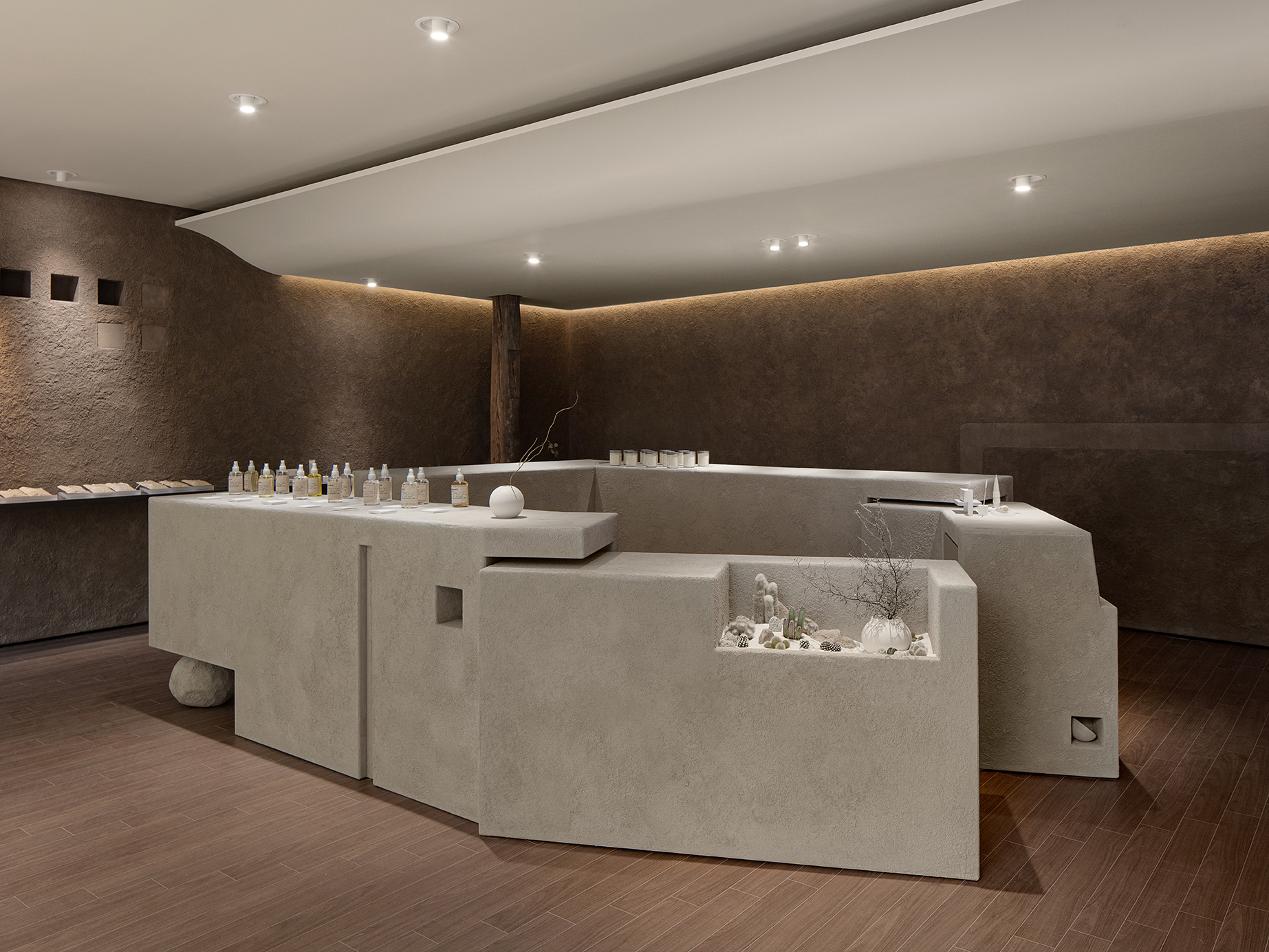 Granhand, a brand that makes beautiful scents in everyday life, suggests various forms of scents to consumers.
The project is the fourth branch of Grand Hand located in Donggyo-dong, Mapo. Usually, if you look at the linguistic expression method of incense, it is often expressed by texture. Rough scent, soft scent, rough scent... This is a way to express invisible senses verbally. We were very interested in the way we expressed the sense of scent in texture, and focused on spatializing and visualizing invisible scents through the physical properties of the material. Among them, what was found in the most effective way was that the physical properties of the materials used in the space were perceived by the texture and touch of light. Therefore, the effect of dramatic contrast caused by juxtaposing a very soft material and a very rough material in one space was adopted as an expression method. In conclusion, we wanted to express the "texture of scent" as a space.
A good scent has a beautiful texture. It's not a real texture, it's an aesthetic texture, it's a texture of memory by an individual schema. Before entering the work, we collected and learned all the information about incense. It focused on paraffin, the main ingredient of scented candles, which is the most popular ingredient of scented candles, and tried to make the components of space using the paraffin.
Due to the nature of the site, the southwest sunlight reflected in the front window was so strong that some spatial devices were needed to prevent excessive light from pouring into the store on the first floor. The spatial device was thought to be something that could hold light and gently wrap the interior space.When we saw the paraffin hardened, we tried to filter out the external environment by building a wall made of paraffin (5 m long / 2 m high). The initial plan was to complete the wall by pouring hot-melted paraffin using building molds at once, but at the time of construction, it was the coldest cold season, so we replaced the block type production method and produced it directly in our office. Due to the nature of the store, the Grand Hand design team proposed connecting sensory experience devices rather than physical connections to experience products from the ground floor in plastic balls and sending them to the ground floor, and we designed the idea by letting them flow into pipes. In addition to the large wall of the paraffin entrance, it was used as wall lighting, handles, and objects, and wanted to use lighting such as Ingo Maurer's Flying Candles and Digital Candles to interpret the candle in various ways. Finally, the giant sphere of the outer fa드의ade is a tool that allows one texture to show multiple rough textures at different angles over time, and is also a device that implies an interior space.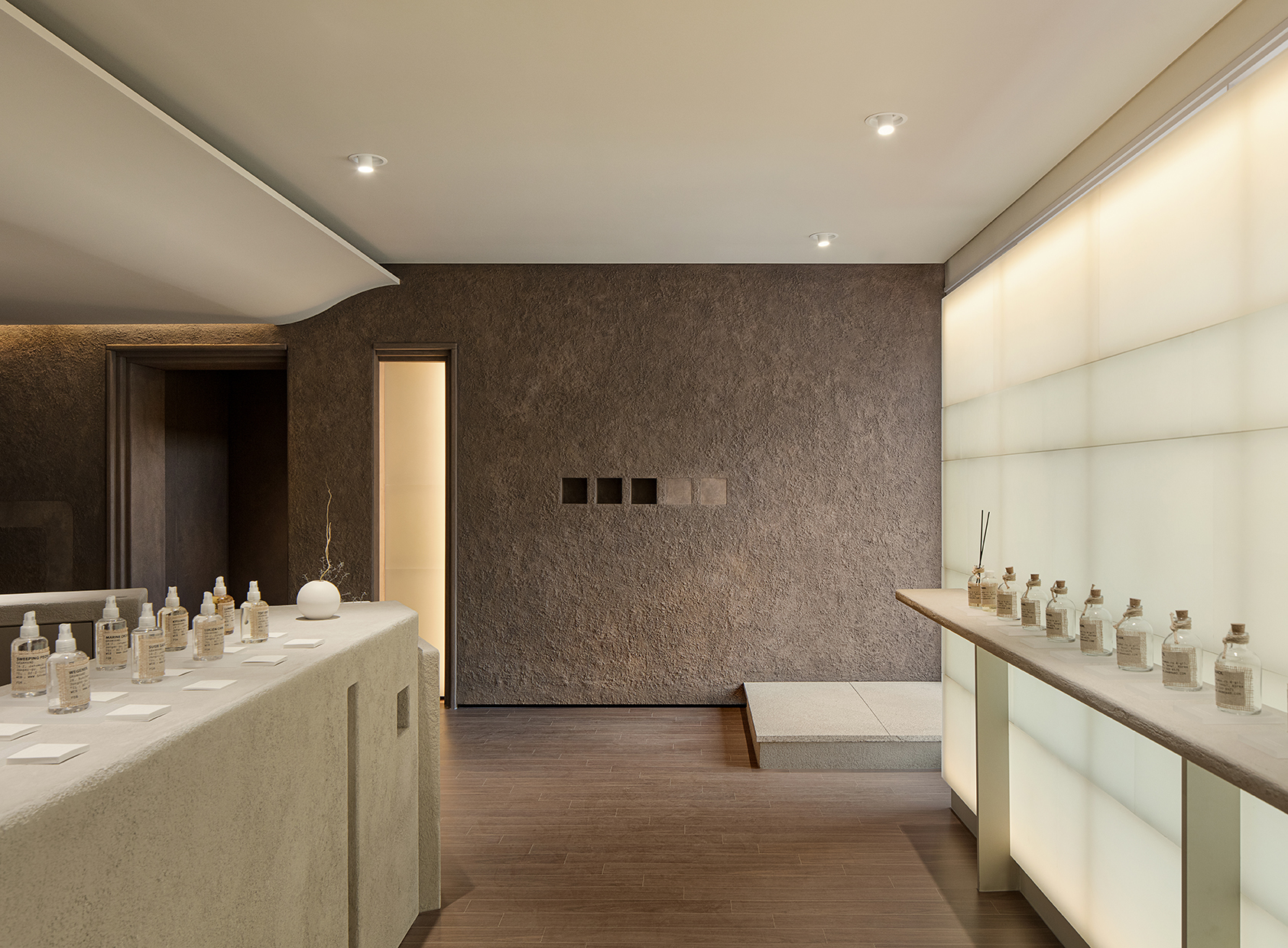 일상의 아름다운 향을 만드는 브랜드인 Granhand(그랑핸드)는 다양한 형태의 향을 소비자에게 제안한다.
이번 프로젝트는 마포 동교동에 위치한 그랑 핸드의 네 번째 지점이다. 통상적으로, 향의 언어적 표현 방법을 살펴보면 질감으로 표현을 하곤 한다. 거친 향, 부드러운 향, 투박한 향... 이것은 보이지 않는 감각을 언어적으로 표현하기 위한 방법이다. 우리는 향이라는 감각을 질감으로 표현하는 방식이 매우 흥미로웠고, 보이지 않는 향을 재료의 물성을 통해 공간화하고 가시화하는 것에 집중하였다. 그 중에 가장 효과적인 방법으로 찾아낸 것은 공간에 쓰인 재료의 물성이 빛으로 인한 질감, 촉감 등으로 인지된다는 것이었다. 따라서, 아주 보드라운 소재와 아주 거친 소재를 한 공간에 놓아 병치함으로써 생기는 극적 대비의 효과를 표현 방법으로 채택하게 되었다. 결론적으로, 우리는 "향의 질감"을 공간으로 표현하고 싶었다.
향의 질감(質感)
좋은 향은 아름다운 질감을 지니고 있다. 그것은 실제 질감이 아닌, 심미적 질감이며 개개인의 스키마에 의한 기억의 질감이다. 작업에 들어가기 앞서, 우리는 향에 대한 모든 정보를 수집하고 습득하였다. 향의 원료 중 가장 대중화되어 있는 향초의 주원료인 파라핀에 집중하였고, 그 파라핀을 이용하여 공간의 구성 요소를 만들고자 하였다.
사이트가 가진 특성상 전면 창에 비치는 남서향의 햇빛이 너무 강하여 1층 매장 내부로 과하게 쏟아지는 빛을 막고자 어떠한 공간적 장치가 필요하였다. 그 공간적 장치는 빛을 머금고 내부 공간을 보드랍게 감싸줄 수 있는 무엇이라고 생각했다.파라핀이 굳혀진 모습을 보고 우리는 파라핀으로 만든 벽(길이 5m / 높이 2m)을 세워 외부 환경을 걸러내고자 하였다. 초기 계획은 이 벽을 건축용 거푸집을 사용해 뜨겁게 녹인 파라핀을 한 번에 부어 완성하고자 하였으나, 시공 당시는 가장 추운 혹한기여서 온도에 취약한 파라핀이 금이 가거나 안전사고에 위험이 생길 수 있기에 우리는 블록 타입으로 생산 방식을 교체하여 우리의 사무실에서 직접 생산하게 되었다. 1층과 지층으로 나뉜 매장의 특성상, 그랑핸드 디자인 팀은 물리적 연결보다는 감각의 체험 장치를 연결하여, 일층에서 구매한 제품을 플라스틱 공에 넣어 지하층으로 보내는 장치를 통해 지층의 매장까지 경험토록 제안을 하였으며, 우리는 그 아이디어를 파이프에 공을 흘려 보내는 방식으로 디자인하게 되었다. 파라핀으로 만든 입구의 큰 벽 외에도 벽 조명이나 손잡이, 오브제 등으로 사용되었으며, 잉고 마우러의 플라잉 캔들이나 디지털 캔들 같은 조명을 이용해 초의 다양한 해석을 하고 싶었다. 마지막으로, 외부 파사드의 거대한 구는 한 가지의 질감이 시간에 따른 다양한 각도에 여러 가지 거친 질감을 한 번에 보여줄 수 있는 도구이며, 내부 공간을 암시하는 장치이기도 하다.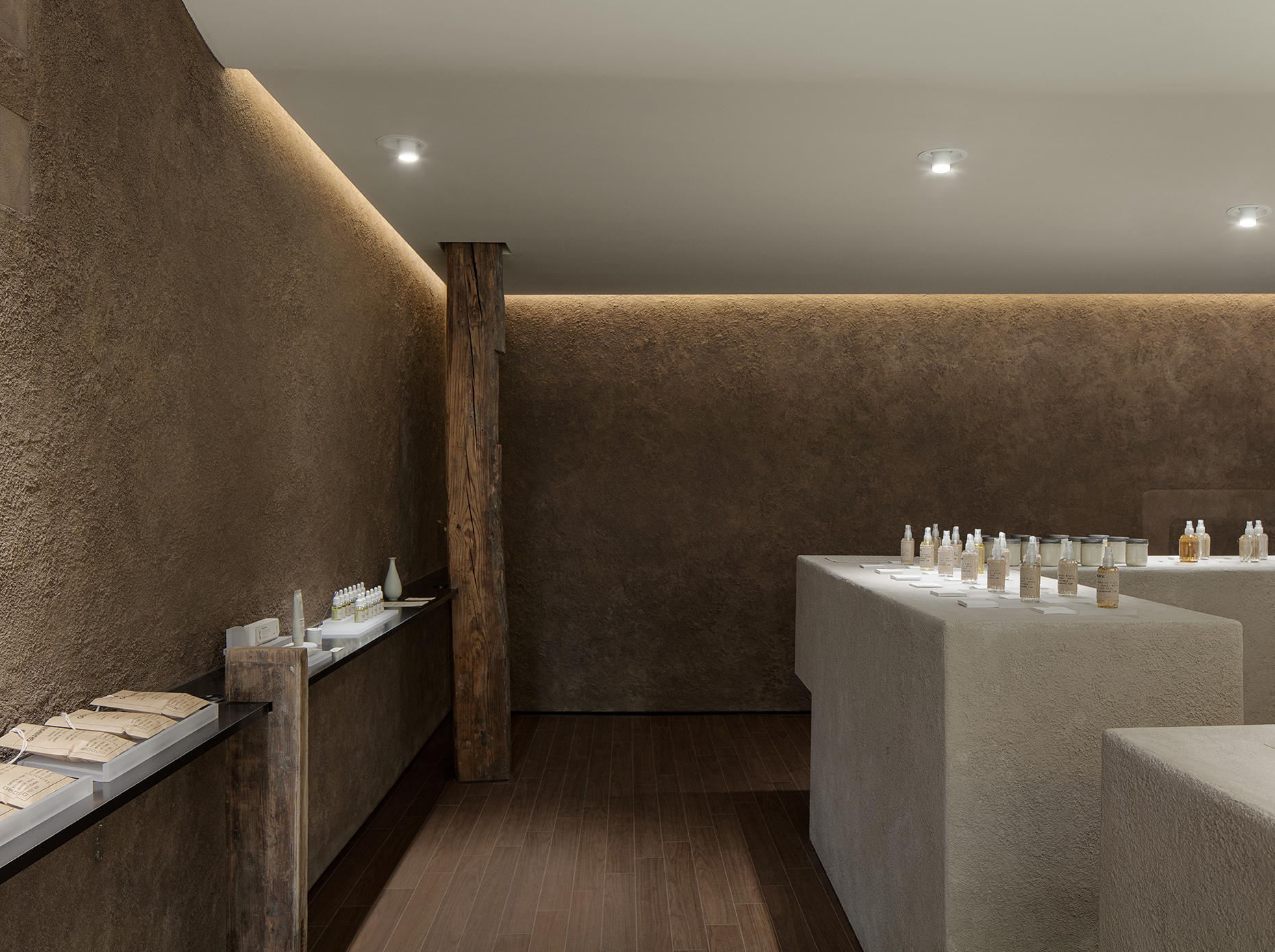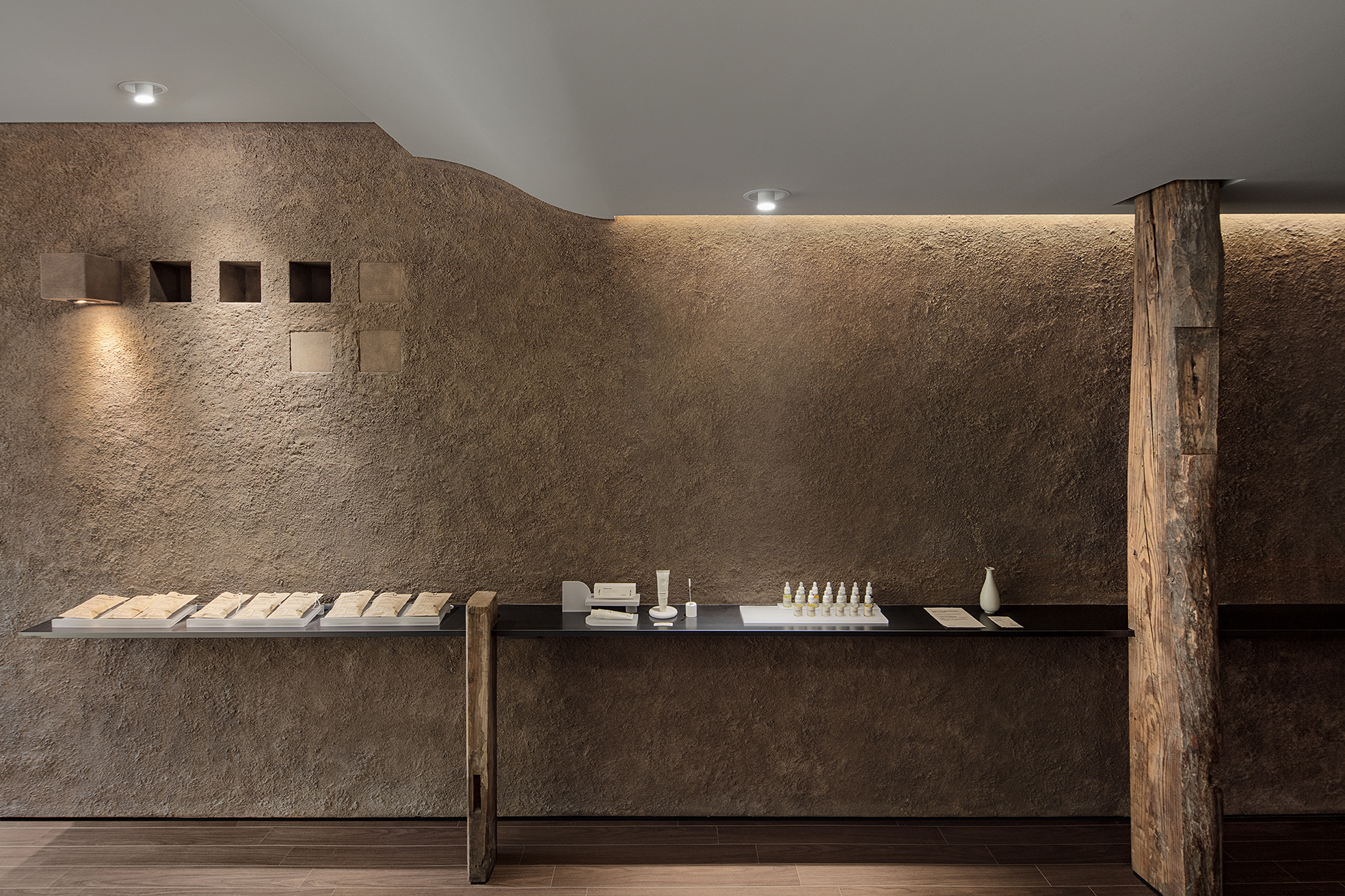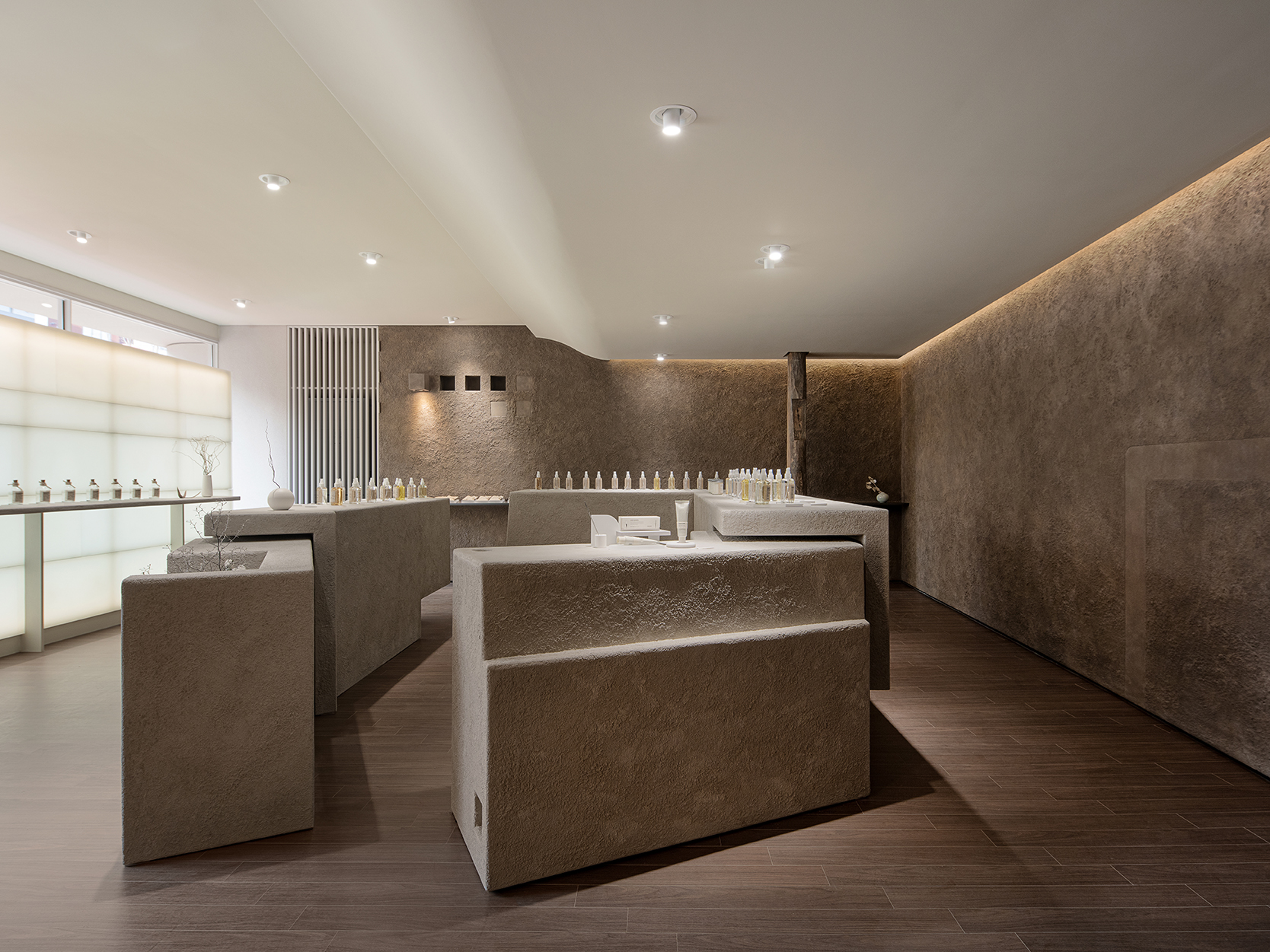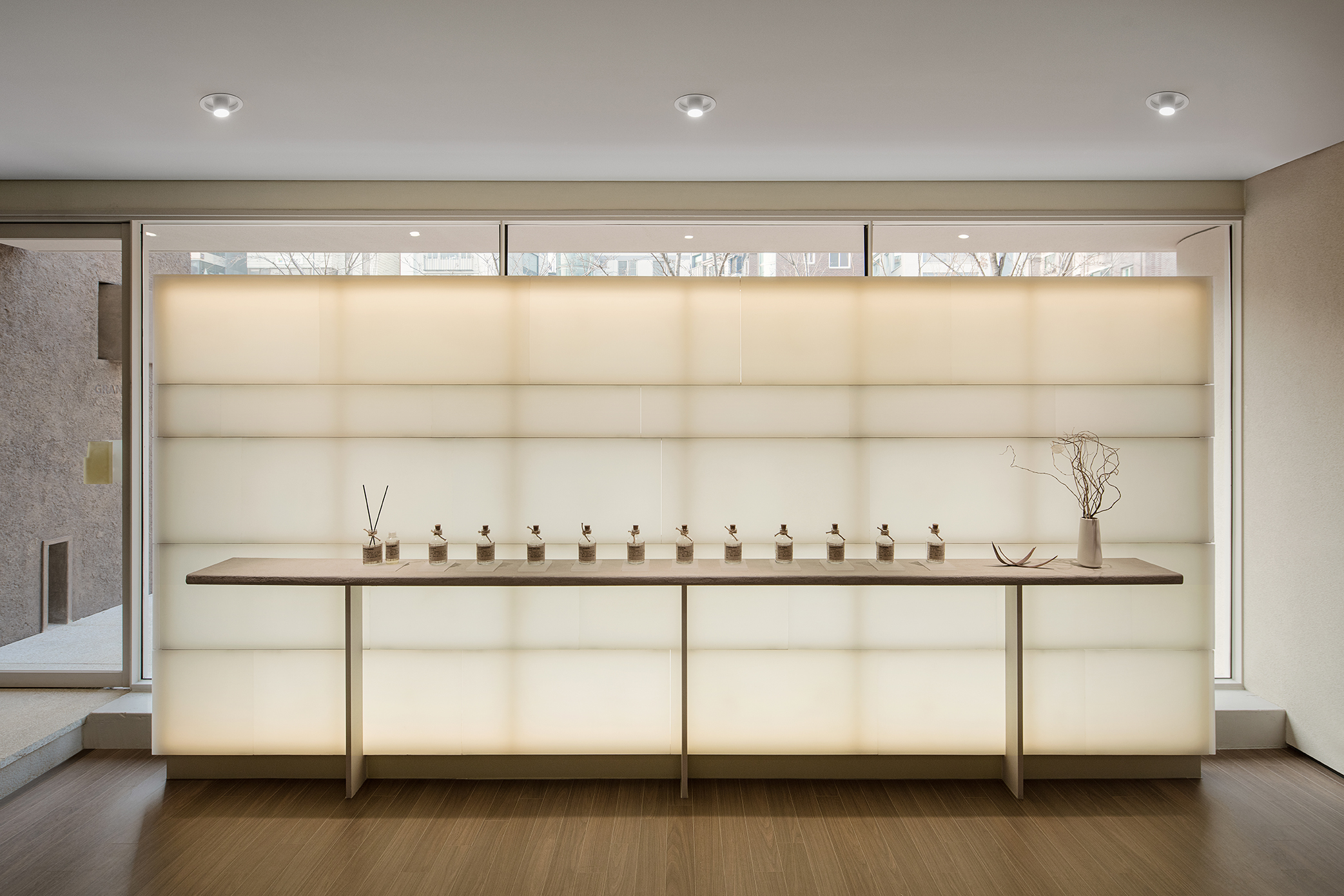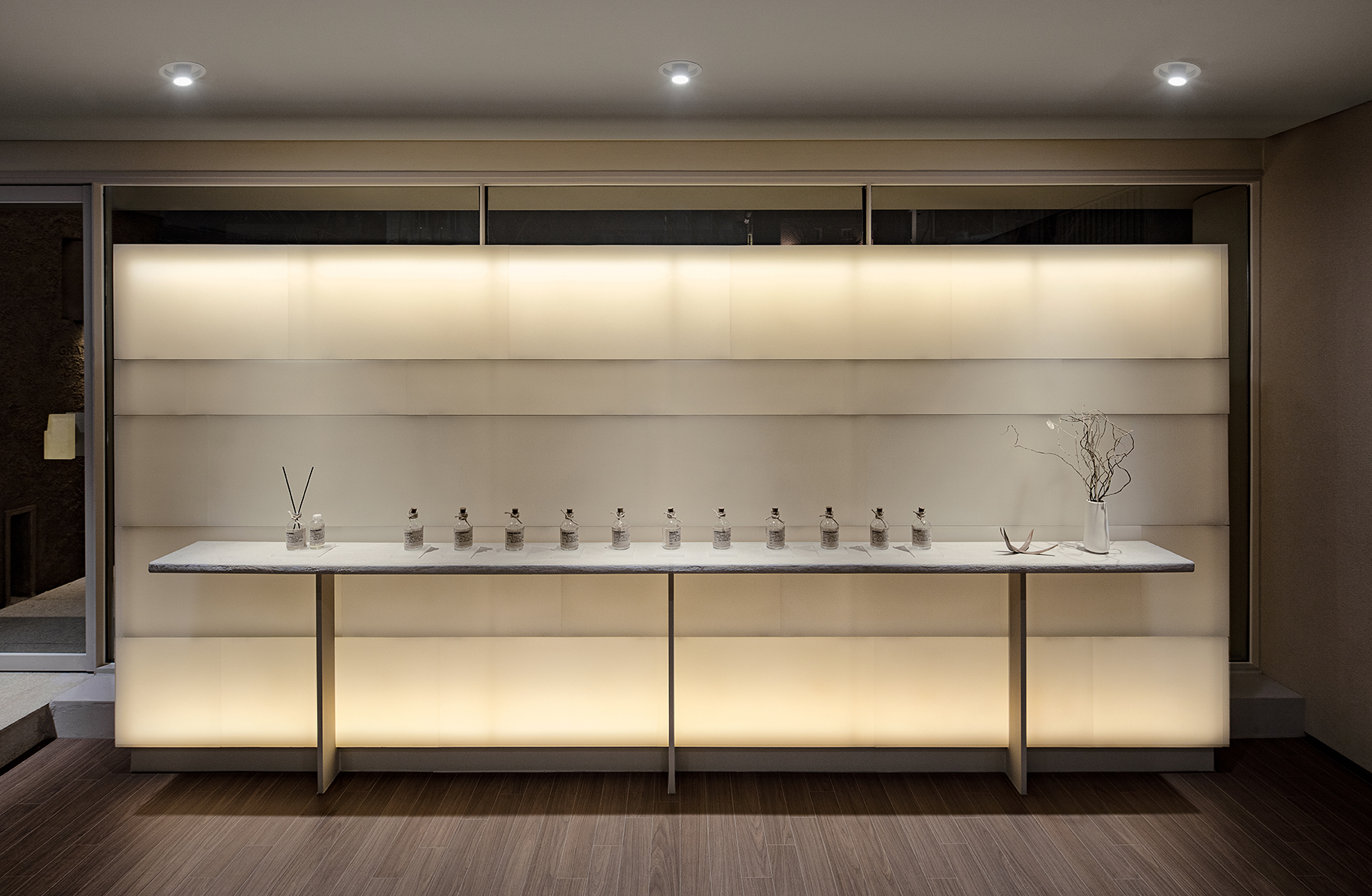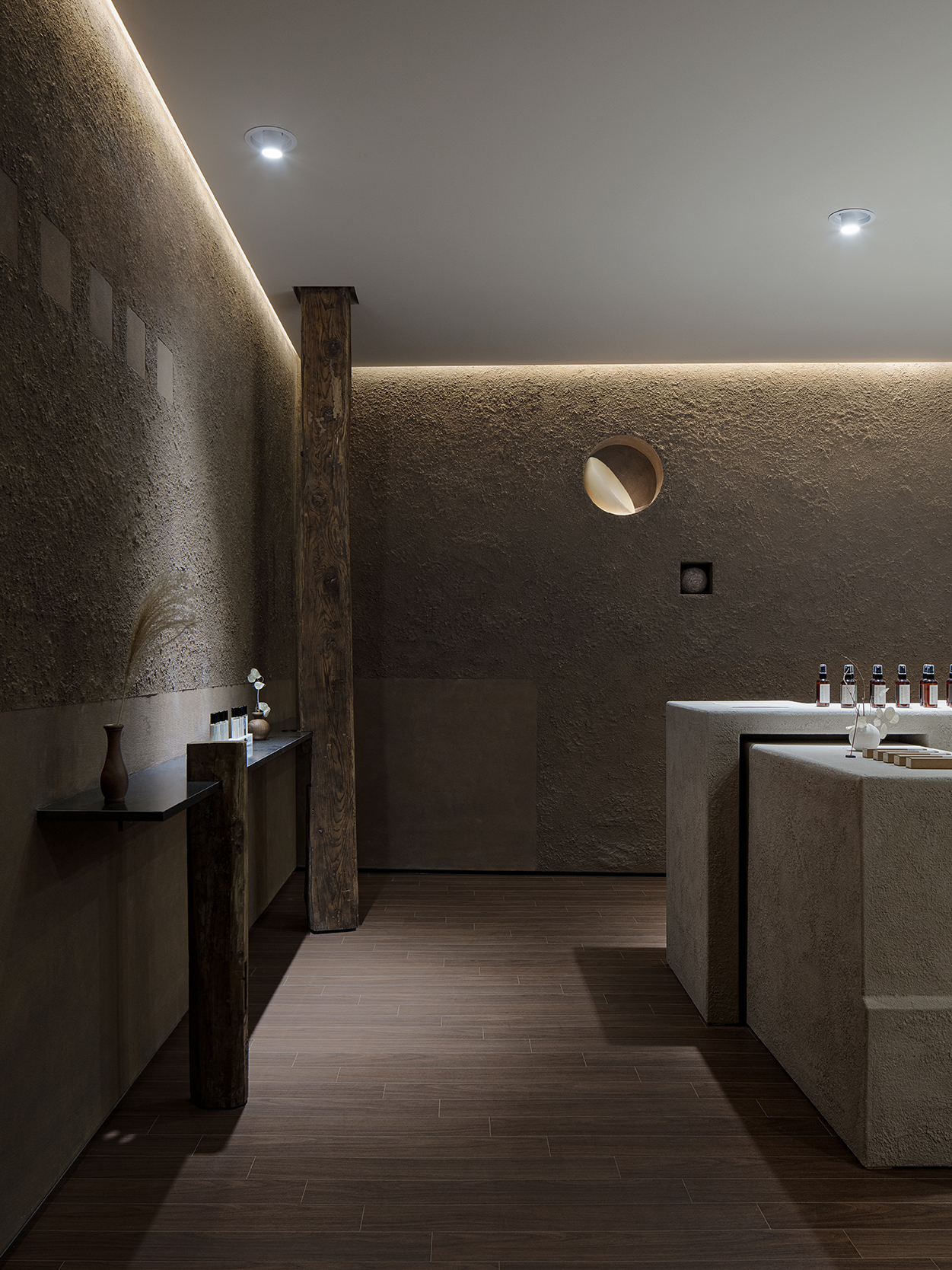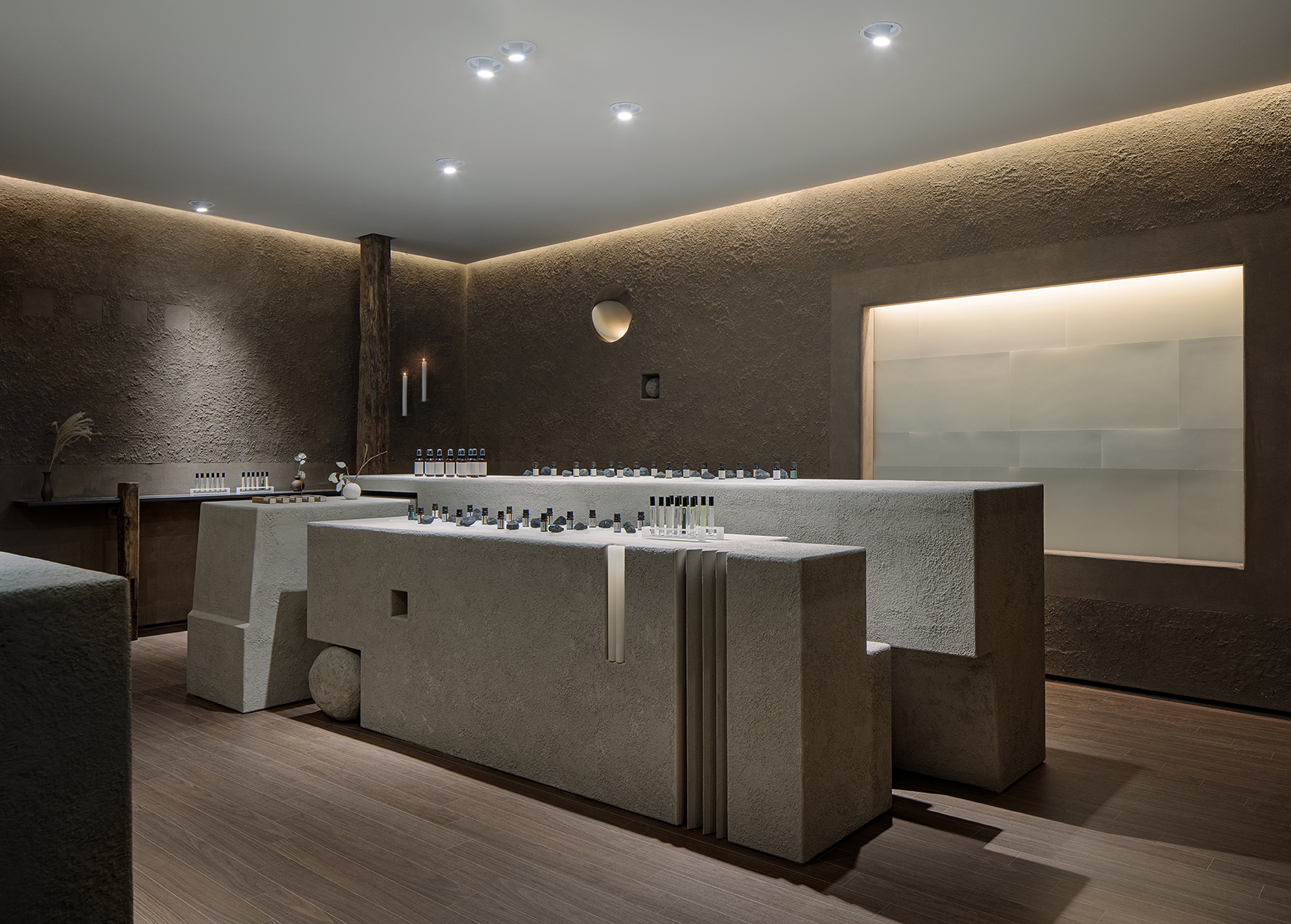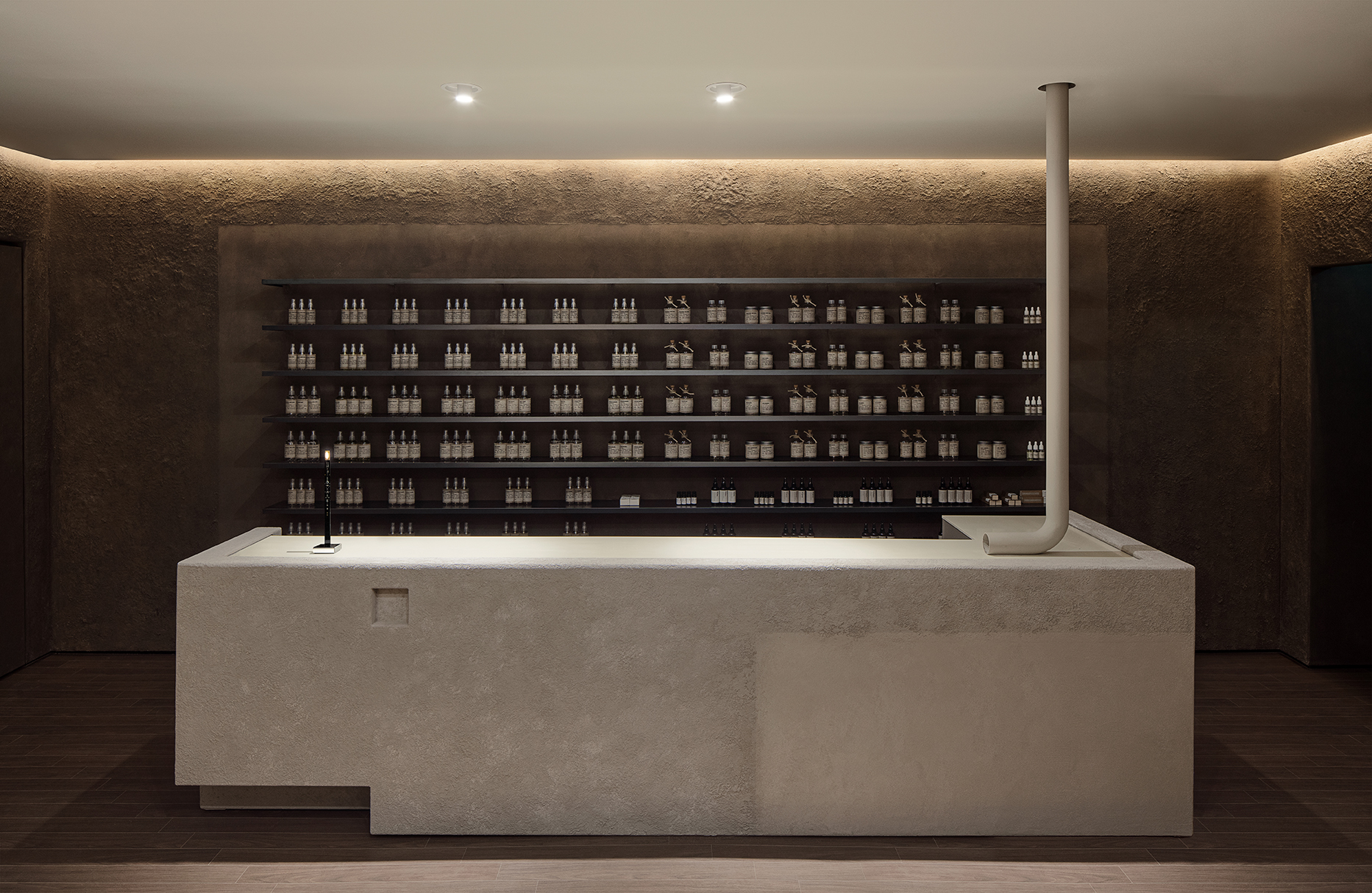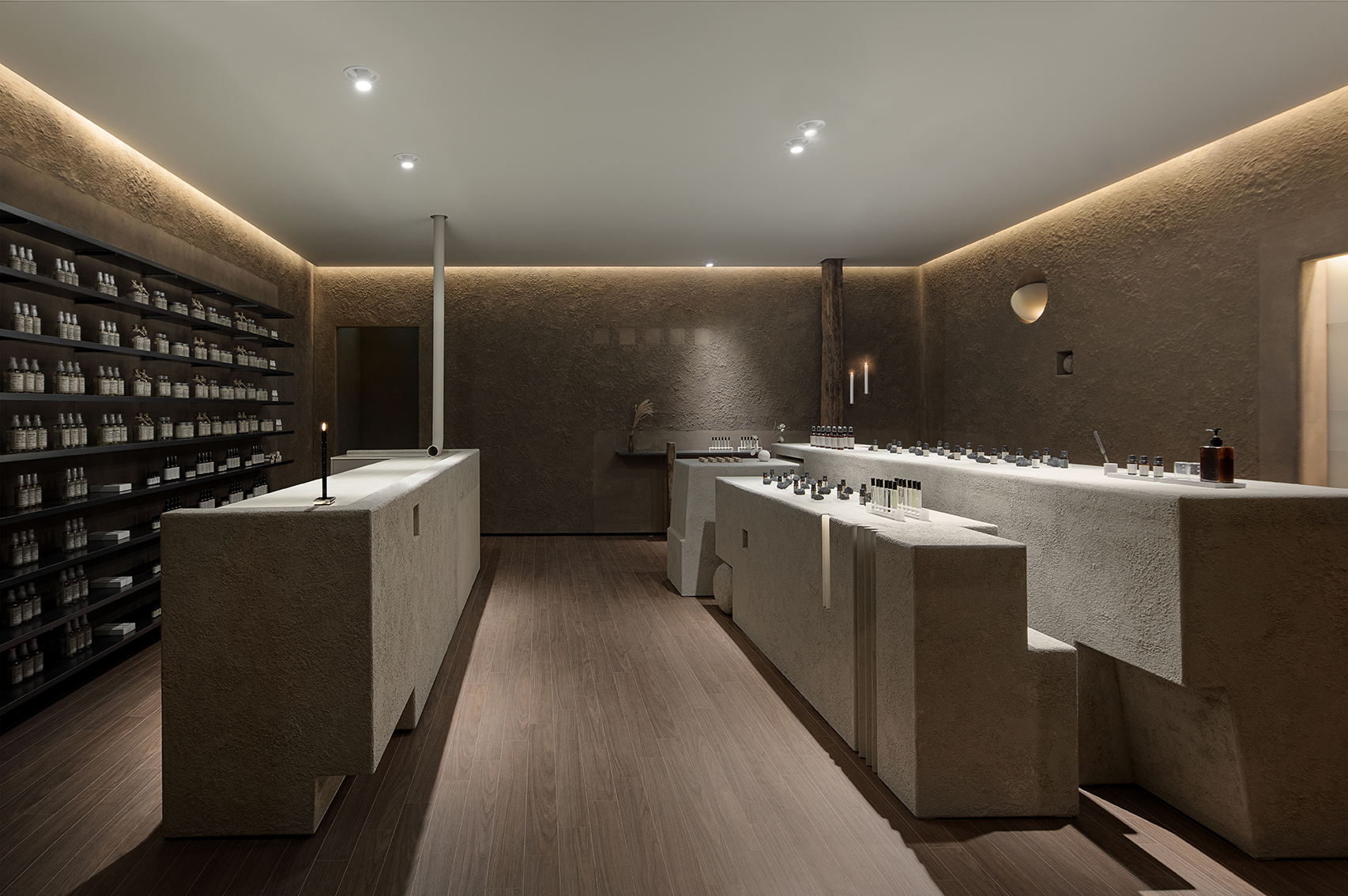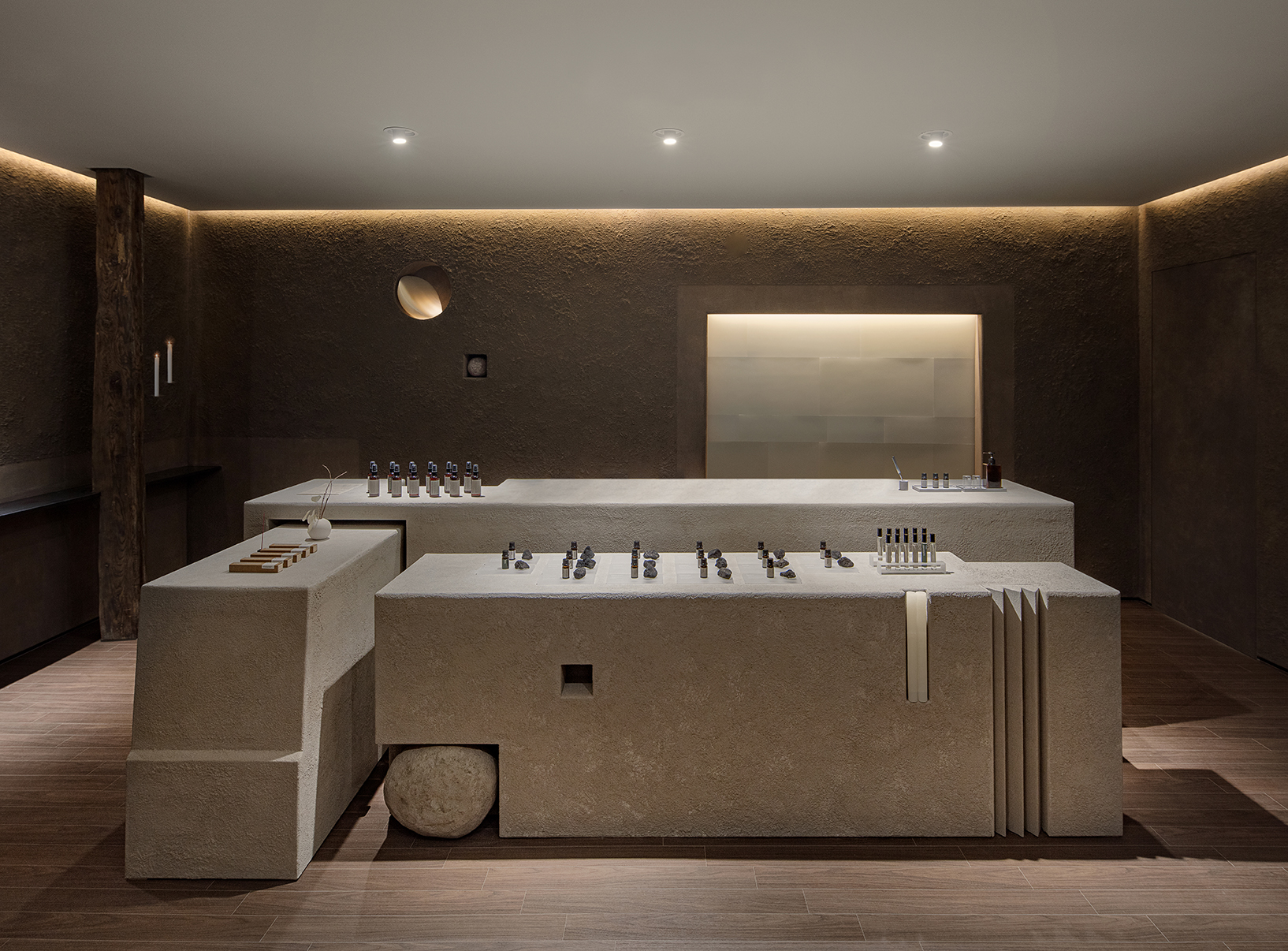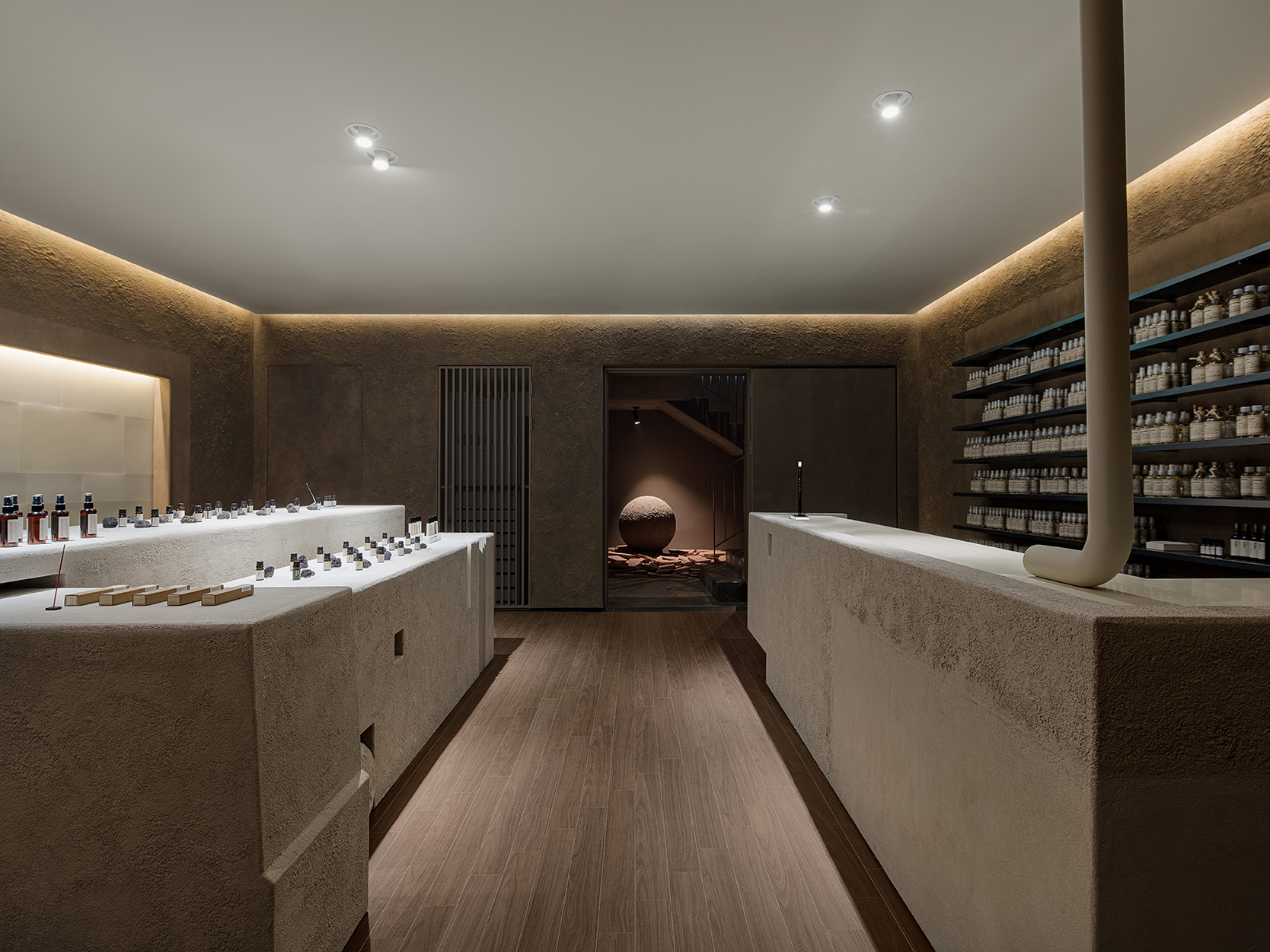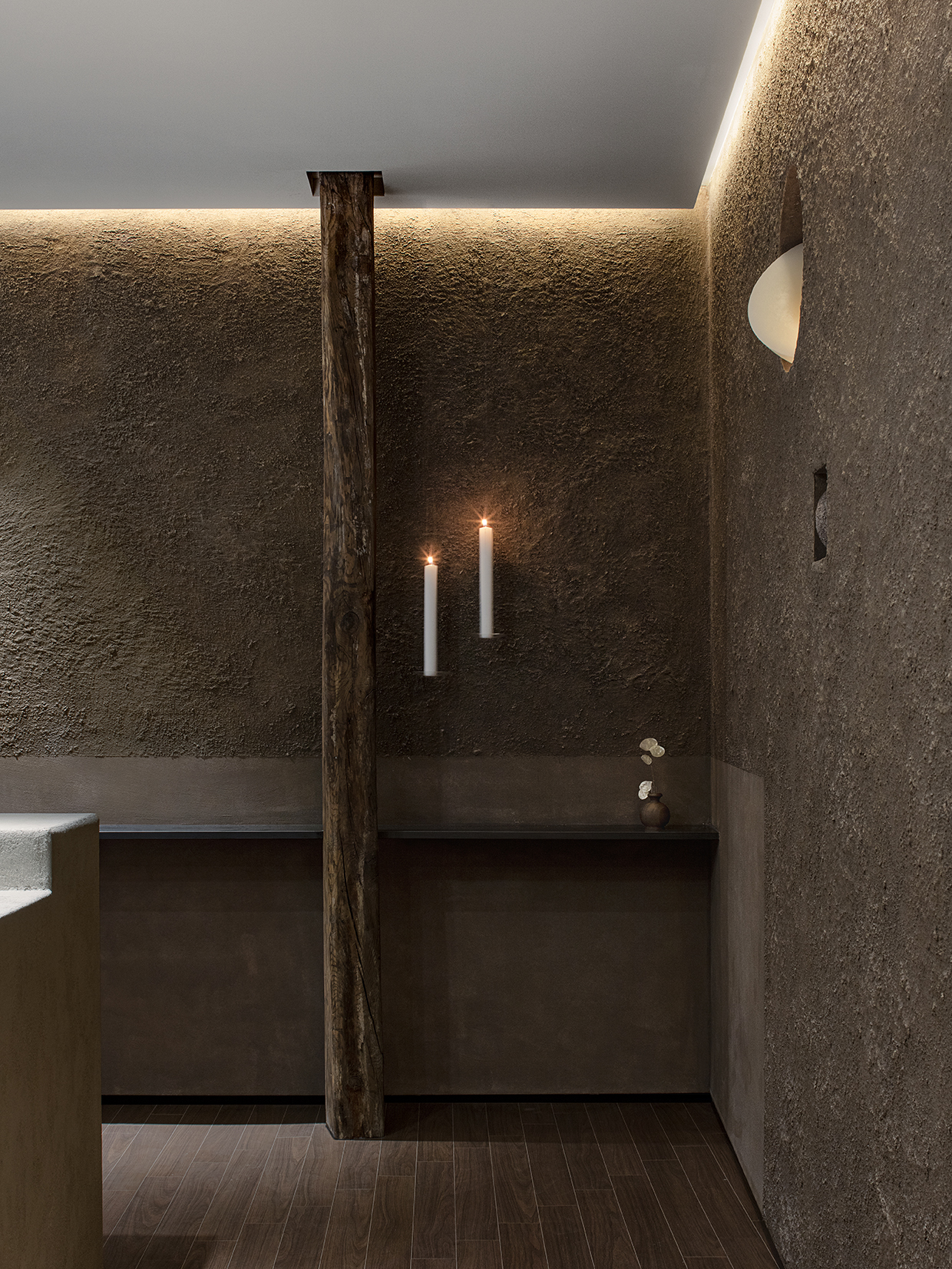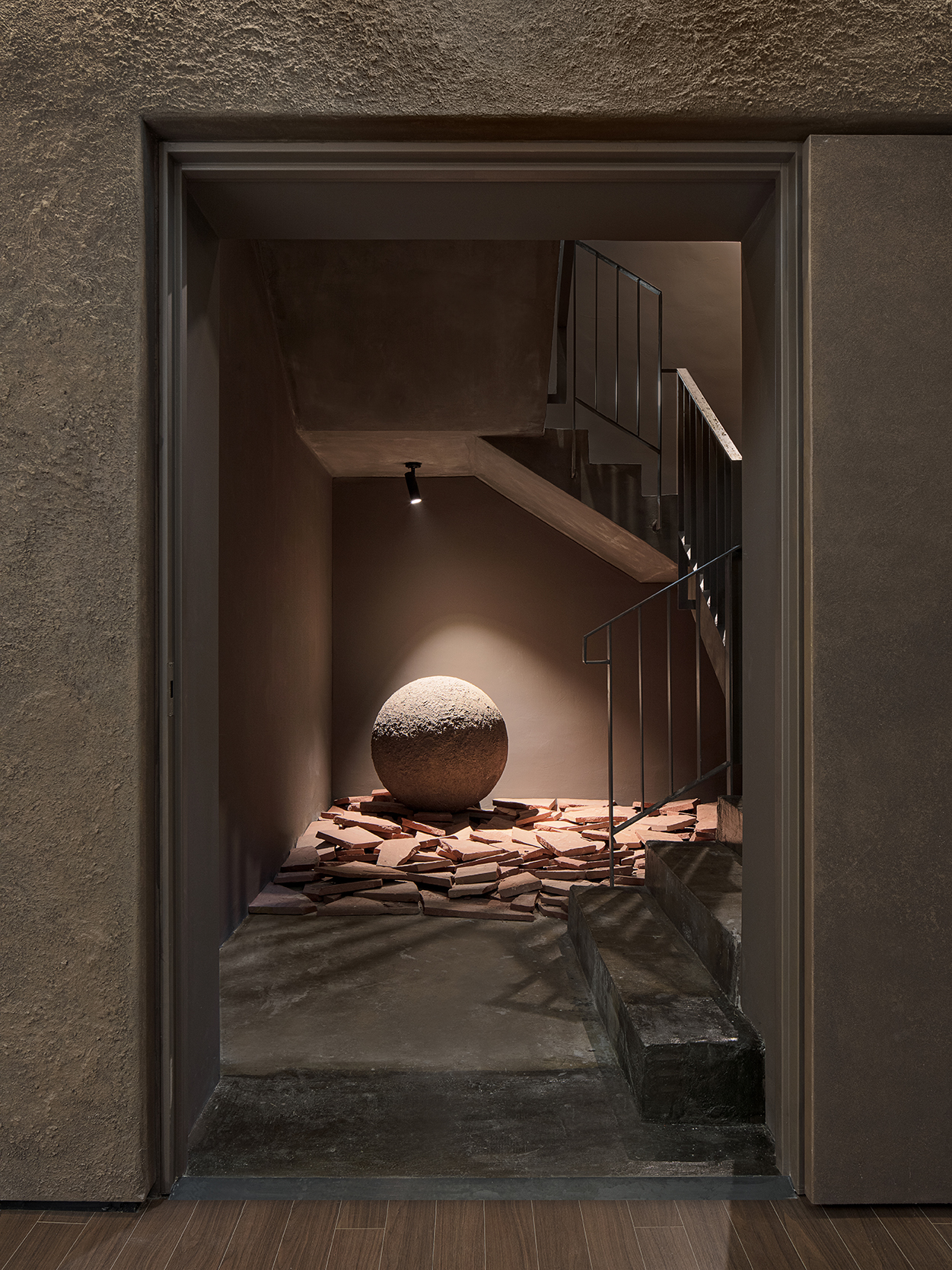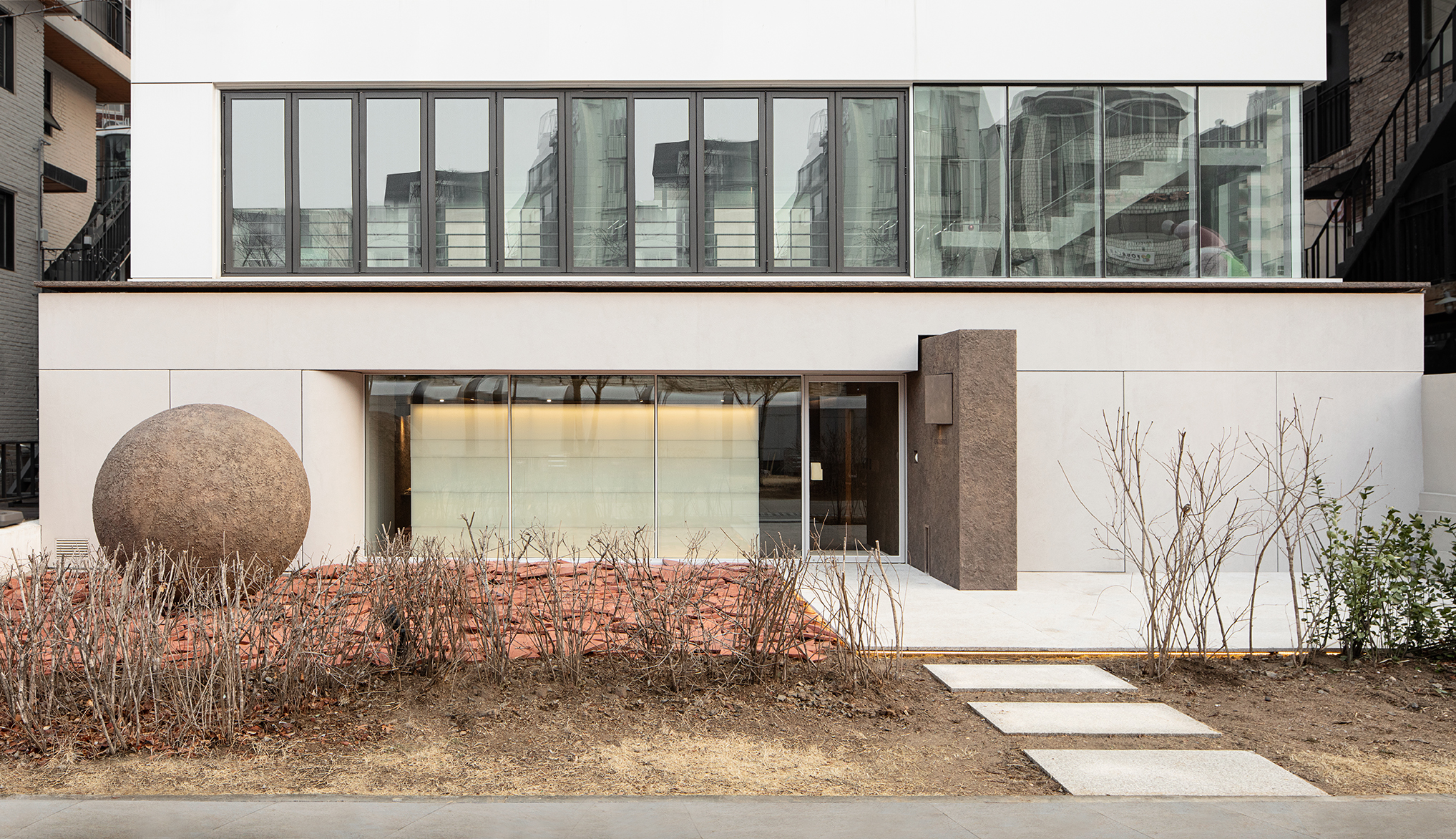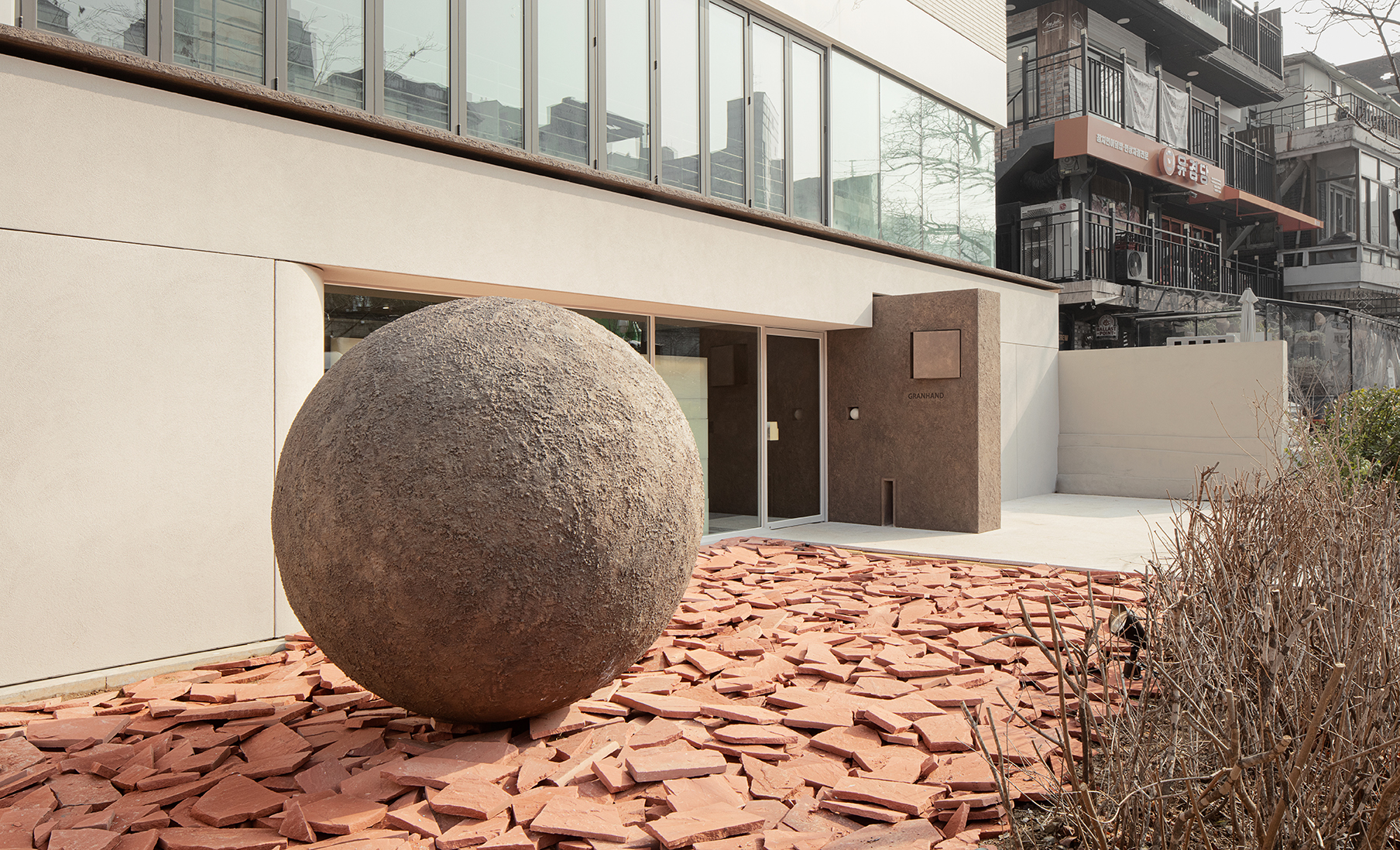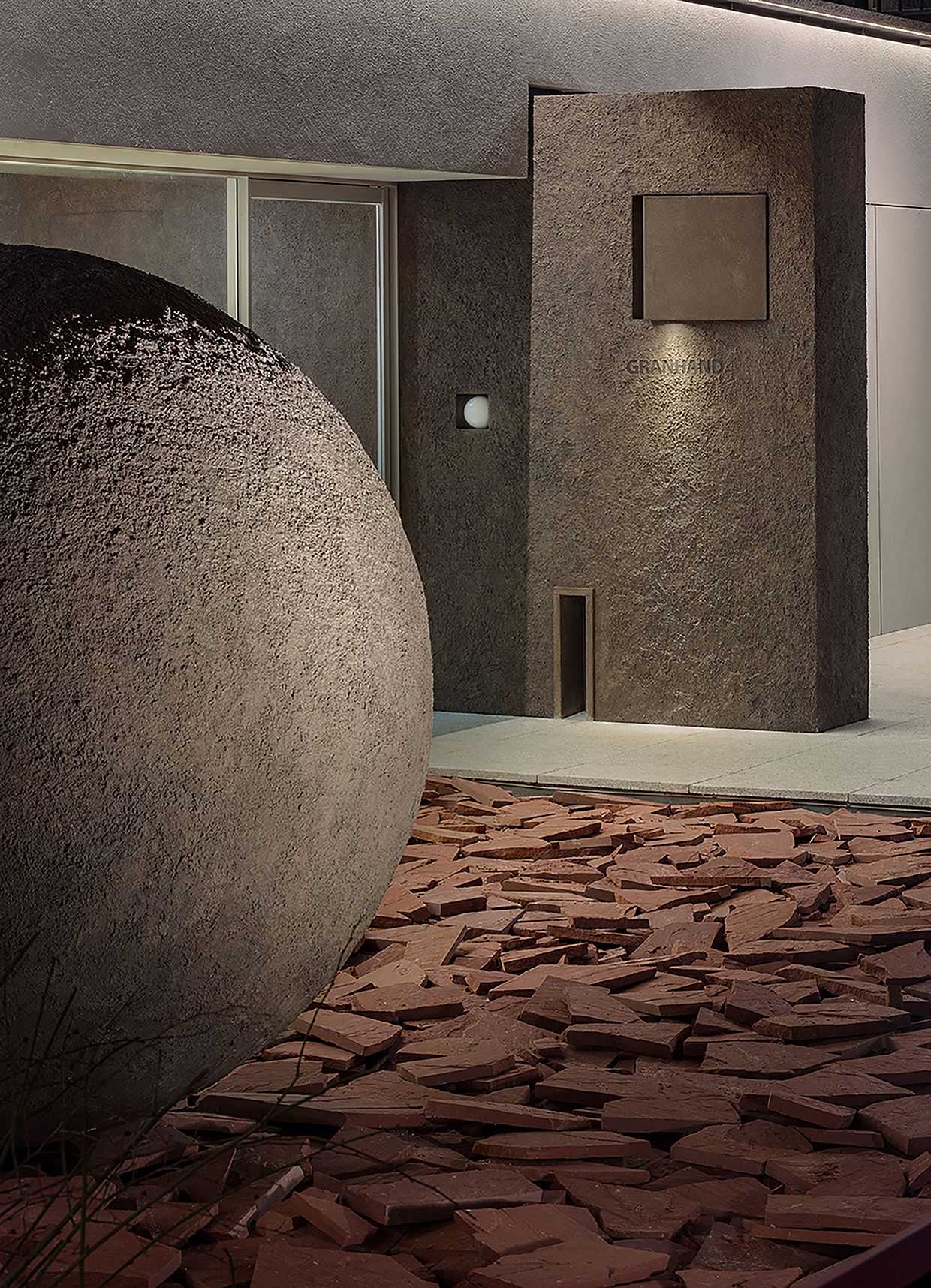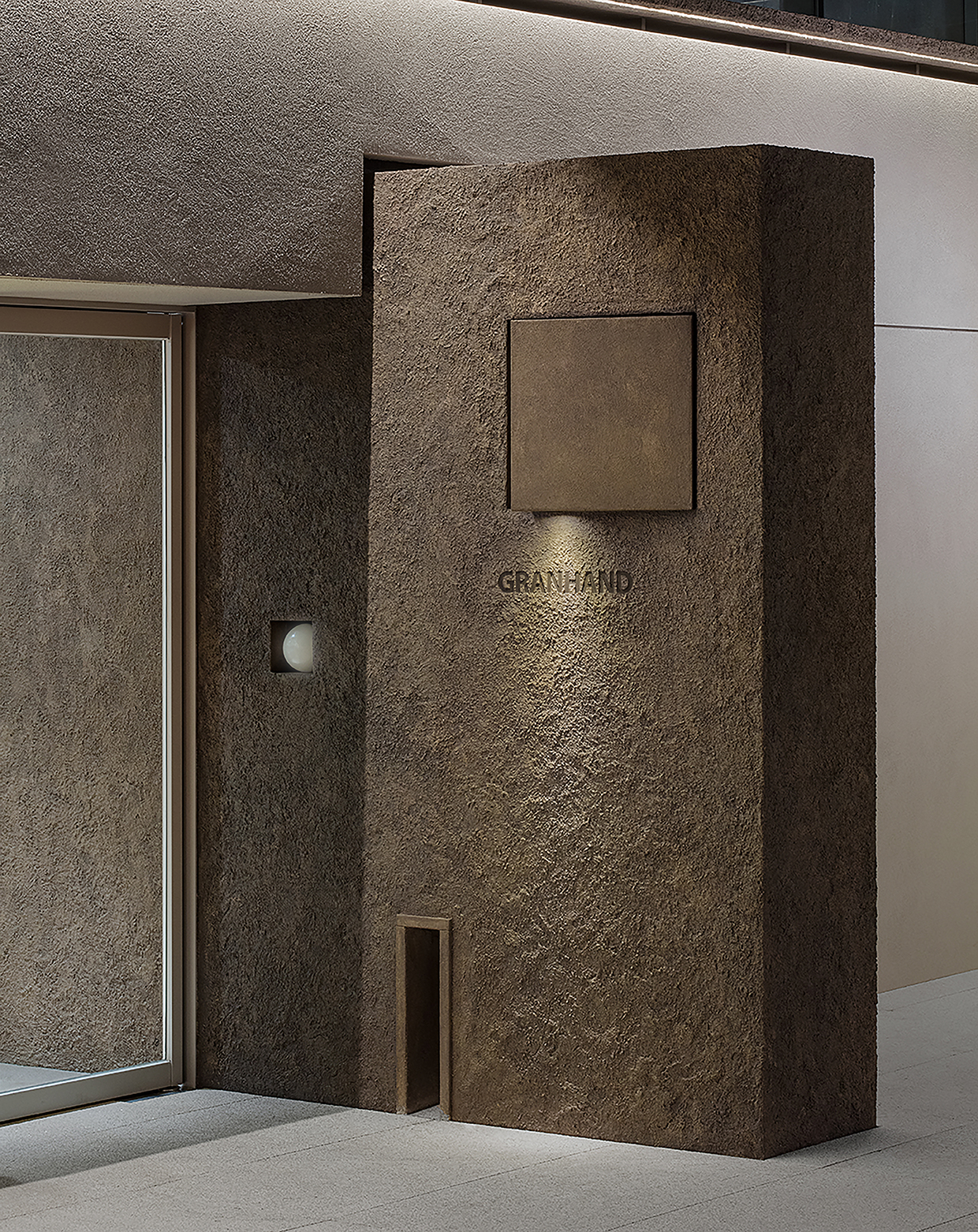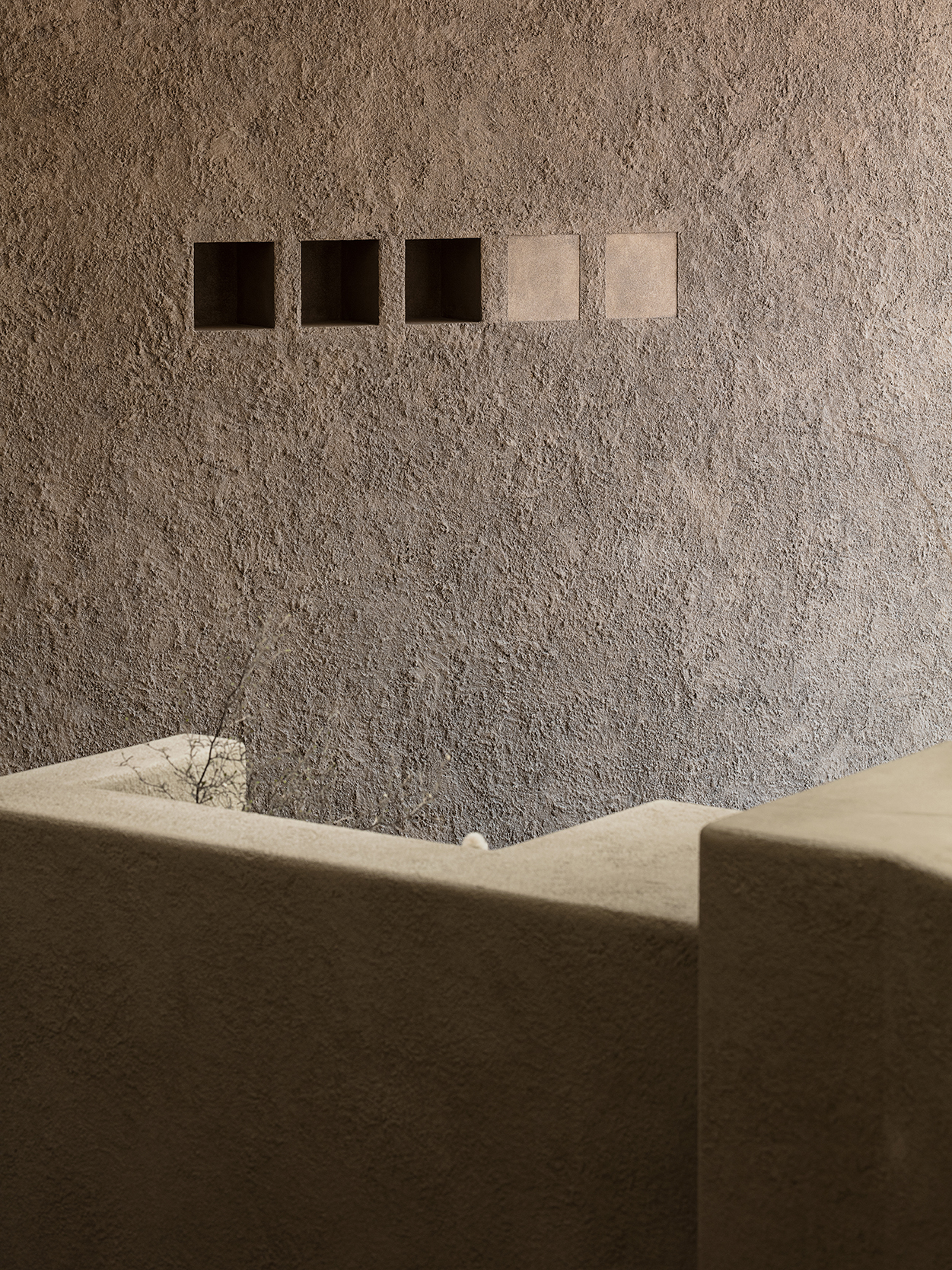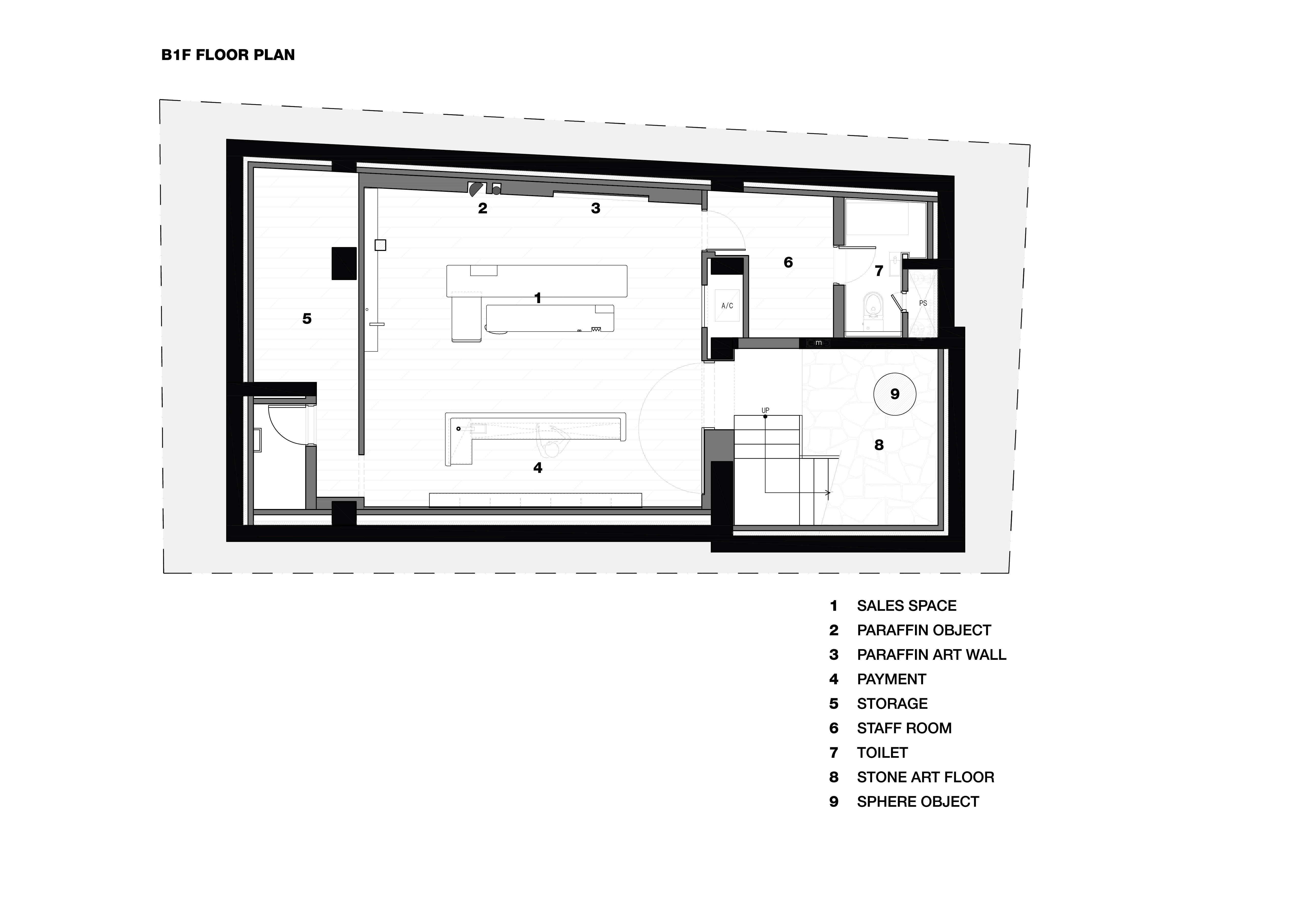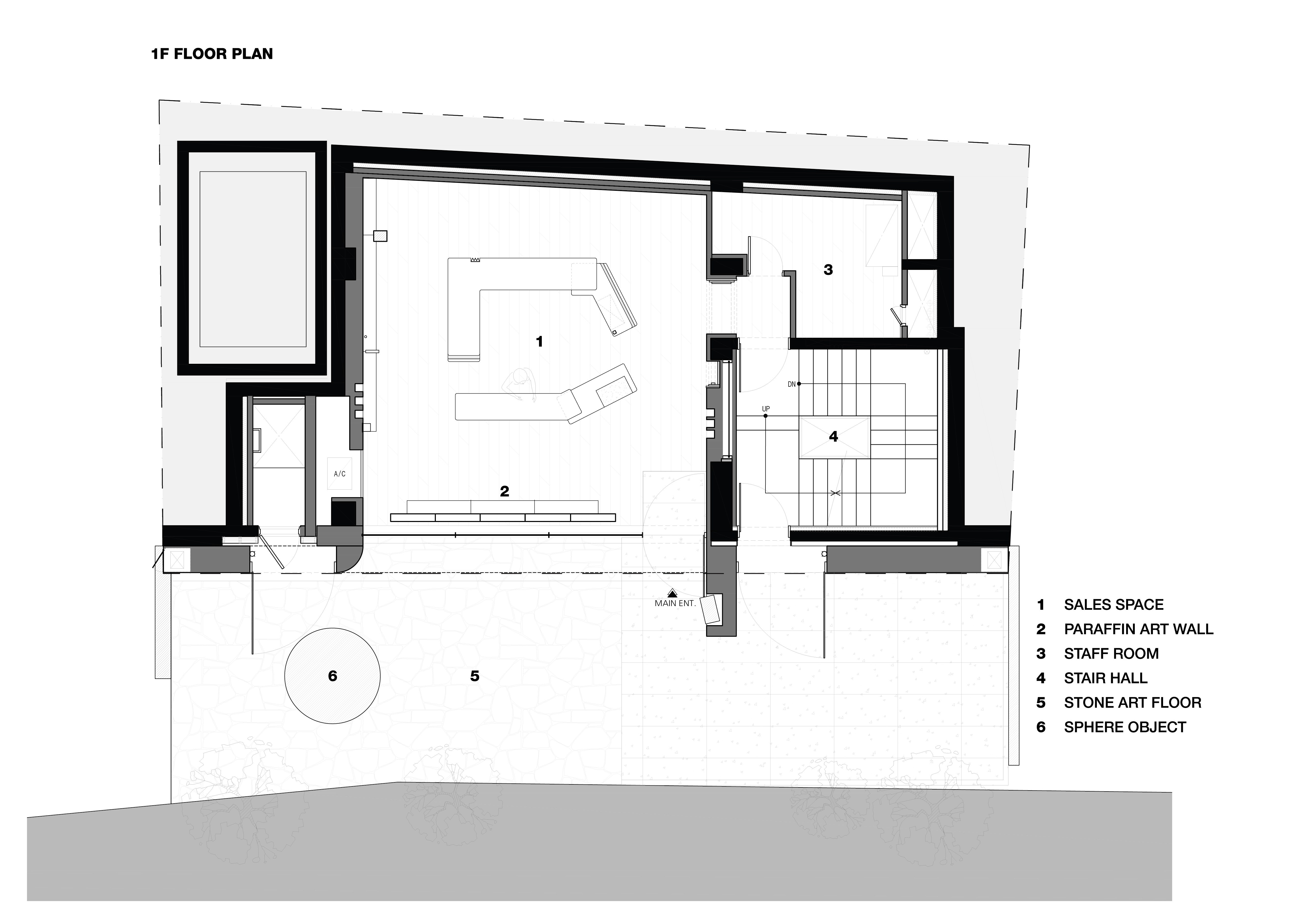 Design : u.lab
Location : 9 Wausan-ro 37-gil, Mapo-gu, Seoul
Site area : 115㎡
construction : The one design
Photographer : Yongjun Choi
---
마실와이드 | 등록번호 : 서울, 아03630 | 등록일자 : 2015년 03월 11일 | 마실와이드 | 발행ㆍ편집인 : 김명규 | 청소년보호책임자 : 최지희 | 발행소 : 서울시 마포구 월드컵로8길 45-8 1층 | 발행일자 : 매일