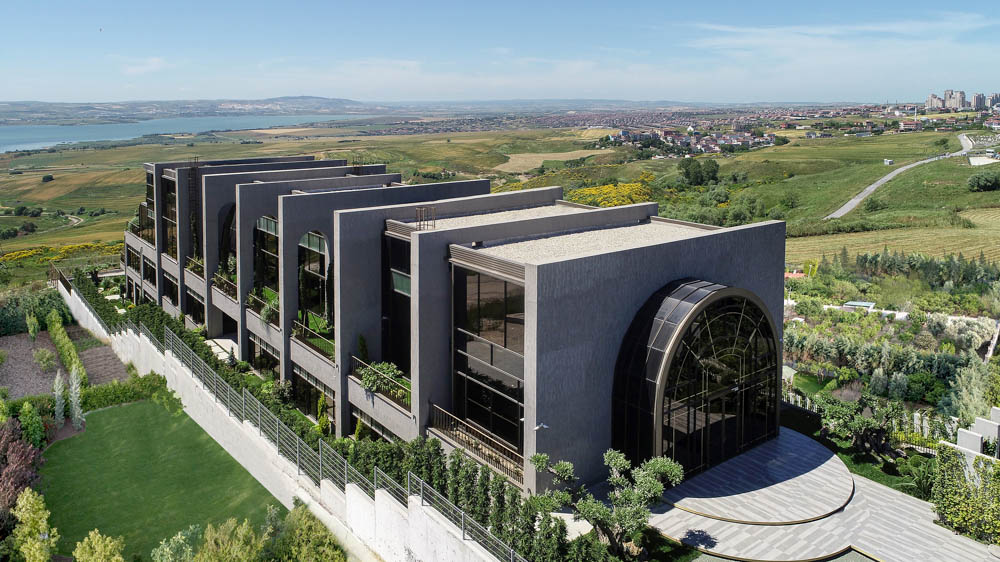 The project has designed as the headquarter of a well-established lace manufacturer company. The major functions of the building are; a showroom where production samples of the company are exhibited, personal offices of the partners, open-plan office and meeting areas, dining hall for company employees.
Zemberek Design team has been involved in the project in an early stage while rough construction of basement floors was in process. Therefore, facade and interior design revised and developed to hold to the existing reinforced concrete structure and axis system. Due to the new design concept and visitor experience, the previously designed reinforced concrete system was replaced with steel construction.
One of the fundamental goals of the design was welcoming the visitors to a journey that starts from the entrance of the building and extends to the lakeside with a holistic and segmented flow. While the arches, lined up one after the other like a backbone, divide the space into sections, also provides a perception of direction and different perspective possibilities that invite the visitors into the flow of the building.
The preliminary sections from the entrance of the building welcome the guests and surround them with a living nature atmosphere like a jungle under the glass vault. Therefore, the guests passing by the plants, reach the showroom which accommodates the working space and lounge. The second glass vaulted section divides the showroom into two and also provides a large meeting space. Eventually, the journey finishes with an interior lounge and a terrace that overlooks the lakeside view.
In the showroom, lace products are exhibited and designers from textile companies are hosted to examine the lace options and work on their designs. In this process, our main goal was to create space alternatives where the users could both work individually and collectively and breathe and own.
A single-arm staircase that continues in the same direction, attached to the main orientation setup, on the second axle, carries the circulation to the office floor. The office floor's main circulation axis works like a street, with the narrowing and expansion in the plan setup, the occupancy vs vacancy composition on the interior facades. "The street" opens outdoor through the small yards that are attached to it. Finally, the journey ends with the terrace opening to the lake view. The whole loop consists of an uninterrupted experience, that connects this floor showroom on the ground floor and the dining all on the lower floor with a spiral staircase on the last axis.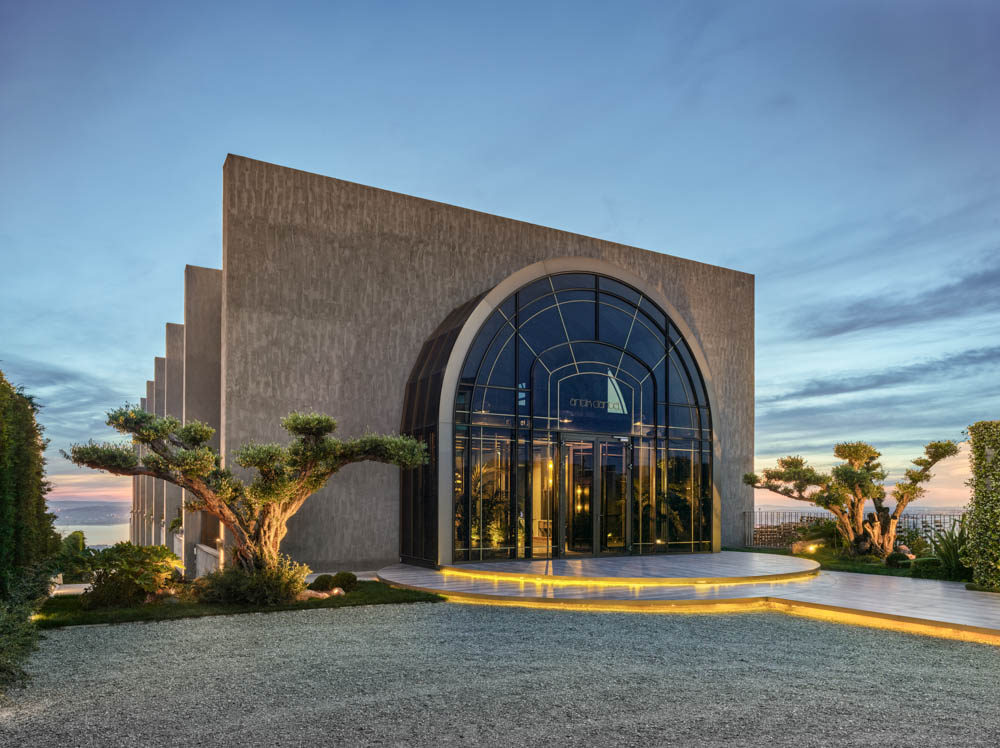 이 건물은 레이스 제조사의 본사로, 회사의 제품들이 전시된 쇼룸과 협력업체의 사무공간, 개방된 평면의 사무실과 회의실, 직원들을 위한 식당이 있다. 지하 층의 건설이 시작됐던 초반부터 설계팀이 참여했다. 이에 따라, 입면과 내부 설계는 현재의 철근콘크리트 구조와 축 시스템을 유지하기 위해 수정 및 발전됐다. 새로운 디자인 콘셉트와 이용자 경험을 따라 철근콘크리트 구조는 철재 구조로 대체됐다.
디자인의 중요 목표는 방문객들의 여정을 건물의 입구에서부터 호수까지 이어주는 것이었다. 마치 척추처럼 줄지어 있는 아치 공간들을 구역으로 분할하는 한편, 이용객들을 건물의 동선으로 유인하면서 방향 감각을 포함한 여러 관점의 가능성을 제공한다.
건물의 초입 구역은 정글과 같은 살아있는 자연의 분위기를 통해 고객들을 맞이한다. 방문객들은 둥근 유리 천장 아래의 자연 공간을 지나가면서 업무 공간과 라운지가 있는 쇼룸에 다다른다. 두 번째 둥근 천장 구역은 쇼룸을 두 개로 분할하며, 거대한 미팅 공간을 제공한다. 마지막으로 인테리어 라운지와 호수 전망을 향한 테라스로 여정이 마무리된다.
쇼룸에는 레이스의 전시와 더불어 디자이너들이 레이스 제품의 옵션들을 검수하고 그들의 디자인에 맞춰볼 수 있는 공간이 있다. 이 과정에서 건축가는 해당 공간의 사용자들이 개인이나 단체로 일하면서 숨 쉬고, 사유할 수 있는 대체 공간을 만드는 것에 집중했다.
두 번째 축에서 같은 방향으로 배치되고 손잡이가 하나인 계단은 사무실 층으로 동선이 이어진다. 사무실 층의 주요 동선 축은 평명에서 수축과 확장의 존재, 인테리어 전면의 점유 대 공석이라는 공식이 있는 골목처럼 작동한다. '골목'은 이와 연결된 작은 들판을 통해 외부로 개방된다. 전체적인 동선의 흐름은 1층의 쇼룸과 나선형 계단을 보유한 하부의 직원 식당을 연결해 주는 연속적인 경험으로 구성됐다.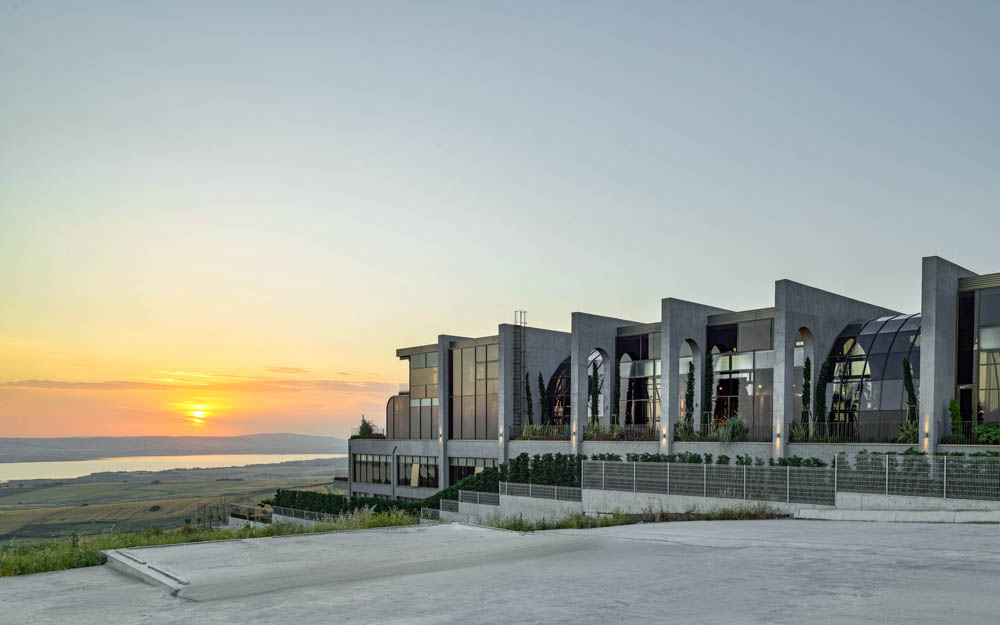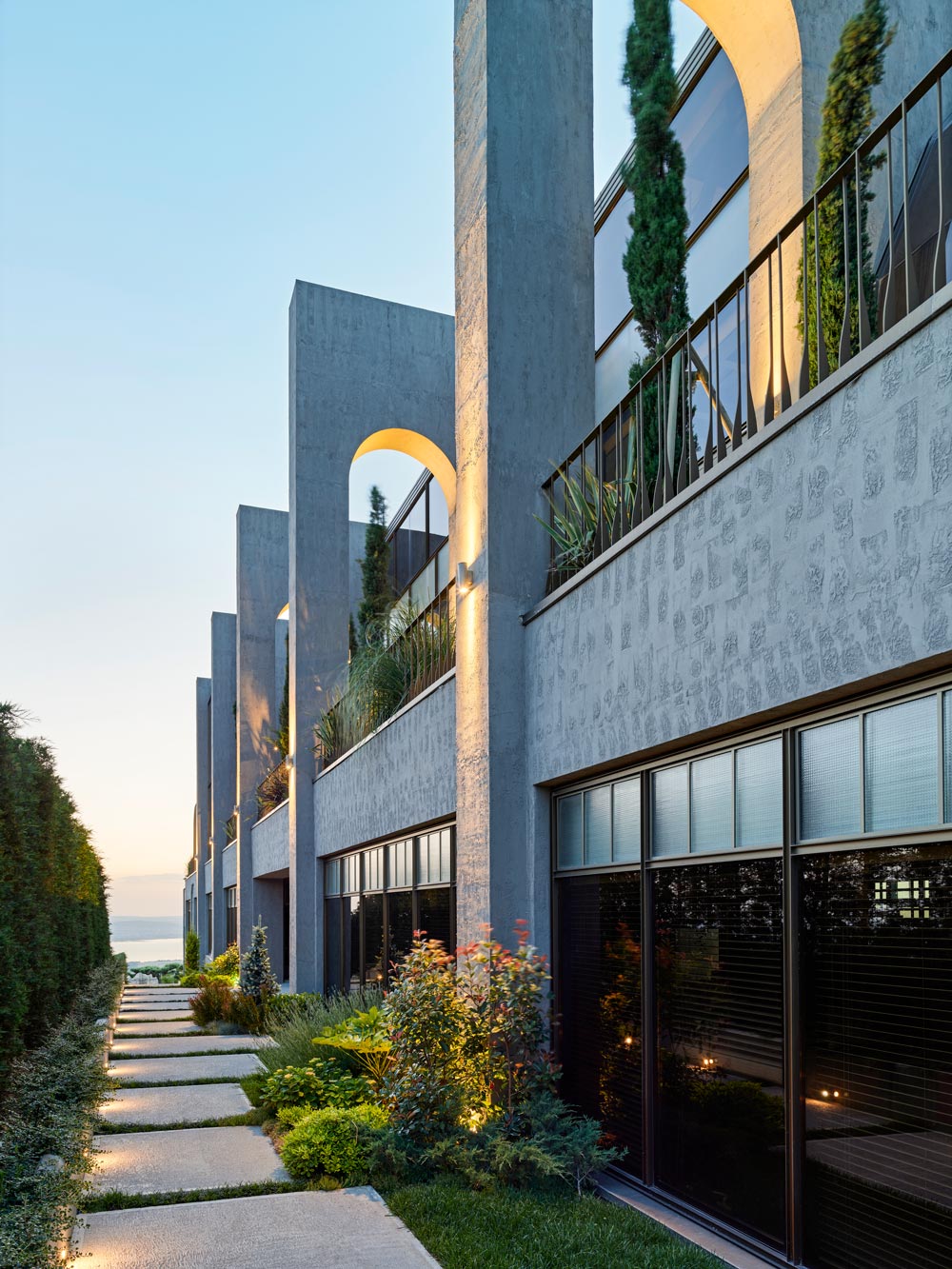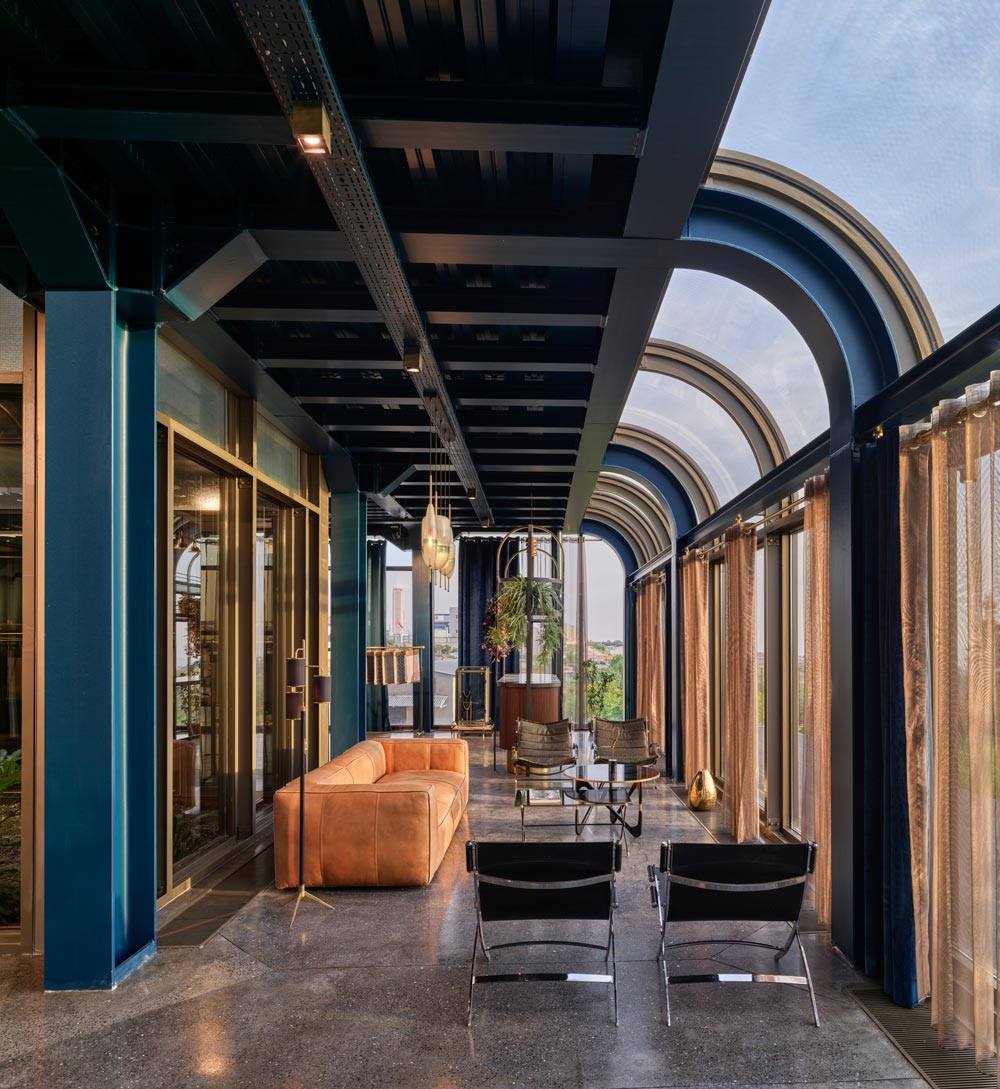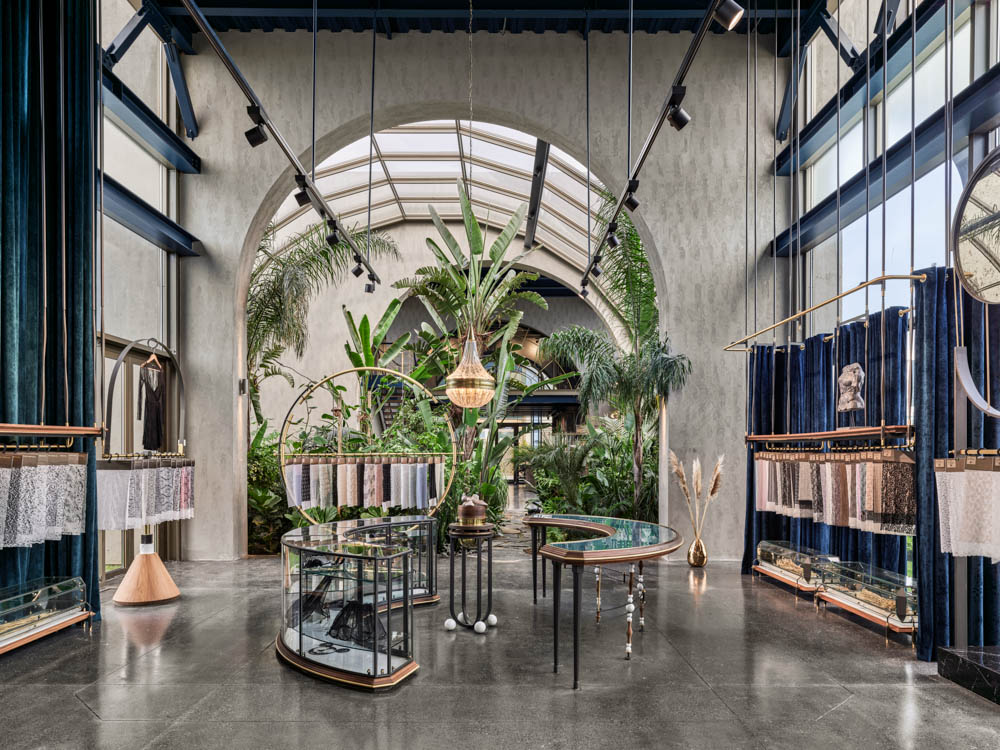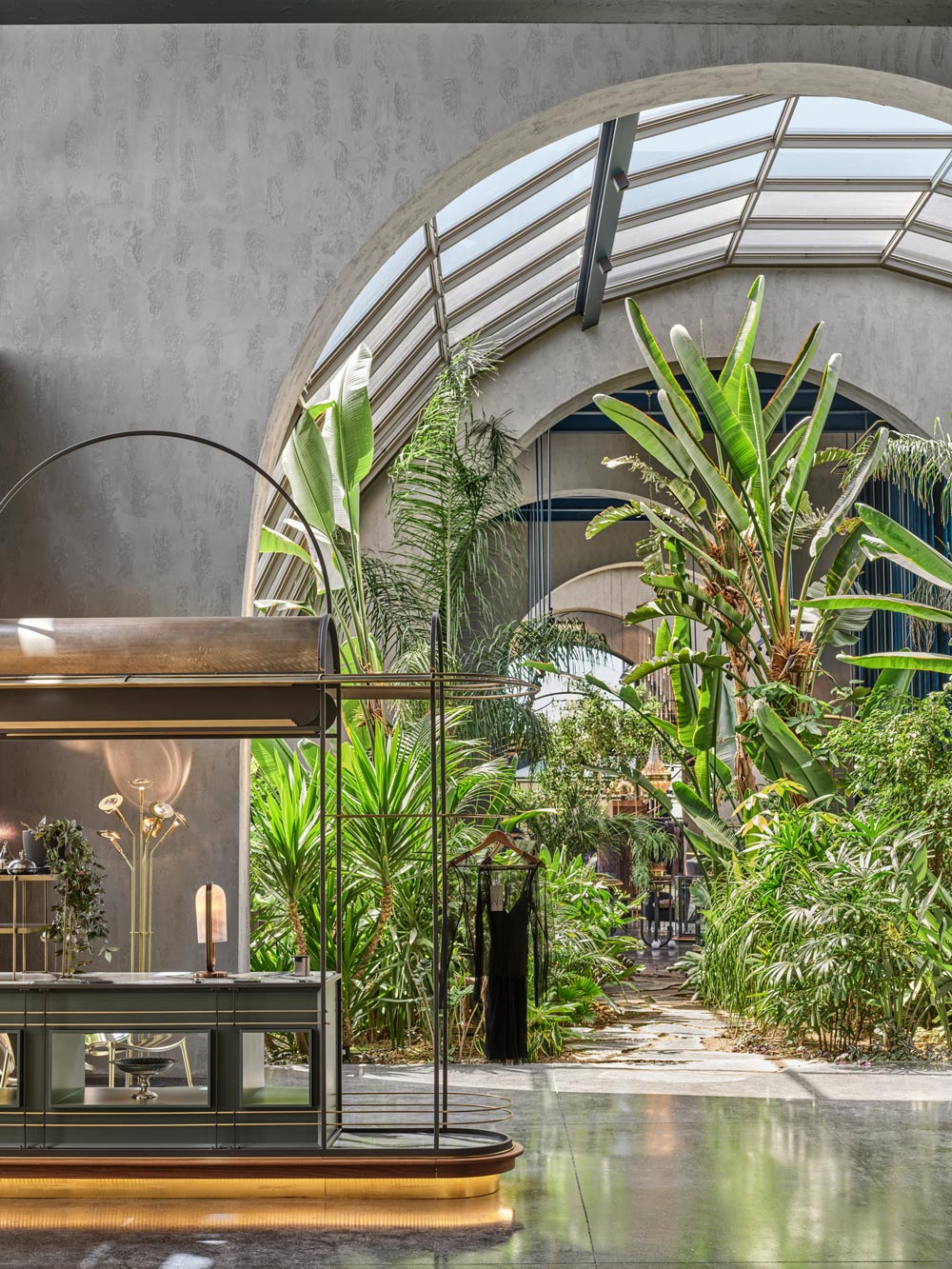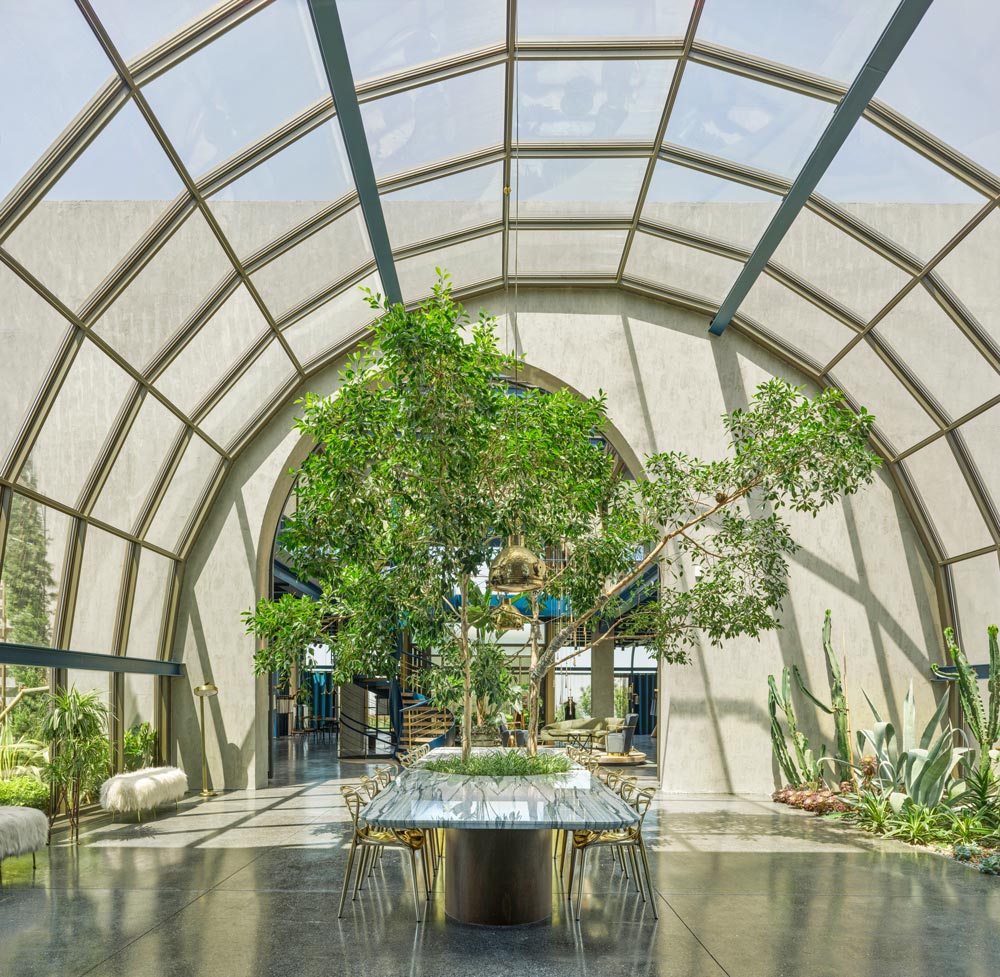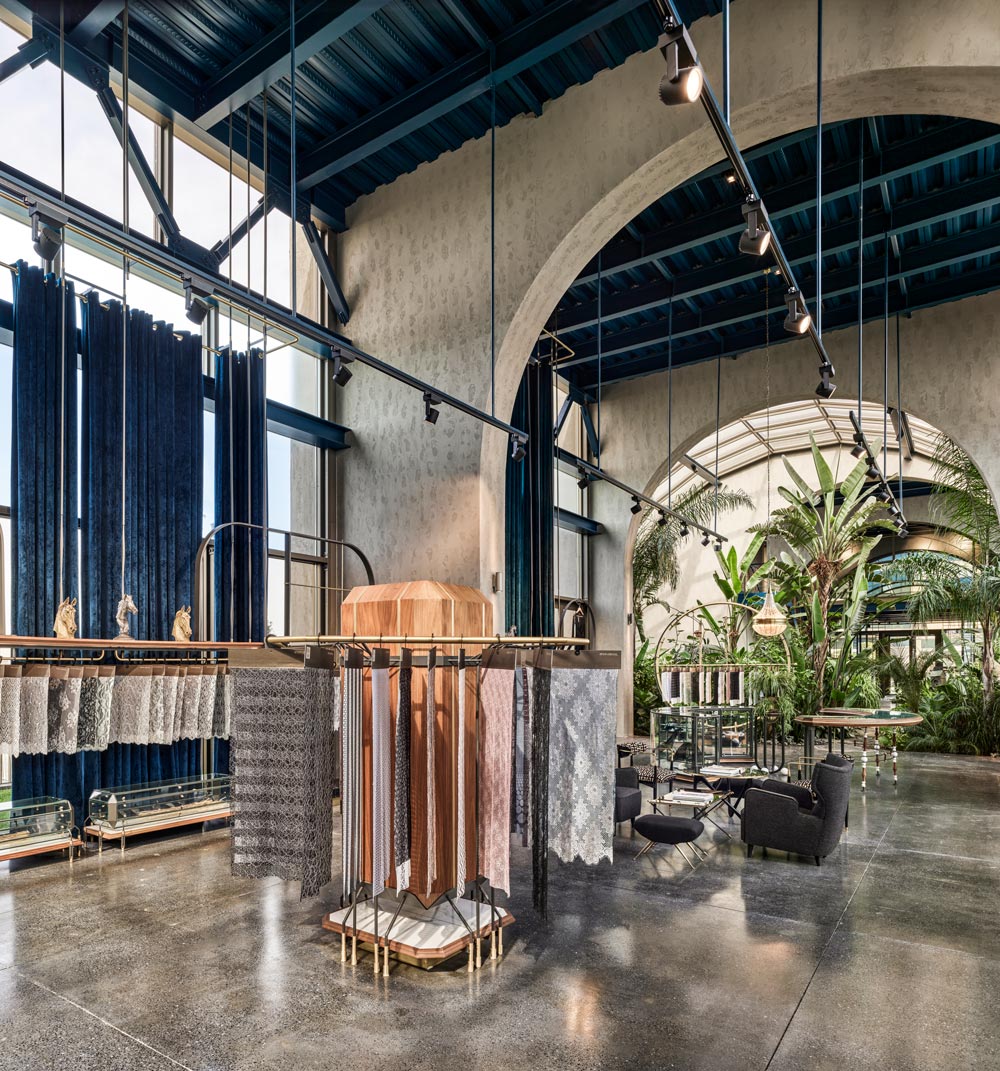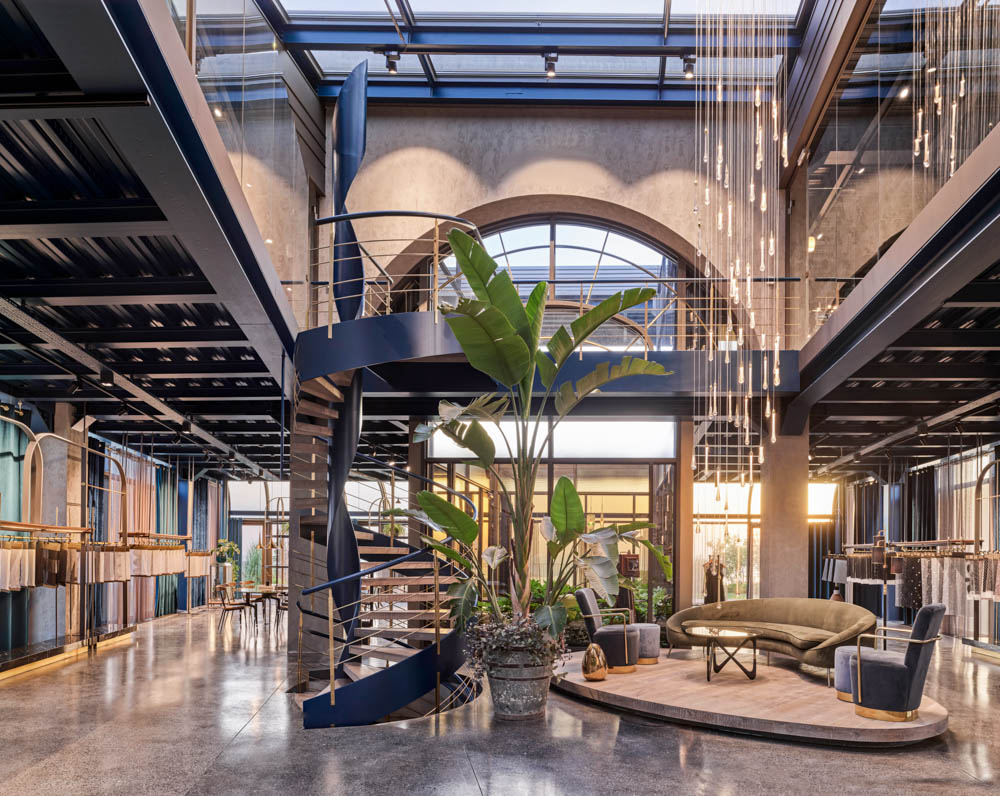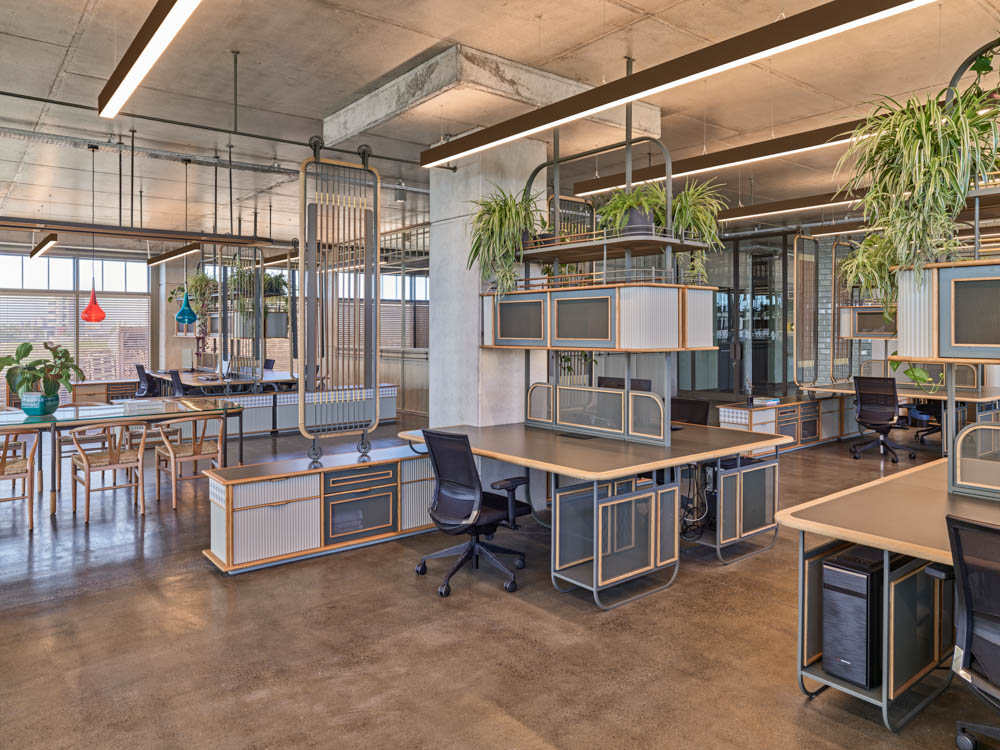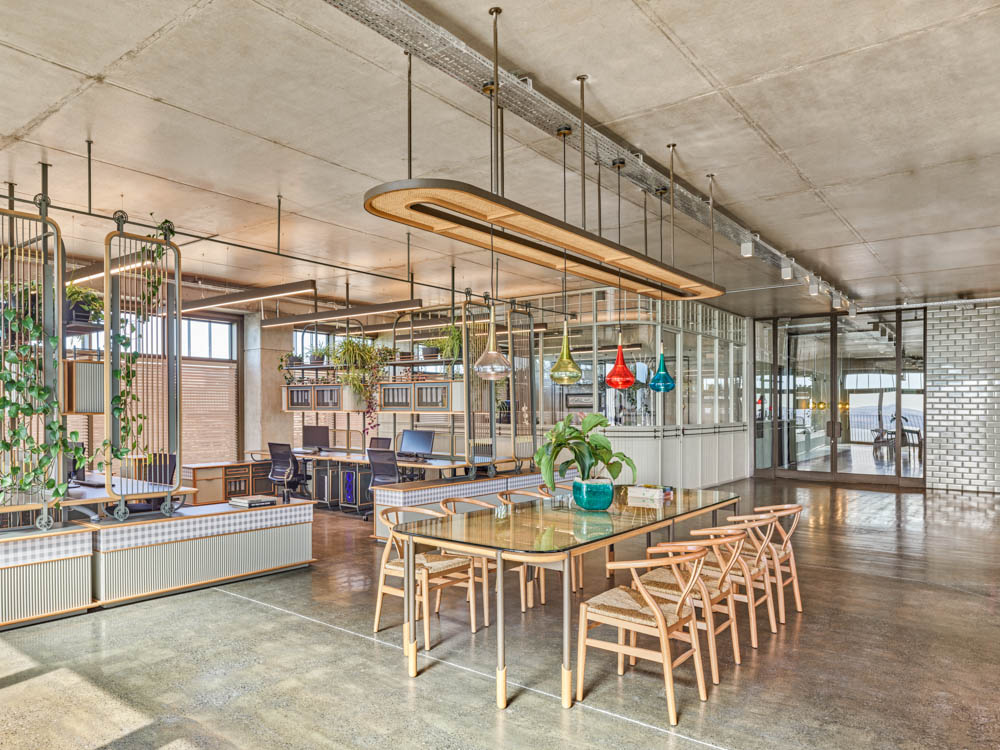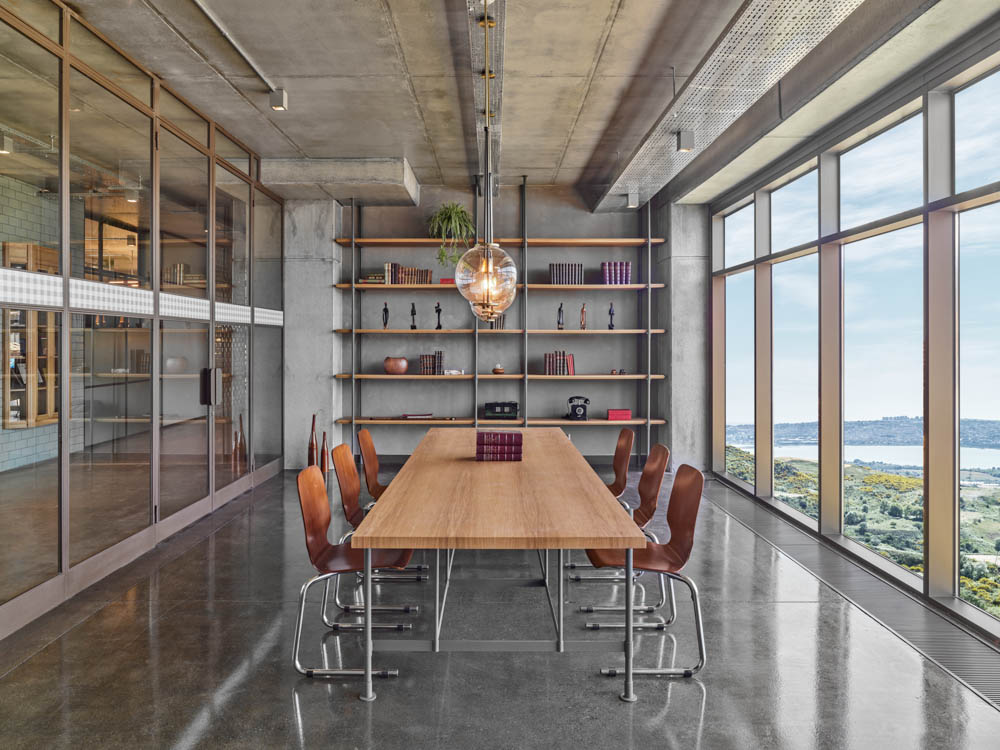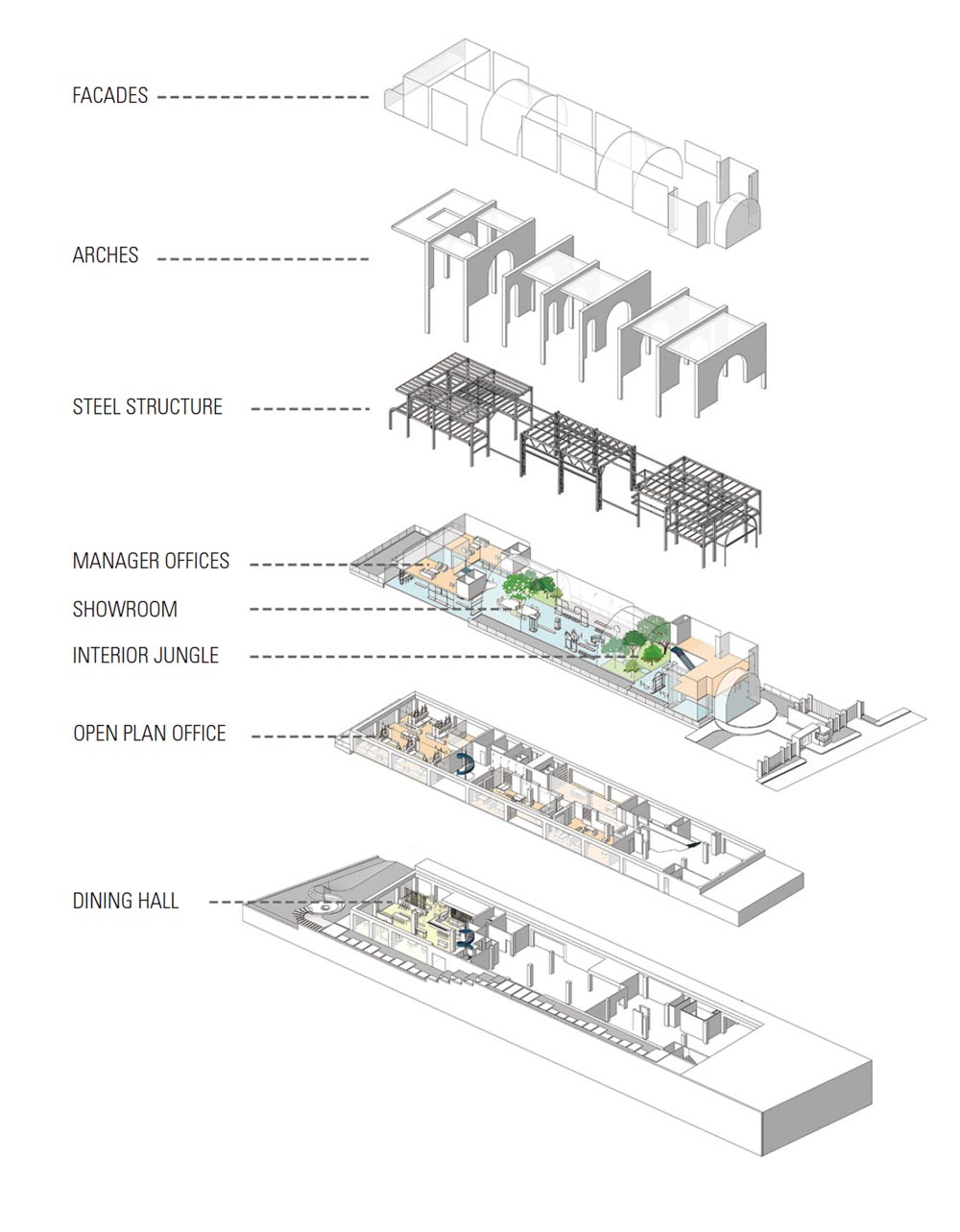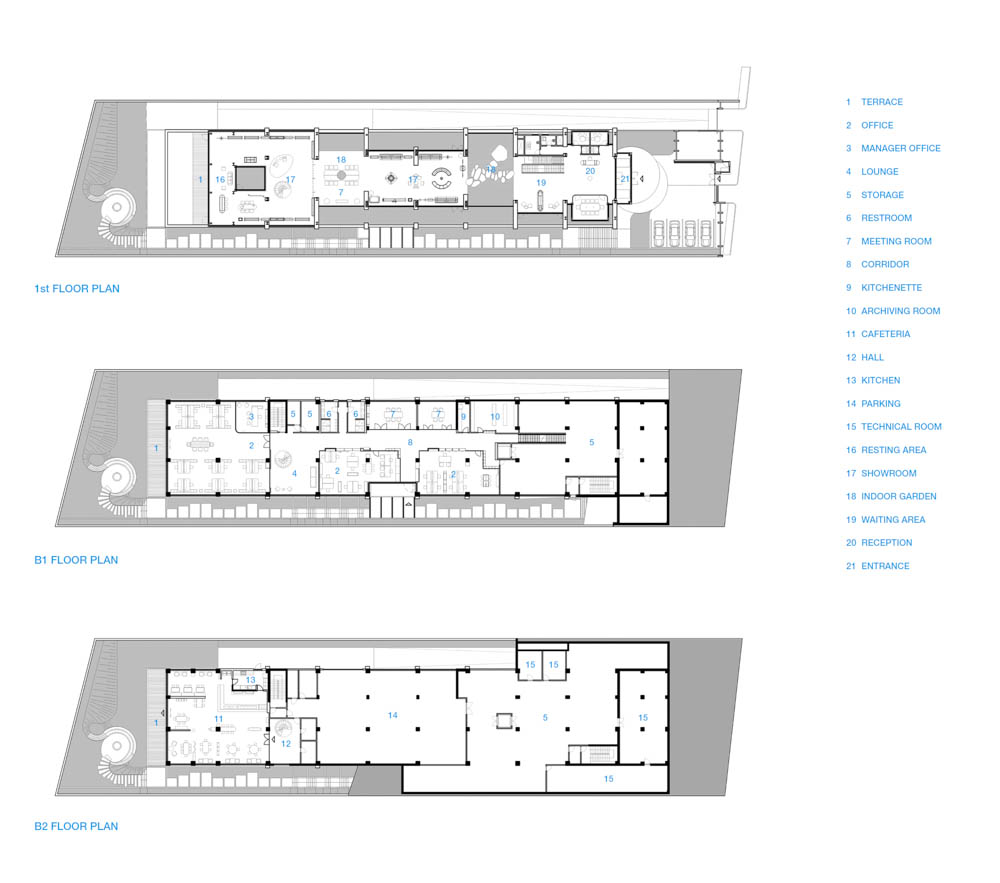 Architects ZEMBEREK DESIGN
Location Büyükçekmece, İstanbul, Turkey
Gross floor area 6,000m2
Design period 2017 - 2020
Construction period 2017 - 2020
Completion 2020
Design team Basak Emrence, Safak Emrence, Ece Ilgin Avci, Murat Cakan, Fatma Altintas, Cihan Sahin, Cagla Abdu, Elif Molla
Client Antik Dantel
Photographer Ibrahim Ozbunar
해당 프로젝트는 건축문화 2021년 7월호(Vol. 482)에 게재 되었습니다.

The project was published in the July, 2021 issue of the magazine(Vol. 482).
---
마실와이드 | 등록번호 : 서울, 아03630 | 등록일자 : 2015년 03월 11일 | 마실와이드 | 발행ㆍ편집인 : 김명규 | 청소년보호책임자 : 최지희 | 발행소 : 서울시 마포구 월드컵로8길 45-8 1층 | 발행일자 : 매일