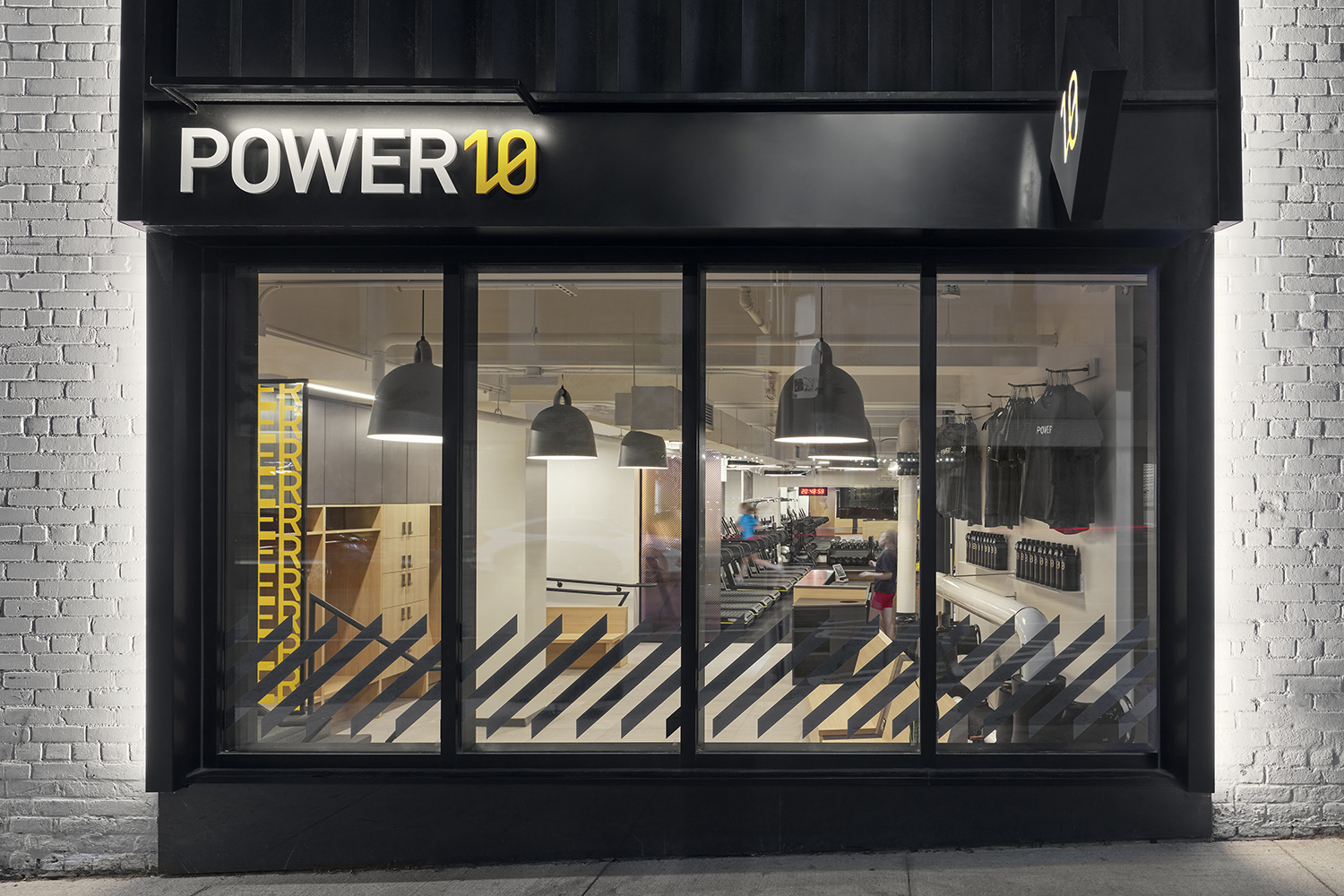 For the first dedicated rowing studio in Toronto, Dubbeldam Architecture + Design was tasked to create an immersive interior that would motivate patrons to push themselves to their physical limits. The design brief called for a sleek, sexy, and raw interior bursting with the kind of intense energy associated with the rowing term "power 10" when a crew puts all its strength into 10 consecutive strokes that can make or break a win or a workout.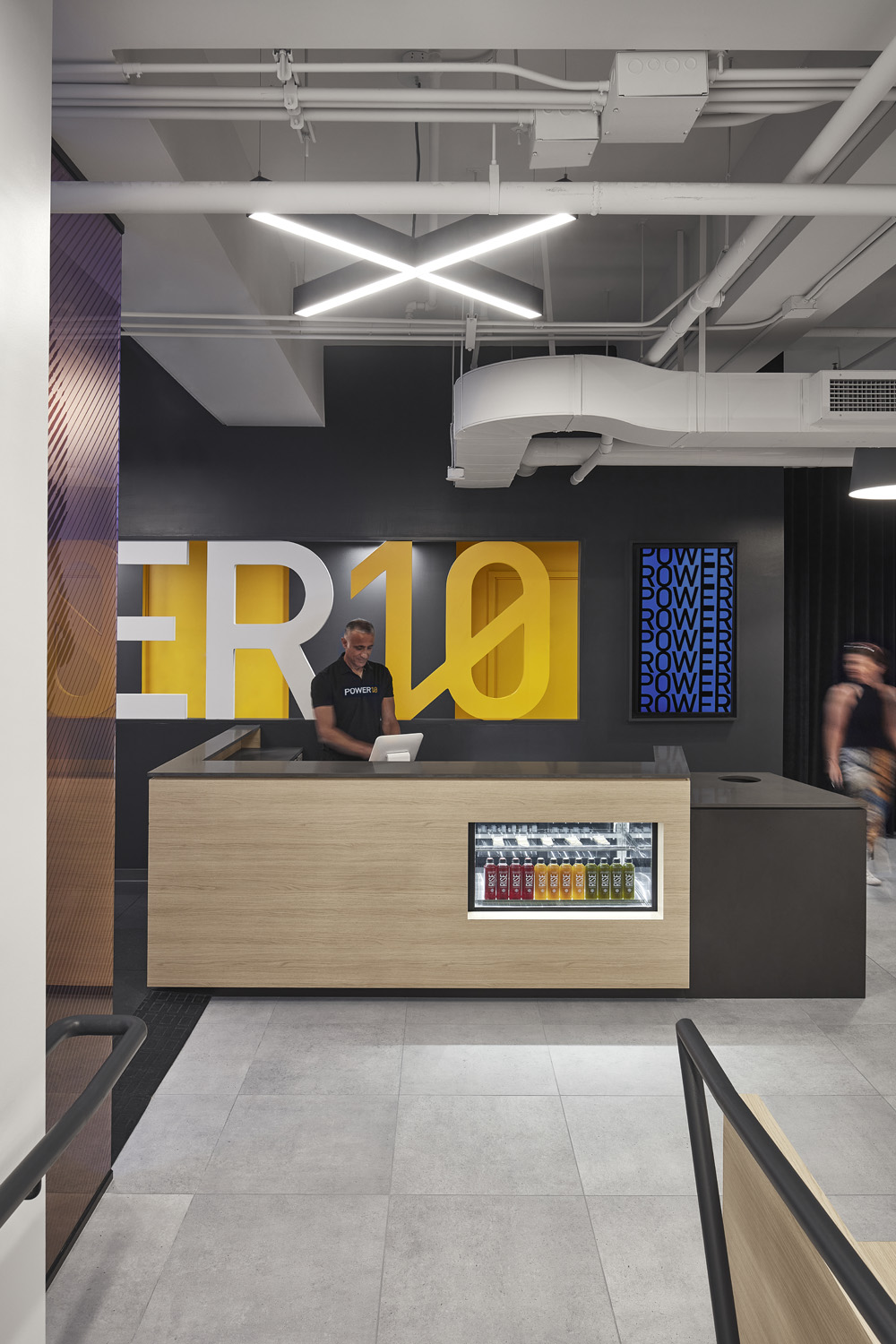 To capture this kind of high-turbo energy, Dubbeldam Architecture + Design devised a fully immersive experiential interior to boost adrenalin and block out distractions that dilute performance. The focus of the raw, industrial-like interior is the rowing studio, fitted out with state-of-the-art Technogym rowing machines and dynamic colour-changing LED lighting on the charcoal-grey walls and ceilings. The large X-shaped programmable light fixtures pulsate in rhythm with the music, adding to the workout's intensity. "The repeated X-shape not only serves as a graphic reminder for rowers to push toward that 10-stroke goal during workouts but is also a nod to the Roman numeral 10 and the iconic symbol of two crossed sculling oars," says Principal Heather Dubbeldam.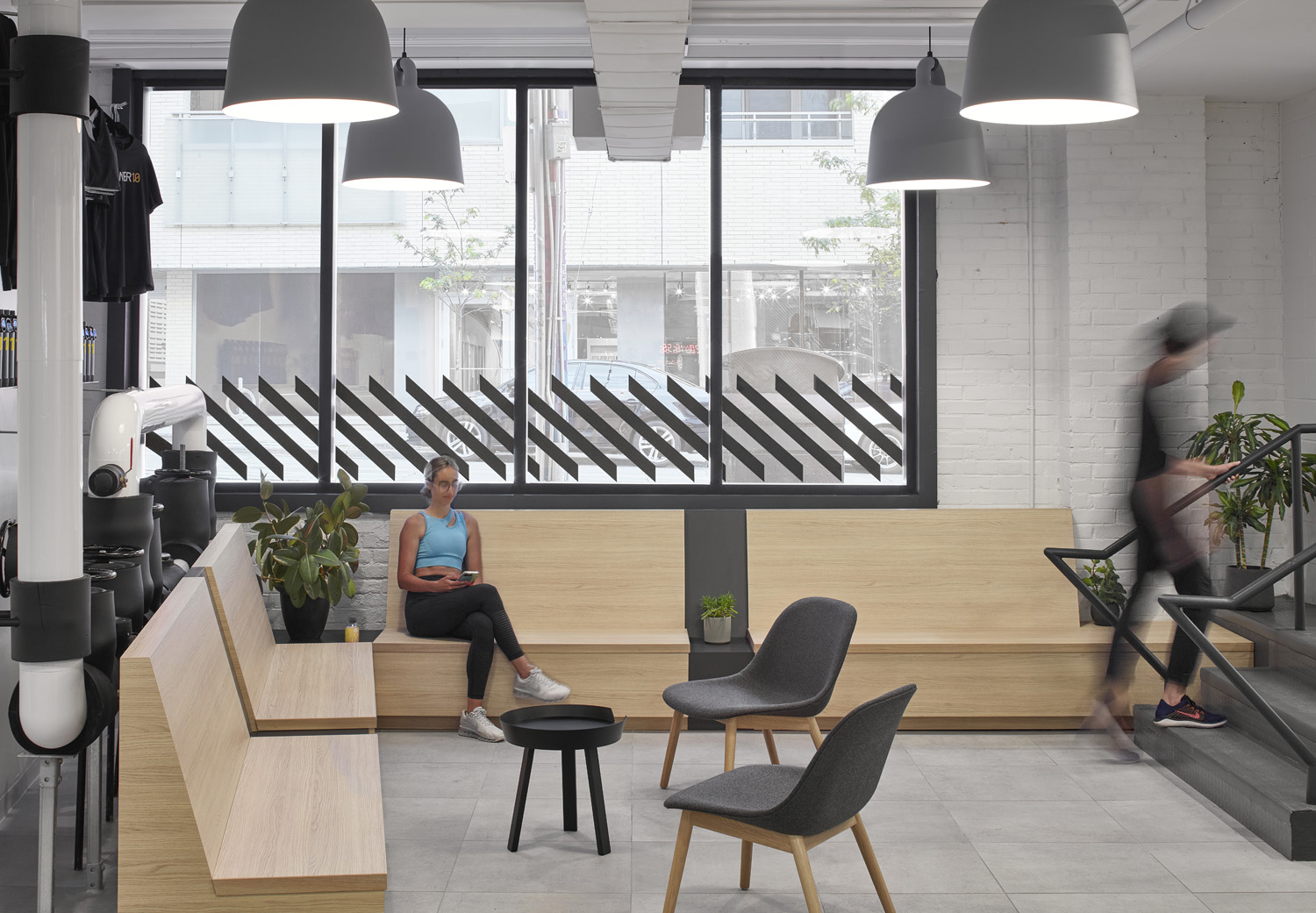 The unvarnished aesthetic continues into a second workout area fully equipped with high-performance treadmills, free weights, kettlebells, and TRX training. The X-shaped lights are repeated here, suspended from the exposed ceiling and serving as a visual bridge to the rowing studio. Connecting the two workout areas and the change rooms is a long corridor with a 3-foot high, three-dimensional POWER10 logo in a 25-foot-long opening in the wall that runs behind the reception area, providing a powerful visual connection between the spaces. Patrons catch glimpses of other gym-goers in adjacent areas through openings between each of the letters, creating visual intrigue. Throughout the studio spaces, areas of exposed concrete walls and mechanical systems lend to the raw industrial ethos. Strategically positioned angular-shaped acoustic panels on the walls and ceilings attenuate reverberation with an interplay of soft surfaces.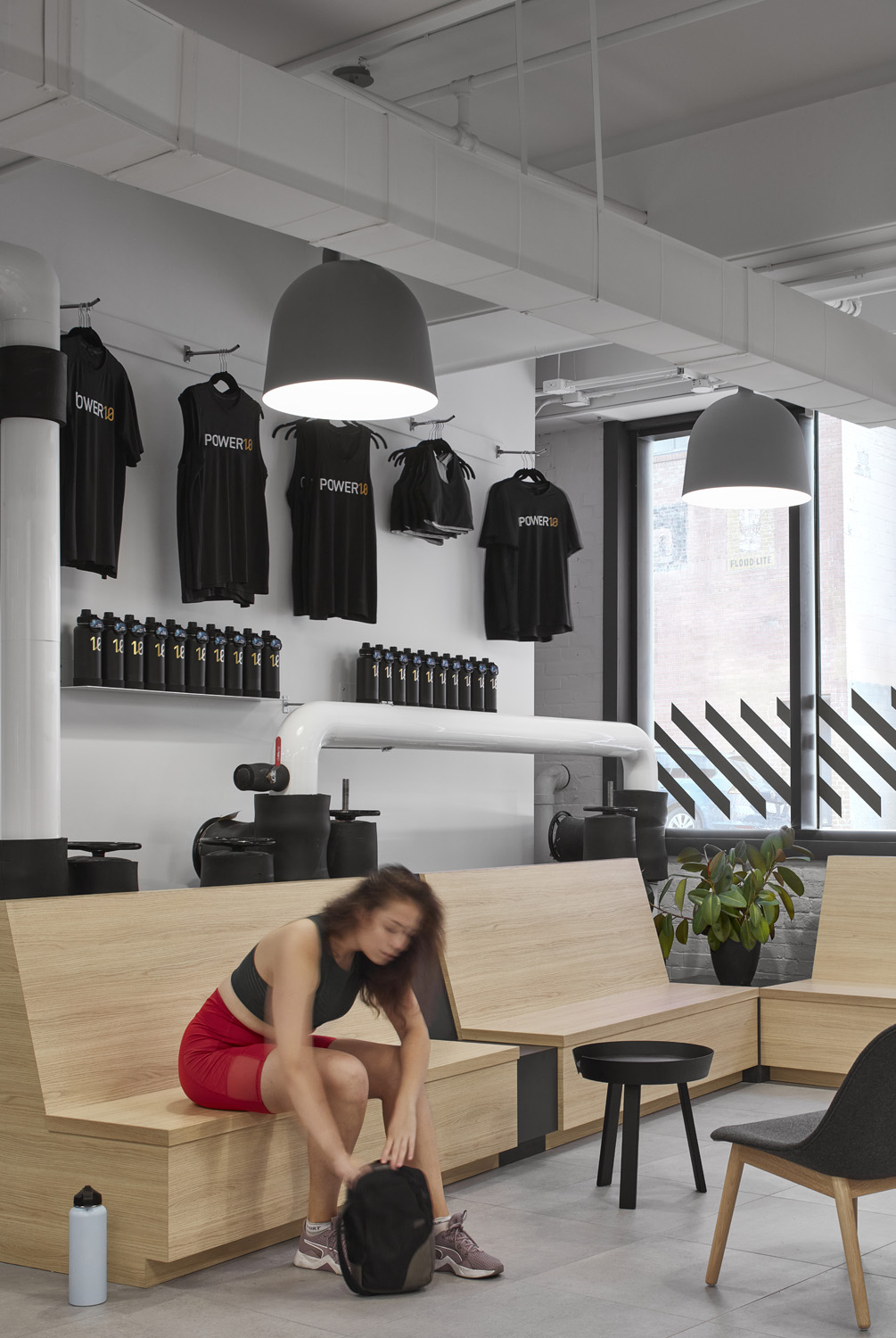 By contrast, the lounge area and change rooms are notably calmer, featuring natural wood finishes, terrazzo tiles, and colour-blocked walls in 'power gold'. In the lounge, Normann Copenhagen bell pendants cast a warm light over custom-built white oak benches. The multipurpose reception desk in matching white oak features an integrated cooler with a display window to entice members to hydrate. Curated furniture pieces by Muuto provide a casual space for patrons to relax, refuel and recharge at the end of a challenging workout.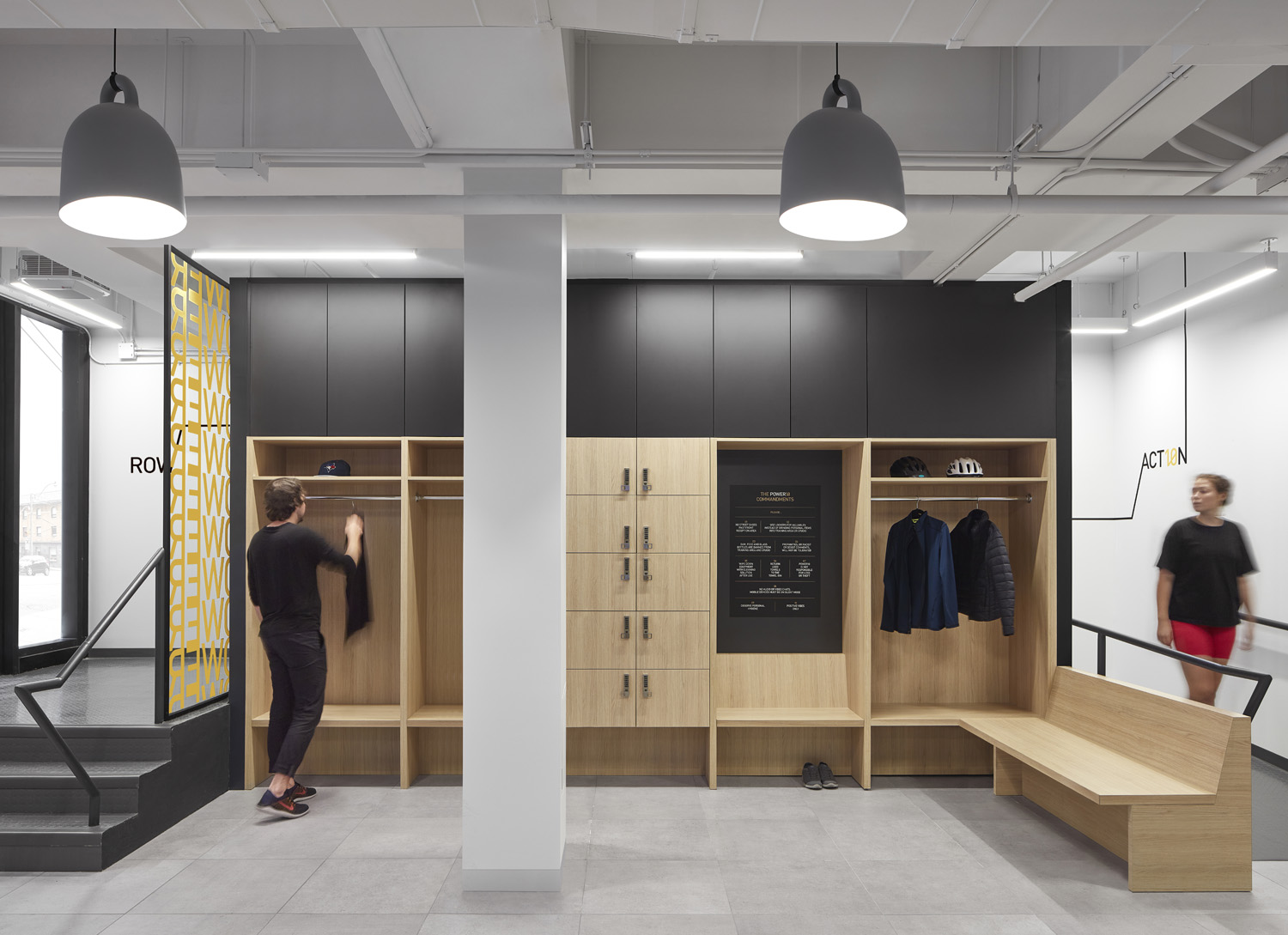 A strategic graphics scheme devised by Sali Tabacchi unifies the various spaces throughout the fitness studio and emphasizes the link to rowing. Inspired by the diagonal line through the number 10, large angled lines used as accent graphics are a riff on the oars of a boat and suggest activation and forward movement. Repeated in multiples on the Queen Street East storefront window, they create visual interest and offer passersby a glimpse into a rowing studio defined by a sophisticated interior, bold graphics, and top-of-the-line fitness equipment.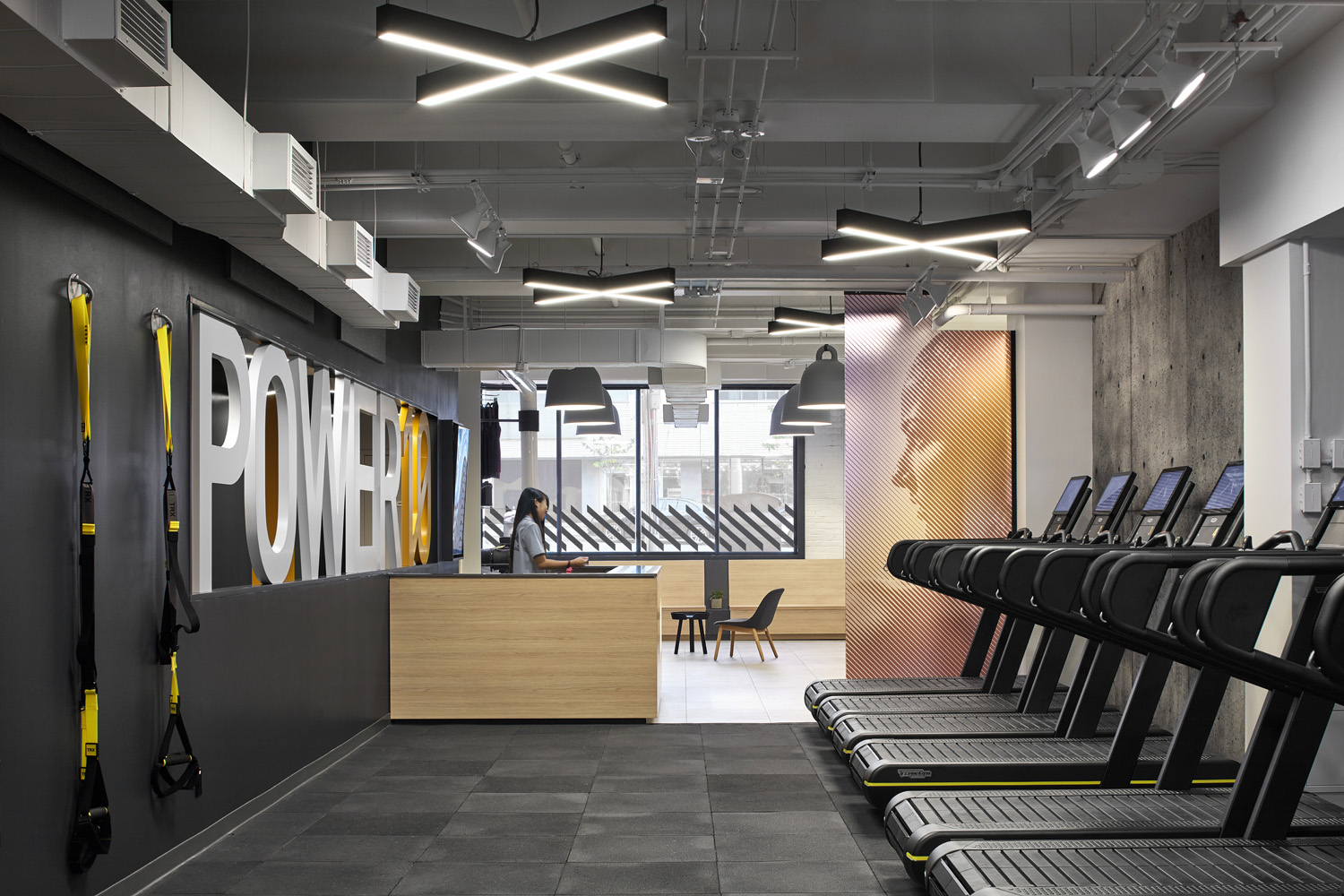 캐나다 토론토 최초의 조정 전용 스튜디오를 위해 건축가는 고객이 물리적 한계를 극복하도록 동기를 부여하는 몰입감 있는 인테리어를 만드는 작업을 맡았다. 건축주는 10연속 스트로크에 모든 힘을 쏟아부어 승패를 가를 수 있는 로잉 용어 "파워 10"과 관련된 강렬한 에너지가 폭발하는 매끄럽고 섹시하며 원시적인 인테리어를 요구했다.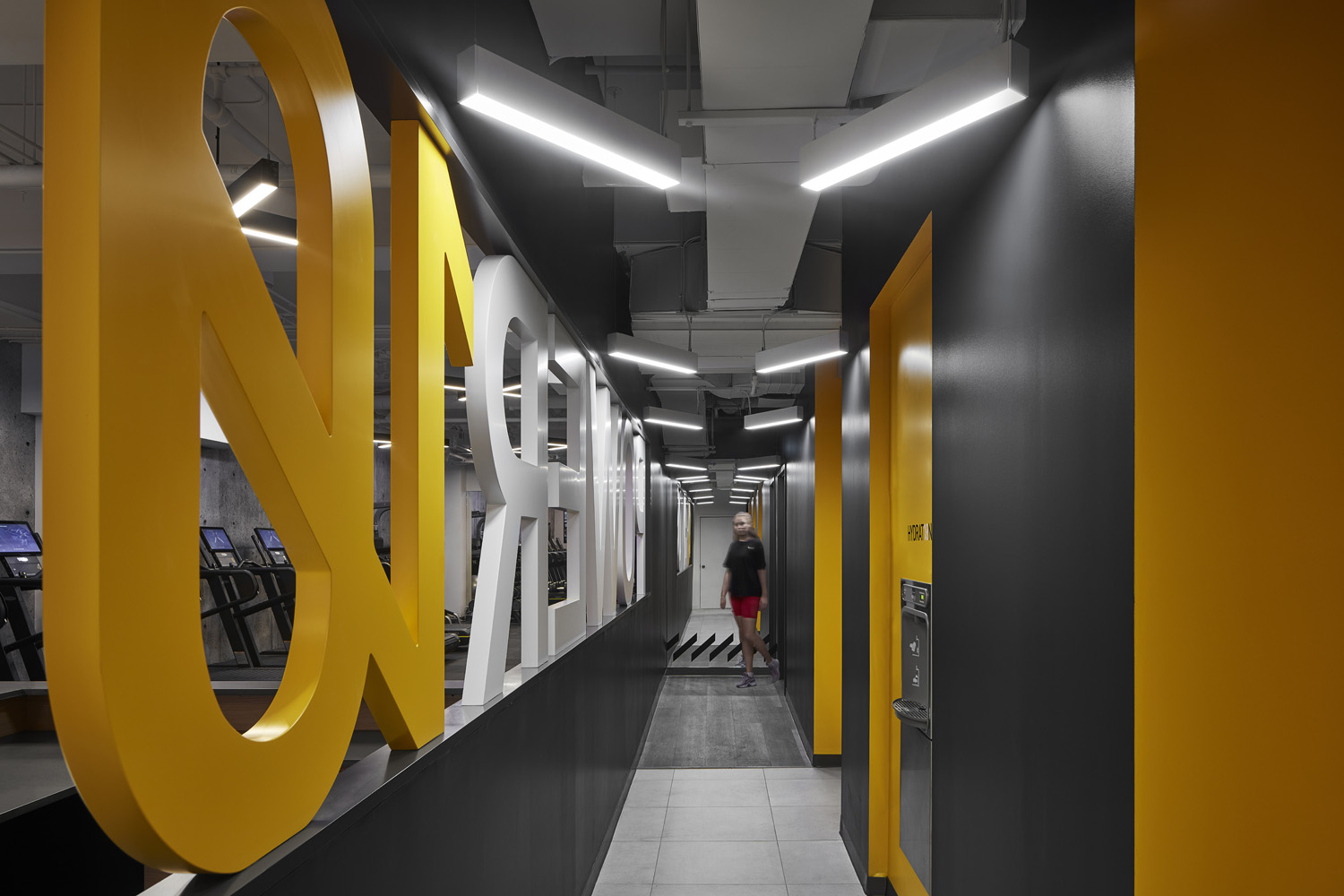 이러한 높은 터보 에너지를 포착하기 위해 건축가는 아드레날린을 활성화하고 성능을 저하시키는 방해요소를 차단하는 몰입식 체험 인테리어를 고안했다. 원시적인 인더스트리얼 인테리어에 초점을 맞춘 조정 스튜디오로, 최첨단 Technogym의 로잉 머신과 차콜색의 벽과 천장의 역동적으로 색상이 변하는 LED 조명이 장착되어 있다. 프로그램이 가능한 대형 조명 기구가 음악에 맞춰 진동하여 운동의 강도를 높인다. 반복되는 X자 모양은 조정 선수들의 목표를 향해 밀고 나가는 것을 그래픽으로 상기시키는 역할을 할 뿐만 아니라 로마 숫자 10과 두 개의 교차 스컬링 노의 상징적 의미이기도 하다.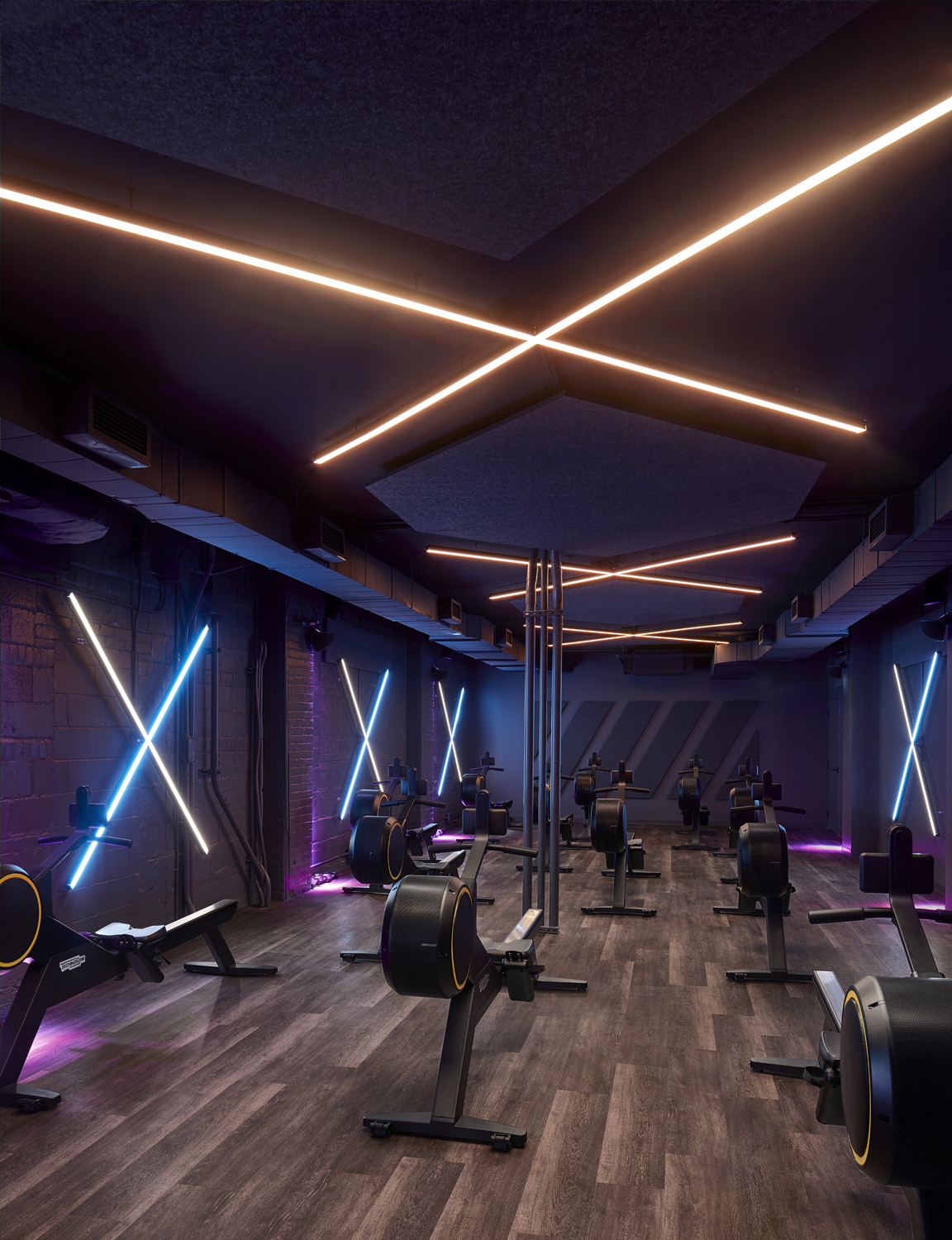 고성능 트레드밀, 프리 웨이트, 케틀벨, TRX 트레이닝이 완비된 두 번째 운동 영역으로 디자인요소가 이어진다. 여기서 X자 모양의 조명이 반복되고, 노출된 천장에 매달려 조정 스튜디오로 연결되는 시각적 다리 역할을 한다. 두 개의 운동 구역과 탈의실을 연결하는 긴 복도에는 리셉션 뒤로 이어지는 복도가 있는데, 25피트 높이의 벽에는 3피트 높이의 입체 POWER10 로고가 있다. 각 문자 사이의 구멍을 통해 다른 이용자들을 엿볼 수 있어 시각적인 흥미를 유발한다. 스튜디오 공간 전체에 걸쳐 노출된 콘크리트 벽과 기계 시스템의 영역은 인더스트리얼 인테리어의 디자인 요소에 부합한다. 벽과 천장에 각진 모양의 음향 패널이 전략적으로 배치되어 부드러운 표면의 상호작용으로 소리의 잔향을 완화한다.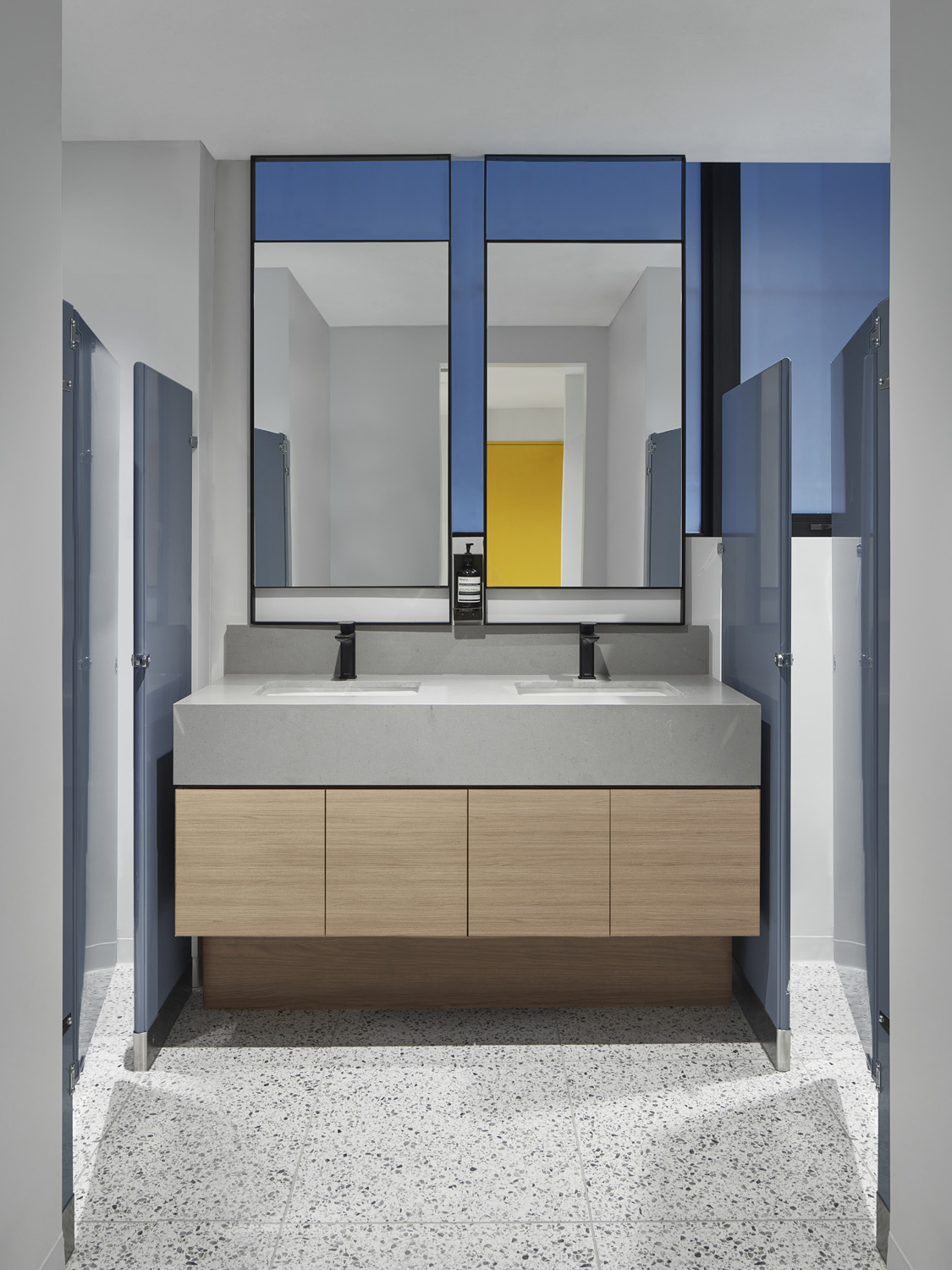 반면 라운지 구역과 탈의실은 눈에 띄게 차분하며, 천연 목재 마감, 테라조 타일, 컬러 블록 벽이 특징이다. 라운지에서는 Normann Copenhagen의 벨 펜던트가 맞춤형 화이트 오크 벤치 위에 따뜻한 빛을 비추고있다. 화이트 오크와 조화를 이루는 다목적 리셉션 데스크는 이용자들이 수분을 섭취할 수 있는 디스플레이 창이 있는 통합 쿨러를 갖추고 있다. Muuto가 선별한 가구는 이용자가 힘든 운동을 마친 후 휴식을 취하고 재충전할 수 있는 캐주얼한 공간을 제공한다.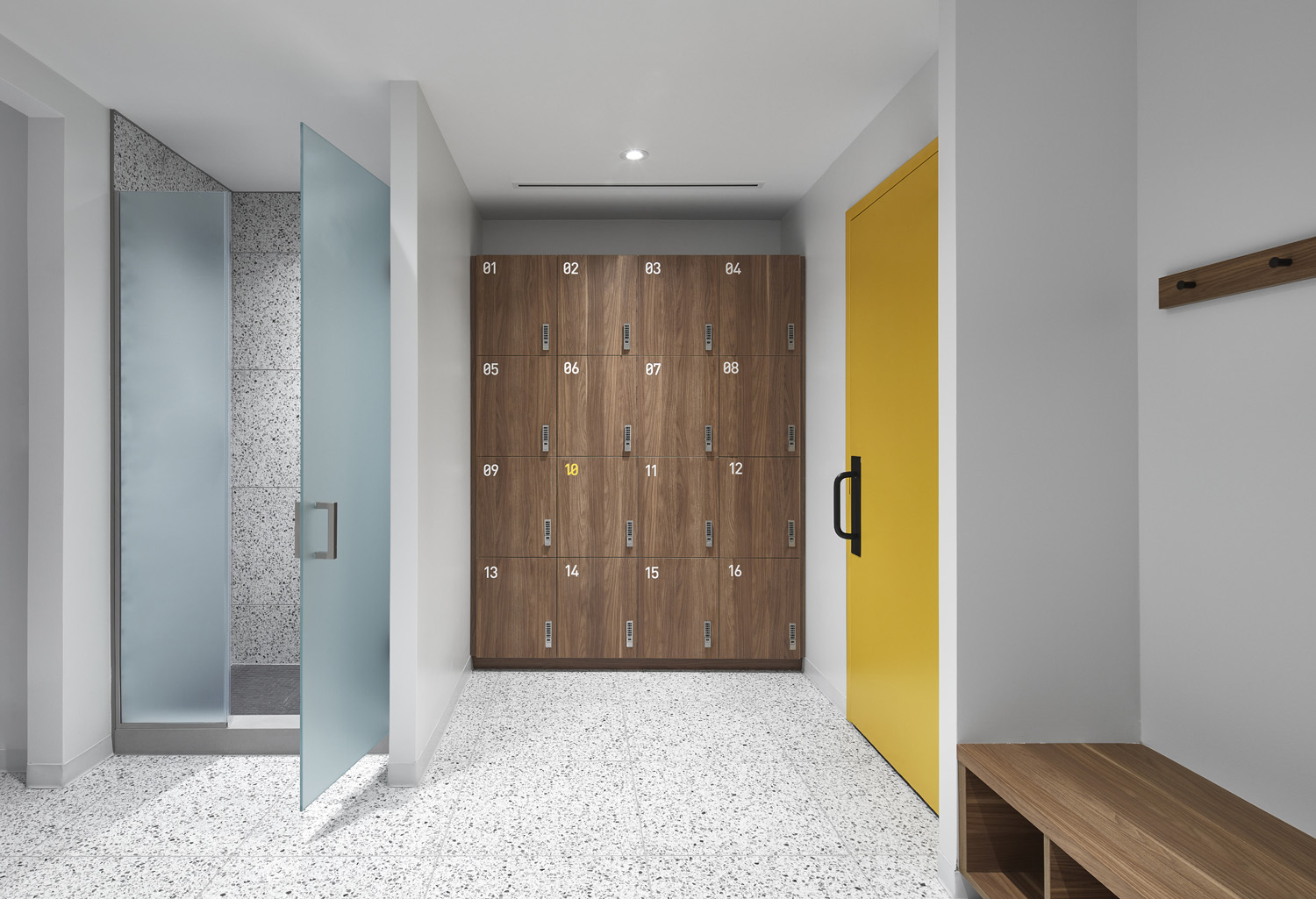 그래픽 디자이너인 Sali Tabacchi가 고안한 전략적인 그래픽 체계는 피트니스 스튜디오 전체의 다양한 공간을 통합하고 조정과의 연계성을 강조한다. 숫자 10을 관통하는 대각선에서 영감을 받아 액센트 그래픽으로 사용된 크고 각진 선들은 보트의 노에 리프(Riff: 반복되는 악절)를 접목하여 활성화와 움직임을 보여준다. Queen Street East 매장 앞 유리창에 여러 번 반복되어 시각적인 흥미를 자아내며, 지나가는 행인들이 세련된 인테리어, 과감한 그래픽, 최고급 피트니스 장비가 있는 조정 스튜디오를 한눈에 볼 수 있다.
Architecture, Interior design Dubbeldam Architecture + Design
Location Toronto, Canada
Building area 391㎡
Completion 2020
Project team Heather Dubbeldam, Scott Sampson, Andrew Snow, Omkar Kulkarni, Jovana Randjelovic, Courtney Ho
Contractor Build It By Design
Structural consultants Blackwell
M&E consultants Quasar
Acoustical consultants HGC Engineering
Code consultants LRI Fire Protection & Building Cod
Graphic design Sali Tabacchi
Client Power10 Fitness
Photographer Riley Snelling
---
마실와이드 | 등록번호 : 서울, 아03630 | 등록일자 : 2015년 03월 11일 | 마실와이드 | 발행ㆍ편집인 : 김명규 | 청소년보호책임자 : 최지희 | 발행소 : 서울시 마포구 월드컵로8길 45-8 1층 | 발행일자 : 매일