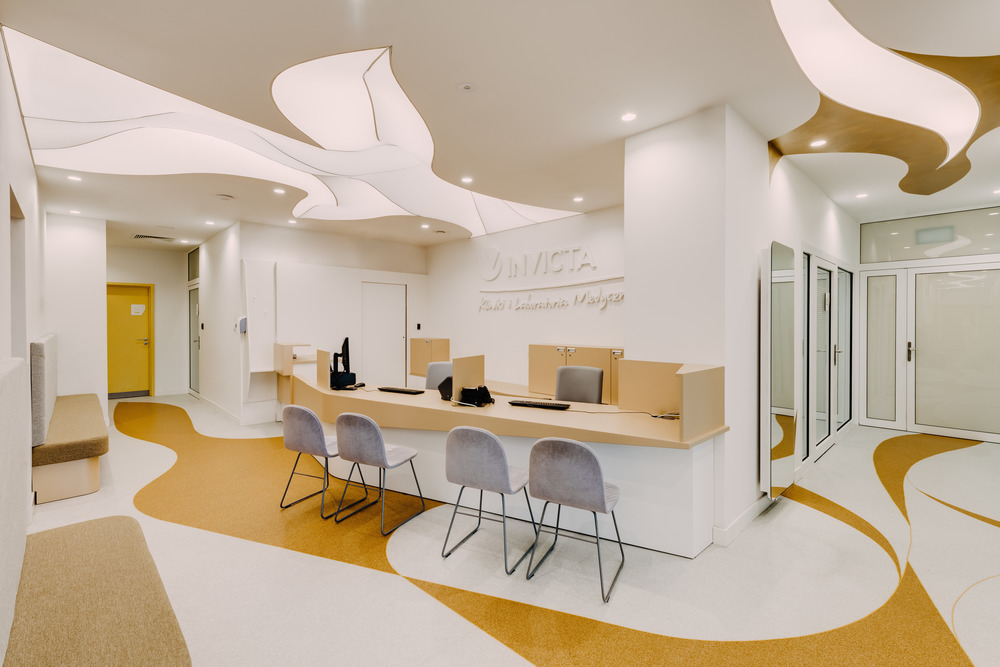 FAAB Architektura has completed a specialist fertility clinic, with a one-day hospital, and IVF laboratory at Grabiszyńska Street in Wrocław, Poland. The technologically complex function enables the diagnosis and treatment of women, based on the latest medical knowledge. The curved geometry, characteristic of the female body during the prenatal development of a child, determined the character of the interior.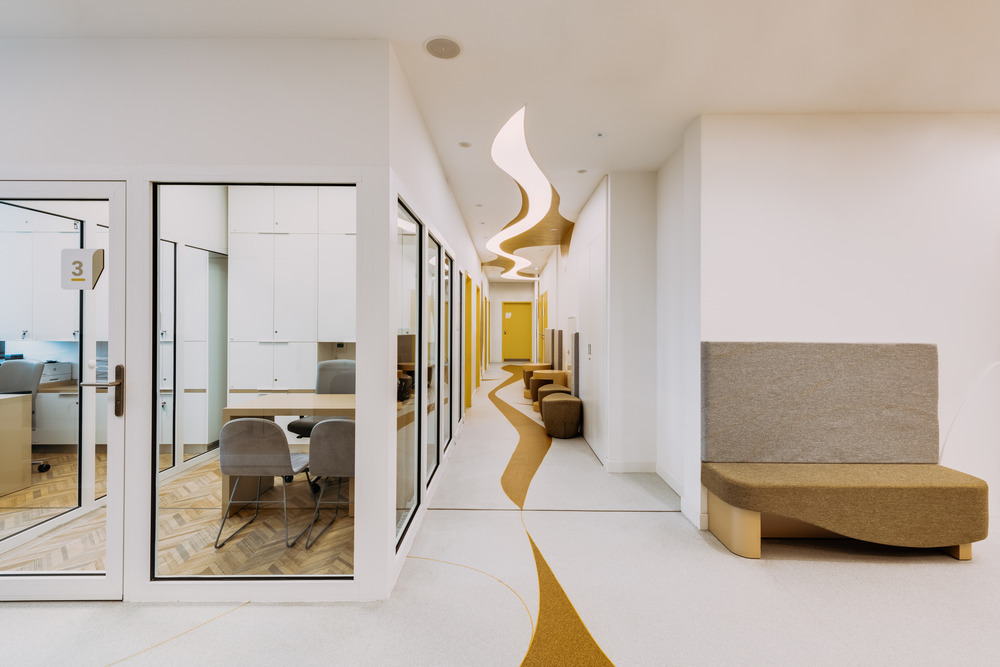 Function
The technologically complex medical function is divided into three interrelated zones. In the specialist clinic, within treatment rooms and interview rooms, the patient is provided with medical consultation in the field of gynecology, genetics, oncology, prenatal diagnostics, and psychology. The clinic is adjoined to a one-day hospital with an operating theatre. In the hospital, it is possible to perform minimally invasive laparoscopic procedures and diagnose diseases using technically advanced methods with the use of ultra-miniature cameras and optics. An analytical laboratory and IVF laboratory are connected with the hospital. The IVF laboratory allows treating a partner's infertility using the in-vitro method, including ICSI, IMSI-MSOME, FAMSI, AH.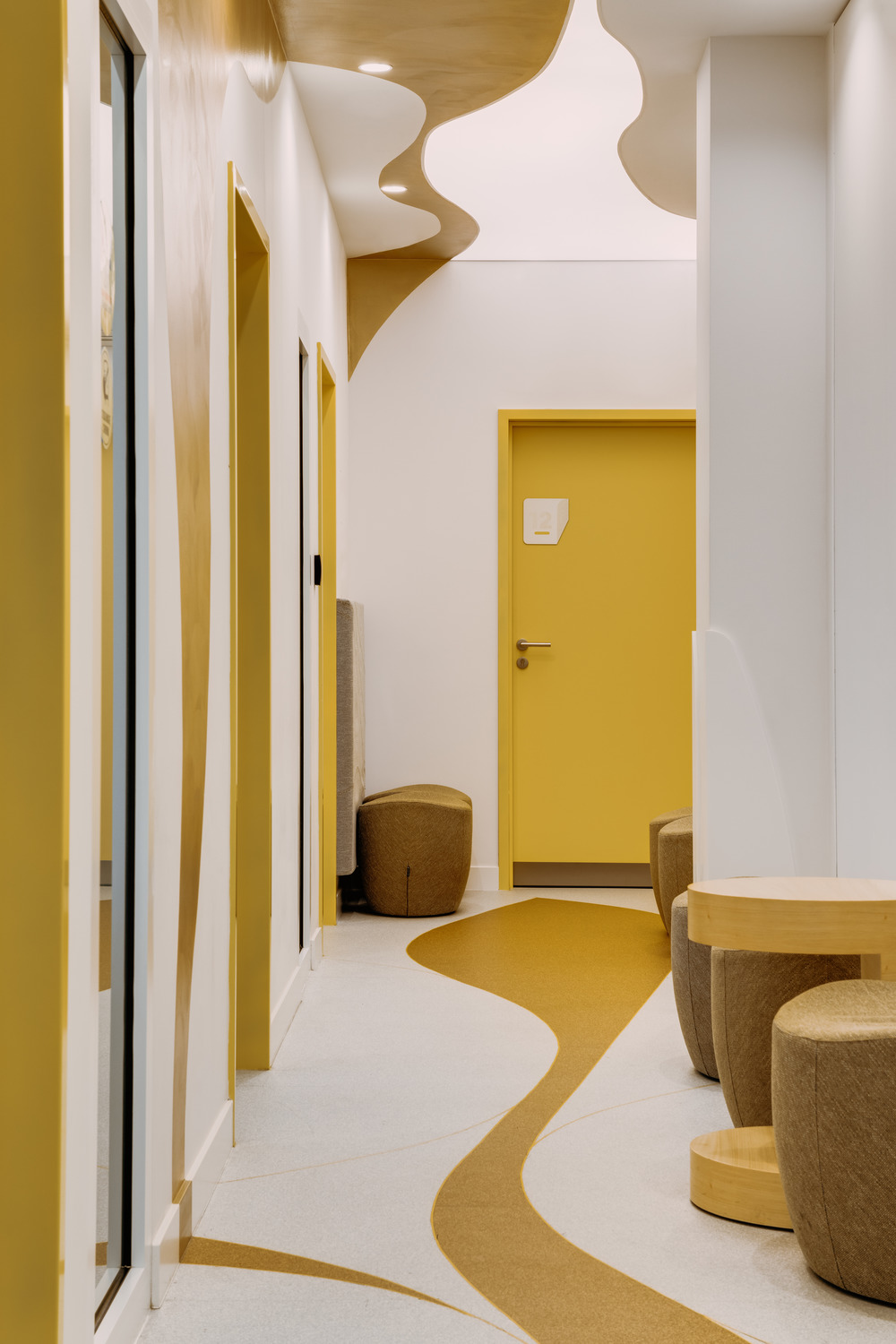 Design motif
Fluid shapes, referencing the curves of a woman's body during pregnancy, are present on the floor, walls, and ceiling of the waiting room and corridors. In some places, they remain as two-dimensional, independent elements. In others, they connect the floor to the wall and ceiling, generating the illusion of movement. They become a three-dimensional form at the main entrance. This form is inspired by the tension of the skin on a woman's abdomen, as observed during pregnancy, the tensions caused by the muscle activity of fetal movement such as elbows and knees pressing against the womb. Textures, colors, and light reflection play an important role in the interior design. Translucent surfaces are juxtaposed with opaque surfaces. Matt surfaces contrast with the light-reflecting surfaces of the individually designed graphics. The choice of color for the graphics was carefully analyzed. Ultimately, the gold color was chosen to represent one of the most precious moments in a woman's life - pregnancy.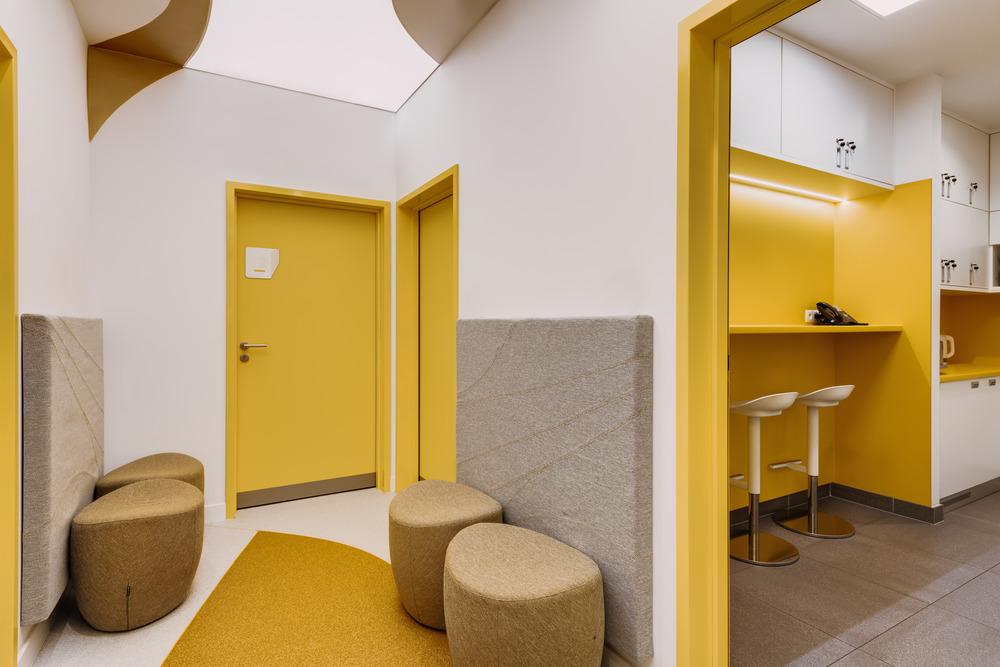 FAAB Architektura는 폴란드 브로츠와프의 Grabiszyńska Street에 원데이 병원과 IVF 실험실을 갖춘 전문 불임 클리닉을 완성했다. 기술적으로 복잡한 기능은 최신 의학 지식을 바탕으로 여성의 진단과 치료를 가능하게 한다. 태아가 발달하는 동안의 여성 신체 특징인 곡선의 기하학적 요소가 내부 콘셉트를 결정했다.
기능
기술적으로 복잡한 의학적 기능은 세 개의 상호 관련된 영역으로 나뉜다. 전문 클리닉, 진료실, 면담실 내에서 산부인과, 유전학, 종양학, 산전 진단, 심리학 분야의 진료를 받는다. 클리닉은 수술실이 있는 원데이 병원과 인접해 있다. 병원에서는 초소형 카메라와 광학 장치를 사용하여 기술적으로 진보된 방법을 사용하여 최소 침습적 복강경 절차를 수행하고 질병을 진단할 수 있다. 분석실과 IVF 연구실이 병원과 연결되어있다. IVF 실험실에서는 ICSI, IMSI-MSOME, FAMSI, AH를 포함한 시험관 시술을 통해 파트너의 불임을 치료할 수 있다.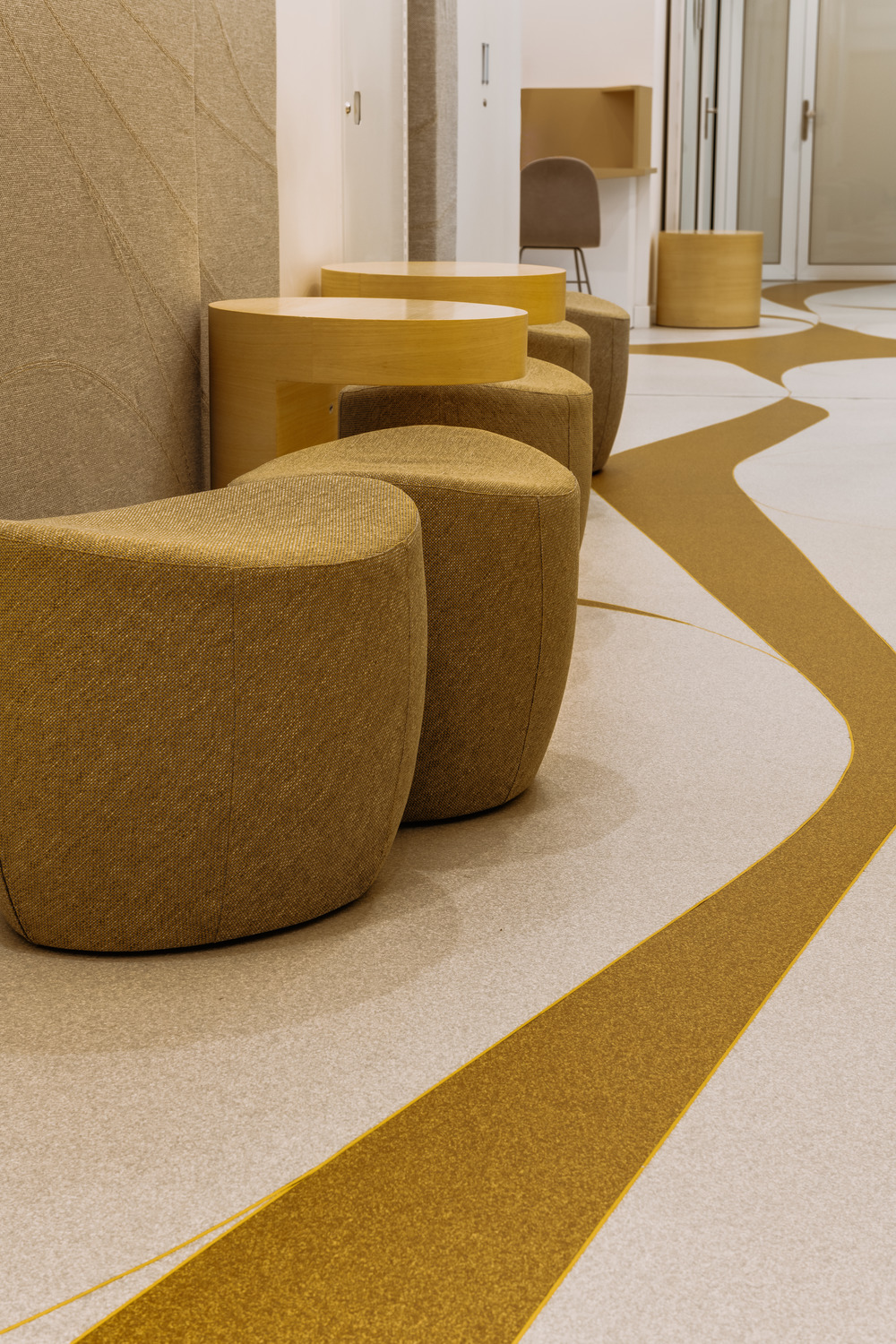 디자인 모티브
대기실과 복도의 바닥, 벽, 천장에는 임신 중 여성의 몸의 곡선을 참조한 유기적 형태가 존재한다. 어떤 곳에서는 2차원의 독립적인 요소로 남아 있다. 또 다른 것들은 바닥을 벽과 천장에 연결하여 입체적인 형태가 되고 움직이는 듯한 착각을 일으키기도 한다. 이 형태는 임신 중에 관찰되는 여성의 복부에 가해지는 장력, 태아의 팔꿈치나 무릎과 같은 태아운동의 근육 활동이 자궁을 압박하는 것에서 야기된 긴장감에서 영감을 얻었다. 질감, 색상 및 빛 반사는 인테리어 디자인에서 중요한 역할을 한다. 반투명 표면은 불투명 표면과 병치된다. 무광택 표면은 개별적으로 디자인된 그래픽의 빛 반사 표면과 대조를 이룬다. 그래픽의 색상 선택은 신중하게 분석되었다. 궁극적으로 골드 컬러는 여성의 삶에서 가장 소중한 순간인 임신을 표현하기 위해 선택됐다.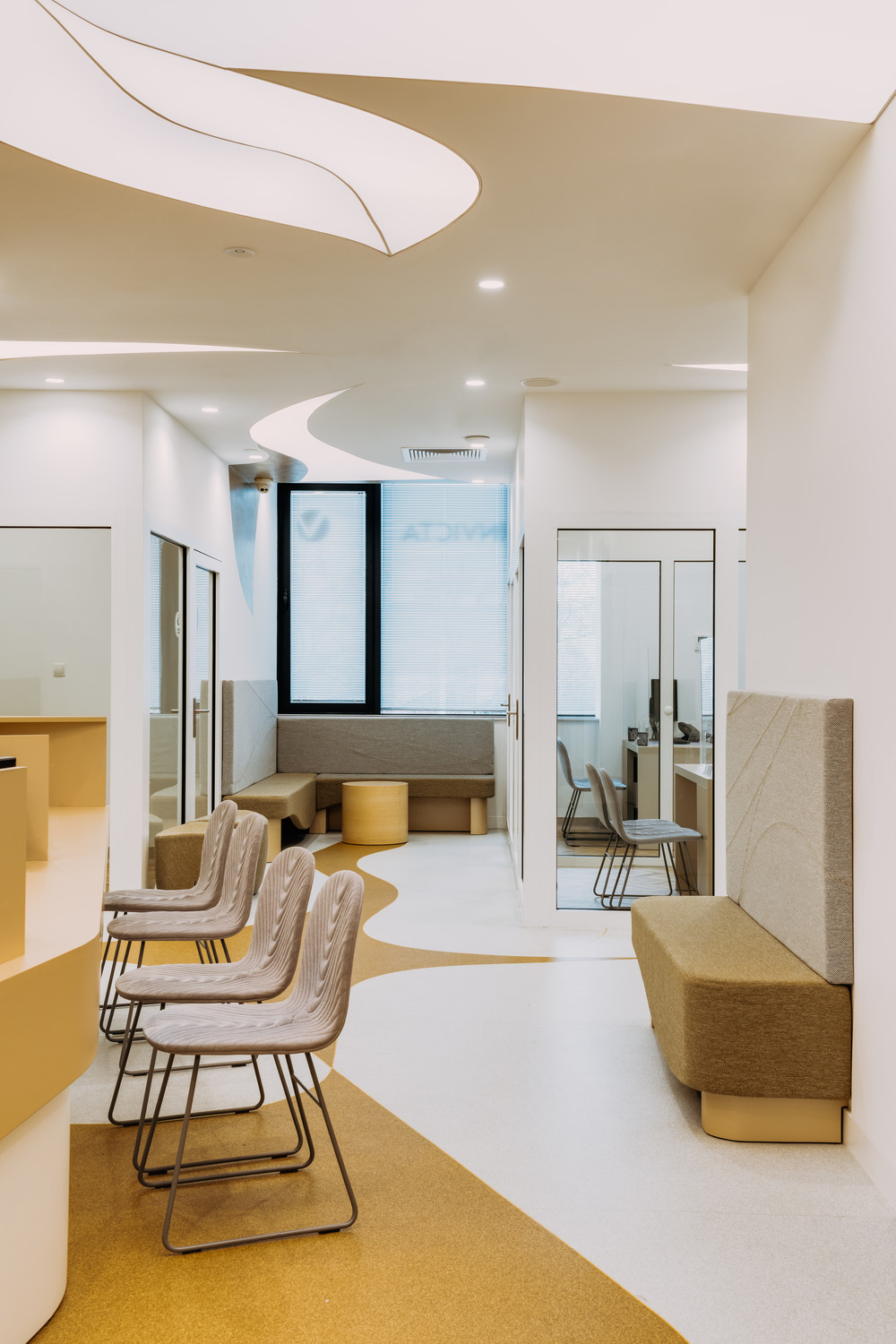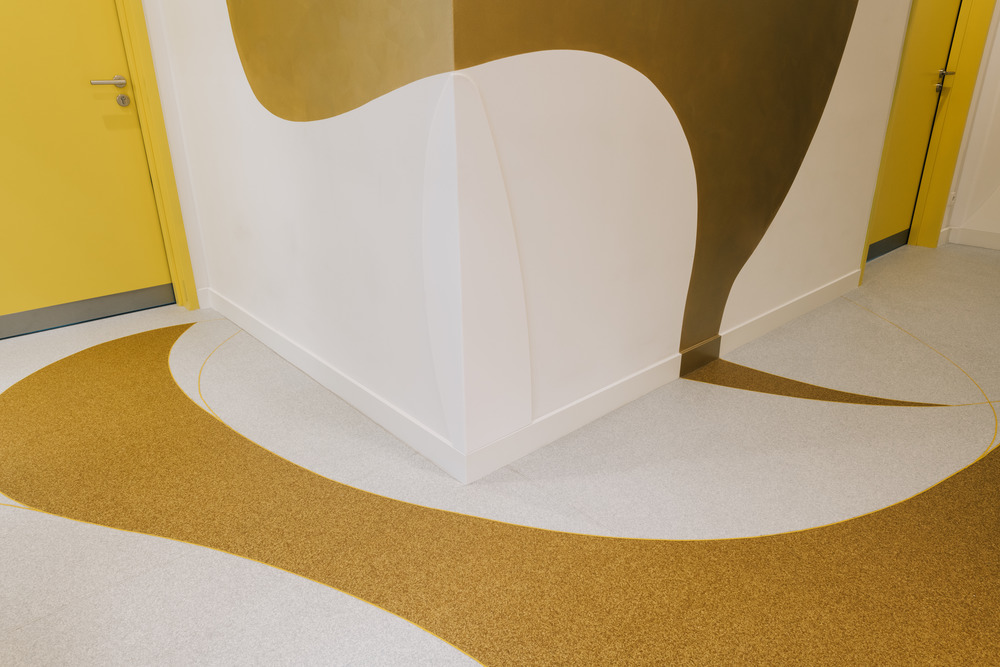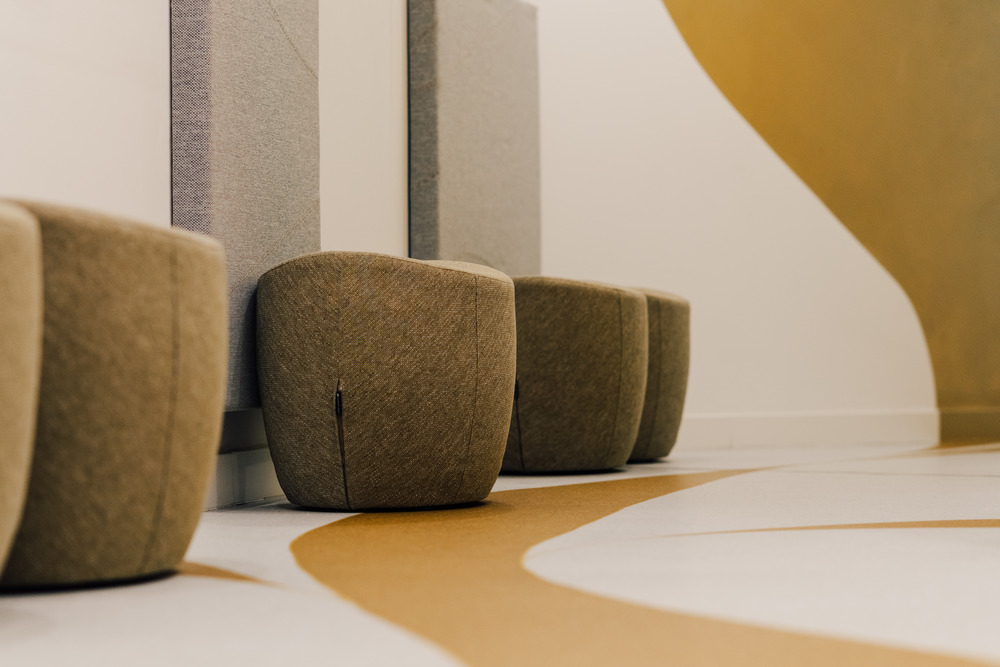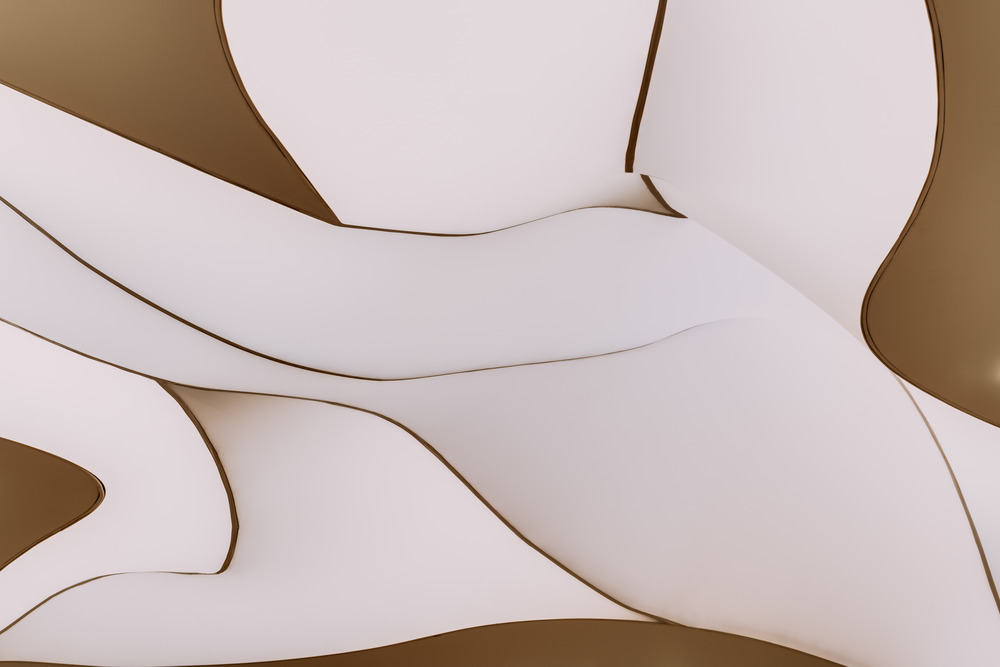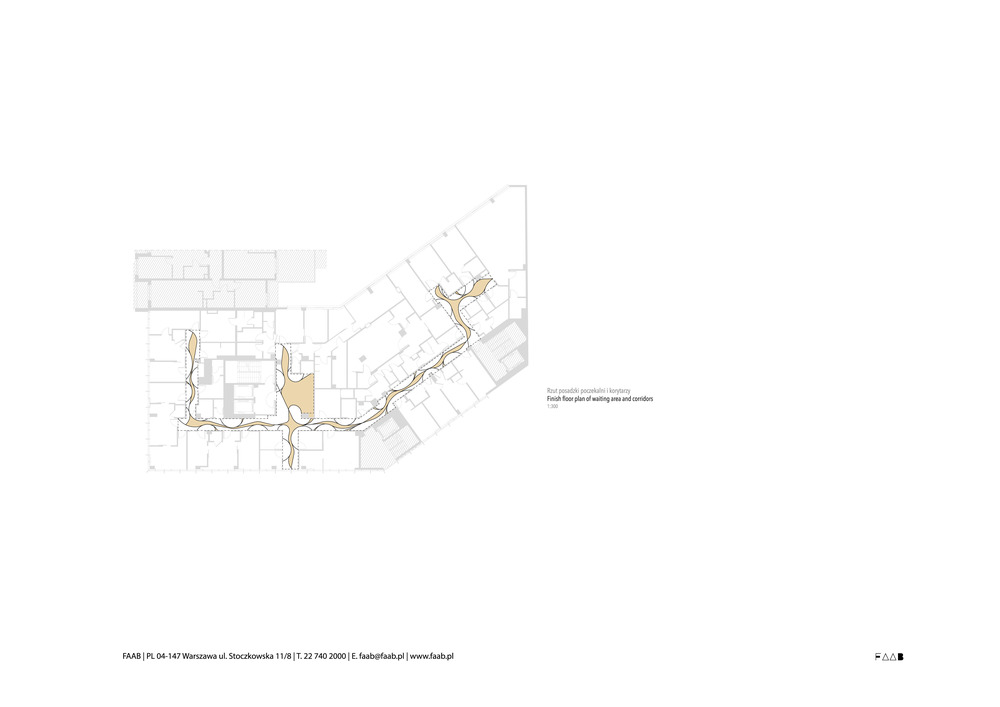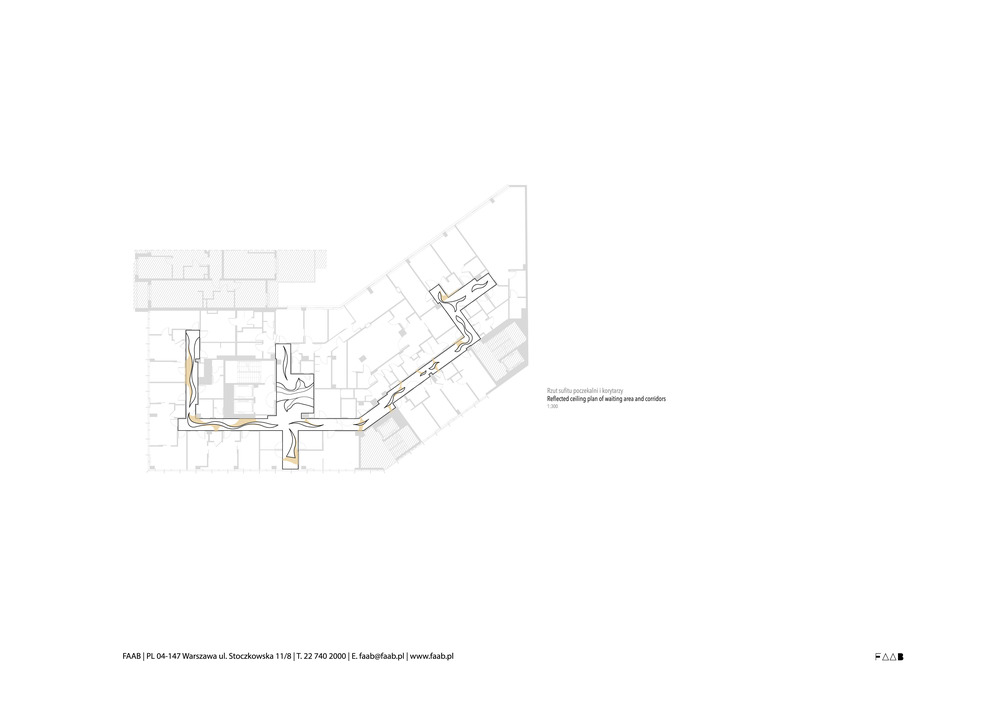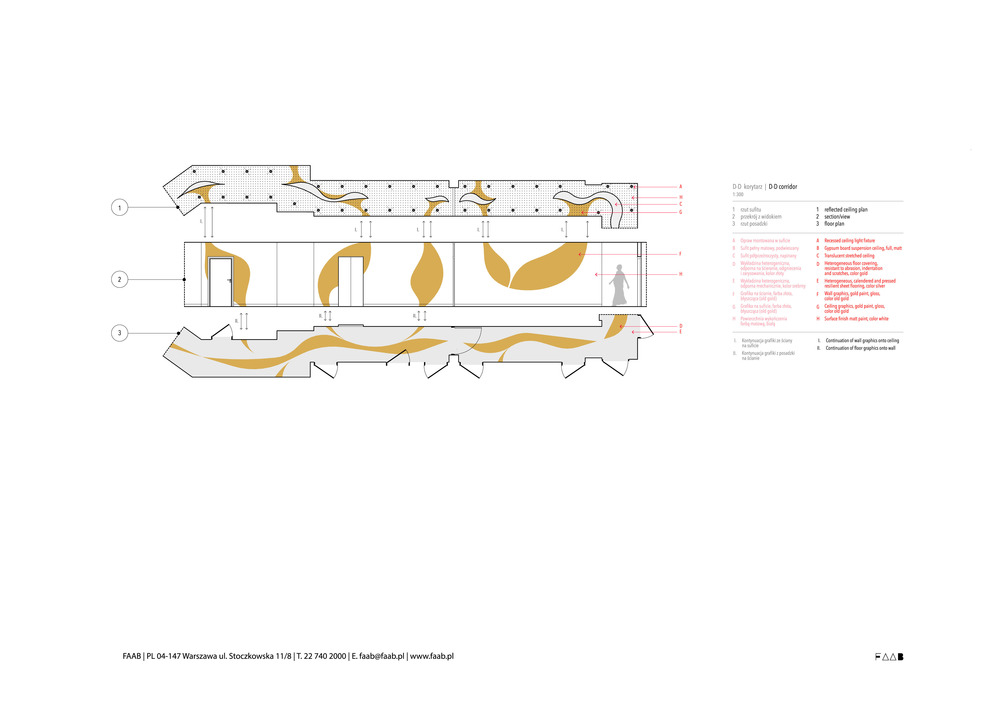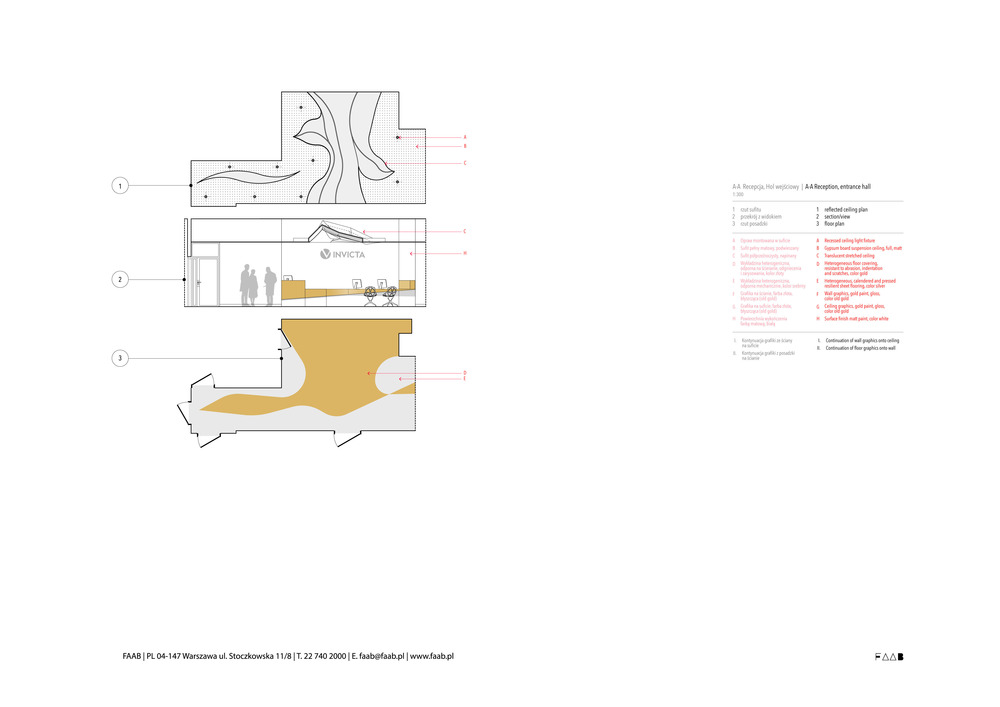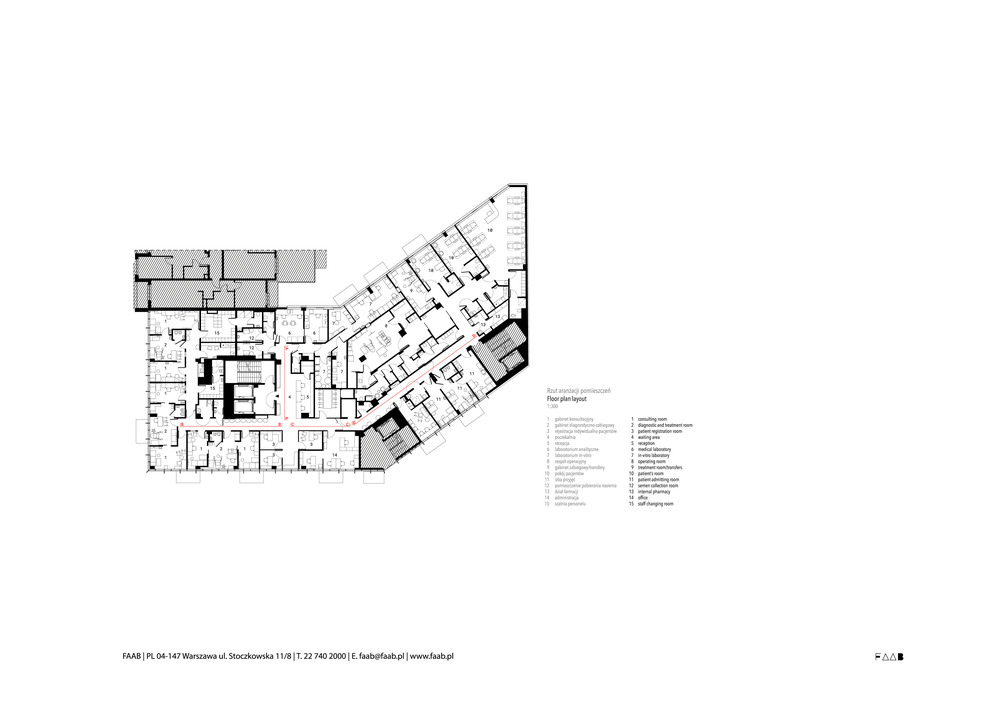 Architects FAAB Architektura(Adam Białobrzeski, Adam Figurski, Maria Messina, Anna Miłosz, Mikołaj Szewczyk)
Location Wrocław, Poland
Building area 829㎡
Gross floor area 3,380㎡
Design and construction 2018 - 2020
Client INVICTA Sp. z o.o.
Photography Maciej Jezyk
---
마실와이드 | 등록번호 : 서울, 아03630 | 등록일자 : 2015년 03월 11일 | 마실와이드 | 발행ㆍ편집인 : 김명규 | 청소년보호책임자 : 최지희 | 발행소 : 서울시 마포구 월드컵로8길 45-8 1층 | 발행일자 : 매일