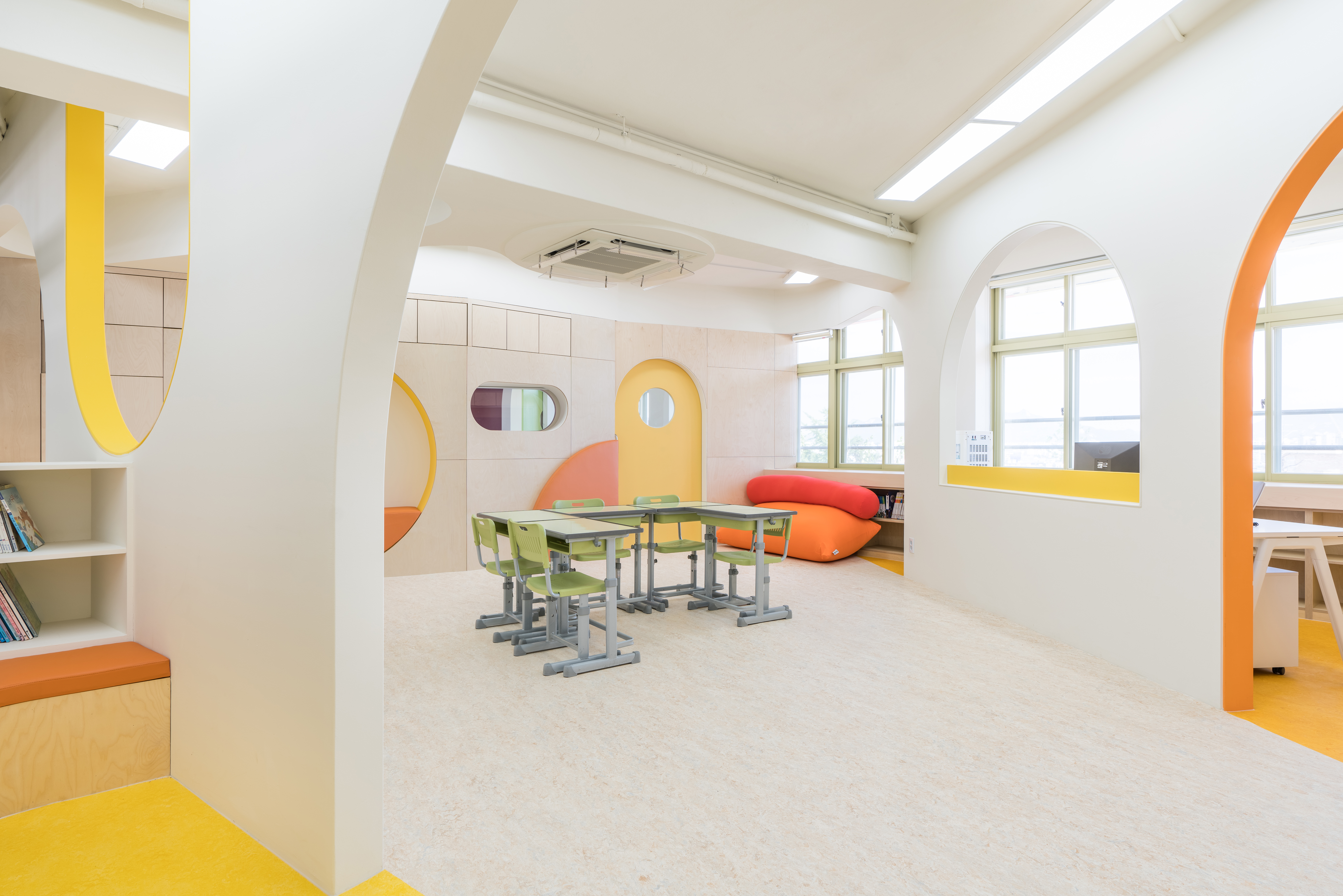 A space that stimulates the senses of special needs children

The existing classroom of this special education class, which focused on educating autistic children, was not only outdated in terms of facilities, but also lacked consideration for the students' special circumstances, remaining as a typical general classroom. Additionally, due to the large amount of teaching aids and materials compared to a regular class, the inside of the classroom was quite chaotic, requiring the provision of a classroom space suitable for special needs children and their learning conditions. Therefore, based on understanding of special needs children and user opinions, the concept of "Multi-Sensory Environment" was introduced to provide users with a creative, convenient, and safe space.
Each class consisted of typically 6-7 students. Classes were usually conducted with one or two students at the center, rotating to receive their lessons, while the rest of the students engaged in their own activities or rested in other areas of the classroom. As many special needs children are prone to sudden impulsive behavior, teachers always preferred to keep them in sight, while the students themselves tended to prefer secluded nooks like crannies or the floor to engage in activities. In order to mitigate the common characteristics of special needs children such as distractibility and aggressiveness, it was deemed important to have separate areas, diverse sensory experiences, and escape spaces. To accommodate these demands and needs, the classroom was designed to transform the entire space into a multi-sensory experience by utilizing "multiangle open walls and gaps." This design provides different sensory stimuli within the classroom and enables the progression and variation of sensory experiences, which are expected to positively affect the psychological and emotional stability of special needs children as well as decrease impulsive behavior and improve concentration.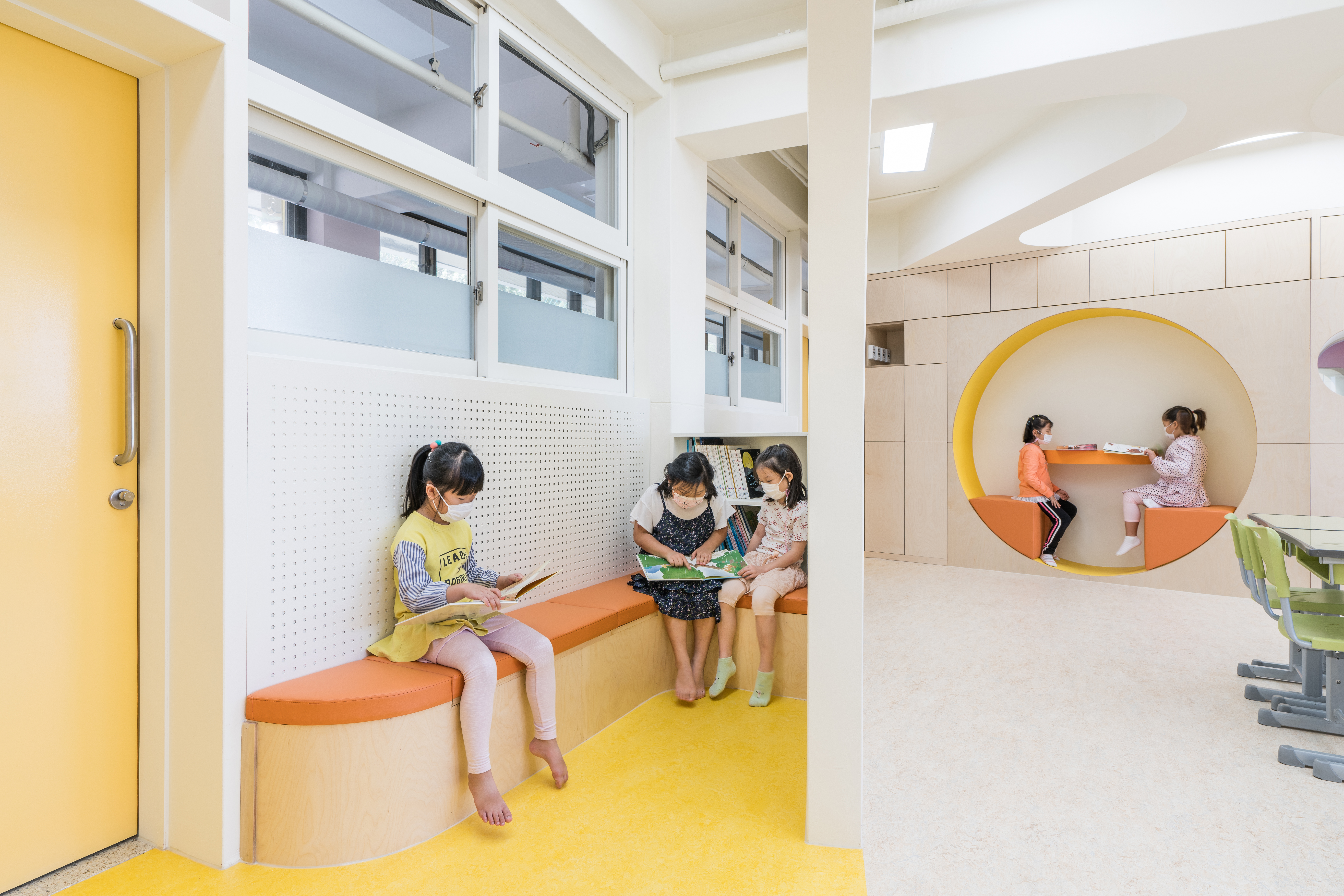 특수아동의 오감을 자극하는 경험의 공간
자폐아동 중심의 교육이 이루어지고 있었던 본 특수학급의 기존 교실은 시설 면에서도 노후한 상태였지만 무엇보다 학생들의 특수한 상황에 대한 고려와 배려가 없는 전형적인 일반교실 그대로의 모습이었다. 또한, 일반학급에 비해 많은 양의 교구 및 교재들로 인해 학급 내부는 상당히 혼란스러운 상태였으므로 특수아동들과 그들의 수업여건에 맞는 상황의 교실 공간의 제공이 필요했다. 이에 특수아동들에 대한 이해와 사용자의 의견을 바탕으로 'Multi-Sensory Environment'의 개념을 도입하여 이 공간의 사용자에게 창의적인 동시에 편리하고 안전한 공간을 제공하고자 했다.
한 학급은 보통 6~7명의 학생으로 구성되어 있었다. 수업은 보통 1~2명의 학생을 중심으로 이루어지며, 그들이 돌아가면서 수업을 받고 그 시간에 나머지 학생들은 교실 내 다른 공간에서 각자 활동하거나 쉬는 형태로 수업이 진행된다. 갑자기 어떤 돌발 행동을 할지 모르는 특수아동이 대부분이기에 교사는 항상 이들이 눈에 보이는 공간에 있기를 원했지만 반대로 학생들은 틈과 같은 구석진 공간이나 바닥에서 뒹굴거리는 것을 좋아하는 성향을 보였다. 한편, 특수아동들의 공통적인 특징(주의산만, 공격성 등)을 완화하기 위해서는 영역 분리와 다양한 정도의 감각 경험 그리고 도피공간 등이 중요하게 여겨졌으므로 이러한 요구와 필요를 동시에 담기 위해 '다각도의 열린 벽체와 틈'을 이용하여 교실 전체를 다양한 감각의 공간으로 계획했다. 이는 교실 내에서 다른 감각을 자극하는 환경을 제공하고, 자극의 전개 및 변화를 유도할 수 있으며, 이를 통해 특수아동의 심리, 정서적 안정은 물론 돌발행동감소, 집중력향상 등에 긍정적인 영향을 줄 수 있을 것이라 기대한다.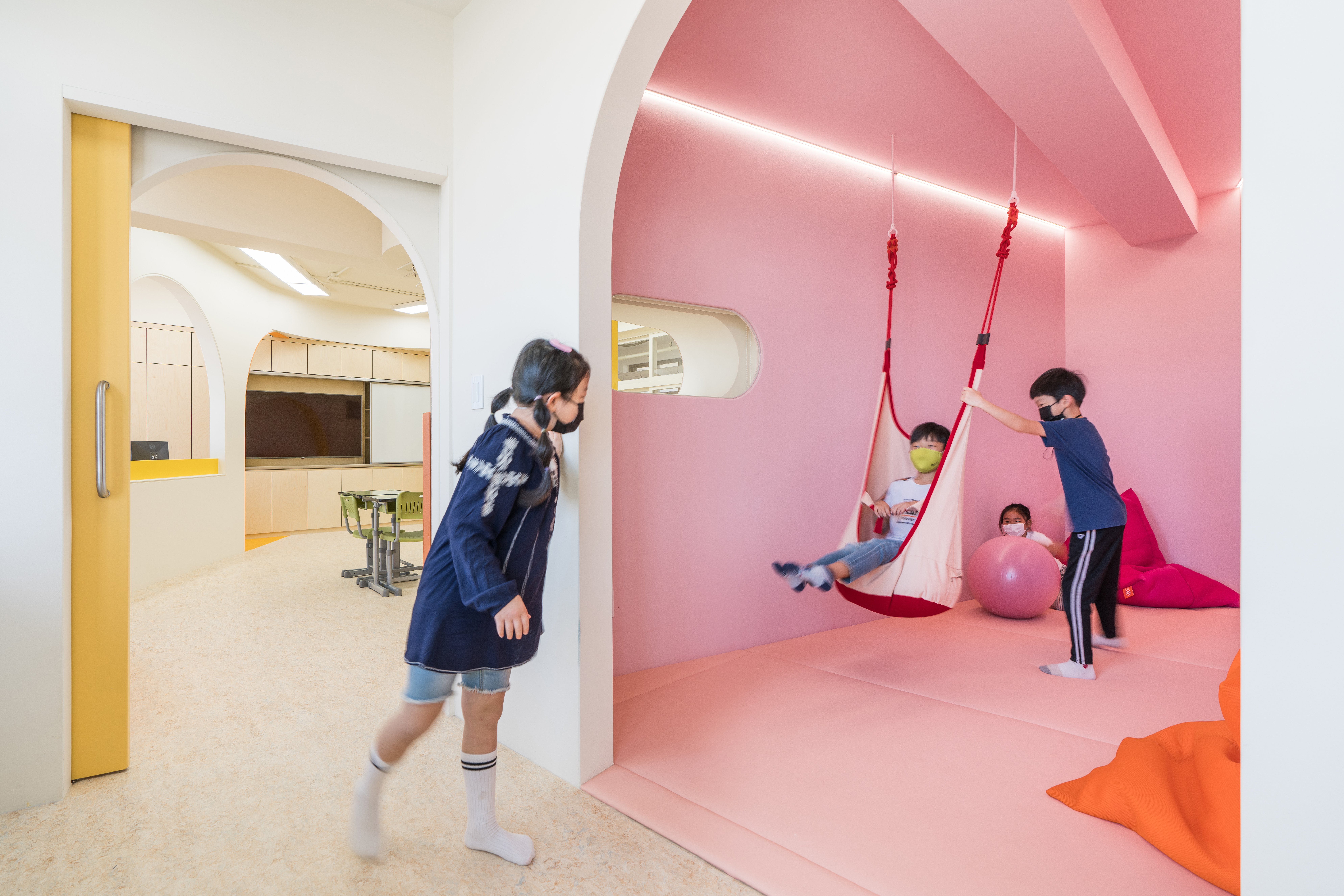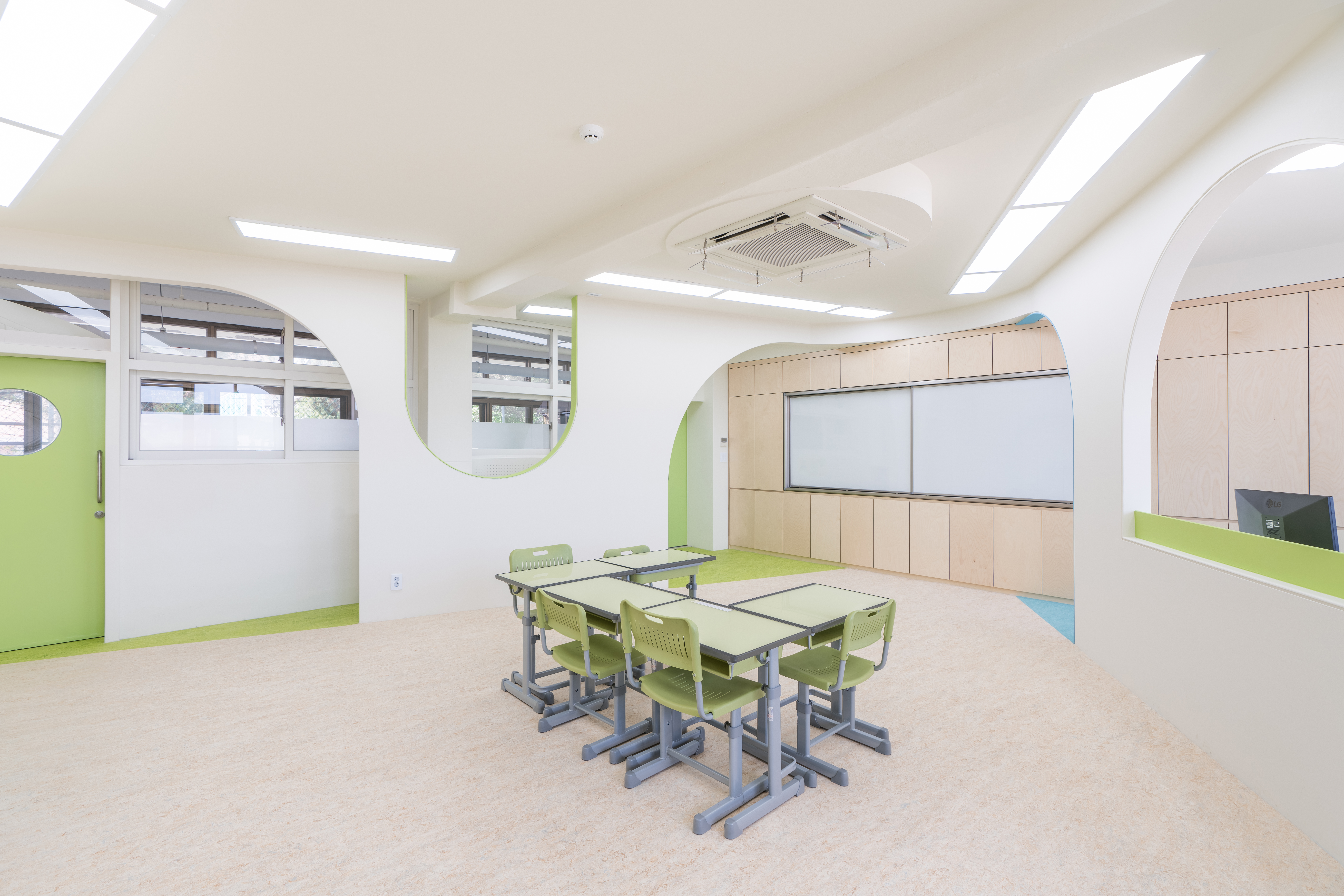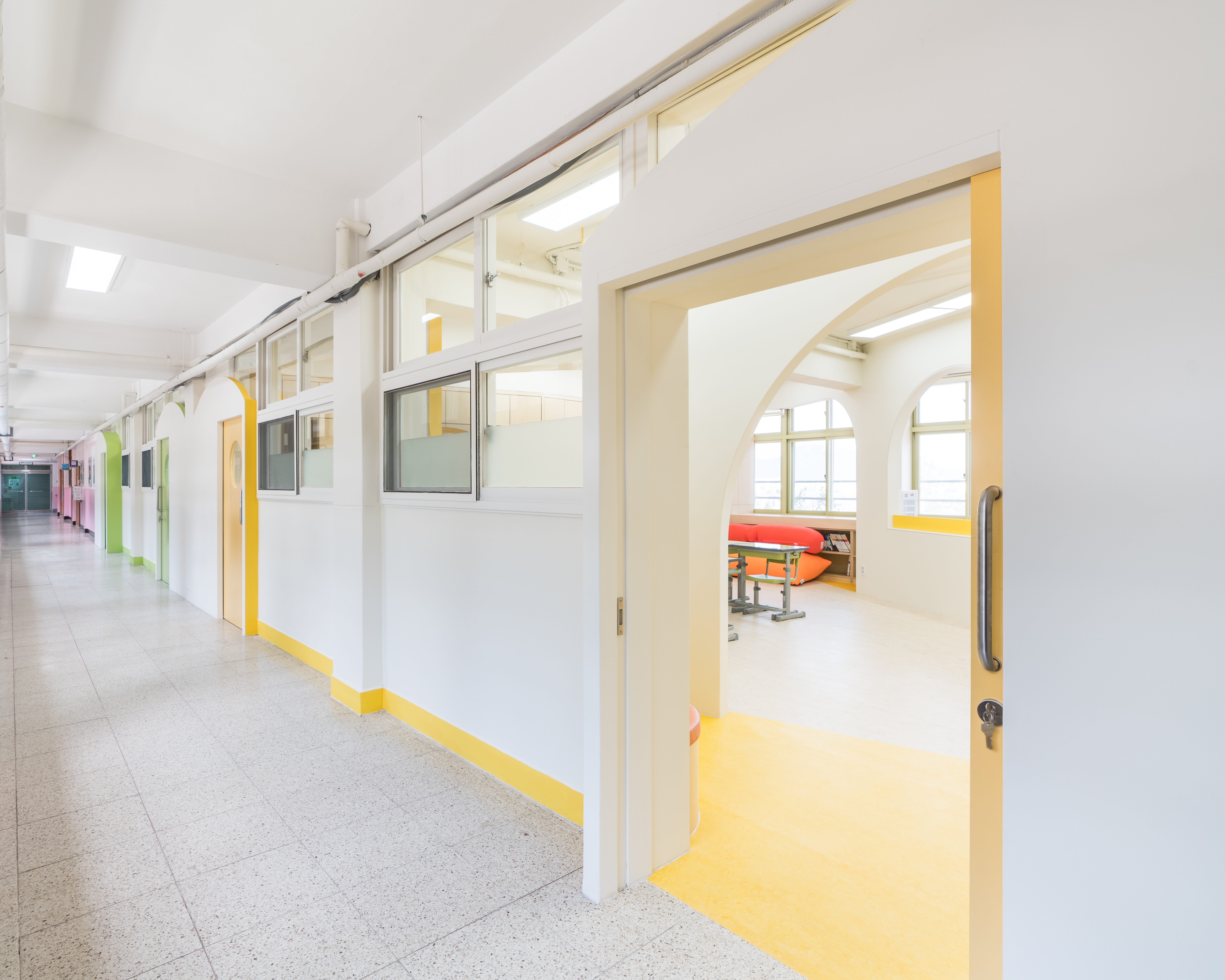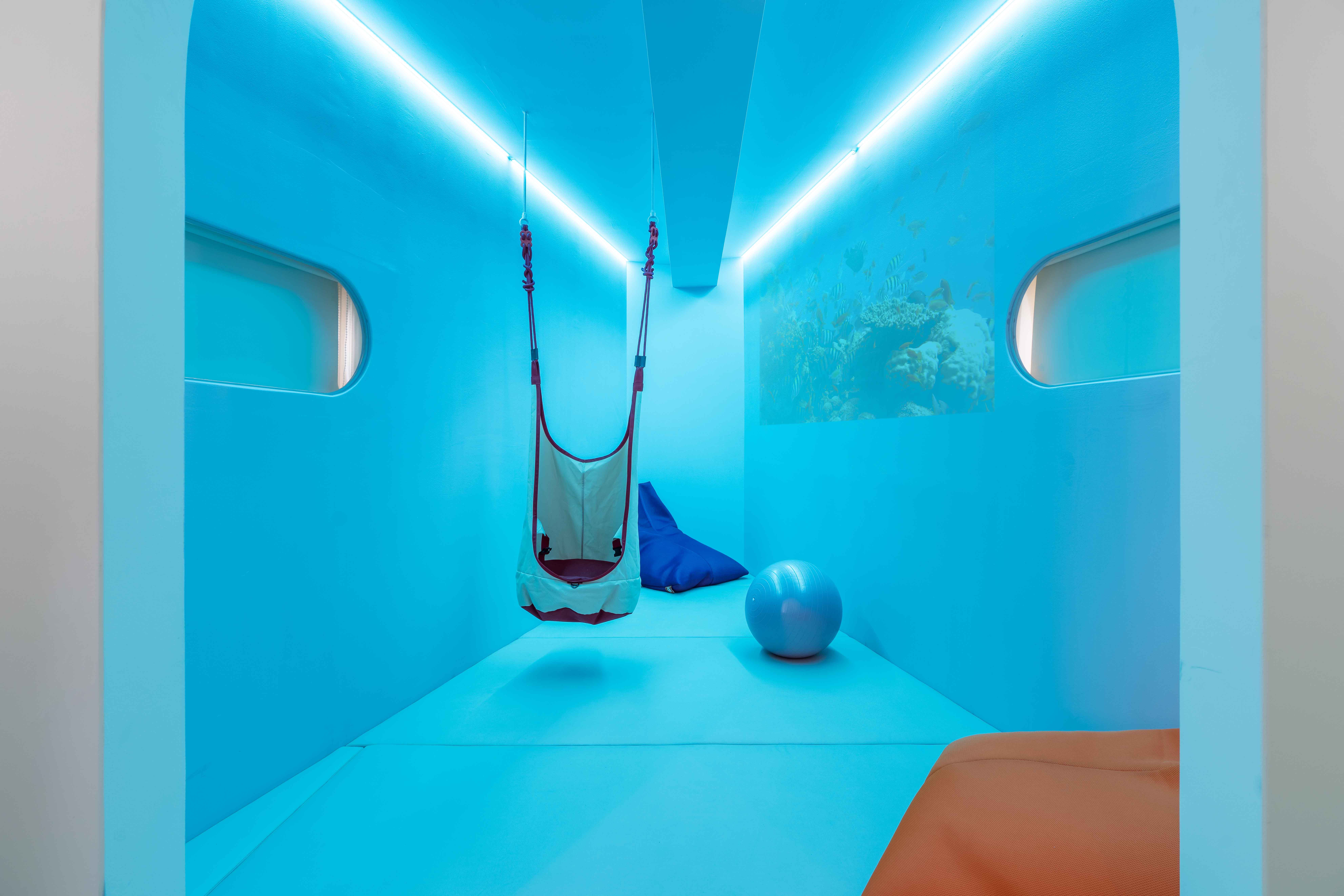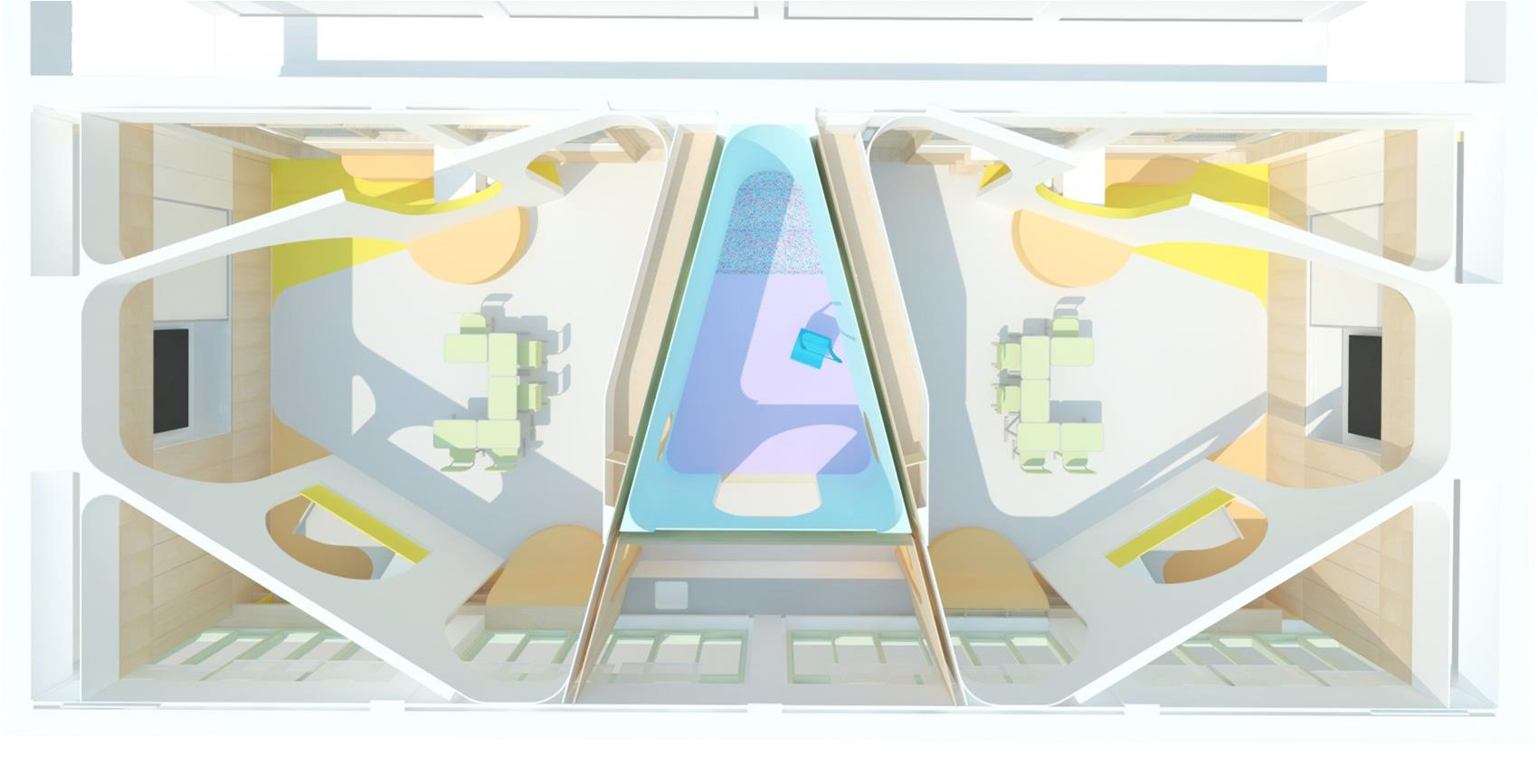 건축가 리: 아키텍츠
위치 Seoul Youhyeon Elementary School, Seoul, Korea
면적 134
준공 2020. 9.
발주자 서울시교육청
사진작가 Yousub Song
해당 프로젝트는 건축문화 2020년 2월호(Vol. 465)에 게재되었습니다.
The project was published in the February, 2020 recent projects of the magazine(Vol. 465).
---
마실와이드 | 등록번호 : 서울, 아03630 | 등록일자 : 2015년 03월 11일 | 마실와이드 | 발행ㆍ편집인 : 김명규 | 청소년보호책임자 : 최지희 | 발행소 : 서울시 마포구 월드컵로8길 45-8 1층 | 발행일자 : 매일