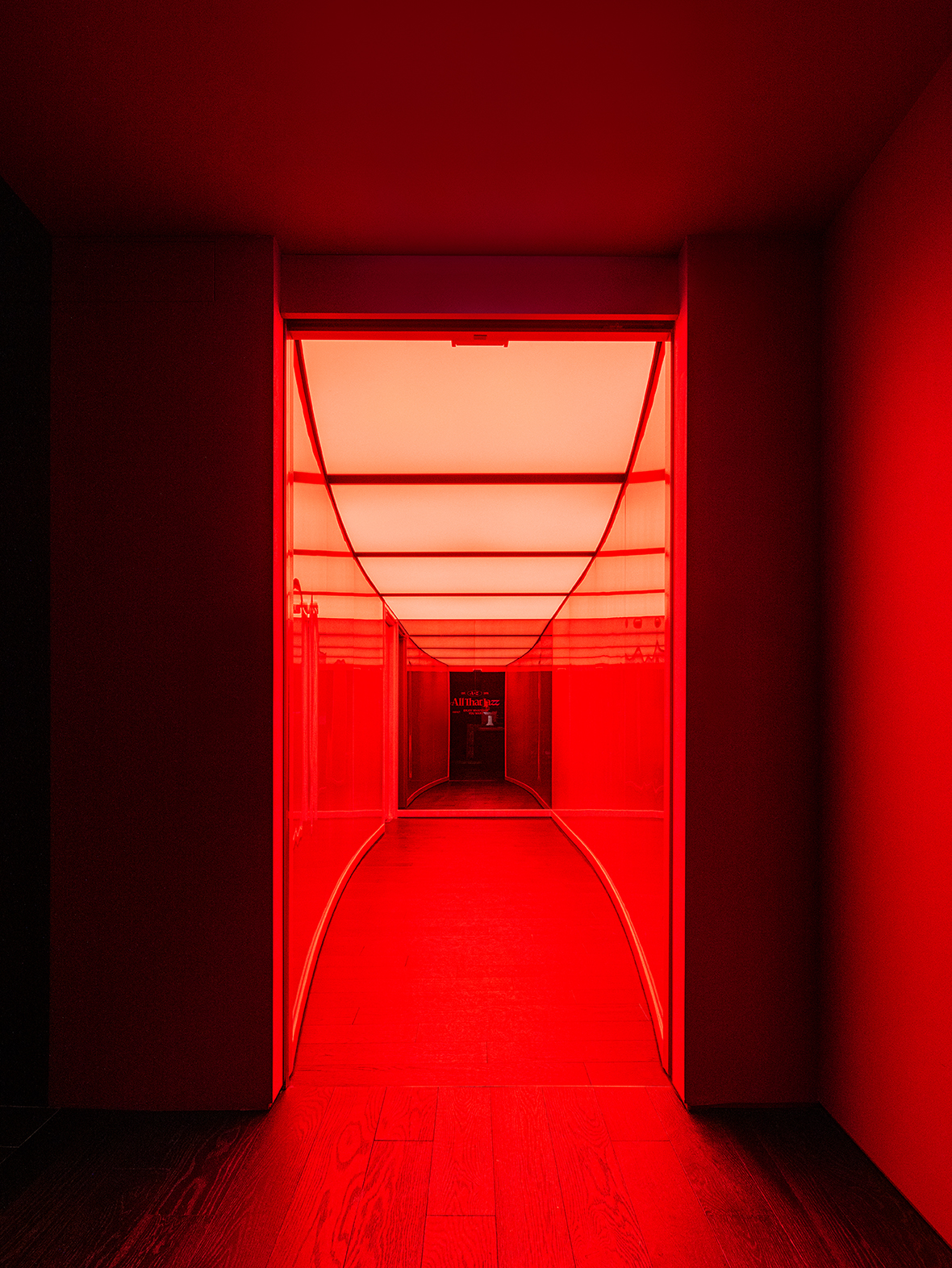 Opened in 1976, 'All That Jazz' is the first jazz club in Korea and the oldest jazz club in Korea. It is a sacred place for Korean jazz that has provided a stage to musicians for more than 40 years since the 1980s, when jazz was barren, and many jazz musicians in Korea have grown their dreams here since they were unknown. It can be said that this is a cultural space connected by jazz beyond commercial facilities.

The total size is 274.48 m2. If you go up to the second floor through the hallway of the building, you will encounter a classic entrance door. When you open the door and enter, you can enter through a glass wall with red lights and curved surfaces. The transition space composed of light and glass was composed of physical properties in contrast to the internal space in which music flows, leading to entry through a rhythmical space experience.

Music remembers special moments and reminds me of the feelings and places together. The visual identity was extracted by recalling All That Jazz in the past, which was full of red jazz melodies. Like a solid organization created to protect history and tradition, the red layer extracted with the visual identity of All That Jazz was wrapped in space.

A functional space was placed in the surrounding red layer. DJ booths, bartender bars, and infodesk, which coordinate the sound of the stage, were integrated to allow a panoramic view of the stage and hall in an open space, and booth-type seats for several people at the same time, were placed at the front of the stage. Through a simple and simple arrangement, the eyes were focused on the stage so that they could immerse themselves in the music.

The stage and hall were wrapped in red curtains. The curtain, which blocks light and gaze and protects it from the outside, was interpreted as a device and image to protect the history and tradition of All That Jazz. The density of the volume of red curtains creates an attractive atmosphere as the space becomes richer due to the contrast with the dark space.

Musician photographs, lighting, and wine glass hanger on the ceiling of the hall were recreated based on elements used in previous All That Jazz, allowing them to reminisce and recall previous All That Jazz.

The music space felt with the eyes and ears is completed only when musicians and audiences breathe together and music is filled in the space. I hope many people who visit this space will be fascinated by All That Jazz once again, feeling the melody of jazz colored red.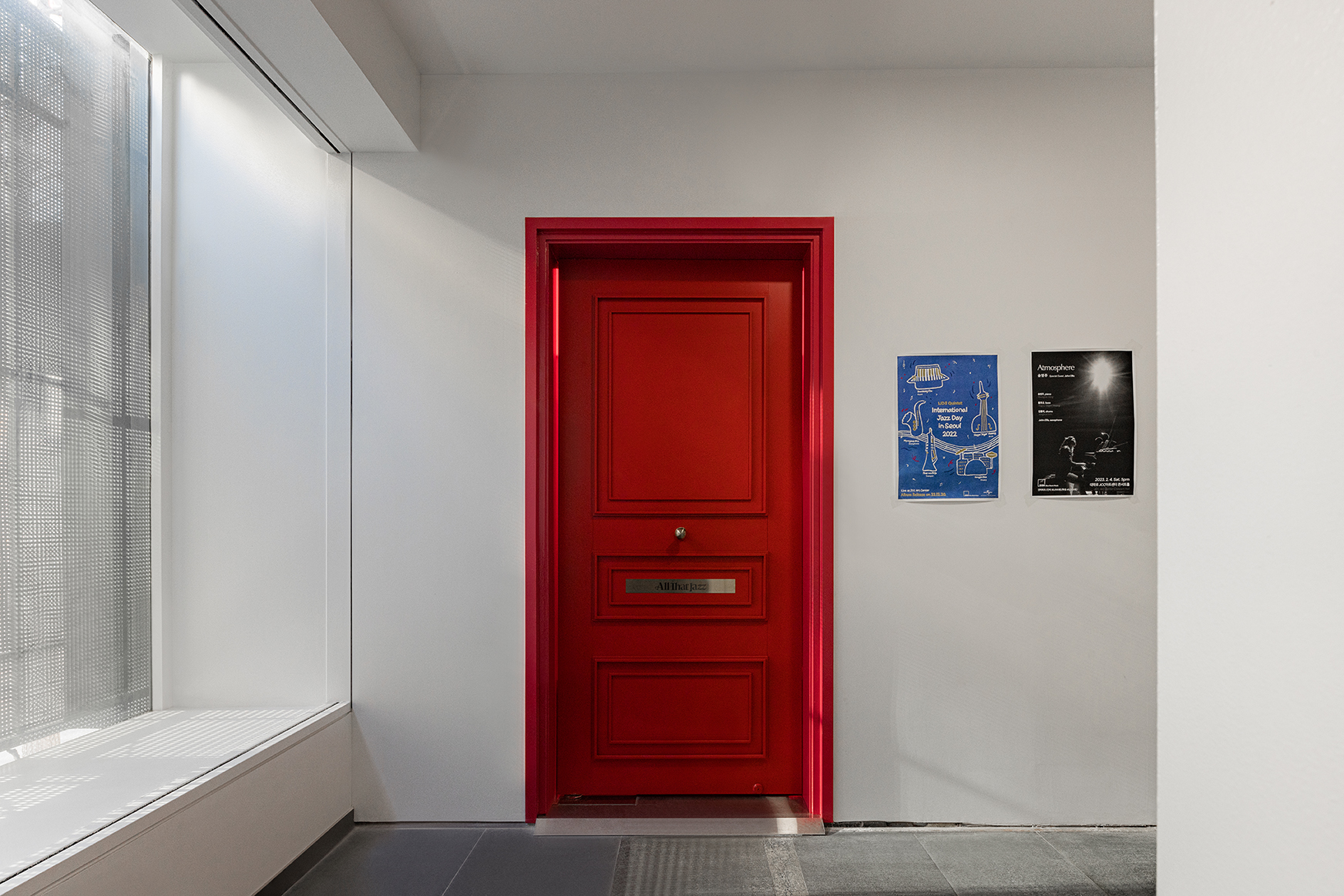 1976년 문을 연 'All That Jazz'는 대한민국 최초의 재즈 클럽이자 대한민국에서 가장 오래된 재즈 클럽이다. 재즈 불모지였던 80년대부터 40여 년간 뮤지션들에게 무대를 제공하고 대한민국의 수많은 재즈 뮤지션들이 무명 시절부터 이곳에서 꿈을 키운 대한민국 재즈의 성지이다. 이곳은 상업 시설을 넘어 재즈로 연결된 문화 공간이라 할 수 있다.
규모는 총 274.48m2이다. 건물의 복도를 통해 2층으로 올라가면 클래식한 출입문을 맞이하게 된다. 문을 열고 들어가면 붉은 조명과 곡면으로 된 유리 월을 거쳐서 들어가도록 하였다. 빛과 유리로 구성된 전이공간은 음악이 흐르는 내부 공간과 대비되는 물성으로 구성하여 리드미컬한 공간 경험을 통해 진입하도록 유도하였다.
음악은 특별한 순간을 기억하고, 그때의 감정과 장소를 함께 떠오르게 한다. 붉게 물든 재즈의 선율이 가득했던 과거의 올 댓 재즈를 회상하며 시각적 정체성을 추출하였다. 역사와 전통을 보호하기 위해 생성된 단단한 조직처럼 올 댓 재즈의 시각적 정체성으로 추출된 붉은색 레이어를 공간에 감싸 안았다.
둘러싸인 붉은색 레이어에 기능적인 공간을 배치하였다. 무대의 음향을 조율하는 DJ 부스와 바텐더 바, 인포데스크를 통합 배치하여 개방된 공간에서 무대와 홀을 한눈에 관망할 수 있게 하였고, 여러 명이 동시에 앉을 수 있는 부스형 좌석은 무대의 전면에 배치하였다. 간결하고 단순한 배치를 통해 시선이 무대로 집중되어 음악에 몰입할 수 있게 하였다.
붉은색 커튼으로 무대와 홀을 감싸 안았다. 빛과 시선을 차단하여 외부로부터 보호하는 커튼은 올 댓 재즈의 역사와 전통을 지키기 위한 하나의 장치이자 이미지로 해석하였다. 붉은색 커튼의 볼륨이 가지는 밀도는 어두운 공간과의 대비로 인해 공간이 더욱 풍부해지며 매력적인 분위기를 자아낸다.
홀 천장의 뮤지션 사진과 조명, 그리고 와인잔 행거는 이전 올 댓 재즈에서 사용된 요소를 기반으로 재탄생하여 이전 올 댓 재즈를 추억하고 회상할 수 있도록 하였다.
눈과 귀로 느끼는 음악공간은 뮤지션과 관객이 함께 호흡하고 음악이 공간에 채워져야 오롯이 완성된다. 이 공간을 찾는 많은 사람들에게 붉게 물든 재즈의 선율을 다시 한번 느끼며 올 댓 재즈에 매혹되길 바란다.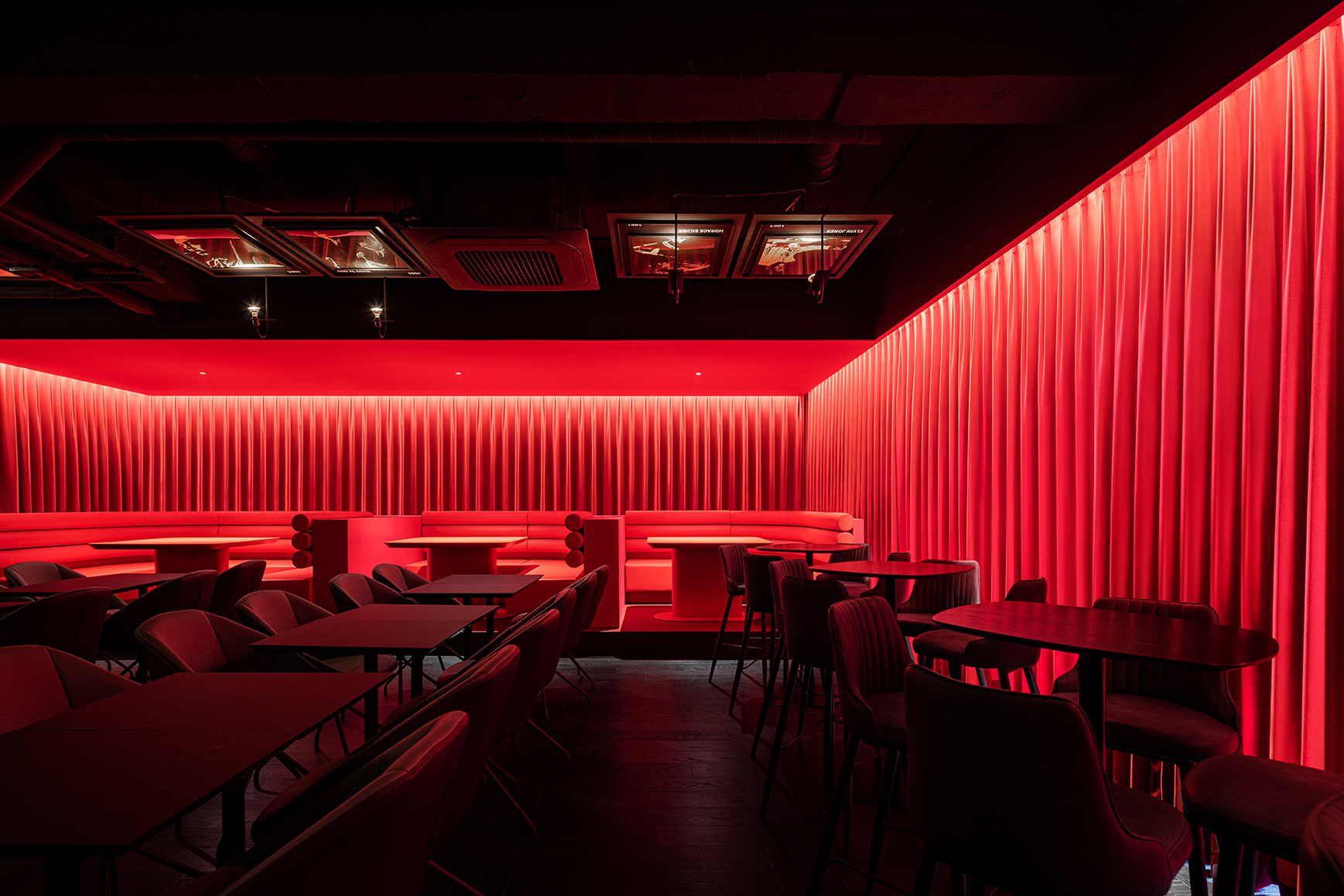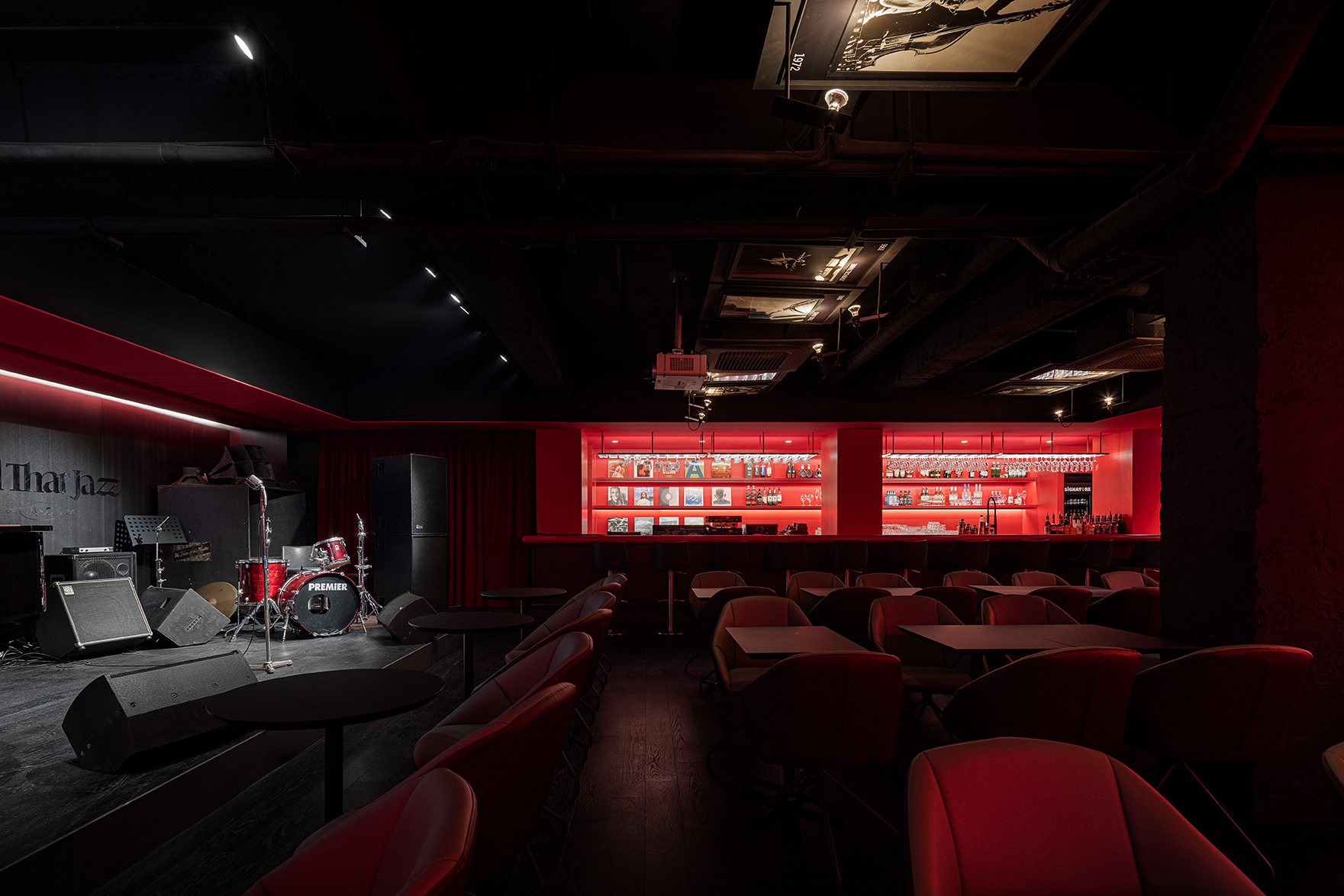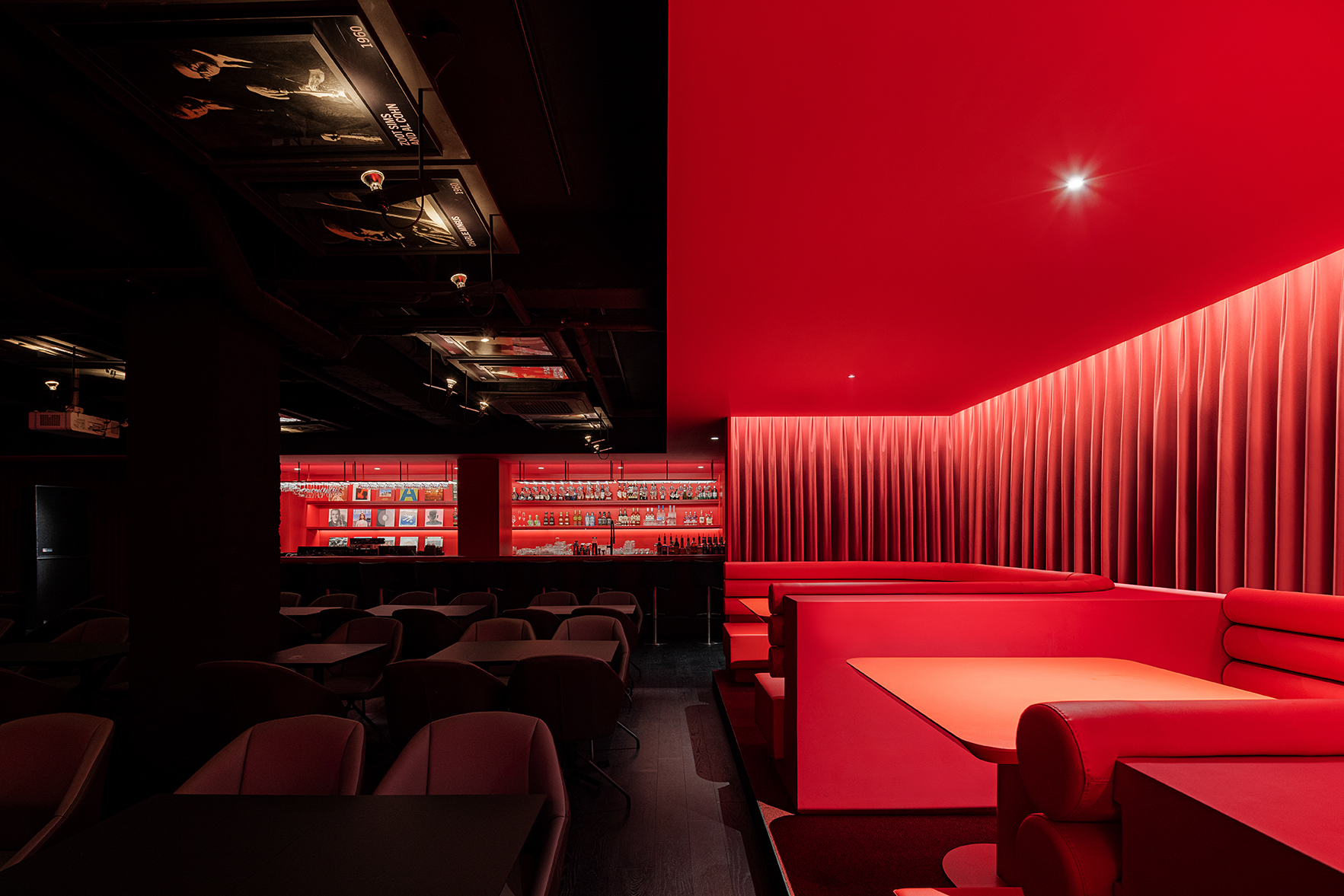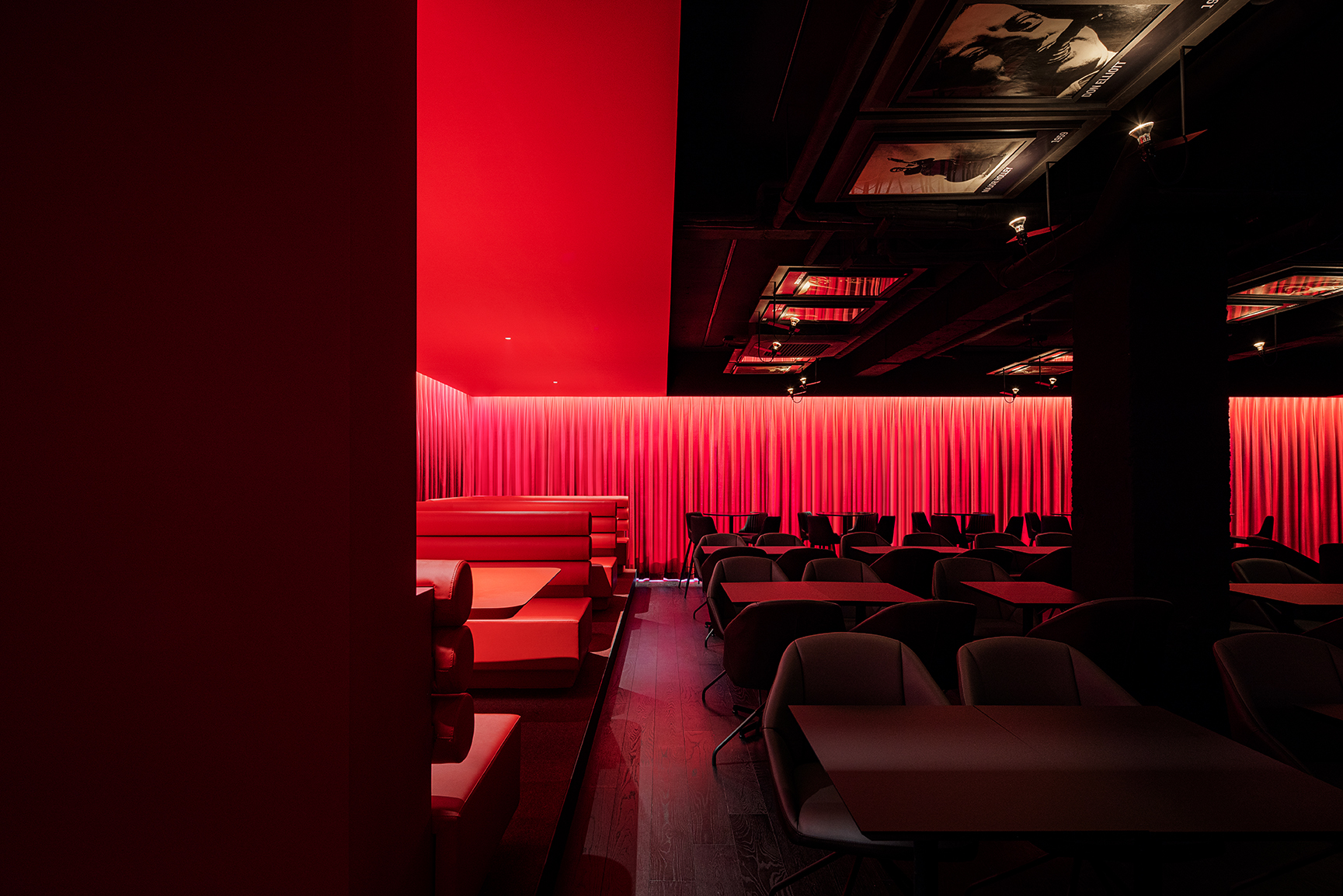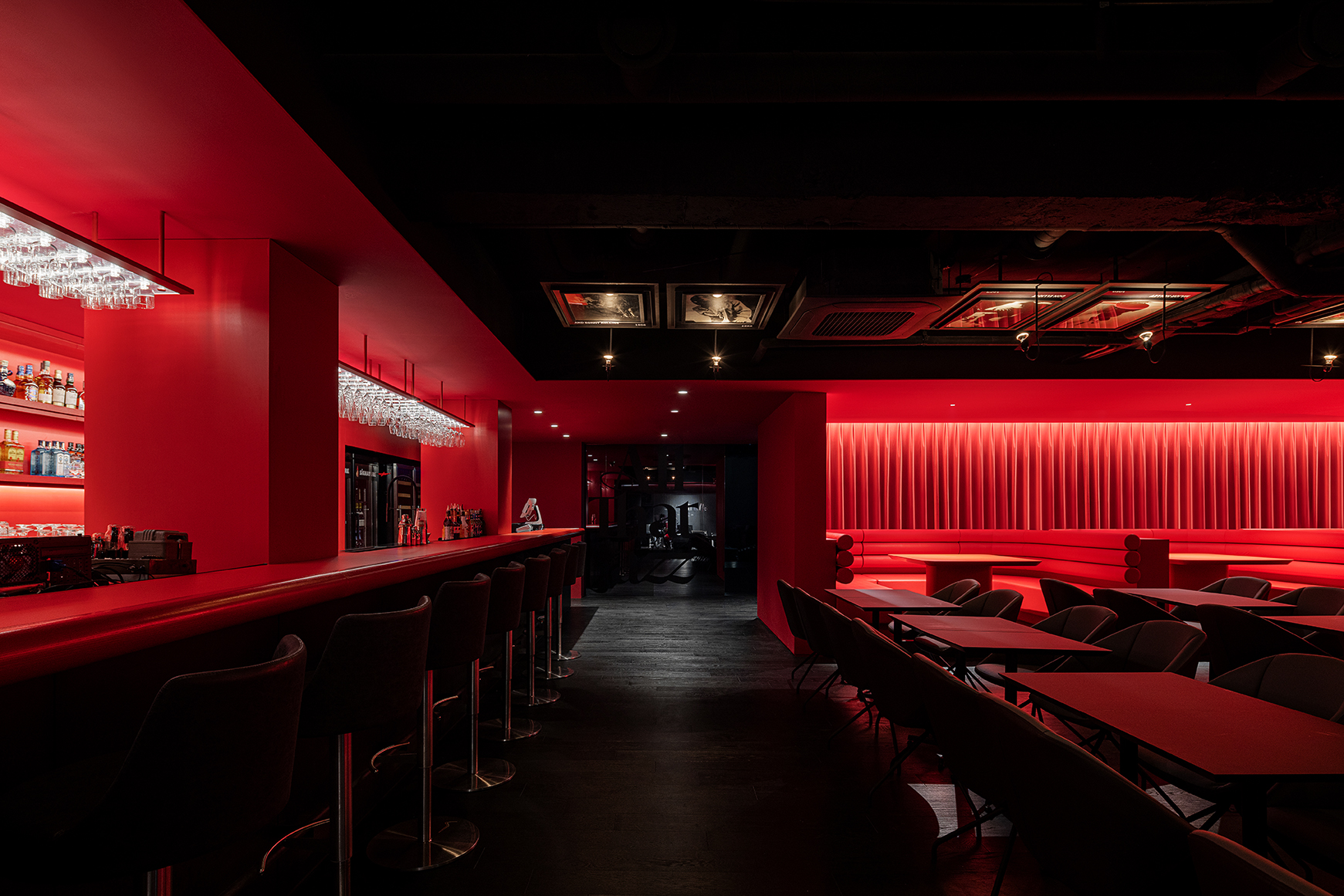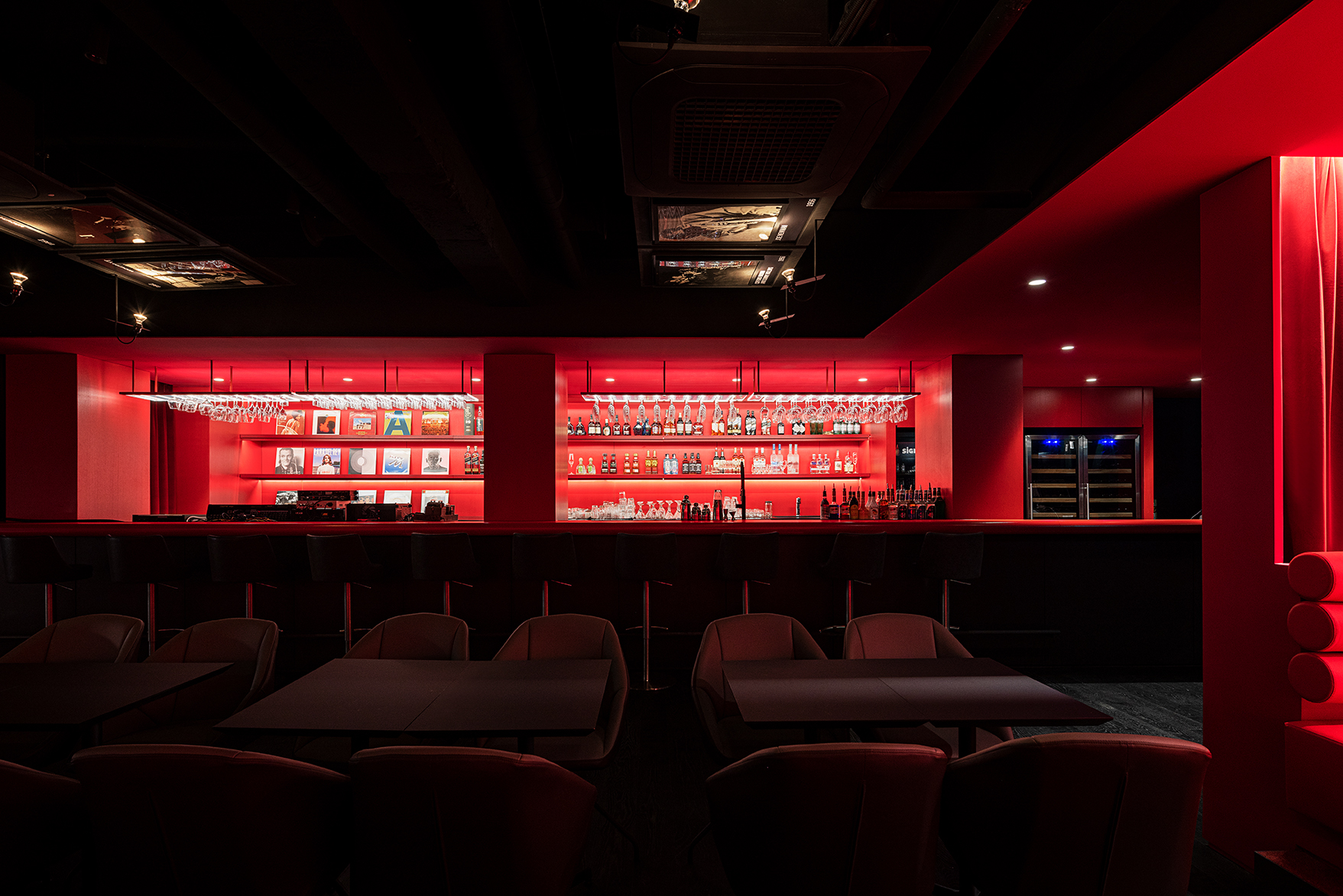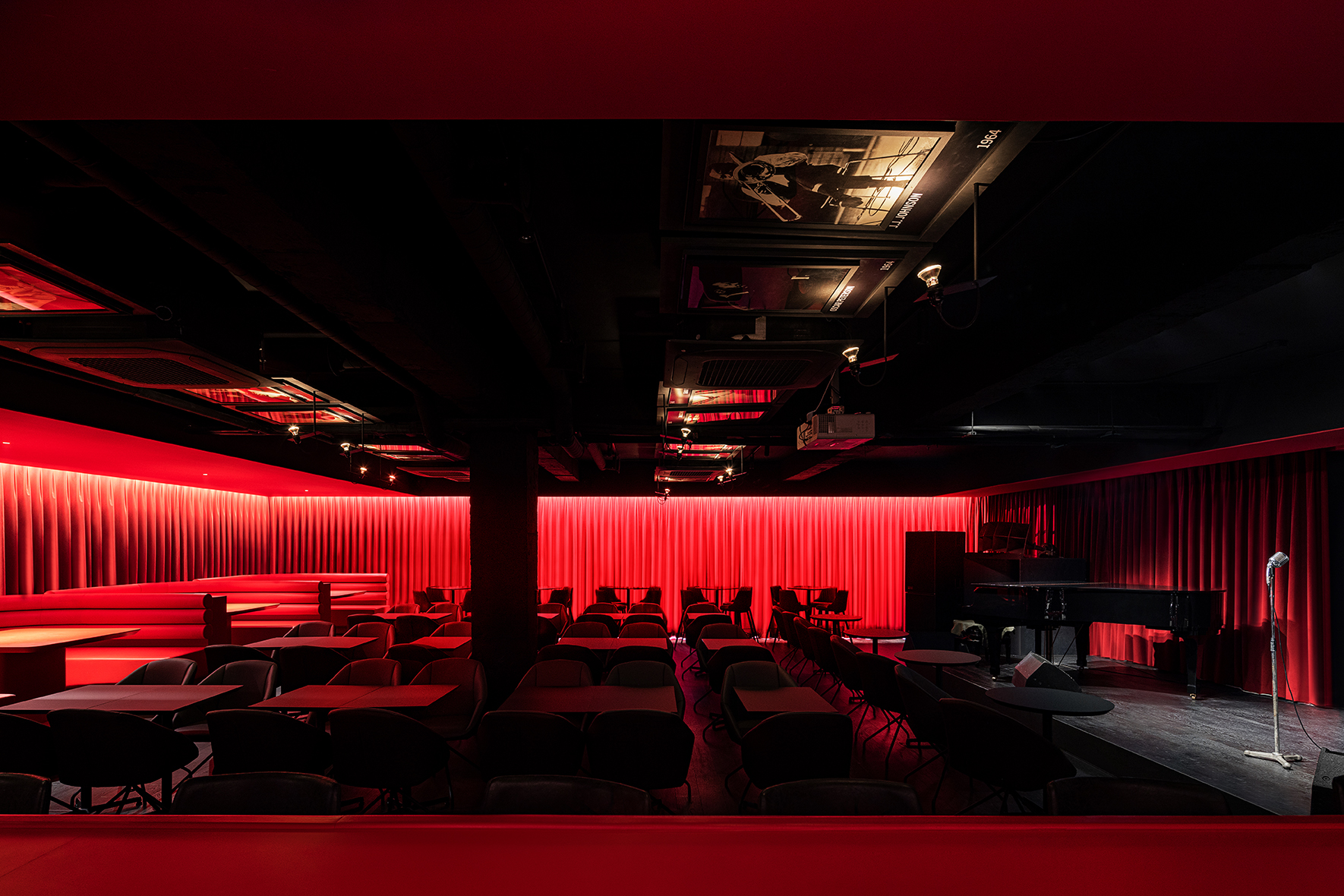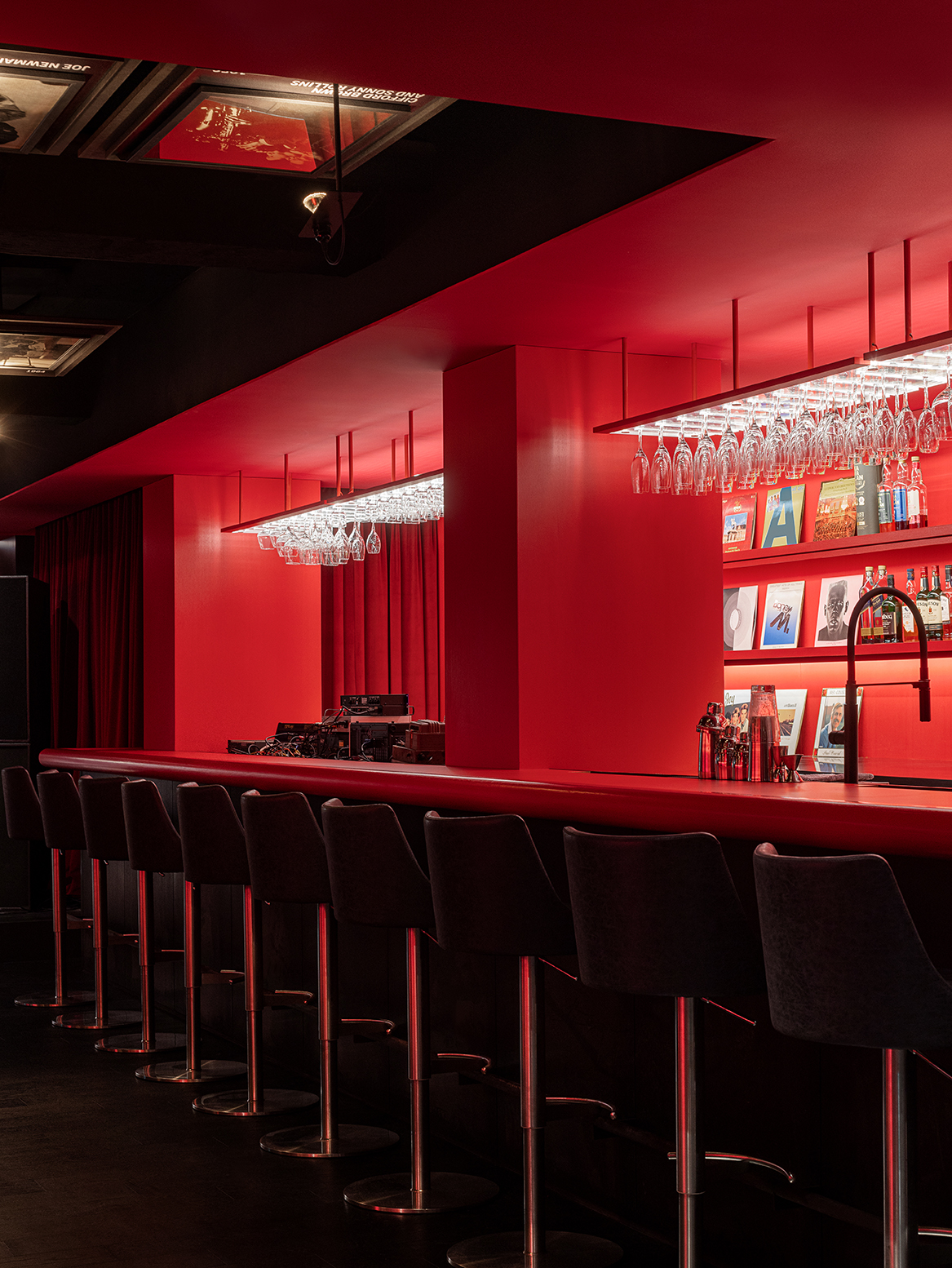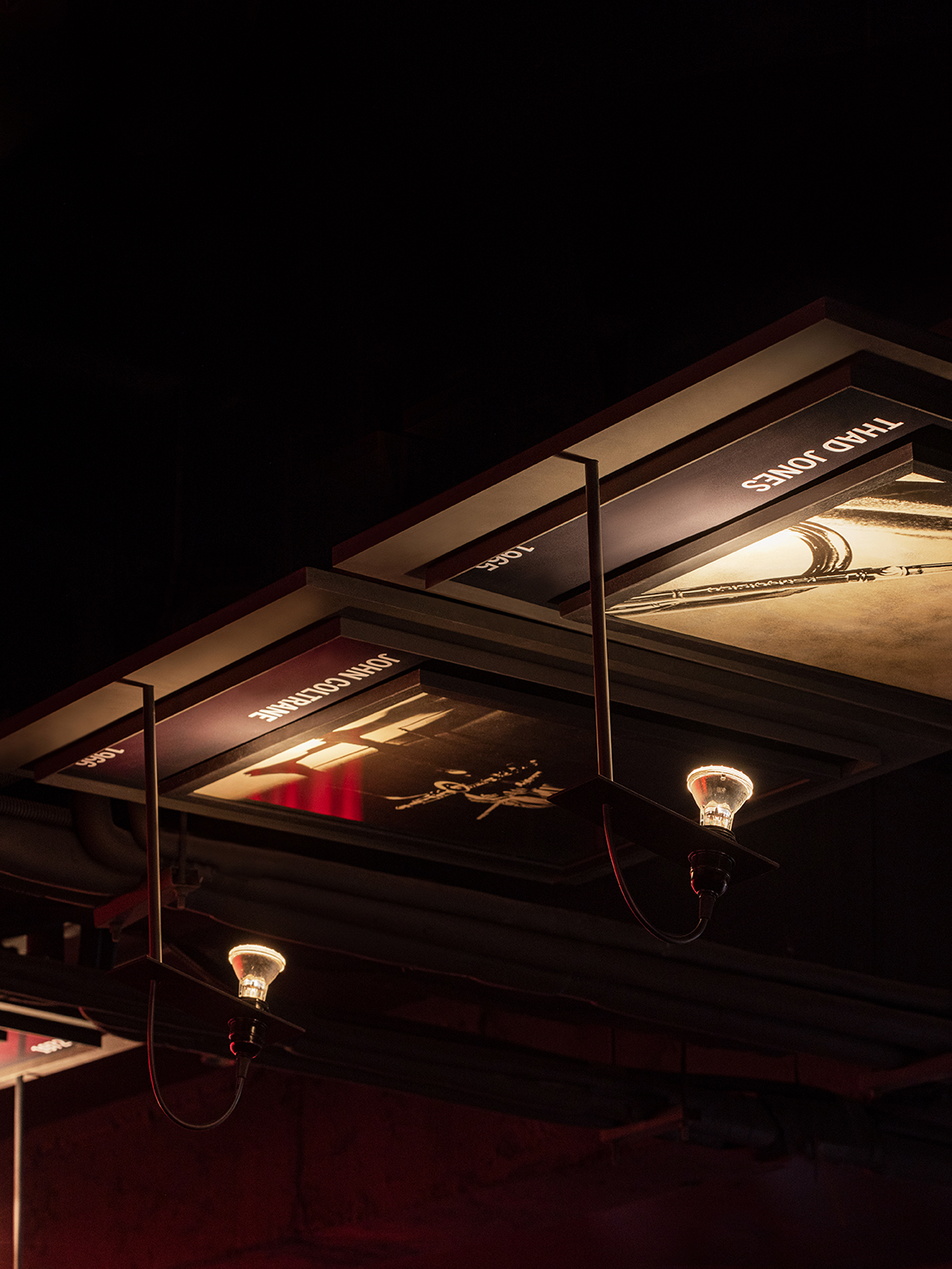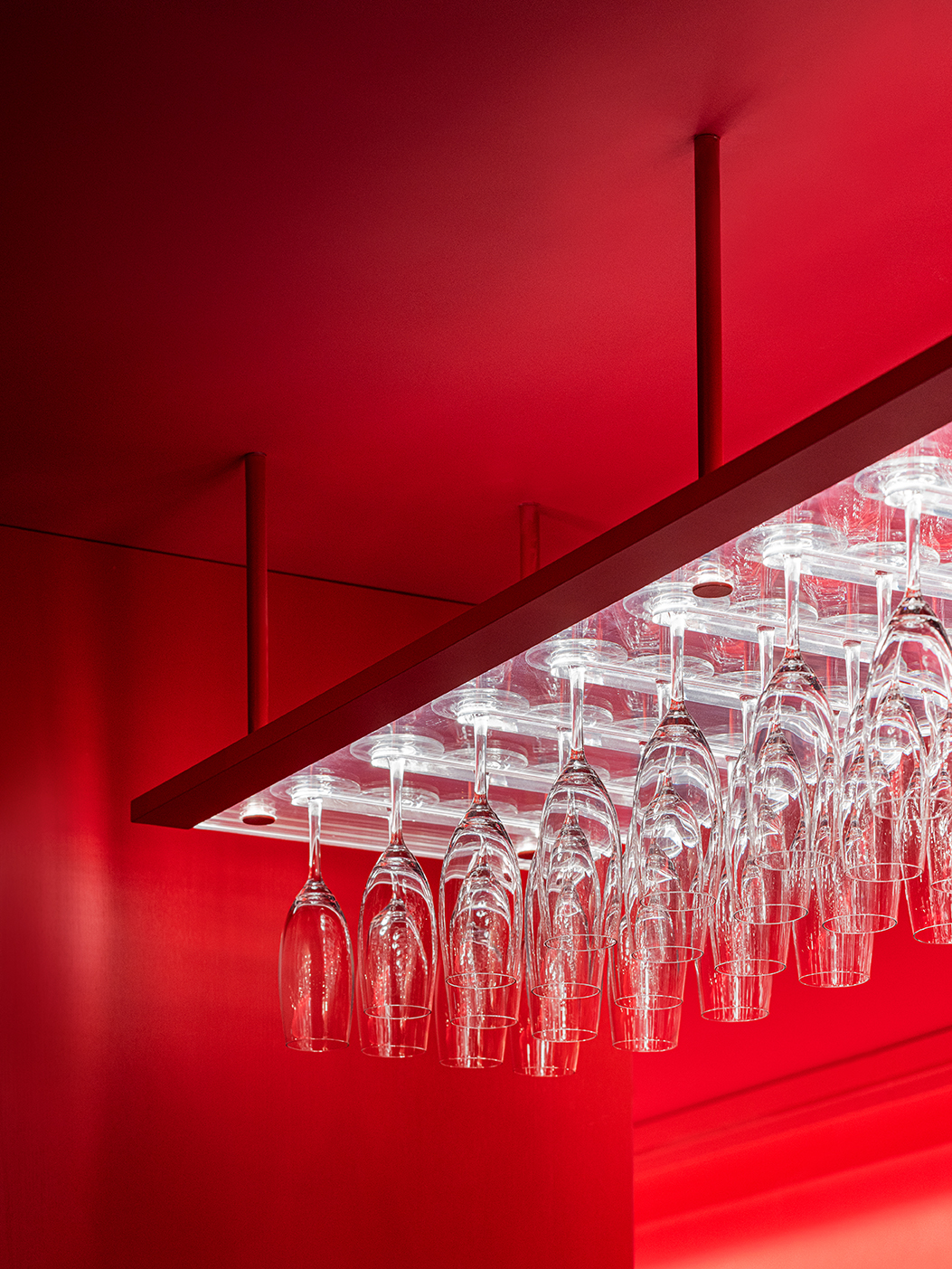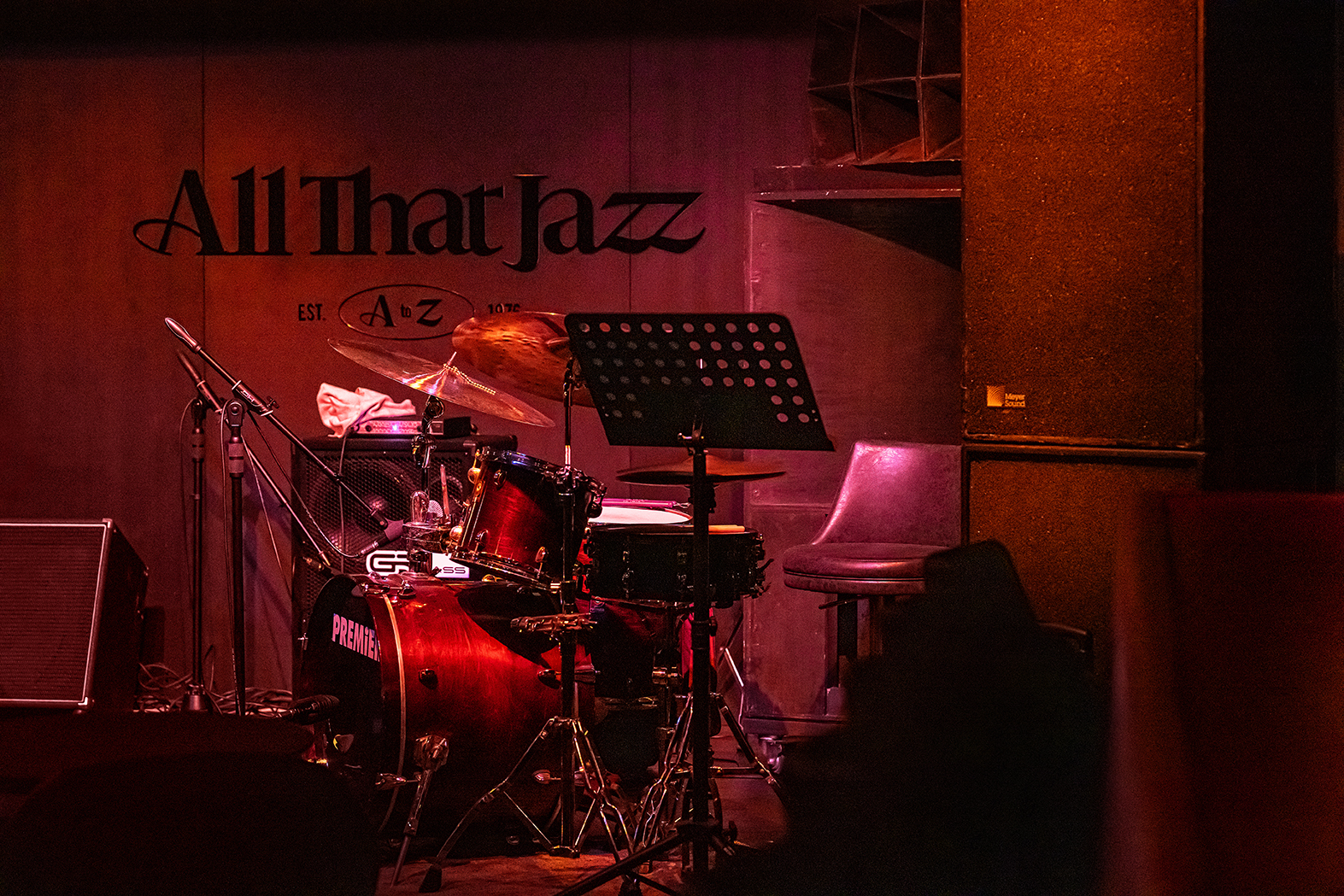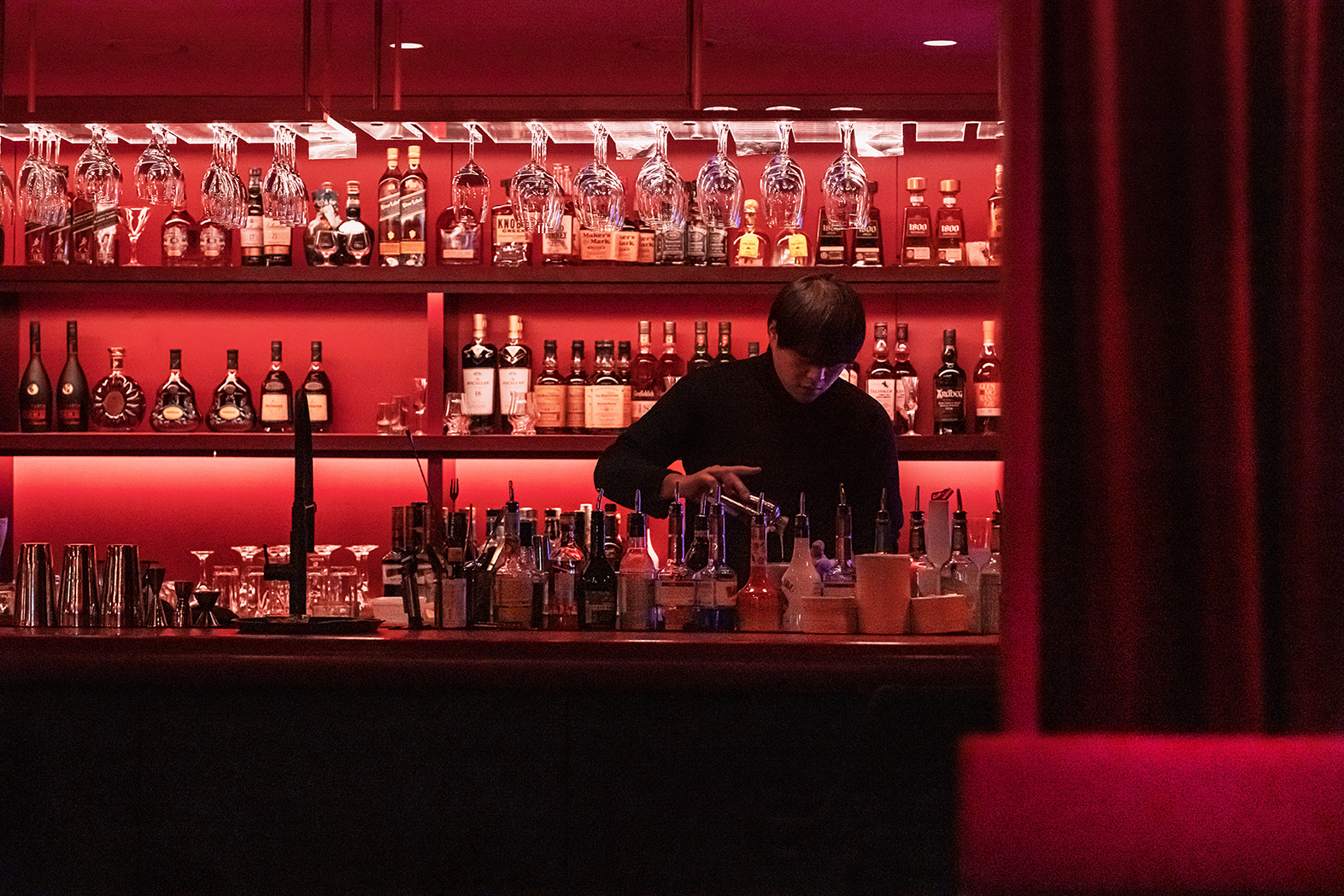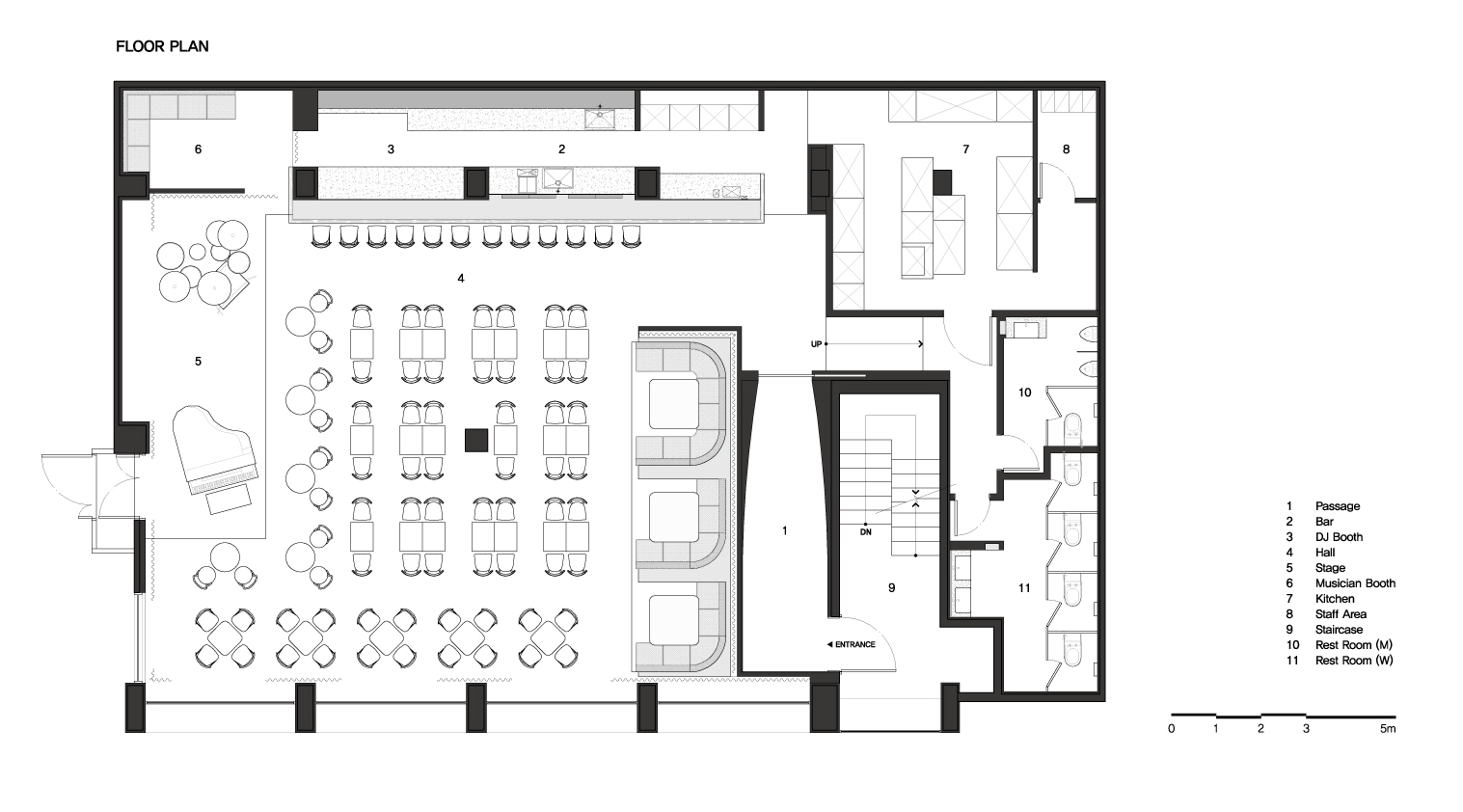 Design : mttb
Location : 2F, 216, Itaewon-ro, Yongsan-gu, Seoul, Republic of Korea
Site area : 274.48m2
Photographer : Yongjoon Choi
---
마실와이드 | 등록번호 : 서울, 아03630 | 등록일자 : 2015년 03월 11일 | 마실와이드 | 발행ㆍ편집인 : 김명규 | 청소년보호책임자 : 최지희 | 발행소 : 서울시 마포구 월드컵로8길 45-8 1층 | 발행일자 : 매일