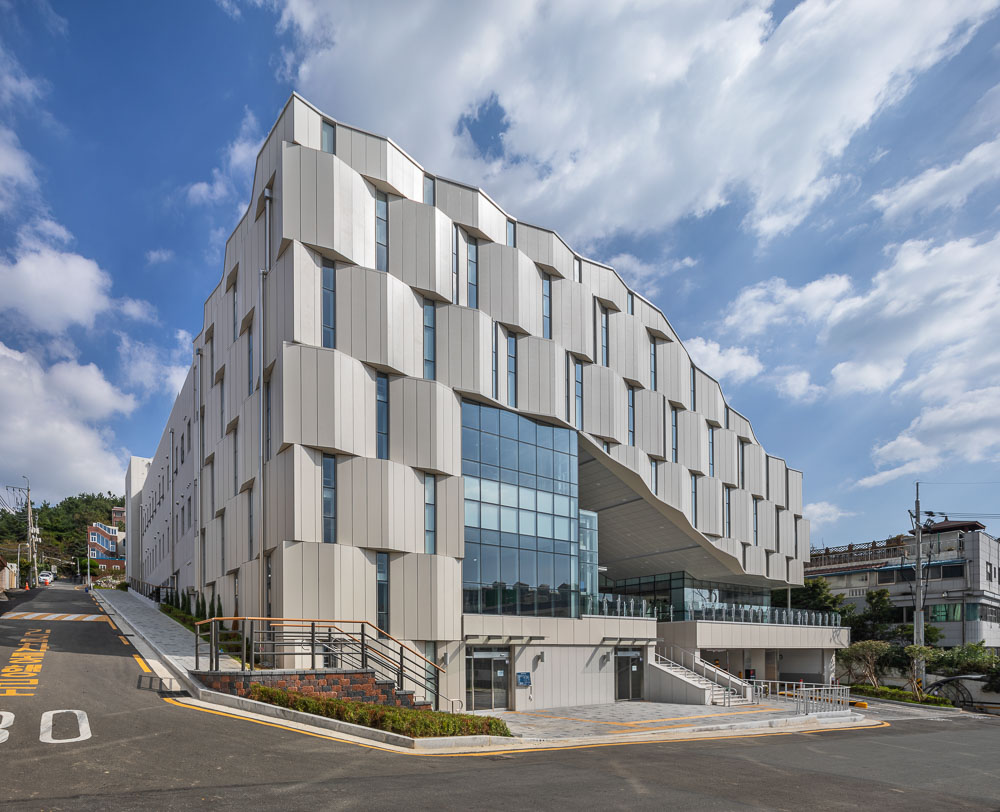 It is a project to plan a Geumsaem Library and a public parking lot by utilizing the idle land on the upper part of the Yunsan Tunnel. The planned site is a slope with a level difference of 15M in the east-west direction, with a small park on the front and a mountain on the back. The slope of the site and the nearby natural environment(small park, Mt.Yunsan) provided a big clue to the start of the plan. It focuses on creating a library that people go up and down and read books naturally as if climbing a mountain, the new large courtyard planned from the name of Geumsaem and a place of interaction where the residents can easily meet, talk and communicate each other. Judging the expression of the library viewed from Jungang-daero as the most important point, it was expressed in the form of 'BOOK GATE', which represents Geumjeong-gu and symbolizes Geumsaem Library. In addition to the symbolism of the entire mass, the elevation pattern modularized the unfolded book and expressed it rhythmically. The library were divided into the materials use section (children reference room, reference room) and the cultural education section (auditorium, cultural lecture room), to consider the use time and management of each section. The children's archives located on the first floor were connected to Geumsaem Madang (courtyard) and Sunshine Maru (Sunken) to accommodate open and diverse programs. On the second and third floors, there are comprehensive reference rooms and book cafe that provide a three-dimensional reading environment, so that libraries that are easy to get bored are energized. The public parking lot is planned to be located on the 2nd and 3rd basement floors to help resolve parking lots in residential areas so that it can be operated separately from the Geumsaem Library.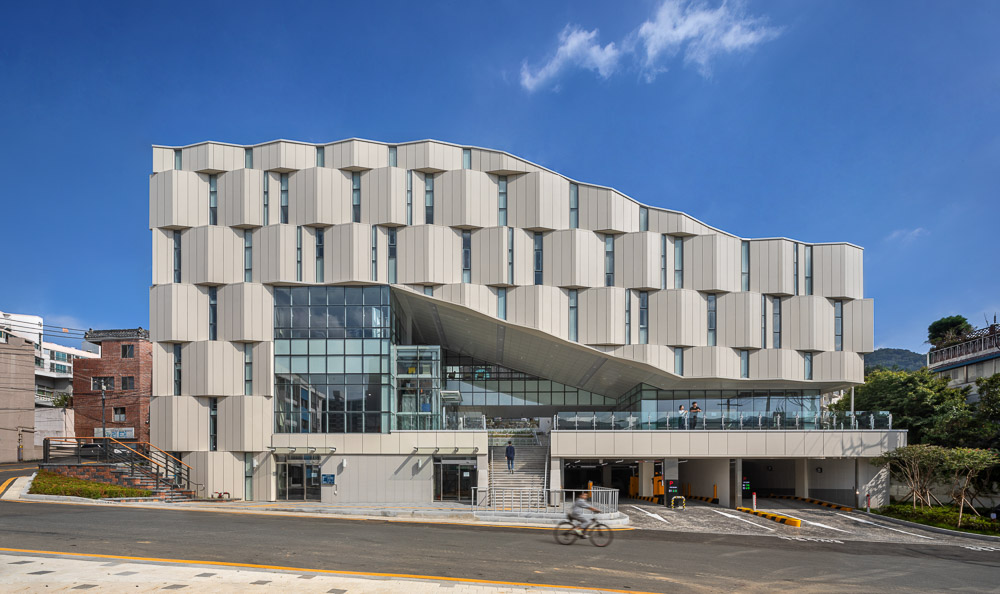 금샘도서관
부산 윤산을 관통하는 터널 상부 유후 부지에 산을 따라 오르내리며 책을 읽는 도서관이 들어섰다. 금샘도서관은 윤산터널 근처에 공영주차장을 포함한 공공시설로, 동서 방향으로 15m의 레벨 차이가 있는 경사 지형에 세워졌다. 전면부는 소공원, 배면에는 윤산이 단단히 자리잡고 있다. 퇴계 이황의 '책 읽기는 산을 오르는 것과 같다(讀書如遊山)'라는 말에서 영감을 얻어 설계된 금샘도서관은 경사 지형을 활용한 동선과 산을 배경으로 독서와 다양한 활동을 할 수 있는 중정을 가지고 있다. 인근 주민들은 도서관에서 쉽게, 자연스럽게 만나며 이야기를 나누고 정보를 교환할 수 있다.
도서관의 형태는 중앙대로에서 바라봤을 때, 마치 하나의 입구처럼 느껴진다. 이는 금정구를 대표하기 위한 물리적인 형태를 책의 세계로 떠나는 하나의 문으로 계획했기 때문이다. 이러한 '문'의 개념은 모듈화된 펼쳐진 책이 입면을 장식하며 금샘도서관만의 표정을 만들었다. 도서관 시설은 각 부문의 이용 시간과 관리에 따라 자료이용 부문(어린이자료실,종합자료실)과 문화교육 부문(다목적강당,문화교실)으로 분리되어 있다. 1층의 어린이자료실은 금샘마당(중정)과 햇살마루(선큰)와 연계되어 개방적이고 다양한 프로그램을 수용한다. 2층과 3층에는 여느 도서관과는 다르게 입체적인 환경으로 구성된 종합자료실과 북카페가 금샘도서관만의 활력을 더하도록 만든다. 뿐만 아니라, 공영주차장으로도 이용되는 금샘도서관은 주차장과의 별도로 운영할 수 있도록 지하 2층, 3층에 별도록 계획되어 있어 주변 주택가의 주택 문제를 해결하는 데 도움을 주는 공공 시설의 역할을 하고 있다.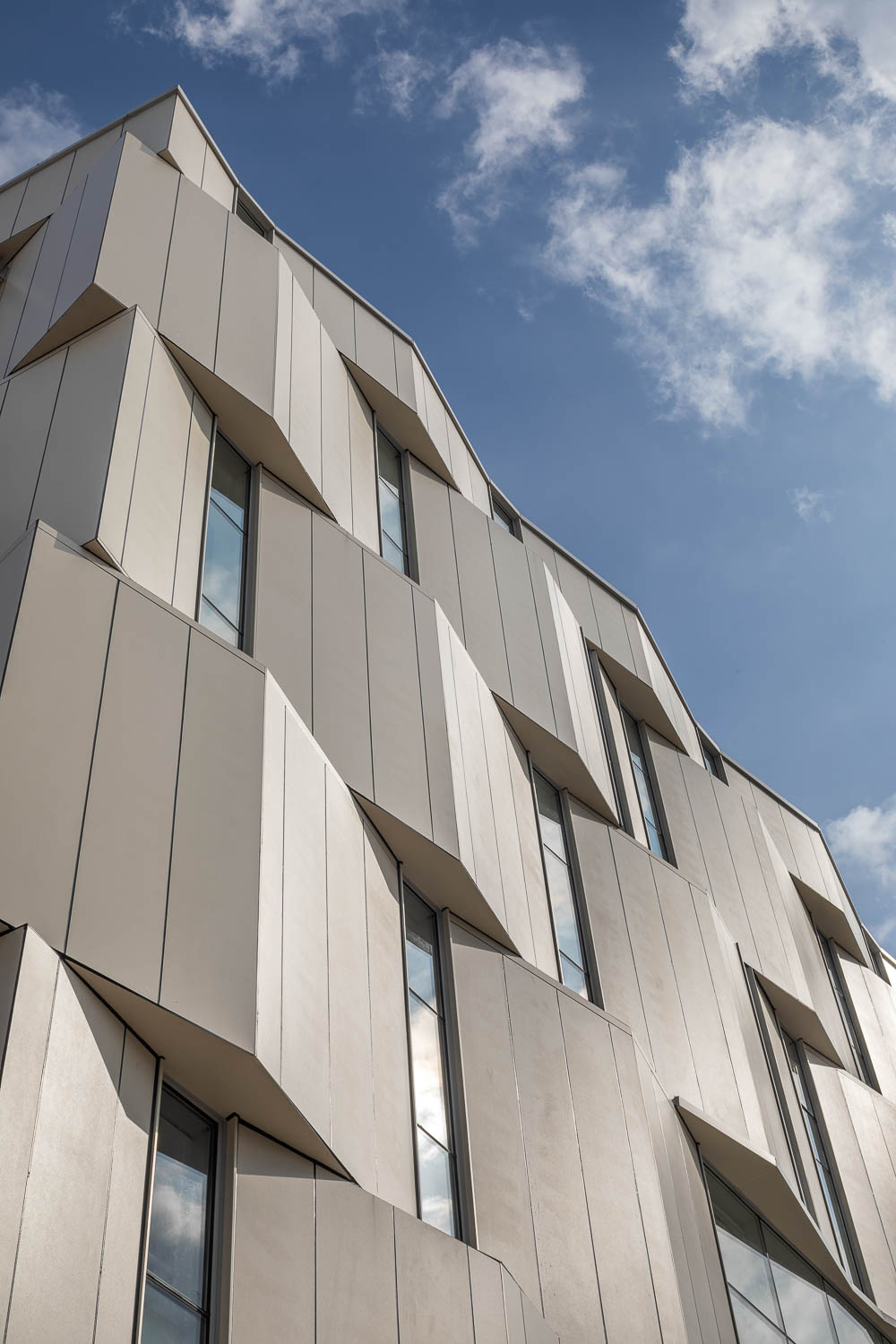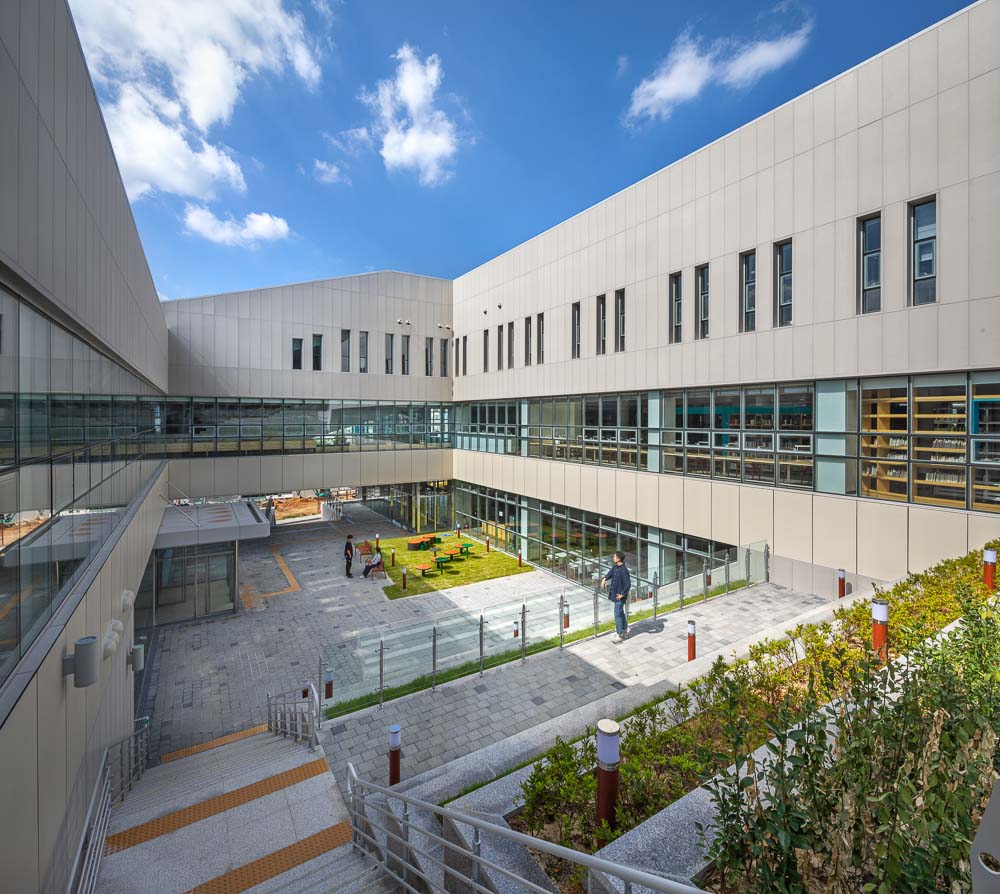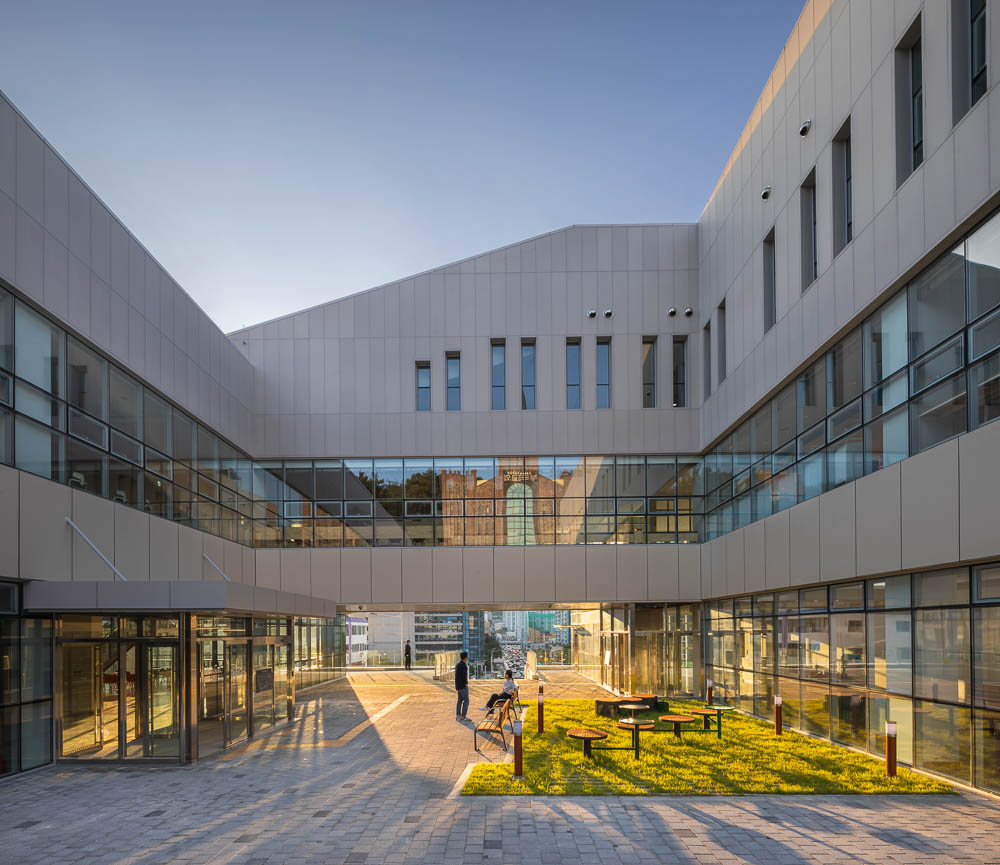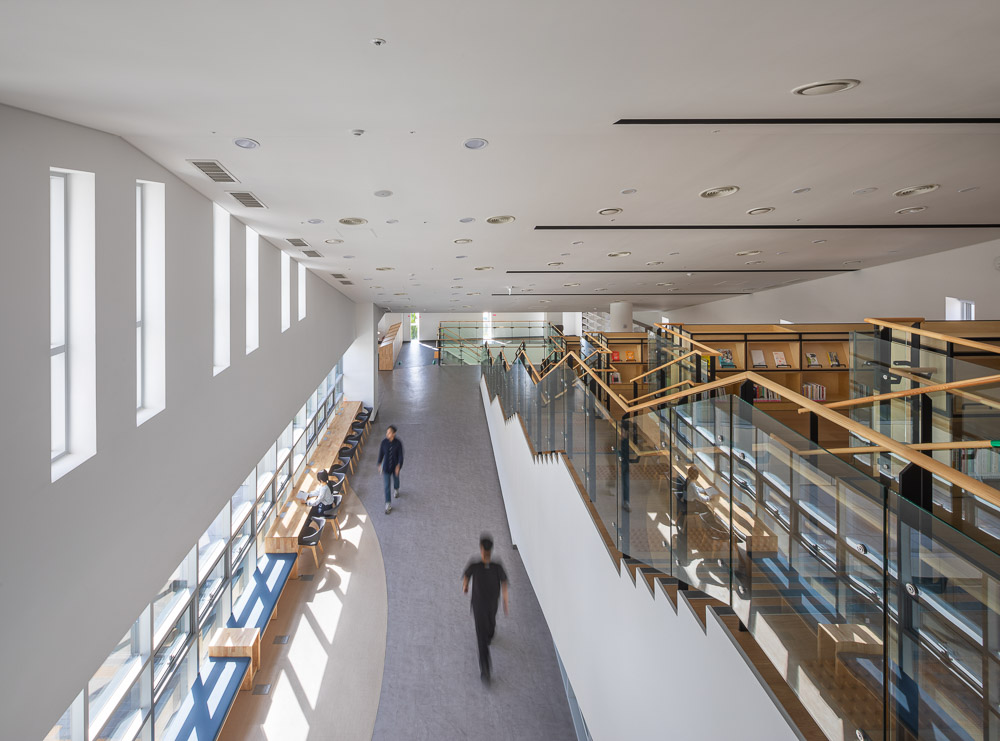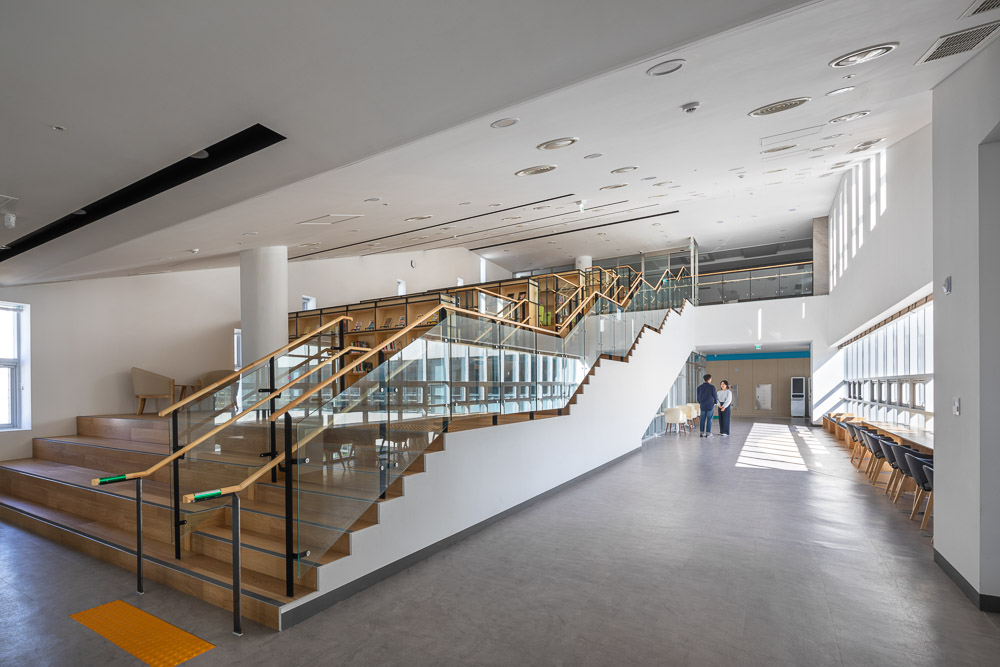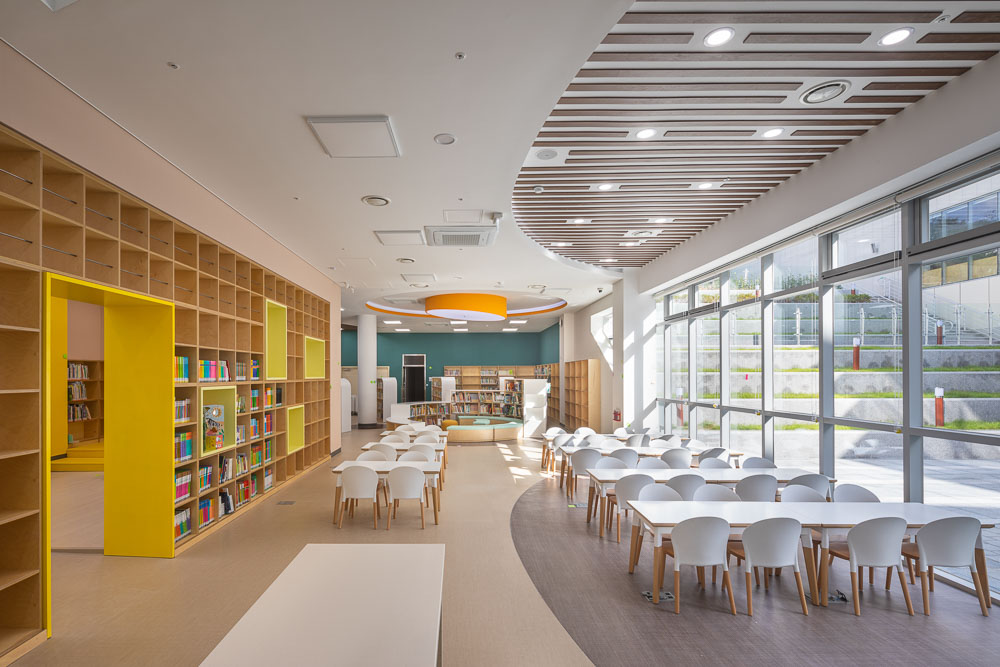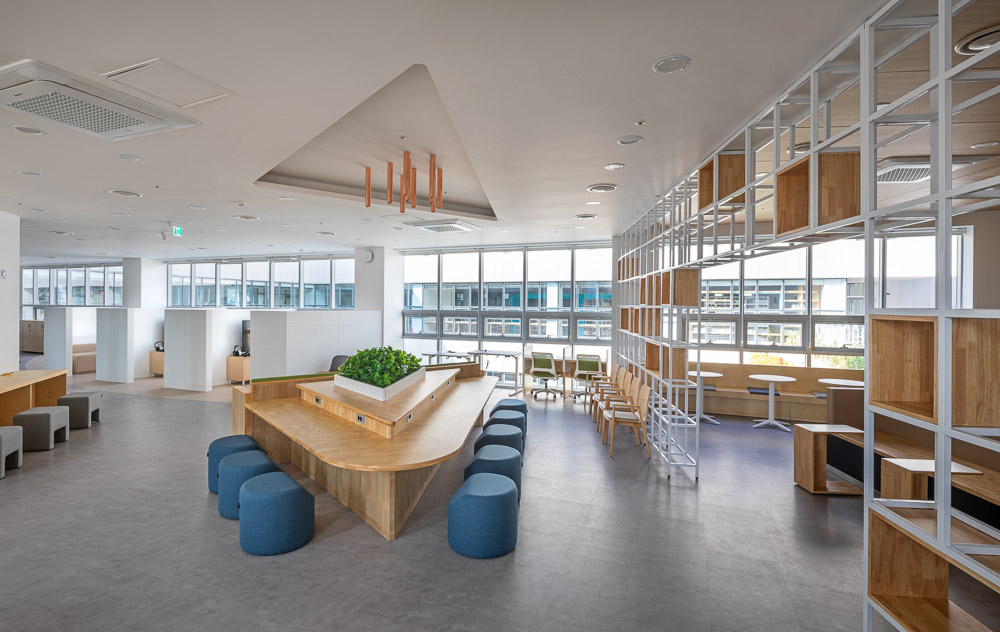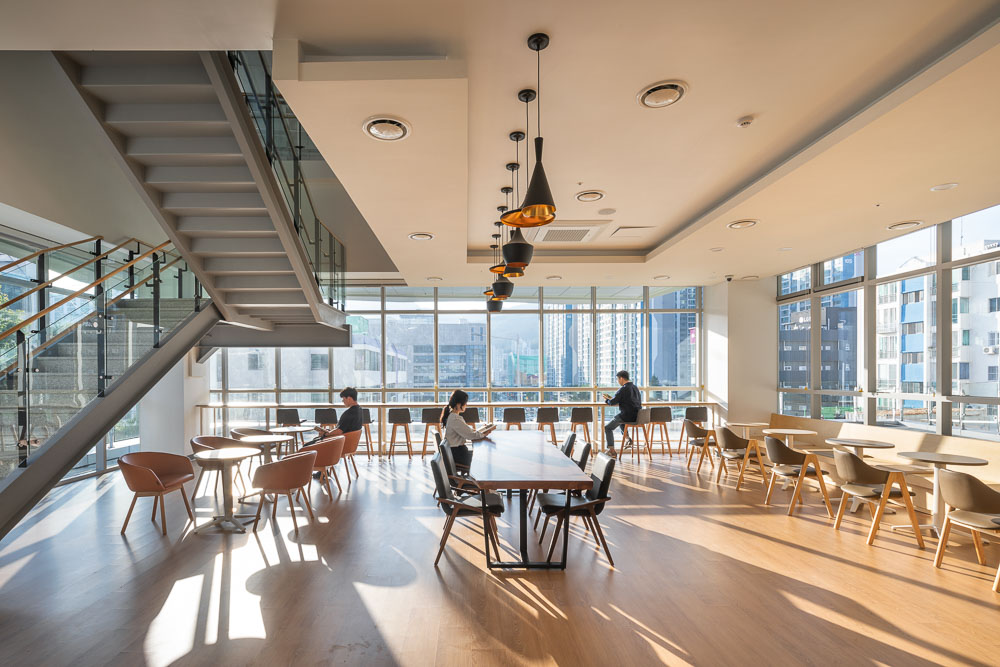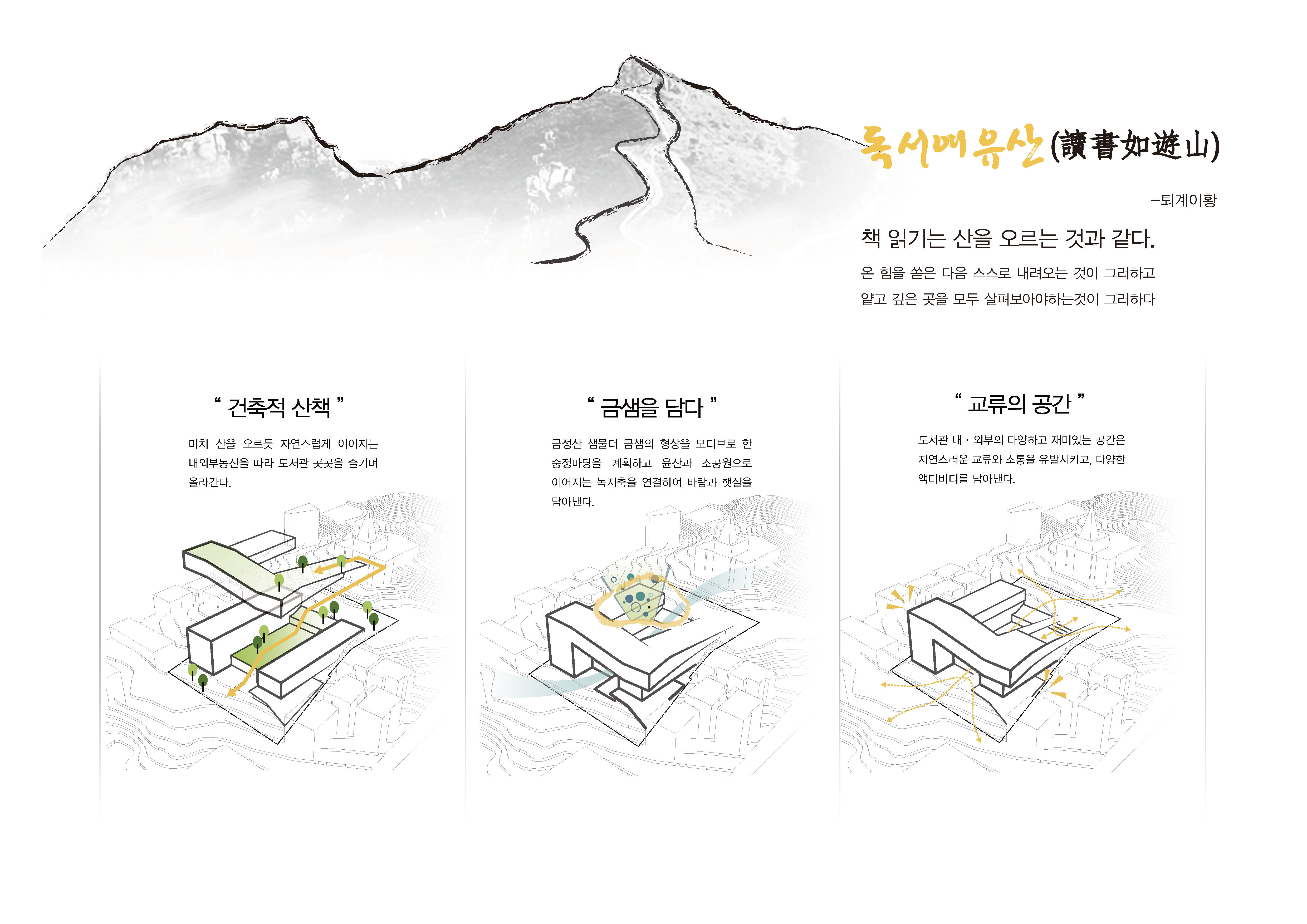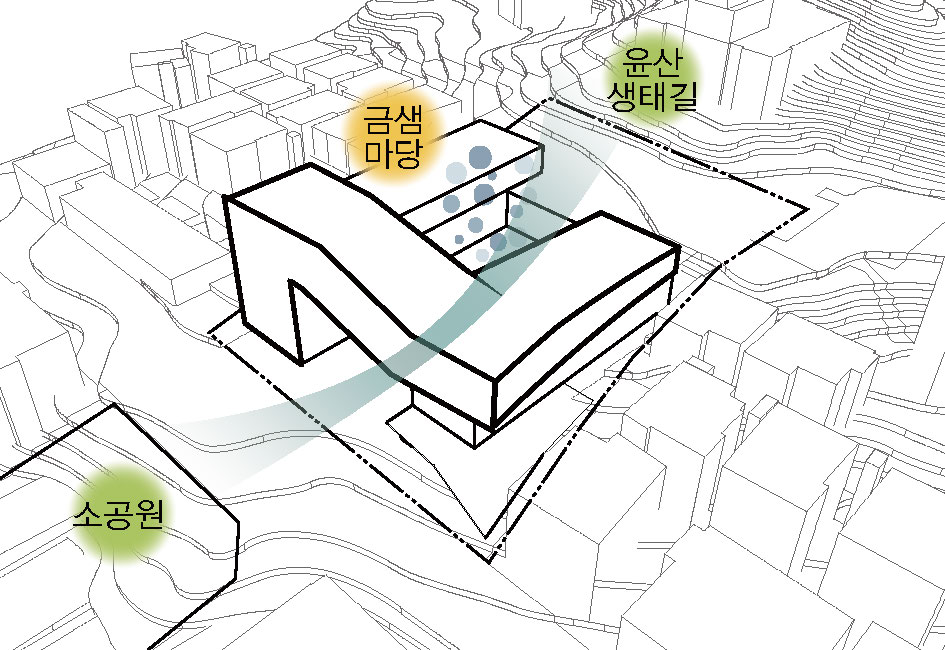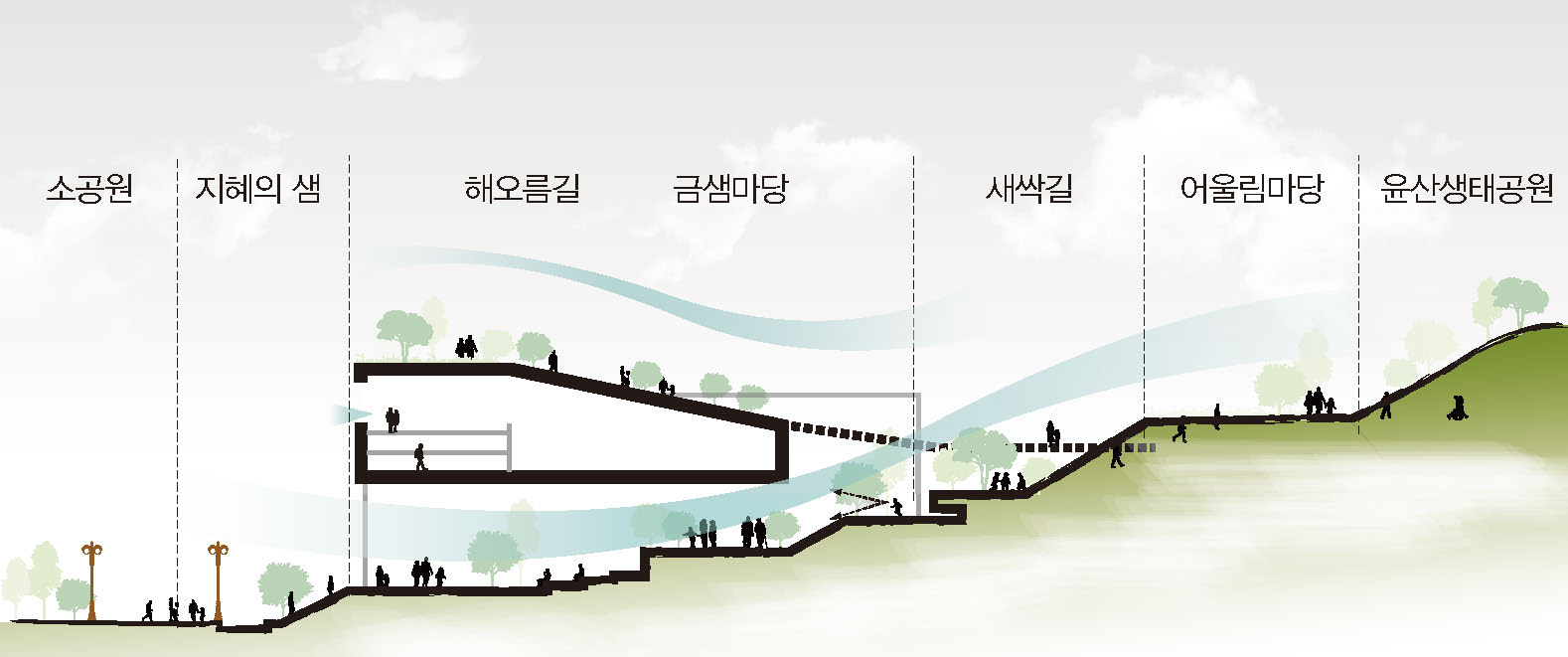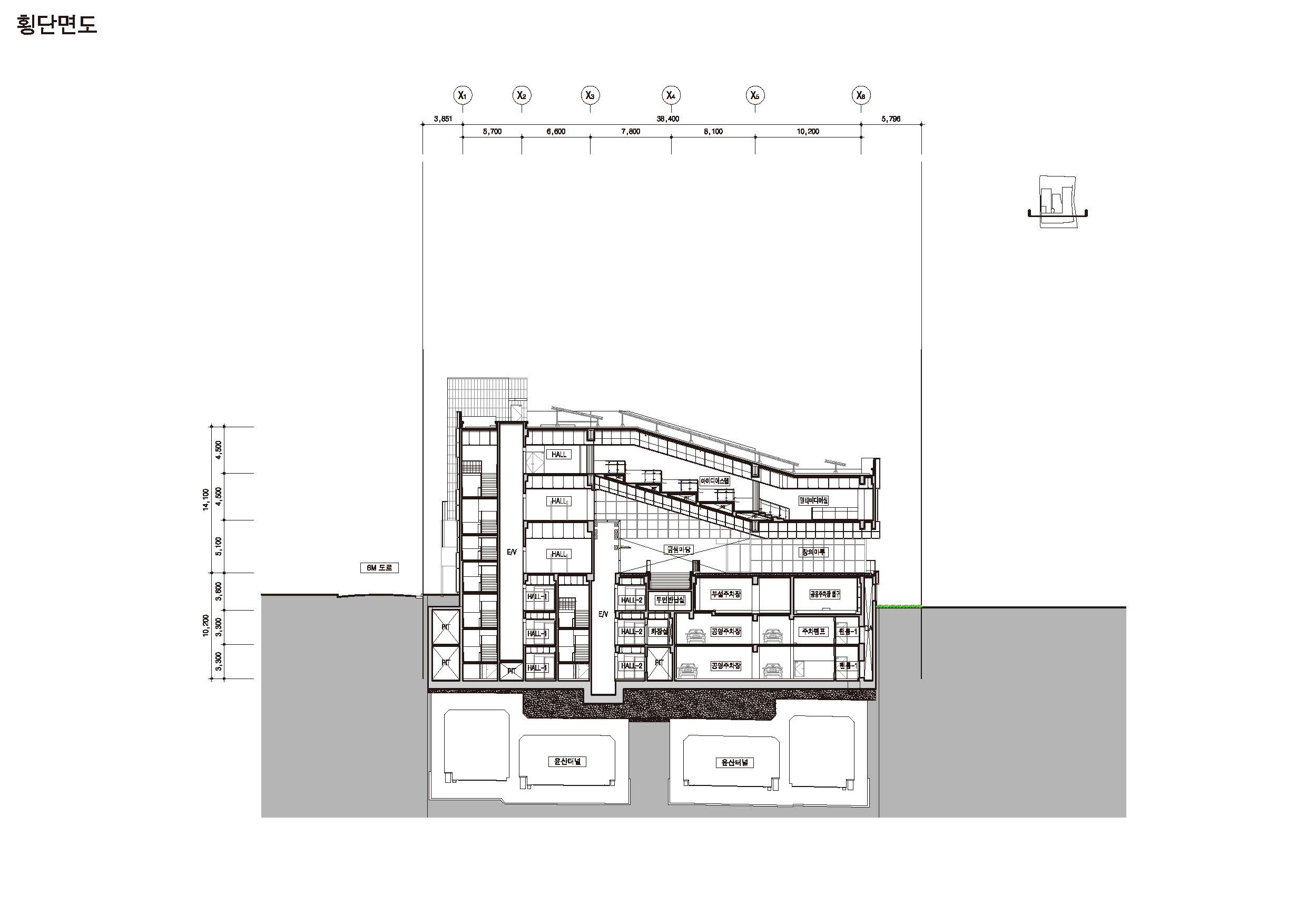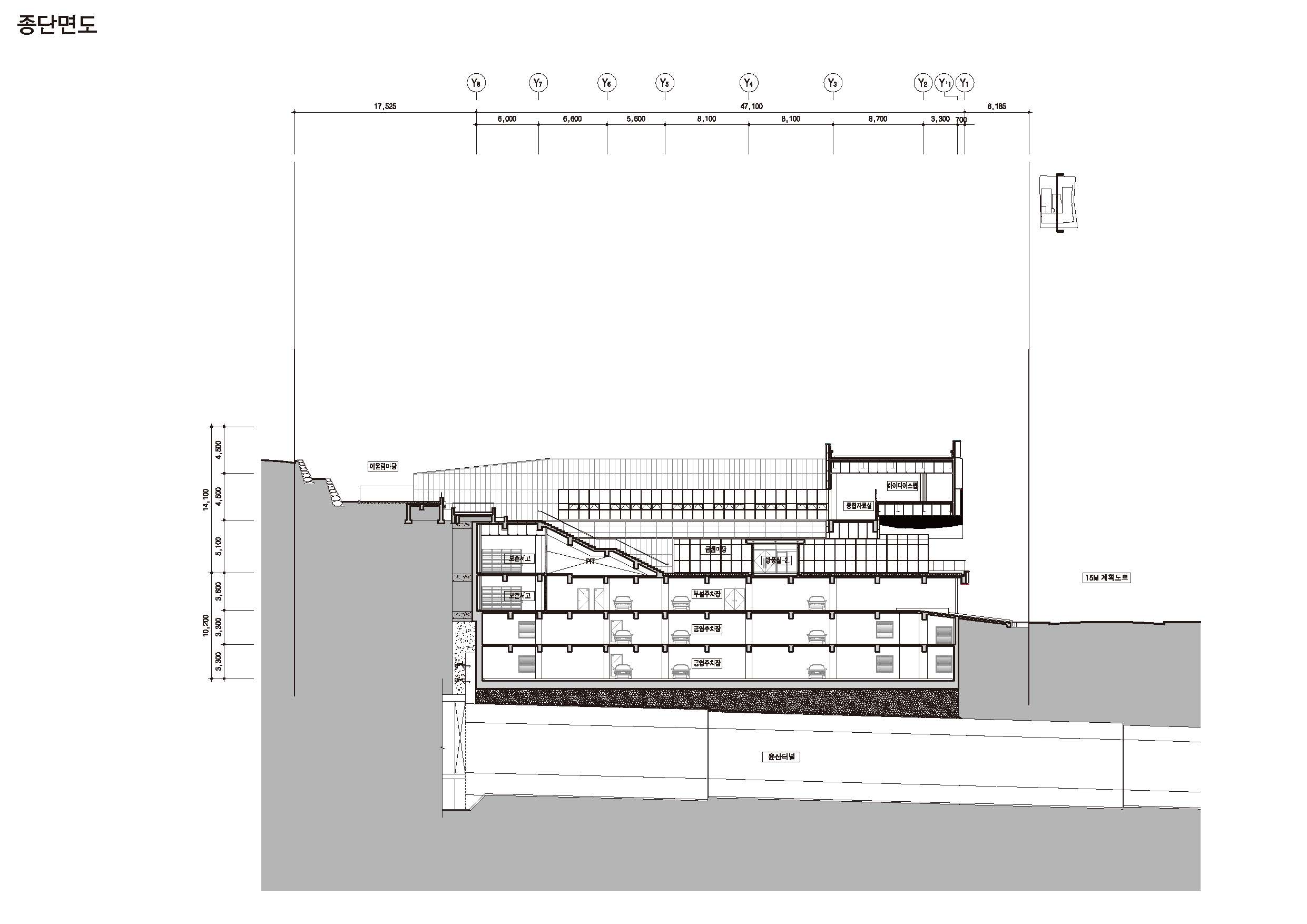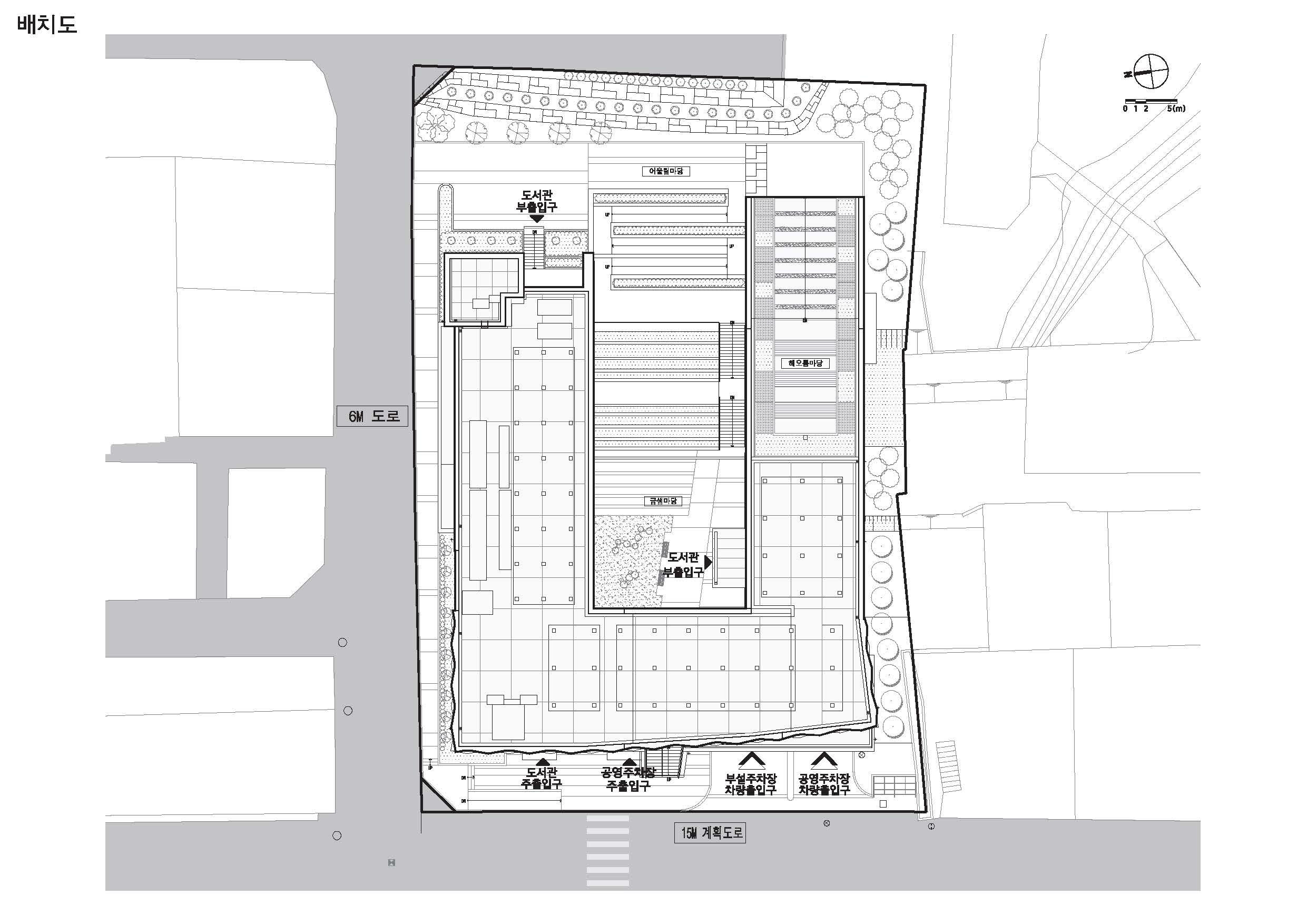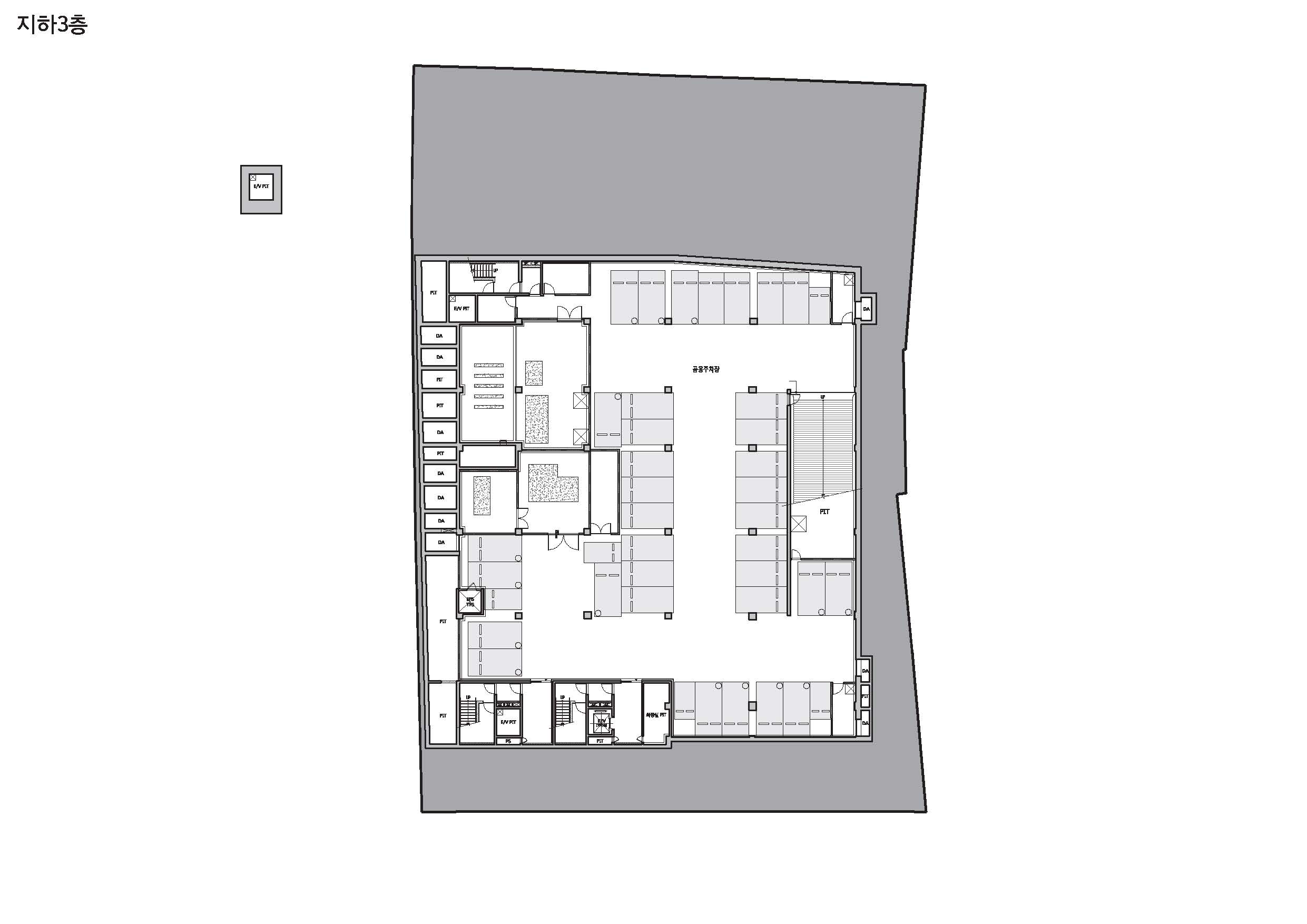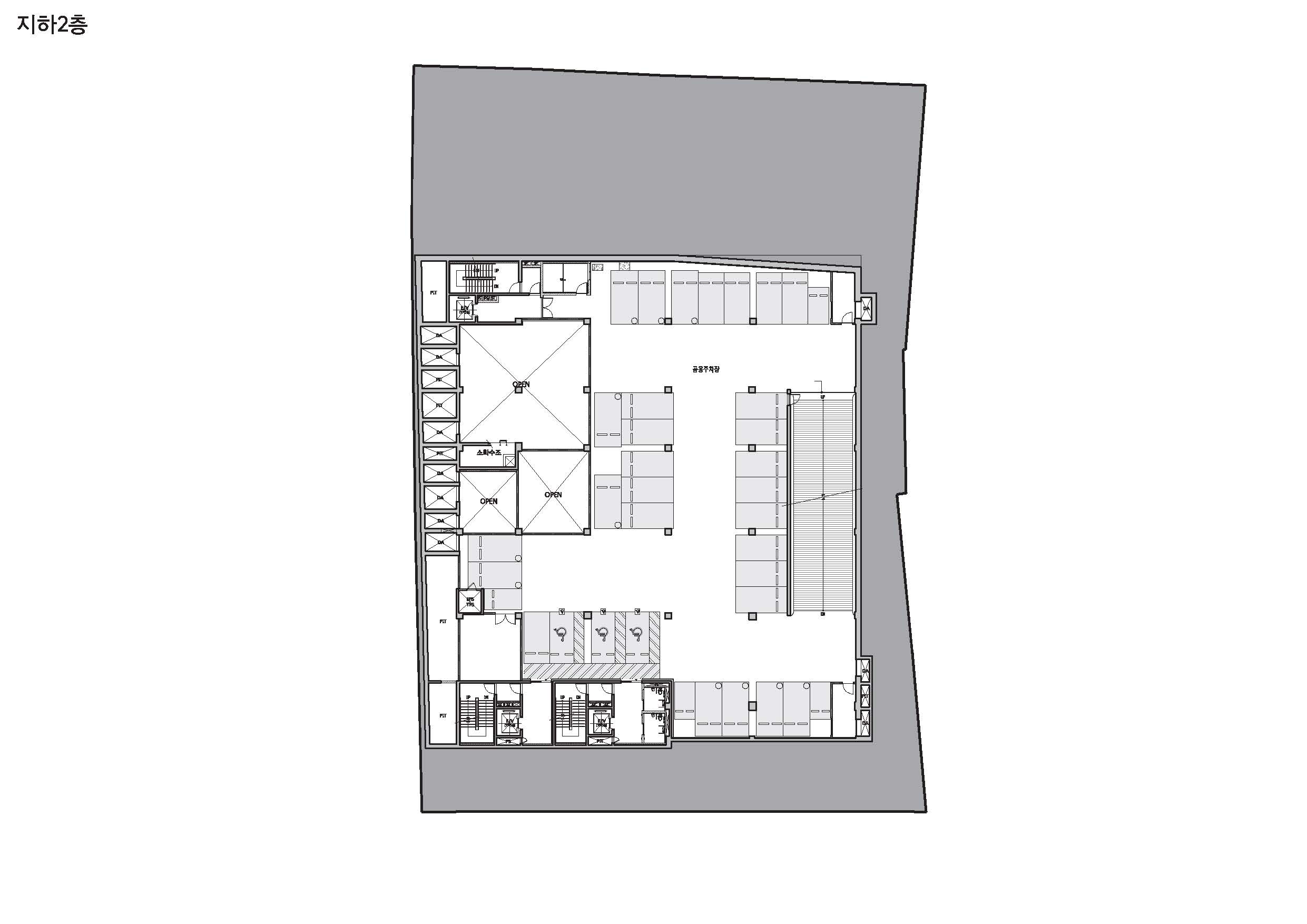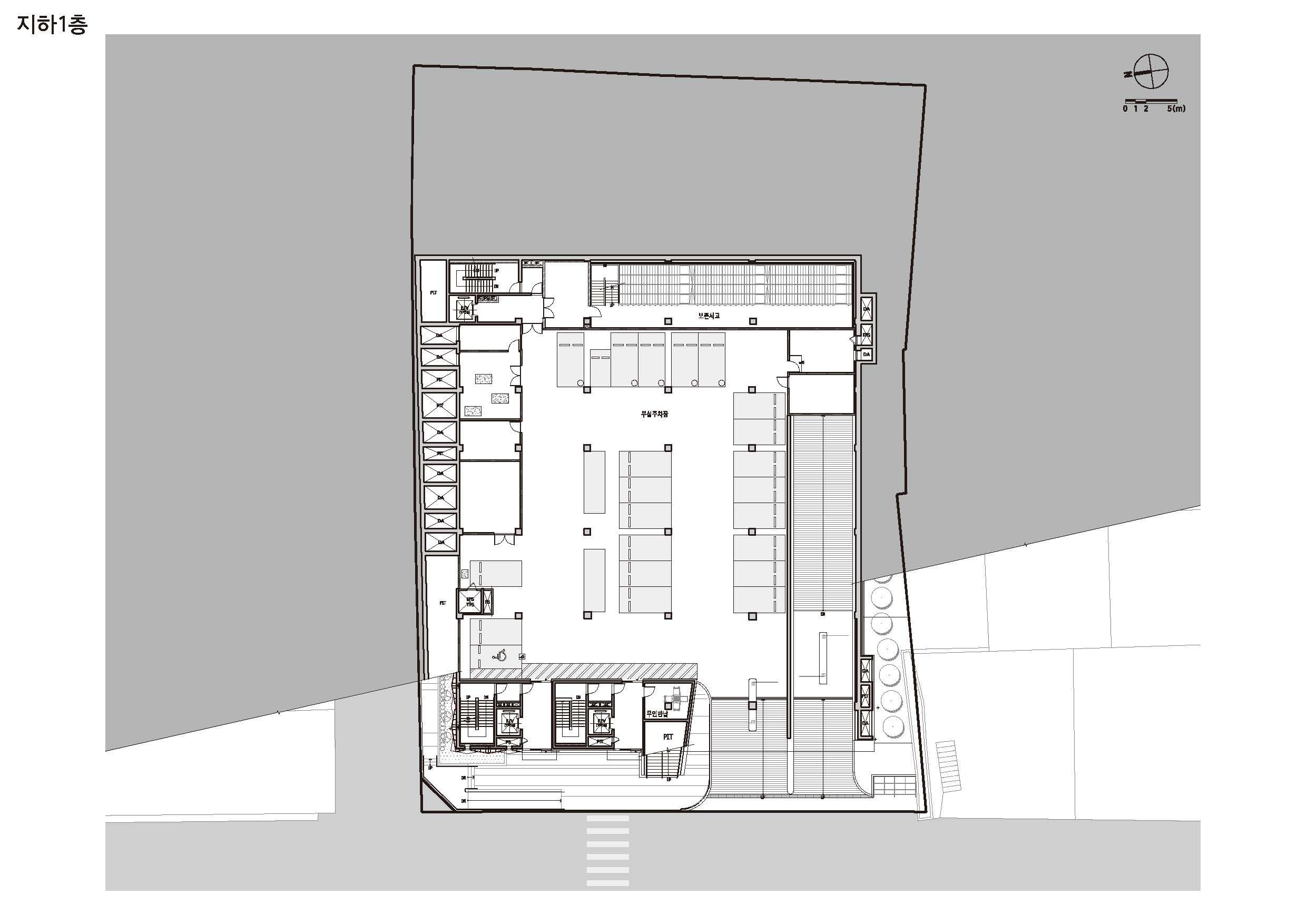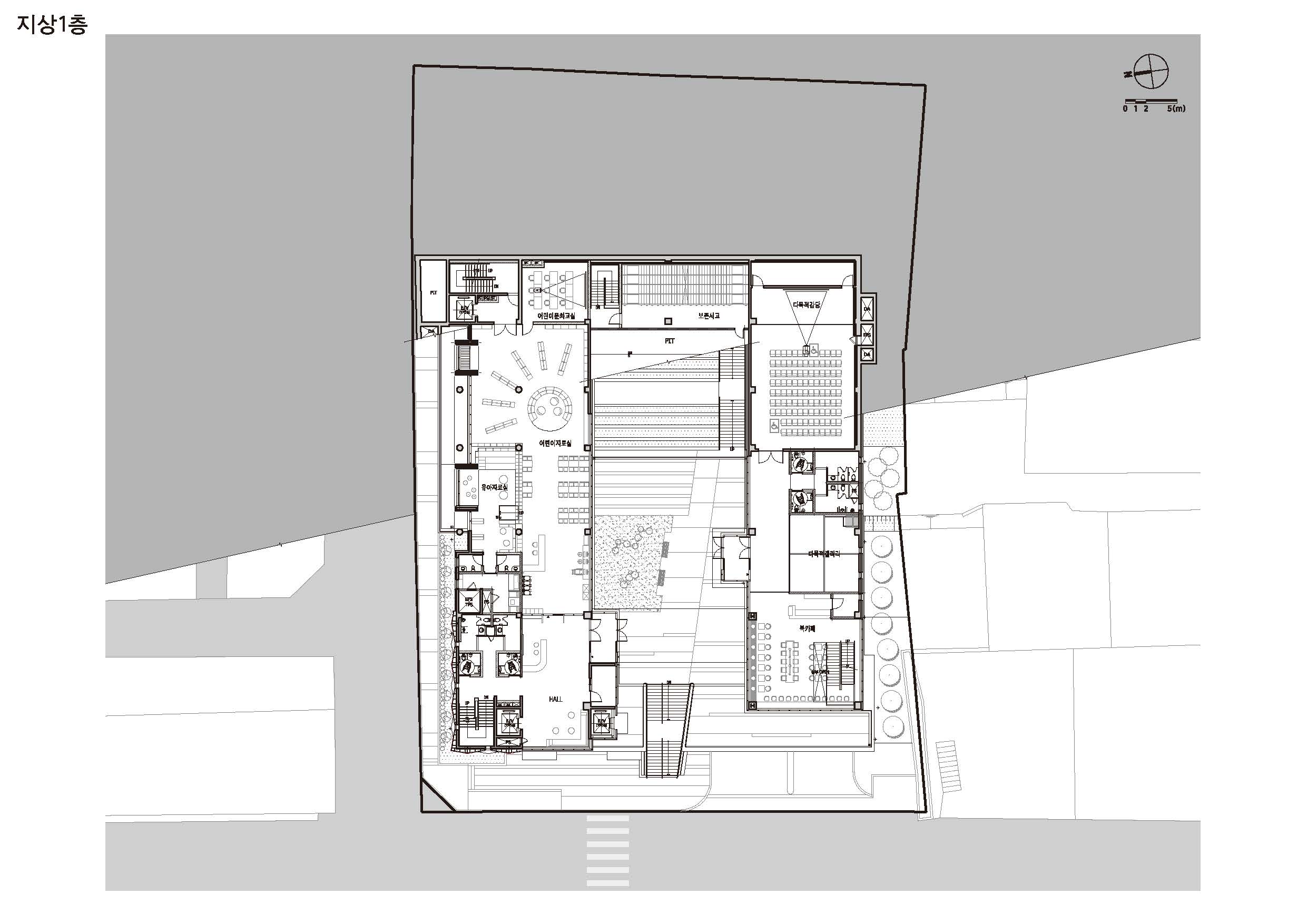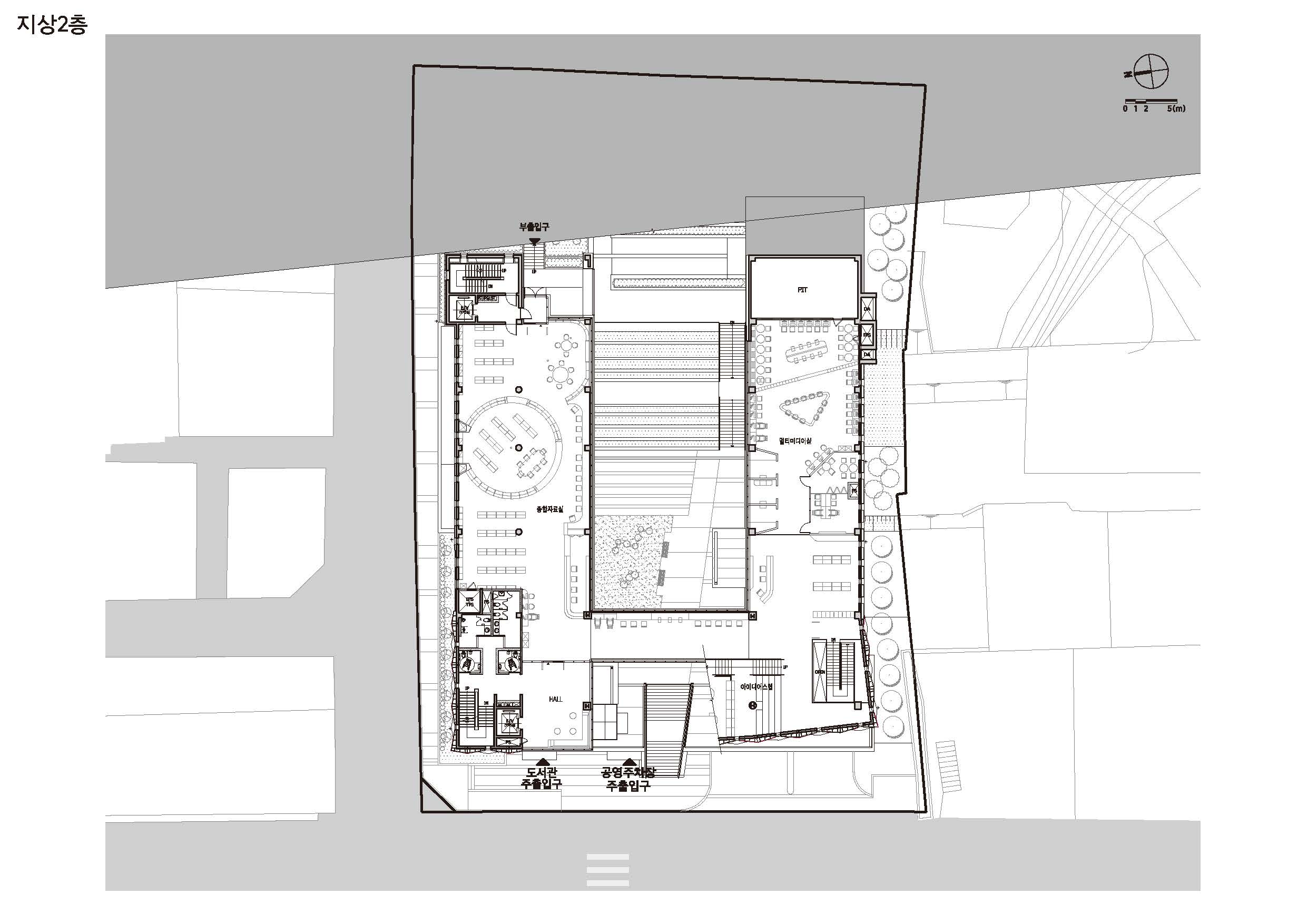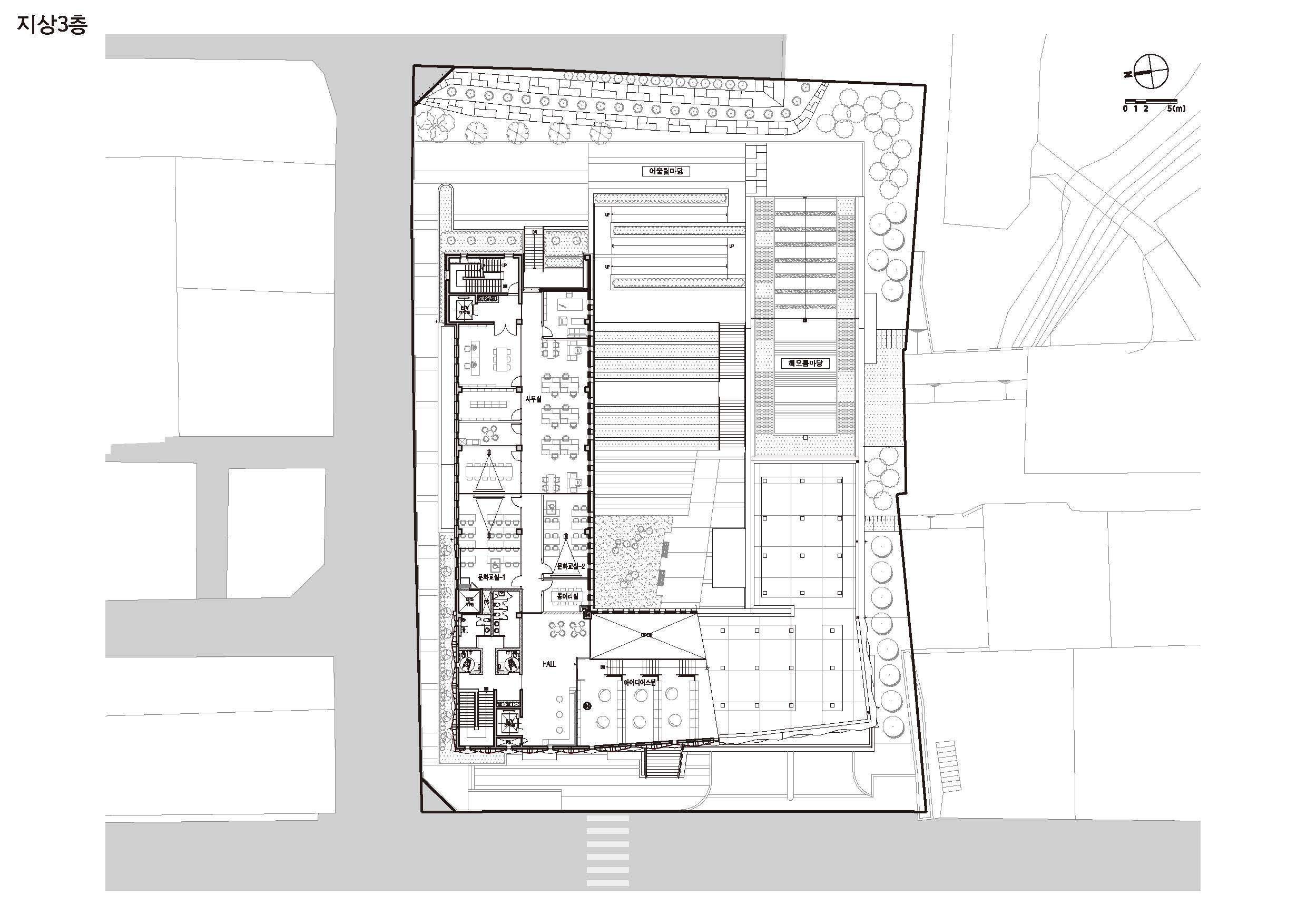 Architect Sangji Engineering & Architects + SeoWon Architects
Location Gichal-ro, Geumjeong-gu, Busan, Republic of Korea
Program Library, public parking lot
Site area 3,433.69m2
Building area 1,416.12m2
Gross floor area 7,835.53m2
Building scope B3, 3F
Design period 2018. 10 - 2019. 4
Construction period 2019. 11 - 2021. 8
Completion 2021. 8
Principal architect (Sangji Engineering & Architects) Dongyoon Heo, Cheolho Oh / (SeoWon Architects) Seoyoung Cho
Photographer Joonhwan Yoon
해당 프로젝트는 건축문화 2022년 9월호(Vol. 496)에 게재되었습니다.
The project was published in the September, 2022 recent projects of the magazine(Vol. 496).
---
마실와이드 | 등록번호 : 서울, 아03630 | 등록일자 : 2015년 03월 11일 | 마실와이드 | 발행ㆍ편집인 : 김명규 | 청소년보호책임자 : 최지희 | 발행소 : 서울시 마포구 월드컵로8길 45-8 1층 | 발행일자 : 매일