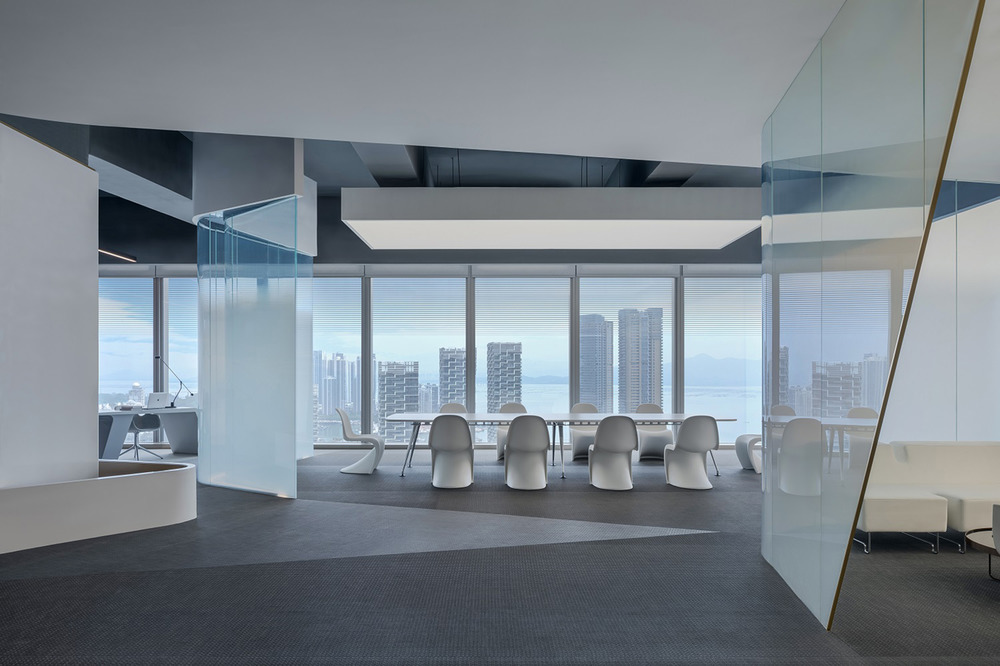 Composed of a series of horizontal commercial buildings, another of vertical office buildings and facing the bay with Nanshan park in the background, Prince Square is richly endowed with a unique mountain and sea landscape. The external architecture was designed by the Office for Metropolitan Architecture (OMA). In this office tower, shaped like an art gallery, YuQiang & Partners created a modern commercial office exhibition space for China Merchants Shekou Holdings with a theme of energy.
Palissandro blue marble and acrylic form the rudiments of Prince Plaza and the office skyscraper rise to draw one's attention. Within the scope of enclosed spaces, the Shekou buildings stand out for their organization. The designers extracted different modern forms and shaped the metalworks to outline the resplendent skyline of the Guangdong-Hong Kong-Macao Greater Bay Area.
The design interacts with the lighting to brighten up the space. In the viewing platform, with solid grey tones, Mutto's Oslo series sofas create a comfortable, quiet corner. In the multimedia exhibition hall, the modern China Merchants Shekou exhibition hall is replete with science and technology, creating the ultimate immersive experience. In contrast to the dark environments created for multimedia exhibition halls, based on connection and interaction between the city and the natural environment, the designers organically combined mountains, water, and the city to create three viewing platforms. This layout recreates the open flow of office areas.
A glass wall, resembling a luminous installation piece, effectively divides the space, forming an artistic space in the style of Richard Sierra. The designers fully conveyed the image of Prince Square as an artistic center – an urban aesthetics application platform from five perspectives: the city, space, buildings, people, and art. Visitors can feel the pulse of the city from its heights. The traditional giant desks are replaced by many smaller open desks. The clean lines and blocks subtly balance the warmth of the office and the interpersonal relationships of modern society, creating a minimalist office space from solid grey.
The designers absorbed wisdom from Richard Sierra as he discussed the relationships between art, space, and audiences. "The audience is part of the work. As they wander around, they experience different perspectives. This process includes expectations, memories, space, walking, and observation."
The glass wall, with a strong sense of flow, is integrated harmoniously with the city view, unifying the overall composition and integrating the spatial composition, so that the office space explodes with dimensional field energy. Viewers standing here are also in the invisible artistic energy field.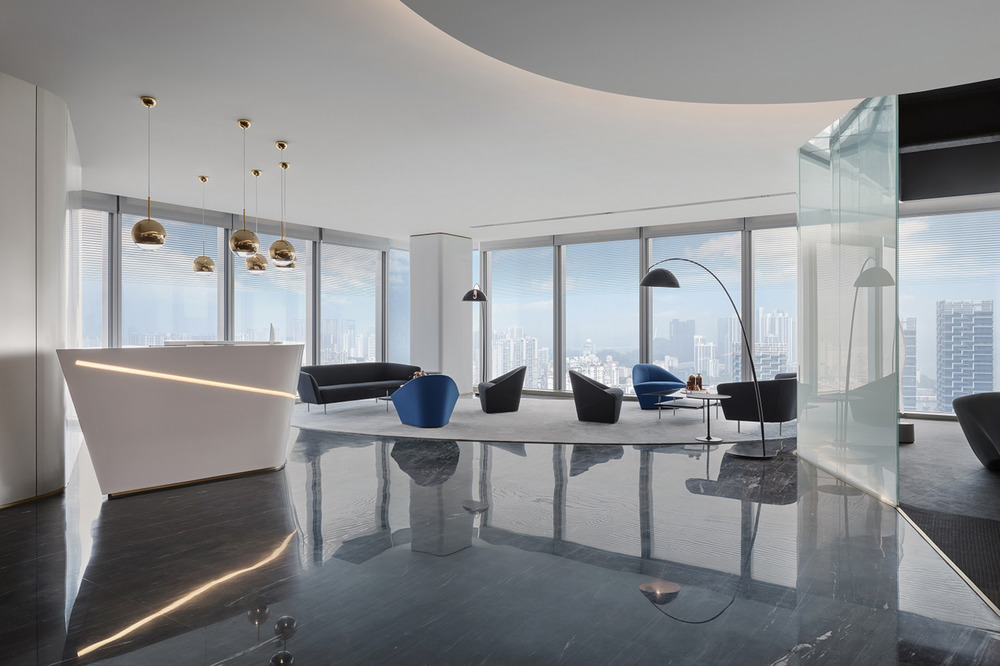 난산 공원을 배경으로 만(灣)을 바라보고 있는 Prince Plaza는 수직으로 된 상업용 건물로 독특한 산과 바다가 내려다 보이는 곳에 위치해 있다. OMA(Office for Metropolitan Architecture)에서 설계한 이 오피스 타워에 YuQiang & Partners는 에너지를 테마로 China Merchants Shekou Holdings를 위한 현대적인 상업 사무실 전시 공간을 만들었다.
Palissandro blue 대리석과 아크릴은 Prince Plaza의 기초를 형성하고 사무실 초고층 건물은 시선을 끌기 위해 우뚝 솟아 있다. 밀폐된 공간의 범위 내에서 Shekou 건물은 조직적으로 두드러진다. 디자이너들은 다양한 현대적 형태를 추출하고 금속 세공물을 형성하여 광둥-홍콩-마카오 그레이터 베이 지역의 눈부신 스카이라인의 윤곽을 그렸다. 디자인은 조명과 상호 작용하여 공간을 밝게 한다. 단색 회색 톤의 전망대에서 Mutto의 Oslo 시리즈 소파는 편안하고 조용한 코너를 연출한다.
멀티미디어 전시관에서 현대 중국 상인 Shekou 전시관은 과학과 기술로 가득 차 있어 몰입감 있는 경험을 선사한다. 도시와 자연 환경의 연결과 상호작용을 기반으로 멀티미디어 전시관을 위해 만들어진 어두운 환경과 달리 디자이너들은 산, 물, 도시를 유기적으로 결합하여 3개의 관람 플랫폼을 만들었다. 이 레이아웃은 사무실 영역의 열린 흐름을 재현한다
마치 빛나는 설치작품처럼 보이는 유리벽이 공간을 효과적으로 분할하여 리처드 세라(Richard Serra: 미니멀리즘 조각가) 스타일의 예술적 공간을 형성한다. 디자이너들은 도시, 공간, 건물, 사람, 예술의 5가지 관점에서 도시 미학 응용 플랫폼인 예술의 중심지로서의 프린스 스퀘어의 이미지를 충분히 전달했다. 방문객들은 높은 곳에서 도시의 맥박을 느낄 수 있다. 기존의 거대한 책상은 작은 개방형 책상들로 대체됐다. 깔끔한 선과 블록은 사무실의 따뜻함과 현대사회의 대인관계를 미묘하게 균형을 이루어 솔리드 그레이 컬러의 미니멀한 사무 공간을 연출한다. 강한 흐름감을 지닌 유리벽은 도시경관과 조화를 이루며 전체적인 구성을 통일하고 공간구성을 통합한다.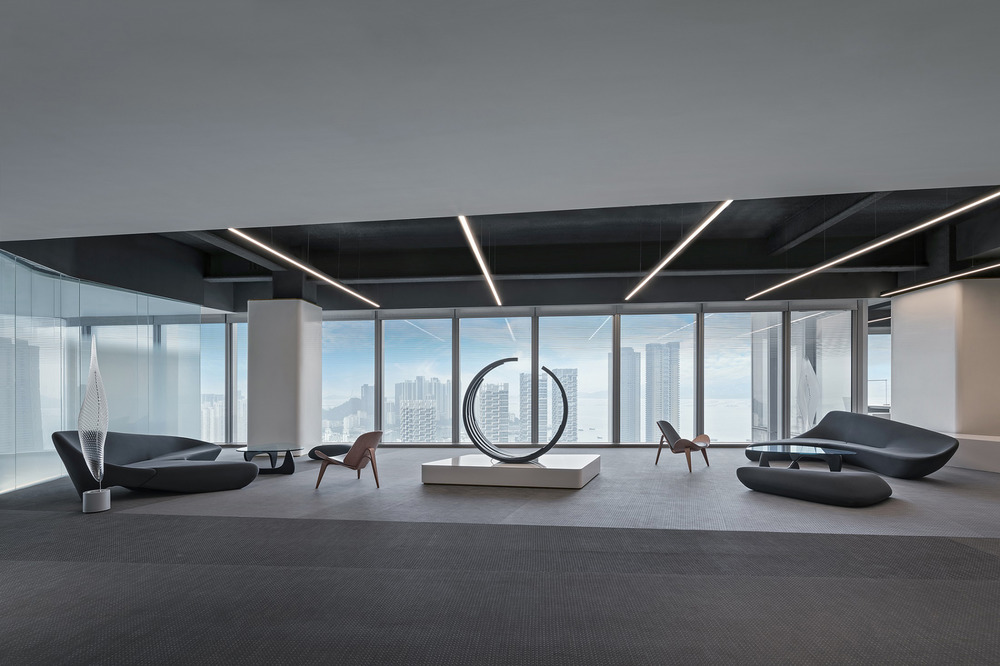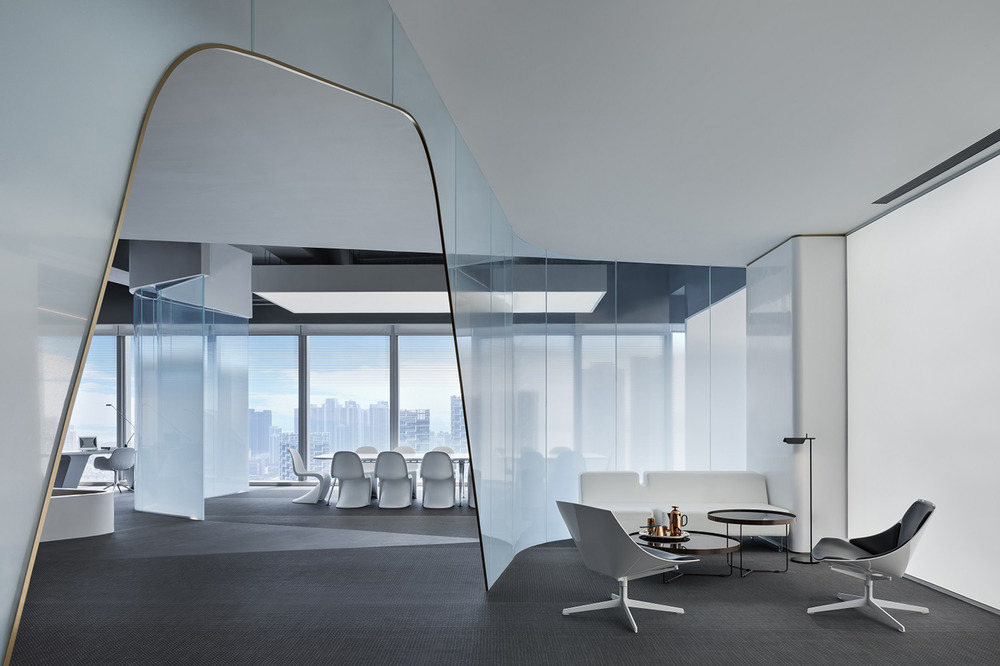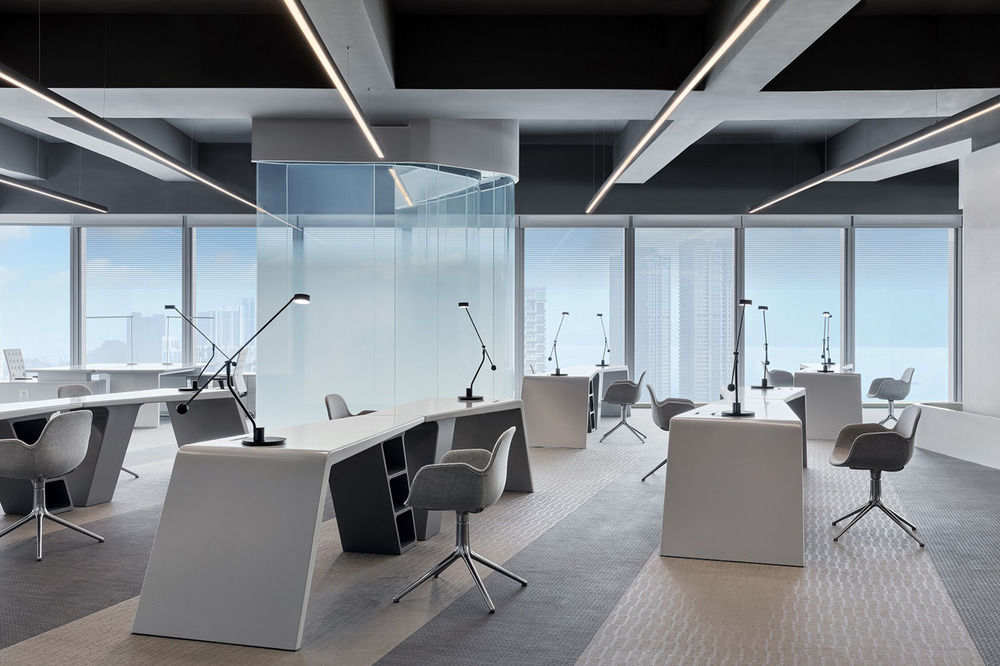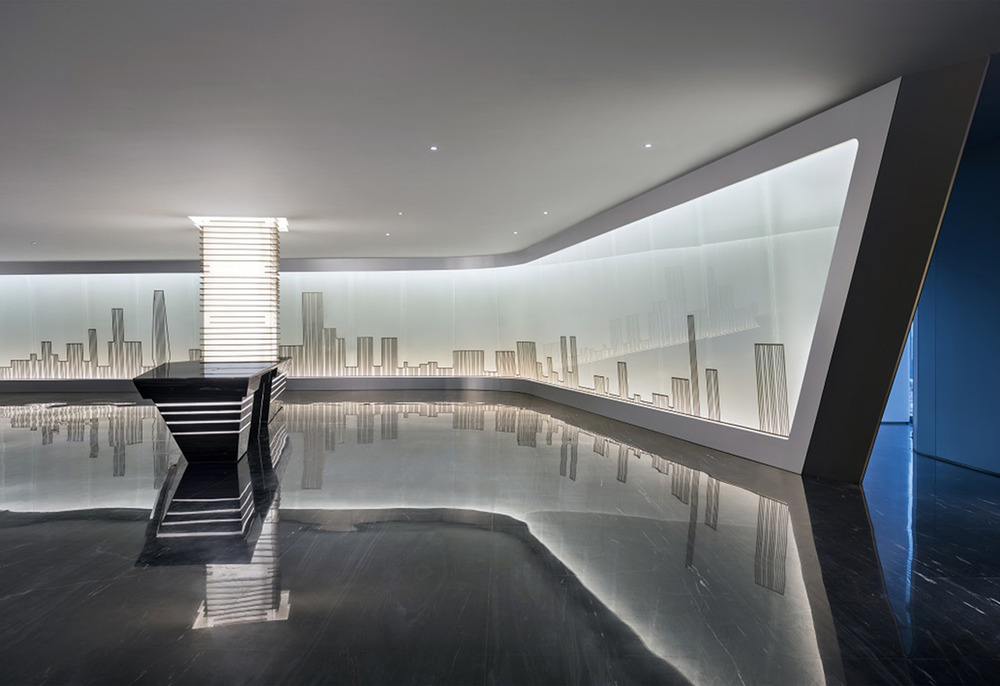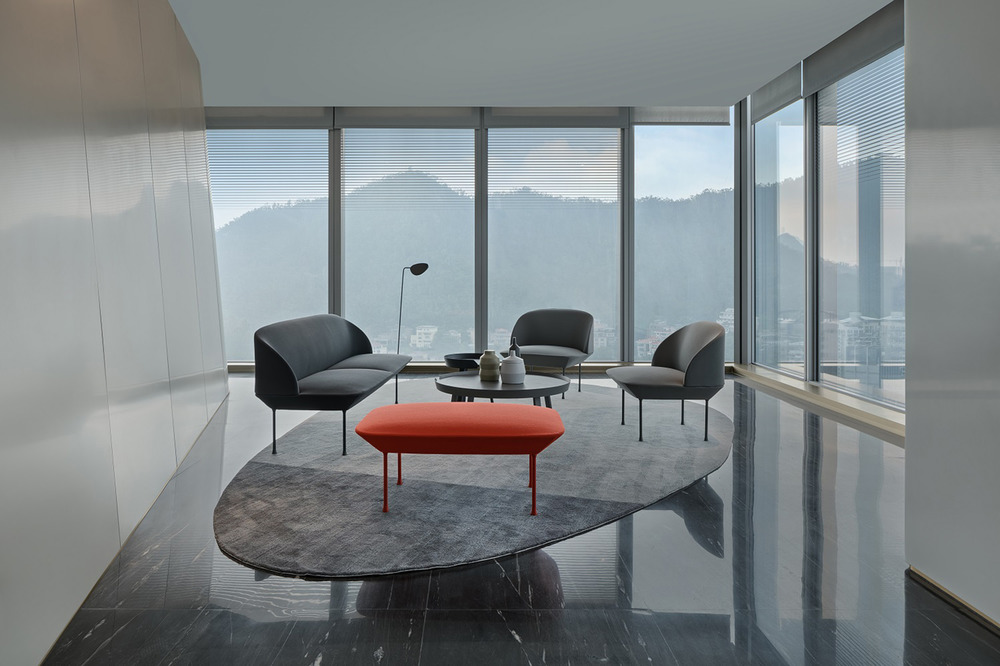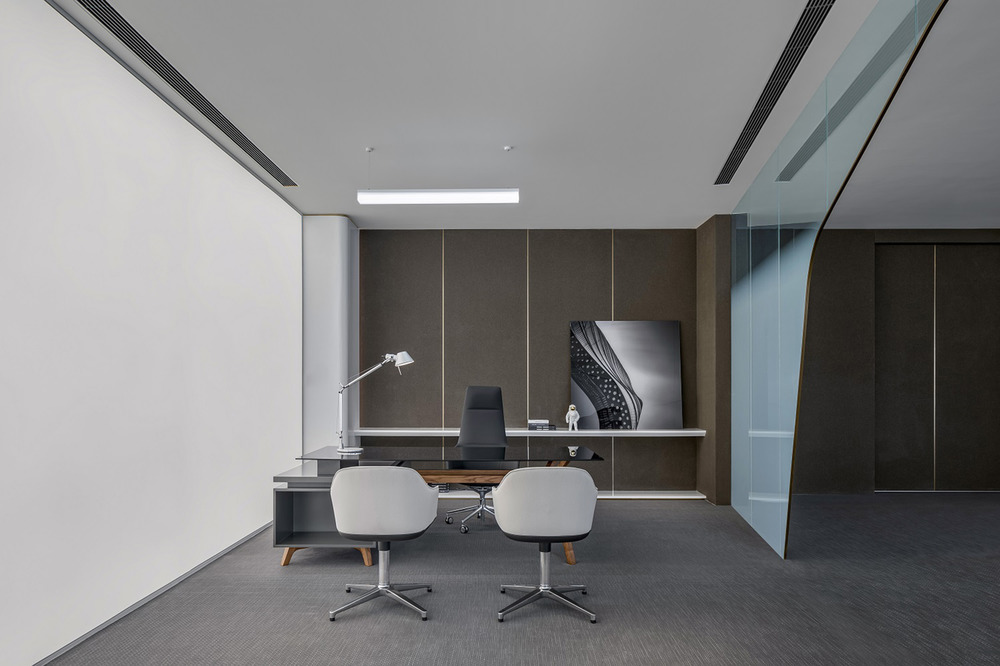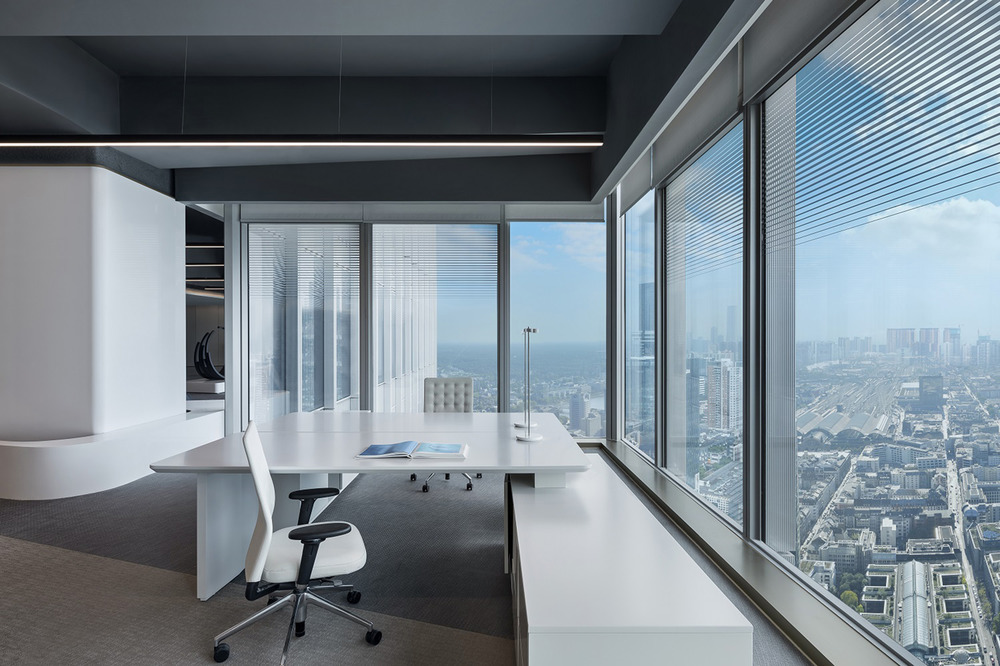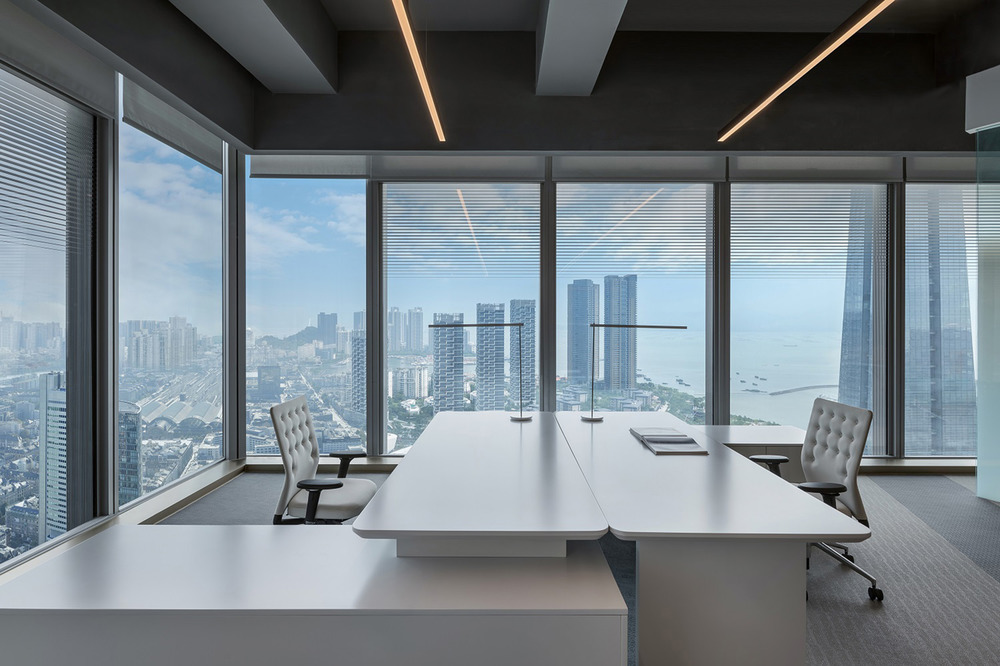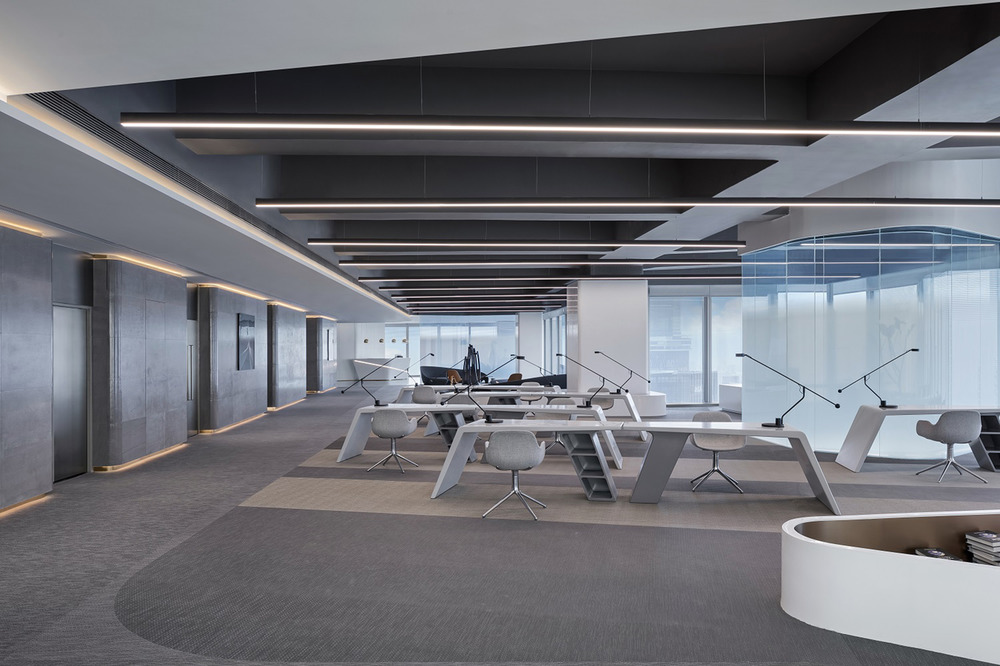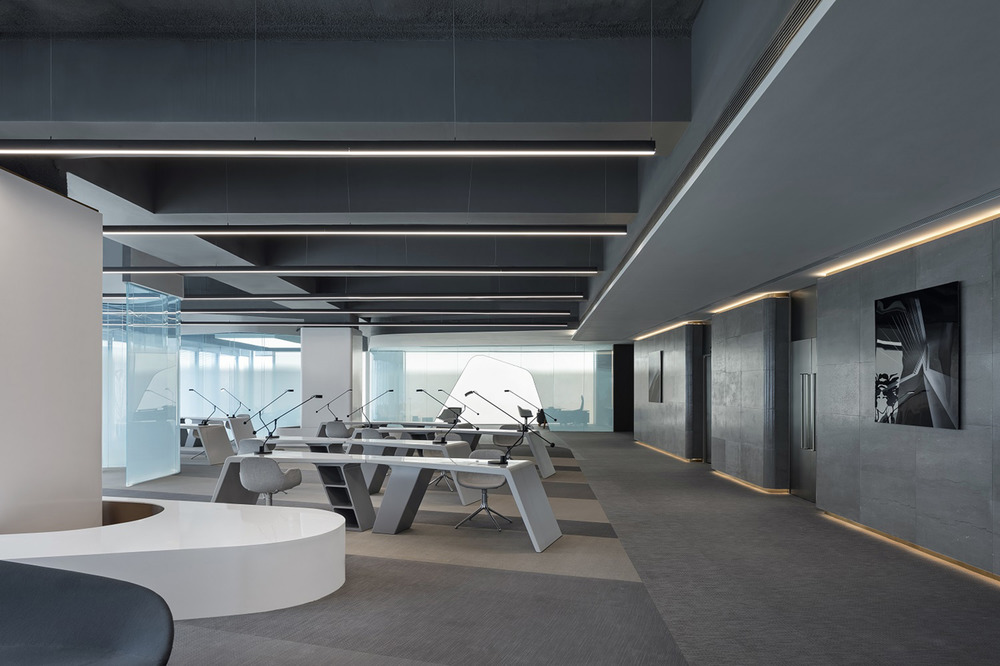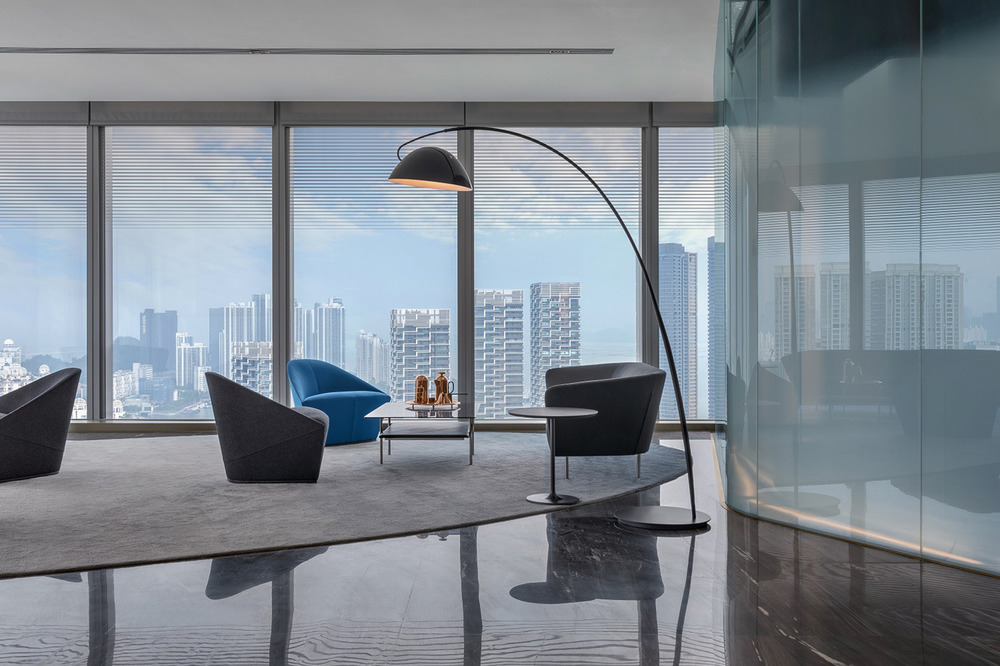 Interior design YuQiang & Partners
Location Shenzhen, China
Building area About 1,500m²
Completion 2019. 09
Photographer Shawn
---
마실와이드 | 등록번호 : 서울, 아03630 | 등록일자 : 2015년 03월 11일 | 마실와이드 | 발행ㆍ편집인 : 김명규 | 청소년보호책임자 : 최지희 | 발행소 : 서울시 마포구 월드컵로8길 45-8 1층 | 발행일자 : 매일