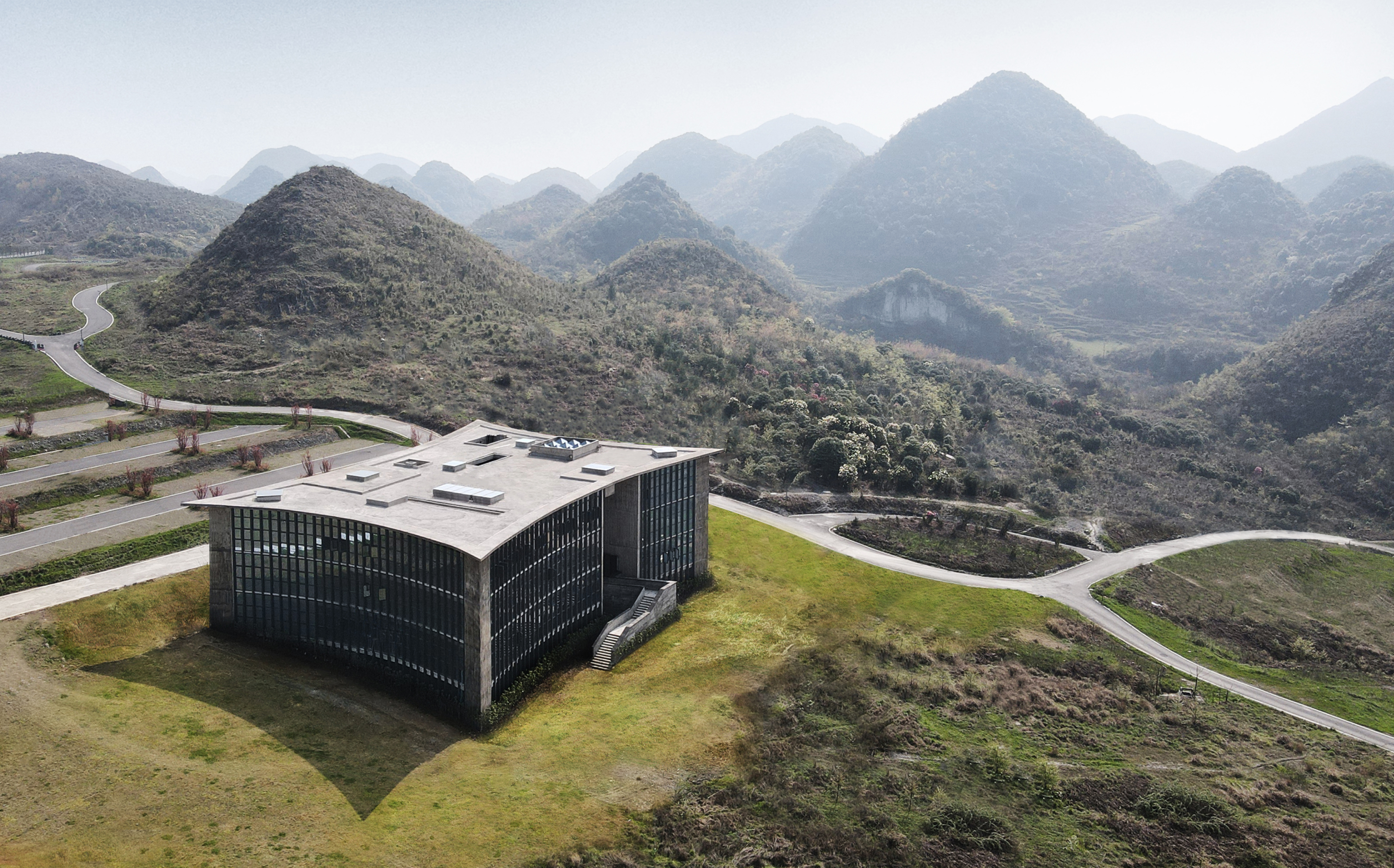 On a northwestern Guizhou typical plateau, placed at an altitude of above 2,000 meters in-between untouched grassland hills and mountains, stands the Cuisuba Yi Cultural & Visitor Center. West-line Studio has a long history in building cultural centers in Guizhou province influenced by local ethnic minorities; the practice's approach has always been characterized by a deep research on the peculiar cultural aspects of a particular community, which can result in rites, fabrics, patterns, construction techniques, festivals, and pictograms, in order to bring some of these unique features into the design, creating a strong bond with local culture and collective memory.
First of all the building mass resembles the traditional Yi sacrificial altar, where sacrifices refer to offers. The building, in its simple volume, is characterized by an iconic roof consisting of a concave arc. This architectural gesture aims to show a response to the tension of nature, and again refers to Yi sacrificial symbols. The roof establishes a dialogue with the sky through the skylight system and the concave shape works as a rain water collector. Via the gutter system the water vertically flows through the outdoor courtyards, creating a vertical connection of light and rain throughout the building, while solving the internal lighting and ventilation.
The construction system is based on concrete technology mixed with local sand. The sand mixture helps engrave the wooden texture given by the formworks, realized with recycled panels from declining Yi houses and local pine wood. The rough concrete interiors together with the black metal window frames and ceiling help frame the outdoor landscape, making it the protagonist of the interior atmosphere. The three floors are characterized by a free plan where two structural units combine all the main service functions; this spatial production mode derives from the so called 'group technology,' typical of Guizhou mountain villages. The indoor hanging courtyard, with its red and yellow skylights, creates a holy atmosphere and a sense of ritual space from the contrast between the colored lights and dark space below. The indoor atmosphere is kept dark on purpose so the outdoor bright scenery can stand out; visitors become silent wonderers of the wild grassland and are immersed in a suspended time as gazers of history. The spatial indoor layout combines the ritual mnemonic structure with a more contemporary functional system. Yi Cultural Center aims to become a wordless monument which stands alone resembling Yi culture through symbolism and in creating a ritual atmosphere.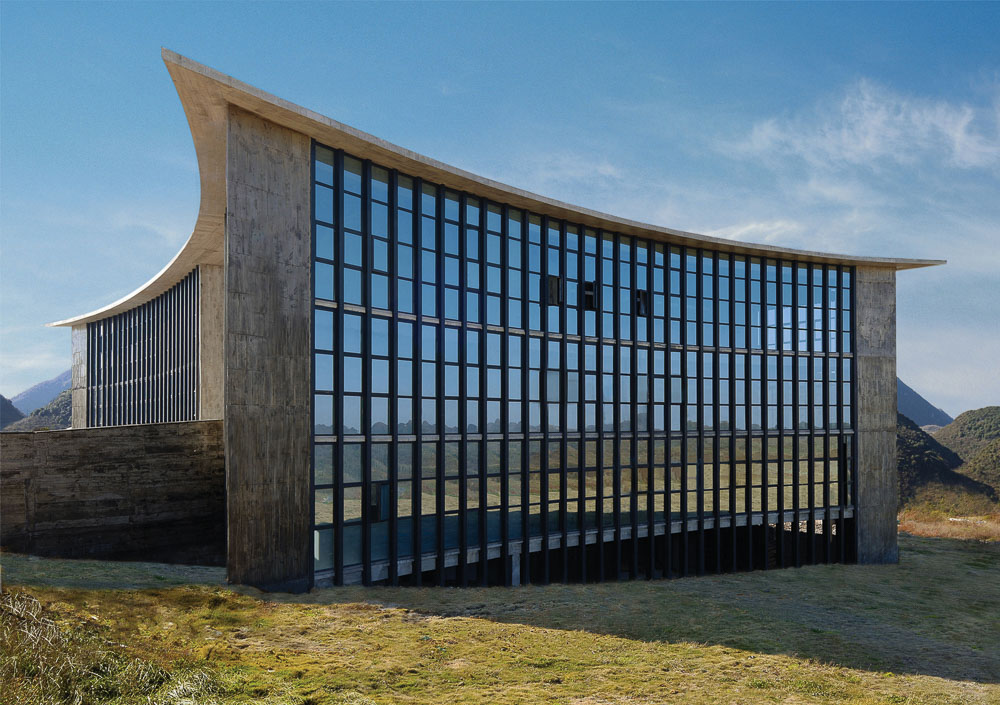 초원에 서서 방문자를 맞이하는 사색의 공간, 쿠이수바 이 문화 및 방문자 센터
개발되지 않은 초원 언덕과 산 사이, 2,000M 이상의 고도에 위치한 북서부 귀주의 고원에 쿠이수바 이(Yi) 문화, 방문자 센터가 있다. 건축가는 오랫동안 지역 소수 민족의 영향을 받은 귀주 지방에 문화 센터를 건설해왔다. 이들의 접근 방식은 항상 특정 지역 사회의 독특한 문화적 측면에 대한 깊은 연구를 특징으로 하며, 이러한 특징 중 일부를 설계에 도입하기 위해 의식, 직물, 패턴, 건축 기술, 축제 등을 픽토그램으로 표현하며, 지역 문화 및 집단 기억과 강한 유대감을 형성한다.
우선, 건물의 매스는 전통적인 이(Yi) 제단과 유사하다. 단순한 형태의 이 건물은 오목한 아치로 구성된 상징적인 지붕이 특징이다. 이러한 건축적 표현은 자연의 긴장감에 대한 반응을 보여주고자 하는 것이며 이(Yi)의 희생적 상징을 의미한다. 지붕은 채광 시스템을 통해 하늘과 대화를 나누고 오목한 모양은 빗물 집수 역할을 한다. 물은 배수로 시스템을 통해 외부 안뜰을 통과하며 수직으로 흐르고 건물 전체에 빛과 비의 수직적 연결을 만들며 내부 조명과 환기 문제를 해결한다.
건설 시스템은 현지 모래를 혼합한 콘크리트 기술을 기반으로 한다. 거친 느낌의 콘크리트 인테리어, 검은색 금속 창틀, 천장이 야외 풍경의 틀을 잡아주어 실내 분위기를 만든다. 3개 층의 특징은 2개의 구조적 단위가 모든 주요 서비스 기능을 결합하는 자유로운 평면이다. 이 공간적 생산 방식은 귀주 산촌의 전형인 '집단 기술'에서 파생되었다. 붉은색과 노란색의 채광 창이 있는 실내의 마당은 아래의 색색 조명과 어두운 공간의 대비를 통해 신성한 분위기와 의례적인 공간감을
연출한다. 실내 분위기를 일부러 어둡게 유지하여 실외의 밝은 풍경이 돋보일 수 있도록 했다. 방문자는 야생 초원의 조용한 방랑자가 되고 역사의 응시자로서 정지된 시간에 빠지게 된다.
실내 레이아웃은 의례적인 연상 기호 구조와 현대적인 기능 시스템을 결합하는 것으로 구성된다. 이 문화 센터는 상징성을 통해 이 문화를 닮아 의례적인 분위기를 조성하는 홀로 선 무언의 기념물이 되고자 한다.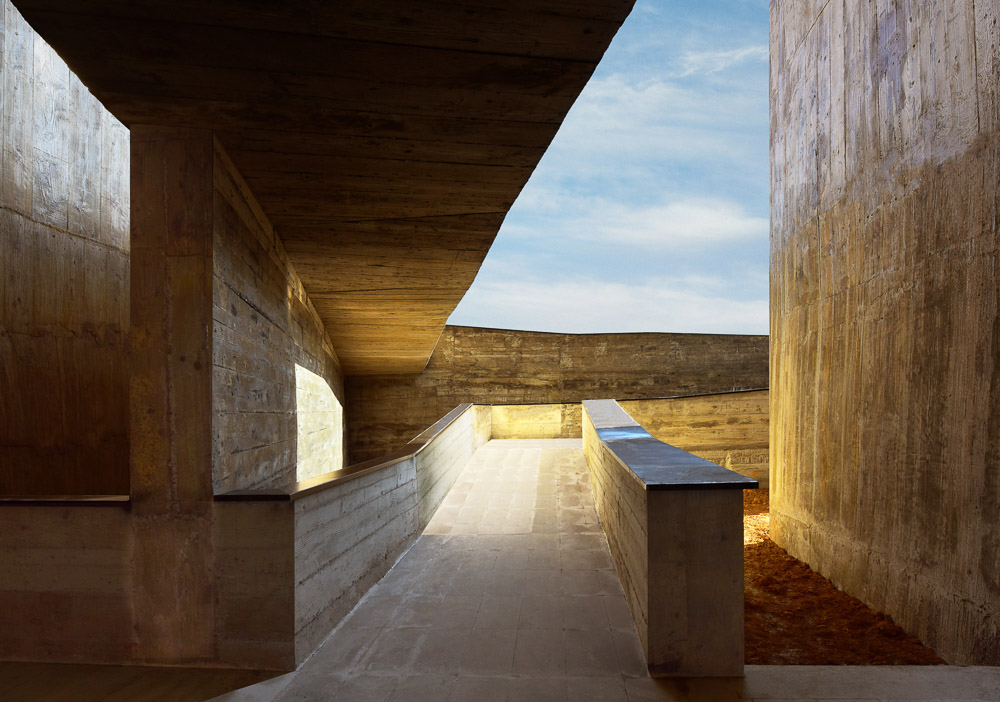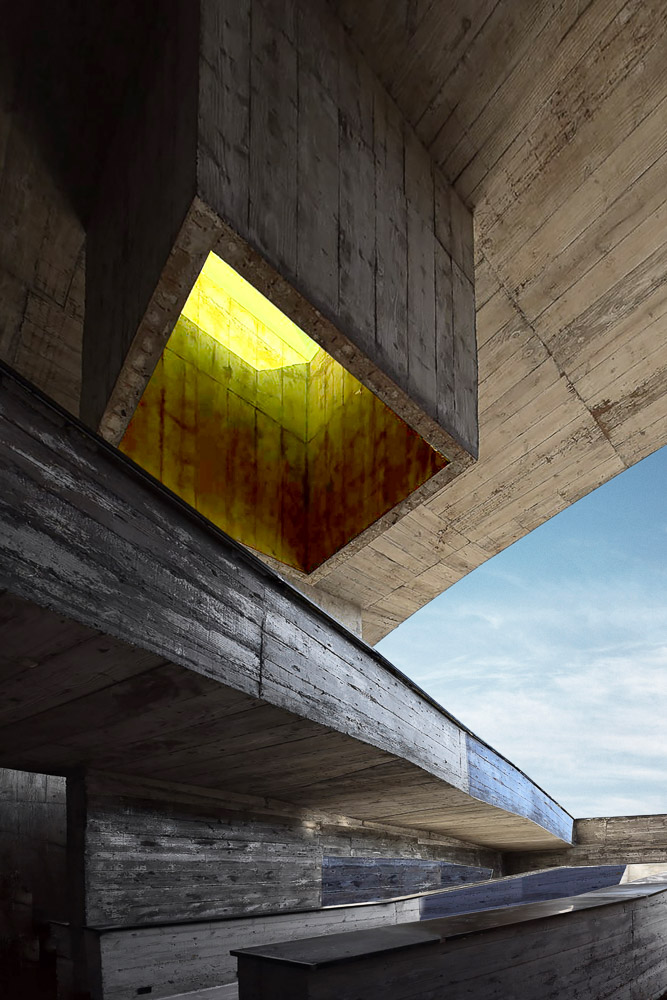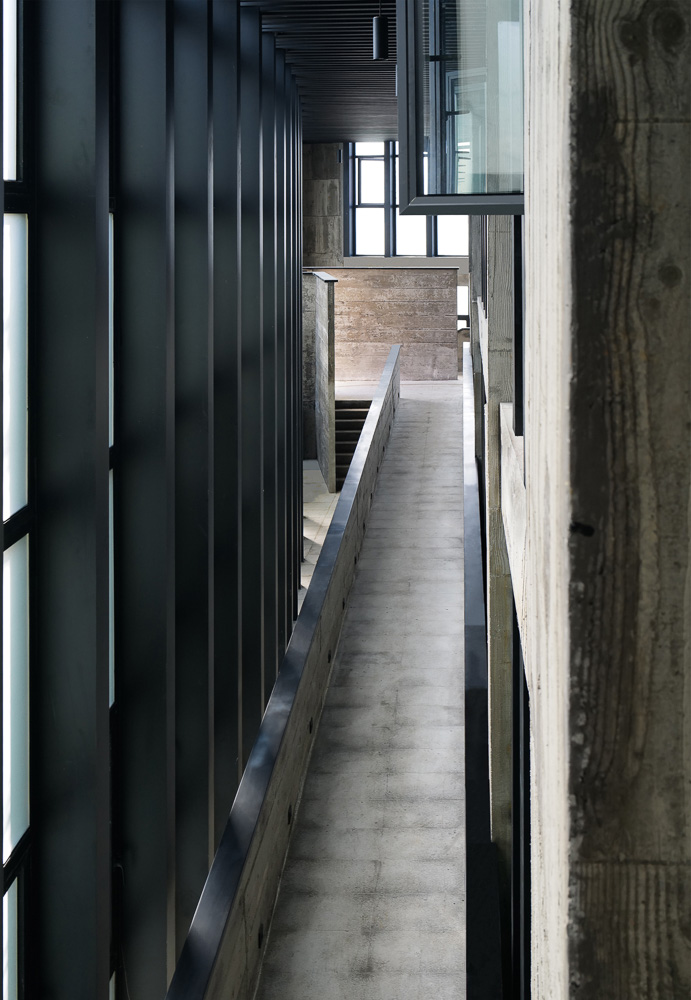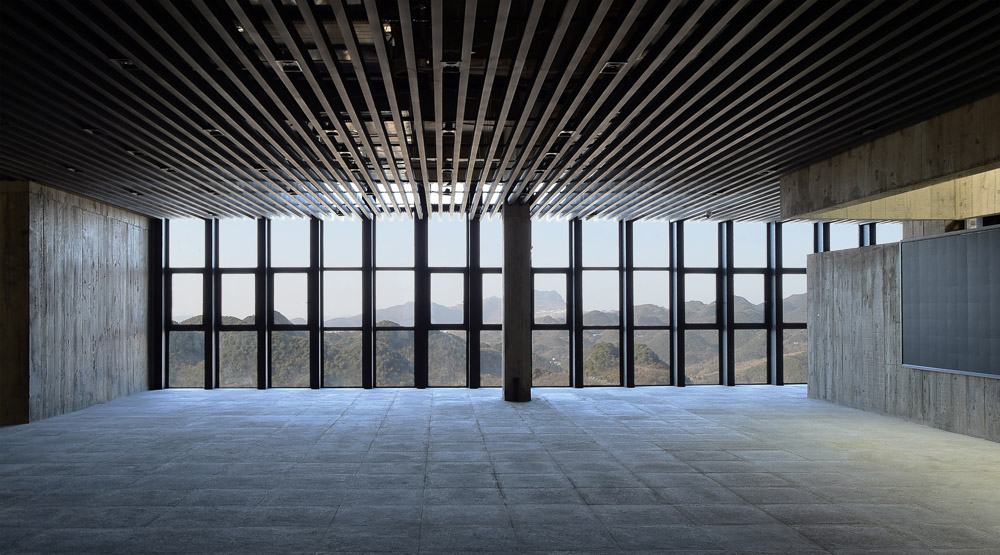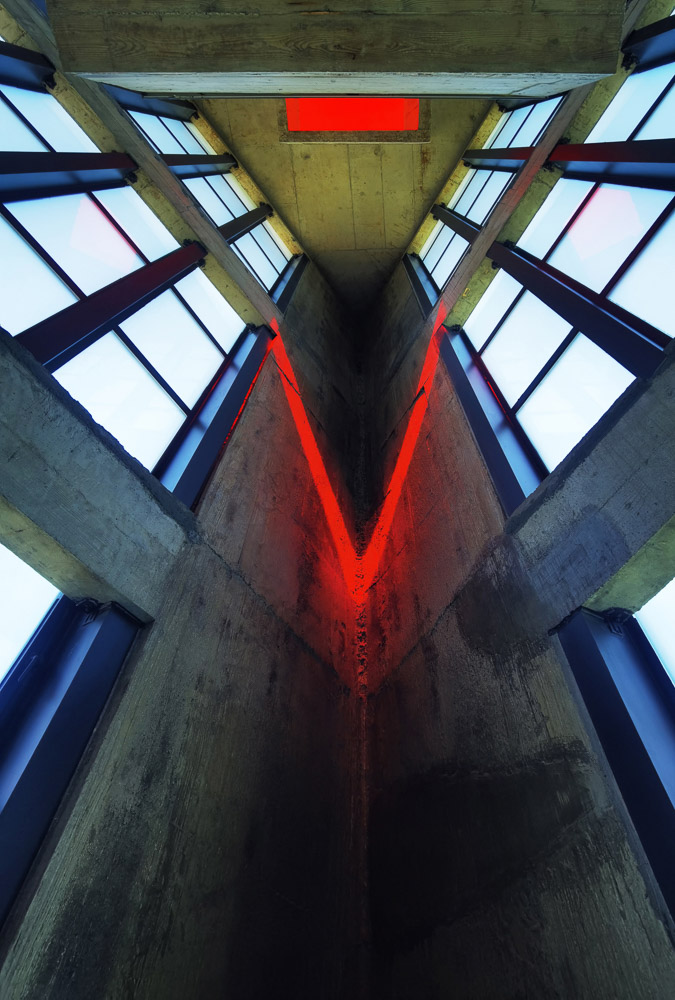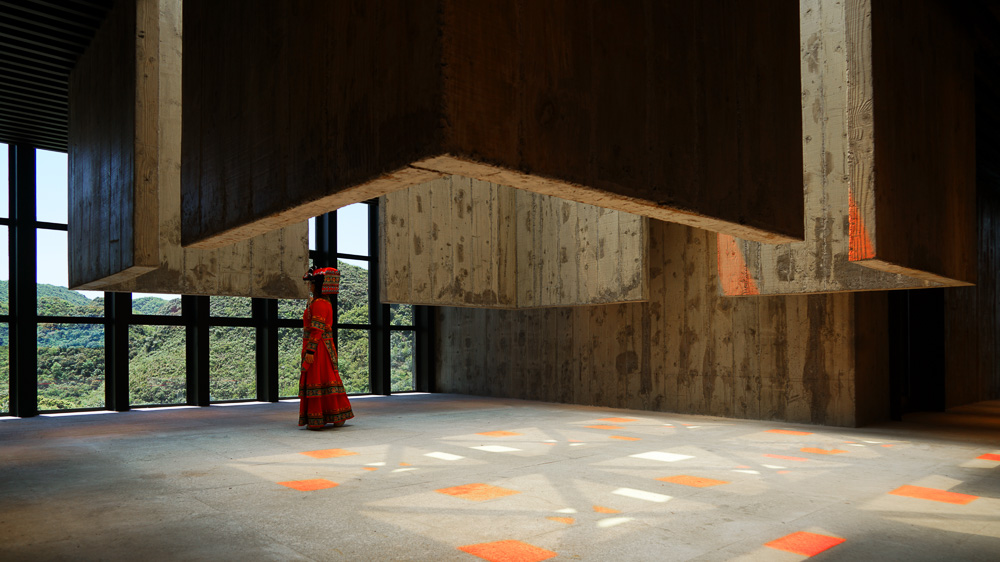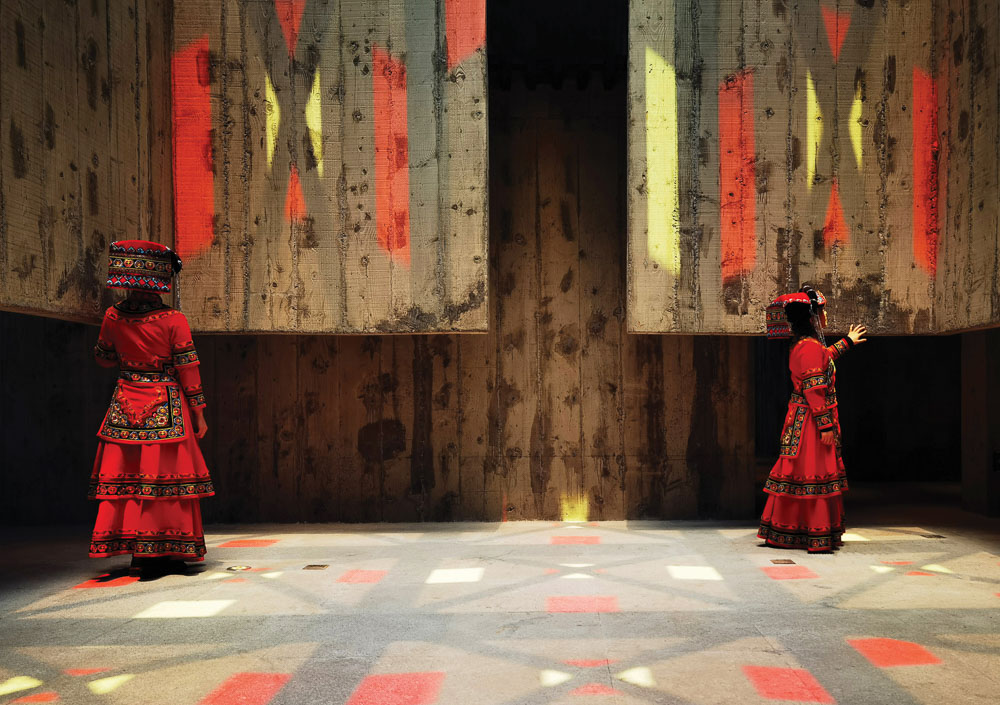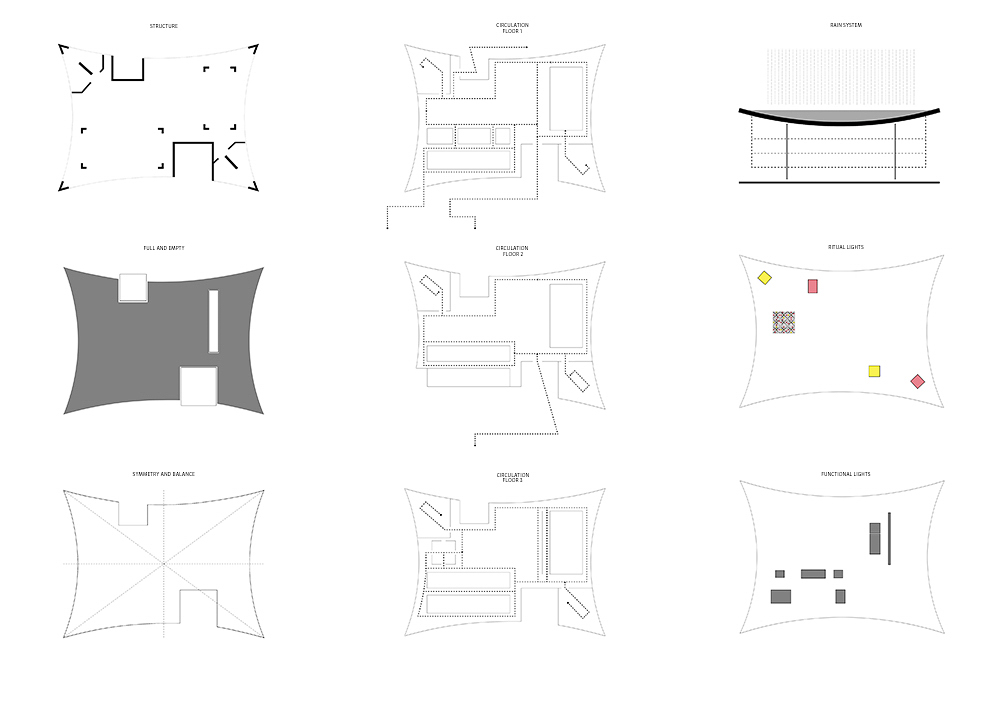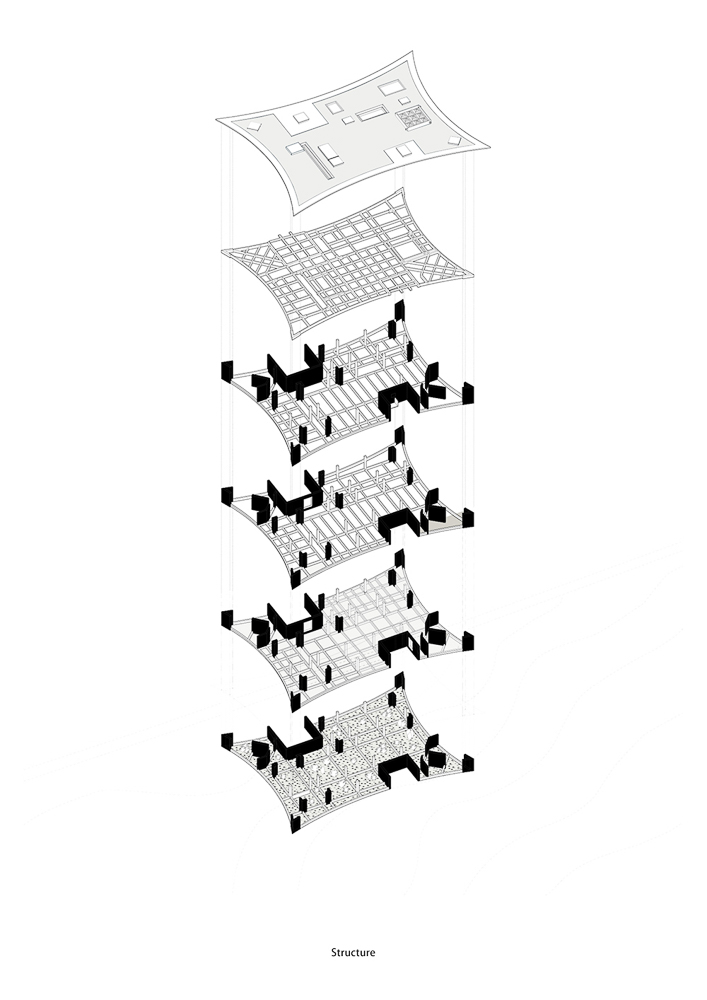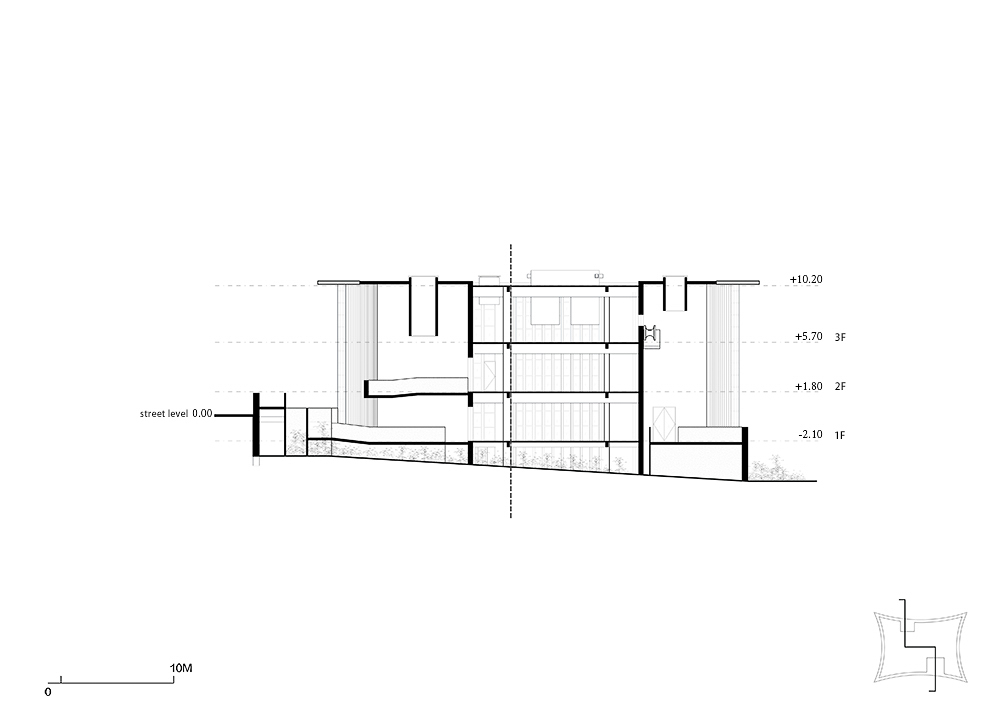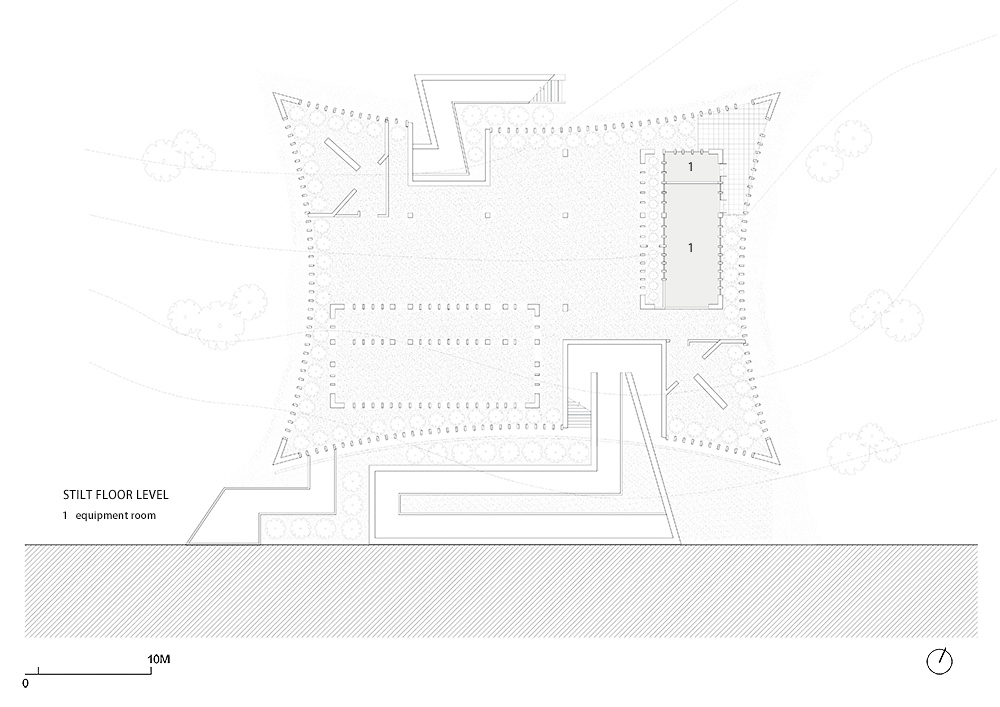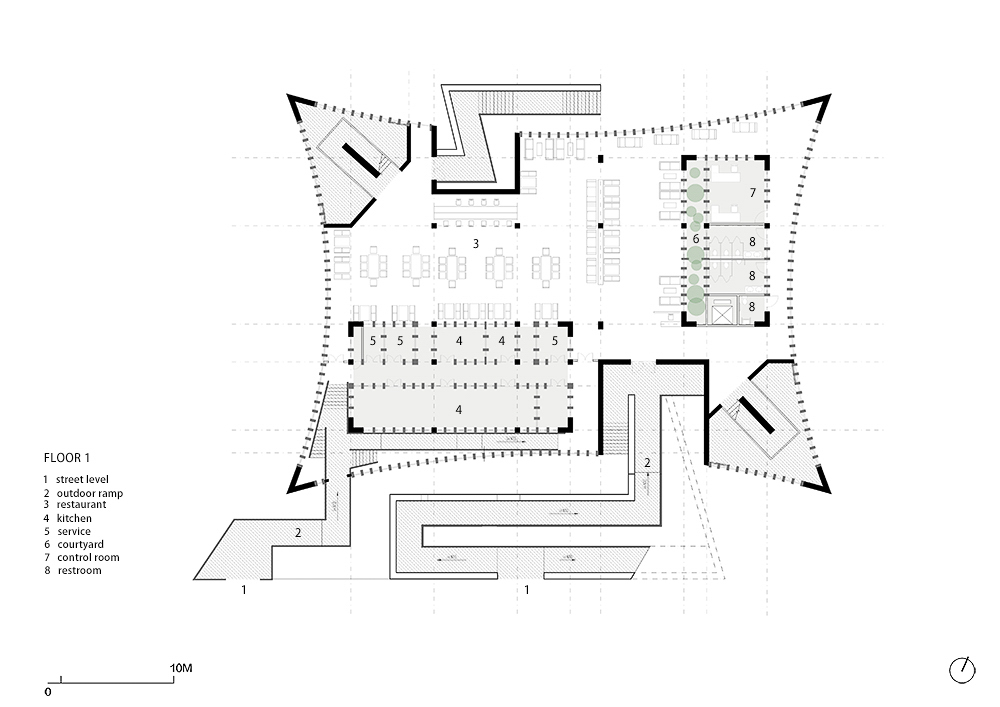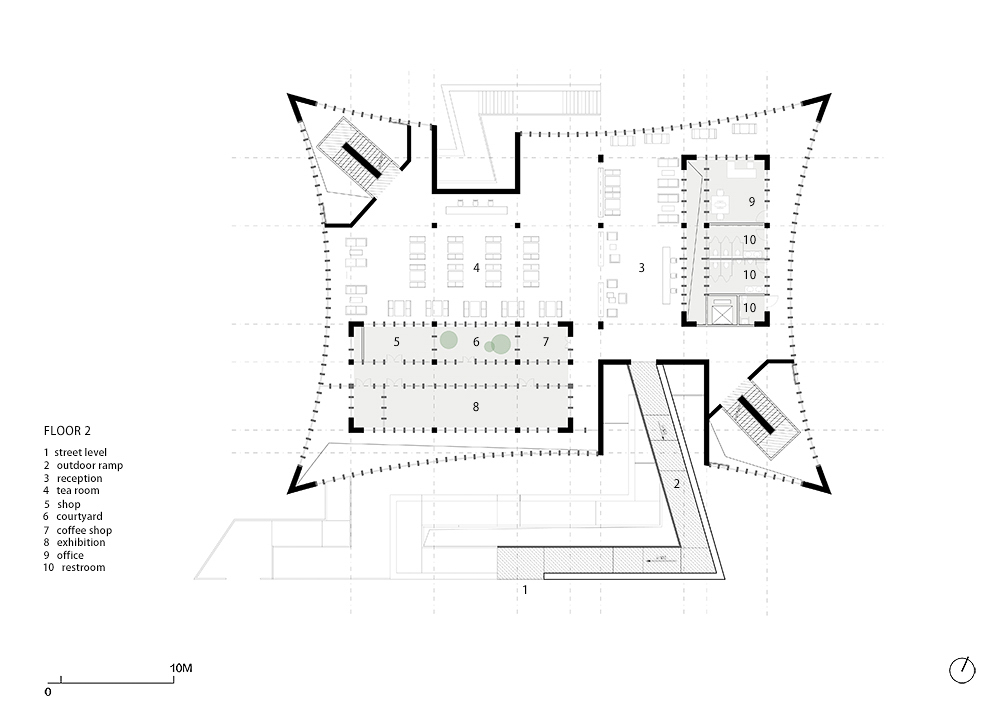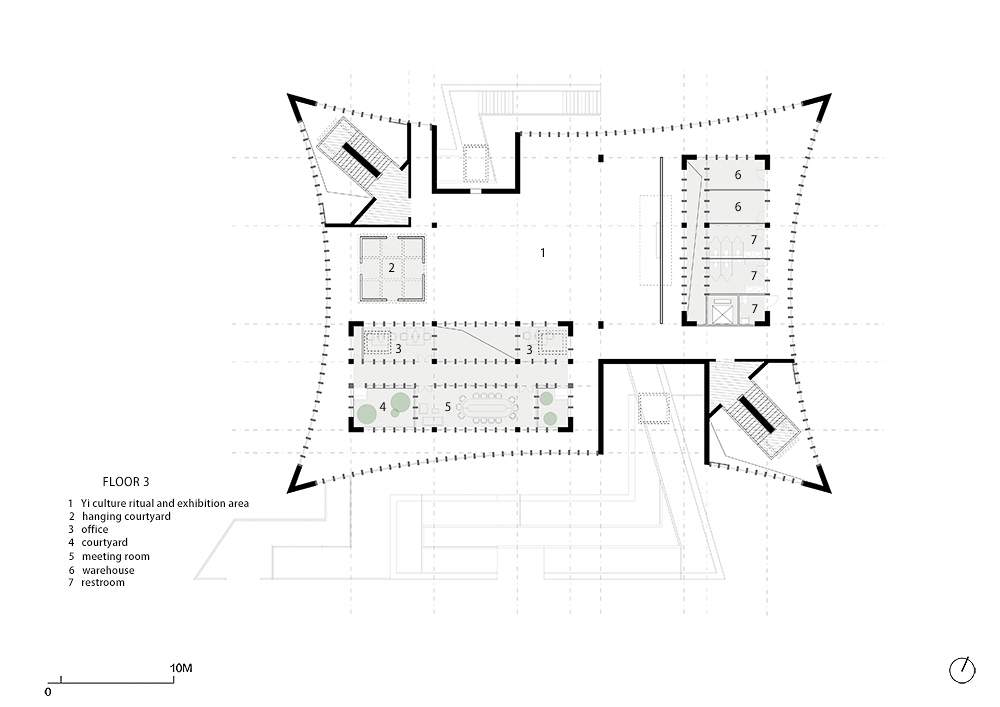 Architect West-Line Studio
Location Dafang County, Guizhou, China
Gross floor area 2,569㎡
Building scope 3F
Completion 2021. 3
Principal architect Haobo Wei, Jingsong Xie
Design team Yudan Luo, Yuanping Li, Dingping Fu, Ke Zhou, Minghua Ou, Bin Liu
Client Guizhou Province Dafang County Keteleeria River Tourism Investment
Development Service Co. Ltd
Photographer Haobo Wei, Jingsong Xie, Yuanping Li, Hongkai Peng
해당 프로젝트는 건축문화 2021년 10월호(Vol. 485)에 게재되었습니다.
The project was published in the October, 2021 recent projects of the magazine(Vol. 485).
---
마실와이드 | 등록번호 : 서울, 아03630 | 등록일자 : 2015년 03월 11일 | 마실와이드 | 발행ㆍ편집인 : 김명규 | 청소년보호책임자 : 최지희 | 발행소 : 서울시 마포구 월드컵로8길 45-8 1층 | 발행일자 : 매일