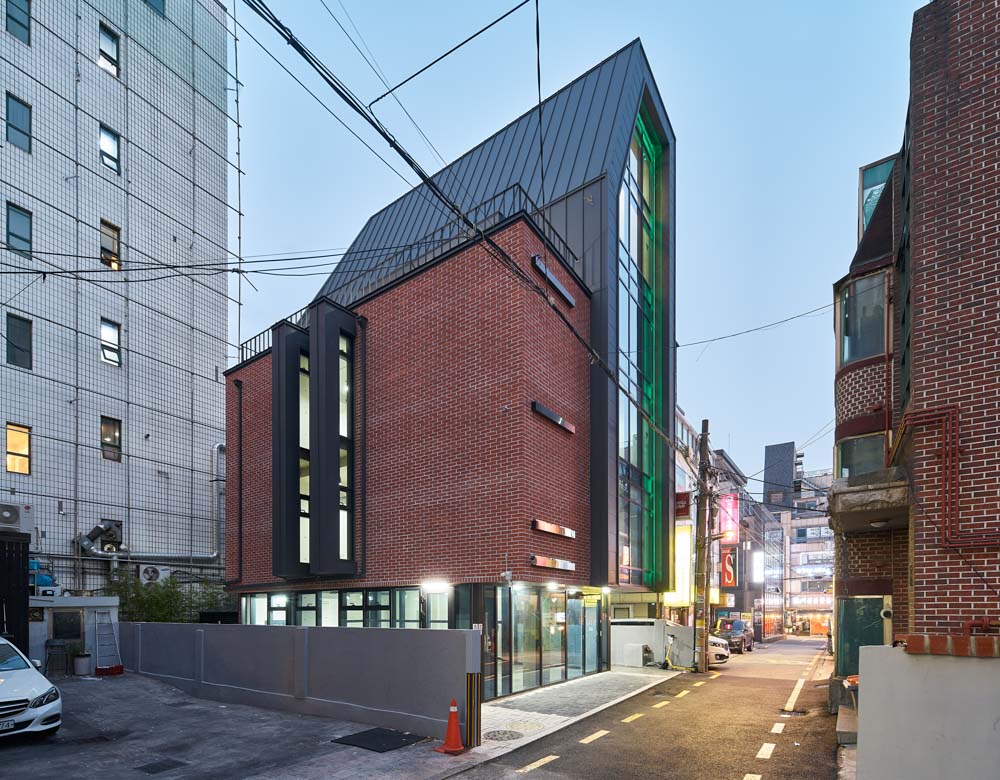 The site of Younghyun Bldg is a site that was divided into a small residential site within a general residential district when Gangnam was being developed, and is affected by the sunlight from the north. Systemic improvement was difficult due to the anti-right-to-light method that is unified and generalized under legal fundamental rights. For parts exceeding 9m in height (about 3 stories high), the exclusive area is reduced in a stratified manner. Such tiered forms hinder the urban aesthetics through architecture. The Younghyun Bldg is a model that will become a good example of overcoming dual constraint factors of being affected by the small size of the site (178.5m²) as well as the right to sunlight.
The buildings around the site are located in blocks that are clustered with buildings that are more than 30 years old. The familiar materials such as bricks and zinc were used on the exterior of the building, and glass curtain walls (C/W) were used on some areas to highlight Gangnam's urban feel. The interior of the building secured a high sense of space using exposed concrete without a ceiling. In particular, the floor surface has high smoothness and durability since it was constructed with a SELF LEVELING material, and then combined with a WET LOOK (floor immersive hardener).
The architect hoped that the Younghyun Bldg could become a space that has a positive influence on the invisible mutual relationships between neighbors. As seen in the meaning of the word "SYNC", we hope that the warm and bright image of the neighborhood can be spread through Younghyeon Building, just as the feeble light of single fireflies interact with each other to brighten a field in a dark night. We hope that the positive influence delivered through architecture can be felt.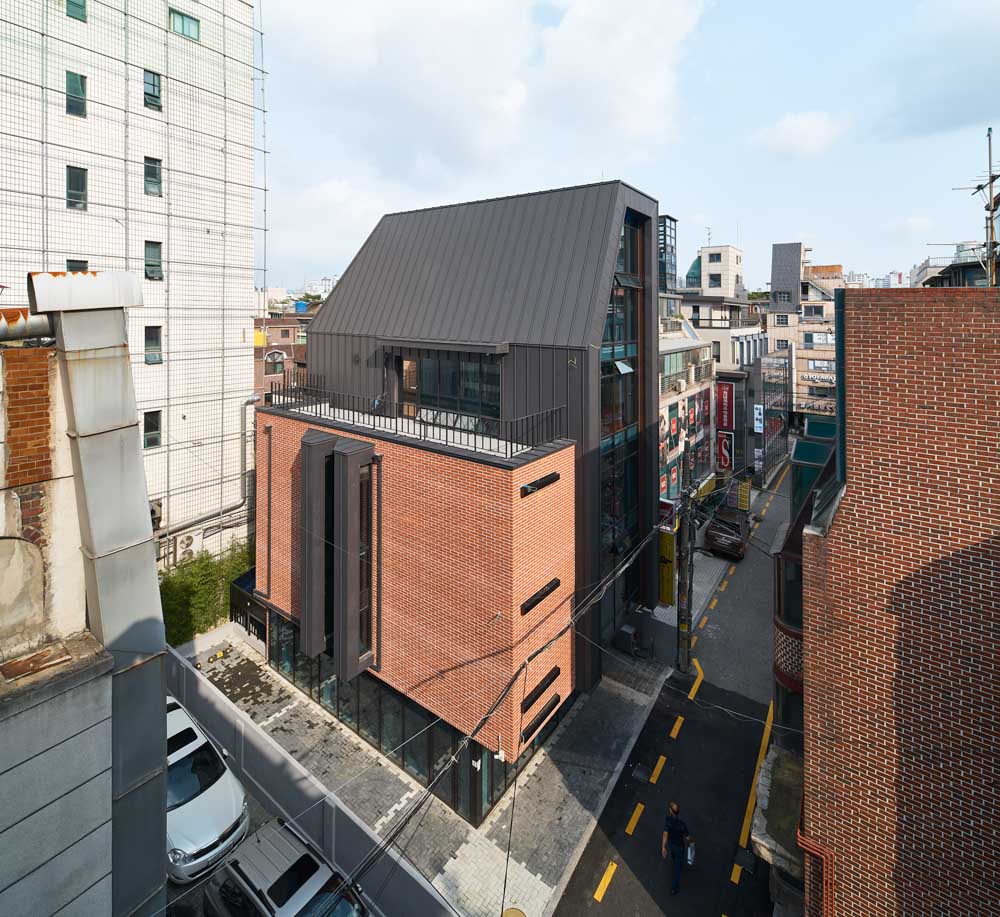 도시를 밝히는 공간, 대치동 영현빌딩
영현빌딩은 강남 개발당시 일반주거지역의 소규모 주택지로 구획된 부지로 북측 일조의 영향을 받는다. 법적 기본권 하에 획일적이고 일반화된 반(反) 일조권의 방법으로 제도적 개선은 어려운 현황이다. 높이 9m 이상(약 3층 높이)을 초과하는 부분에 대해서는 전용면적이 단형으로 감소한다. 이와 같은 단형의 형태는 건축으로 인한 도시 미관을 저해하고 있다. 영현빌딩은 대지의 협소함(178.5m2, 54평)과 일조권의 영향을 받는 2중의 제약 요소를 극복하는 좋은 예시가 될 모델이다.
본 부지 주변의 건축물은 약 30년 이상의 노후된 건축물이 군집화된 블록 내에 있다. 건물 외부에는 벽돌과 징크 같은 친숙한 자재가 사용됐으며, 강남이라는 도심지다운 감각을 살리고자 일부에 유리 커튼월(C/W)을 사용했다. 건물 내부에는 노출콘트리트로 천정 없는 높은 공간감이 확보되어 있다. 특히, 바닥면은 SELF LEVEL재 시공 후 WET LOOK(바닥함침형 경화제)이 합쳐져 평활도와 높은 내구성을 가진다.
영현빌딩은 이웃 간의 보이지 않는 상호 관계의 좋은 영향을 주는 공간이 되길 바랐다. "SYNC"라는 의미에서 보듯이 한 마리의 반딧불의 미미한 불밝힘을 통해 서로 교호하는 작용으로 어두운 밤의 들판을 온통 밝히는 것과 같이, 영현빌딩을 통해 동네의 다사롭고 밝은 이미지가 전파되기를 기대해 본다. 건축을 통해 선한 영향력이 전달되는 것을 느낄 수 있기를 바란다.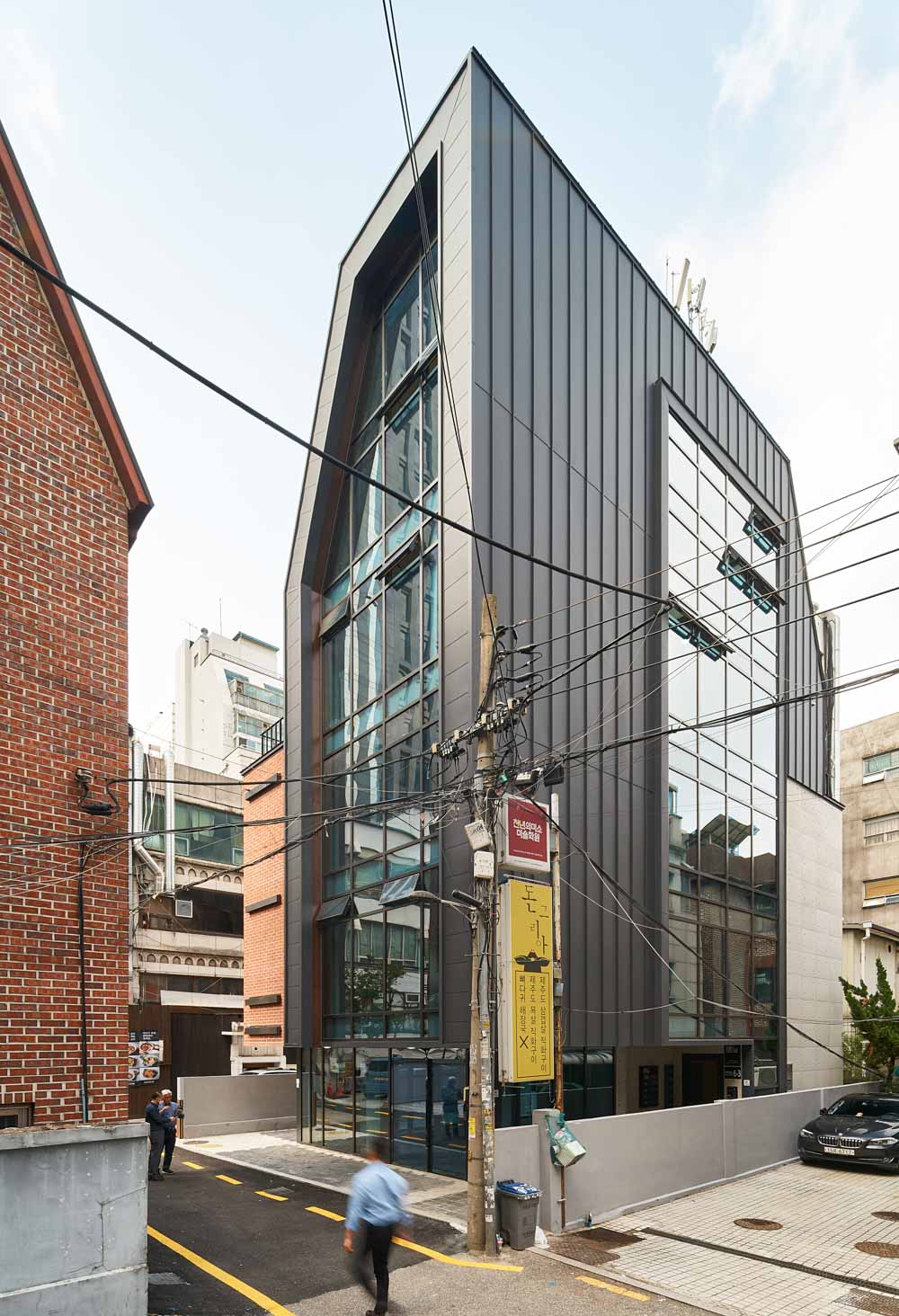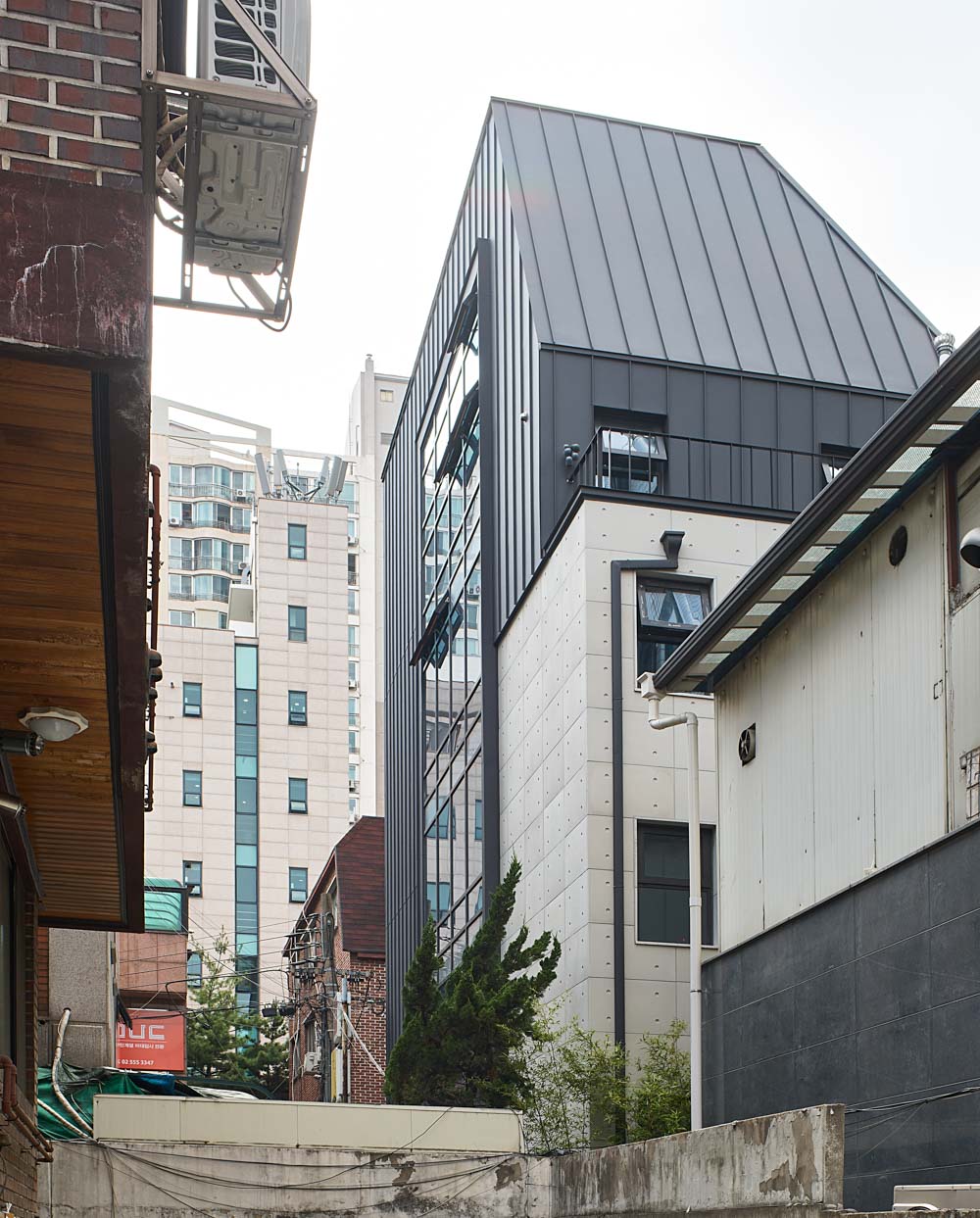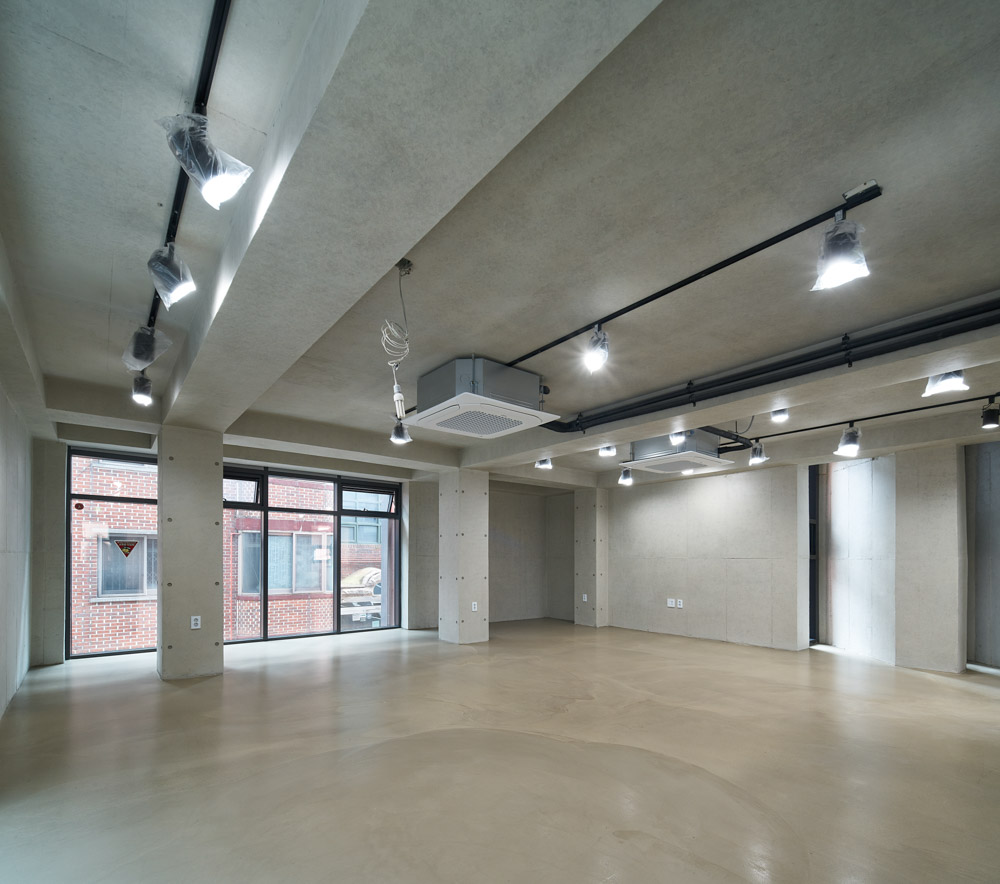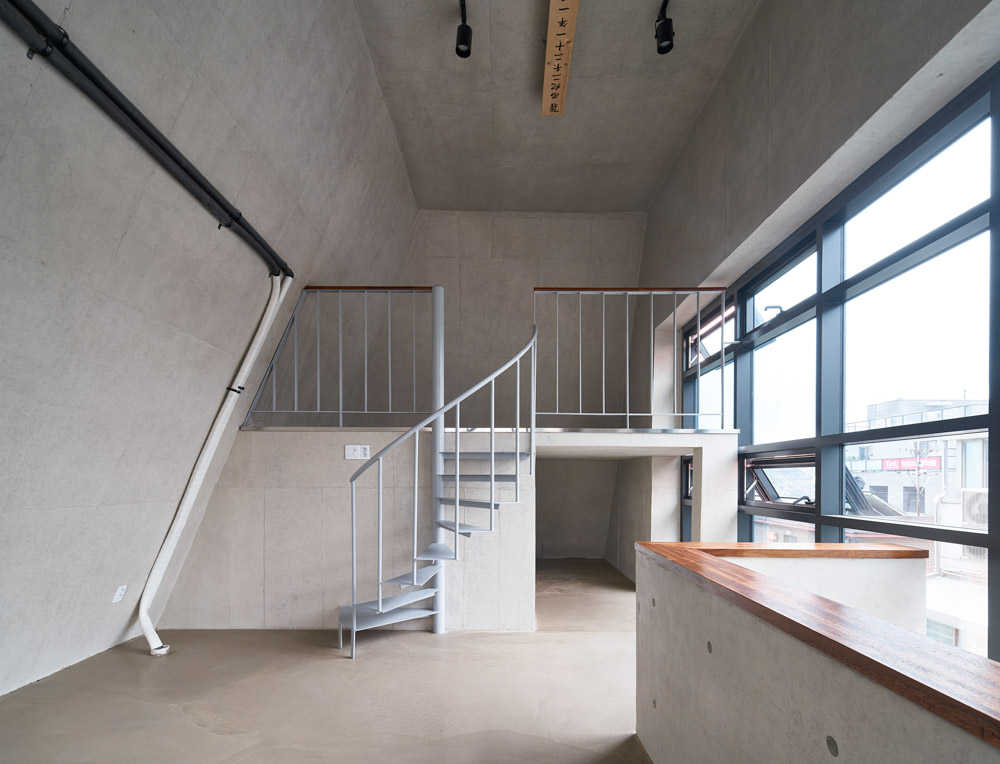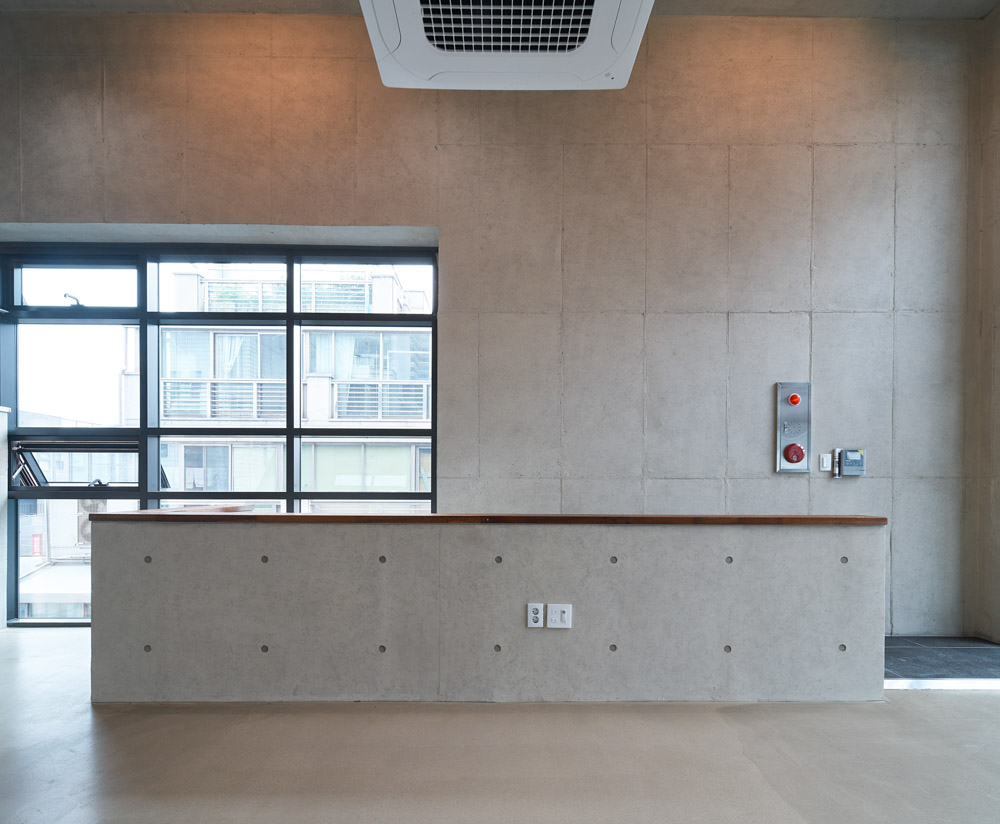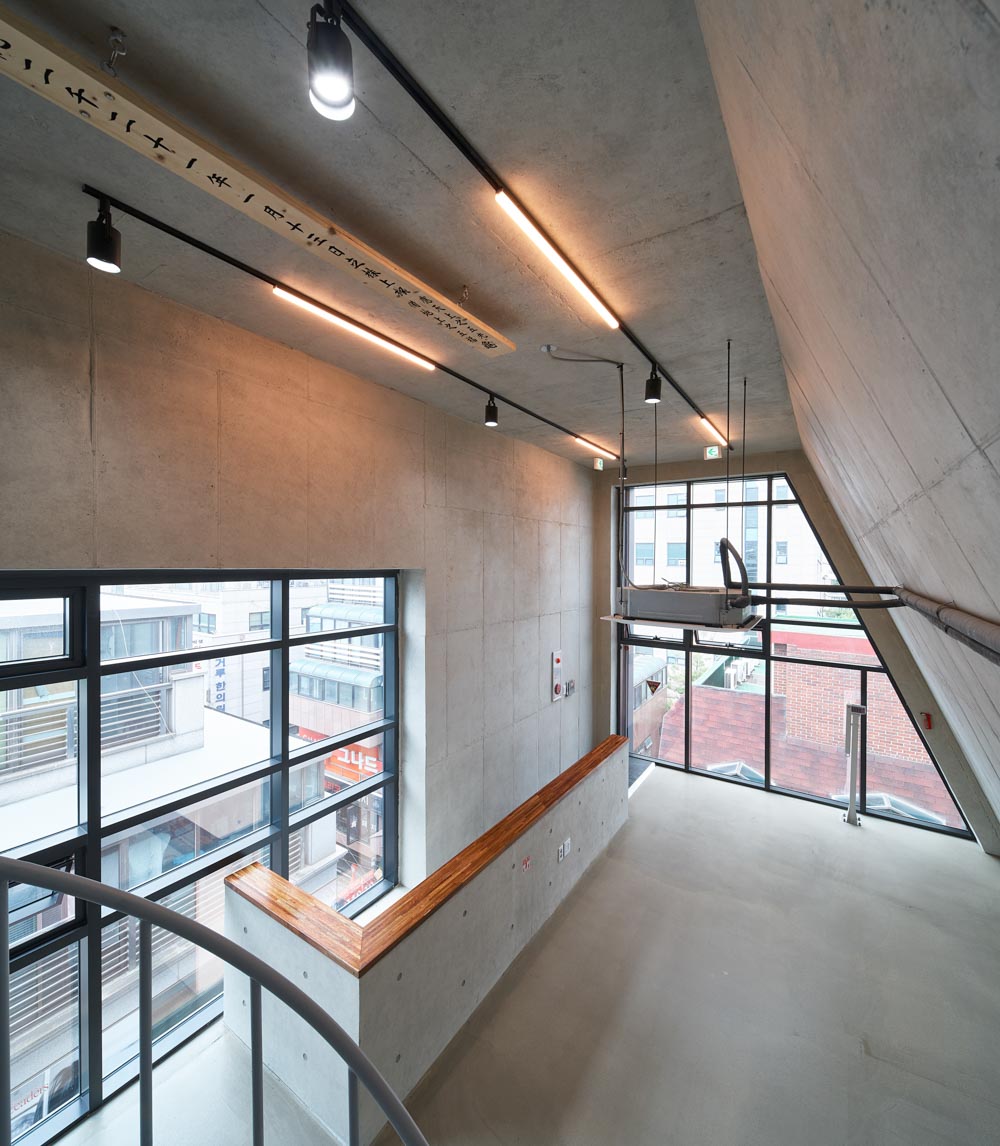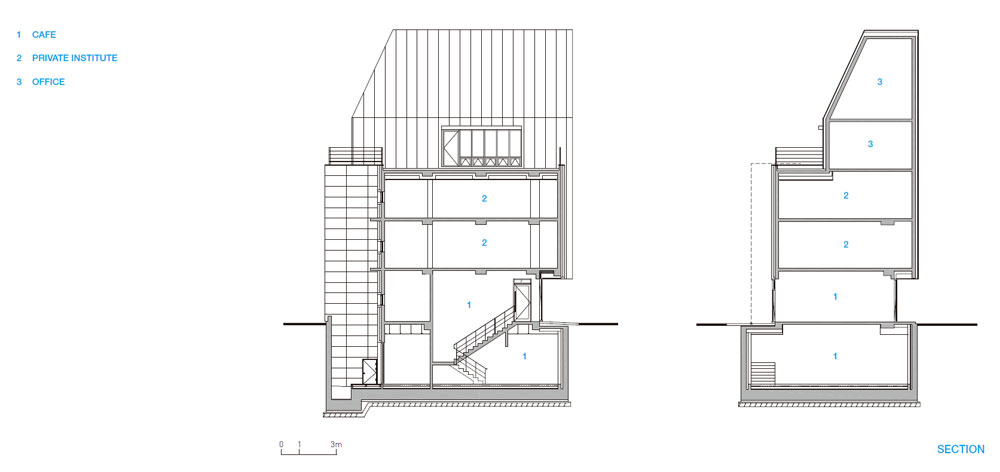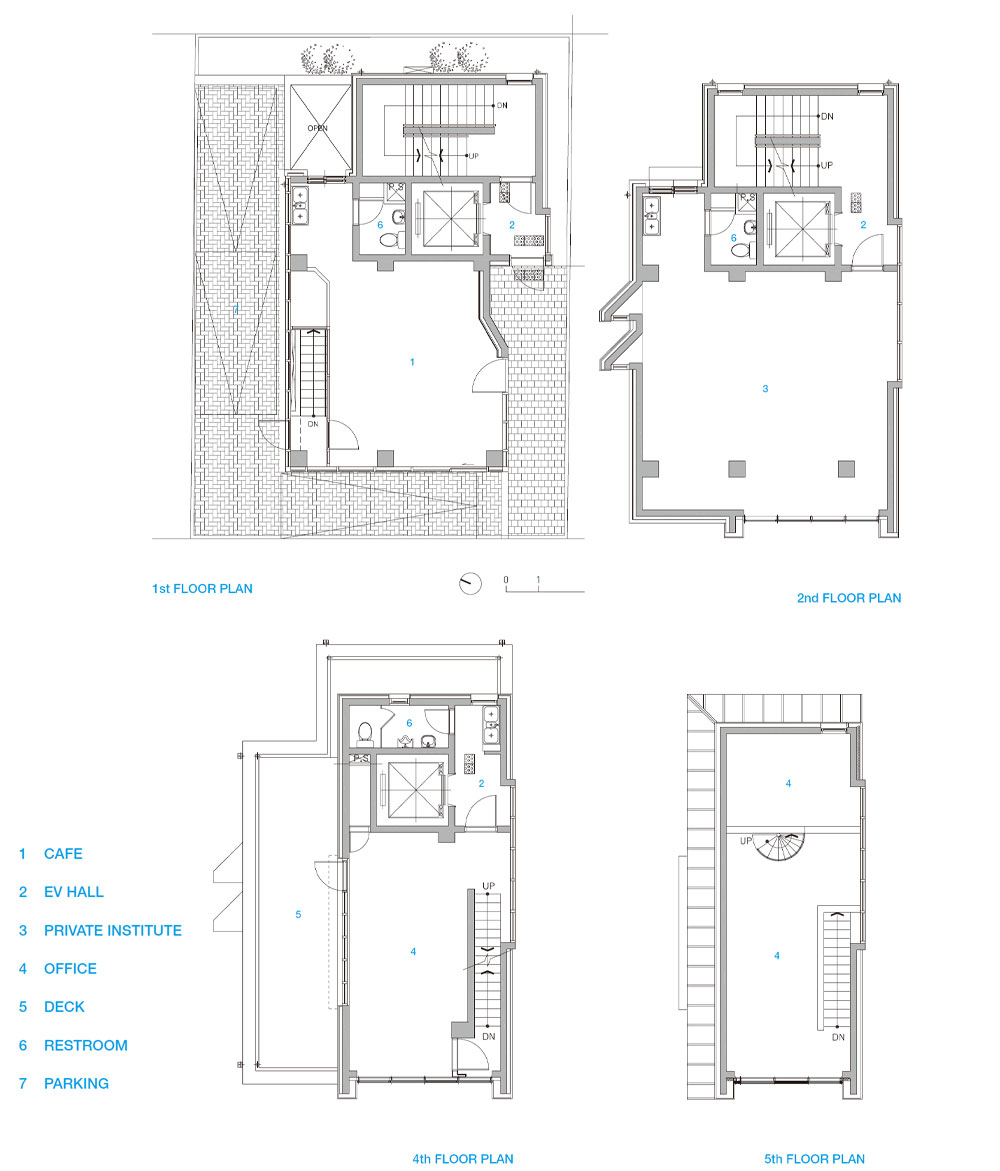 Architect YEOHEON ARCHITECT & ENGINEERS
Location Seolleung-ro, Gangnam-gu, Seoul, Republic of Korea
Program Neighborhood Facilities
Site area 178.50㎡
Building area 89.04㎡
Gross floor area 447.51㎡
Building scope B1, 5F
Building to land ratio 49.88%
Floor area ratio 191.247%
Design period 2020. 1 - 7
Construction period 2020. 7 - 2021. 5
Completion 2021. 5
Principal architect YJ Kim
Design team KR Kim, KS Hwang, JS Youn, JW Jung
Construction SANMARU CONSTRUCTION_KT Park
Client YA Tak
Project Manager HJ Yu
Photographer Yongsu Kim(MasilWIDE)
해당 프로젝트는 건축문화 2021년 9월호(Vol. 484)에 게재되었습니다.
The project was published in the September, 2021 issue of the magazine(Vol. 484).
---
마실와이드 | 등록번호 : 서울, 아03630 | 등록일자 : 2015년 03월 11일 | 마실와이드 | 발행ㆍ편집인 : 김명규 | 청소년보호책임자 : 최지희 | 발행소 : 서울시 마포구 월드컵로8길 45-8 1층 | 발행일자 : 매일