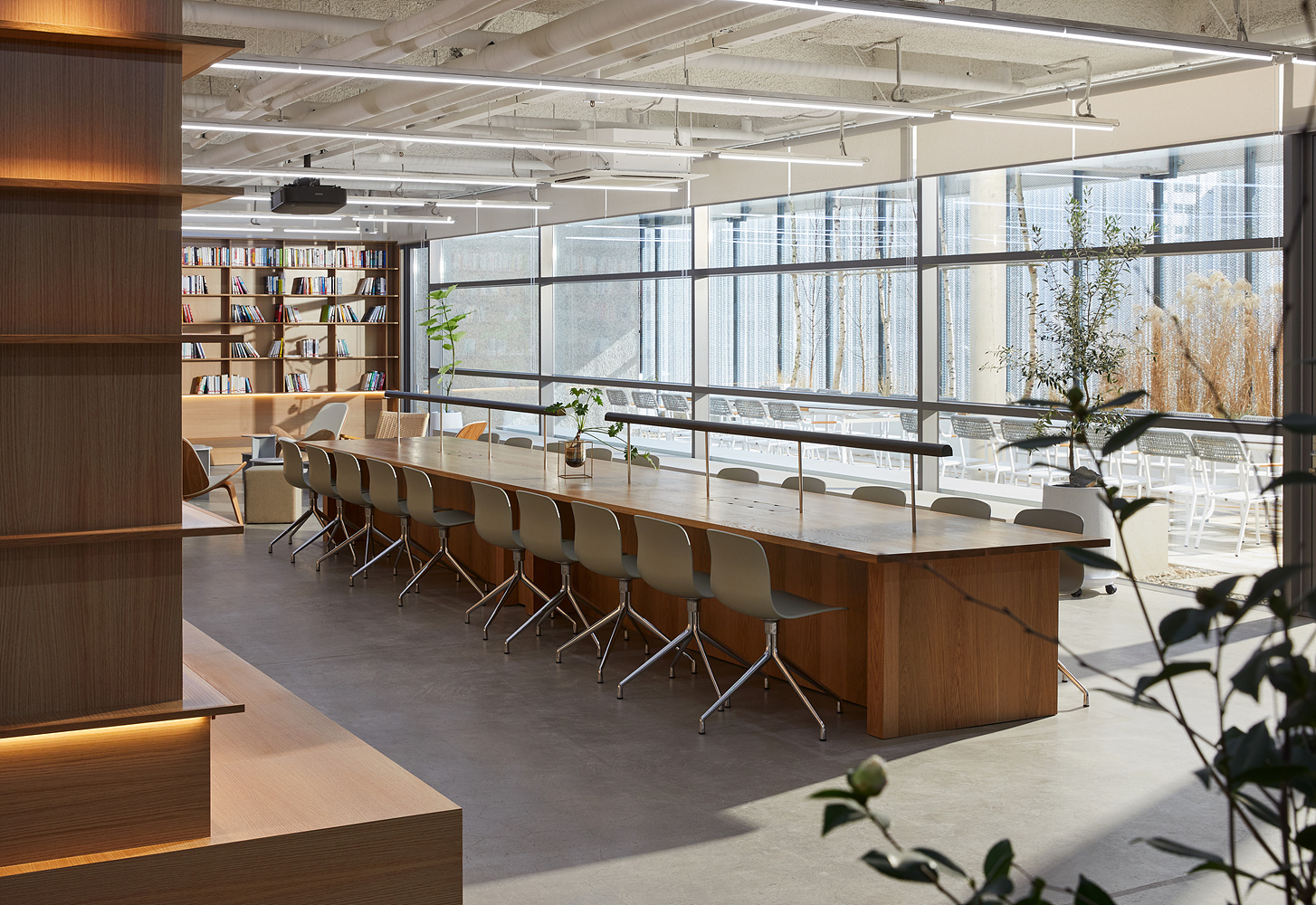 "Vital Inspiration Space"
Chaeum Lounge, a communication and welfare space for SK Networks employees, is where 15,000 books have become the main focus. The 267m customized bookshelf across the space shows that the lounge will serve as an insider space for employees. With the concept of "Vital Streaming Platform," the overall space is a place that can revitalize employees, minimizing design elements to reduce fatigue as much as possible, and creating a comfortable and stable atmosphere suitable for the rest space by taking full advantage of the existing space with good lighting.
As it is a cultural space complex of SK Networks located in the same building of SK Magic's brand shop, we planned to be a space where you can feel differentiation as the object and purpose of the space are different while the tone and manners of the two spaces are naturally connected. If brand shops are at the point of contact with consumers, the Chaeum Lounge Complex Cultural Space for employees is intended to be a space of deeper solidarity.
The wall of the main space is filled with a 267m long customized bookcase that crosses the space. As 15,000 books are the main characters and employees' insights and welfare are the purpose at the same time, wood was actively used to create a stable and comfortable mood. It also minimized design elements to reduce fatigue as much as possible to provide vitality to employees.
Chaeum Lounge, a space where the sunlight pouring through the whole window is attractive. We offer enough rest to our employees with a comfortable easy chair suitable for the name of the lounge and a landscape that naturally melts everywhere. From private spaces to solidarity spaces for communication between employees. It was a space where both relaxation and inspiration could be obtained, and it was Chaeum Lounge where emptying and filling coexist.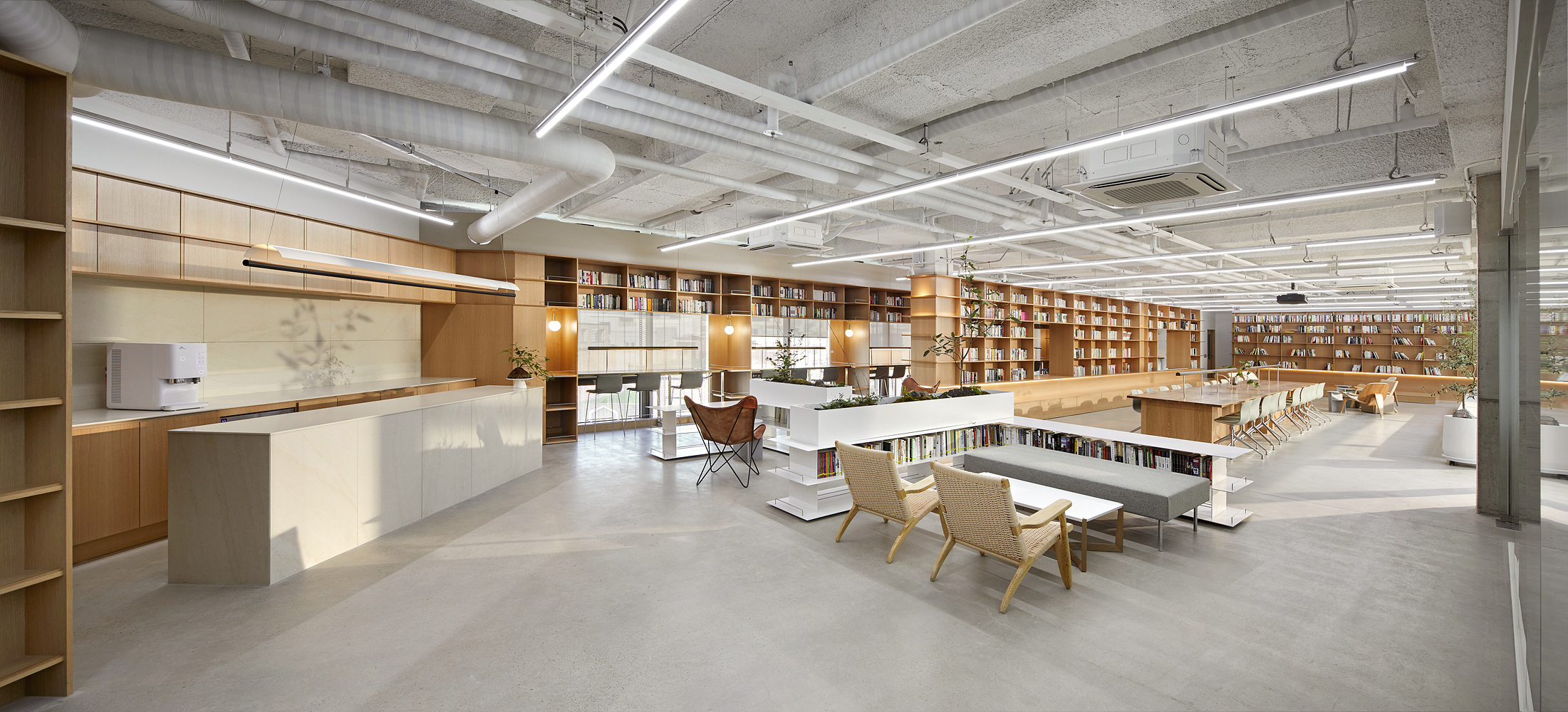 "Vital Inspiration Space"
SK네트웍스 직원들의 소통과 복지 공간인 채움라운지는 1만 5천권의 책이 메인이 된 곳입니다. 공간을 가로지르는 267m의 제작 책장은 채움 라운지가 직원들의 인사이트 공간으로 작용될 곳임을 보여주고 있습니다. 'Vital Streaming Platform' 컨셉으로 전반적인 공간은 직원들에게 활력을 채워줄 수 있는 곳이 되도록 가능한 피로감을 덜 수 있게 디자인 요소를 최소화했으며 채광이 잘 드는 기존 공간의 이점을 최대한 살려 쉼의 공간에 알맞게 편안하고 안정감 있는 분위기를 조성하였습니다.
sk매직의 브랜드샵과 같은 건물에 위치하고있는 sk네트웍스의 복합문화 공간인 만큼 두 공간의 톤앤매너가 자연스럽게 연결되면서도 공간의 대상과 목적이 다름에 따라 차별화를 느낄 수 있는 공간으로 계획했습니다. 브랜드샵이 소비자와의 접점을 이루는 공간이라면, 직원들을 위한 채움라운지 복합문화공간은 좀 더 깊이 있는 연대의 공간이 될 수있도록 의도했습니다.
메인 공간의 벽면은 공간을 길게 가로지르는 267m의 제작 책장으로 채워져있습니다. 1만 5천권의 책이 주인공인 공간인 동시에, 직원들의 인사이트 및 복지가 목적인 곳인 만큼 우드를 적극적으로 사용하여 안정적이고 편안한 무드를 조성했습니다. 또한 직원들에게 활력을 제공할 수 있는 곳이 되도록 가능한 피로감을 덜 수있게 디자인 요소를 최소화했습니다.
통창을 통해 전체에 쏟아지는 볕이 매력적인 공간인 채움라운지. 라운지라는 이름에 알맞게 안락한 이지체어와 곳곳에 자연스럽게 녹아든 조경으로 직원들에게 충분한 휴식을 제안하고있습니다. 프라이빗한 공간부터 직원간 커뮤니케이션을 위한 연대의 공간까지. 휴식과 영감을 모두 얻을 수 있는 공간으로, 비움과 채움이 공존하는 채움 라운지였습니다.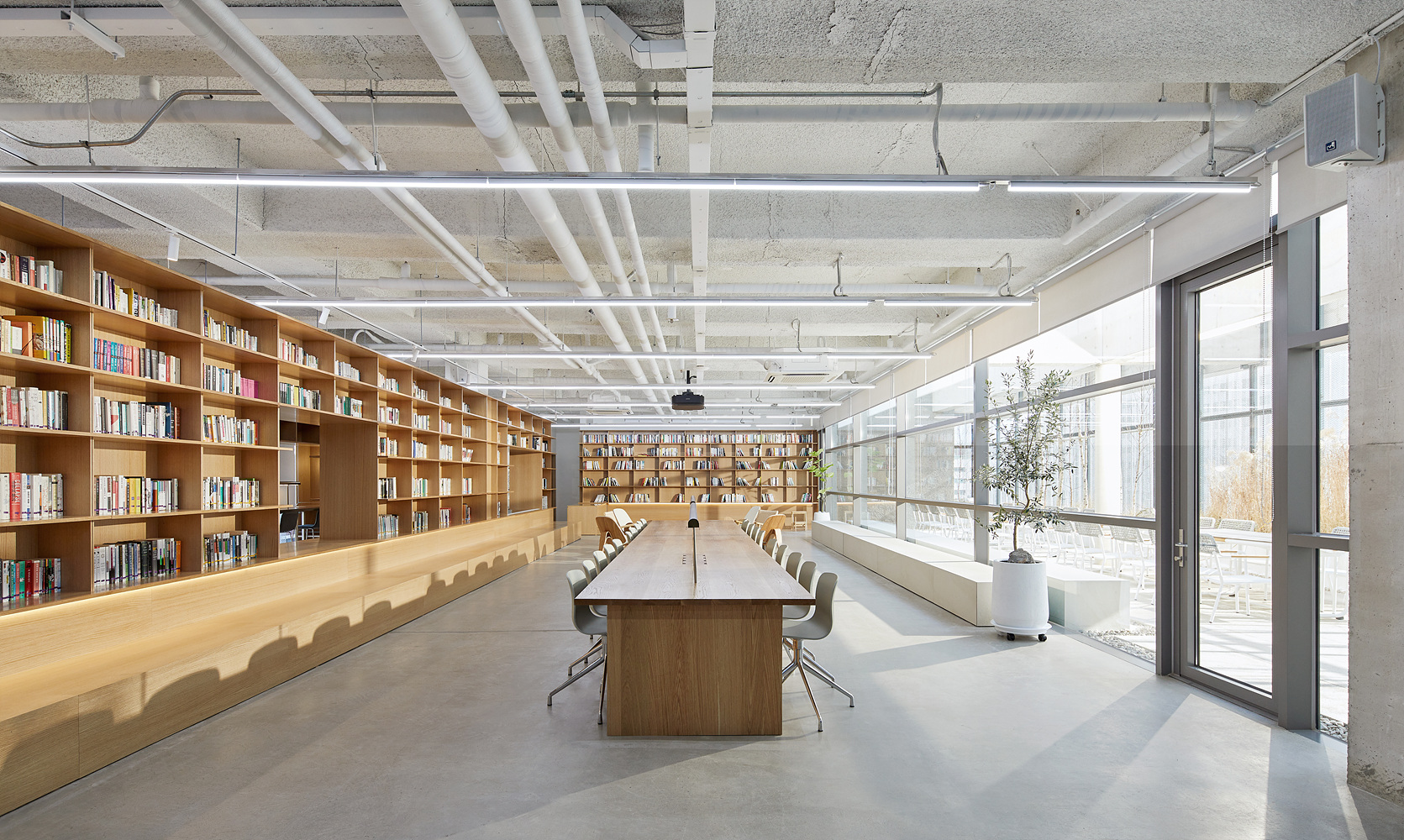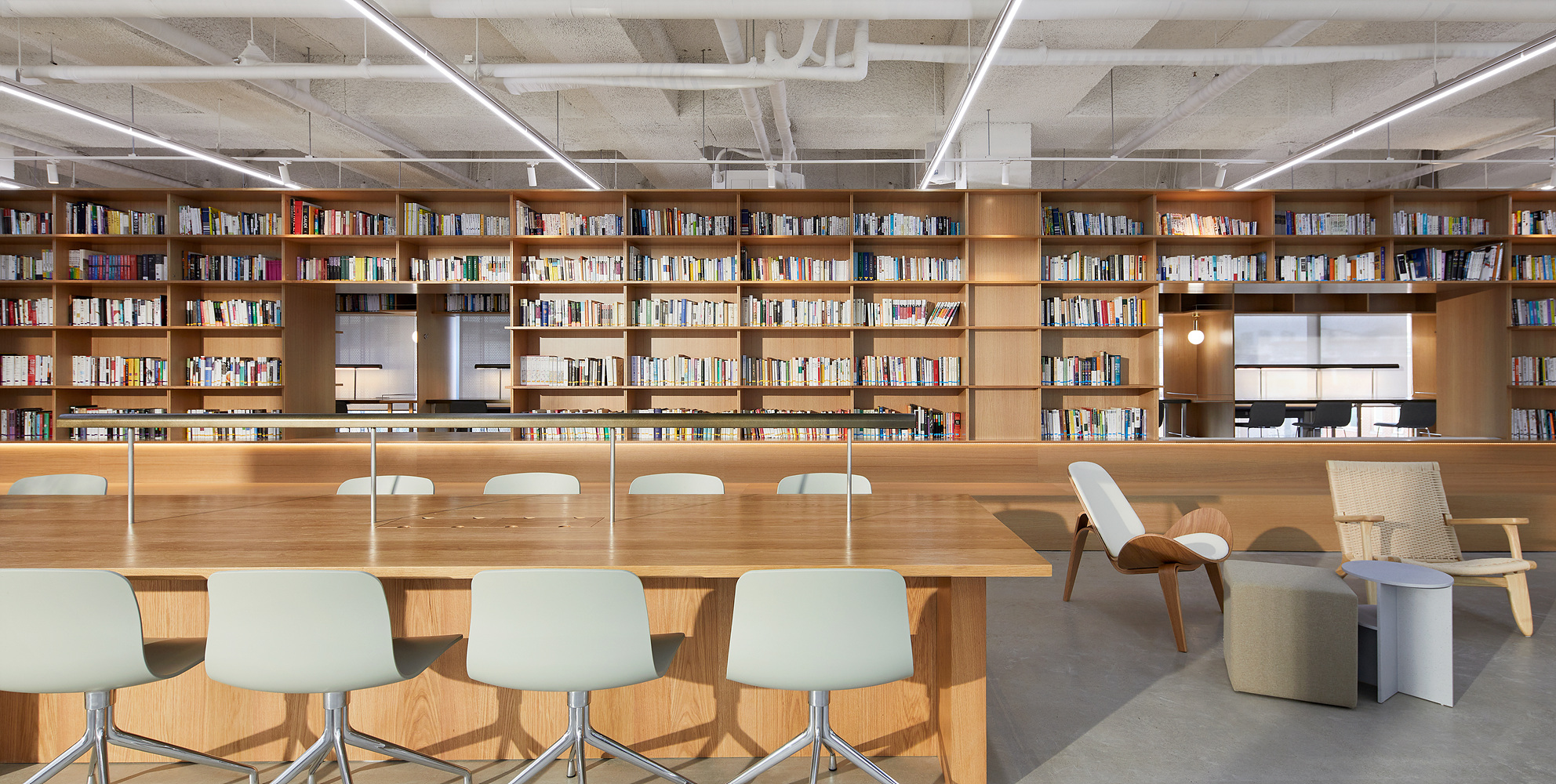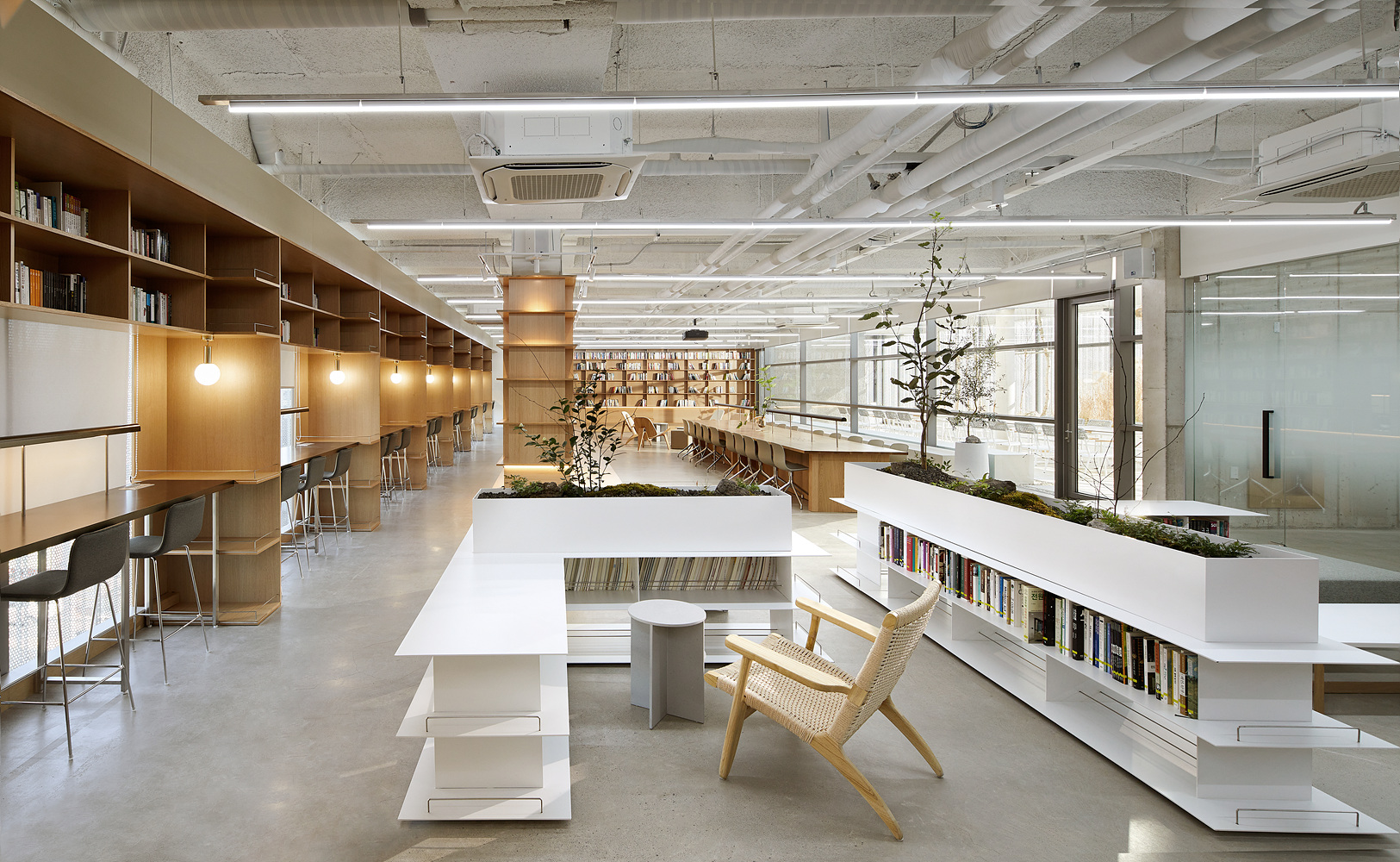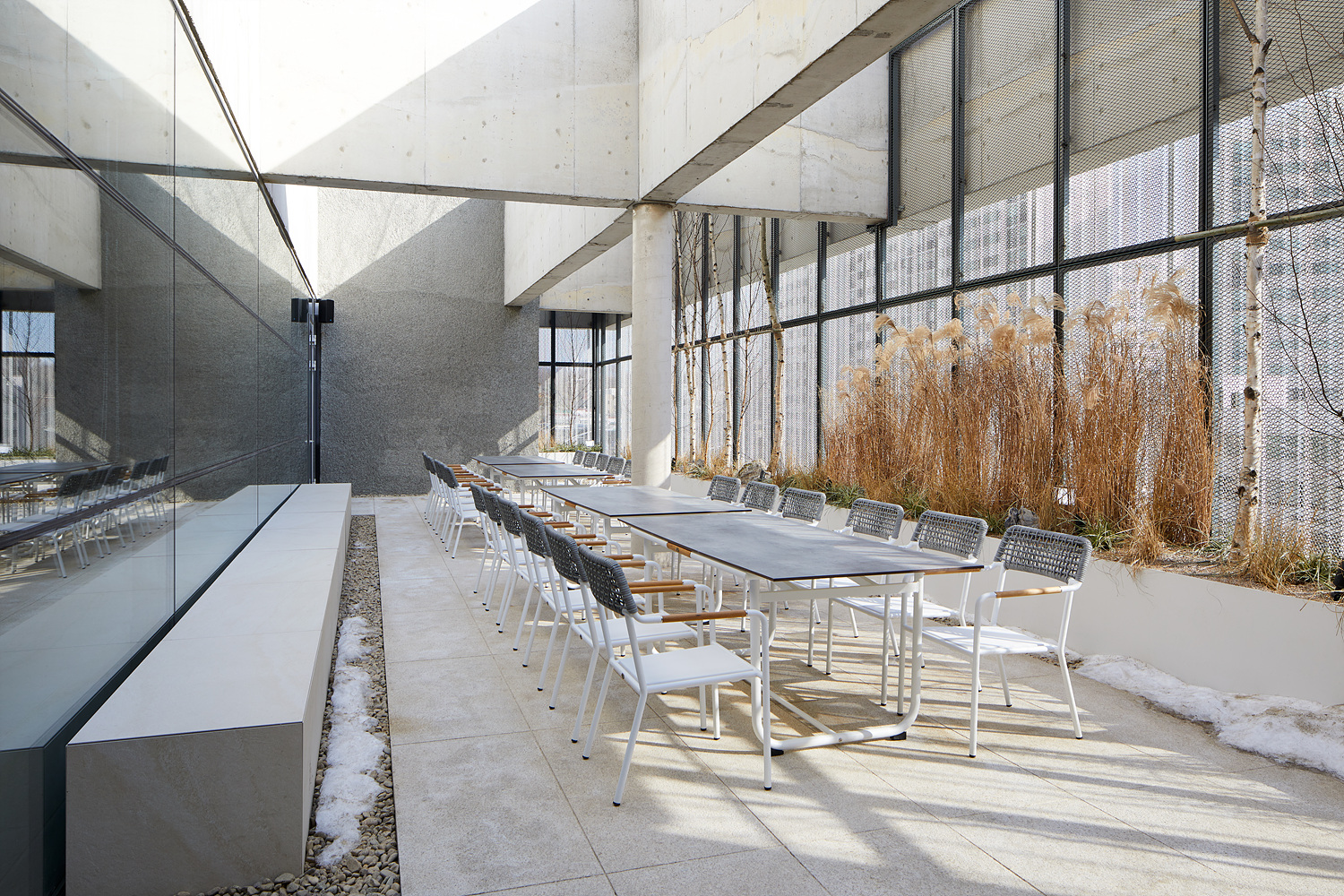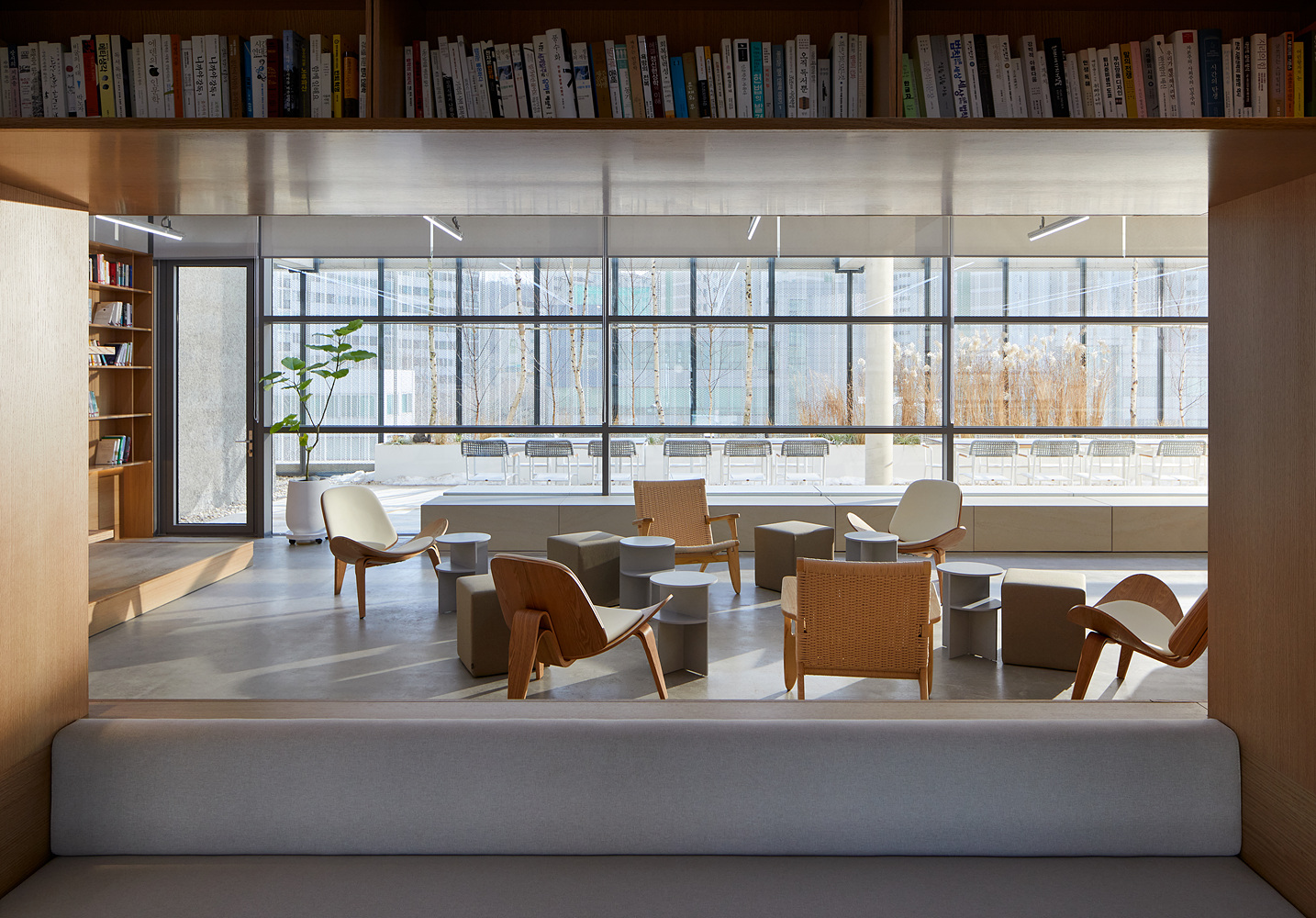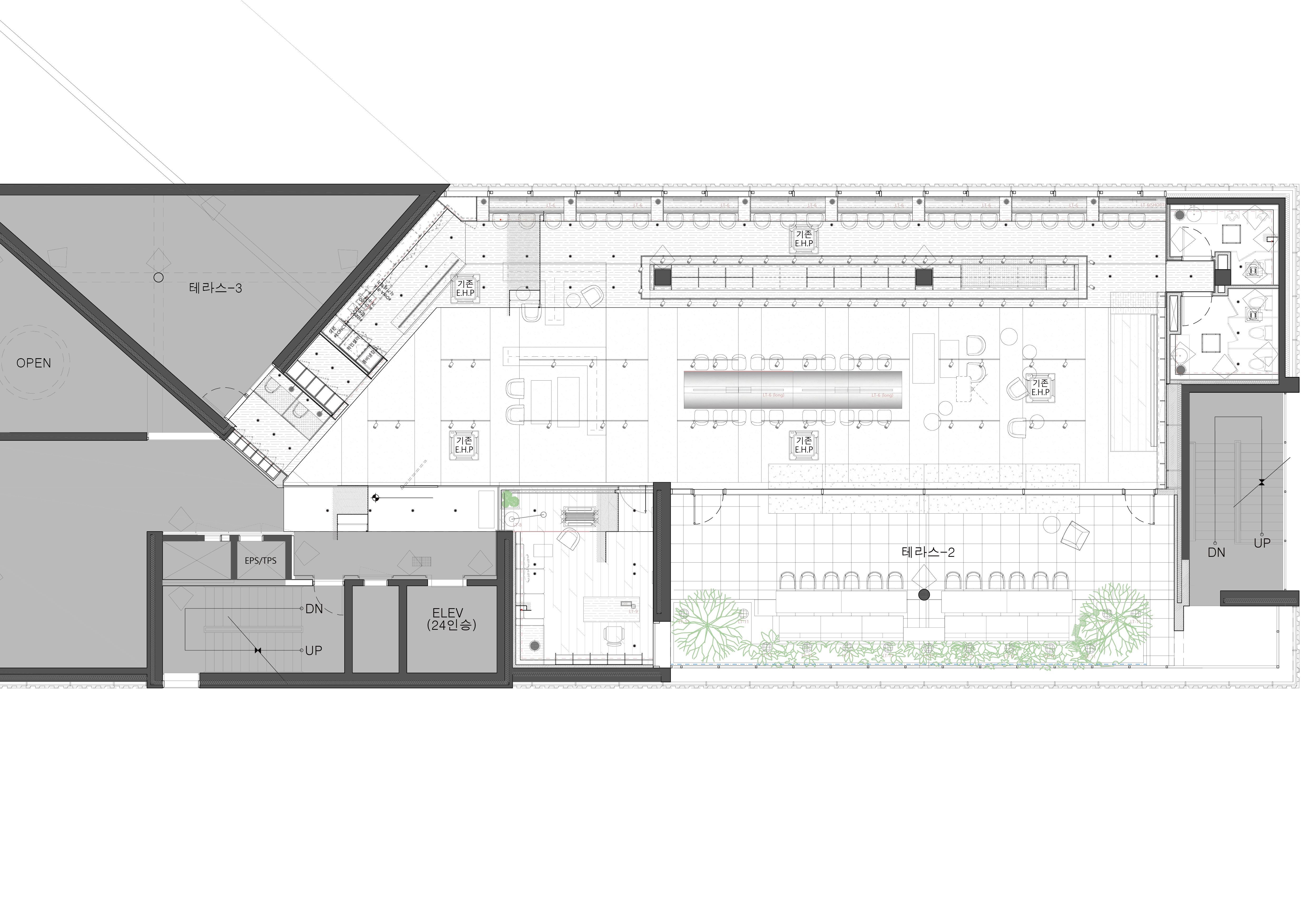 Studio Danaham
Location Gildong, Gangdong-gu, Seoul
Use Culture Plex
Gross floor area 406㎡
Design period 2020. 08 - 2020. 10
Construction period 2020. 11 - 2021. 12
Design Team Gu nari, Bae seoyoung
Construction Han jaekyoon, Kim Jooseong
Landscaping Lee eunee, Lee gyunghee
Photographer studiotom
---
마실와이드 | 등록번호 : 서울, 아03630 | 등록일자 : 2015년 03월 11일 | 마실와이드 | 발행ㆍ편집인 : 김명규 | 청소년보호책임자 : 최지희 | 발행소 : 서울시 마포구 월드컵로8길 45-8 1층 | 발행일자 : 매일