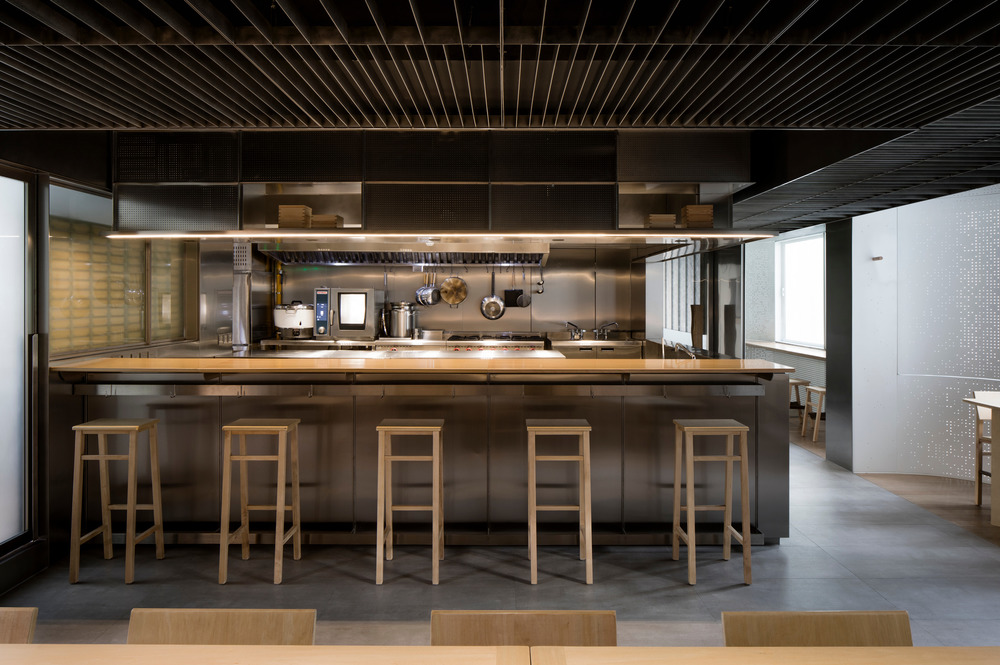 As our world has awakened to its environmental impacts of food delivery, conscientious urbanites seek more sustainable options. Shikaku is a concept born out of this demand. Imagine a chef's table dining experience at your doorstep; with the use of recyclable bento boxes, there is no guilt of using single-use containers or cutleries. The model combines a quest for quality and environmental stewardship into a convenient meal that's comparable to home-cooking.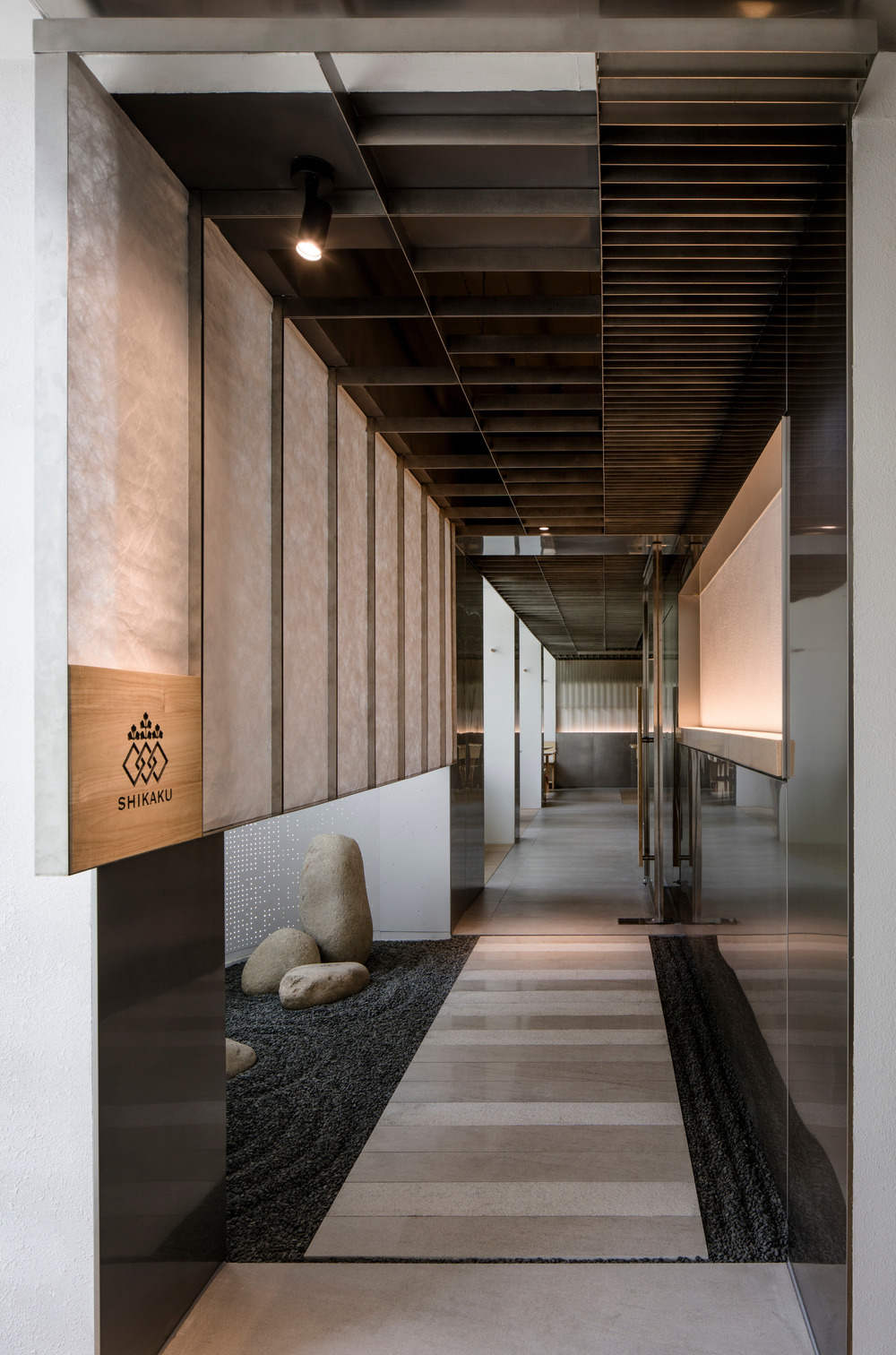 The first location of Shikaku is a central kitchen equipped with about 20 seats, allowing dine-in and events. The given site is on the 3rd floor of a mid-rise building along the tree-lined Huashan Road. A series of bay windows comprise the west facade with brise-soleil in front. The view of lush tree canopies, together with dramatic daylight gives the existing site its unique calming atmosphere. In response to the site characteristics and the brand's operational rigor in practicing a green dining model, Lukstudio explored how to express gentleness with precision in a compact space.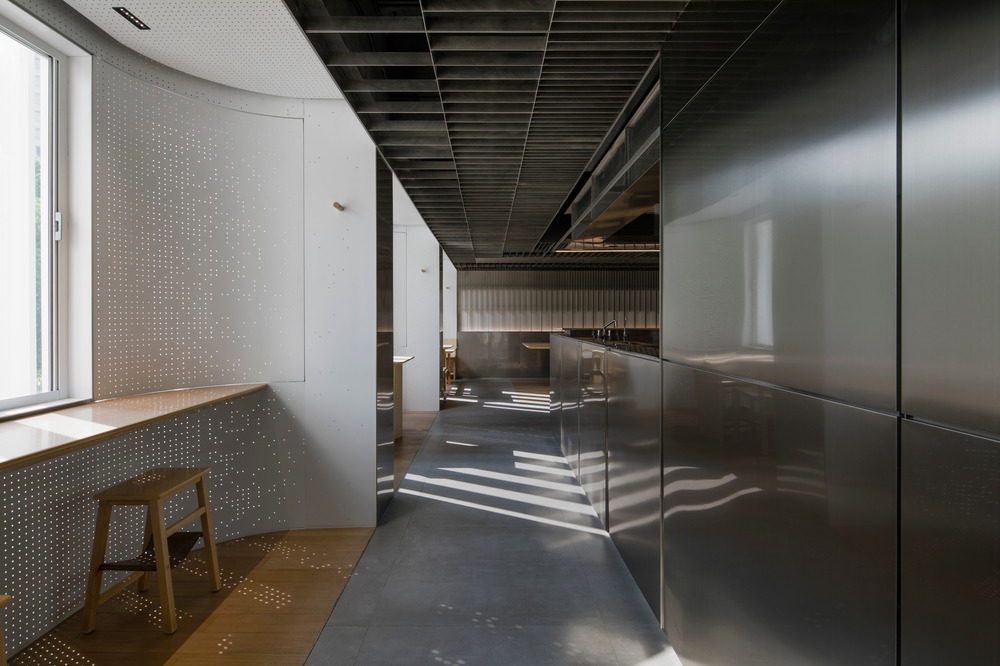 The foyer design is a nod to the tradition of Japanese hospitality. A small zen garden, a light-softening shoji screen, and a stone path of different textures welcome guests into a curated version of nature. Instead of the common use of a wooden frame, the screen is a continuation of the stainless steel ceiling grille, a feature throughout the site signifying the industrial purpose of the place and giving a sense of order.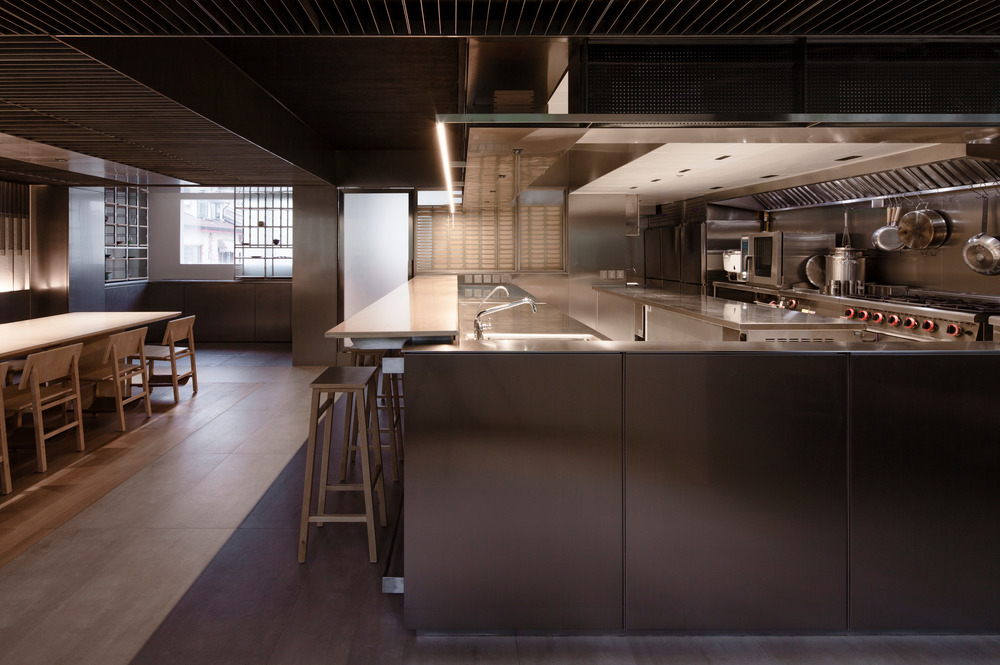 The original bay windows are transformed into seating niches. Inspired by how a bento box is divided into partitions of various delicacies, each white niche is equipped with a set of wooden furniture, accommodating either individuals, a pair, or a group of diners. A curved wall of perforated panels - partially opens in front of the existing windows – hides the frames and captures one singular focal view. Through the brise-soleil and the gradient perforation, natural light comes in different forms, casting strips or sparkles as the day passes.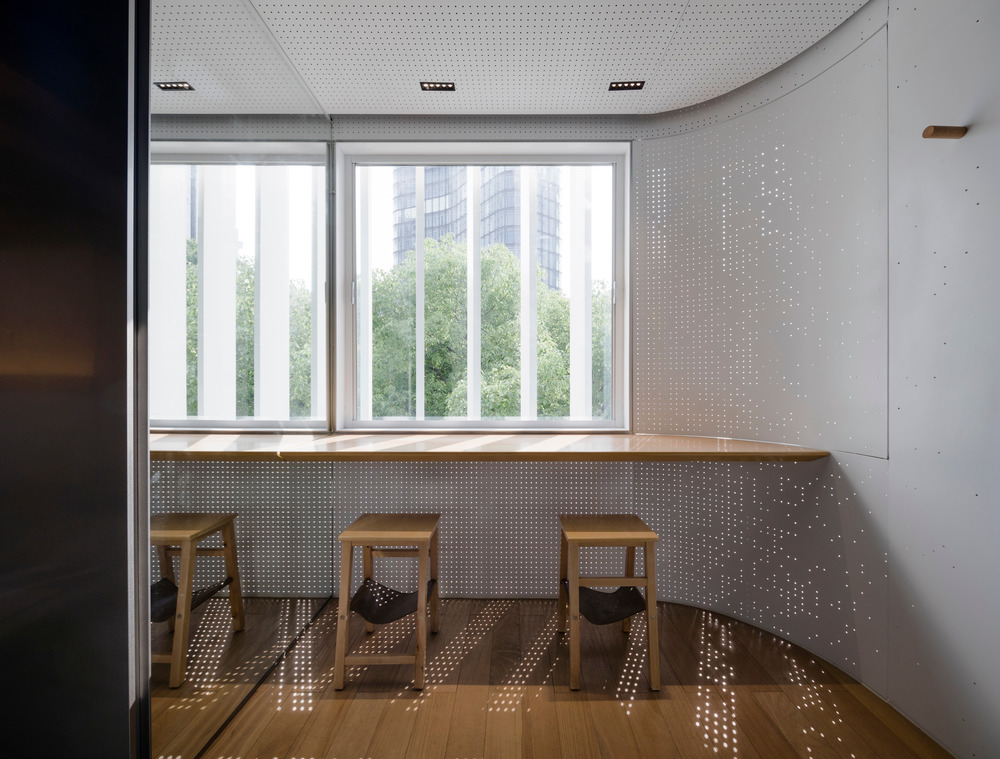 A reflective panel centered above the main dining table mirrors subtle hues of the outside green or the colourful food below, adding an ephemeral spectacle. In the display corner, selected accessories are backlit by soft daylight through translucent glass backing. The shelving in front of the window can slide on a track and hide the existing window from view. Each unit is a galvanized steel frame where wooden boards are held by rack support, fitting in like kitchen equipment.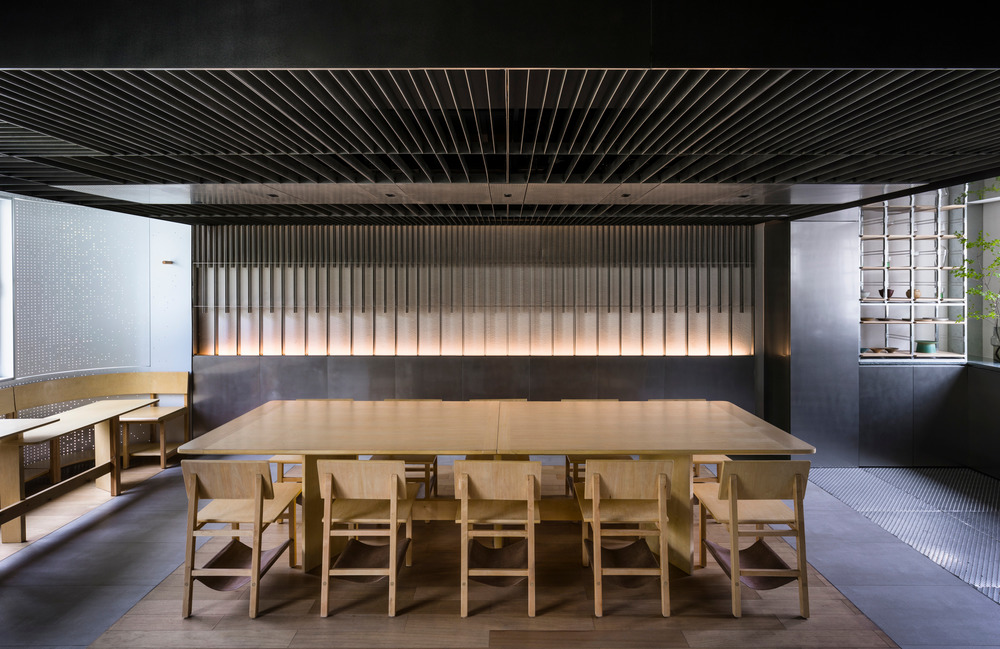 To offset the cold and inhibiting quality of stainless steel, forms are articulated in different sheens to give a delicate impression. Wooden accents such as recycled flooring, furniture, and door handle are all crucial in achieving a sensual balance. For a quiet ambiance, acoustic absorbent materials are installed behind the perforated panels to reduce noise and reverberation in a working kitchen.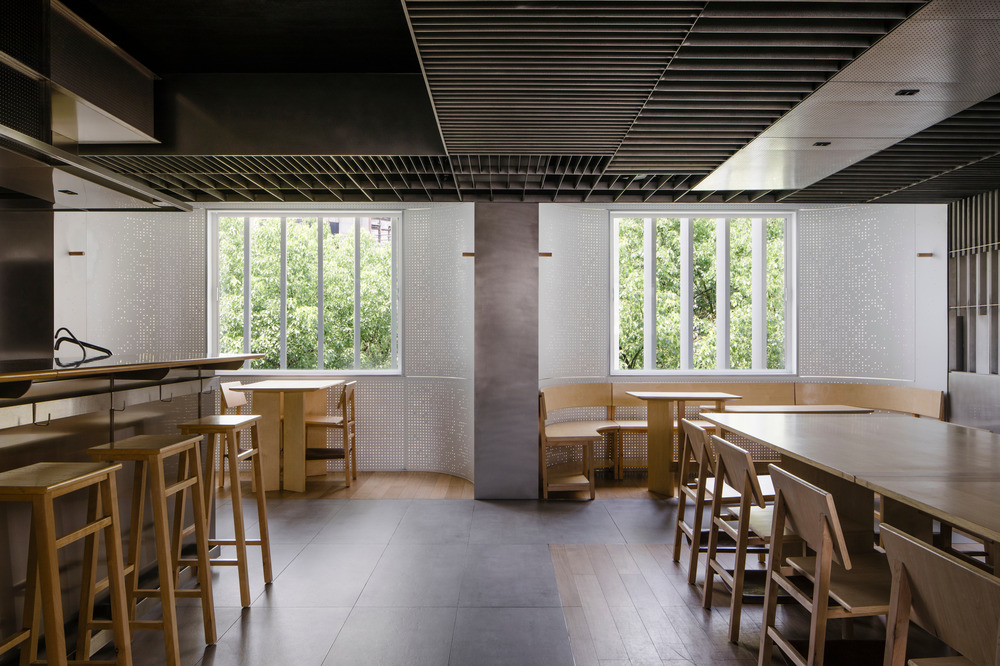 세계가 식품 배달이 환경에 끼치는 영향에 대해 생각하기 시작함에 따라 양심적인 도시인들은 보다 지속 가능한 선택지를 모색하고 있다. Shikaku는 이러한 수요에서 탄생한 개념이다. 문 앞으로 배달되는 셰프의 식사 경험을 제공한다. 재활용 가능한 도시락통 사용으로 일회용 용기나 수저 사용에 대한 죄책감이 없어진다. 품질과 환경 보호에 대한 탐구를 홈 쿠킹에 버금가는 편리한 식사로 결합한 모델이다.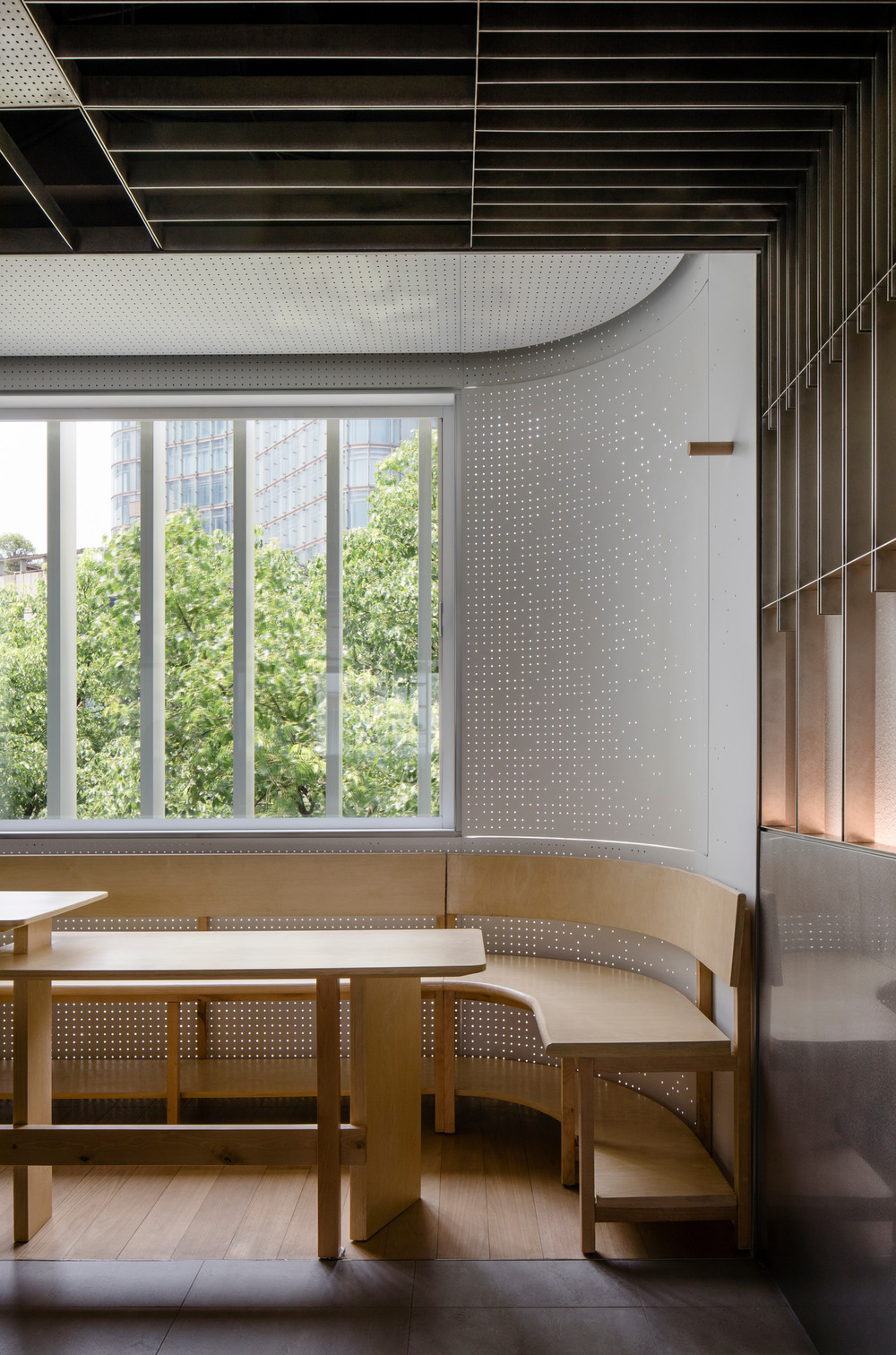 Shikaku의 첫 번째 매장에는 약 20개의 좌석을 갖춘 중앙 주방이 있고, 만찬과 행사가 가능하다. 주어진 부지는 나무가 늘어선 Huashan로를 따라 있는 중층 건물 3층에 있다. 돌출된 창문은 전면에 차양(brise-soleil)이 있는 서쪽 파사드를 구성한다. 드라마틱한 일광과 함께 무성한 나무 캐노피의 풍경이 기존 부지 특유의 잔잔한 분위기를 제공한다. Lukstudio는 부지의 특성과 그린 다이닝 모델을 실천하는 브랜드 운영상의 엄격함에 대응하여 좁은 공간에서 온화함을 정밀하게 표현하는 방법을 탐구했다.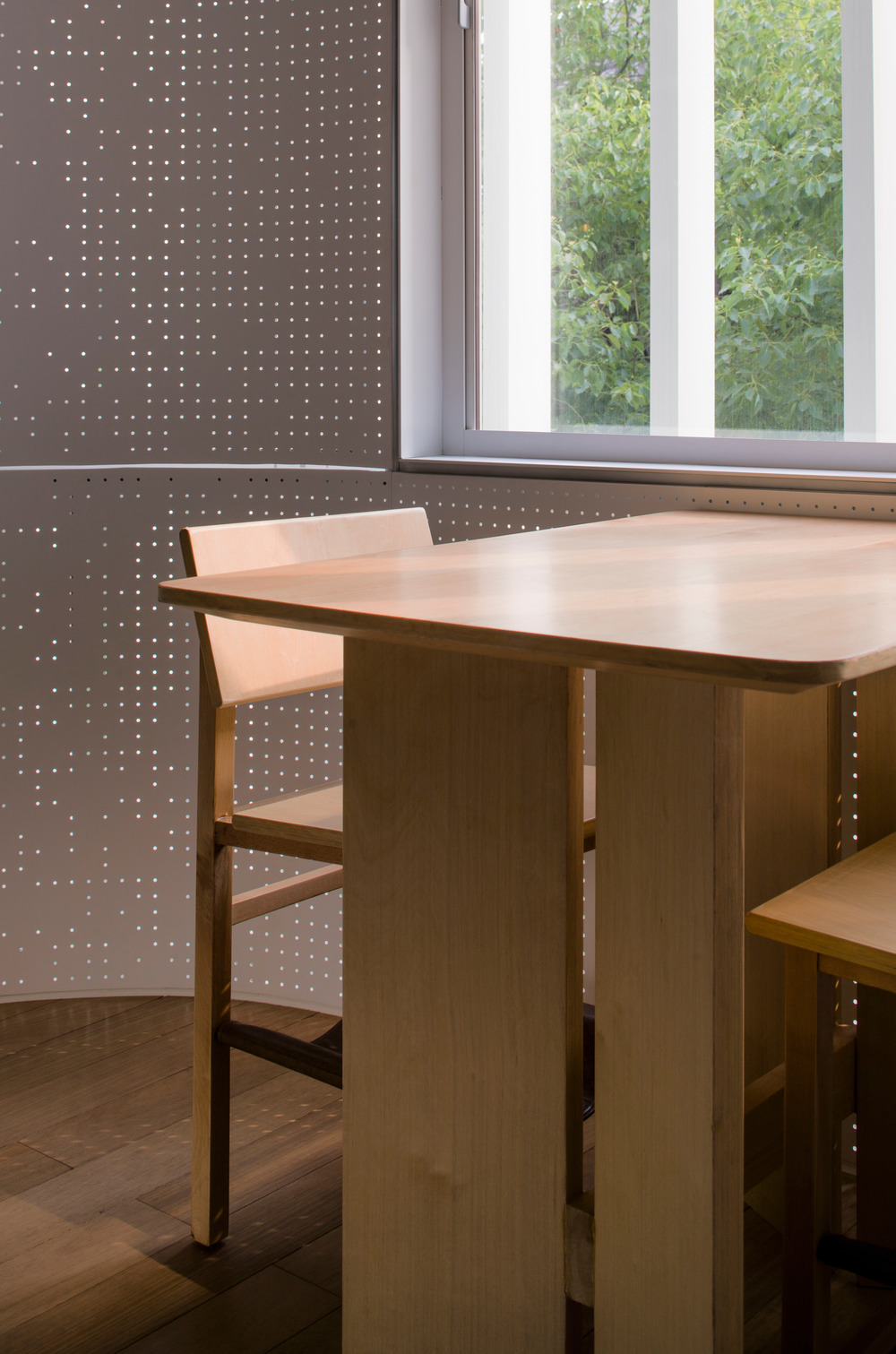 로비 디자인은 일본의 전통 환대 디자인이 특징이다. 작은 선 정원, 빛을 부드럽게 해주는 미닫이 병풍, 다양한 질감의 돌길은 자연 속으로 손님을 맞이한다. 병풍은 일반적으로 사용하는 나무틀 대신 스테인리스를 사용하여 장소의 산업적 목적을 나타내며 질서 정연한 느낌을 주는 것이 특징이다.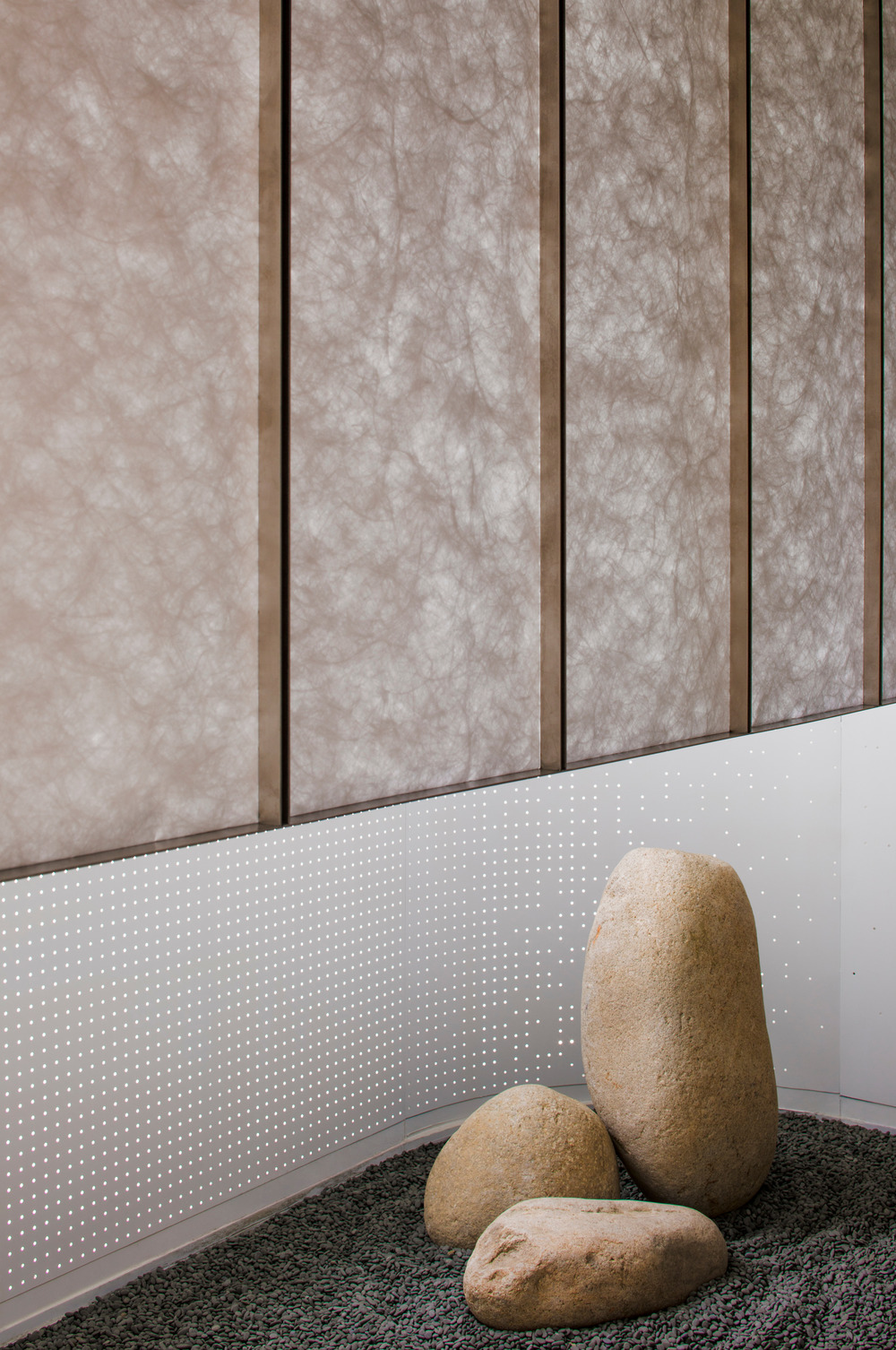 원래의 퇴창은 좌석 틈새로 변형된다. 도시락통이 다양한 칸막이로 나뉘어 있는 것에서 영감을 받은 각 흰색 틈새에는 개인, 한 쌍 또는 단체 식사를 수용할 수 있는 목재 가구 세트가 있다. 기존 창 앞에서 부분적으로 열리는 천공 패널의 곡면 벽은 프레임을 숨기고 하나의 단일 초점 뷰를 캡처합니다. 차양과 그라데이션 천공을 통해 자연광은 낮이 지남에 따라 다양한 형태로 반짝임을 연출한다.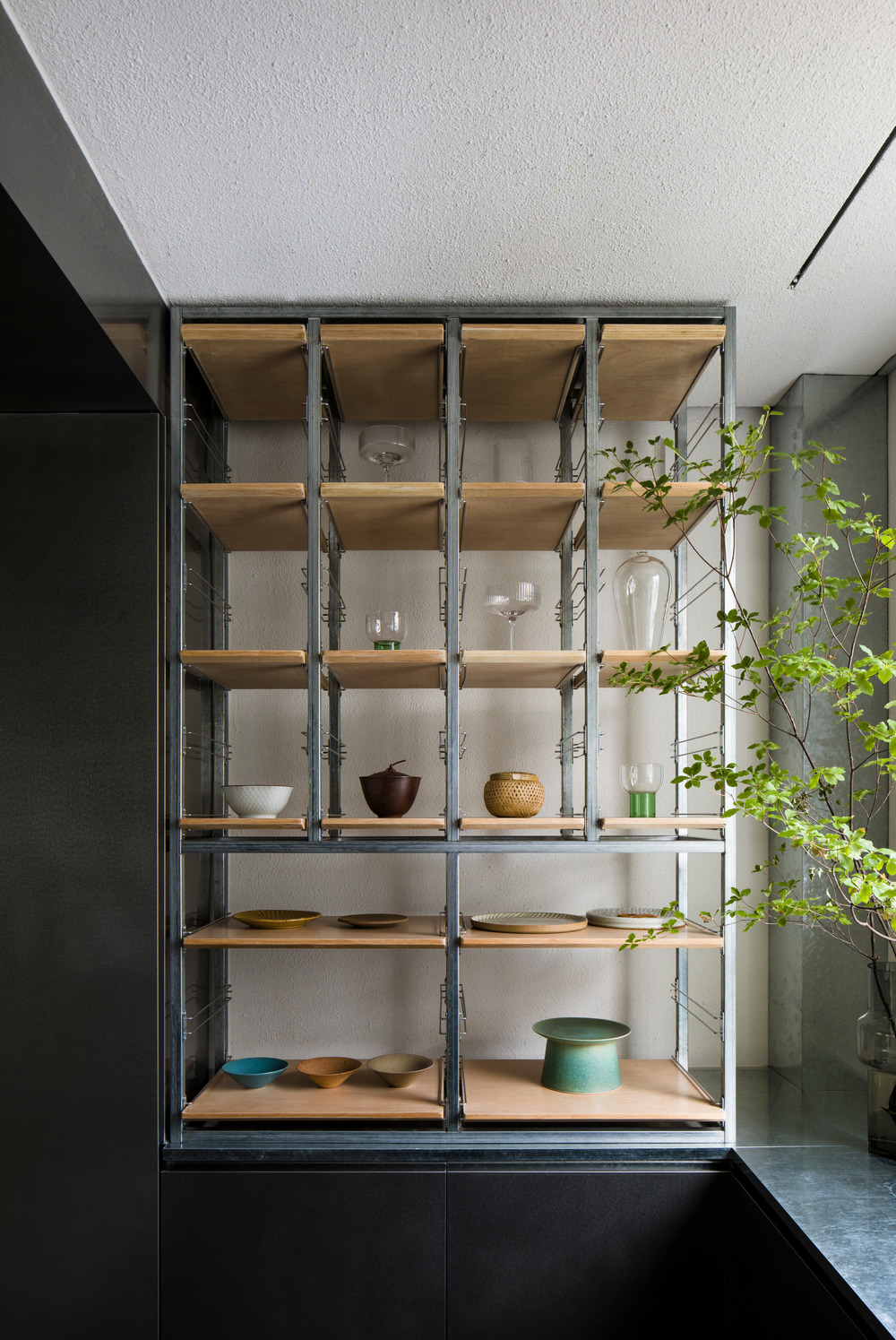 메인 식탁 위에 중앙에 있는 반사 패널은 외부의 녹지 또는 아래의 다채로운 음식의 은은한 색조를 반영하여 덧없는 장관을 더한다. 디스플레이 모서리에 선택한 액세서리는 반투명 유리 뒷면을 통해 부드러운 일광의 조명을 받는다. 창 앞의 선반은 밀어서 기존 창을 보이지 않게 숨길 수 있다. 각 유닛은 아연도금 강철 프레임으로 되어 있으며, 목재 판자는 랙 지지대에 의해 고정되어있다.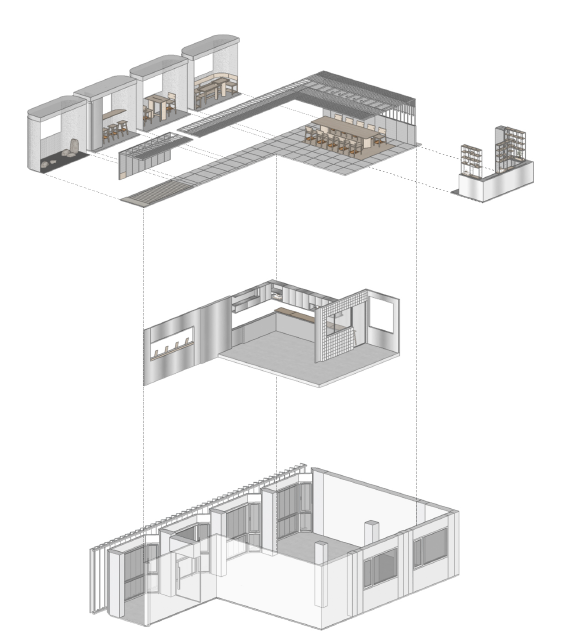 스테인리스 스틸의 차갑고 억제하는 성질을 보완하기 위해 다양한 광택으로 형태를 연결하여 섬세한 인상을 준다. 재활용 바닥재, 가구 및 문 손잡이와 같은 목재로 강조된 부분은 균형을 이루는 데 필수적이다. 조용한 분위기를 위해 천공 패널 뒤에 설치된 흡음재는 작업 중인 주방의 소음과 잔향을 줄여준다.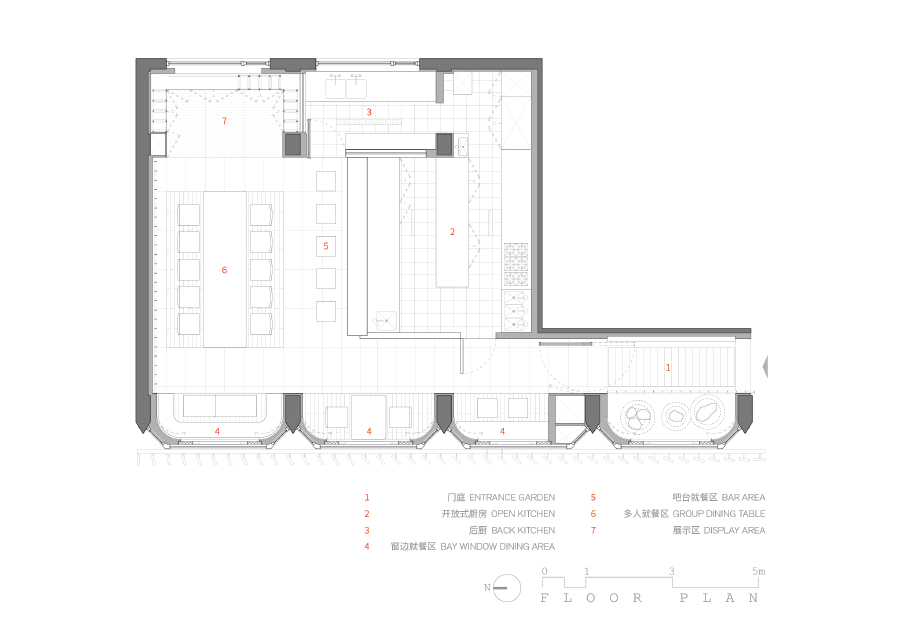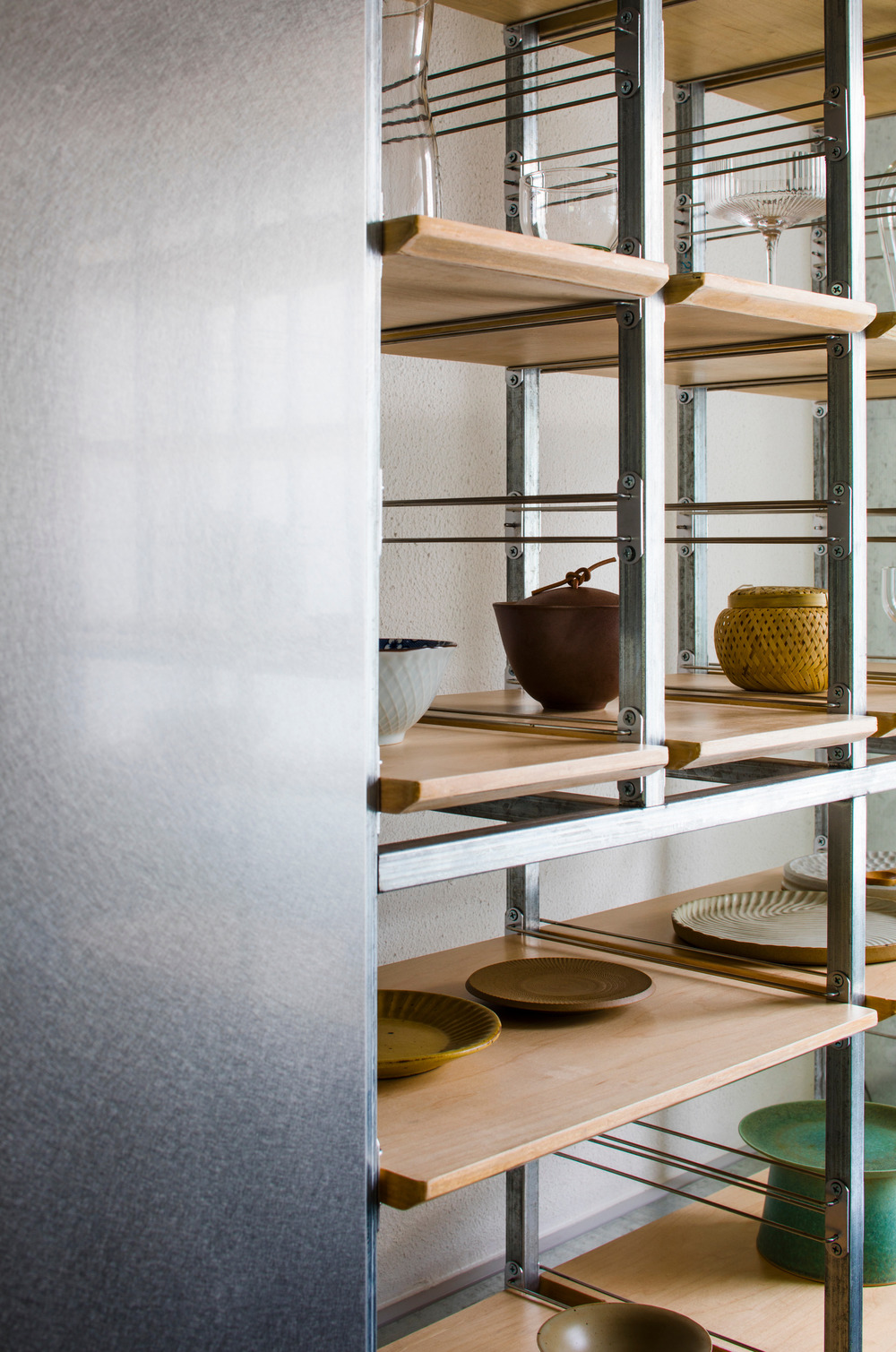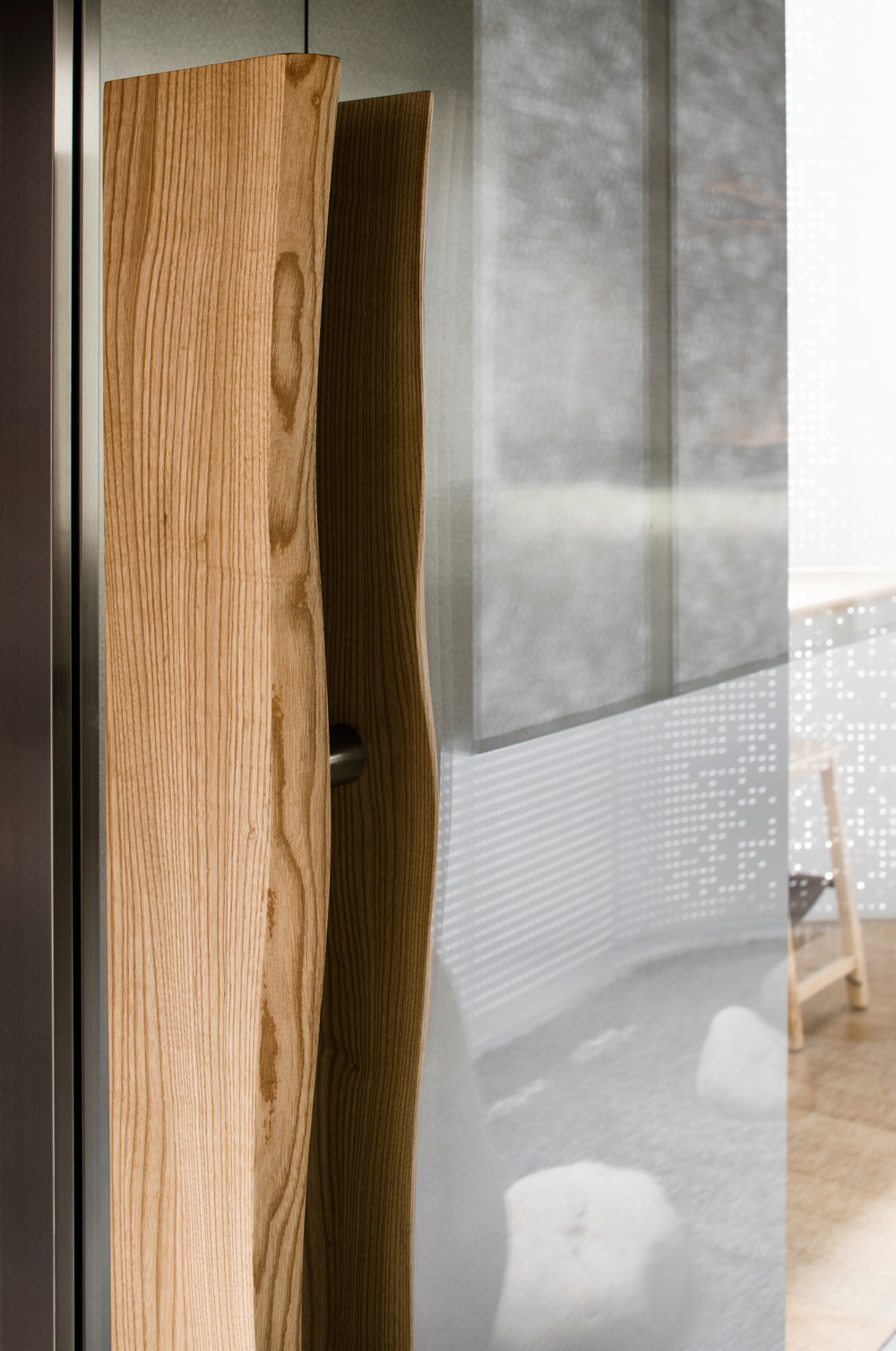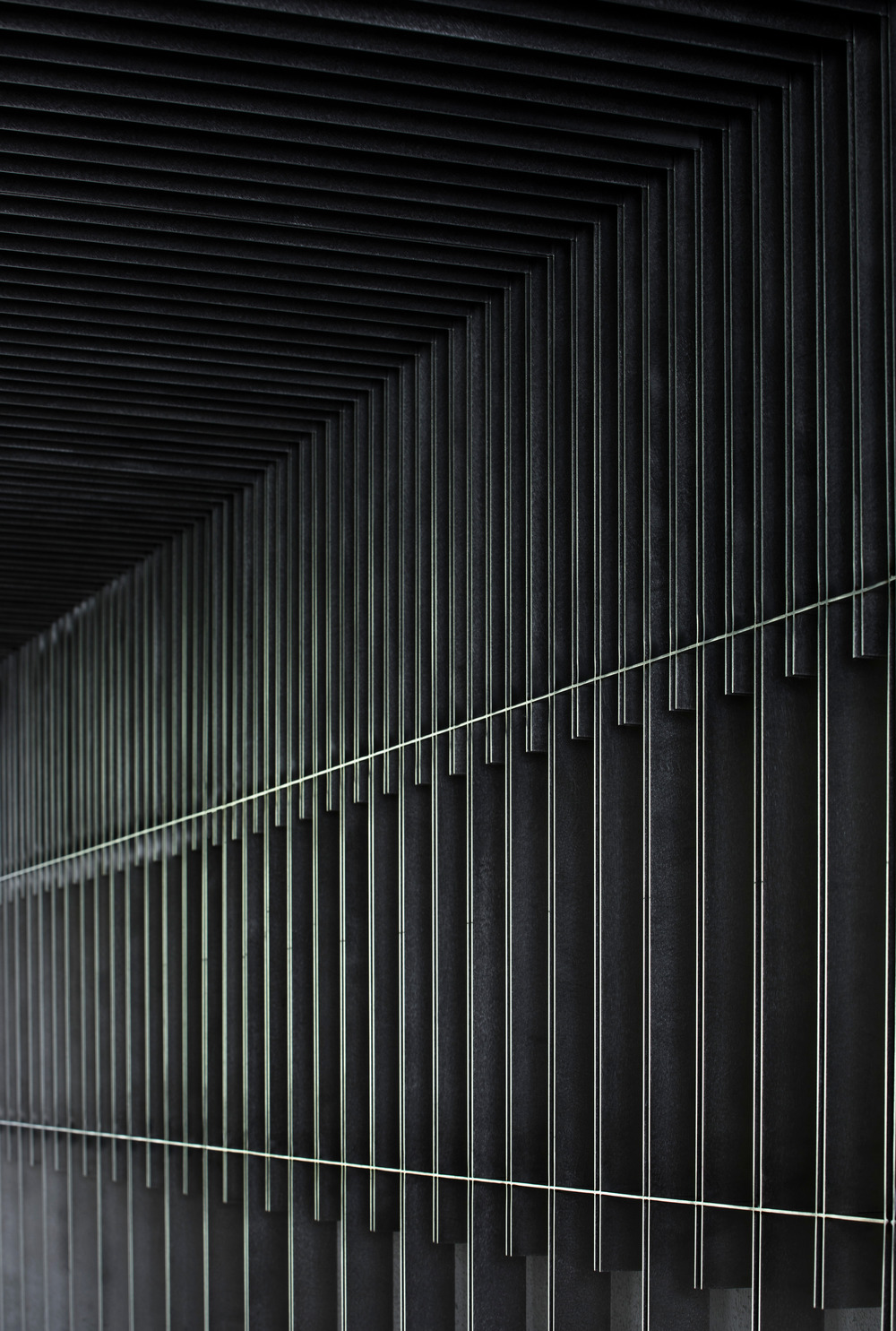 Design Lukstudio
Location Shanghai, China
Building area 92㎡
Design period 2019. 10 - 2020. 3
Construction period 2020. 3 - 2020. 6
Director Christina Luk
Design team Yicheng Zhang, Ng Mun Yee, Wendy Zhang
Acoustic consultant Wide Audio
Material Stainless steel, tiles, wood, stone, acoustic panel, texture paint, Tyvek paper.
Client Shikaku
Photographer Peter Dixie for LOTAN Architectural Photography
---
마실와이드 | 등록번호 : 서울, 아03630 | 등록일자 : 2015년 03월 11일 | 마실와이드 | 발행ㆍ편집인 : 김명규 | 청소년보호책임자 : 최지희 | 발행소 : 서울시 마포구 월드컵로8길 45-8 1층 | 발행일자 : 매일