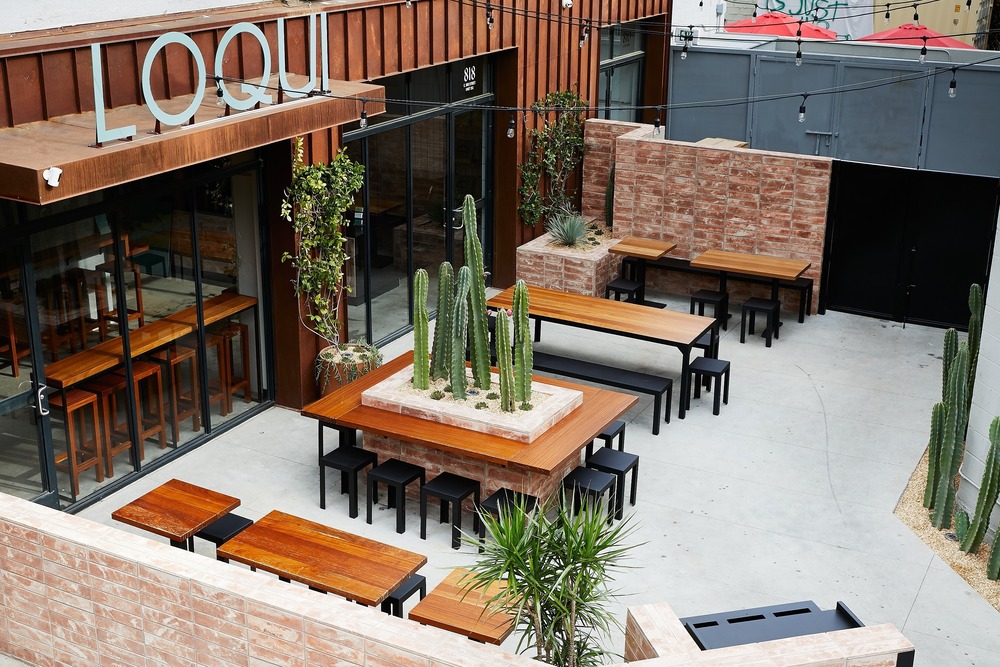 A blank canvas
Situated in a gentrified industrial area of the city, the new Loqui space occupies a portion of the ground floor of an old four-storey concrete building that has been converted for office space, restaurants, and bars. With Loqui as the first tenant, the building provided Wick and Lindley with a blank canvas to work with. The designers inherited concrete floors and ceilings, as well as exposed pipes housing vertical plumbing and mechanical systems for the entire building. They went to great lengths to clean up any unsightly aesthetics by removing some redundant components and strategically erecting walls to conceal others, while maintaining some of the original elements, including the concrete floor, that appears organized and purposeful. With an outer shell carefully carved out, the design team embarked on a plan to replicate some of the materials and visual elements of a typical handcrafted Mexican structure. The focus was on building something rustic that wasn't 'overthought or overwrought', resulting in material selections that could be found on a construction site, including terracotta brick, stained oak, olive stucco, and patinated steel.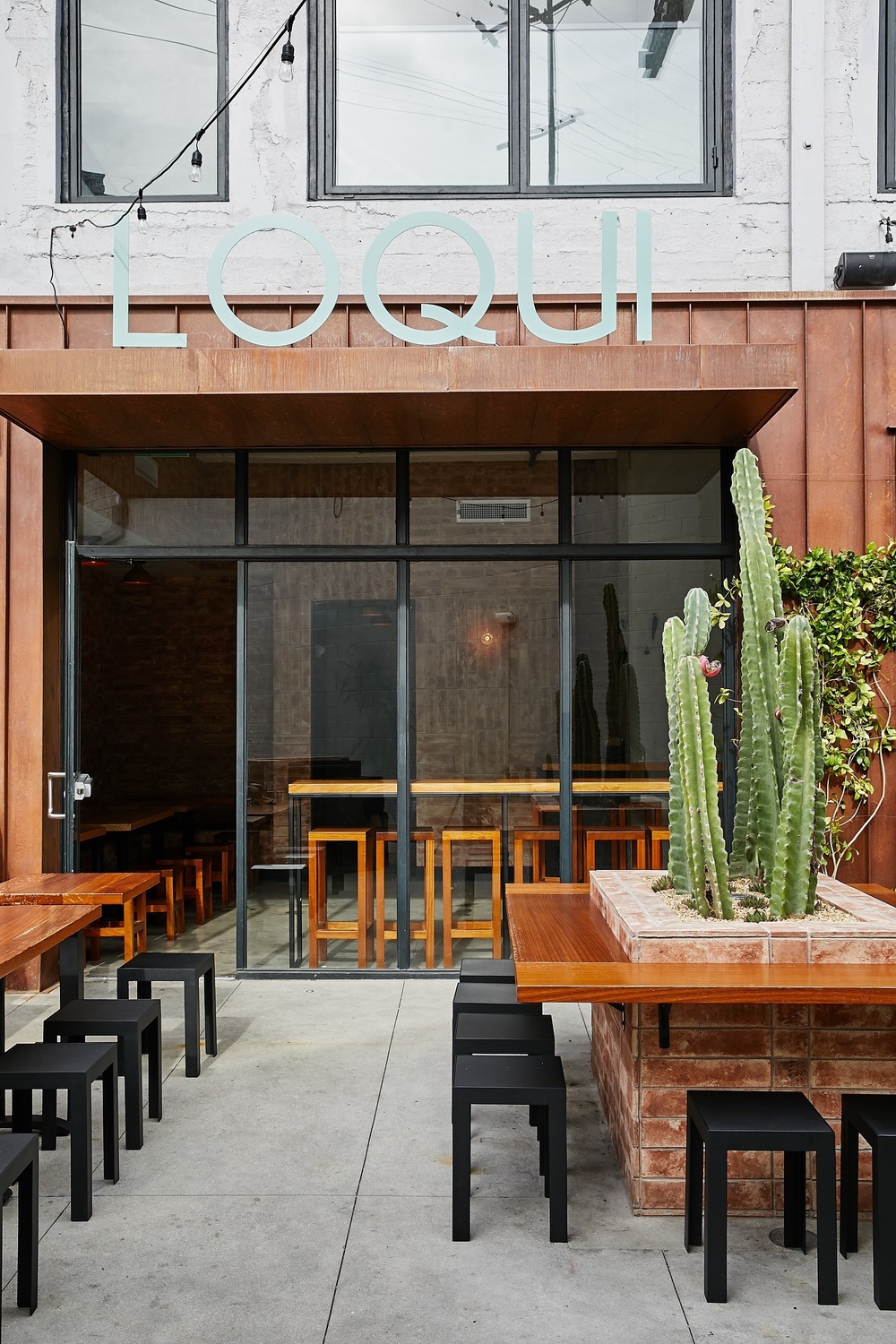 Connecting the dots
In approaching the design and connectivity of a kitchen, a service line, a small dining room, and a patio in a recessed rear courtyard, Wick and Lindley established continuity by utilizing terracotta bricks throughout the space. Simple vertical and horizontal Cartesian patterns, with periodic embossed bricks, seamlessly wrap the walls, seating, and outdoor area in a defining and unified ambiance.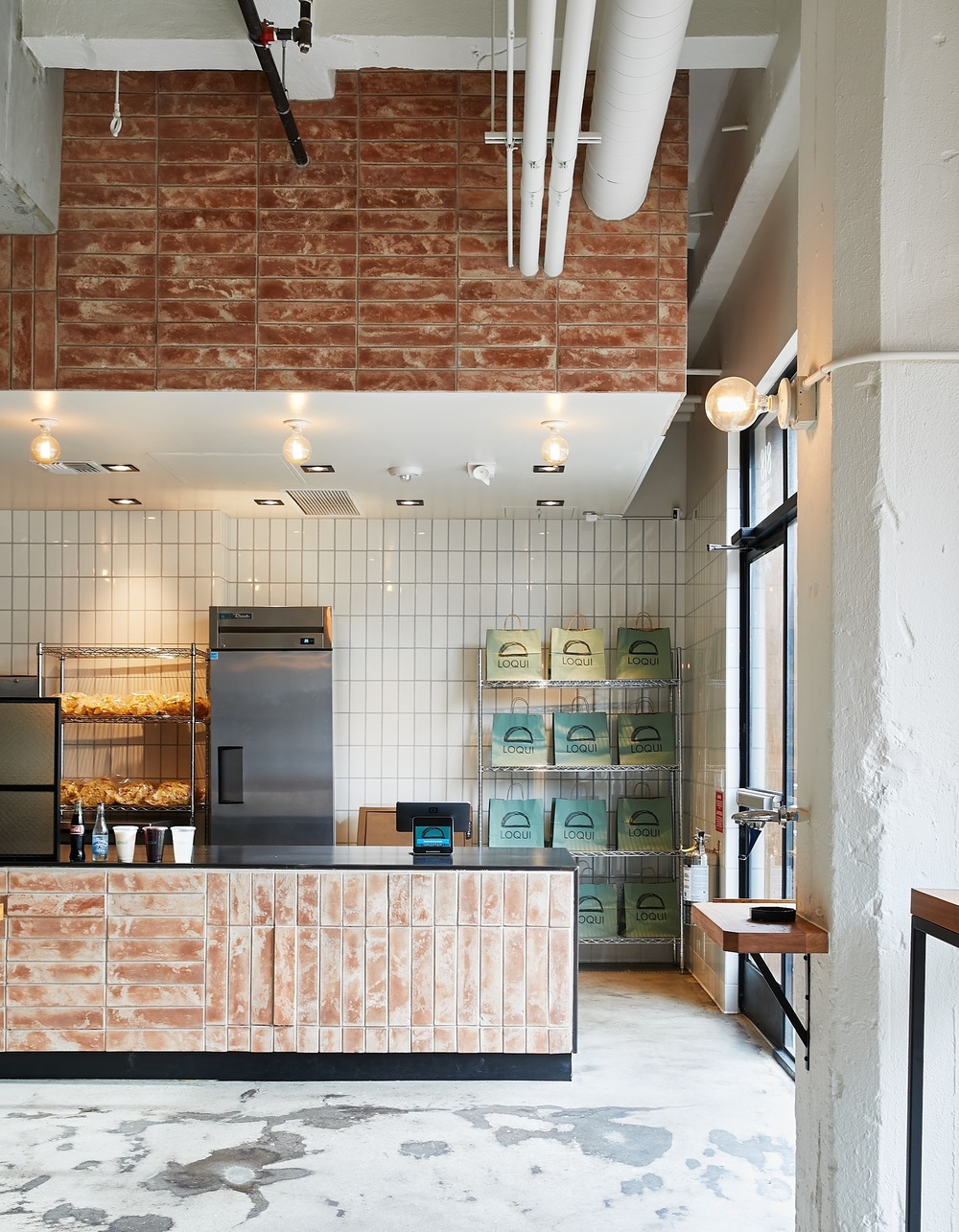 A softer approach
Beyond the use of terracotta, the material palette for giving the Loqui design a handcrafted look includes a restroom corridor finished in olive green stucco, as well as a kitchen backdrop featuring tiles with subtle blue trim. To bring it all to life, the design team chose FOLK Abigail small soft cone semi-flush lighting from Rejuvenation to add warmth and character to the internal space.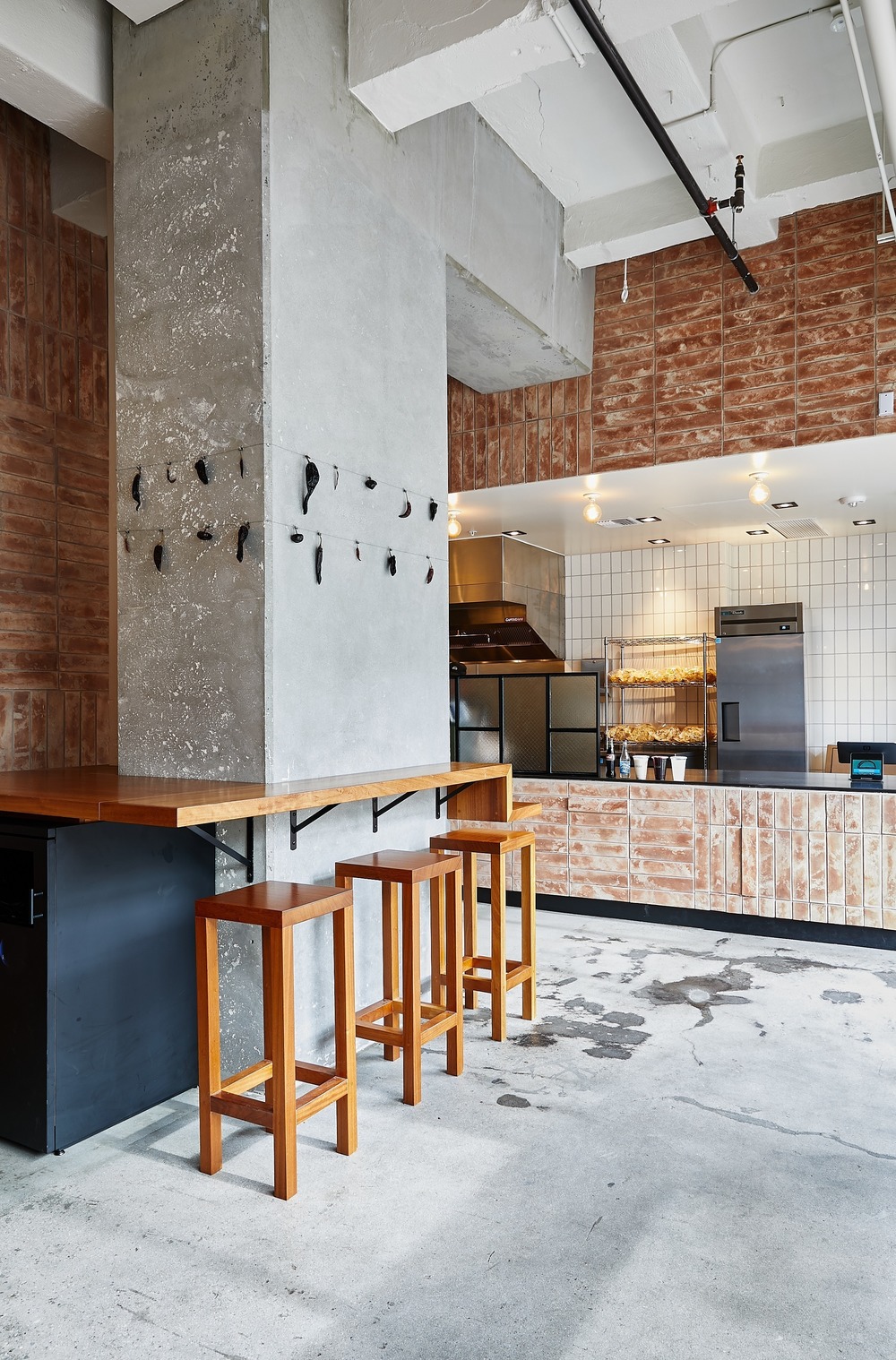 SoCal appeal
Although located at the rear of the building, the outdoor patio serves as the restaurant's main entrance. That presented Wick and Lindley with the challenge of turning a back alley courtyard into an appealing gateway for Loqui, while establishing the vibe of a year-round Southern California setting. Equal in proportion to the indoor dining area, Loqui's outdoor space is an extension of the interior, with a natural flow and continuity courtesy of erected terracotta brick walls that define the space. Stained oak panelling frames the building façade, while black painted patina metal, with natural texturing, forms edges around the terracotta barrier walls. Finally, Wick and Lindley brought in landscapers to provide the courtyard space with an abundance of neatly groomed cacti and other vegetation in order to complete the authentic Baja look and feel.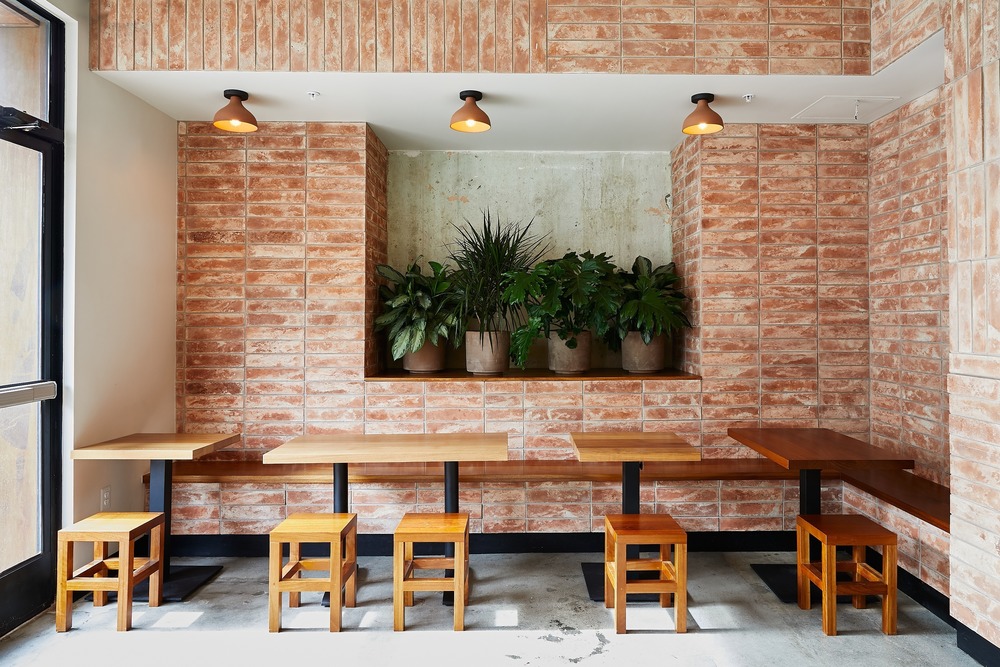 빈 캔버스
도시의 고급화된 산업 지역에 위치한 Loqui는 사무실 공간, 레스토랑 및 바를 위해 개조된 오래된 4층짜리 콘크리트 건물의 1층 일부를 차지하고 있다. Loqui가 첫 번째 세입자인 이 건물은 건축가에서 작업을 할 빈 캔버스를 제공했다. 설계자들은 콘크리트 바닥과 천장뿐만 아니라 건물 전체를 위한 수직 배관 및 기계 시스템을 수용하는 노출된 파이프를 물려받았다. 일부 불필요한 구성 요소를 제거하고 다른 구성 요소를 감추기 위해 전략적으로 벽을 세우고, 콘크리트 바닥을 포함한 일부 원래의 요소를 조직적이고 목적적으로 유지함으로써 보기 흉한 미관을 없애기 위해 많은 노력을 기울였다. 외피를 조심스럽게 조각한 디자인 팀은 전형적인 멕시코 수공예 구조물의 일부 재료와 시각적 요소를 복제하는 계획에 착수했다. 초점은 '과도하거나 지나치게 가공하지 않은' 소박한 건물을 짓는 것이었고, 그 결과 테라코타 벽돌, 스테인드 오크, 올리브 치장 벽토 및 녹청 처리된 강철을 포함하여 건설 현장에서 찾을 수 있는 재료가 선택됐다.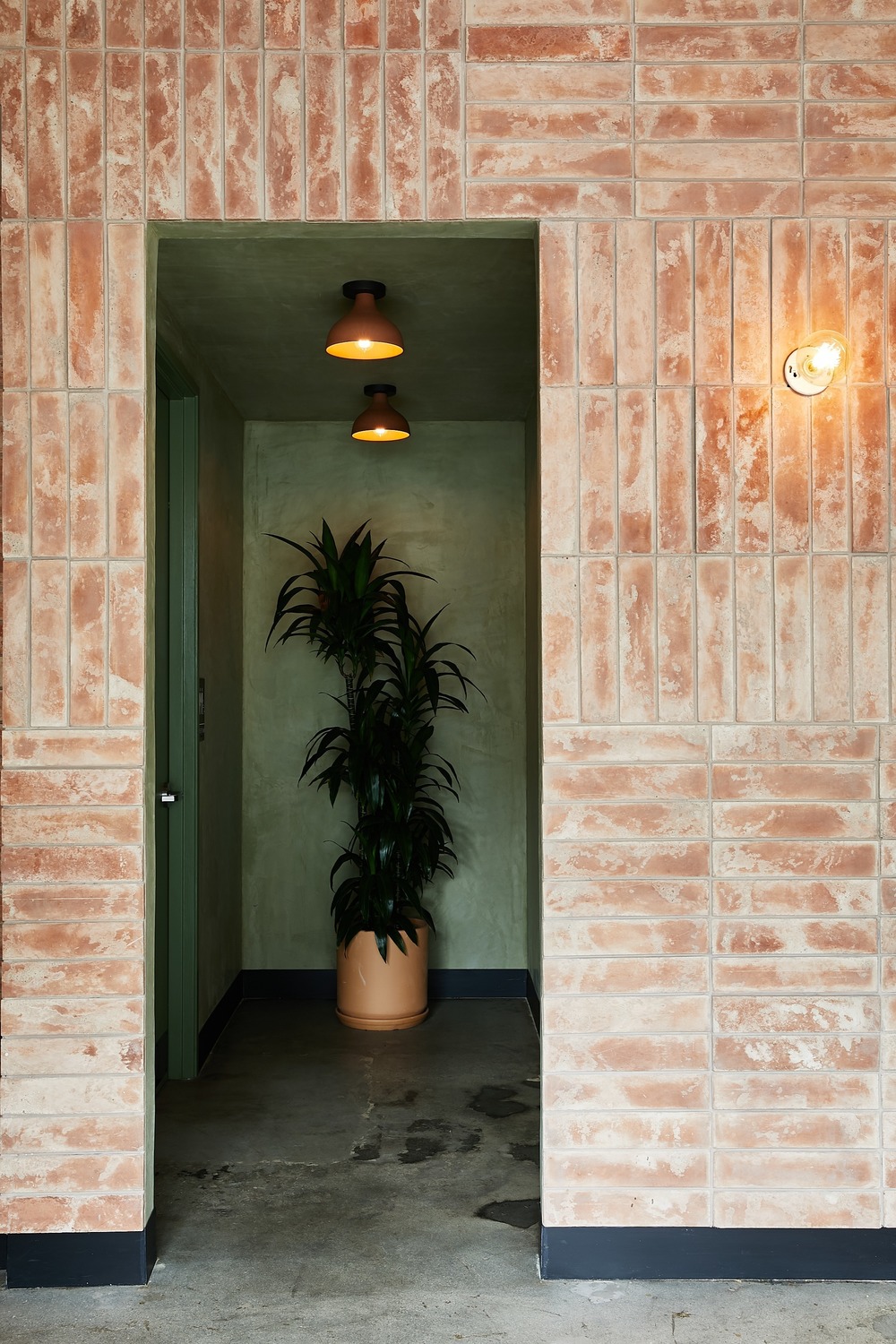 점들의 연결
주방, 서비스 라인, 작은 식당, 움푹 들어간 뒷마당의 파티오 공간들의 디자인과 연결성에 접근하면서 건축가들은 공간 전체에 테라코타 벽돌을 활용하여 연속성을 확립했다. 단순한 수직, 수평 데카르트 패턴과 양각 벽돌을 사용하여 벽, 좌석 및 실외 영역을 정의적이고 통일된 분위기로 매끄럽게 포장한다.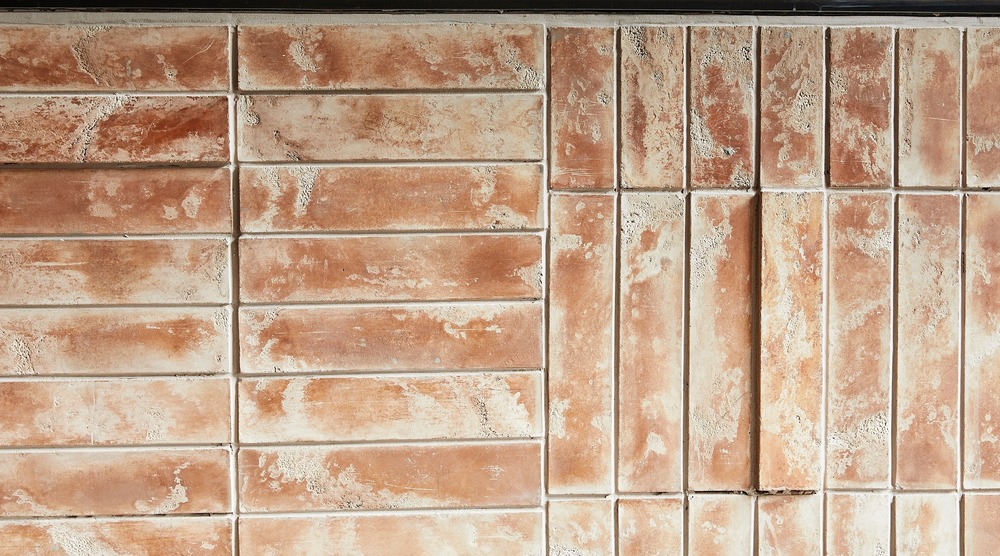 더 부드러운 접근
테라코타 사용 외에도 Loqui 디자인에 손으로 만든 느낌을 주기 위한 올리브 그린 치장 벽토로 마감된 화장실 복도와 미묘한 파란색 트림이 있는 타일이 특징인 주방을 디자인했다. 이 모든 것에 생명을 불어넣기 위해 디자인 팀은 내부 공간에 따뜻함과 개성을 더하기 위해 Rejuvenation의 FOLK Abigail 소형 소프트 콘 세미 플러시 조명을 선택했다.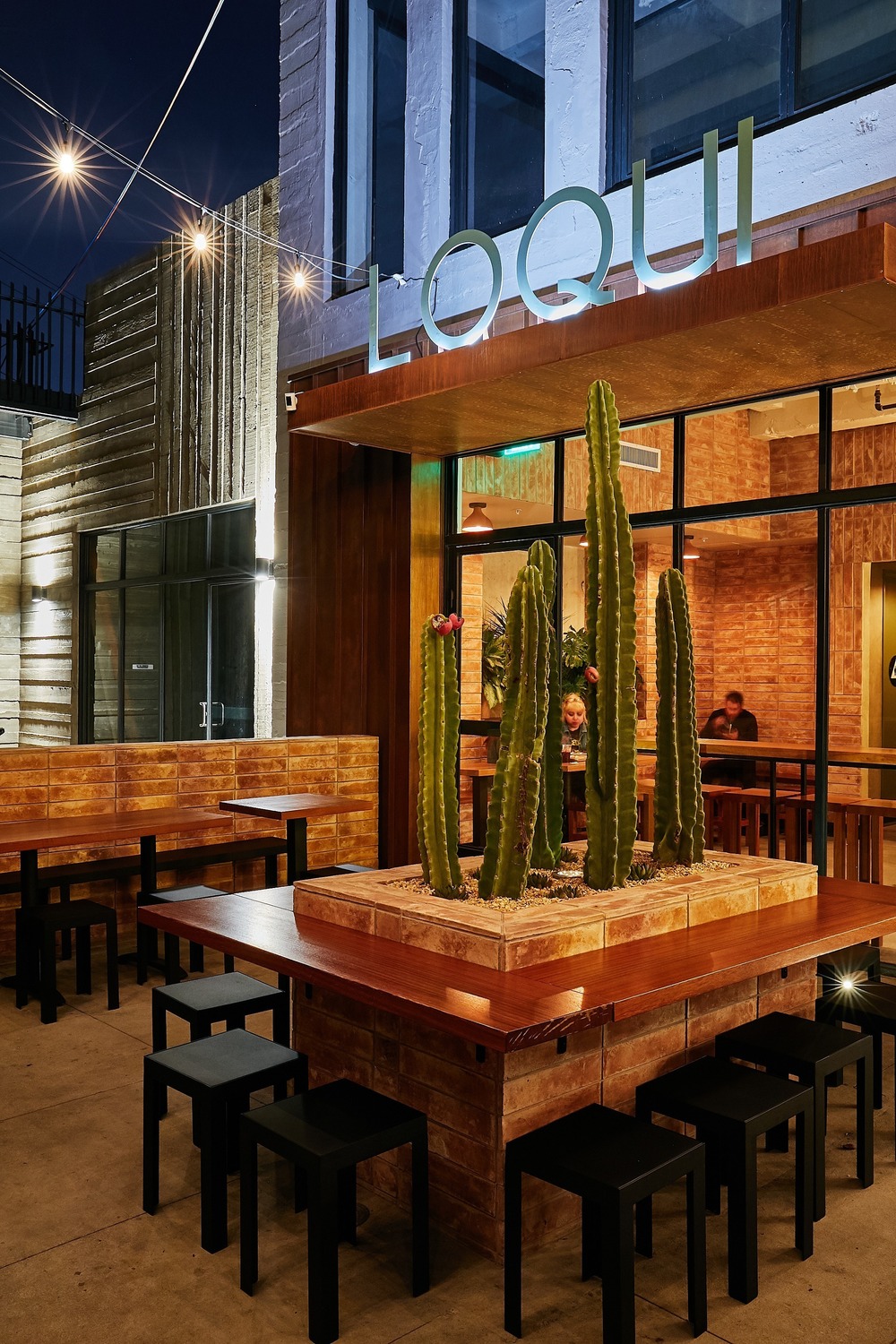 SoCal appeal
야외 파티오는 건물의 뒤쪽에 있지만 레스토랑의 주 출입구 역할을 한다. 건축가는 뒷마당의 파티오를 Loqui를 위한 매력적인 공간으로 바꾸면서 일 년 내내 남부 캘리포니아의 분위기를 느낄 수 있는 공간으로 조성하고자 했다. 실내 식사 공간에 비례하여 실내를 확장한 공간으로 공간을 규정하는 테라코타 벽돌 벽을 세워 자연스러운 흐름과 연속성을 제공한다. 건물 전면에는 얼룩진 떡갈나무 패널이 테를 이루고 있으며, 천연 텍스처의 검은색 페인트 파티나 금속은 테라코타 장벽 벽 둘레에 가장자리를 이루고 있다. 마지막으로 건축가는 파티오 공간에 정갈하게 손질된 선인장 등 식물이 풍부한 조경을 들여와 정통 바하의 모습과 느낌을 완성했다.
Architects Wick Architecture & Design
Location Los Angeles, United States
Building area 189m²(Restaurant_125m², Patio_64m²)
Collaboration Land Design Studio
General contractor Analog
Structural engineers Plump Engineering
Mechanical and plumbing engineers Engineered Solutions
Electrical engineer A+F Engineering
Tile Wink Design Source
Terracotta brick Arto
Client Loqui
Photographer Nicole LaMotte
---
마실와이드 | 등록번호 : 서울, 아03630 | 등록일자 : 2015년 03월 11일 | 마실와이드 | 발행ㆍ편집인 : 김명규 | 청소년보호책임자 : 최지희 | 발행소 : 서울시 마포구 월드컵로8길 45-8 1층 | 발행일자 : 매일