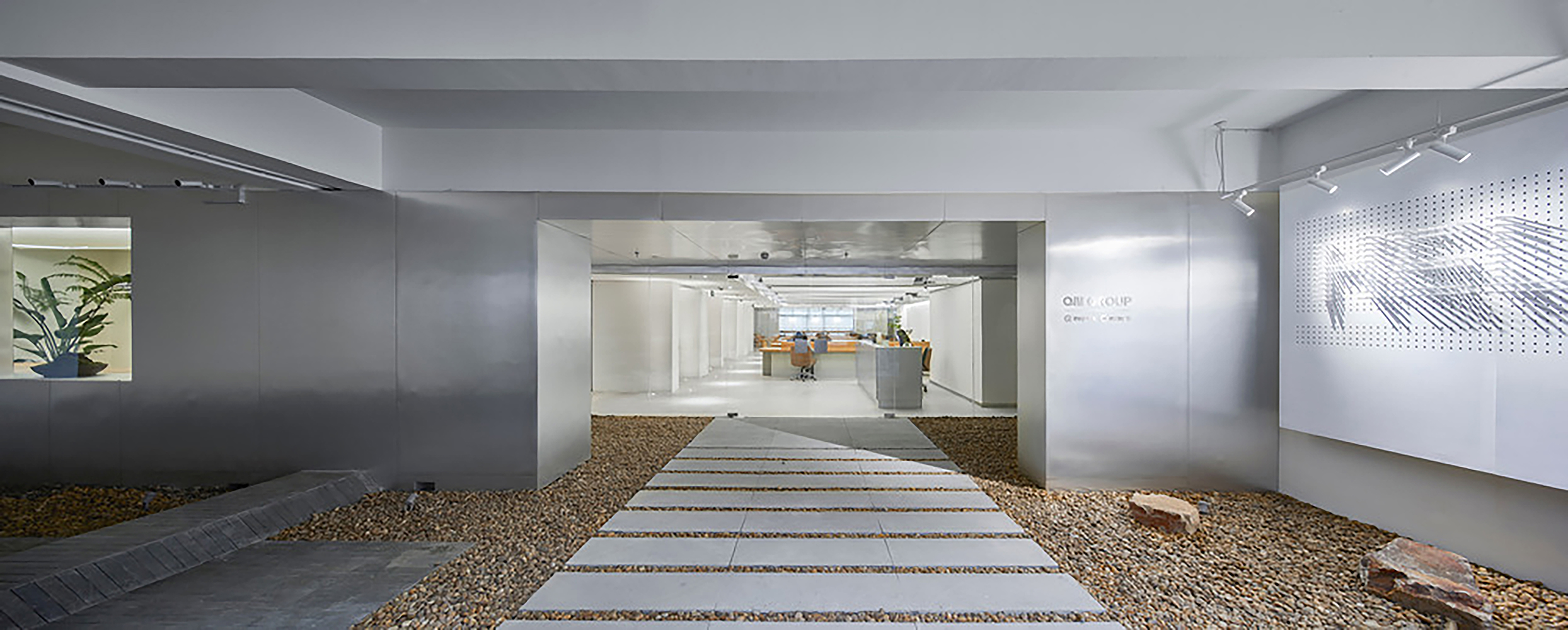 Qin Group is a West China based full chain platform agency in the advertising industry. They are a regular customer of Studio DOTCOF, which designed their head office in Chongqing four years ago. They have now commissioned Studio DOTCOF to design the new office for their Chengdu branch.
The site conditions are very tough. The customer's rented space consists of two adjacent, independent units separated by thick walls into two spaces, left and right, that are only connected by an external corridor. The space is a long, narrow, deep rectangle, and the natural lighting in the middle is very poor. In addition, the beams are spaced relatively densely, and clearance under the beams at only 2.6 meters is low, which is a little depressing.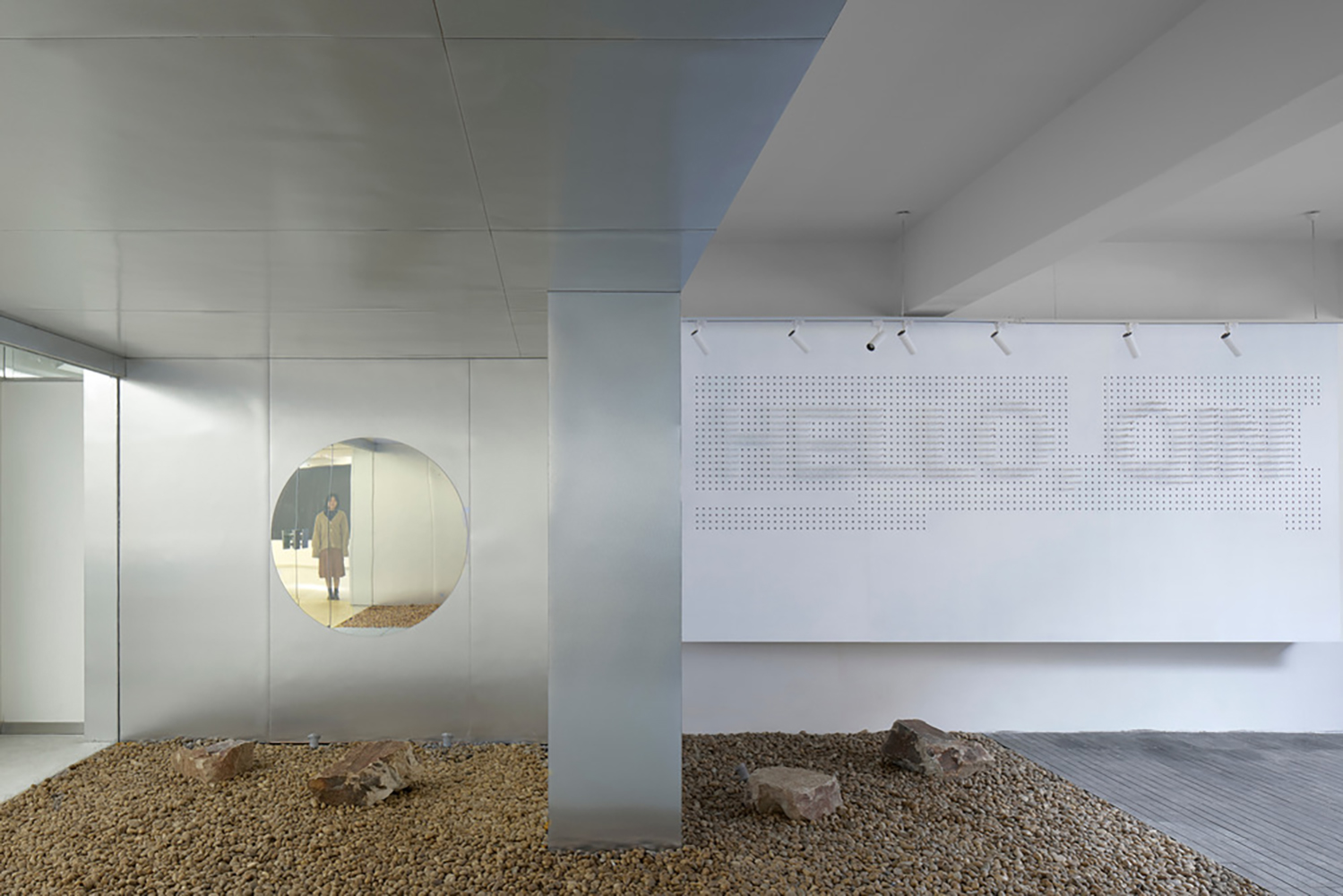 Studio DOTCOF has presented the concept of "working under the same roof", which is a metaphor for collaboration between different branch companies on the group platform to develop and grow together.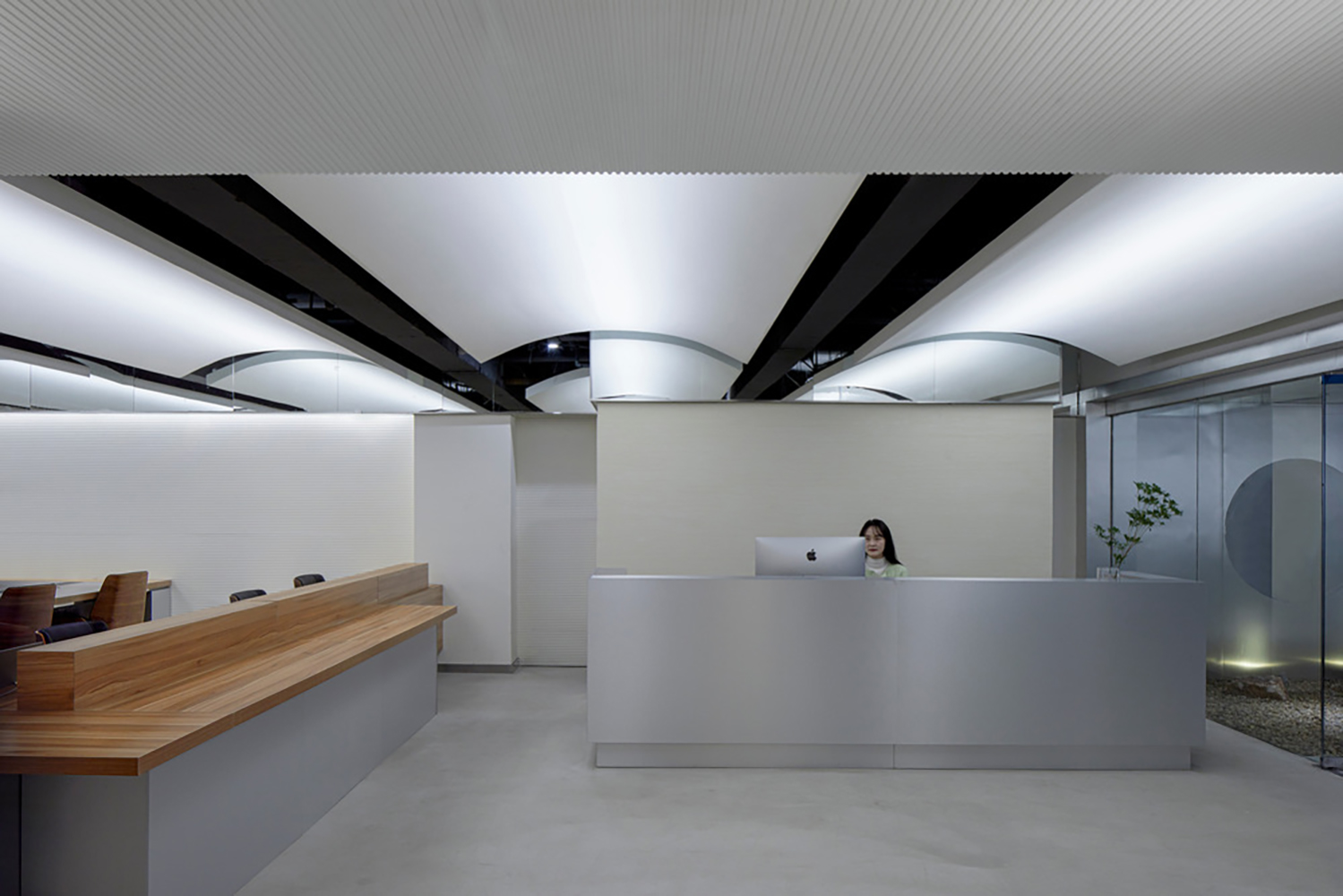 It has designed a number of long, white, cylindrical ceilings to form the semblance of large eaves. Then with light bars shining upward to brighten it, the light is guided through the arched ceiling and then refracted, forming a bright, soft, and diffusely-lit atmosphere. The long, cylindrical ceiling has put the untidy pipelines of the bare roof above out of sight, and at the same time the slight upward arch renders the low clearance less perceivable.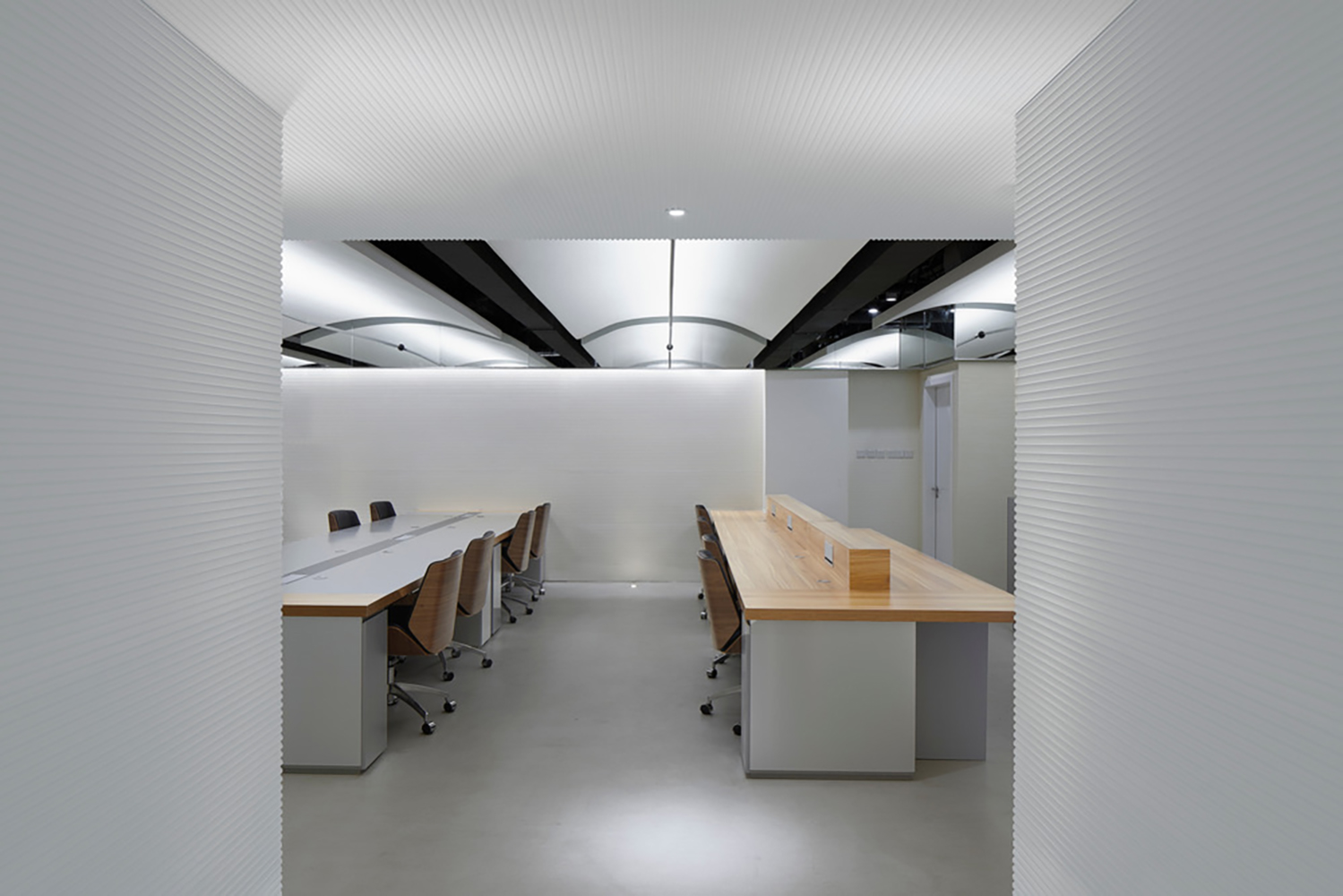 In order to enhance the sense of connection between the two sides, Studio DOTCOF placed mirrors on the upper halves of the walls, creating a visual extension of the space and the "big eaves". The wall that separates the two spaces was also opened up and replaced with fire shutters to the extent permitted by code. This allows people to freely shuttle back and forth between the two spaces. The desks are positioned to extend the lateral style and connect the two spaces.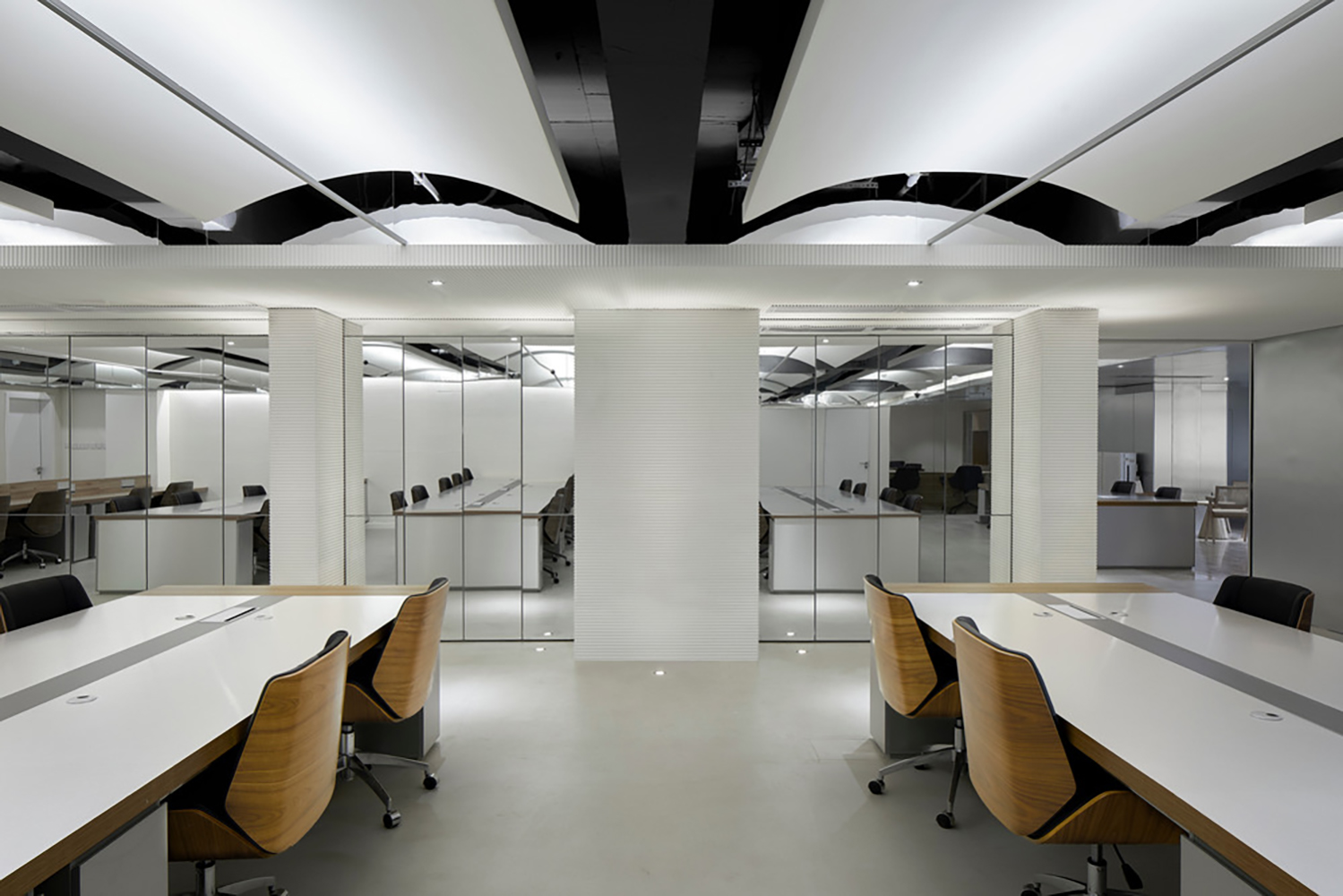 Qin Group 청두 지점 사무실 Qin Group은 중국 서부에 기반을 둔 산업 체인 서비스를 제공하는 광고 대행사이다. 그들은 4년 전 충칭의 Qin Group 본사를 디자인 한 Studio DOTCOF에 청두 지점의 새 사무실 설계를 의뢰했다.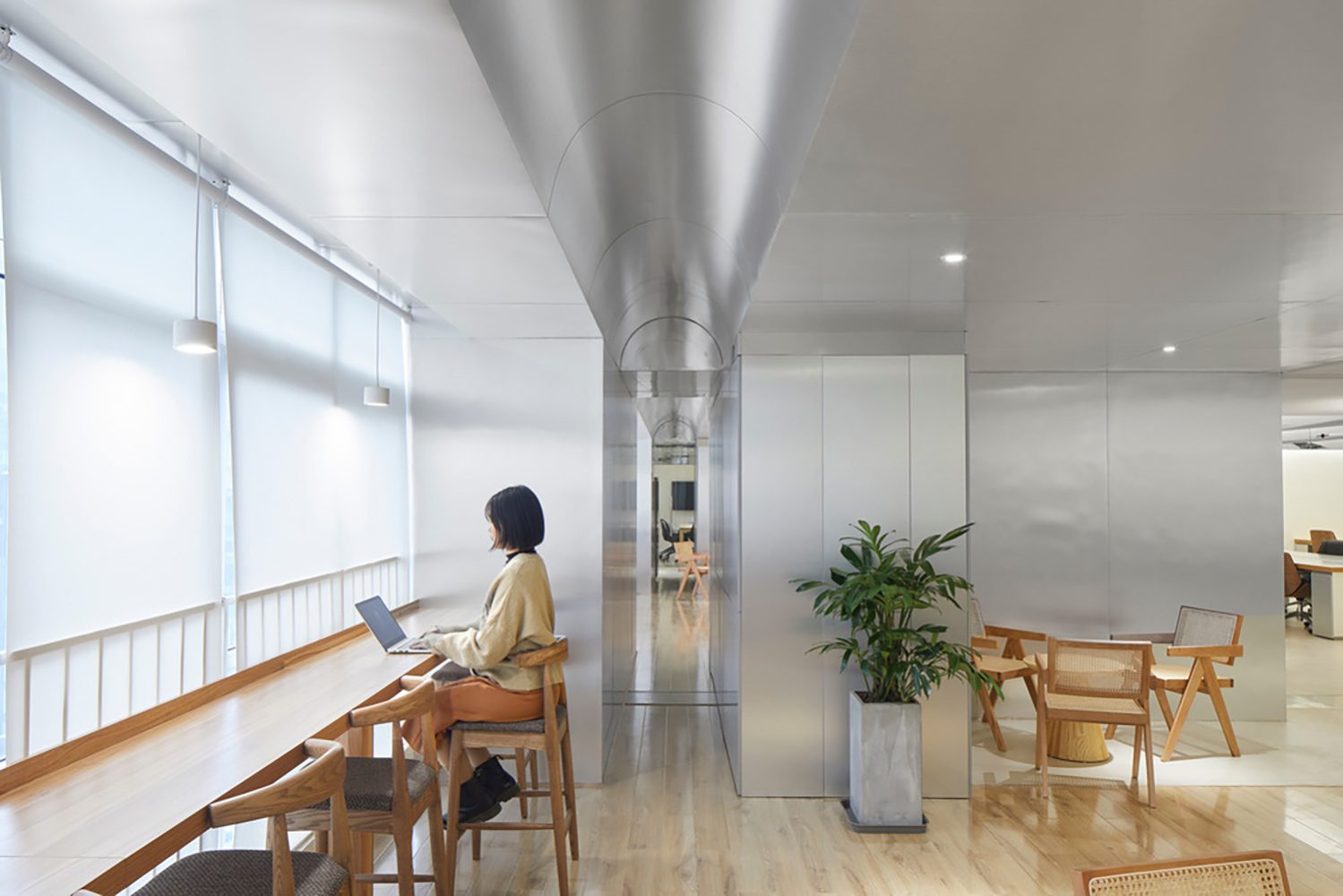 현장의 조건은 매우 험했다. 두꺼운 벽으로 분리 된 두 개의 인접한 독립 유닛으로 구성되며, 외부 복도로만 연결된 왼쪽과 오른쪽의 두 공간으로 구성되어있다. 길고 좁고 깊은 직사각형이며 중앙의 자연광은 매우 열악하다. 또한, 빔의 간격이 비교적 조밀하고 빔 아래의 간격이 2.6m에 불과하여 약간 우울하다.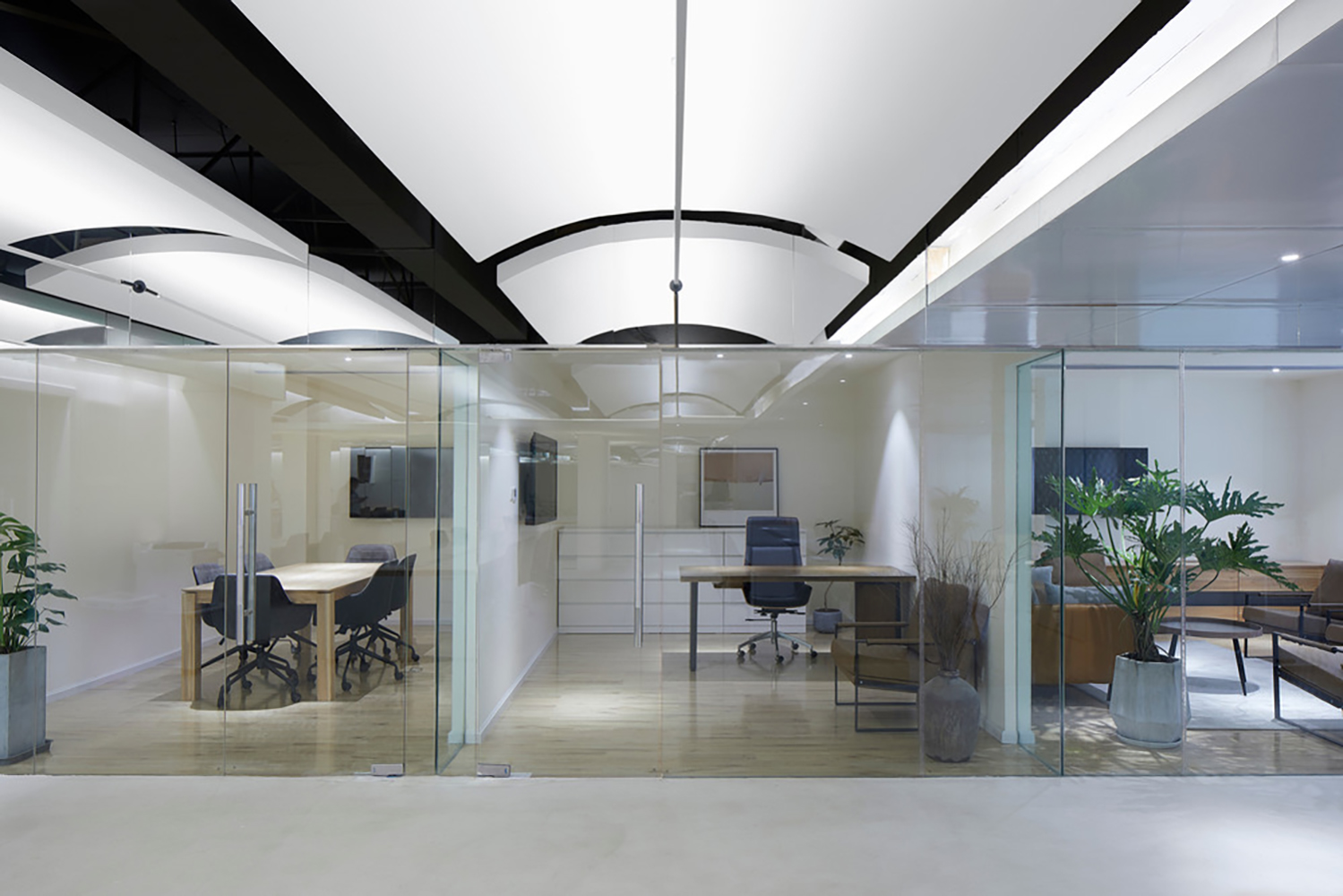 Studio DOTCOF는 그룹 플랫폼에서 서로 다른 지사 간의 협력을 통해 함께 발전하고 성장하는 것을 의미하는 "같은 지붕 아래에서 일하는 것"이라는 개념을 제시했다.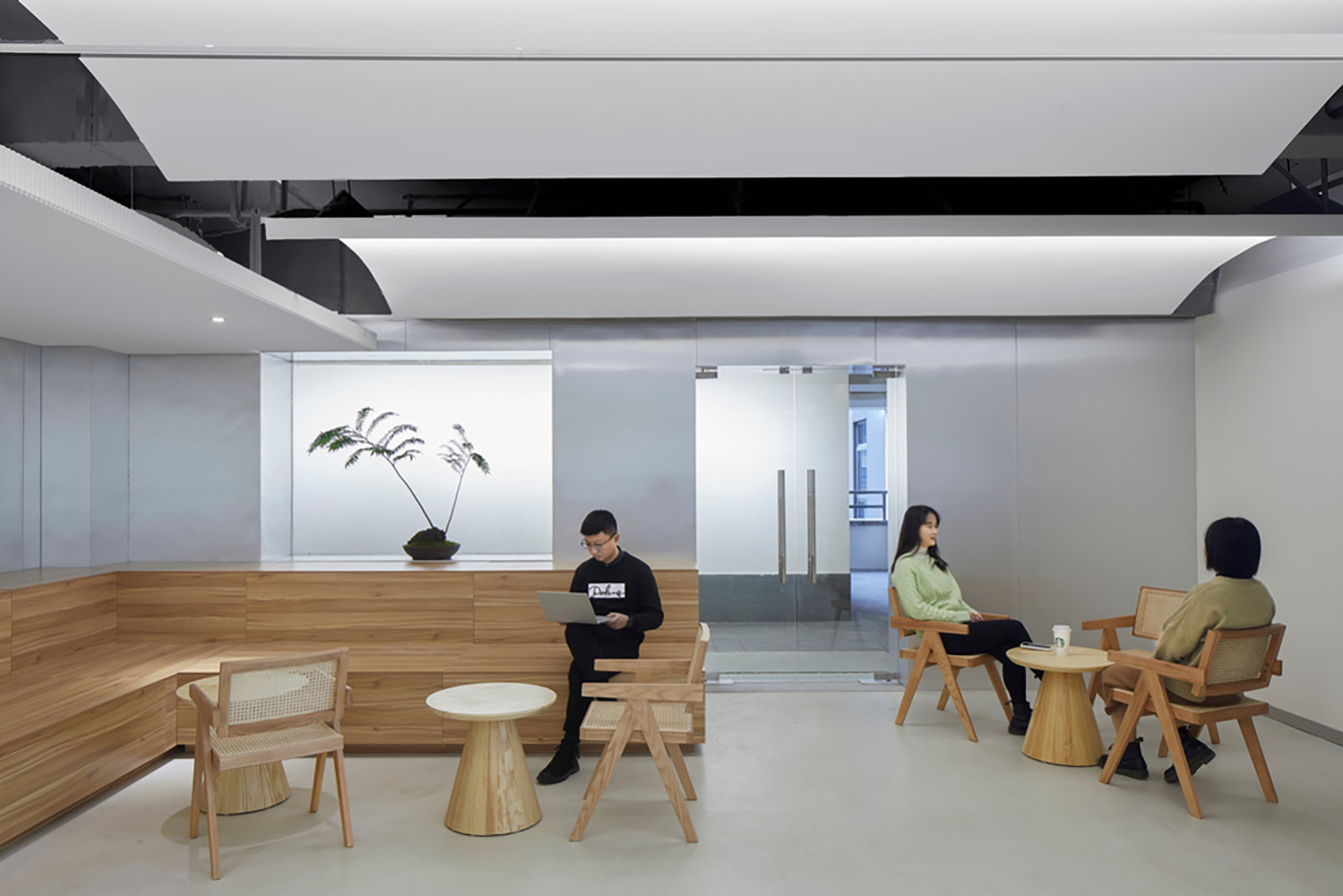 큰 처마 모양을 형성하기 위해 길고 흰색의 원통형 천장을 여러 개 설계했다. 그런 다음 조명 막대를 위로 비추어 밝게하고, 빛은 아치형 천장을 통해 안내 된 다음 굴절되어 밝고 부드럽고 난광이있는 분위기를 형성한다. 길고 원통형의 천장은 맨 지붕의 깔끔하지 않은 파이프 라인을 시야에서 보이지 않게했으며, 동시에 약간 위로 향한 아치는 낮은 간격을 인식하기 어렵게 만든다.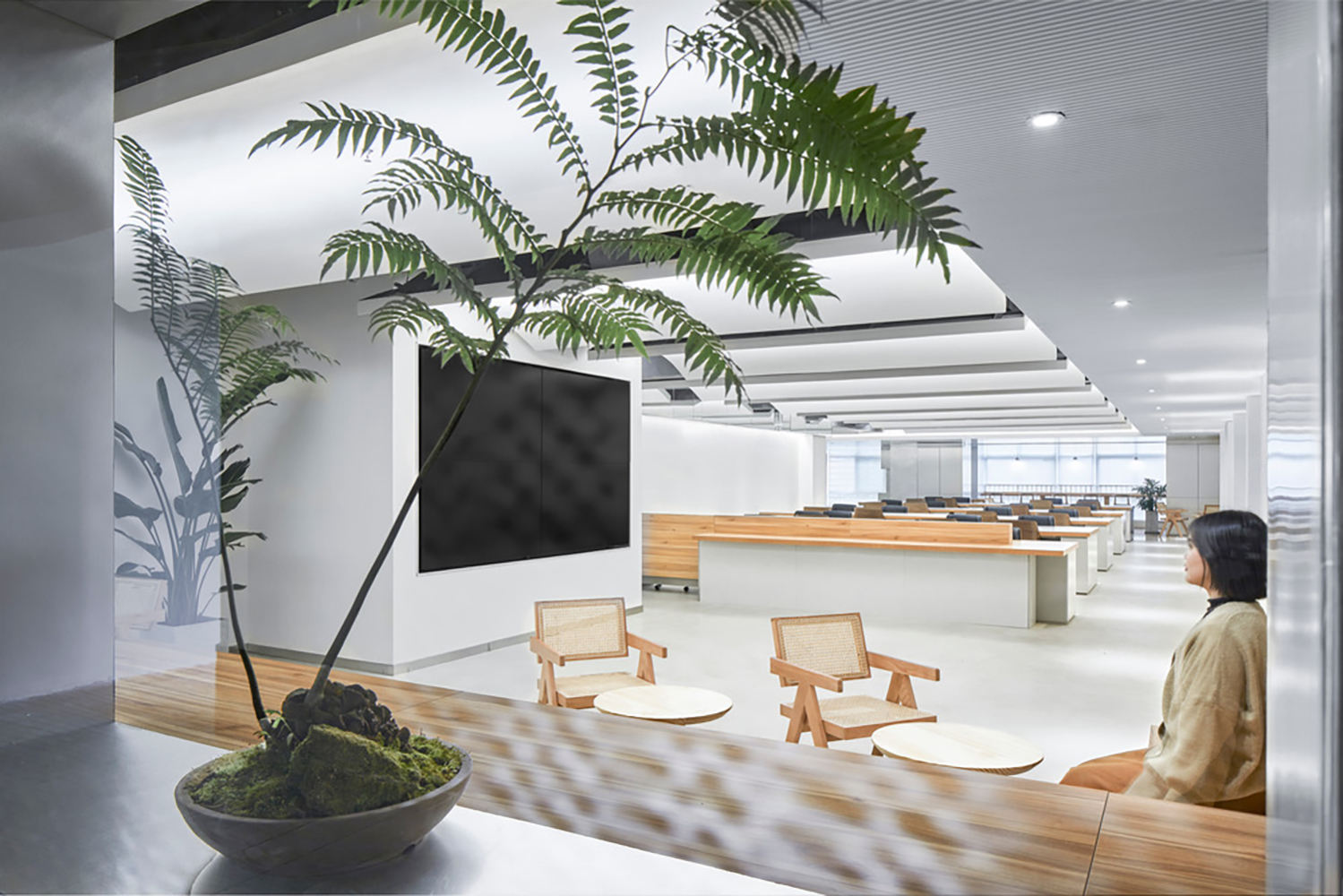 양측의 연결감을 높이기 위해 Studio DOTCOF는 벽의 위쪽 절반에 거울을 배치하여 공간과 "큰 처마"를 시각적으로 확장했다. 두 공간을 분리하는 벽도 열리고 법규에서 허용하는 범위 내에서 방화 셔터로 대체됐다. 이를 통해 사람들은 두 공간 사이를 자유롭게 왕복 할 수 있다. 책상은 측면 스타일을 확장하고 두 공간을 연결할 수 있도록 배치되어 있다.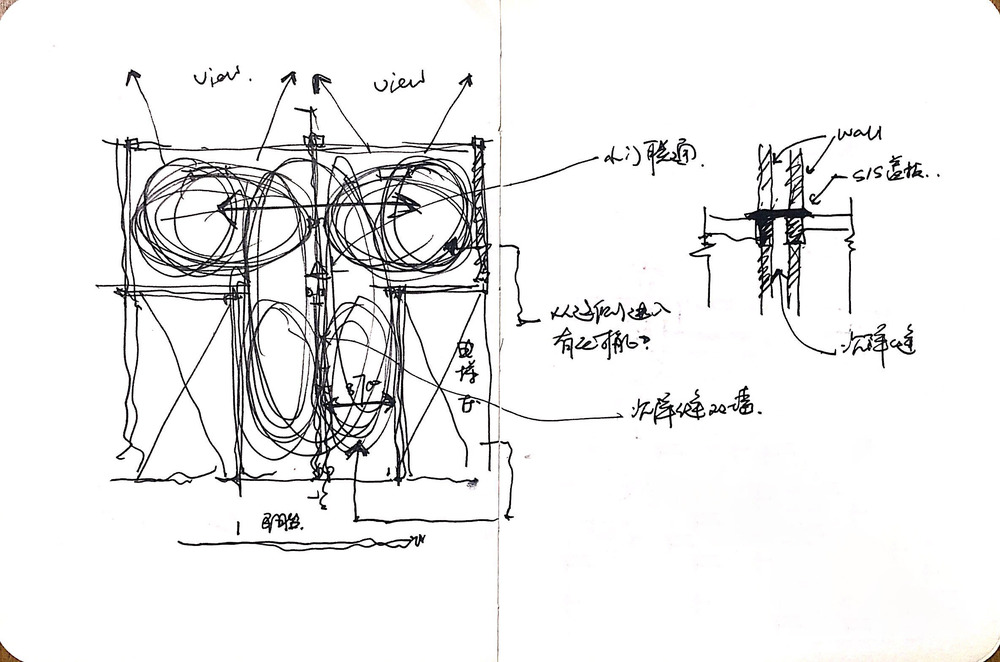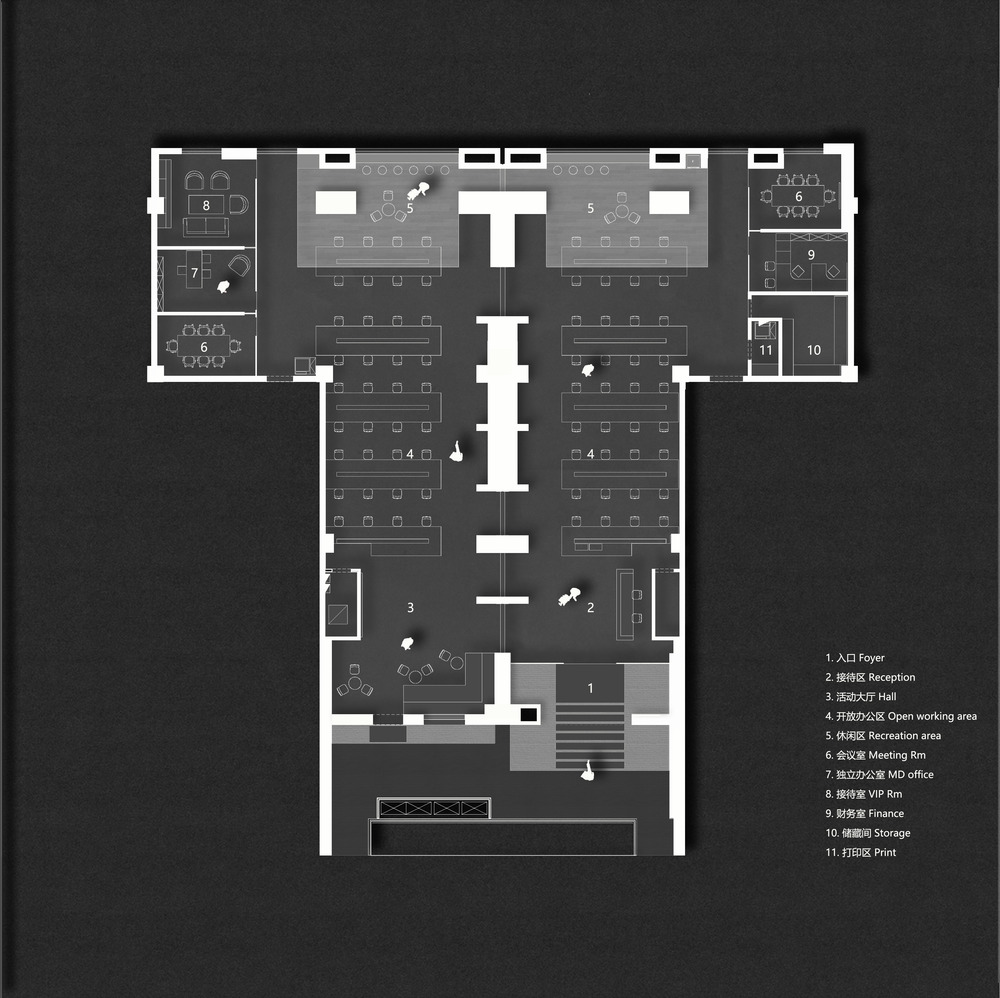 Architects Studio DOTCOF
Location Chengdu Shi, China
Program Office
Site area 680㎡
Completion 2021. 2
Design team Chen Xi, Zhuang Haolai, Li Rong, Lan Lan
Mechanical engineer Li Mu, Lang Maoqian
Electrical engineer Li Mu, Lang Maoqian
Construction Sichuan Fangsheng Xingfeng Construction Engineering Co., Ltd.
Client Qin Group
Photographer Arch-Exist
---
마실와이드 | 등록번호 : 서울, 아03630 | 등록일자 : 2015년 03월 11일 | 마실와이드 | 발행ㆍ편집인 : 김명규 | 청소년보호책임자 : 최지희 | 발행소 : 서울시 마포구 월드컵로8길 45-8 1층 | 발행일자 : 매일