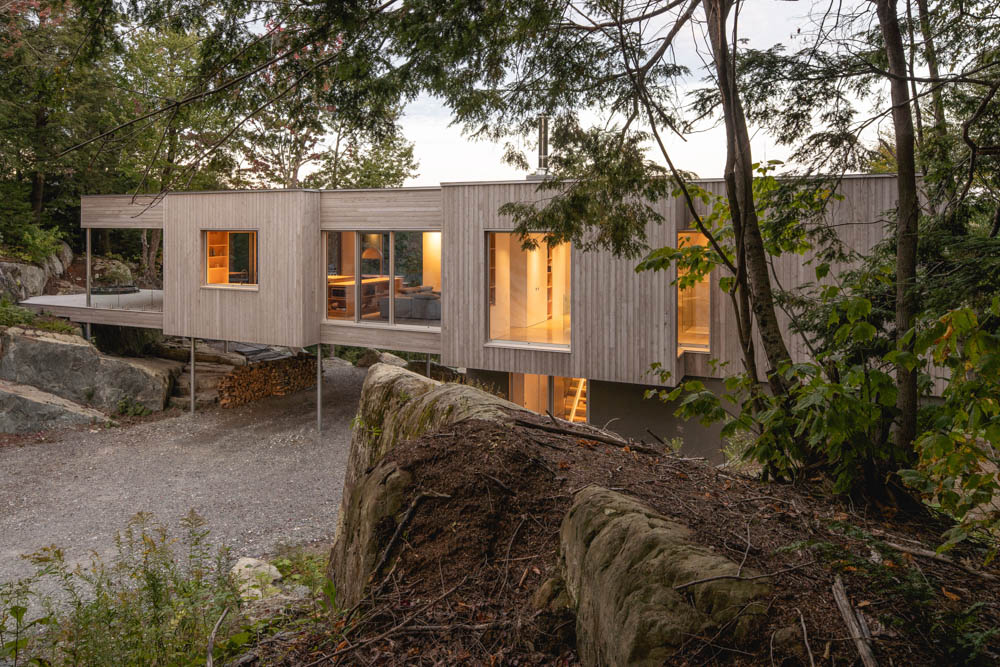 The three-acre site, located in the Eastern Townships, is roughly 100 kilometers southeast of Montreal. Greatly valued by city dwellers for its natural beauty and relative proximity to urban life, the area has now become a choice spot for those willing and able to work from home. The clients, a professional couple, had long cherished the dream of building themselves a home in the heart of nature.
Discreetly inserted onto an outcrop of the Canadian shield, surrounded by mature hemlock and deciduous trees, the home is meant to pay tribute to the living forest. Wood dominates a restrained palette of materials, both inside and outside. The prematurely aged plank cladding, exposed framework, and various other interior finishes showcase all the richness of the natural material.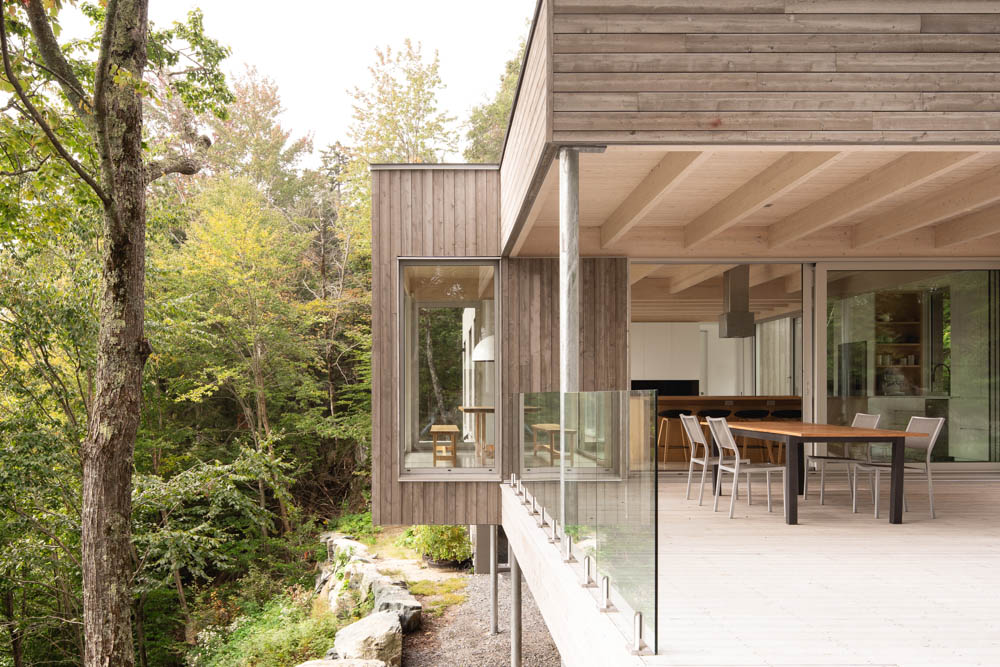 The main floor, the heart of the project (anchored at one end, atop a base where a lonely rock once stood) hovers over the rocky cleft and projects a vast, outdoor, partially covered terrace towards a moss-covered escarpment to the north. From this exterior perch, dedicated to relaxation and outdoor living with its embedded spa and leisure furniture, one passes to the fluid interior spaces of the kitchen, dining room, living room, and the couple's bedroom suite at the southern end of this linear building. The staircase and foyer, which communicates with the home's main entrance hall at ground level, are inserted between the living room and the bedroom. Adjacent to the entrance hall, we find, a bunkroom, capable of accommodating up to 10 guests.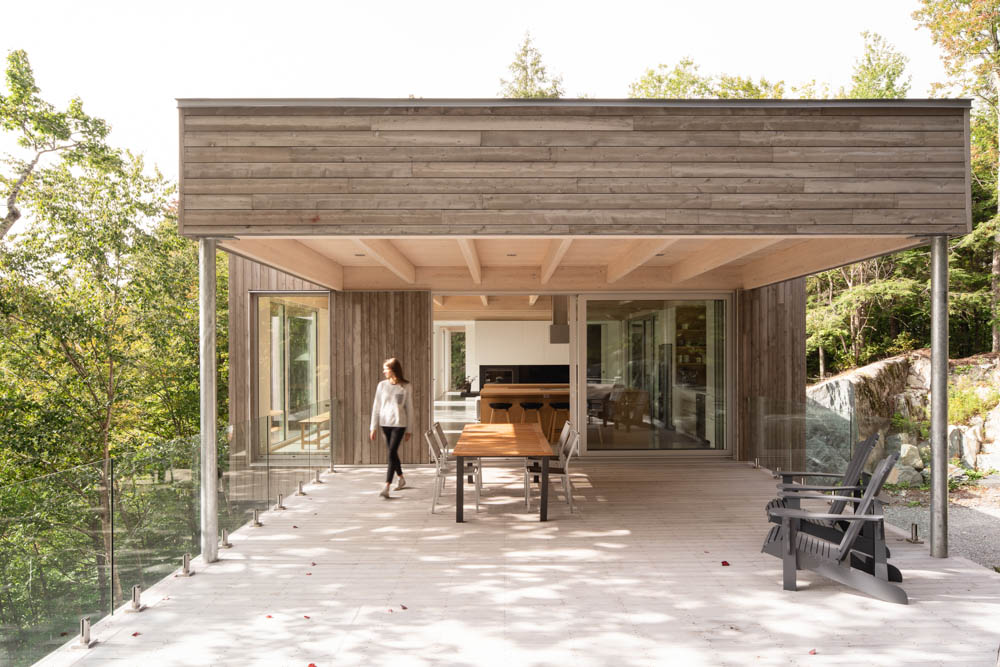 The sitting area, glazed floor to ceiling on both sides, is bathed in natural light. To the east, a dramatic incline exposes a spectacular view of the forest canopy. Several alcoves, projecting out from the façades, grant extra space to the kitchen, dining area, and master bathroom and provide additional views and sunlight to penetrate from the south.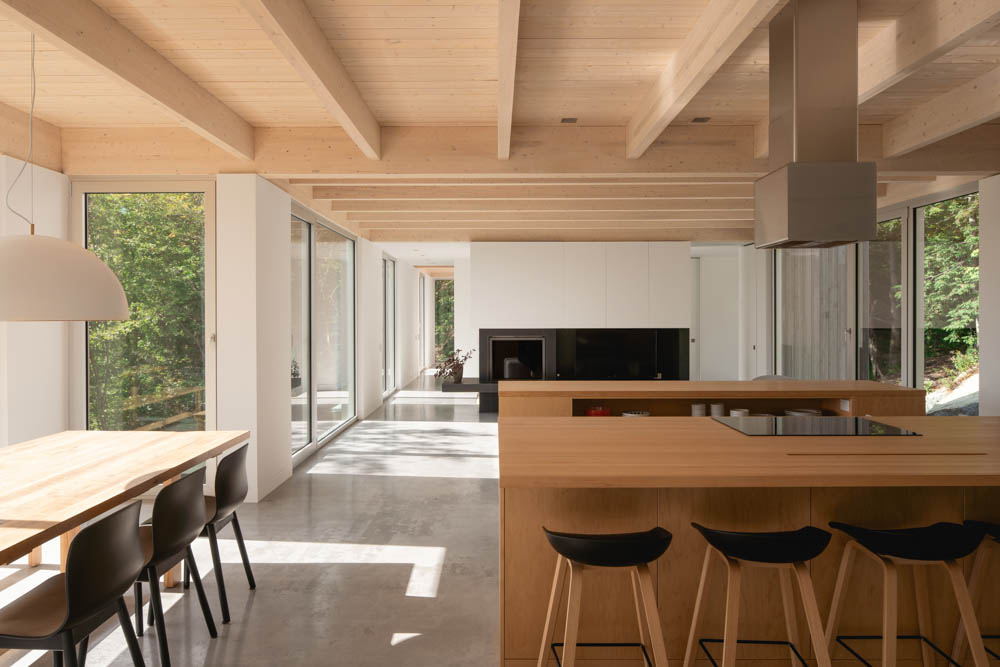 The master suite, the only private space on the main level, features full-height windows as well. One of these was placed along the main circulation axis, directly in front of an outcrop. The effect is one of total transparency from one end of the house to the other. On the west side, the carefully designed bathroom features a perfect spot for contemplation with its bathtub inserted in a glassed-in corner alcove.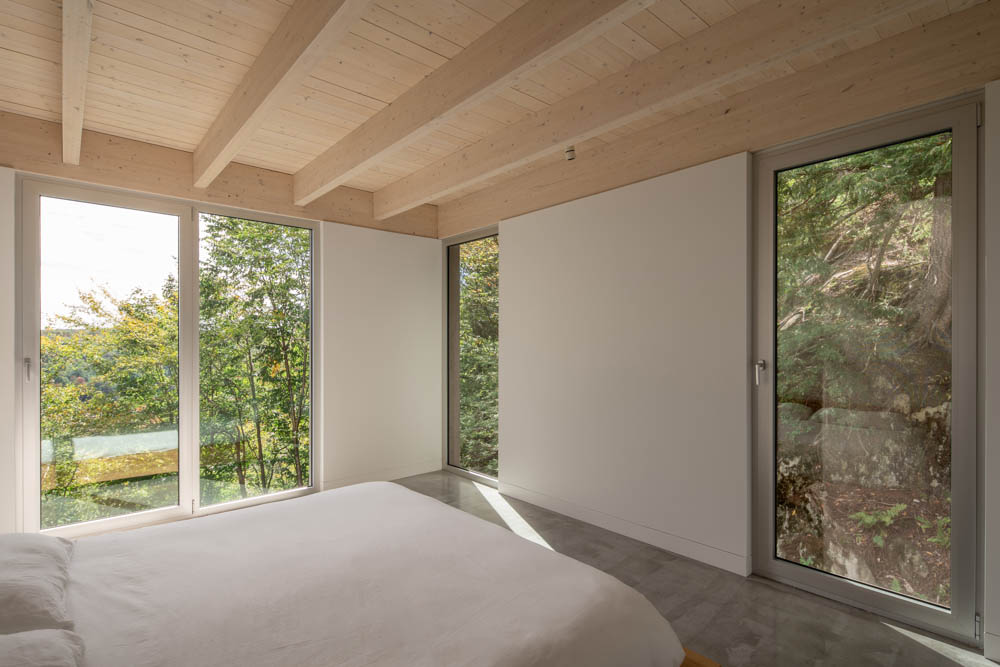 대지는 몬트리올 남동쪽으로 100km 정도 떨어져 있다. 이 곳은 자연의 아름다움을 간직하고 있으면서도 도시 생활과 상대적으로 가깝기 때문에 좋은 평가를 받는 지역이다. 특히 자택근무를 희망하거나 실제로 자택근무를 하는 사람들이 고르는 지역이다. 건축주는 전문직 부부로, 자연의 중심에 집을 짓는 꿈이 있었다.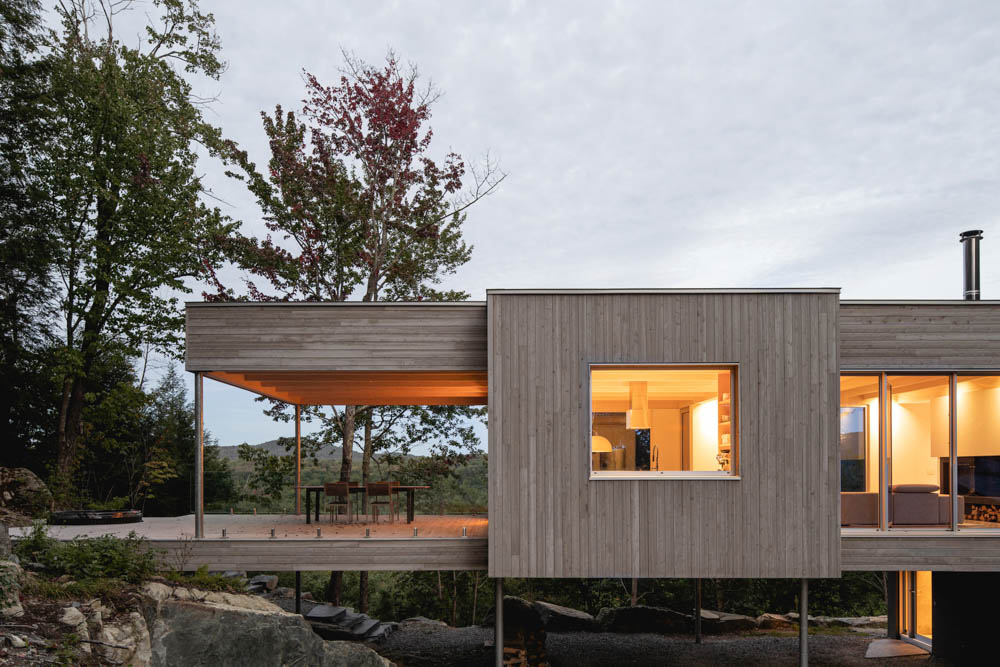 순상지의 암반 위에 올라 앉아 각종 식물과 활엽수로 둘러싸인 이 집은 숲에서 살아가는 생활에 대한 경의를 표하고 있다. 목재라는 주 재료는 건물의 내외부에 쓰인 재료들 중 지배적이다. 더욱이 부식된 피복과 노출된 골조, 다양한 종류의 내부 마감재는 모두 천연 소재의 풍부함을 보여준다.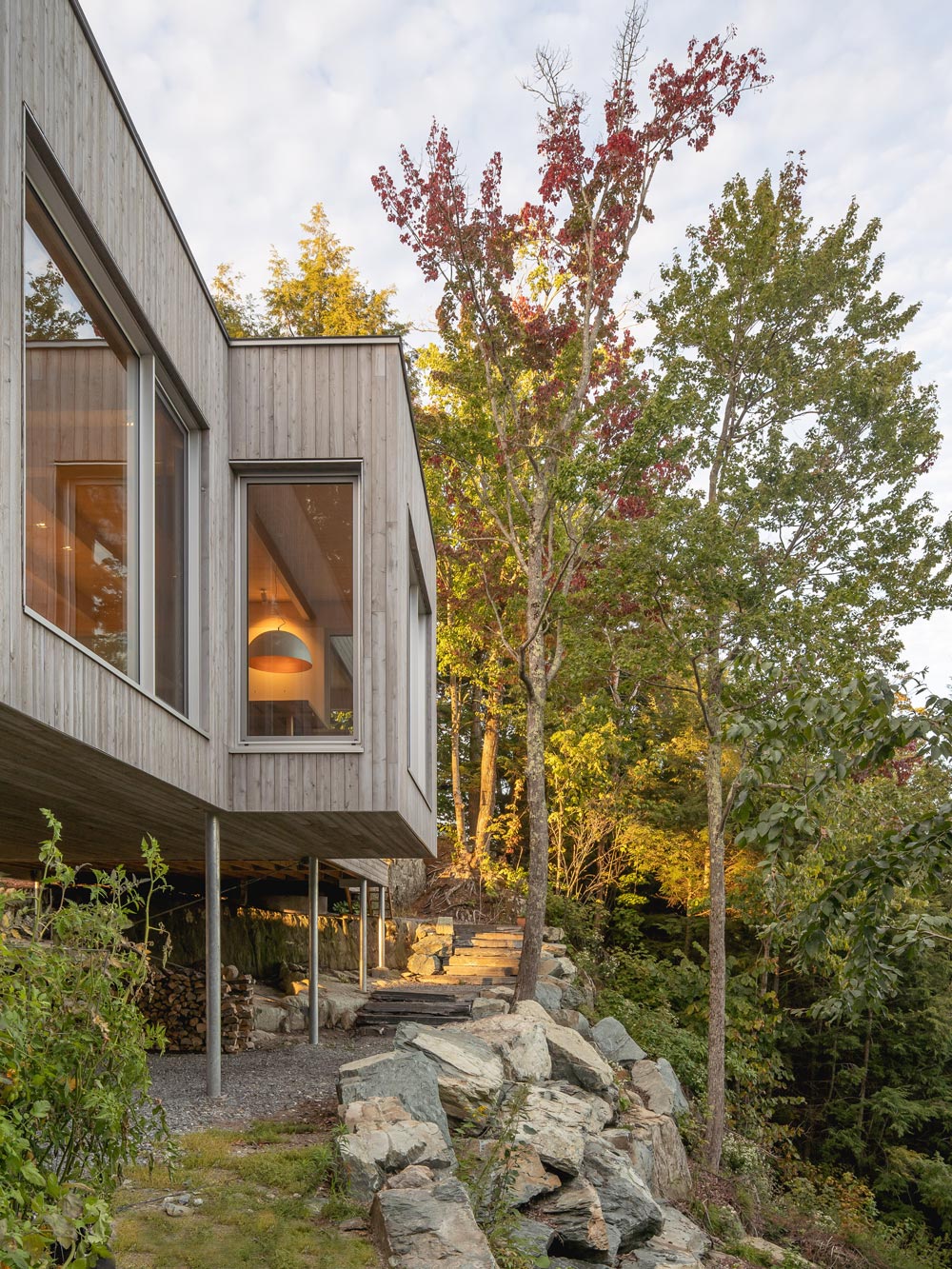 이 주택의 심장이라 할 수 있는 중심층은 바위 틈새에 매달려 있고, 북쪽의 이끼 덮인 급경사면을 향해 부분적으로 열려 있는 테라스를 계획했다. 스파 시설과 휴식을 위한 가구가 있는 이 외부 테라스에서 건물의 남쪽 끝에 있는 주방과 식당, 거실과 안방까지 유동적으로 연결된다. 1층의 주출입구와 계단, 현관은 거실과 침실 사이에 삽입되어 있다. 현관 옆에는 10명까지 수용할 수 있는 객실이 있다.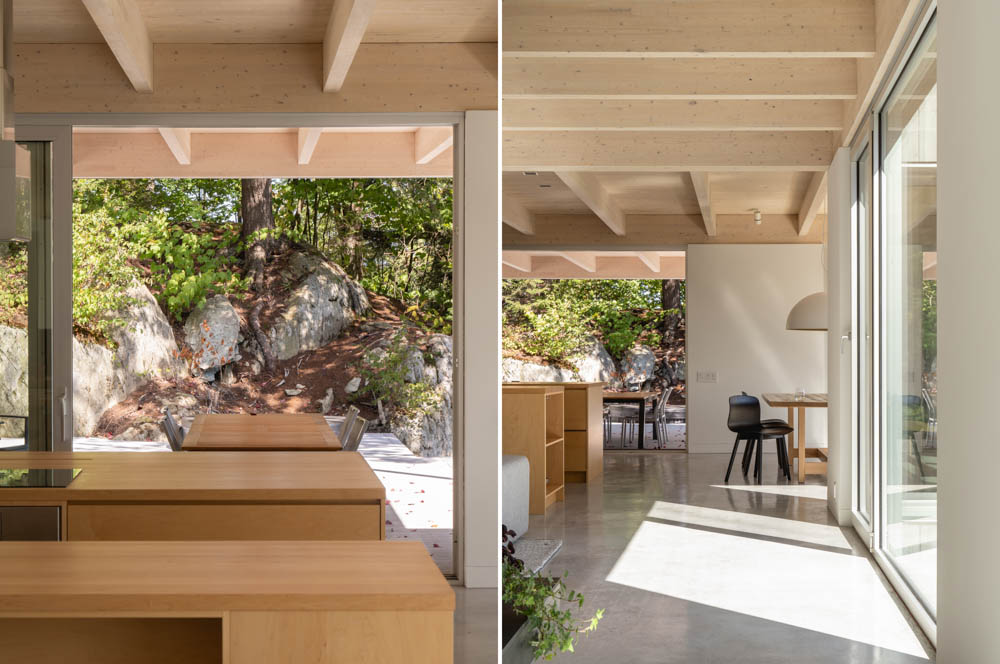 바닥과 천장 모두 유약처리된 좌식 영역은 풍부한 자연광에 적셔져 있다. 동쪽으로는 급경사면이 숲 속의 멋진 전망을 보여준다. 파사드에서 튀어나와 있는 몇몇 영역은 주방, 식사공간, 안방 화장실 등에 추가적인 공간, 전망, 자연광을 제공한다.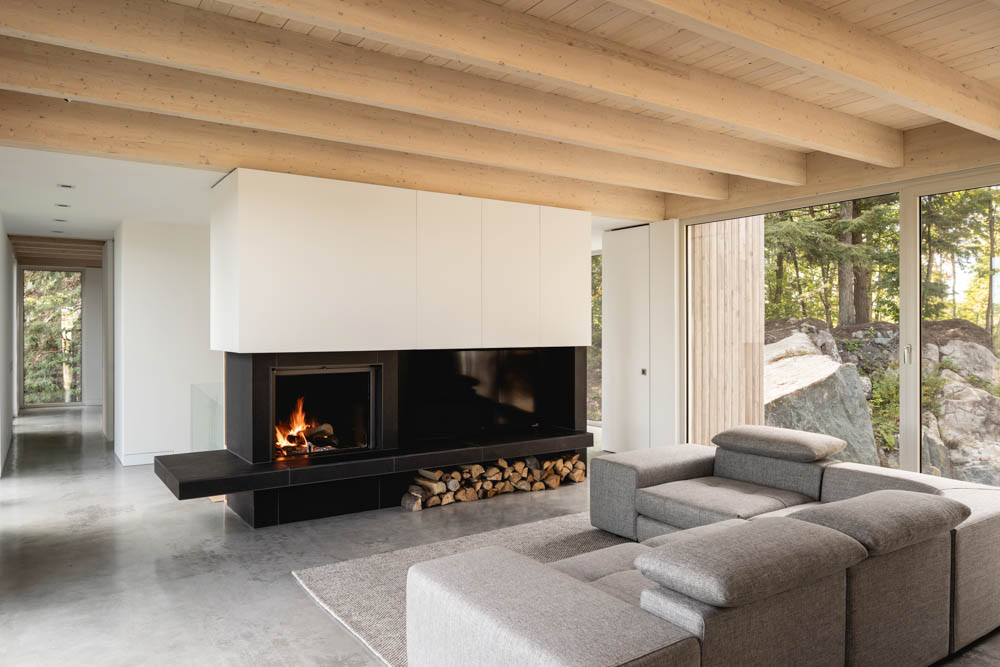 중심층에서 유일한 개인적 공간인 주인 침실은 천장 높이까지 이르는 창문들이 큰 특징이다. 이들 중 하나는 집의 양 끝단에서 완전한 투명성을 확보하기 위해 건물의 주 순환축을 따라 절벽의 바로 앞에 배치되었다. 서쪽의 욕실은 유리로 된 벽감에 삽입된 욕조를 통해 명상하기에 완벽한 장소다.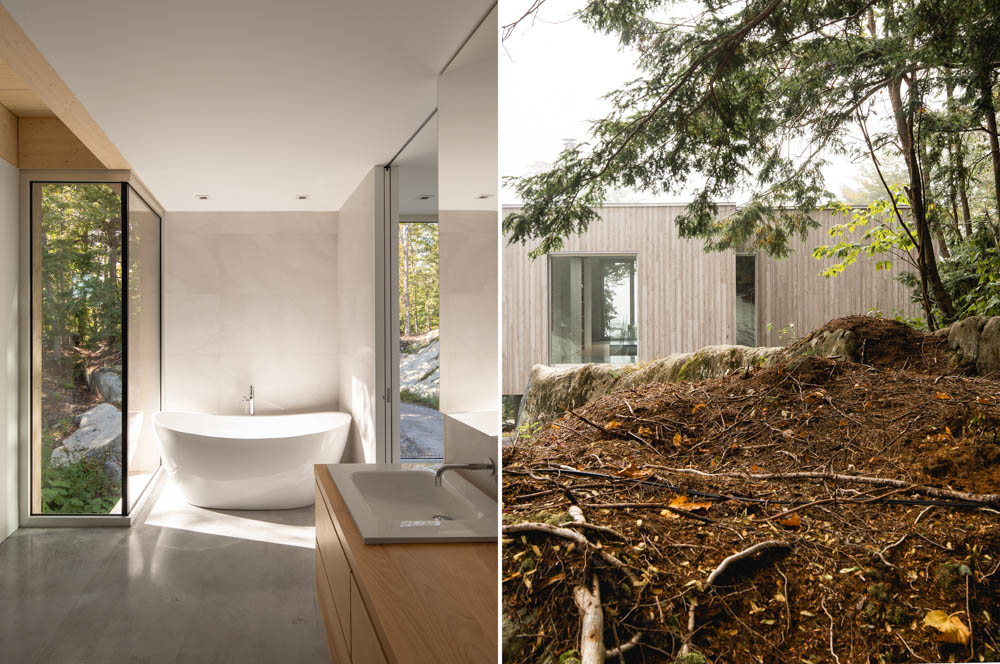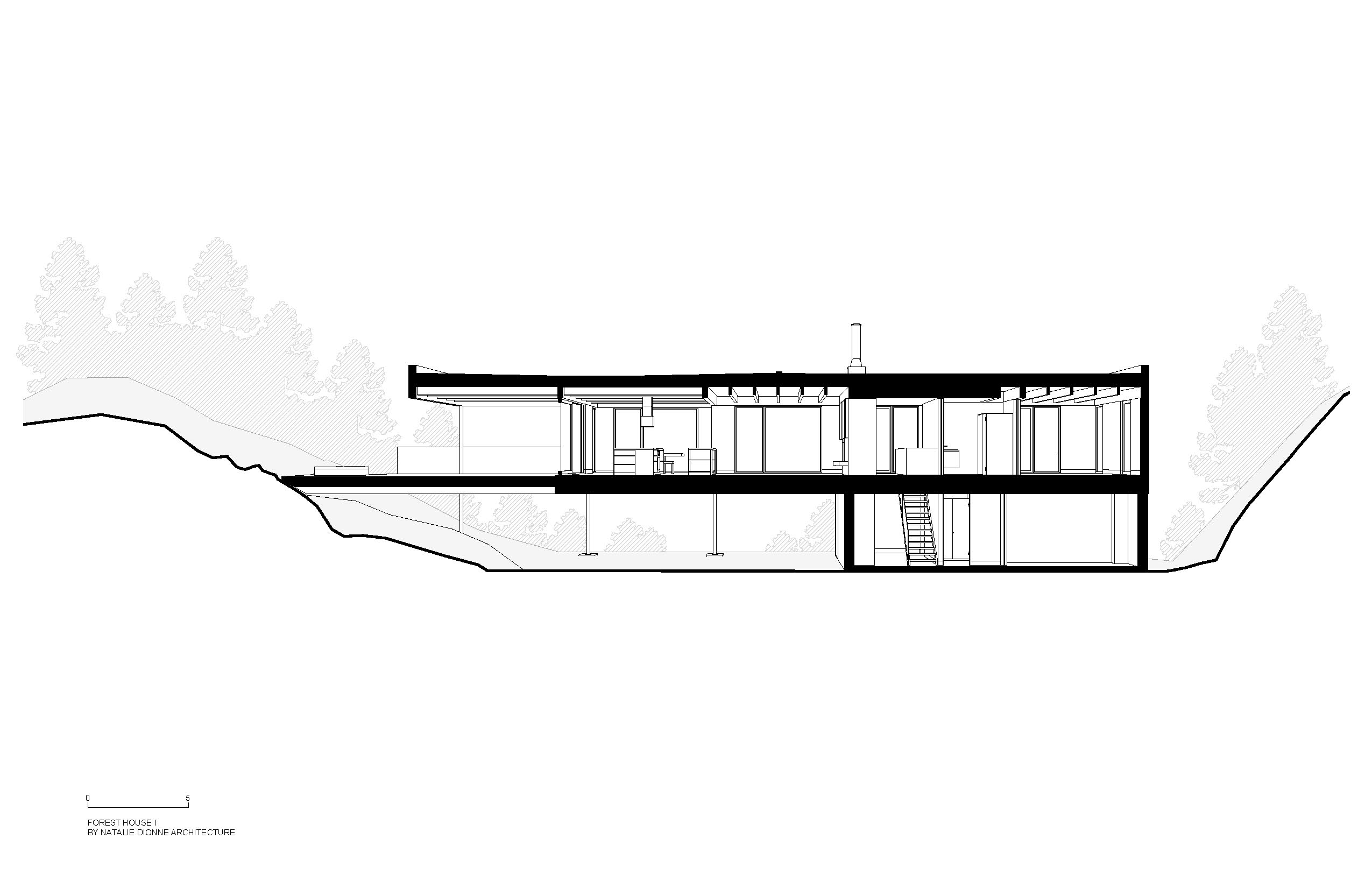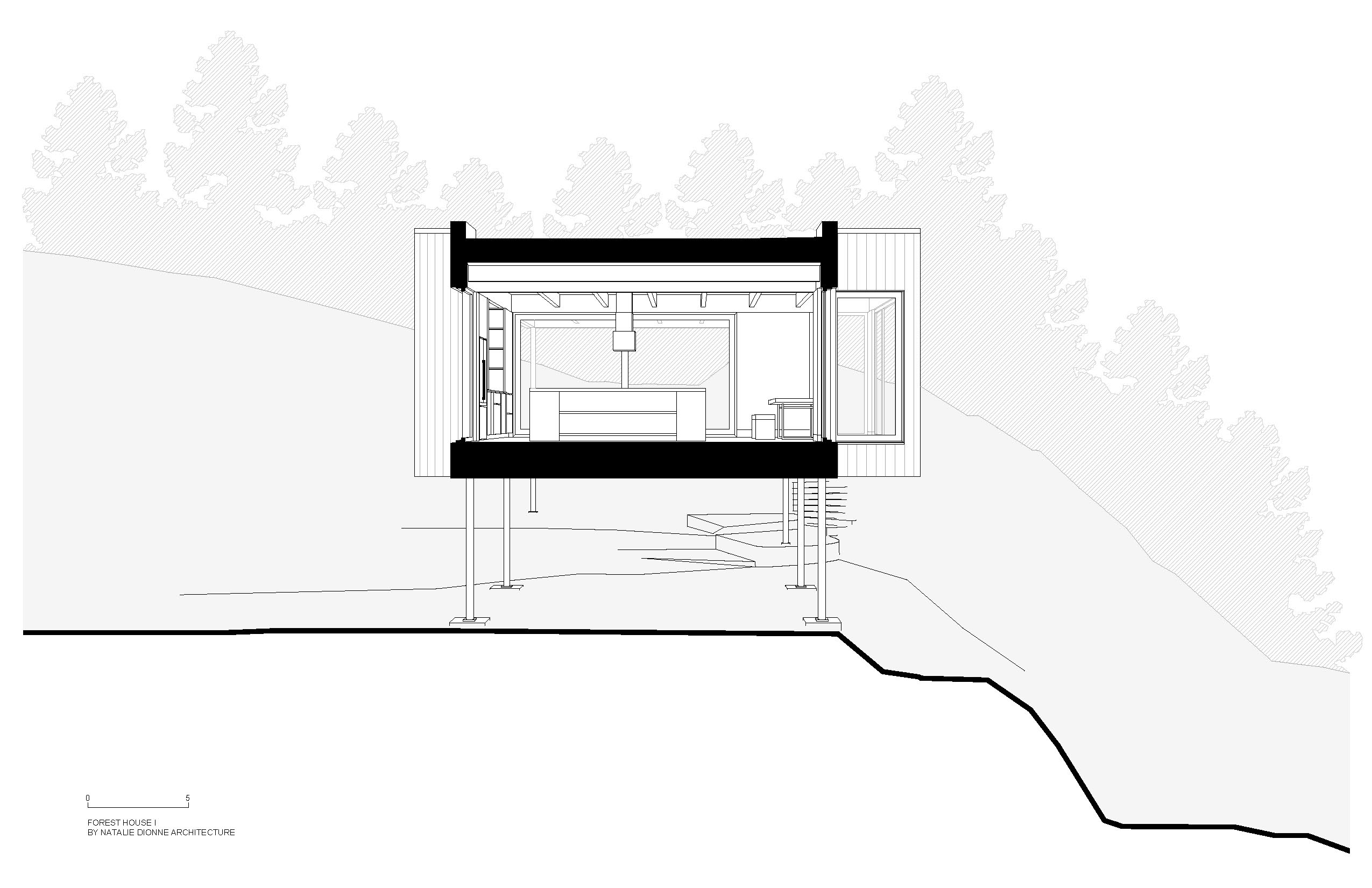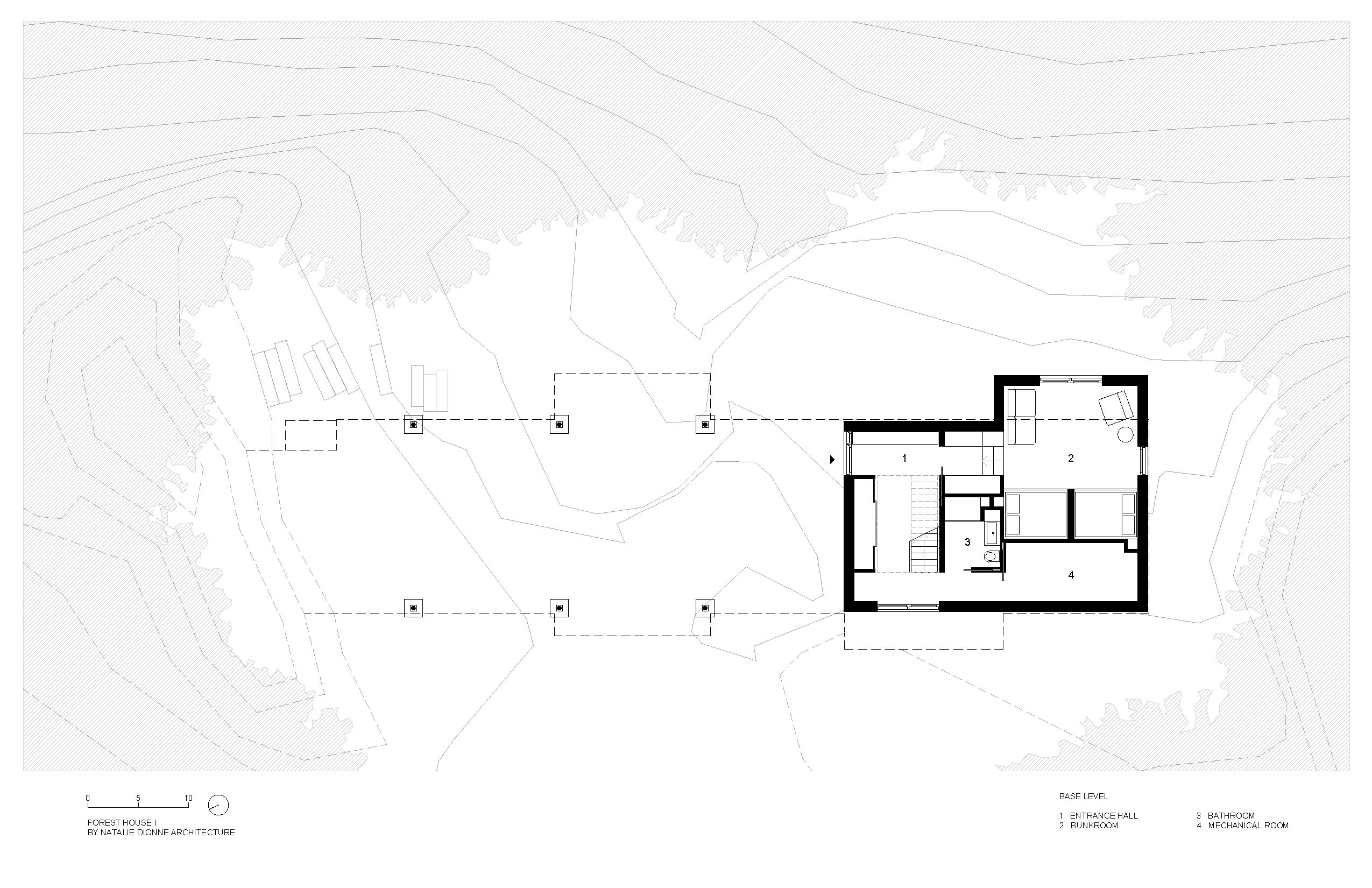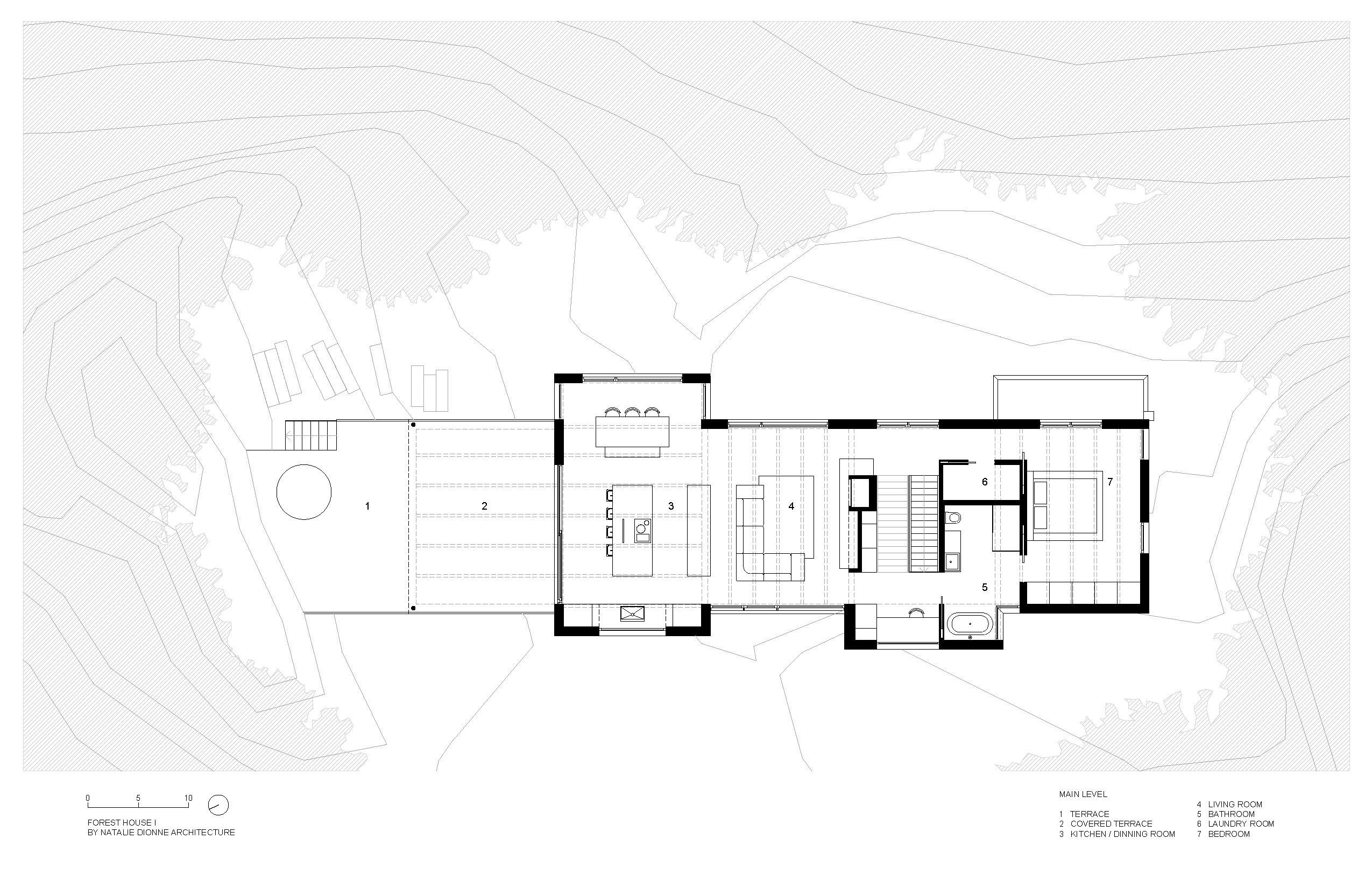 Architect Natalie Dionne Architecture
Location Bolton-Est, Eastern Townships, QC, Canada
Building area 275m2
Completion 2020
Project architect Natalie Dionne Architecture
Design team Natalie Dionne, Corinne Deleers, Rosemarie Faille-Faubert, and Martin Laneuville
Engineer Latéral
Client Martine Bleau and Louis Barrière
Photographer Raphaël Thibodeau
---
마실와이드 | 등록번호 : 서울, 아03630 | 등록일자 : 2015년 03월 11일 | 마실와이드 | 발행ㆍ편집인 : 김명규 | 청소년보호책임자 : 최지희 | 발행소 : 서울시 마포구 월드컵로8길 45-8 1층 | 발행일자 : 매일