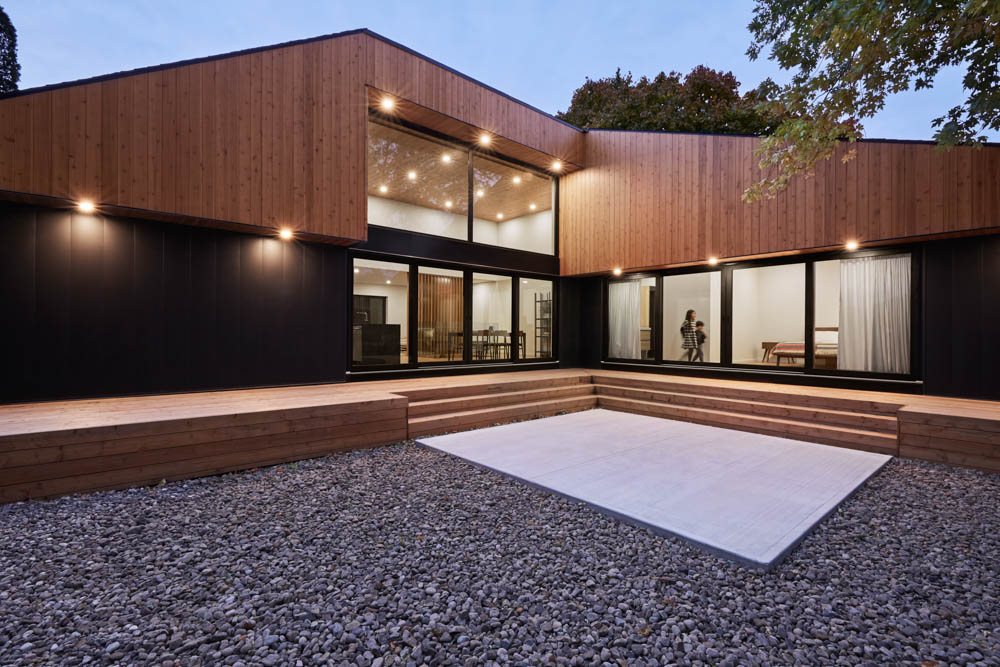 Pearl House is the new home of a South Korean family with two young children. Pearl House was born from a strong and simple concept: as a design element, a house must be a place of sanctuary.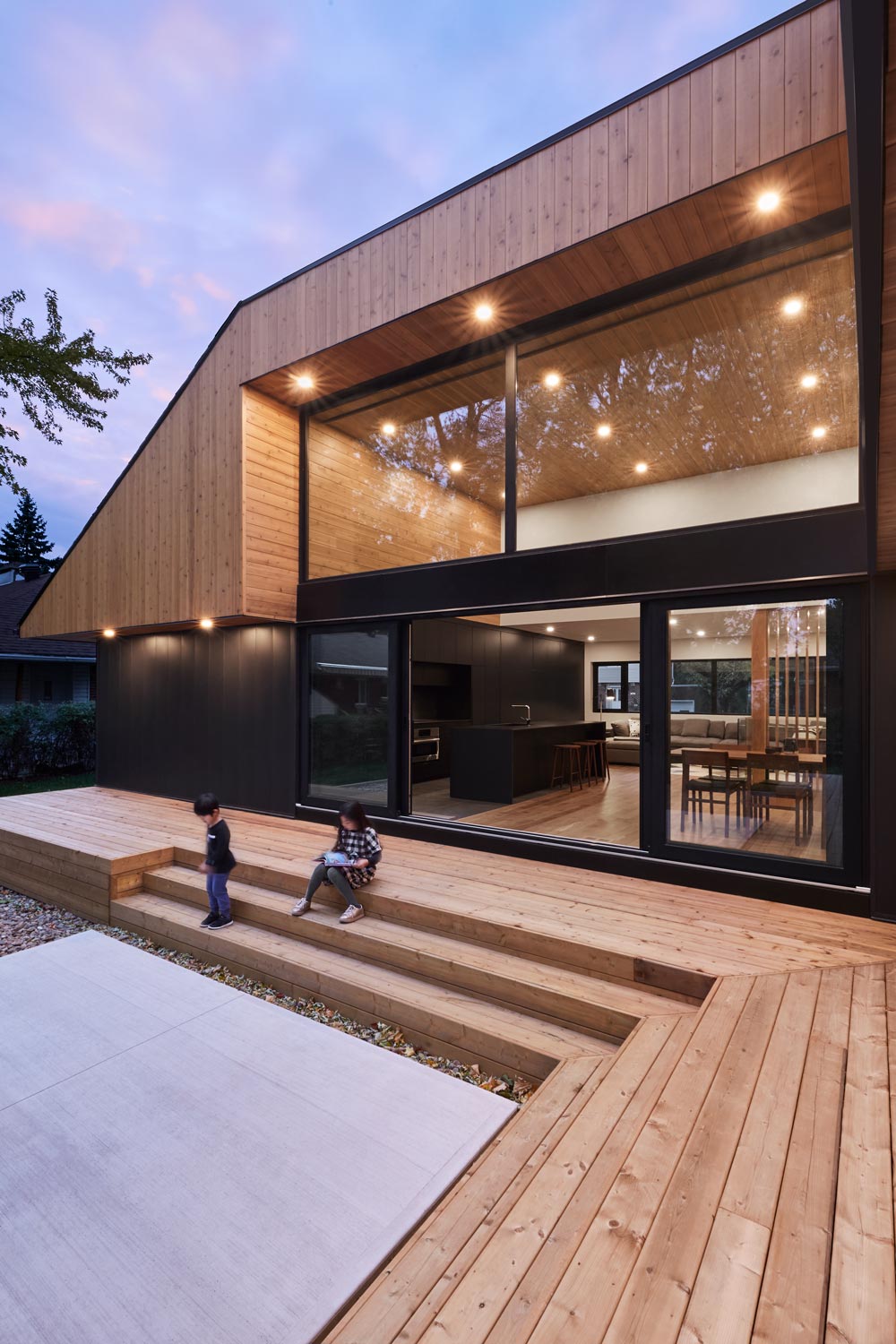 To achieve this, the architect imagined the house as a single large box containing the original residence as well as the new primary suite. He then removed a portion of this box to create a void, an inner courtyard, a protected place that highlights the large maple tree in the middle of the garden. This subtraction allowed for the passage of natural light through the entire plan of the house, revealing surfaces with warm, contrasting textures. The backyard became a soothing indoor-outdoor space where the family could gather to have a meal, play, or simply relax.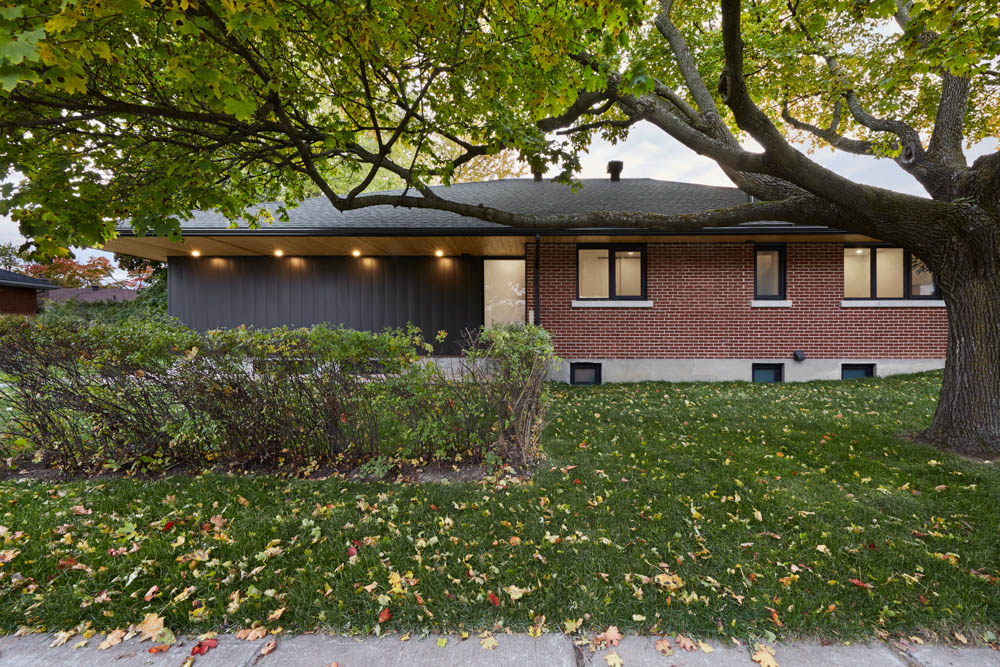 The house's L-shaped plan is divided into four zones. The first, to the north, is a connected series of intimate spaces. The children's bedrooms, located in the original house, take advantage of the existing windows, which allowed for minimal work on the facade. A new bathroom separating these rooms ensures acoustic comfort. In the new extension, the primary suite is aligned along the same axis. It includes a spacious bathroom and a walk-in closet. A 20-foot-wide patio door allows the couple to fully enjoy the garden from their bedroom.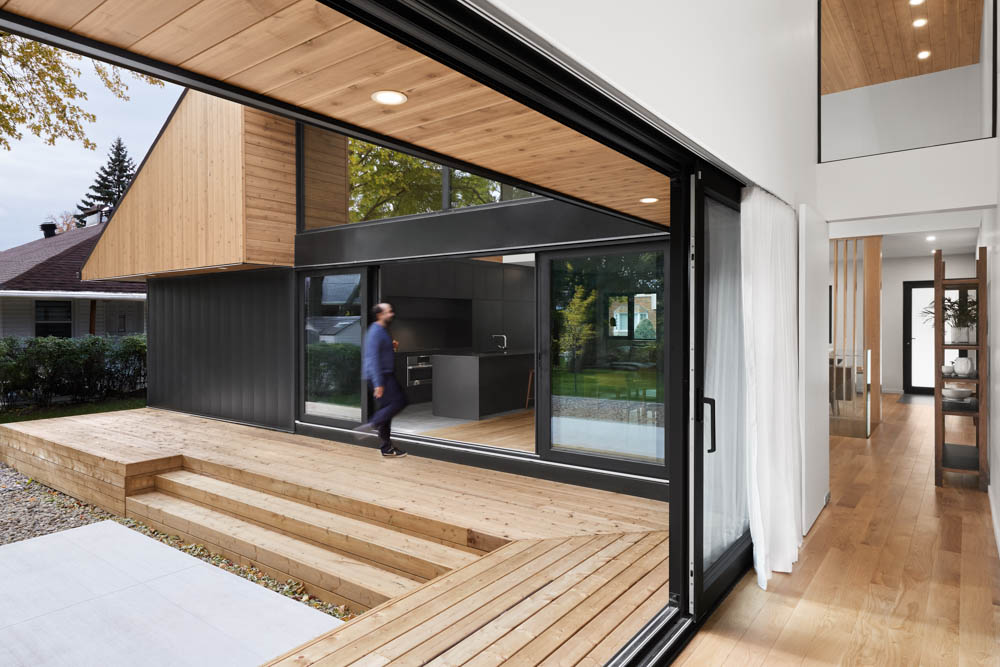 The living room, kitchen, and dining room have been grouped together to form a large living area in the center of the house. With a height of 15 feet, generous floor-to-ceiling windows, plenty of built-in storage, and transformable living spaces, the large room invites family members to share unique moments while enjoying abundant natural light and a soothing view of the outdoors. At the west end are functional spaces such as a garage and a vestibule with a laundry area. Finally, facing the backyard, a large cedar terrace frames the first floor, allowing the interior spaces to project outward while giving the impression of a more spacious home.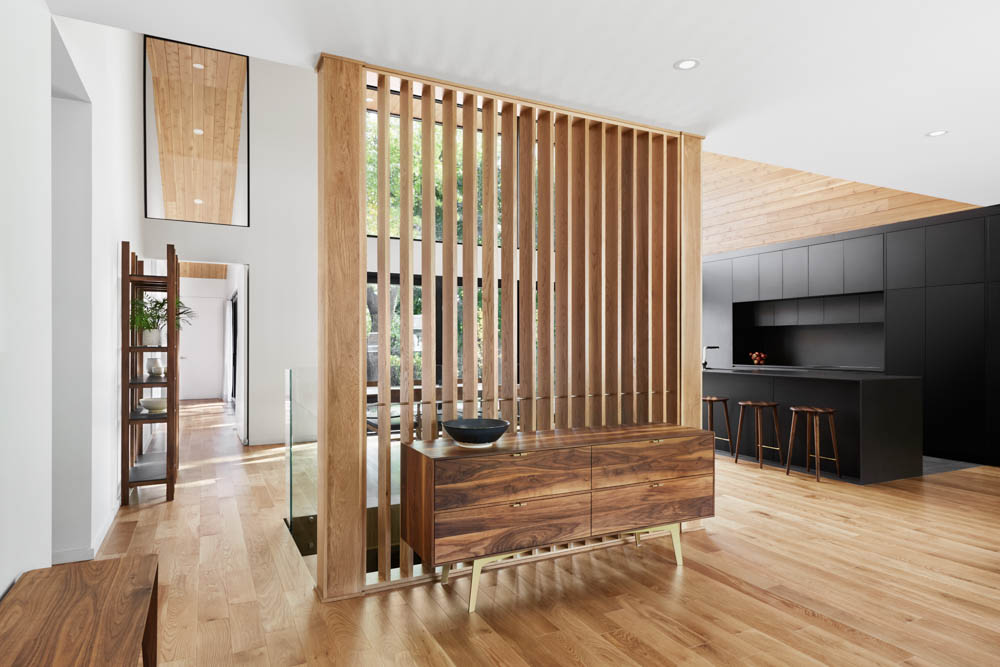 Special emphasis was given to the use of certified wood and metal to create durable and environmentally friendly exterior cladding. The exterior walls, composed of staggered posts, provide superior thermal insulation that is cost-effective over the long term. To illuminate the living spaces and recover solar thermal energy naturally, high-performance glazed windows were placed on the southern facing side of the building. In addition, all the trees on the property were preserved.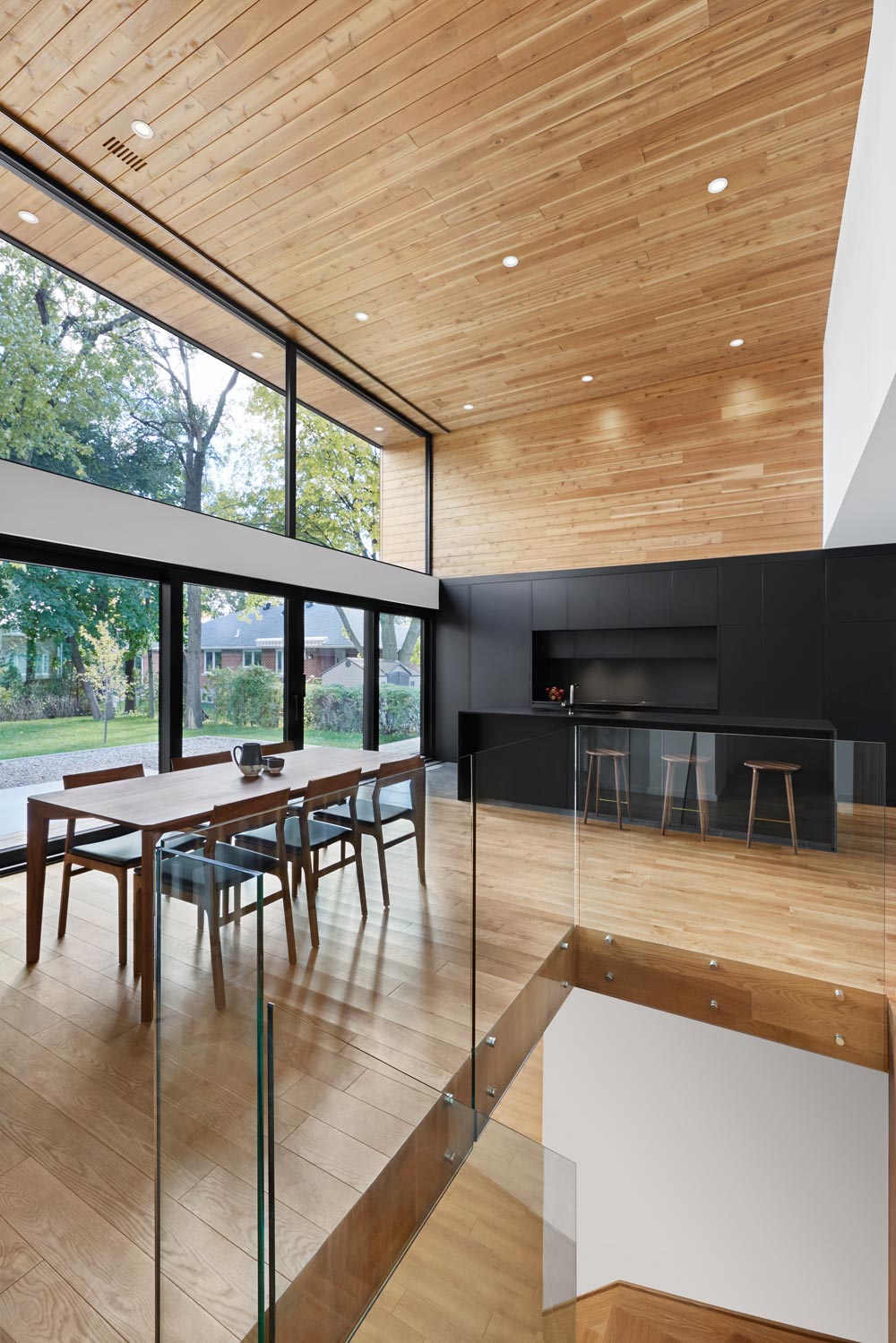 펄 하우스는 두 명의 어른 자녀를 둔 한국인 가정의 새로운 주택이다. 펄 하우스는 단순하지만 강력한 개념으로 계획되었는데, 디자인 요소로서 주택은 일종의 성역과 같은 역할을 해야한다는 것이다.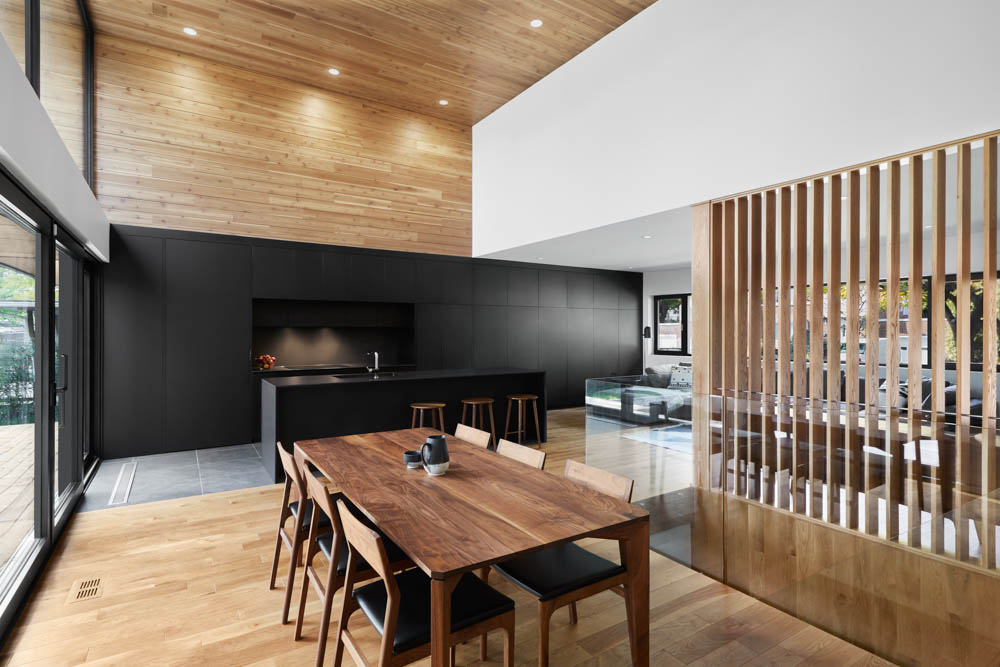 이러한 개념을 완성하기 위해 건축가는 주택을 본래의 부지와 새로운 스위트룸을 포함하는 하나의 큰 상자로 생각했다. 그 상자의 일부를 제거하여 부지의 가운데 있는 큰 단풍나무를 강조하는 중정을 만들었다. 이 공간을 통해 집의 전체 계획에 자연광이 충분히 들 수 있었다. 뒷마당은 가족이 함께 모여 식사를 하거나 놀고, 휴식을 취하는 편안한 공간이 되었다.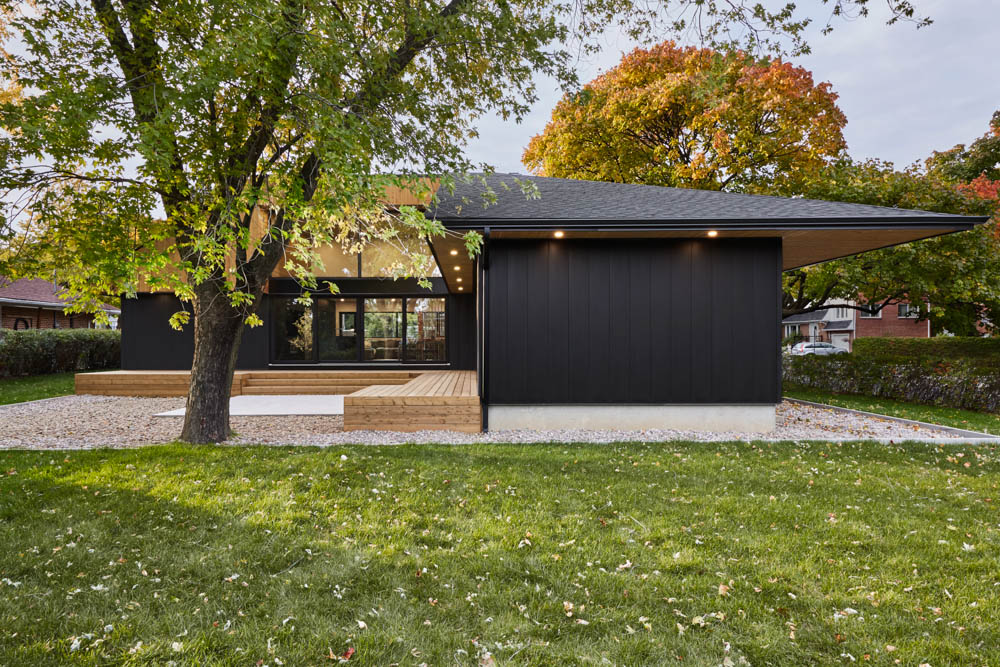 집의 L자형 평면도는 4개의 구역으로 나뉜다. 첫 번째는 북쪽으로 연결된 일련의 친밀한 공간이다. 본래 집에 있던 어린이 침실은 기존 유리창을 활용해 파사드 작업을 최소화했다. 이 방들을 분리하는 새로운 욕실은 목가적인 편안함을 보장한다. 새로운 확장계획에서 넓은 욕실과 복도, 벽장을 따라 기존 공간이 동일한 축에서 정렬되어있다. 20피트 너비의 테라스 출입구를 통해 부부는 안방에서 정원을 바라볼 수 있다.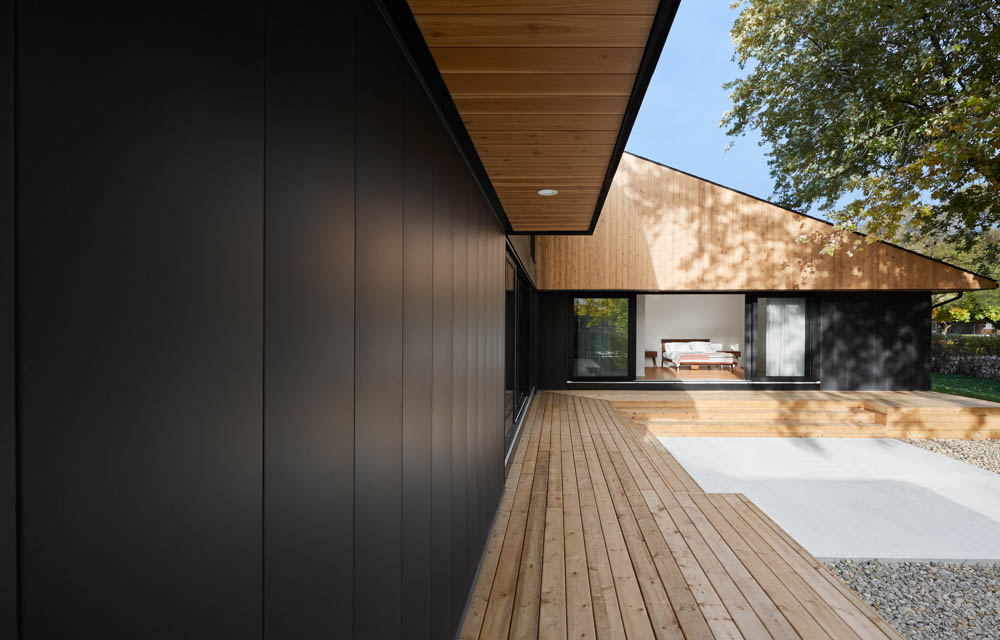 거실, 주방, 식당 등이 한데 어우러져 집 가운데 넓은 생활권을 형성한다. 높이 15피트, 바닥에서 천장까지 이어진 창문, 넉넉한 수납공간, 형태전환이 가능한 생활공간을 통해 가족단위의 초대객들이 모여 풍부한 자연광과 편안함을 느낄 수 있다. 서쪽 끝에는 세탁실, 차고와 같은 기능적인 공간을 배치했다. 마지막으로 뒤뜰을 마주하고 있는 커다란 삼나무 테라스가 1층 골조와 이어져있어 실내 공간이 바깥쪽으로 돌출한 형태를 취해 더 넓은 집처럼 느낄 수 있다.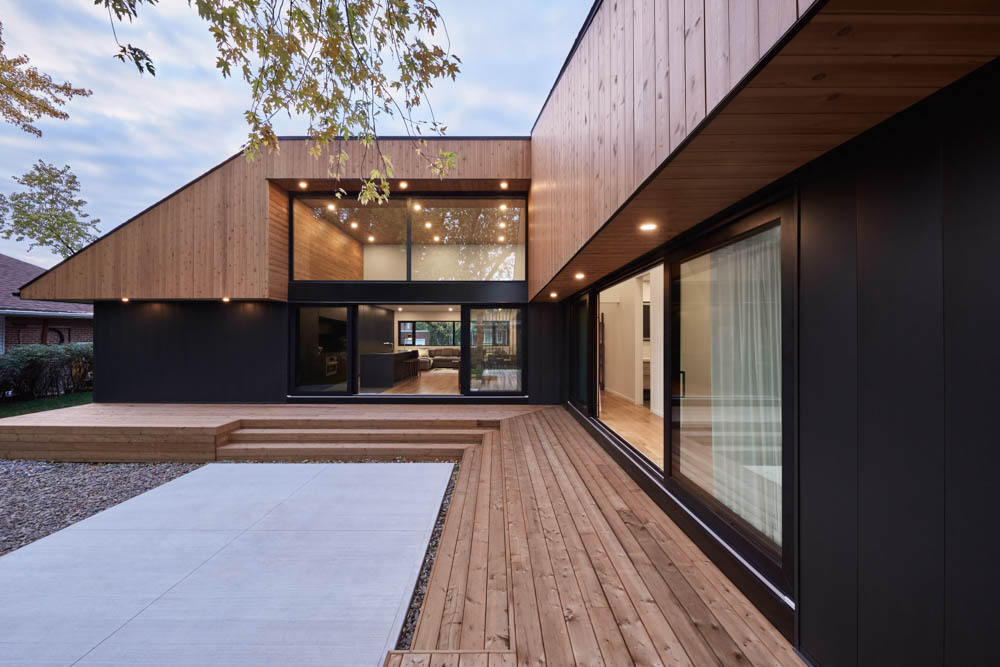 내구성과 환경 친화적인 파사드를 만들기 위해 인증된 목재와 금속을 사용하는 것에 초점을 두었다. 엇갈린 기둥으로 구성된 외벽은 장기적으로 비용관리에 있어 효율적이면서 뛰어난 단열 성능을 제공한다. 생활공간으로 자연광을 유입시키며 이를 통한 자연적인 온도 조절을 위해 건물의 남쪽에 고성능 유리창을 설치했다. 그리고 부지의 모든 나무를 보존하는 계획을 만들었다.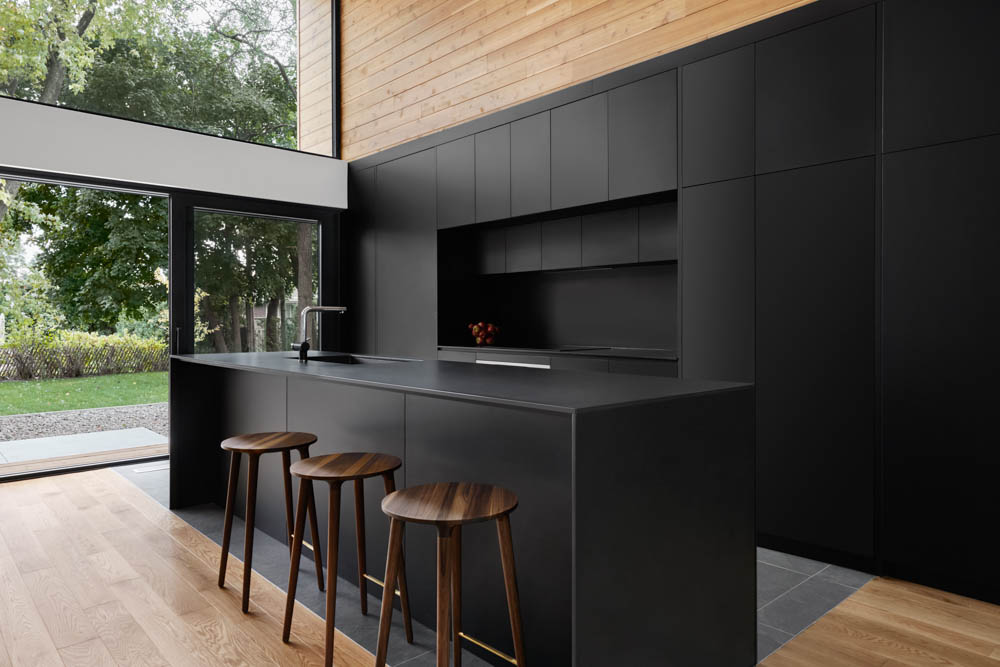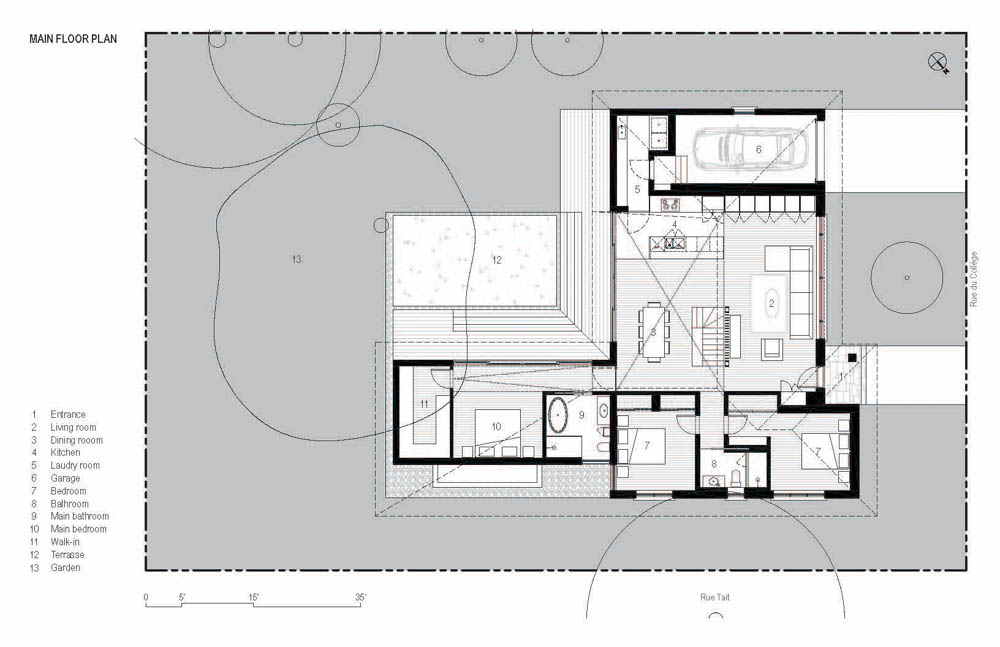 Architect MXMA Architecture & Design
Location City of Montreal, Borough of Saint-Laurent
Building area 197m²
Completion 2018
Project manager Maxime Moreau, architect
Design team Isabelle. A. Jolicoeur, Gabrielle Morin
Contributors Francis Raymond (GMV3D)
Contractor Demonfort
Photographer Annie Fafard + Maxime Moreau
---
마실와이드 | 등록번호 : 서울, 아03630 | 등록일자 : 2015년 03월 11일 | 마실와이드 | 발행ㆍ편집인 : 김명규 | 청소년보호책임자 : 최지희 | 발행소 : 서울시 마포구 월드컵로8길 45-8 1층 | 발행일자 : 매일