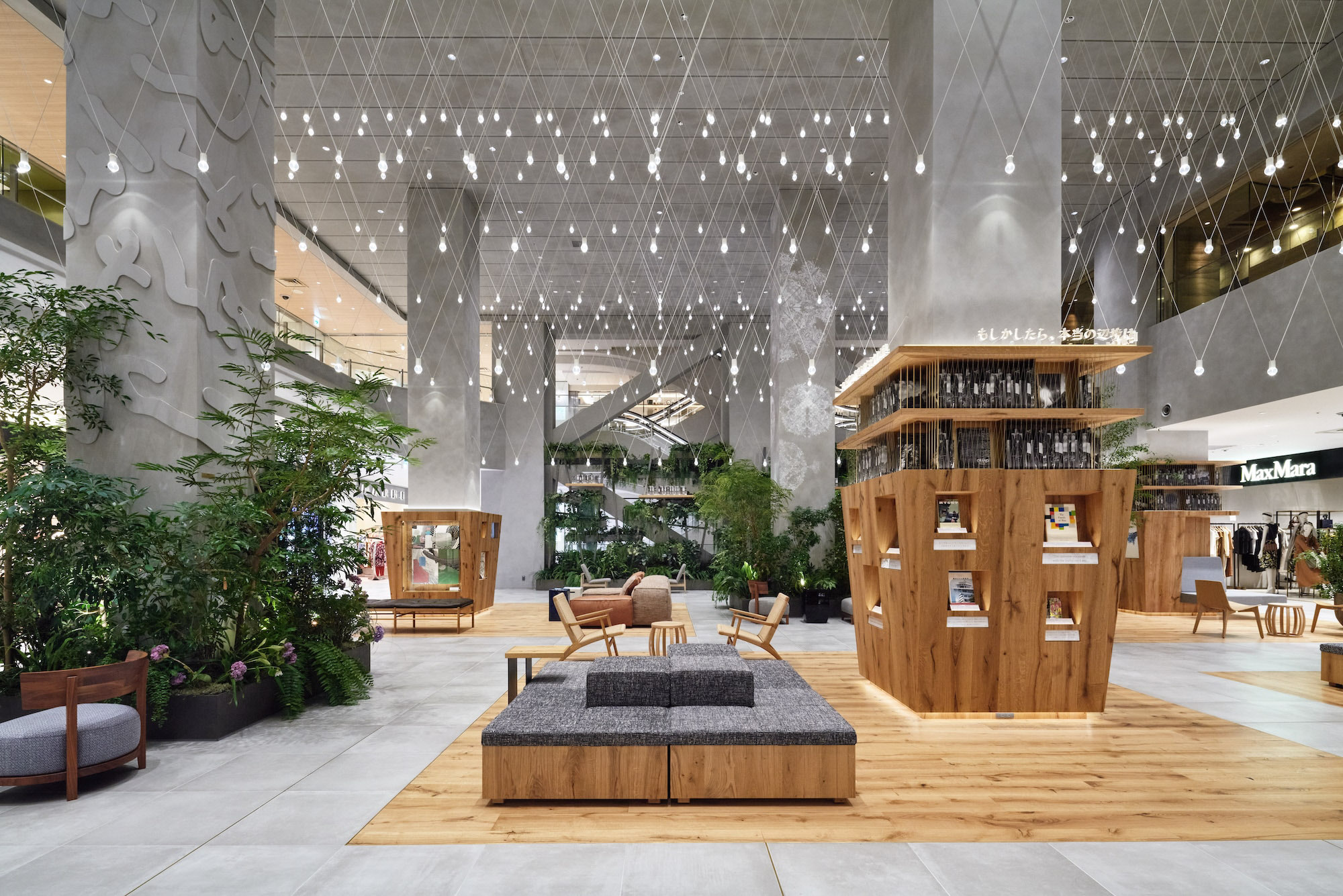 Following the design concept of "library and art," a place of rest for local residents has been created in a commercial facility with 50 years of history. The Tamagawa Takashimaya Grand Patio is a place where you can encounter books and art, and within the spacious atrium, some people can enjoy the park, while others can use small and private reading spaces. First and foremost, the assembled lighting consisting of 669 bulbs and 1,338 cords on the atrium ceiling catches the eye. For safety, the bulbs are made of acrylic instead of glass, and stainless steel wire is inserted into the cord without electrical wiring to prevent the bulbs from falling. In addition, books and meaningful quotes from books were placed together to connect visitors with new books. The two pillars in the atrium are decorated with murals by artists that evoke the experience of reading.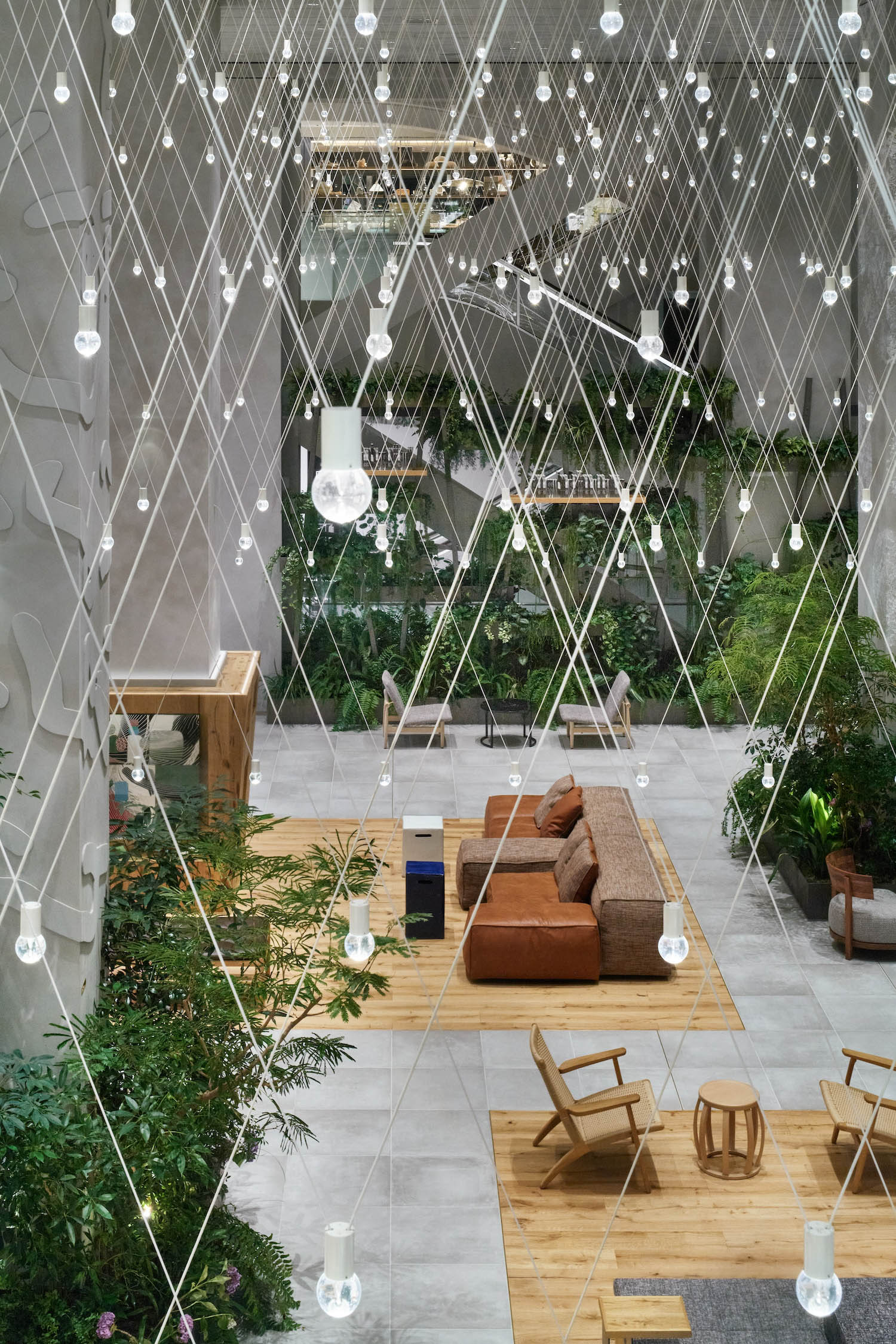 '도서관과 예술'이라는 디자인 콘셉트에 따라, 50년의 역사를 가진 상업시설에 지역민들을 위한 휴식의 장소가 만들어졌다. 타마가와 타카시마야 그랜드 파티오는 책과 예술을 접할 수 있는 곳으로, 넓은 아트리움 안에서 어떤 사람은 공원을 즐기고, 또 누군가는 작고 개인적인 독서공간으로 이곳을 이용할 수 있다. 가장 먼저, 아트리움 천장에 669개의 전구와 1,338개의 코드로 구성된 조립식 조명이 눈길을 사로잡는다. 안전을 위해 전구는 유리가 아닌 아크릴로 만들어졌으며, 각 전구를 매달기 위해 사용된 두 개의 코드 중 전기 배선이 없는 코드에는 전구가 떨어지지 않도록 스테인리스스틸 와이어가 삽입됐다. 또한, 방문자들에을 새로운 책들과 연결하기 위해 책과 책 속 의미 있는 인용구를 함께 배치했다. 아트리움에 있는 두 개의 기둥은 독서의 경험을 연상시키는 예술가들의 벽화로 장식되어 있다.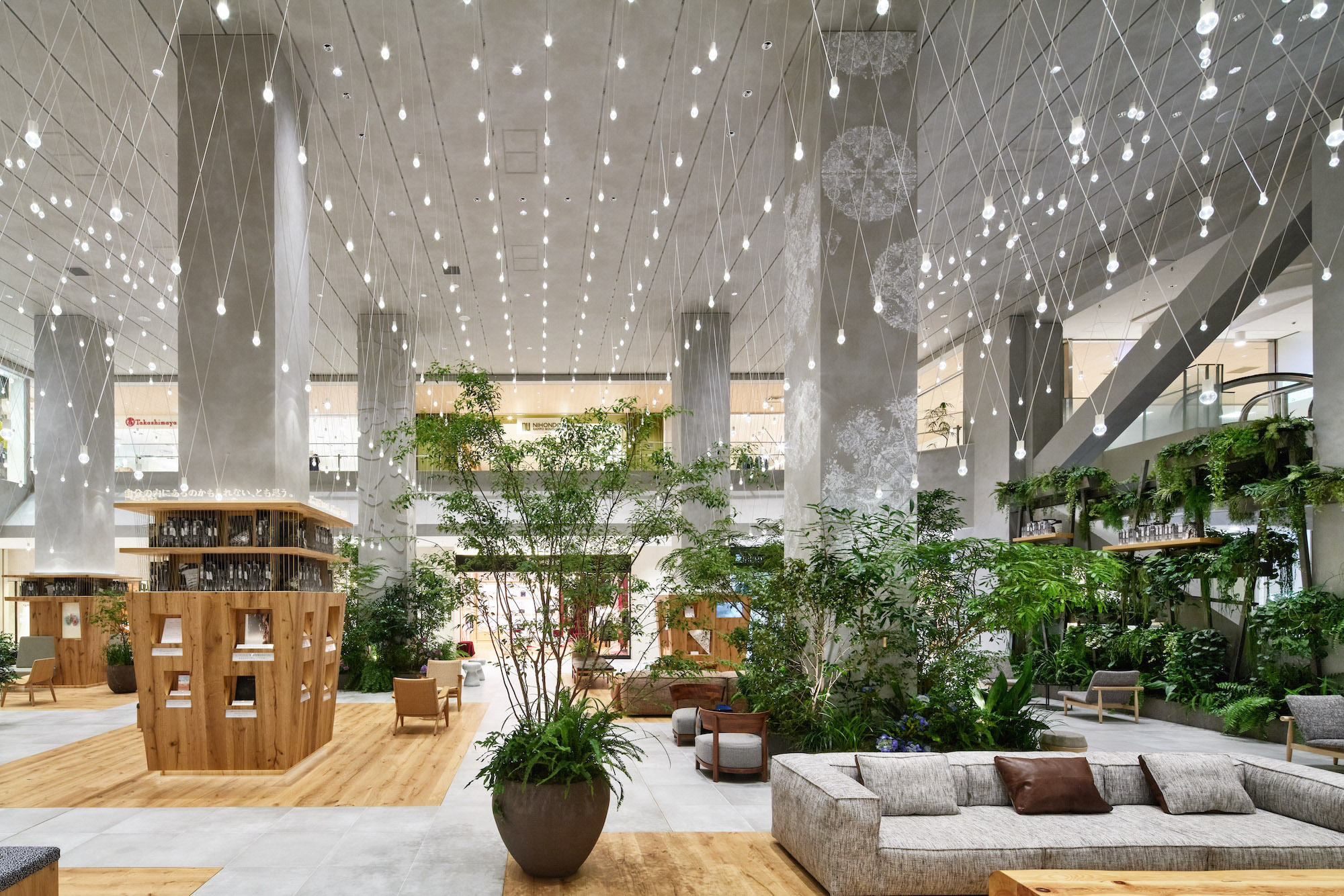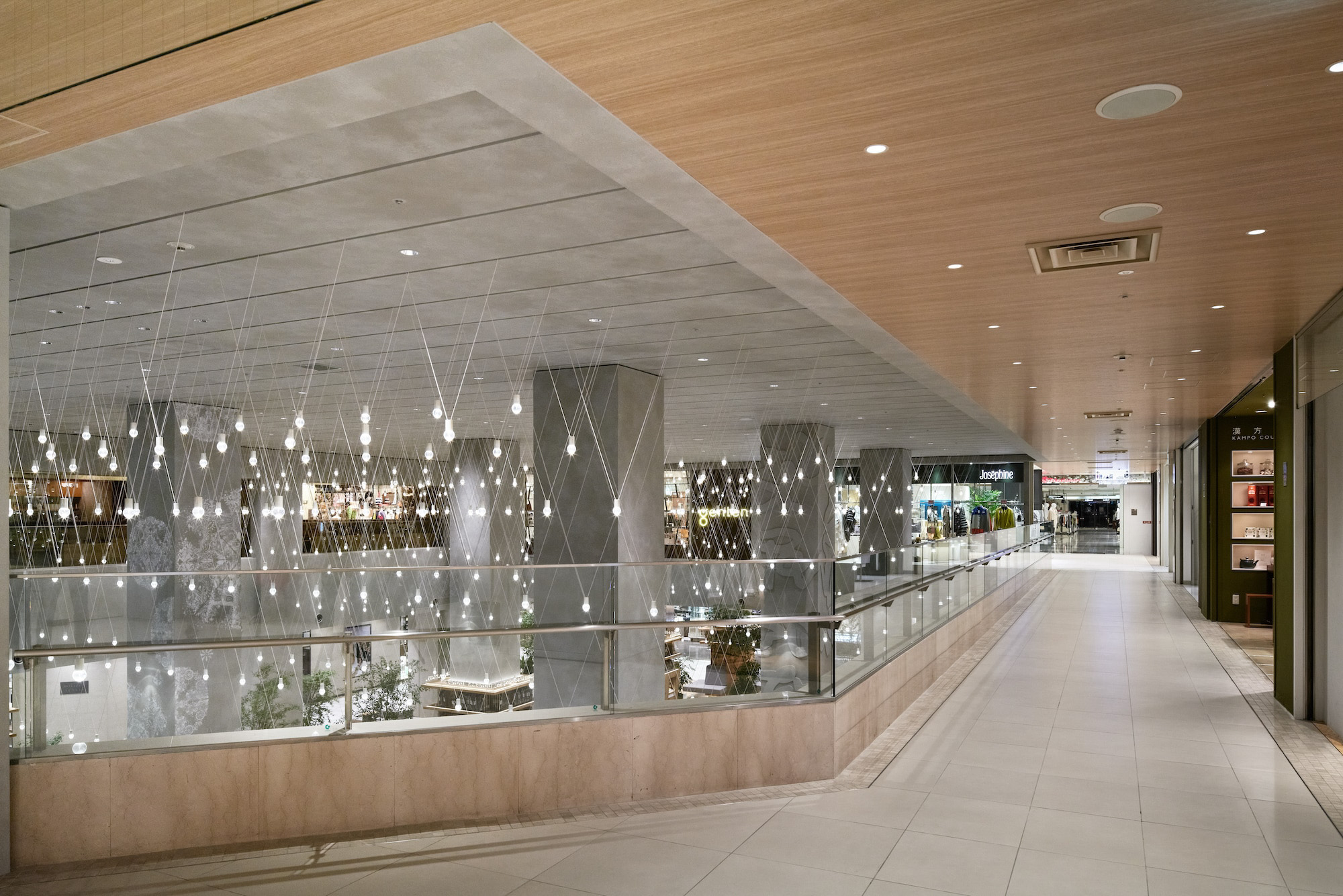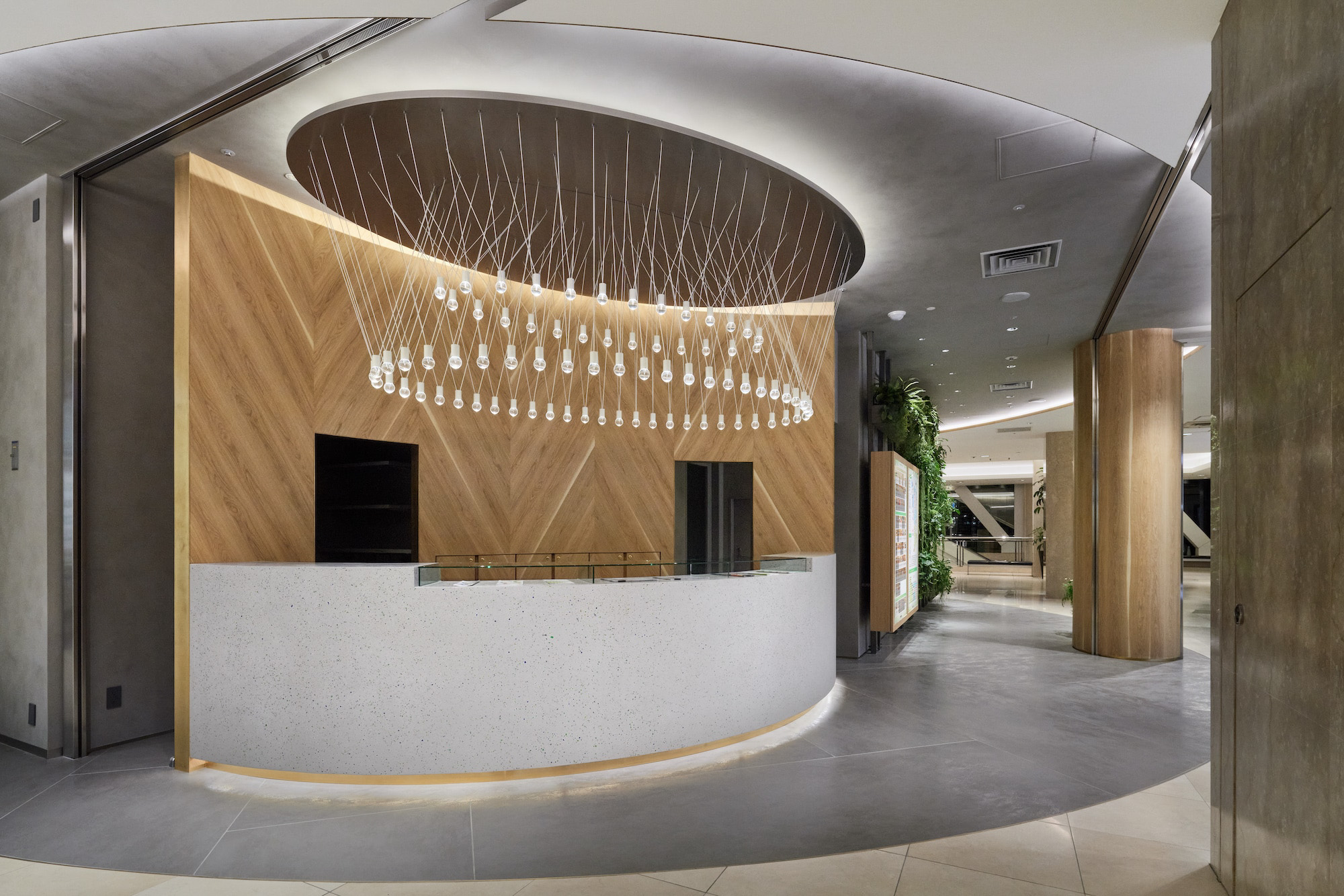 건축가 유코 나가야마 앤드 어소시에이츠
위치 Setagaya-ku, Tokyo, Japan
면적 2,058.2㎡
준공 2020. 4.
대표건축가 Yuko Nagayama, Shoichi Hirota, Hideo Yokota
디자인팀 Nihon Sekkei, Inc. (Takao Yuki, Masayuki Hamachi, Yoshifumi Karasawa)
조경디자이너 Daishizen Inc. (Taichi Saito, Akira Masuda, Miyu Yoshizawa)
조명디자이너 Izumi Okayasu Lighting Design (Izumi Okayasu)
아트큐레이션 Sakie Takasu
시공 Tokyu renewal Co.,Ltd (Kosuke hirokoshi, Yoshiyuki Yasuhara, Yuji Otsuka, Yasuhiko Eto)
발주자 Toshin Development Co.,Ltd (Takahiro Minamikawa)
사진작가 Daici Ano
해당 프로젝트는 건축문화 2020년 2월호(Vol. 465)에 게재되었습니다.
The project was published in the February, 2020 recent projects of the magazine(Vol. 465).
---
마실와이드 | 등록번호 : 서울, 아03630 | 등록일자 : 2015년 03월 11일 | 마실와이드 | 발행ㆍ편집인 : 김명규 | 청소년보호책임자 : 최지희 | 발행소 : 서울시 마포구 월드컵로8길 45-8 1층 | 발행일자 : 매일