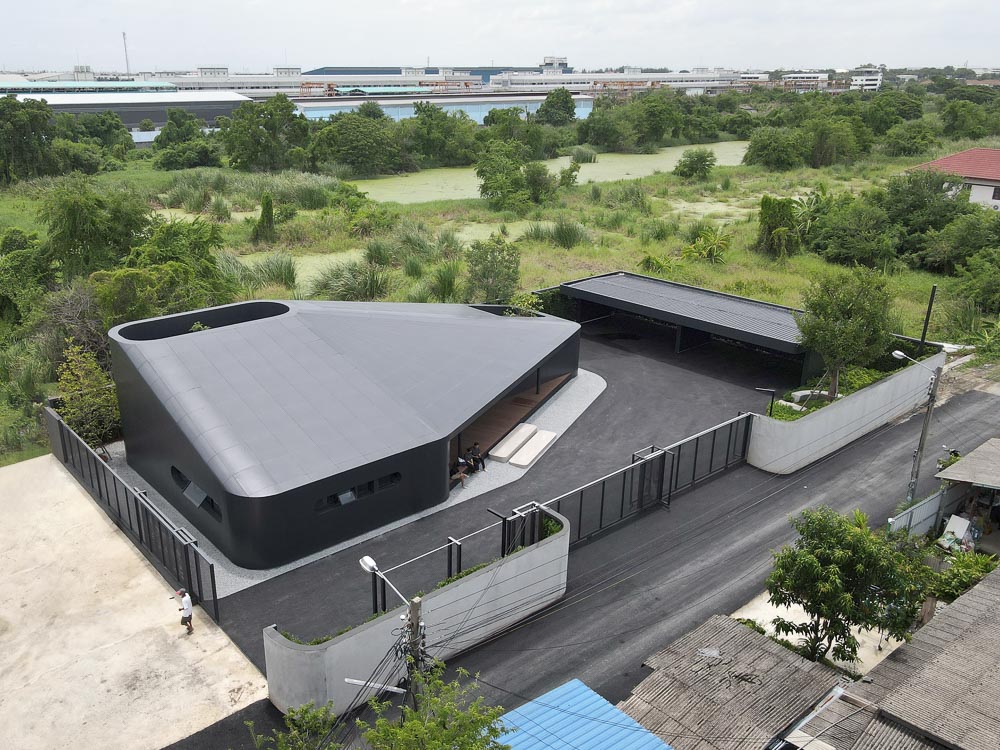 ASWA designed a new office with an irregular-shaped construction inspired by their product, a vacuum skin packaging film for the food industry. The unformed functional space conveys the concept of a variable appearance following the shape of an object it wraps. The office has two courtyards; a greenery court and a water court, which allow natural light to shine into the space.


Sevenlakes company is the creative office that leads in the food packaging in Thailand and is a specialist in thermoforming packaging for flexible packaging. ASWA offer the idea of how to represent their new headquarters which architecturally starts from their product. The interior space of 230 sq.m. fits for 6-8 staff seating, ten seat meeting room, and the area for the managing director room.


Approximately 400 square meters, the site is close to the Suvarnabhumi airport in Bangkok and is surrounded by a low-rise residential building and empty low land. The new office tends to amplify their product, the thermoforming packaging, and translate into an architectural language. The triangular volume with the trapezoid plan shape comes from the idea of thermoforming packaging, followed by the functional inside. The highest volume of 6 meters is next to the roadside for the staff area, which fits 6-8 people, and the ceiling is inclined to a meeting room and a managing director room. The steel structure is selected for a structural design to play a prominent role in this project because it can provide an irregular shape with a wide span. The exterior material of black trapezoid volume with two scoop courtyards is a metallic black aluminum composite that clads all over the building to perform as a single-sheet wrapping material like the company's thermoforming packaging product.


The functional layout can separate into three parts; the staff area on the left side, the meeting area on the center, and the managing director's room on the right side. The entrance is on the oblique side of the trapezoid plan, which has a deck for the welcome area and a curved background wall that allows staff to relax during their break time or after work. The first glimpse of the space, when entering inside, is the surprising scoop greenery courtyard with natural light providing for the staff area, while the meeting room shares a view on the shortened side. Besides the big yard, this building still has another surprising scoop pool court for the managers' to enjoy with their children during the weekend.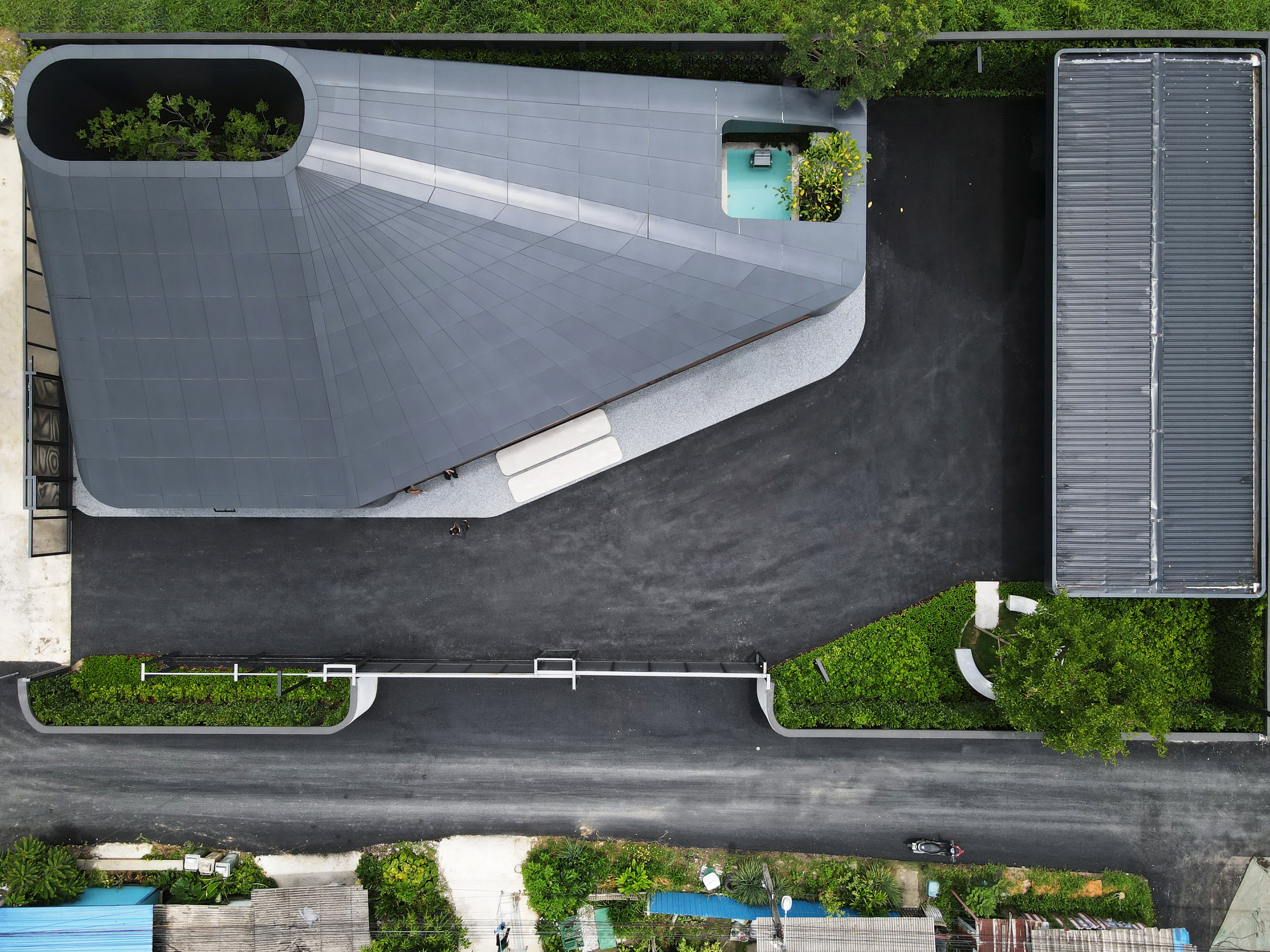 에이에스더블유에이는 식품 산업을 위한 진공 포장 필름인 자사 제품에서 영감을 받은 불규칙한 모양의 구조로 새로운 사무실을 설계했다. 형성되지 않은 함수 공간은 감싸는 물체의 모양을 따라 가변적인 외관의 개념을 전달한다. 사무실에는 두 개의 안뜰이 있는데, 자연광이 공간으로 비칠 수 있도록 하나는 녹지와 다른 하나는 수공간이 있다.
세븐레이크스는 태국에서 식품포장을 선도하는 창조적인 오피스로 유연한 포장을 위한 열성형 포장 전문업체다. 에이에스더블유에이는 그들의 제품에서 건축학적으로 시작되는 새로운 본사를 표현하는 방법에 대한 아이디어를 얻었다. 230㎡의 내부 공간은 6~8명의 직원이 앉을 수 있는 좌석과 10석의 회의실, 상무이사실 공간에 적합하다.
약 400㎡ 규모의 부지는 방콕 수완나품 공항과 인접해 있으며 저층 주거용 건물과 텅 빈 저지대에 둘러싸여 있다. 새 사무실은 열 성형 포장 제품인 제품을 확대하고 건축 언어로 번역하는 경향을 지닌다. 사다리꼴 평면 모양의 삼각형 볼륨은 열 성형 포장 아이디어에서 비롯된 기능적인 내부 형태이다. 6m의 가장 높은 볼륨은 길가 옆에 있는 직원 공간으로 6-8명이 들어갈 수 있으며 천장은 회의실과 상무실로 기울어져 있다. 철골 구조는 넓은 경간과 함께 불규칙한 형상을 제공할 수 있기 때문에 이 프로젝트에서 중요한 역할을 하는 구조로 선택되었다. 두 개의 국자형 안뜰이 있는 검은 사다리꼴 볼륨의 외부 재료는 금속의 검은색 알루미늄 복합재로 건물 전체를 덮고 있어 회사의 열성형 포장 제품과 같은 단일 시트 포장재 역할을 한다.
기능적 레이아웃은 세 부분으로 나눌 수 있다. 왼쪽은 직원 공간, 중앙은 회의 공간, 오른쪽은 전무실이다. 입구는 사다리꼴의 비스듬한 면에 있으며 환영하는 구역을 위한 데크와 직원이 휴게 시간이나 퇴근 후 휴식을 취할 수 있도록 곡선 배경 벽이 있다. 내부에 들어서면서 처음으로 공간을 엿볼 수 있는 곳은 직원 공간으로, 자연 채광이 있는 놀라운 녹지 안뜰이며, 회의실은 짧은 쪽의 전망을 공유한다. 큰 마당 외에도, 이 건물에는 주말 동안 관리자가 아이들과 함께 즐길 수 있는 또 다른 놀라운 수공간이 있다.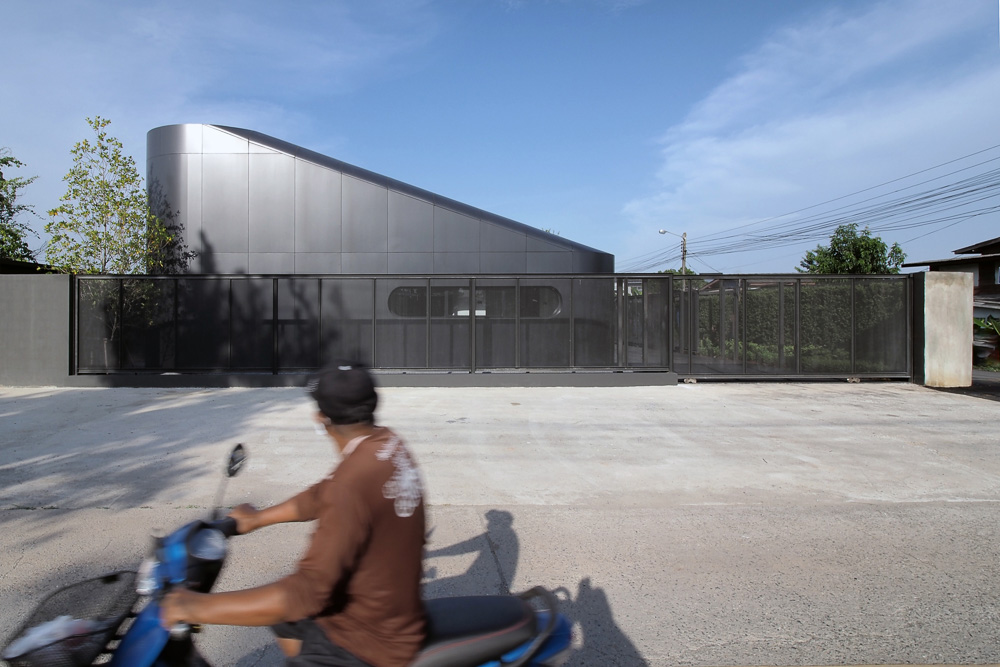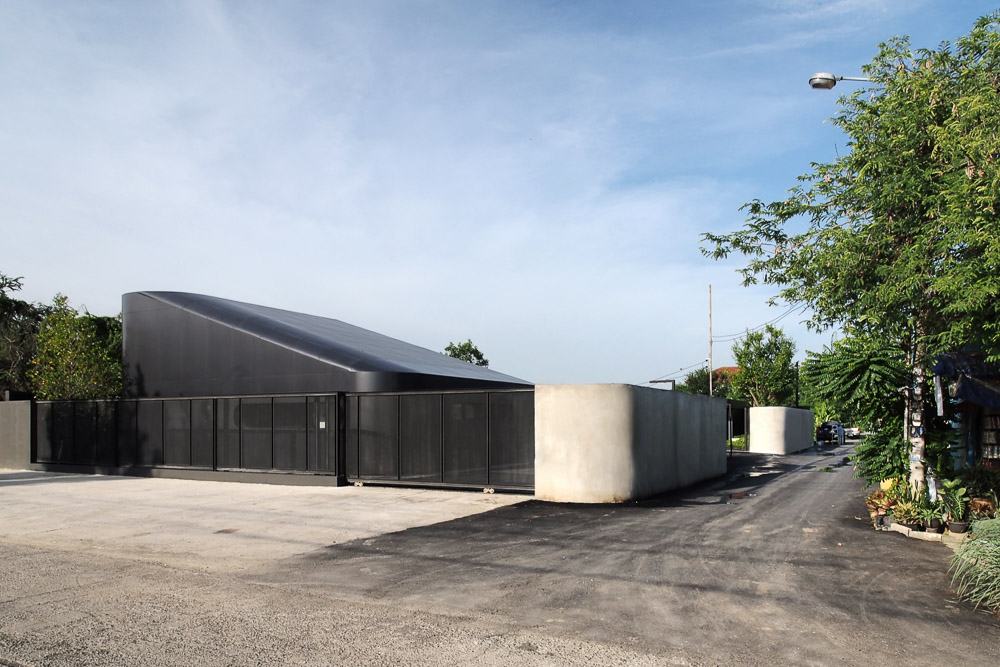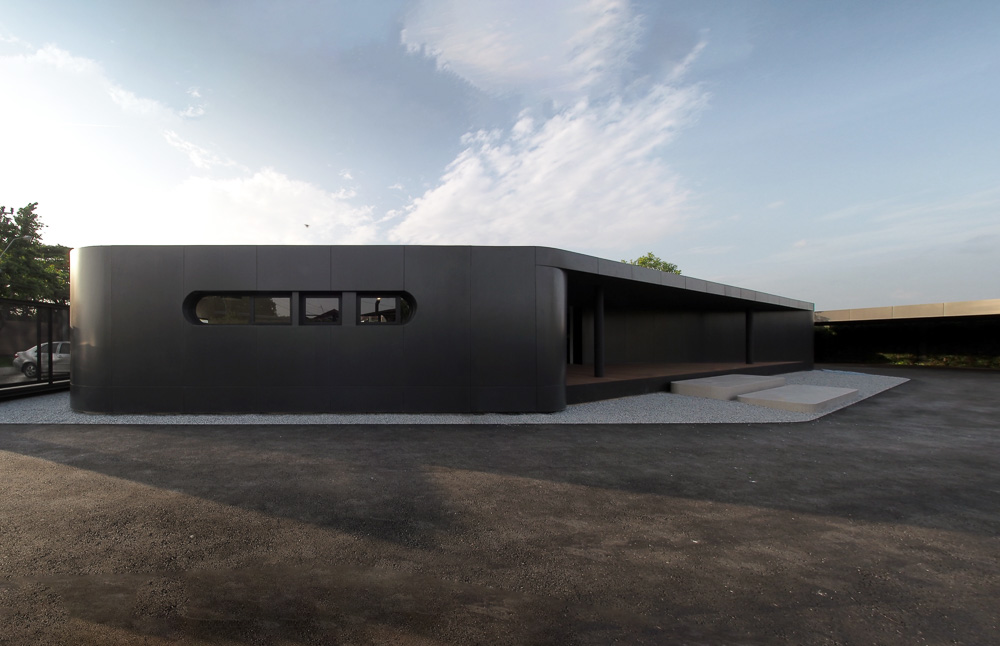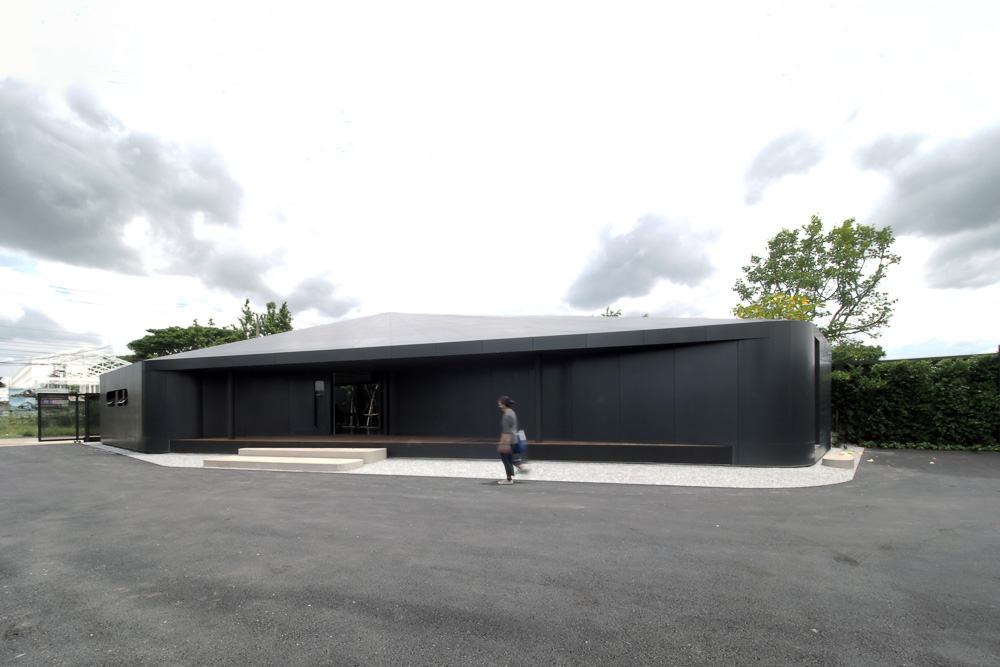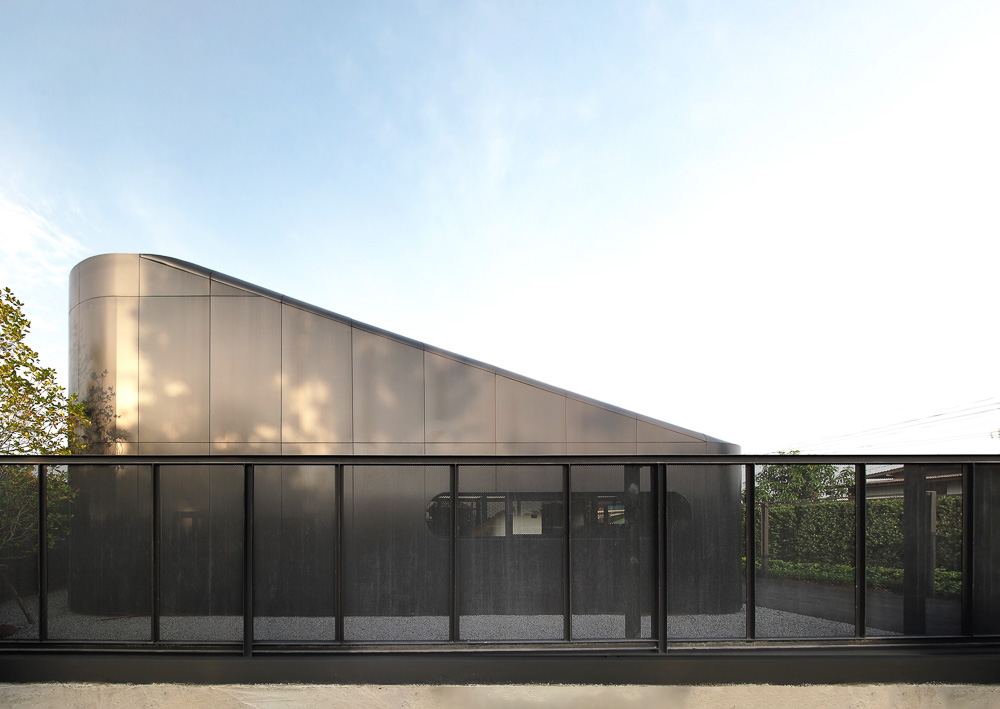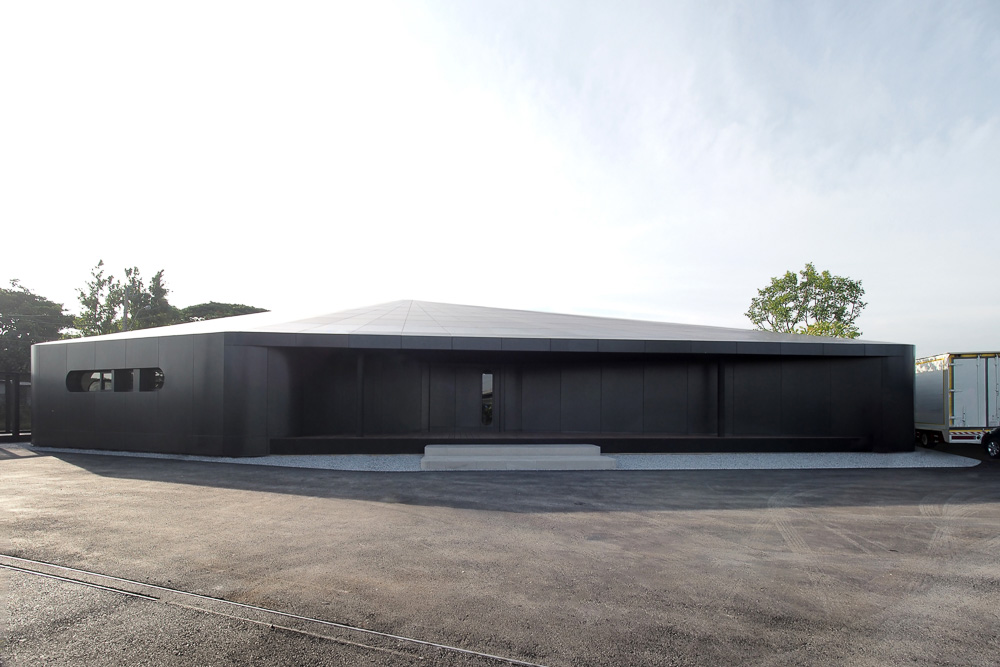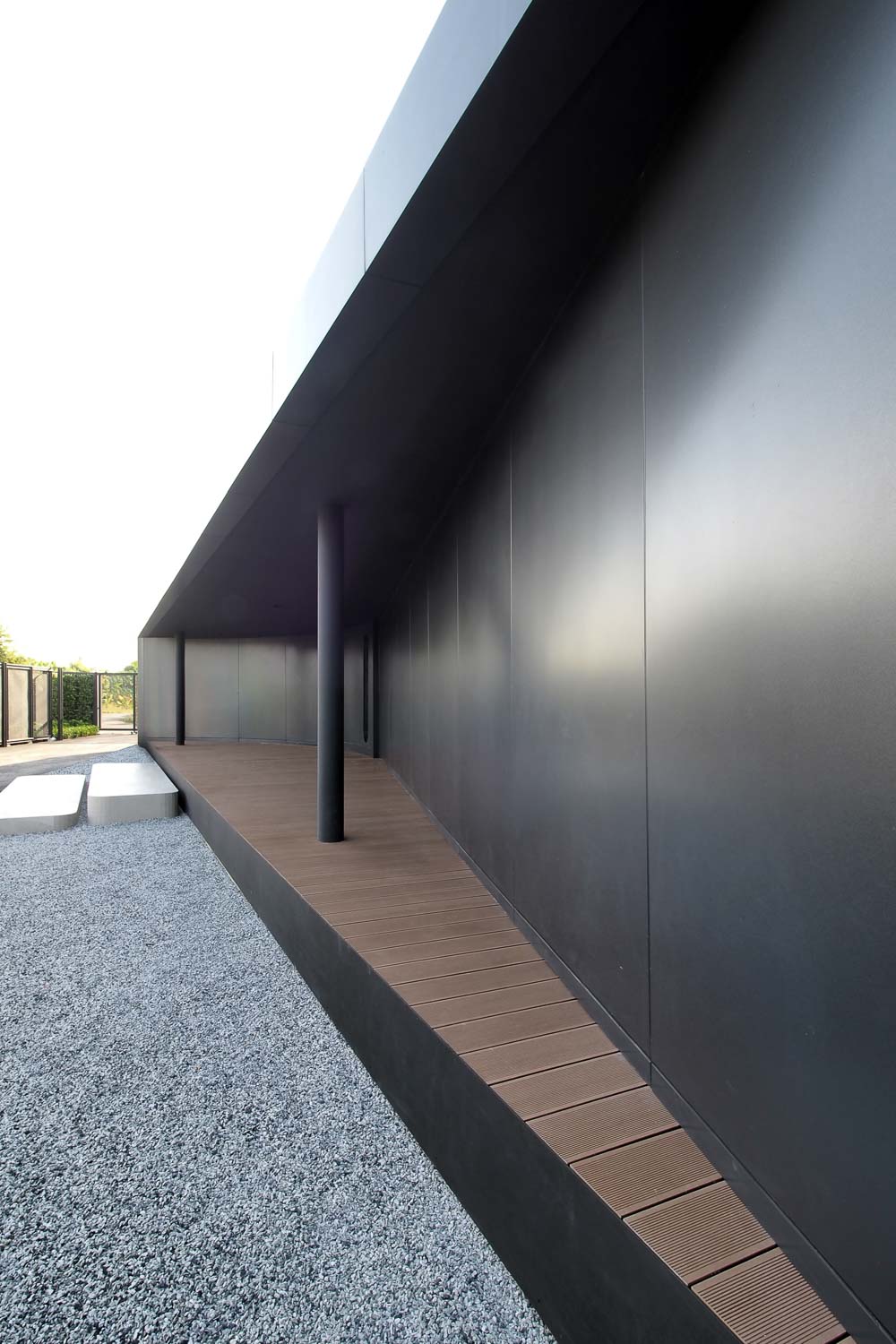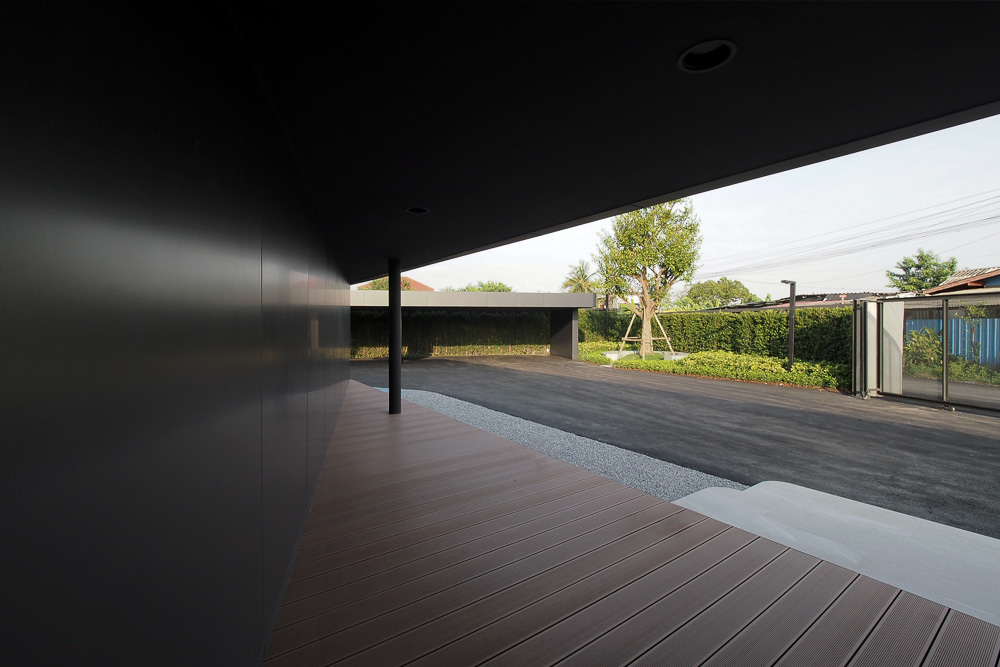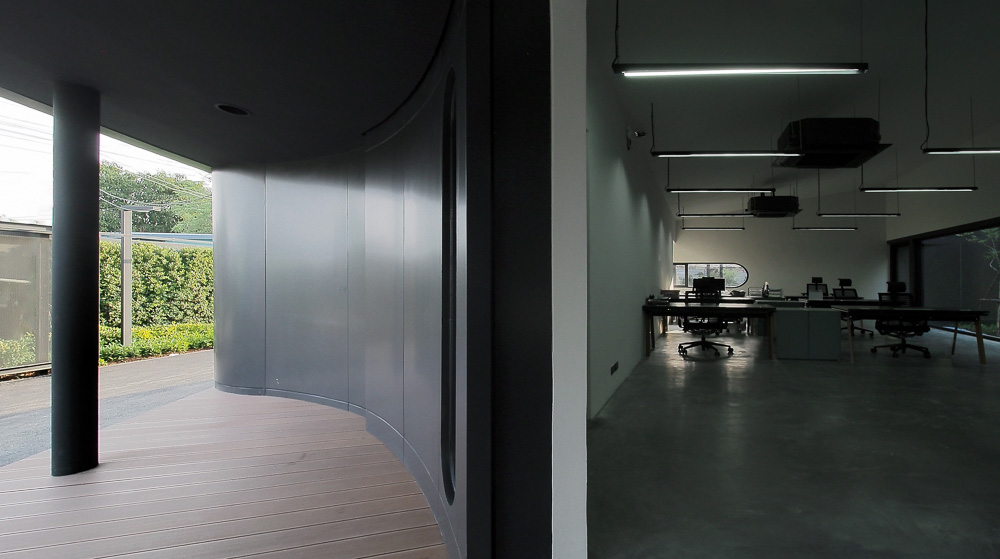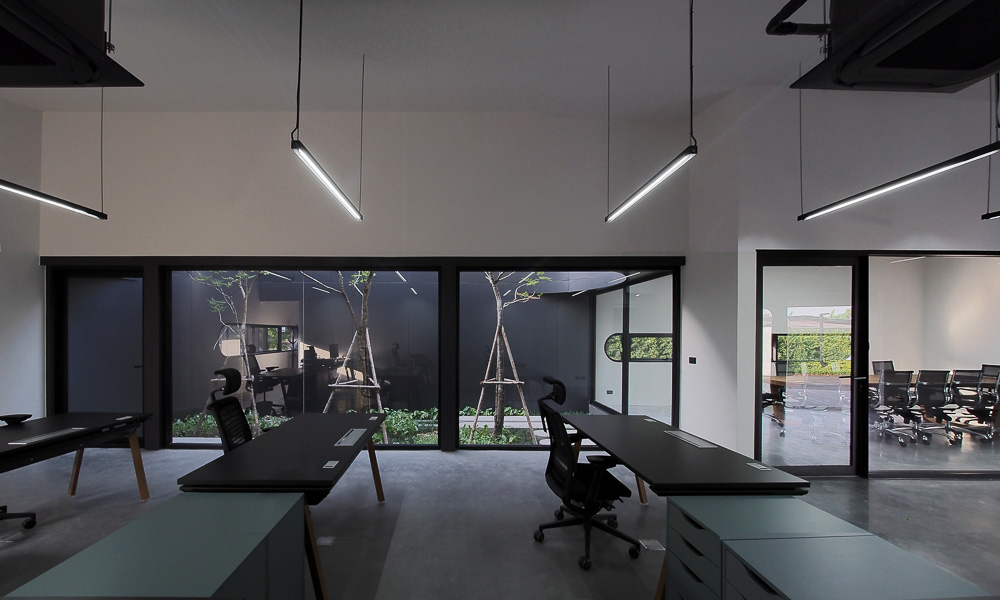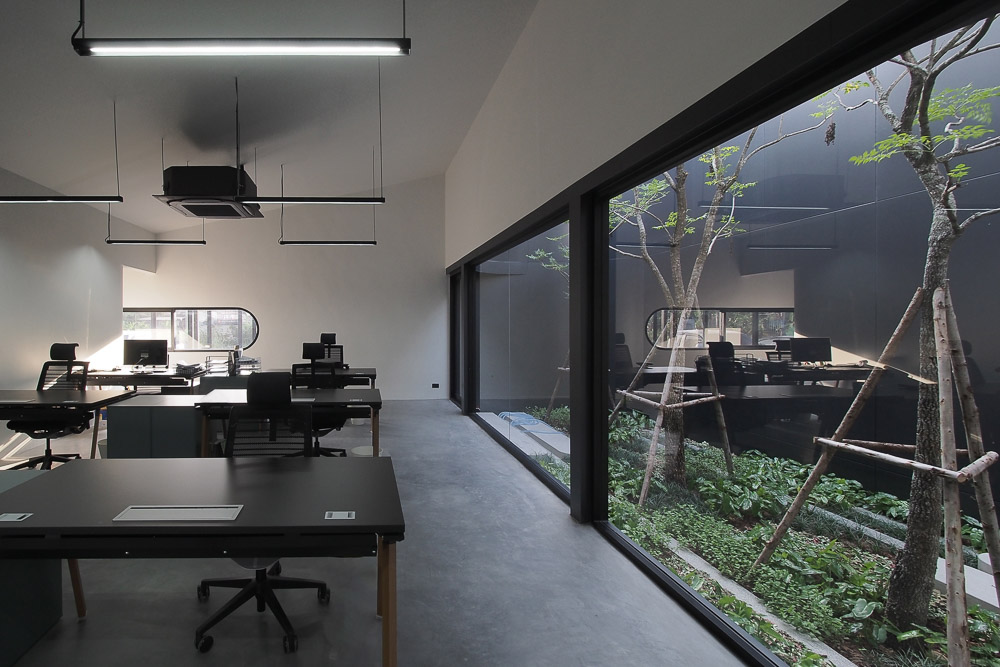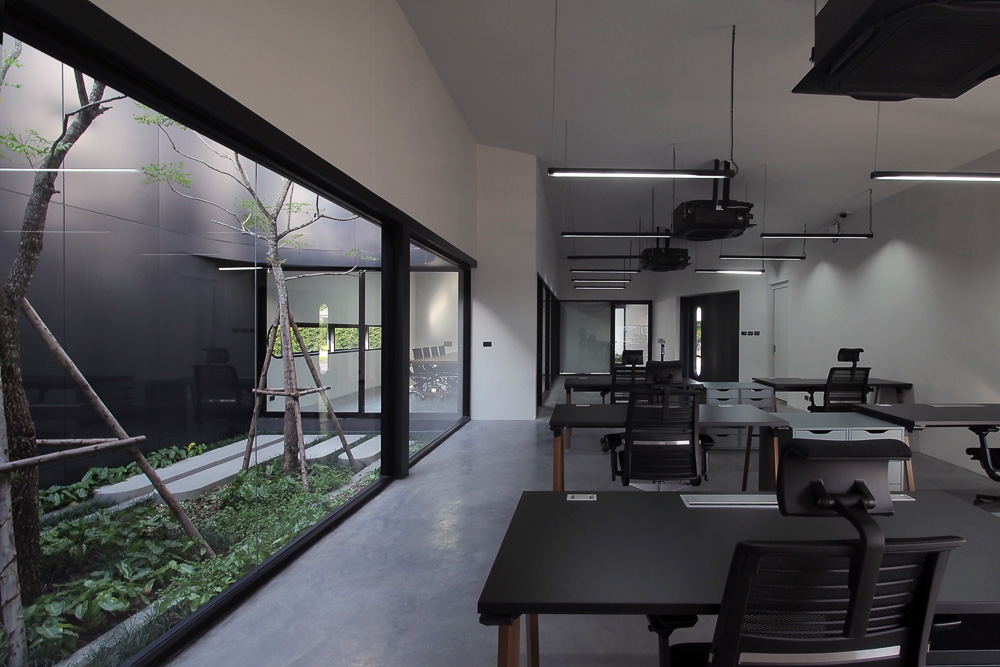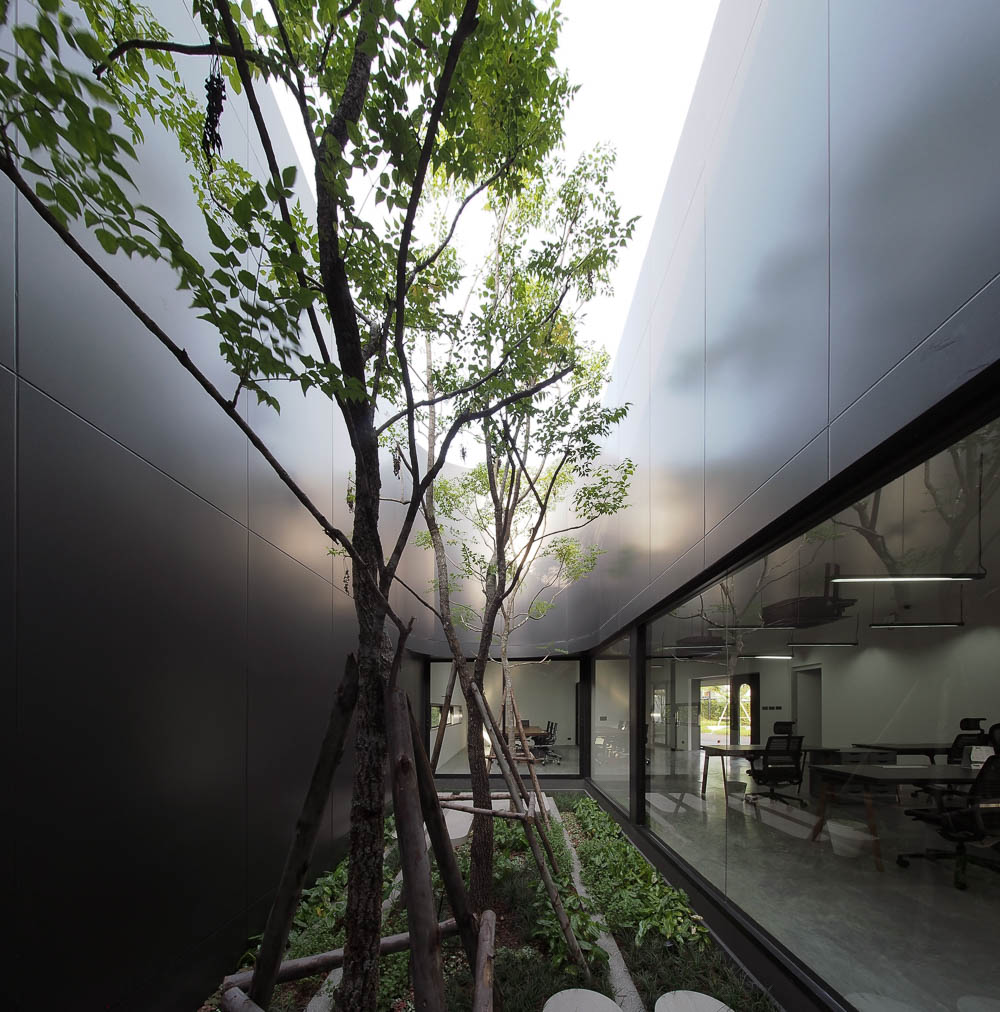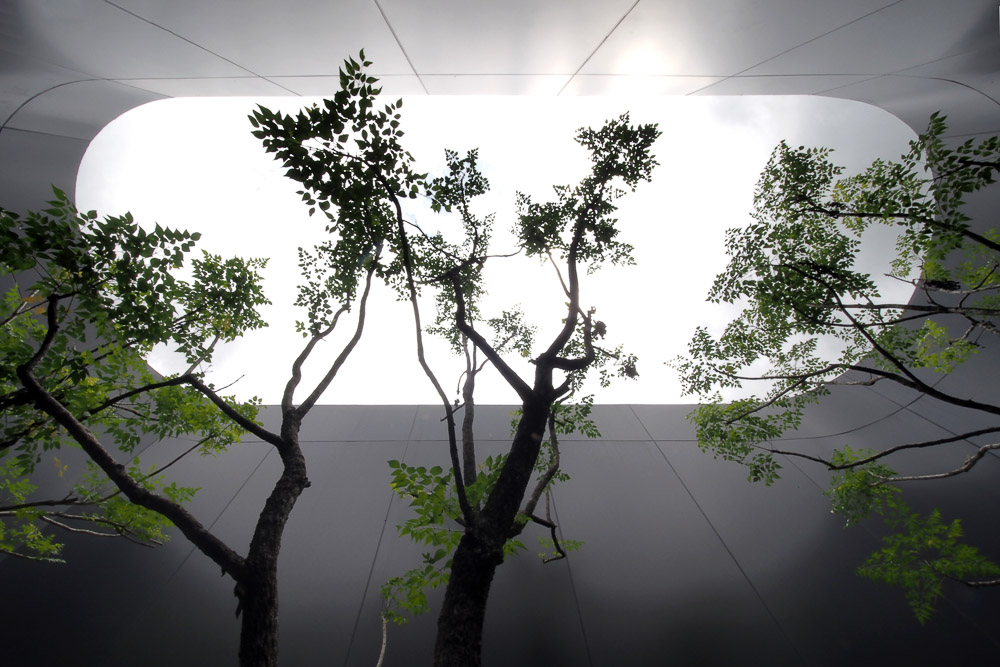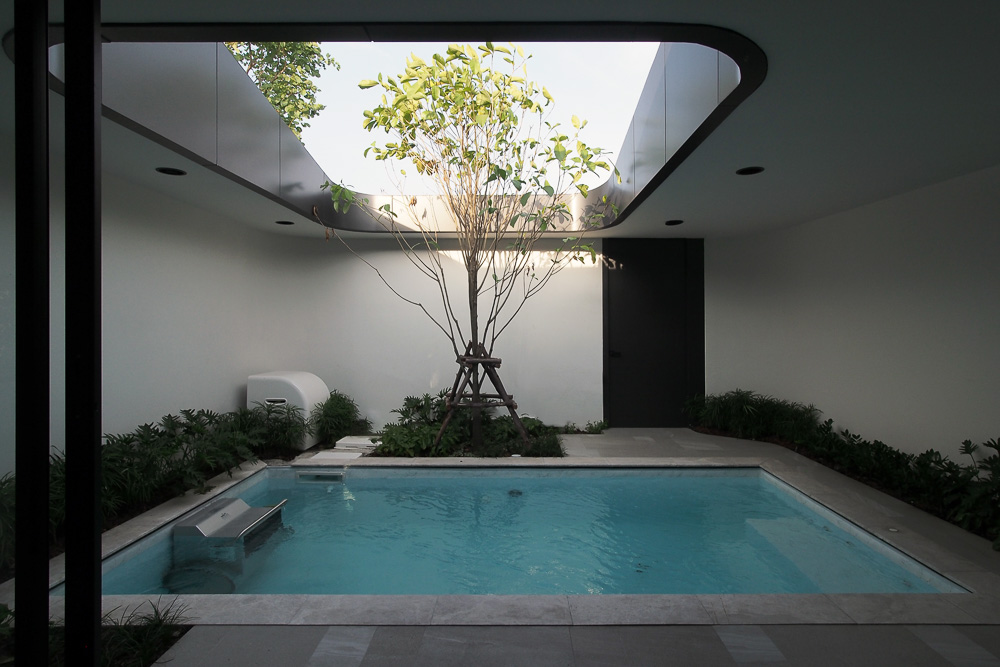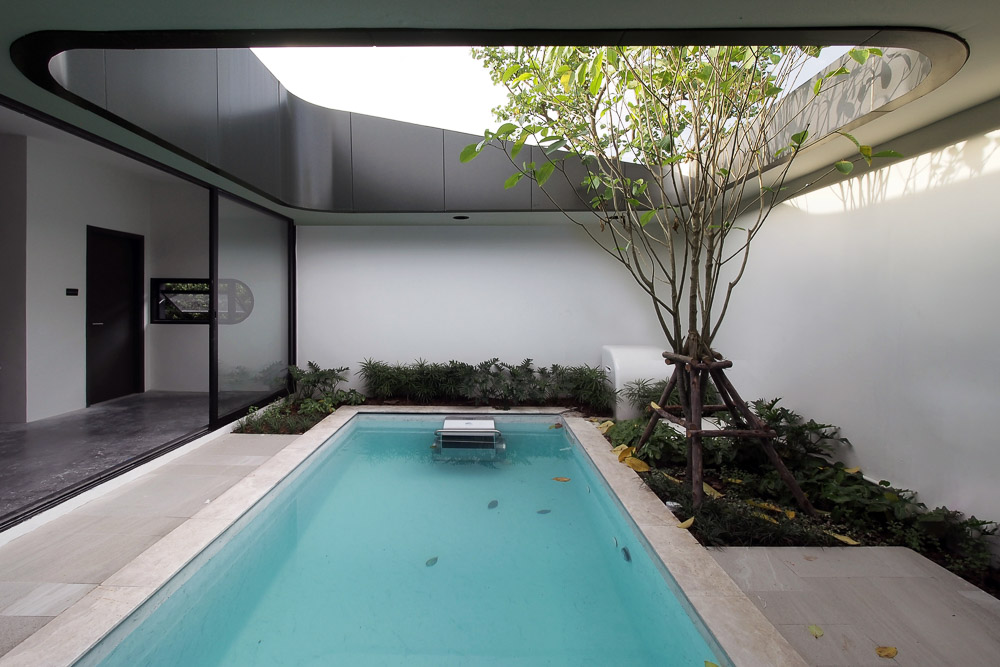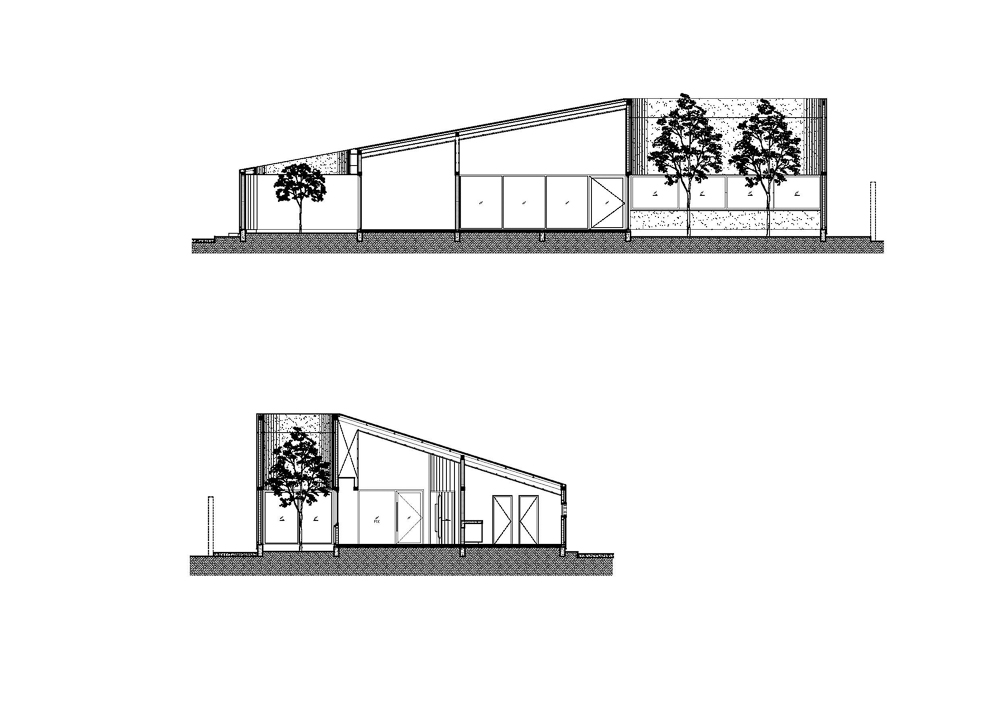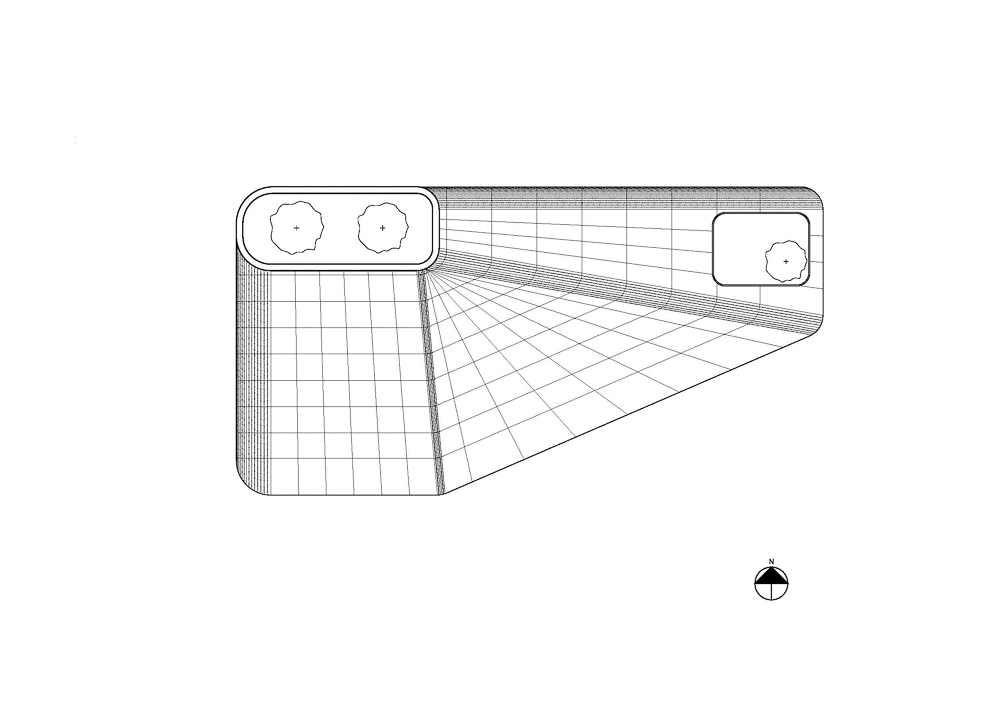 Architects ASWA
Location Bangkok, Thailand
Program Office
Site area 900㎡
Building area 230㎡
Gross floor area 230㎡
Building to land ratio 25%
Grooss Floor area ratio 27%
Completion 2022
Project architect Phuttipan Aswakool
Design team Phuttipan Aswakool, Chotiros Techamongklapiwat, Prassapol Suguanwattanaraksa
Collaborator LAAB (Landscape Design)
Construction CCK
Structure Steel Structure
Exterior Finish Metallic Black Aluminum Composite Cladding
Interior Finish Plaster
Photographer Phuttipan Aswakool
---
마실와이드 | 등록번호 : 서울, 아03630 | 등록일자 : 2015년 03월 11일 | 마실와이드 | 발행ㆍ편집인 : 김명규 | 청소년보호책임자 : 최지희 | 발행소 : 서울시 마포구 월드컵로8길 45-8 1층 | 발행일자 : 매일