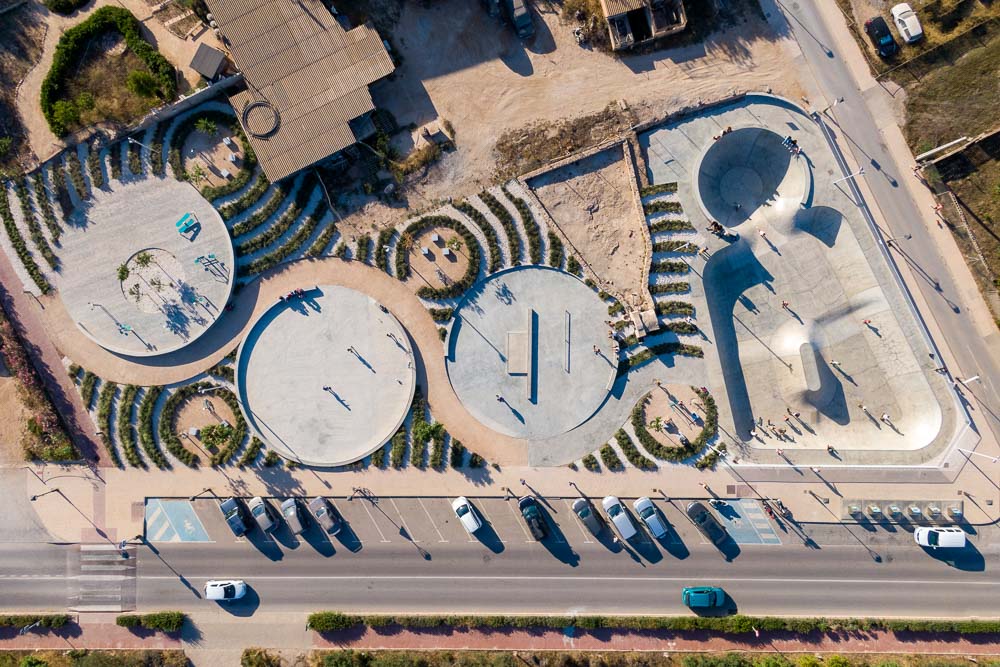 The intervention is located on a plot included within the delimitation of SITE OF CULTURAL INTEREST of the historical complex of Sant Francesc Xavier and in the surroundings of the Sa Tanca Vella chapel, the oldest on the island and declared an ASSET OF CULTURAL INTEREST in the monument category in 1993. The intervention initially developed arrangement covered a larger area, with the introduction of cultural uses such as the open-air auditorium, the arrangement of the surroundings near the Sa Tanca Vella chapel and the reorganization of the existing urban gardens on the plot.
The fundamental objective of this first part of the intervention is to promote interaction between different age groups by introducing multiple sports modalities adapted to each of them. Thus, the functional program includes spaces for learning skating for younger users, skate areas in street and bowl modalities for users belonging to intermediate age groups and bio-healthy activity areas for older age groups. The ordering of these uses in such a way as to promote contact between the different users without producing negative interferences between them constitutes the main thread of the intervention.
From the beginning of the project the location of the plot was sought to minimize the visual impact that hard paving surfaces could introduce into the complex. For this reason, the maximum limitation of the paved surfaces and their greater fractionation was adopted as a design criterion to adapt them to the slope of the plot without generating important unevenness. This fragmentation of the paved spaces allowed at the same time the conservation and enhancement of the traditional hydraulic infrastructures present in the plot, even recovering their use for the evacuation of collected rainwater.
Starting from the concept of an arrangement of small paved surfaces in which the natural character of the intervention should be predominant, we proceeded to design a set of small circular spaces, independent and each one oriented to a specific age group, putting in relation to all of them through a common and winding route that encourages contact between the different users. As a complement, small living and resting spaces with trees are introduced for the production of shadows.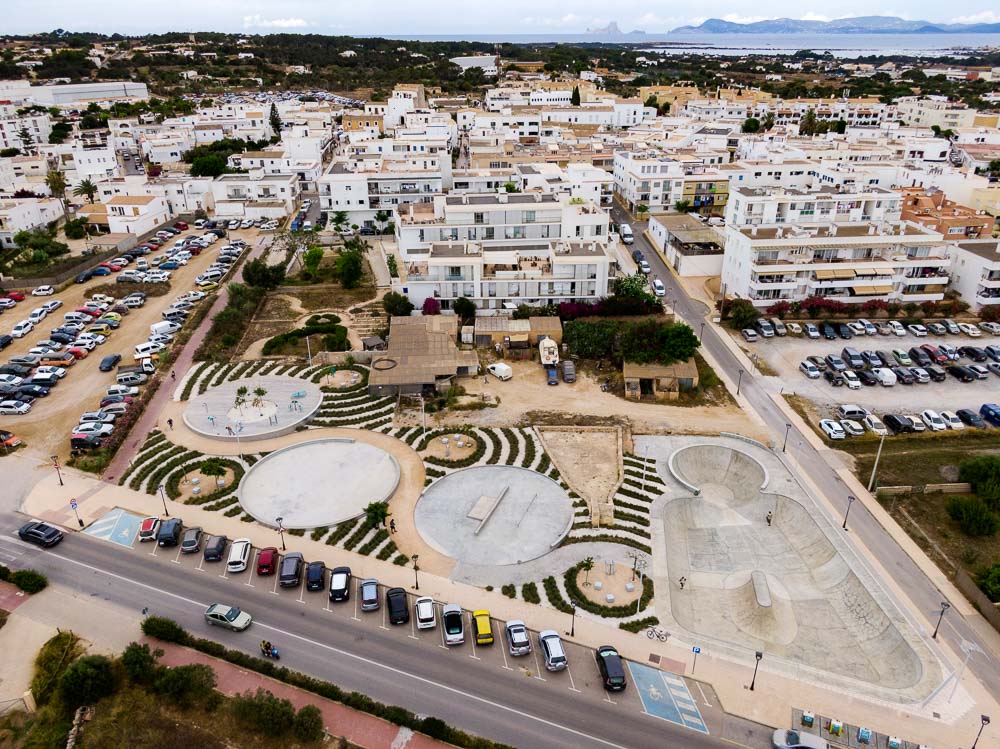 도시민들의 건강과 라이프스타일을 담은 움푹한 콘크리트, 자비에르 체육광장
산트 프란체스크 자비에르의 역사적 복합 단지의 문화적 관심 지역 경계부에 위치한 자비에르 체육관장은 도시민들의 건강을 책임진다. 섬에서 가장 오래된 기념비 중에서 관심문화자산으로 선정된 사 탄카 벨라(Sa Tanca Vella) 교회가 이 광장에 있다. 광장은 사 탄카 벨라 교회 주변을 아우르며 야외 광장과 도시민들을 위한 정원 같은 공간 등이 조성되어 이 일대의 문화 교집합 같은 공간이다.
광장에는 각 연령대에 적합한 여러 스포츠들이 도입된 것을 볼 수 있다. 이는 다양한 연령 그룹 간의 상호 작용을 일으킨다. 젊은 이용자를 위한 스케이트를 배우는 공간부터 중년 사용자를 위한 거리, 노년층을 위한 간이 체조 운동 공간 등이 포함되어 있다. 서로 다른 사용자 사이에 부정적인 간섭은 줄이고 접촉을 격려하는 방식을 허용하면서, 공간이 사람들 사이의 어떤 맥락을 형성할 수 있는지 보여준다.
광장의 대부분은 단단한 콘크리트 표면으로 마감되었는데, 이는 시각적 영향을 최소화한다. 포장면의 최대 한계와 더 큰 분할을 설계 기준으로 채택하여 큰 불균일성을 발생시키지 않으면서 토지의 경사에 맞게 조정했다. 또한, 수집된 빗물의 배출을 위한 설비도 갖추고 있다. 독립적이며 특정 연령대를 각각 지향하는 일련의 작은 원형 공간들이 서로 다른 사용자 간의 접촉으로 퍼저나가며 하나의 구불구불한 경로를 통해 연결된다. 이러한 공간 곳곳에는 나무가 있는 작은 생활 공간과 휴식 공간이 조성되어 있다.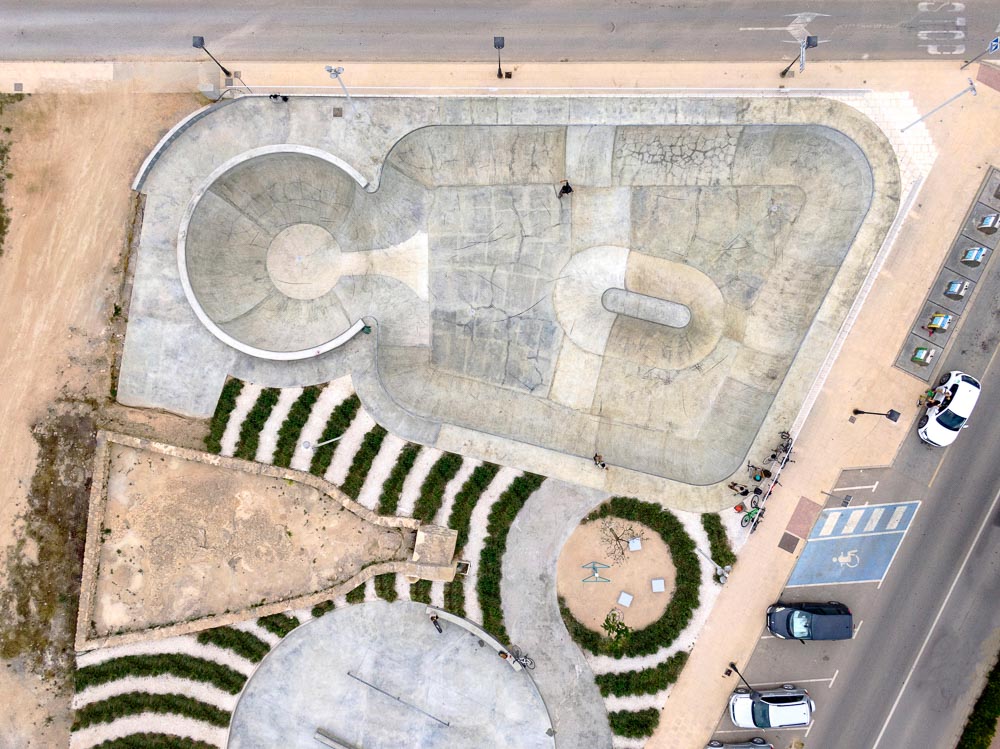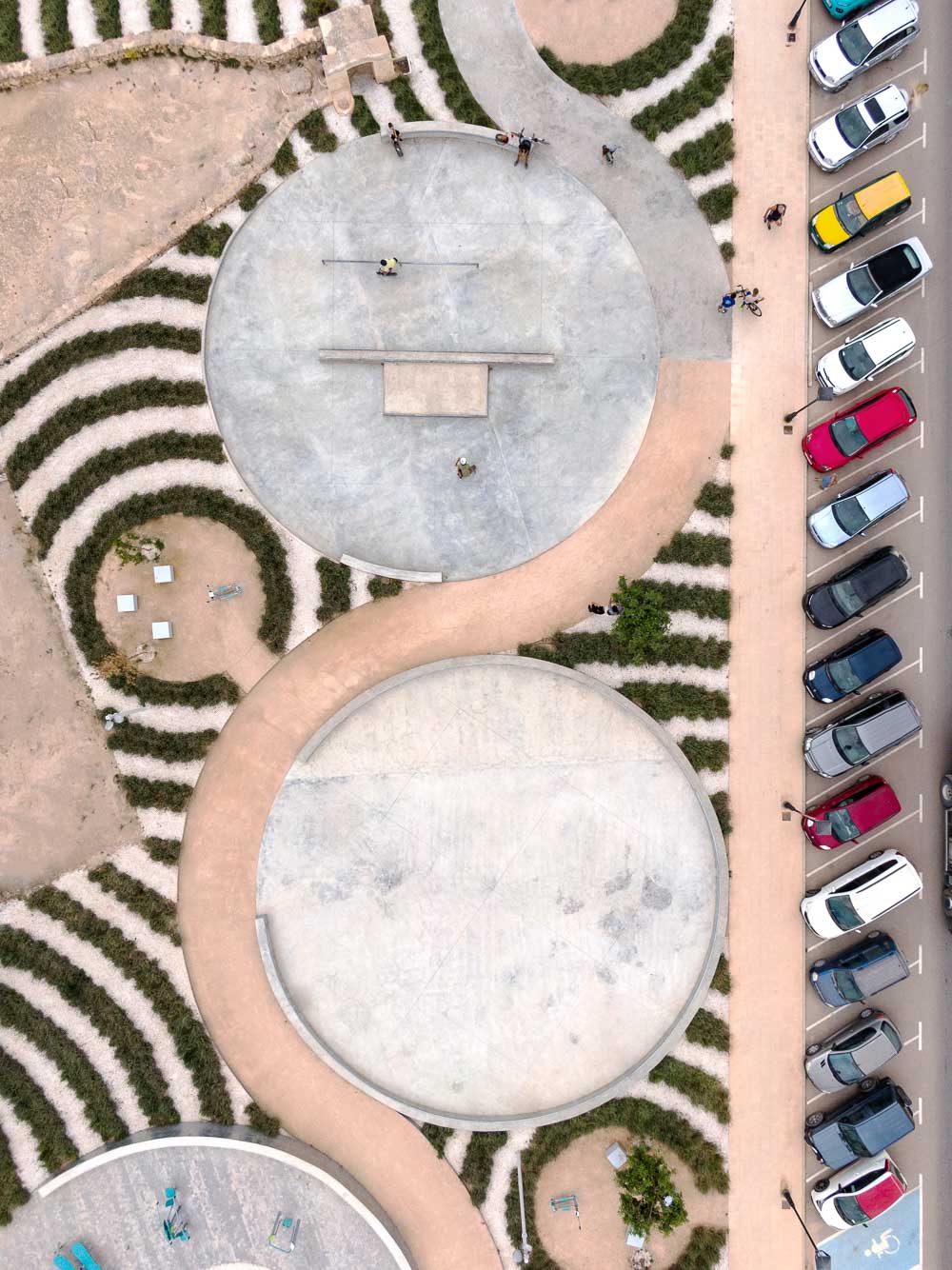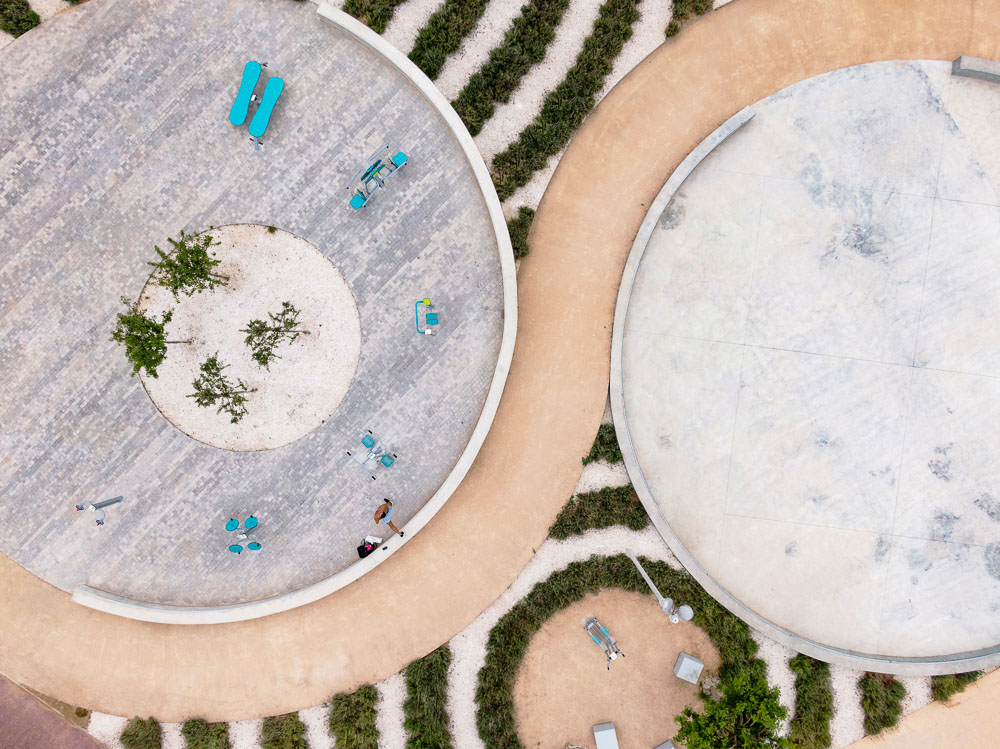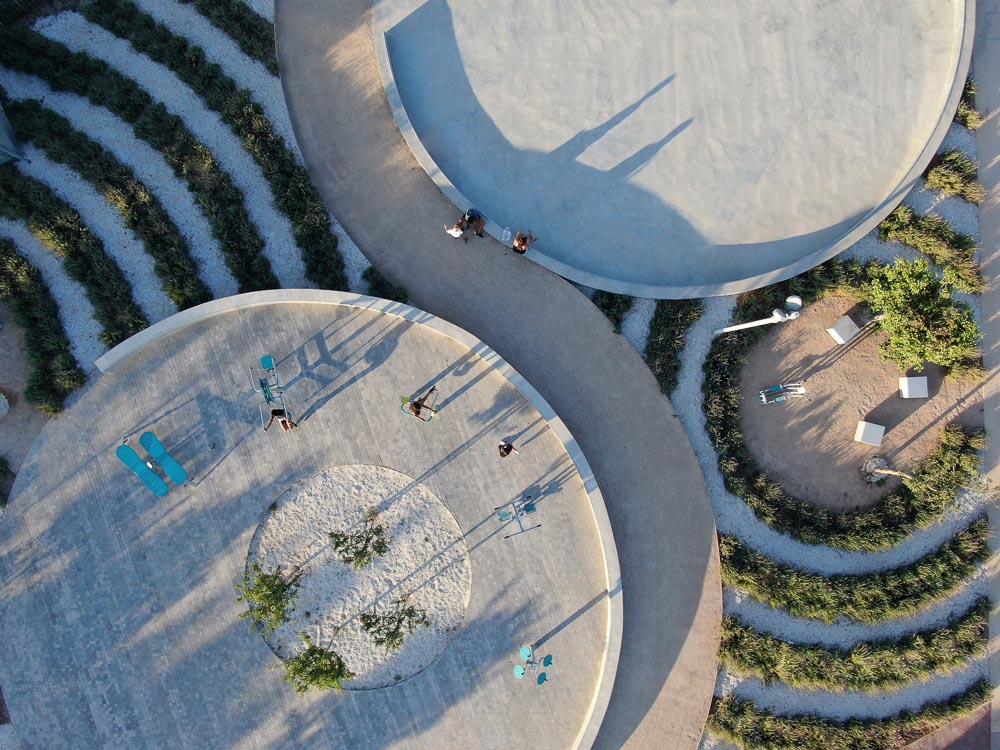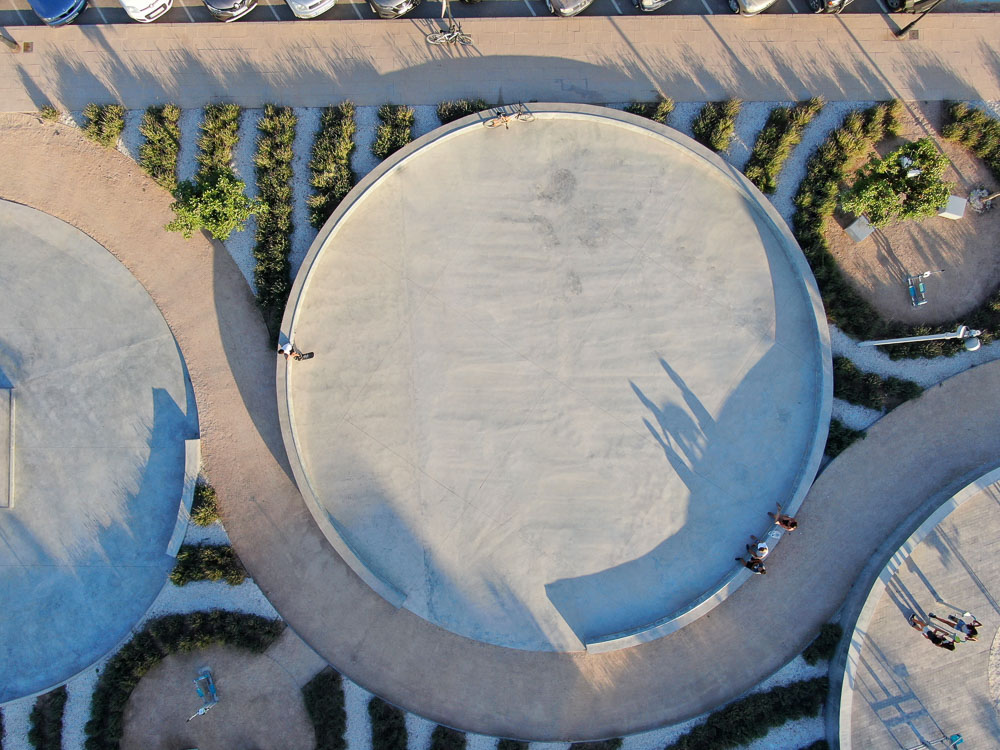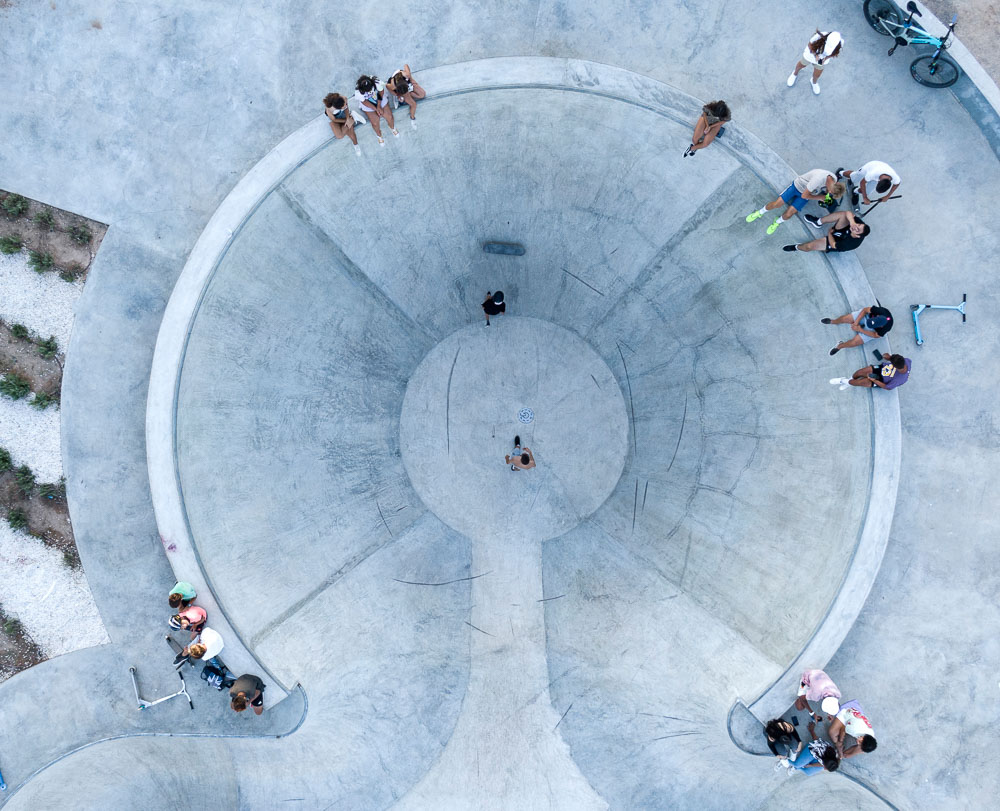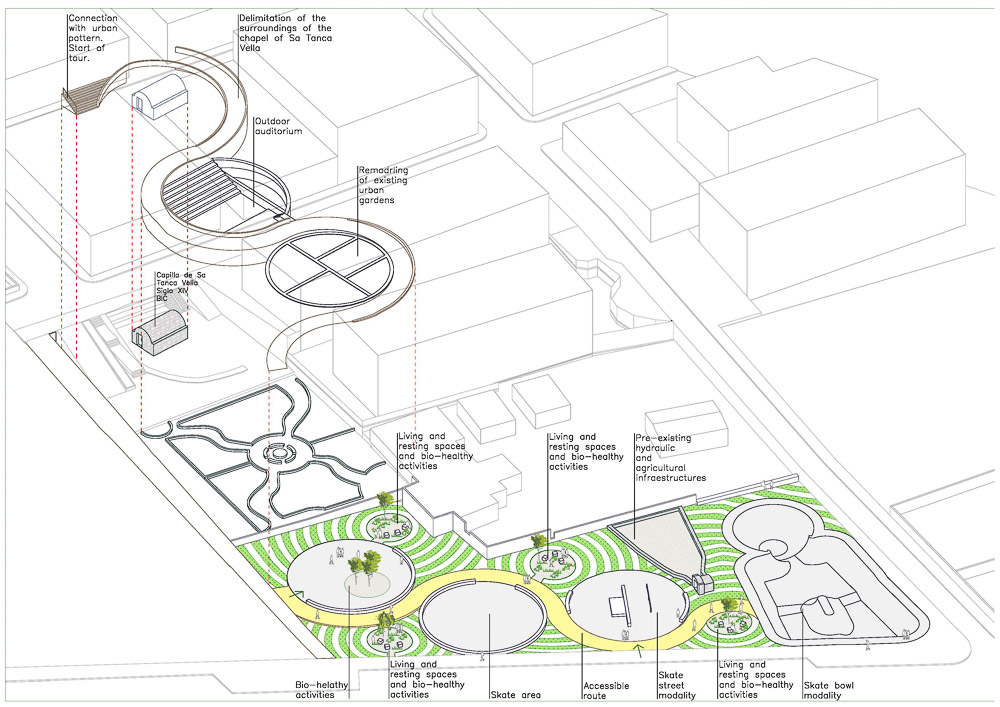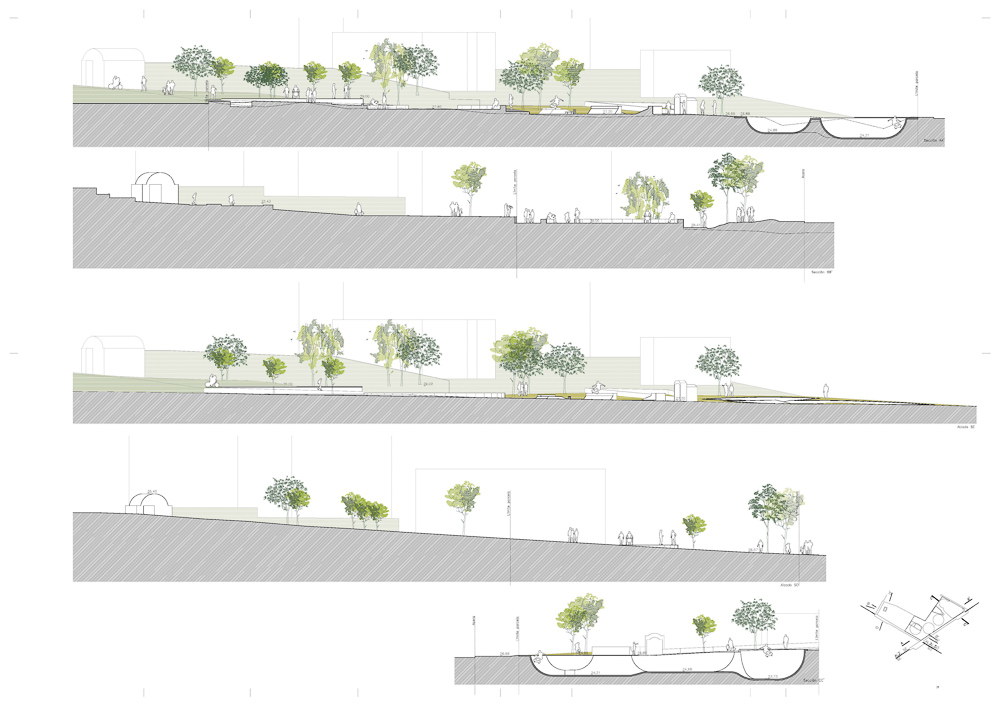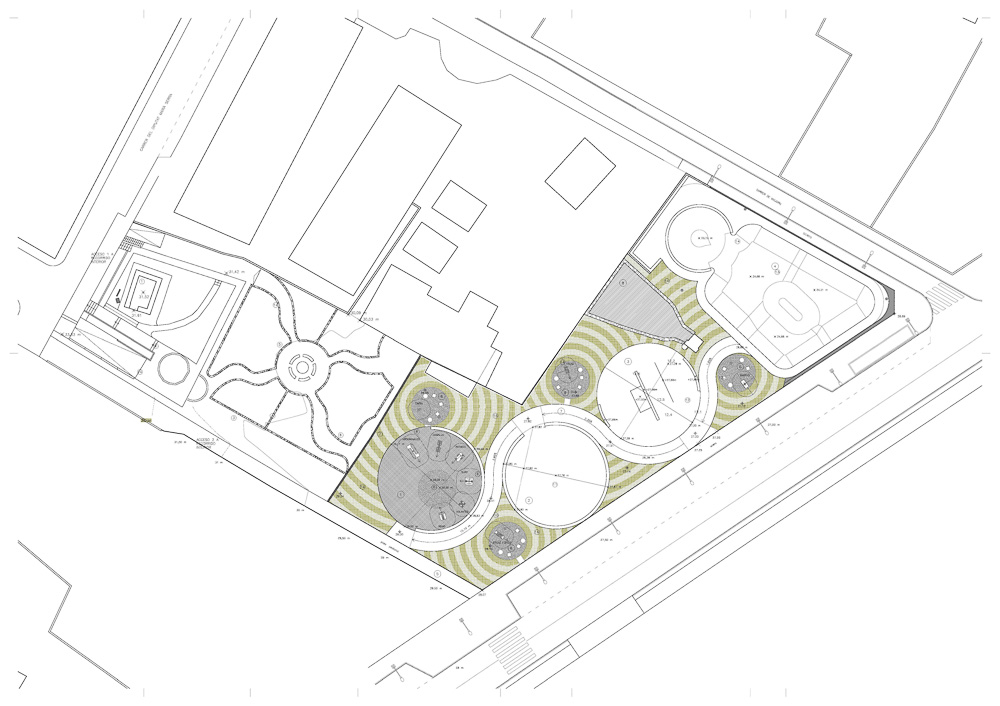 Architect MCEA
Location Formentera, Balearic islands, Spain
Program Sporting
Built area 2,727.83㎡
Completion 2021
Principal architect / Project architect MCEA_Manuel Costoya Estudio de Arquitectura
Design team (MCEA) Manuel Costoya Carro, Antonio Zamora Guillen, Ana Patricia Mate Sanchez del Val, Laura Garcia Corbalan
Engineer Federico Garcia Salmeron, Federico Garcia Murcia, Jesus Tomas Murcia Romero
Collaborator (Diseno Bowl) Israel Gambin, SKATEGO PARKS / (Mediciones, Bill of quantities) Maria Jose Gonzalez Vicente
Construction CONTRATAS VILOR
Client CONSELL INSULAR DE FORMENTERA
Photographer Gonzalo Ballester Rosique
해당 프로젝트는 건축문화 2021년 11월호(Vol. 486)에 게재되었습니다.
The project was published in the November, 2021 recent projects of the magazine(Vol. 486).
---
마실와이드 | 등록번호 : 서울, 아03630 | 등록일자 : 2015년 03월 11일 | 마실와이드 | 발행ㆍ편집인 : 김명규 | 청소년보호책임자 : 최지희 | 발행소 : 서울시 마포구 월드컵로8길 45-8 1층 | 발행일자 : 매일