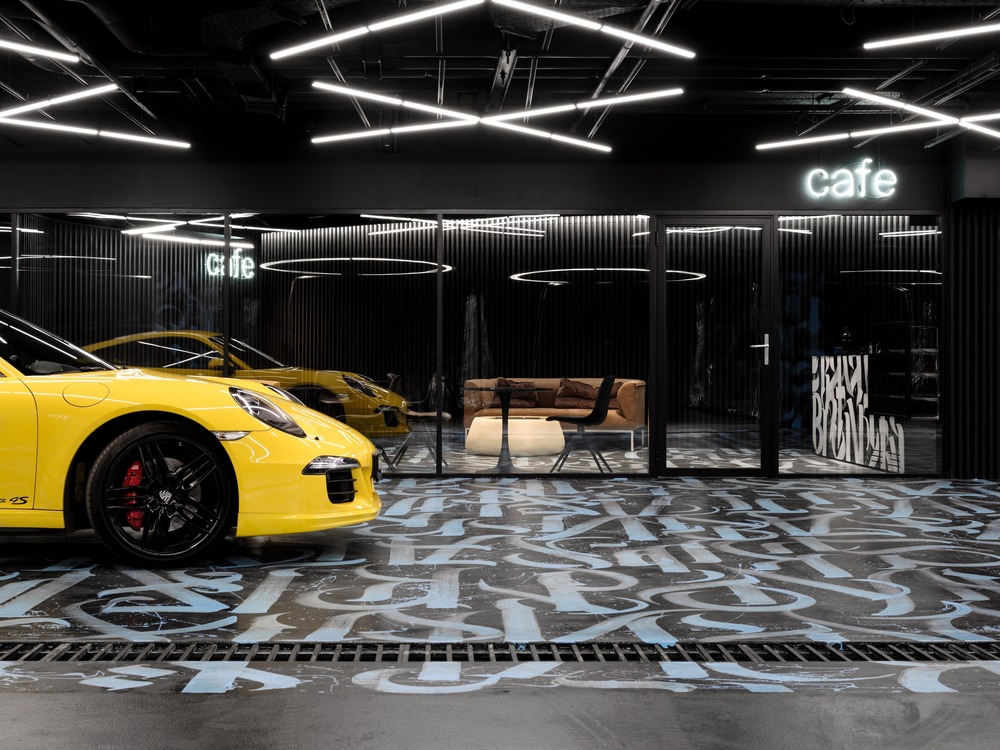 There was a challenging and interesting task in this project - to create a unique carwash space, resembling an art object and having a "wow" factor, but at the same time, it was crucial to save the functionality of space and provide the proper work setting for the entire facility. The difficult thing about this project was in the facility location – it is an underground part of the building in the city center, that means facing the problem of low ceilings, plenty of communication and the absence of natural light. Thus the intention was to expand the space visually and change its geometry.
The concept of the interior is a transformation and refraction of simple geometry of space by the shape of the pattern. The idea is performed by the combination of the dark graphite color, bright calligraphy composition, and light installations. Taking into account the facility function CARWASH and inspired by WYNWOOD in Miami, GRETAPROJECT created a special calligraphy pattern that consists of regularly repeated client's label name BLACK STAR. Graphic and at the same time geometric pattern creates a memorable setting and expands enclosed space visually.
The BLACK STAR label symbol is the black sun which was used to create the lighting structure in the form of a ring in the washing boxes. As for the entrance zone, the X-formed lighting was installed to form a contrast of the symbols. To make the interior more energetic, the linear lamps are located at 45-degree angle on both sides of the entrance and exit. It creates the visual movement of the visitor's sight and leads the visitor to the main part of the facility. The detailing light sign is located near the entrance of the carwash, and thus it is the hallmark of the project attracting visitors' sight.
The cafe interior's concept is a prolongation of simple space refraction by sophisticated geometry of the pattern applied to it. Thus, regular rectangular forms are perceived as complex geometry creating the visual effect and drawing visitors' attention.
In this project, the designers wanted to show how the usual forms of space transform by applying flat geometry and how the color influences the perception of the space.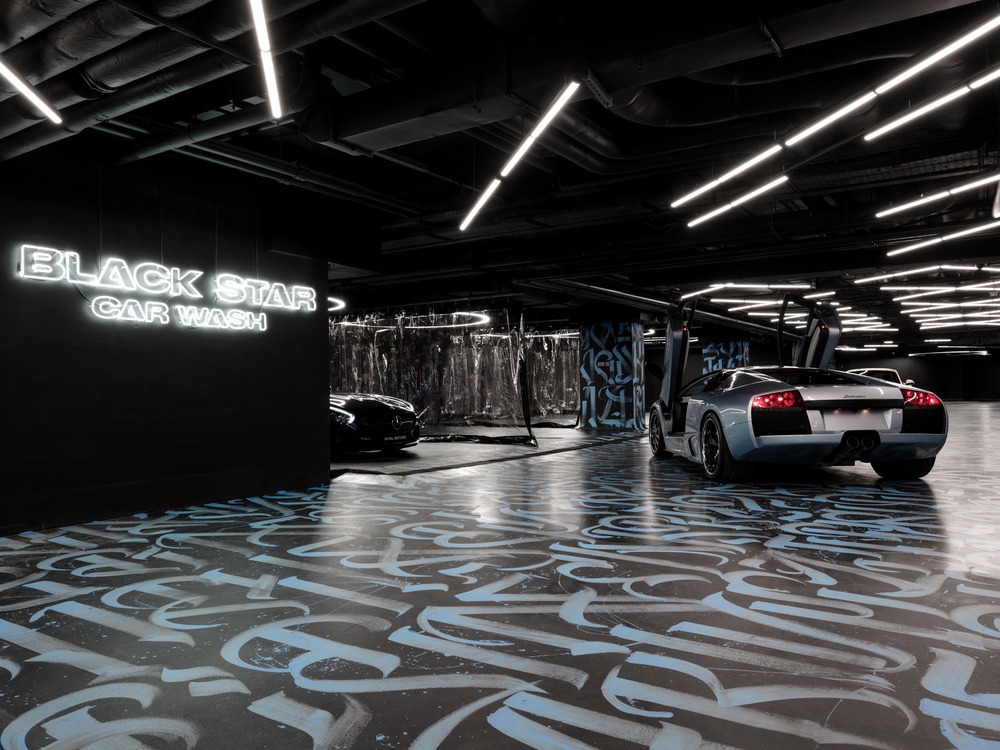 이 프로젝트에는 미술품과 흡사하고 "와우" 요소를 갖춘 독특한 세차 공간을 만드는 도전적이고 흥미로운 과제가 있었지만, 동시에 공간의 기능을 절약하고 전체 시설에 적합한 작업 환경을 제공하는 것이 매우 중요했다. 이 프로젝트의 어려운 점은 시설 위치였다. 도심에 있는 건물의 지하 부분인데, 이것은 낮은 천장과 충분한 의사소통 그리고 자연광의 부재라는 문제에 직면해야 했다. 따라서 시각적으로 공간을 확장하고자 했다.
내부 공간의 콘셉트는 패턴의 형태에 의한 공간의 단순한 기하학의 변형과 굴절이다. 그 아이디어는 어두운 흑연색, 밝은 서예 구성, 그리고 빛 설치의 조합에 의해 수행된다. 시설의 기능인 세차를 고려하고 마이애미 윈우드에서 영감을 받아 건축가는 건축주의 레이블 이름인 BLACK STAR로 구성된 반복되는 특별한 캘리그래피 패턴을 만들었다. 그래픽과 동시에 기하학적 패턴이 인상적인 설정을 만들고 밀폐된 공간을 시각적으로 확장한다.
BLACK STAR 라벨 기호는 내부공간에 고리 형태로 조명 구조를 만드는 데 사용된 검은색 태양이다. 입구 영역에는 X자 형태의 조명을 설치하여 기호의 대비를 이루도록 했다. 실내를 더욱 활기차게 만들기 위해, 선형 램프는 출입구의 양쪽에 45도 각도로 배치되어 있다. 그것은 방문객의 시각적인 움직임을 만들어 내고 방문객을 시설의 주요 부분으로 이끈다. 세차장 입구 근처에 불빛 간판이 있어 방문객들의 눈길을 끄는 특징이 있다.
카페 인테리어의 콘셉트는 적용된 패턴의 정교한 기하학에 의한 단순한 공간 굴절의 연장이다. 따라서, 일반 직사각형 형태는 시각적 효과를 만들어 내고 방문객들의 관심을 끄는 복잡한 기하학으로 인식된다.
이 프로젝트에서 디자이너들은 평평한 기하학을 적용함으로써 공간의 일반적인 형태가 어떻게 변화하는지 그리고 색이 공간의 지각에 어떻게 영향을 미치는지 보여주고 싶었다.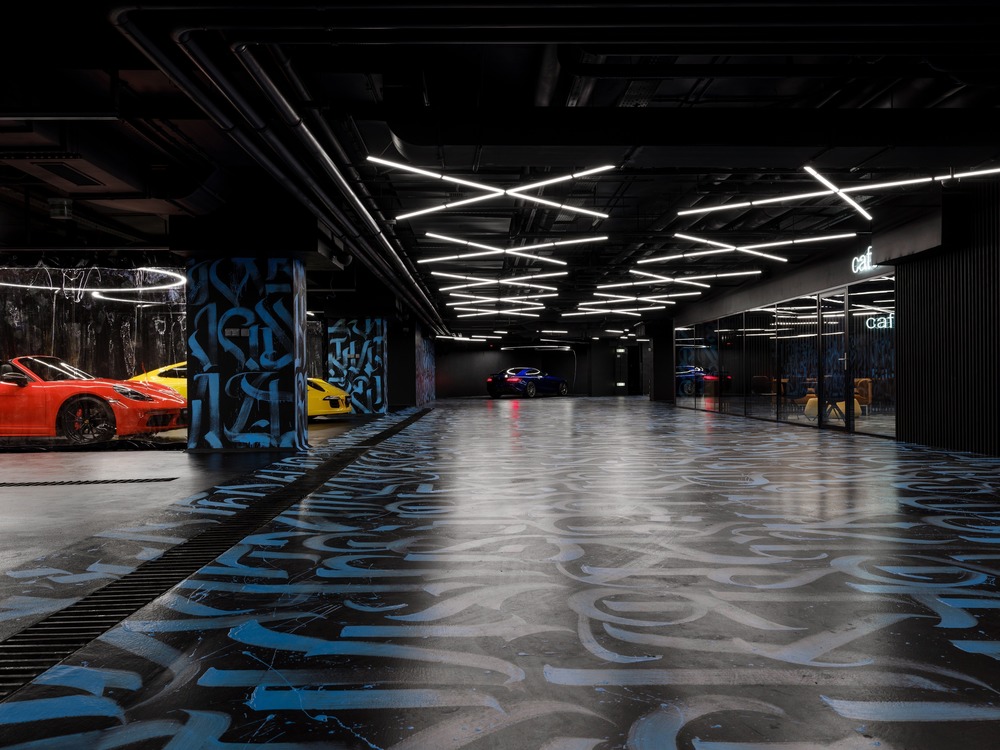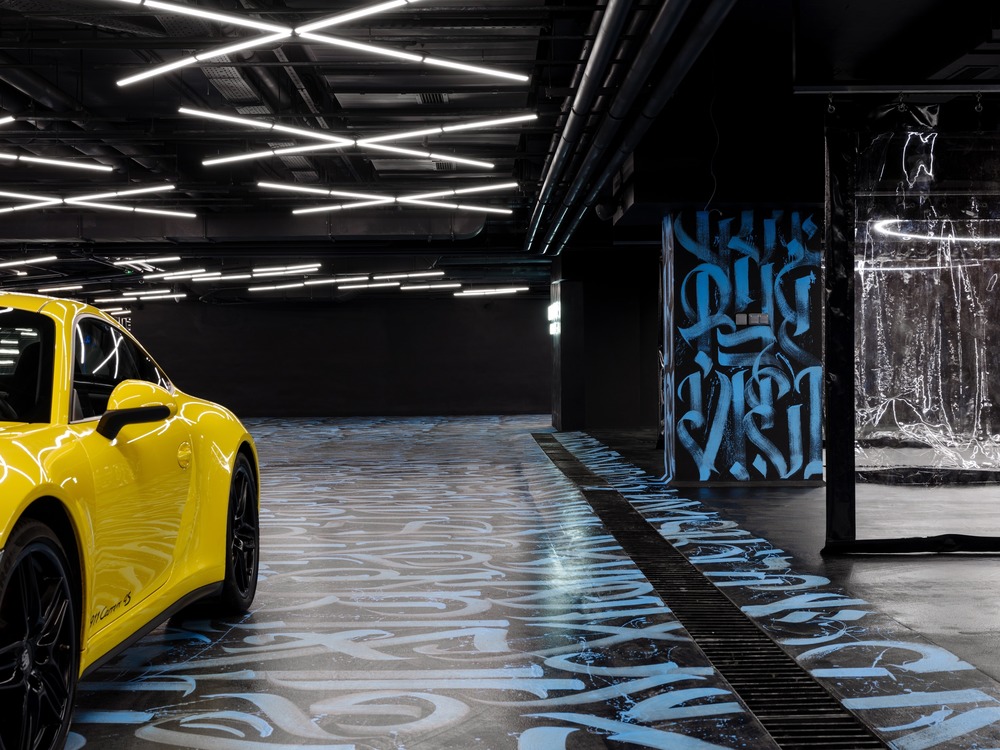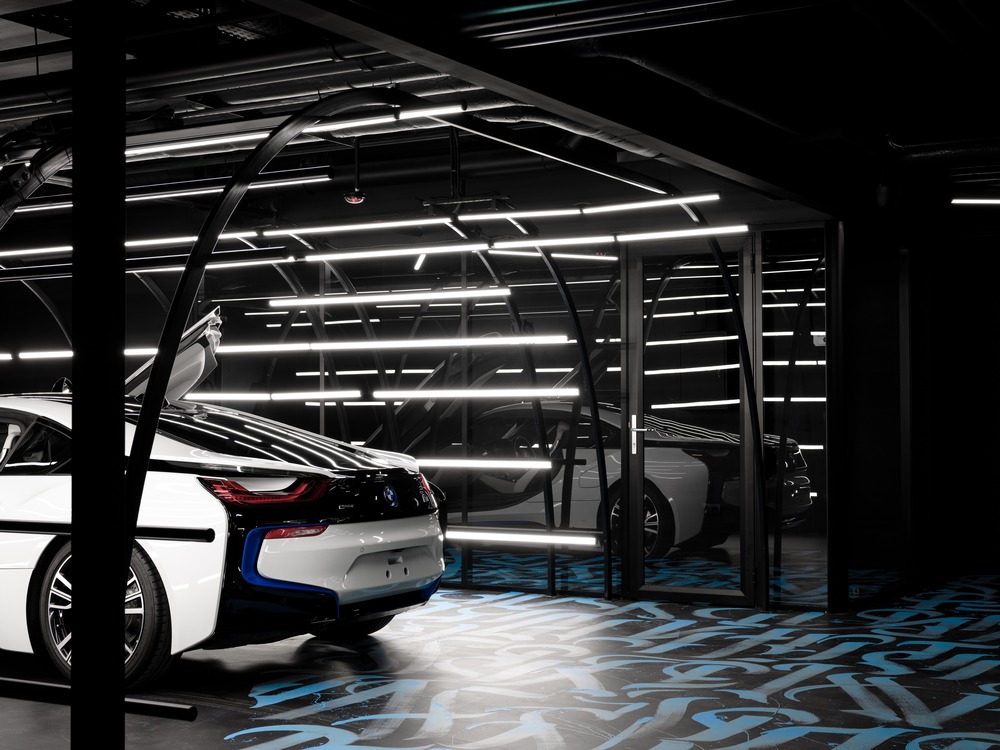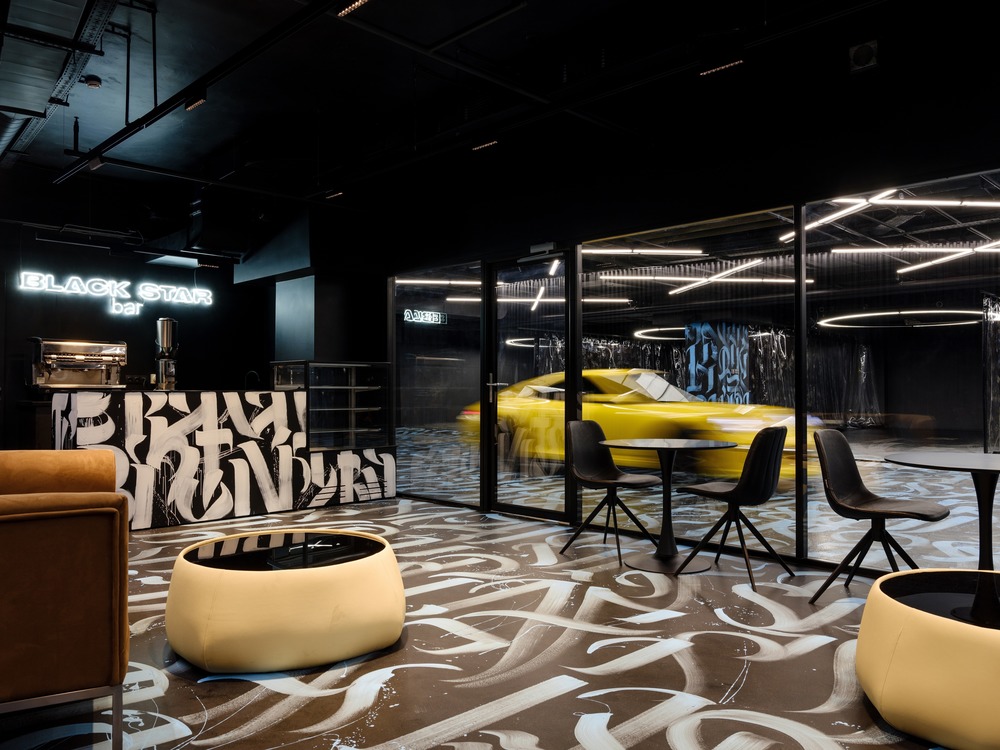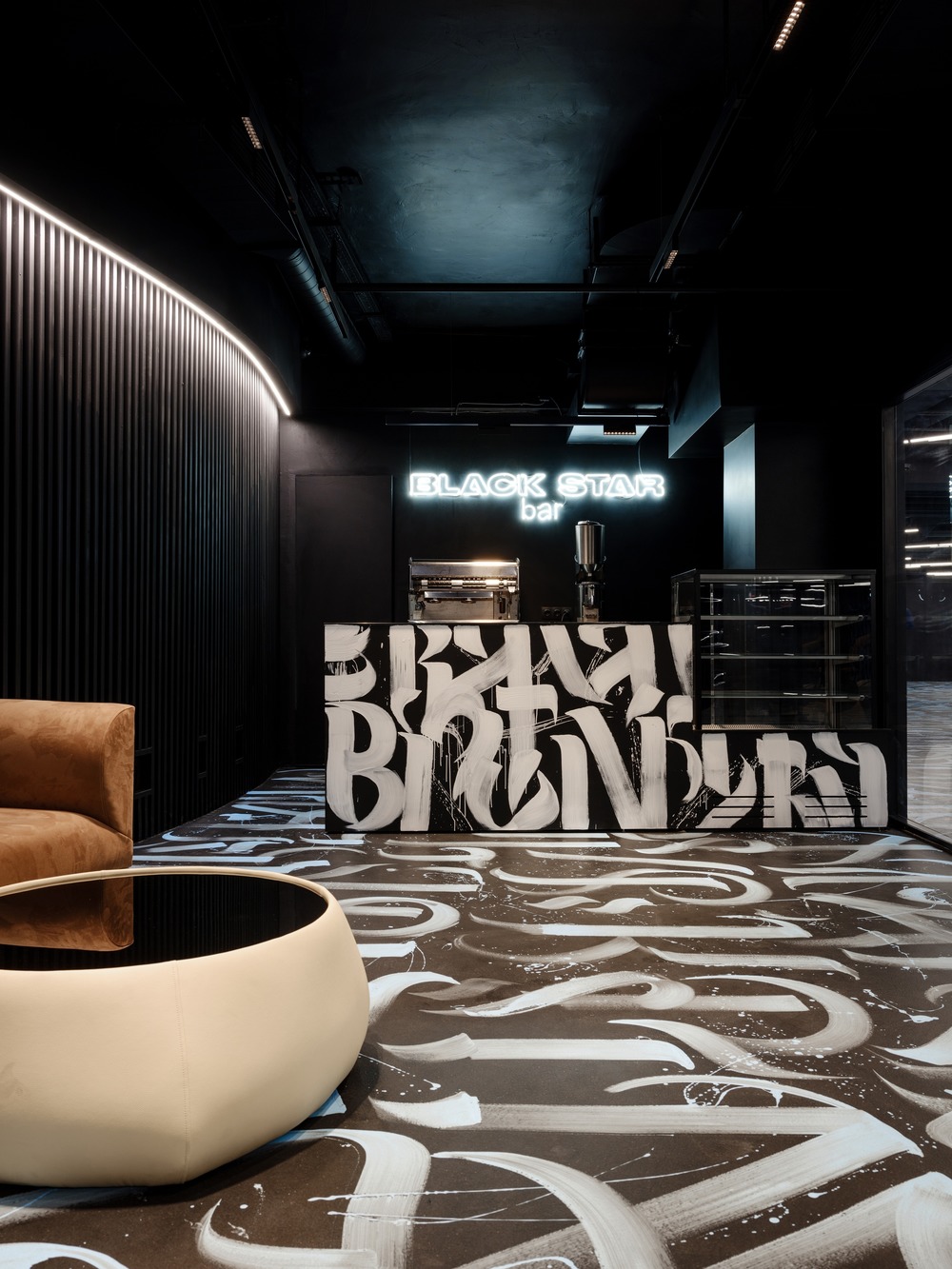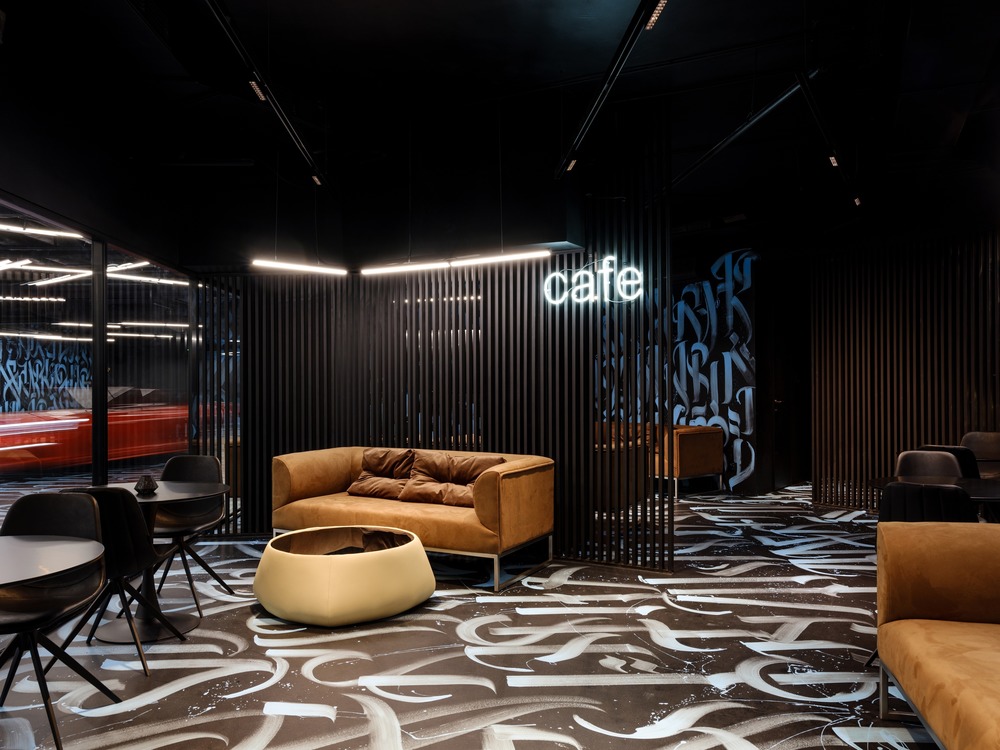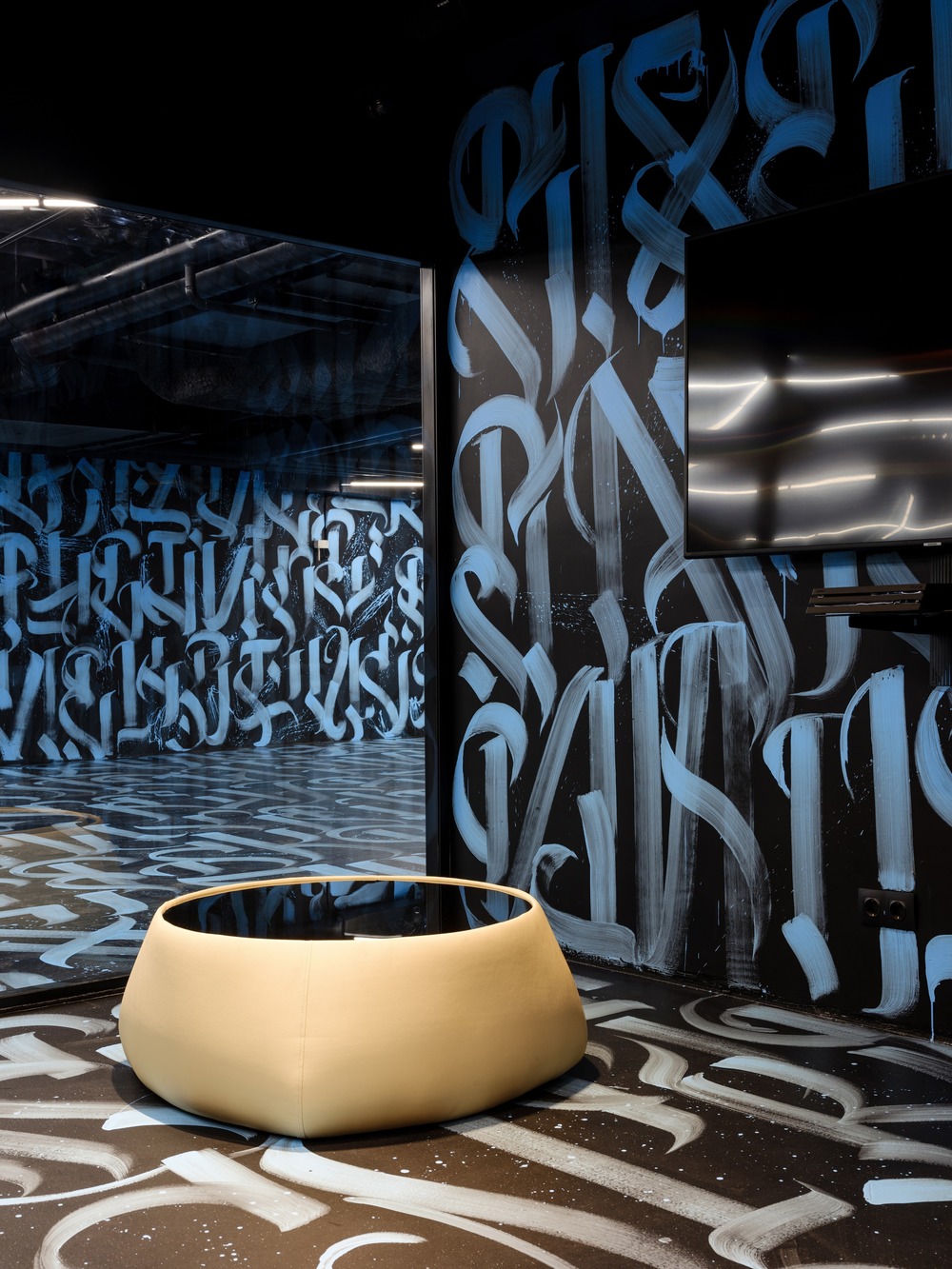 Architecture & design GRETAPROJECT
Location Moskva, Russia
Building area 1200㎡
Completion 2018
Architects Margarita Denisova, Maxim Kashin
Client Black Star
Photographer Mikhail Loskutov
---
마실와이드 | 등록번호 : 서울, 아03630 | 등록일자 : 2015년 03월 11일 | 마실와이드 | 발행ㆍ편집인 : 김명규 | 청소년보호책임자 : 최지희 | 발행소 : 서울시 마포구 월드컵로8길 45-8 1층 | 발행일자 : 매일