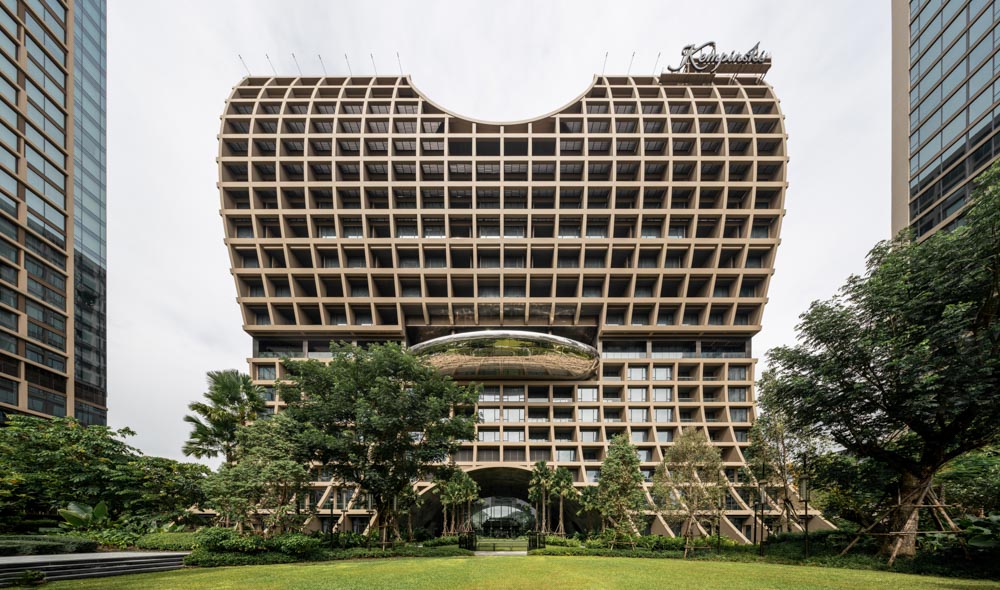 The Sindhorn Kempinski Hotel, owned by The Crown property bureau, is one of the masterpieces building in Sindhorn Village. The site sits on Langsuan road, flanked by two highrise buildings and the main green area of the project known as "super green".
As a representative of the wellness city hotel, the building's design approach is to interact with the frontage green area, to create distinctive recreational space and garden view terraces. These will make the guests feel intimate and being a part of nature. An undulating shape of the building creates various dynamic spaces to the 1st floor and privacy to the guestrooms.
Characterized as an exposed concrete grand tunnel, the gigantic vault on the 1st floor acts as a welcome area that secludes itself from the outside, creates its distinctive atmosphere, and represents itself as the main entrance of the Sindhorn village. Furthermore, the tunnel enhances the continuity of green areas around the building. The brown monotonous color is painted to harmonize this building to the surrounded one and to compatible with green nature.
The hotel is a single-loaded corridor with an enormous interior atrium, allowing natural light to get into the internal public space. A ventilation system is the highlight feature of this building. It's switchable, open to let the fresh air in by passing through the gigantic vault and ventilation doors or close to prevent from the outside hot air and run by the supported air-conditioning system.
The top of the building is subtracted by a circle shape to make the interior atrium gain more natural light. Moreover, the mirror bowl-like shape panoramic view swimming pool and the other hotel facilities are located on the 9th floor, which is the middle of the building, so the guests can easily get access both from the low zone and high zone.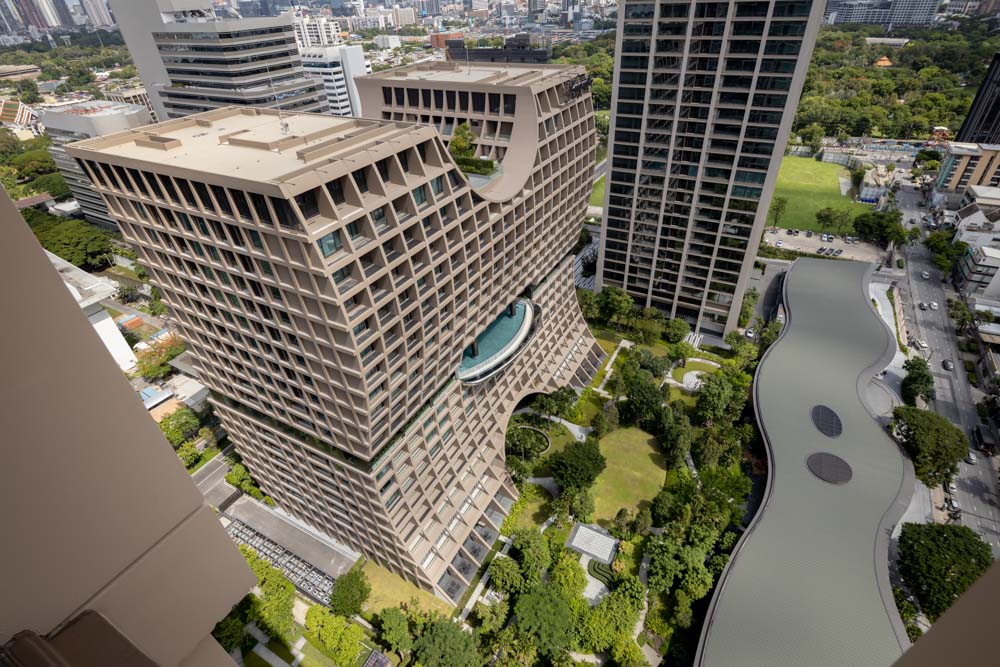 도심 녹지공간 위 물결치는 건축, 신드혼 켐핀스키 호텔
태국 왕립 부동산부처가 소유한 신드혼 켐핀스키 호텔은 신드혼시의 걸작이라 칭해지는 건물 중 하나다. 대지는 두 개의 고층 건물과 "슈퍼 그린"으로 알려진 프로젝트의 주요 녹지로 둘러싸인 랑수안 도로에 있다.
웰니스 도시 호텔을 대표하는 건물의 디자인 접근 방식은 전면 녹지 지역과 상호 작용하여 독특한 레크리에이션 공간과 정원 전망 테라스를 만드는 것이다. 이는 손님들이 친밀하고 자연의 일부가 되는 느낌을 준다. 물결 모양의 건물은 1층에 다양한 역동적인 공간을 만들고 객실에는 프라이버시를 제공한다.
노출된 콘크리트의 웅장한 터널이 특징인 지상 1층의 거대한 둥근 천장은 외부와는 격리되고 독특한 분위기를 조성하며 신드혼의 정문으로 표현하는 역할을 한다. 또한 터널은 건물 주변의 녹지 영역의 연속성을 향상시킨다. 갈색의 단조로운 색상이 이 건물과 둘러싸인 건물과 조화를 이루고 녹색 자연과 조화를 이루도록 칠해져 있다.
호텔은 거대한 내부 아트리움이 있는 단일 적재 복도로 자연 채광이 내부 공공 공간으로 들어온다. 환기 시스템은 이 건물의 하이라이트이다. 거대한 둥근 천장과 환기 도어를 통과하여 신선한 공기가 들어오도록 개방하거나 외부의 뜨거운 공기를 막기 위해 문이 닫히는 기능이 지원되는 에어컨 시스템에 의해 작동된다.
내부 아트리움이 더 많은 자연광을 얻을 수 있도록 건물의 상단을 원 모양으로 비워냈다. 또한 건물 중앙인 9층에는 미러볼 모양의 파노라마 전망 수영장과 기타 호텔 시설이 있어 상부와 하부에서 쉽게 접근할 수 있다.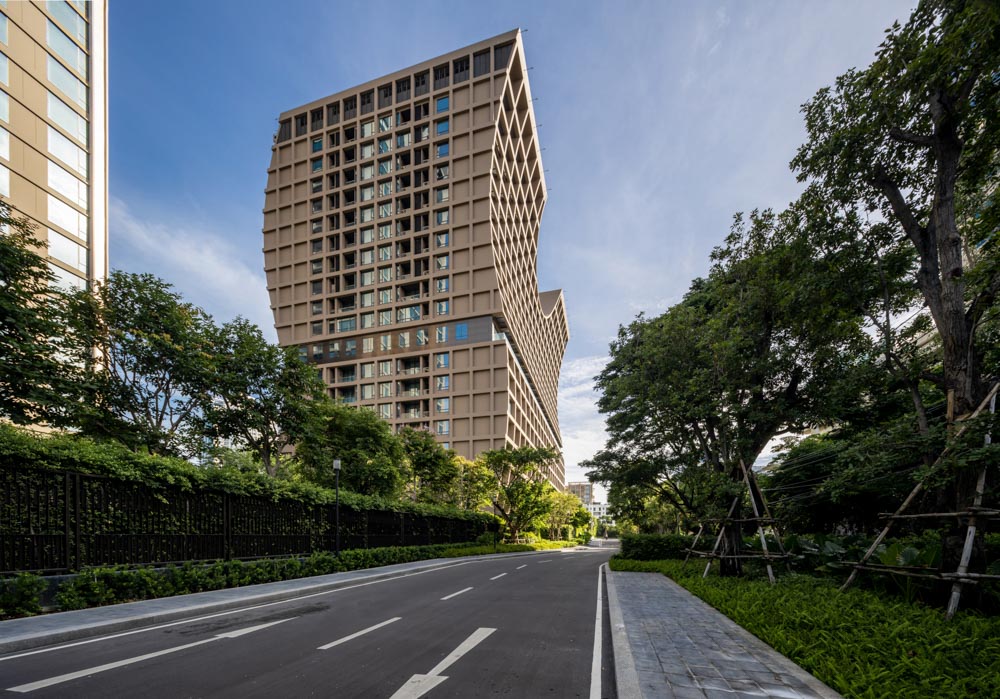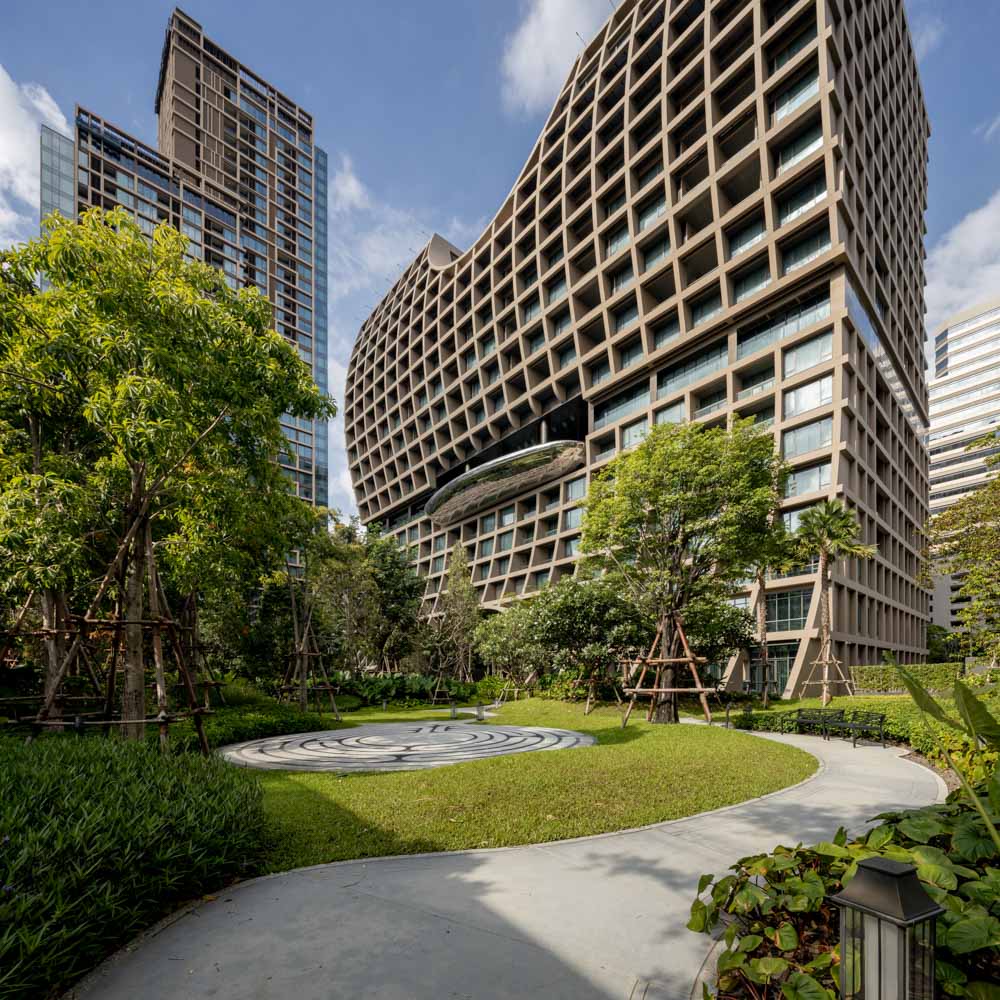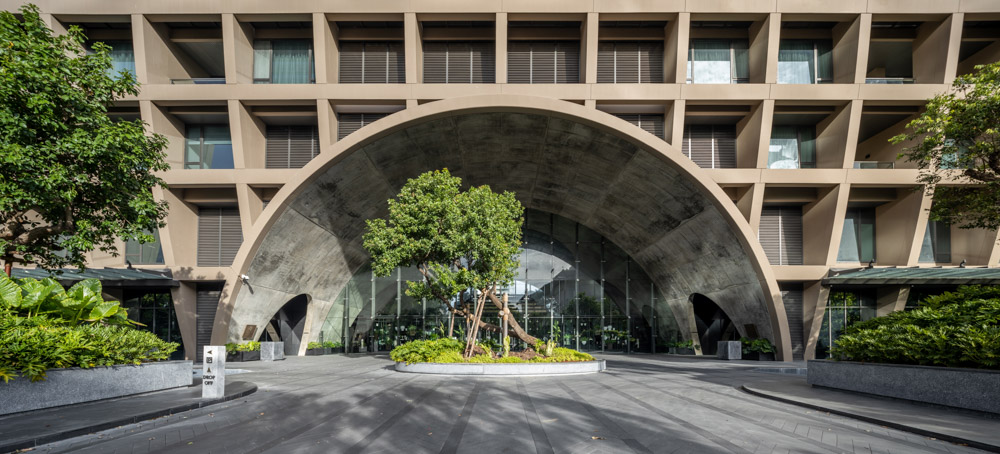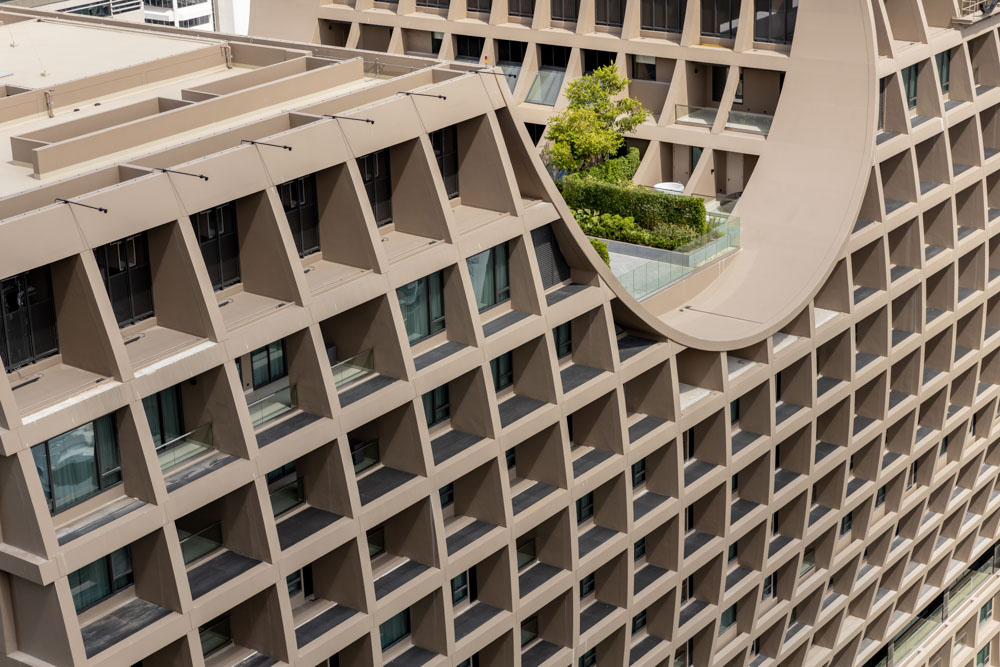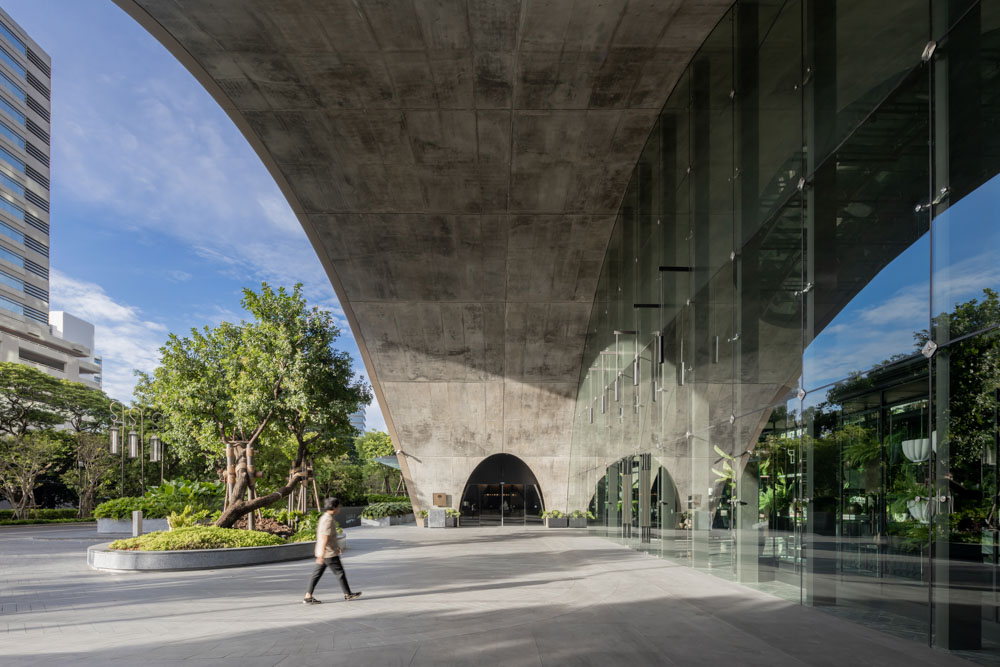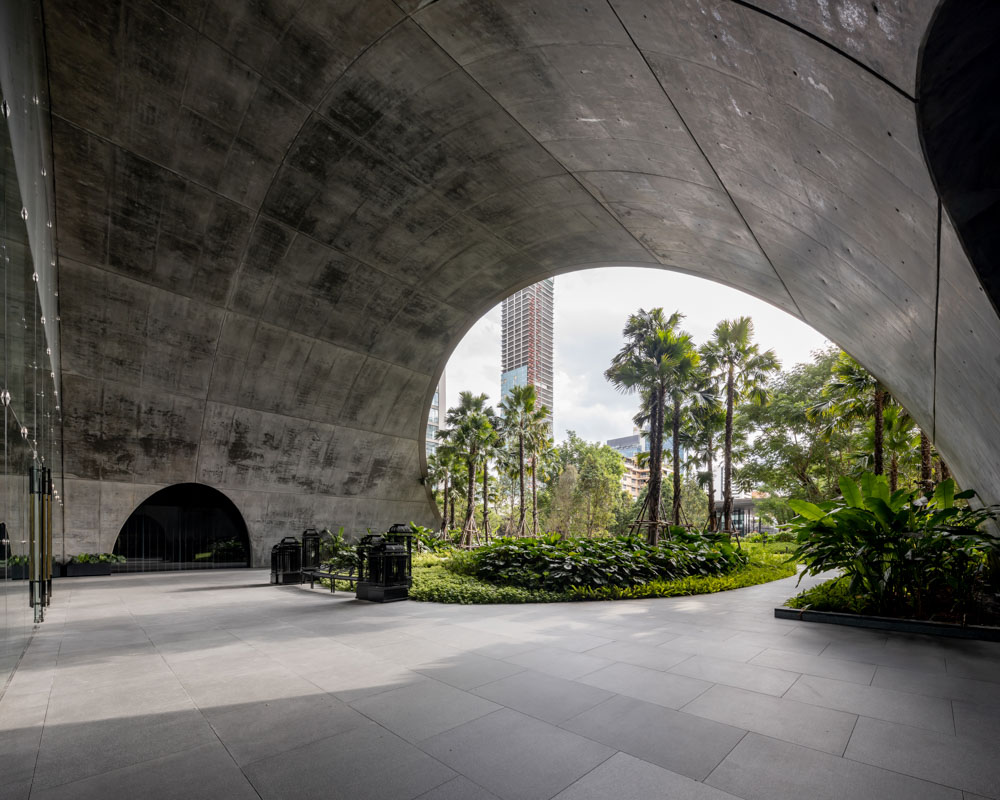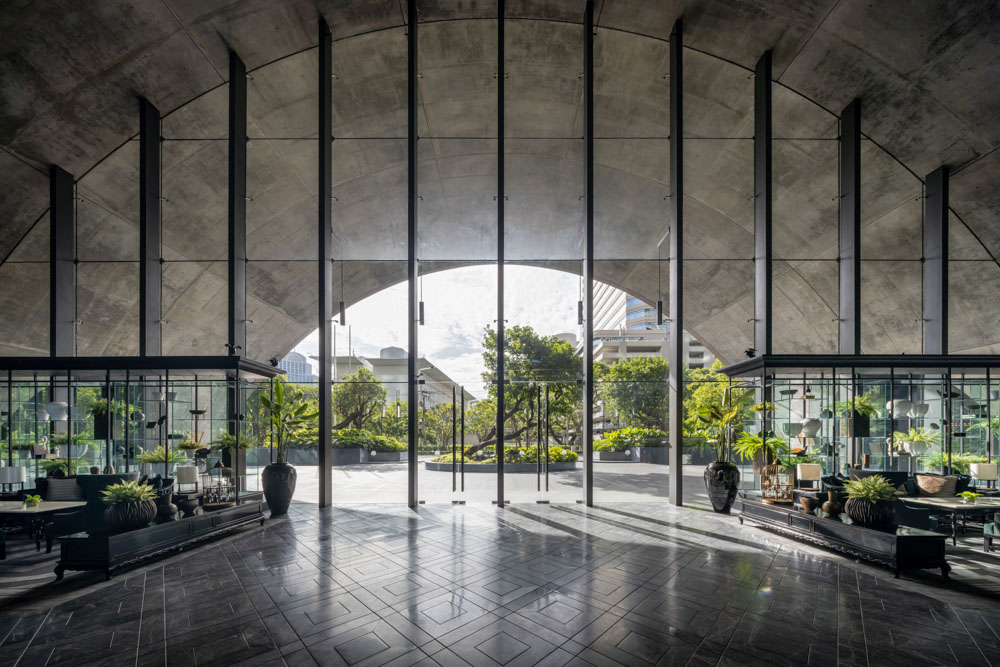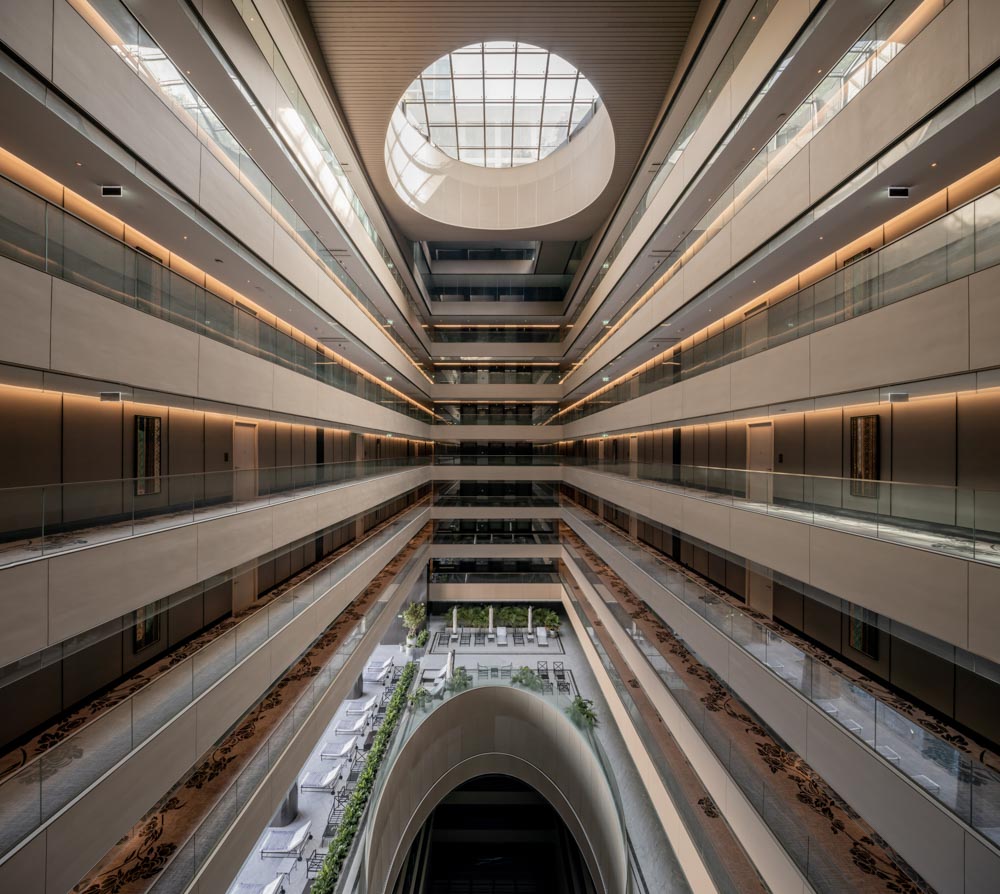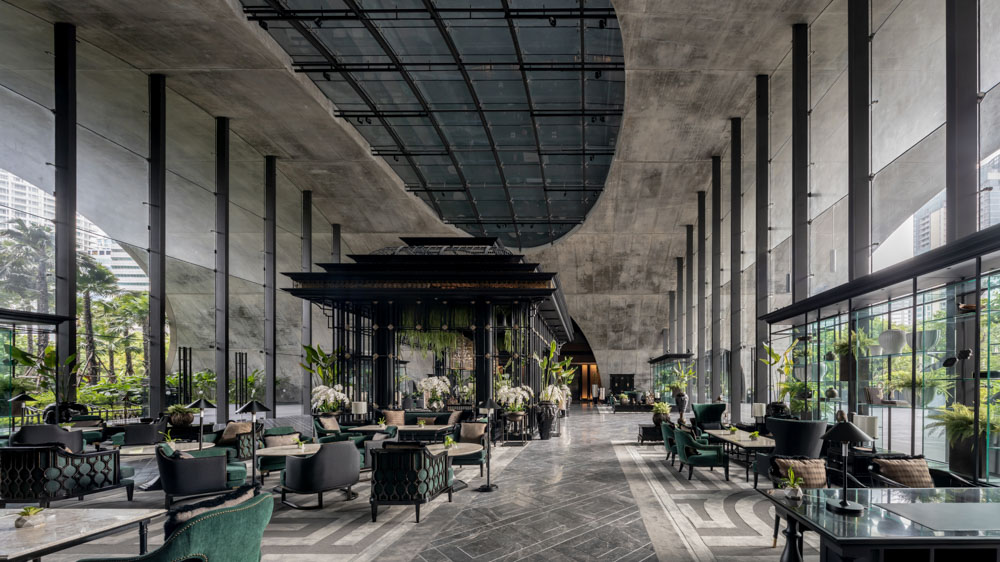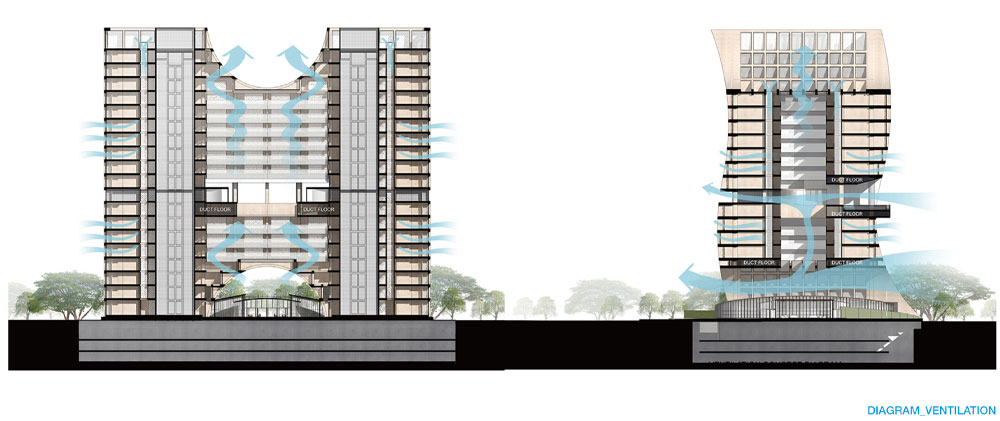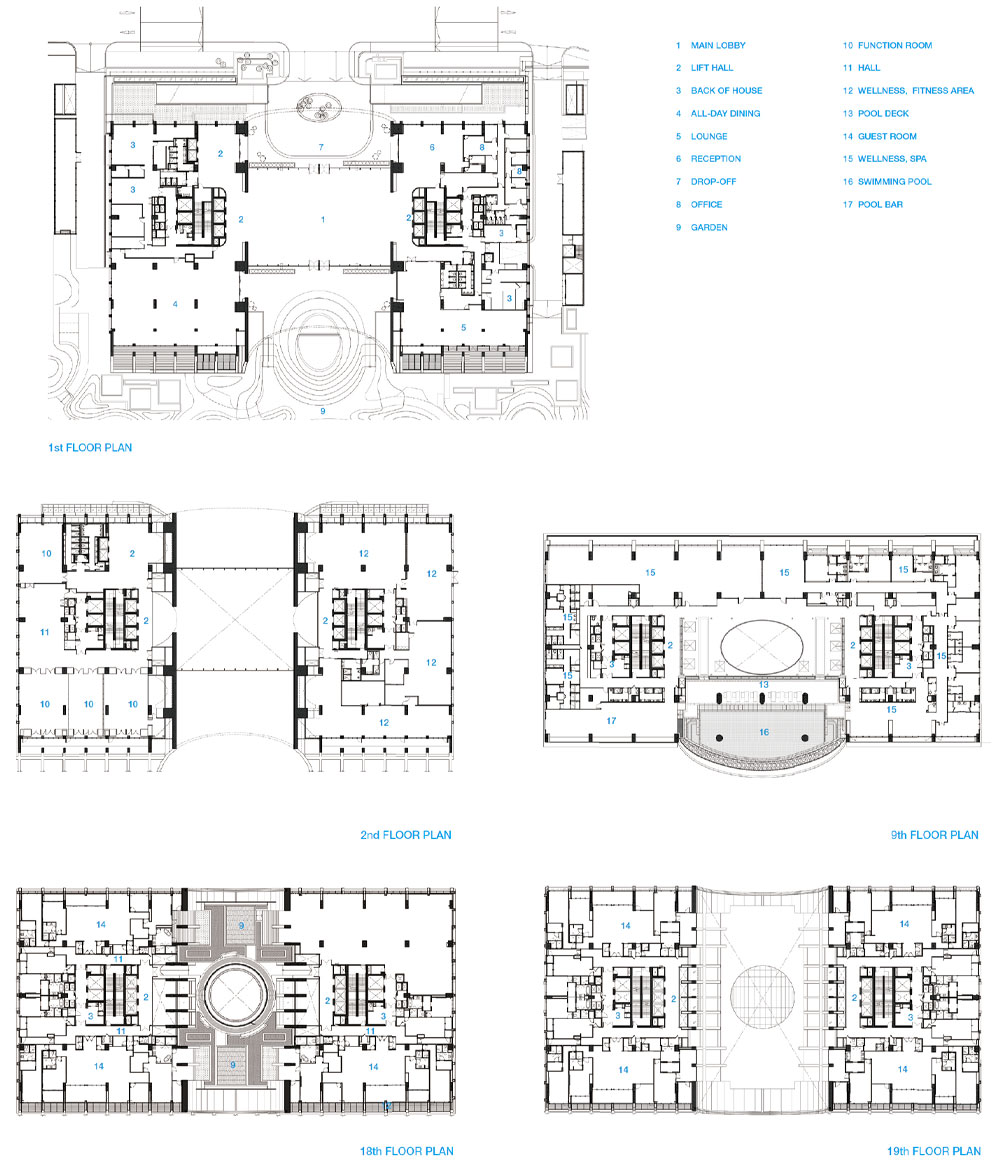 Architect PLAN ARCHITECT CO., LTD.
Location Langsuan Rd., Bangkok, Thailand
Program Hotel
Gross floor area 70,000㎡
Construction period 2013 - 2020
Completion 2020
Principal architect Sinn Phonghanyudh
Site architect Somsak Shanokprasit
Design team Wara Jithpratugs, Paveen Rojchanavisart, Ponlawat Trakulwattanakit, Sitthinon Chanchaiworawit
Structural engineer PSAA Consulting Engineers Co., Ltd.
Mechanical engineer Mitr Technical Consultant Co., Ltd.
Electrical engineer Mitr Technical Consultant Co., Ltd.
Construction Thai Obayashi Client Sindhorn Kempinski Hotel
Photographer Ketsiree Wongwan
해당 프로젝트는 건축문화 2021년 8월호(Vol. 483)에 게재되었습니다.
The project was published in the August, 2021 issue of the magazine(Vol. 483).
---
마실와이드 | 등록번호 : 서울, 아03630 | 등록일자 : 2015년 03월 11일 | 마실와이드 | 발행ㆍ편집인 : 김명규 | 청소년보호책임자 : 최지희 | 발행소 : 서울시 마포구 월드컵로8길 45-8 1층 | 발행일자 : 매일