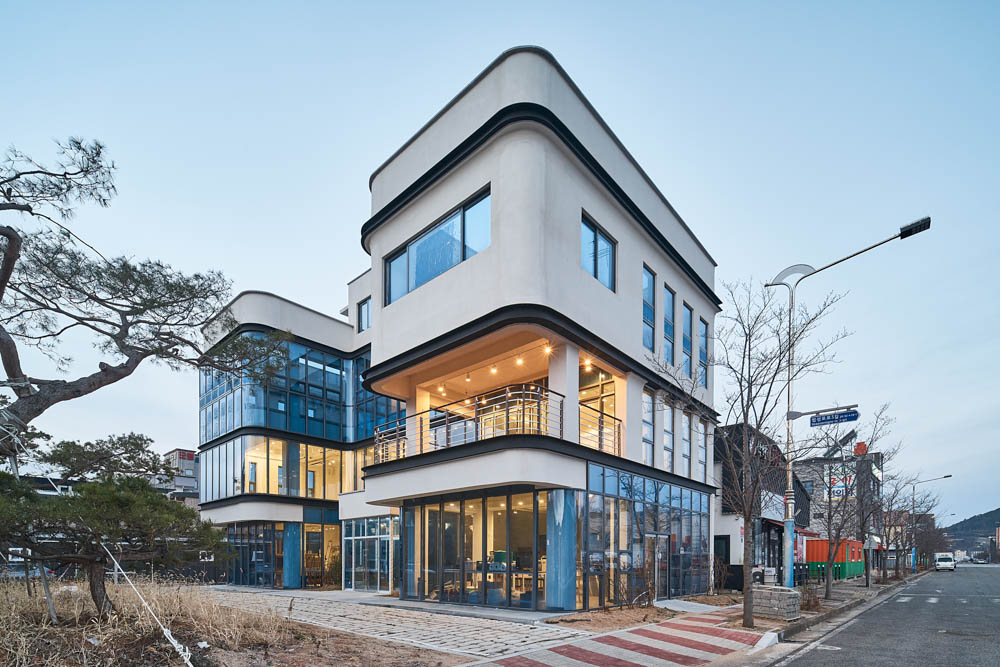 An AutoCAD drawing command word, "Fillet" magically connects 2 lines smoothly. Even though we extend infinitely, the line which contains a vector factor doesn't breaks like a magic. However, realizing the 'Fillet' in a real architecture is such a hard process. A smooth fillet line of the monitor breaks in a dull line on the site, and a stucco covering to conceal them looked like a skin with many pores. if not by an artisan of great proficiency, it wasn't easy to realize a smooth line drew inside the digital world to be realized in a real life. Elegant curved wall could be created with touch of the architecture masters.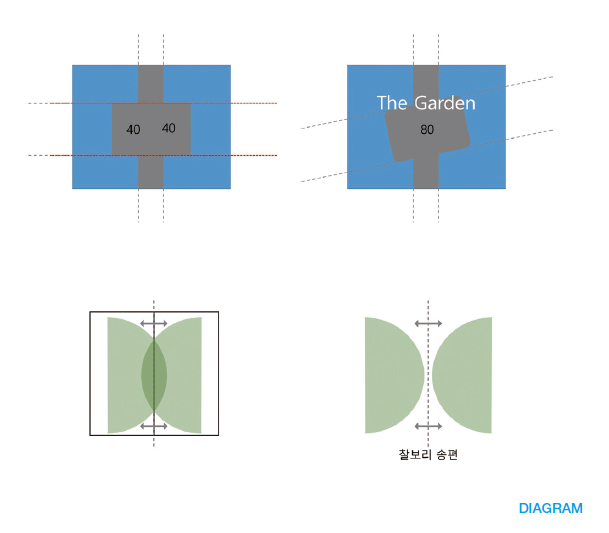 Curving a steel frame, which is the only design factor, on the wall perfectly was a magic for the petty site. We constantly supervised the construction after listening to the building owner's life story and construction experts' continuous complain but the thing left for this completed moment was consequently the crude 'Fillet'. A ruggedness, I comfort myself if this is a life of an architect. Nevertheless, the building stands on the ground like this.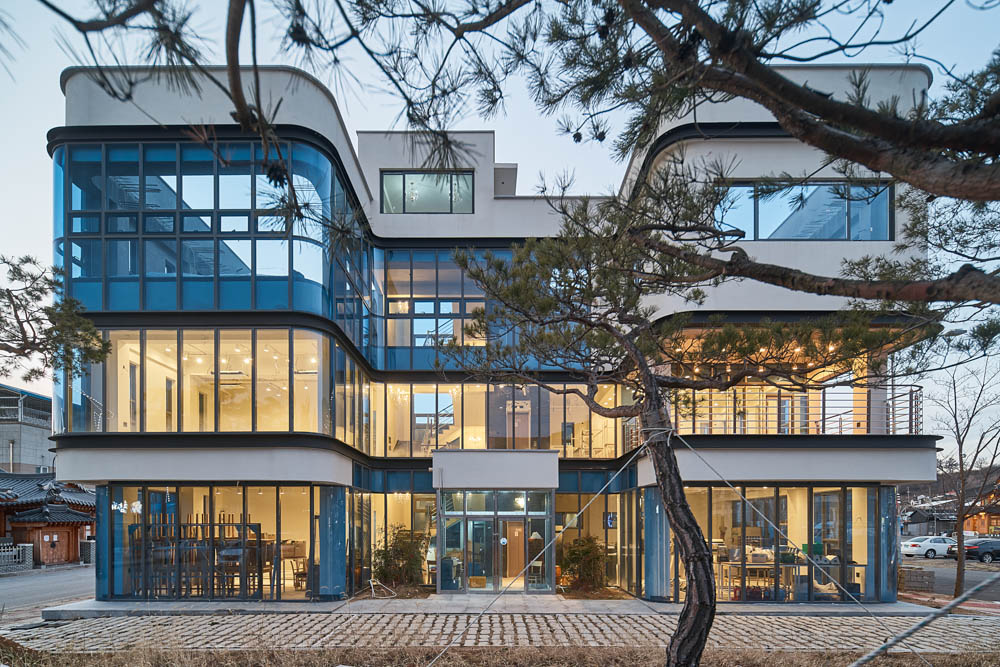 필렛이라는 오토캐드 드로잉 명령어는 마법처럼 두 개의 직선을 매끄럽게 연결시킨다. 무한히 확장해도 벡터 성분을 머금은 이 라인은 마법처럼 깨지지 않는다. 하지만 '필렛'이 실제 건축에서 구현되는 것은 정말 지난한 과정이다. 모니터에서 매끈했던 필렛 라인은 현장에서는 둔탁한 직선으로 쪼개지고 그것을 감추고자 뒤덮은 스터코는 모공이 송송한 피부처럼 보였다. 디지털 세계에서 그려지는 매끈한 곡면은 현실에서는 엄청난 숙련도의 장인이 아니고서야 쉽지 않았다. 유려한 곡면 벽은 건축 장인들의 손길로 태어날 수 있었다.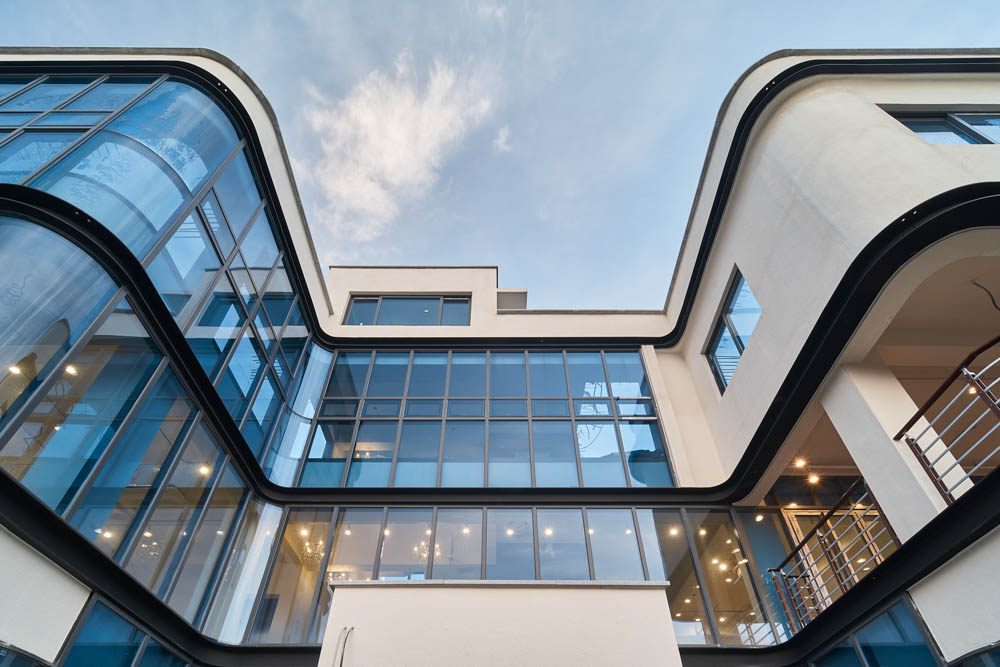 유일한 디자인 요소인 철골 프레임을 벽면에 맞게 정확하게 휘는 것도 영세한 현장에서는 마법이었다. 건축주의 삶의 이야기, 시공 전문가들의 끊임없는 하소연을 듣고 부단히 감리했지만 완성된 이 순간 남은 것은 결국 투박한 '필렛'이다. 투박함, 이것이 건축하는 사람의 삶이 아닌가 자위해본다. 그럼에도 건물은 이렇게 땅을 딛고 서 있다.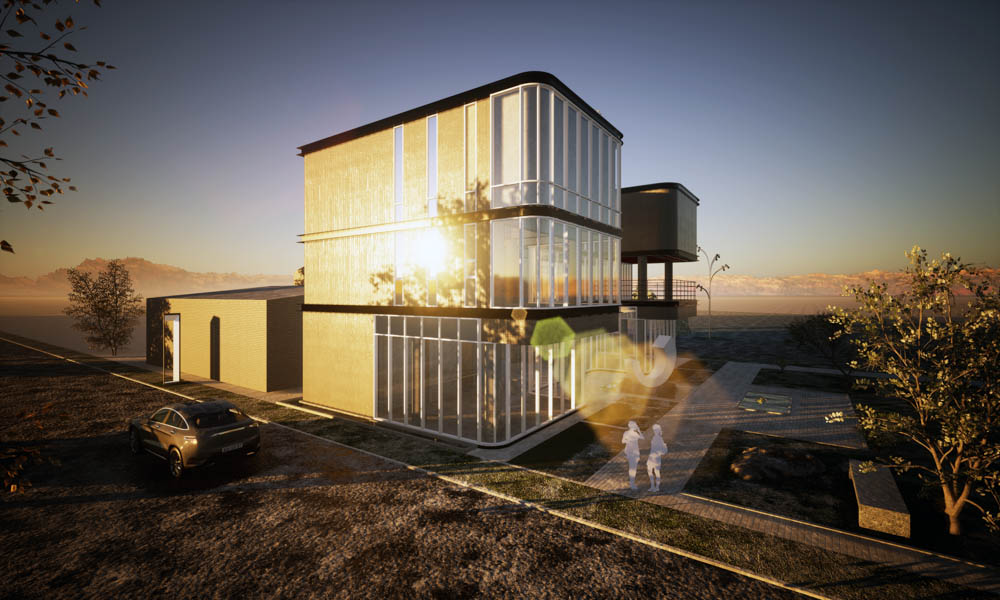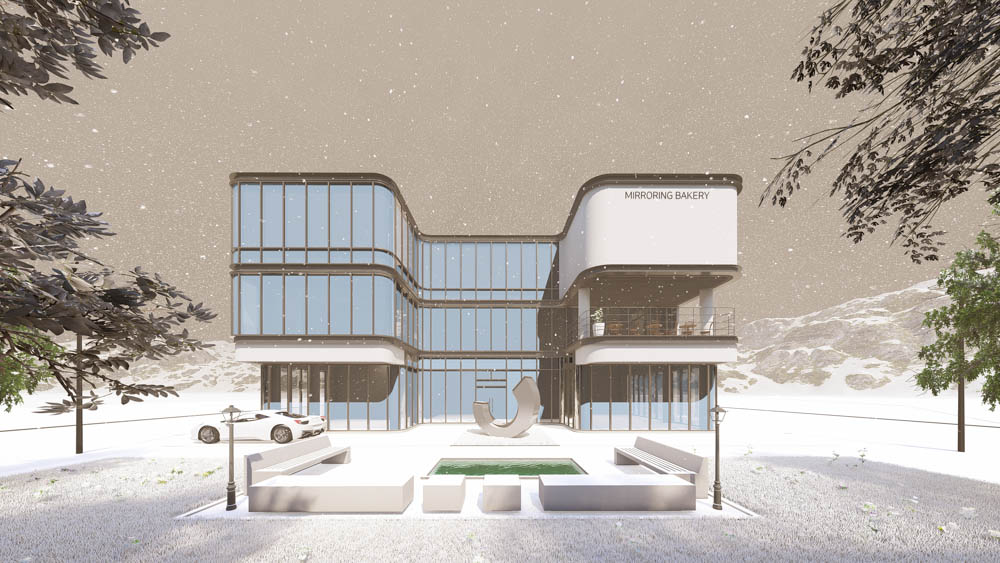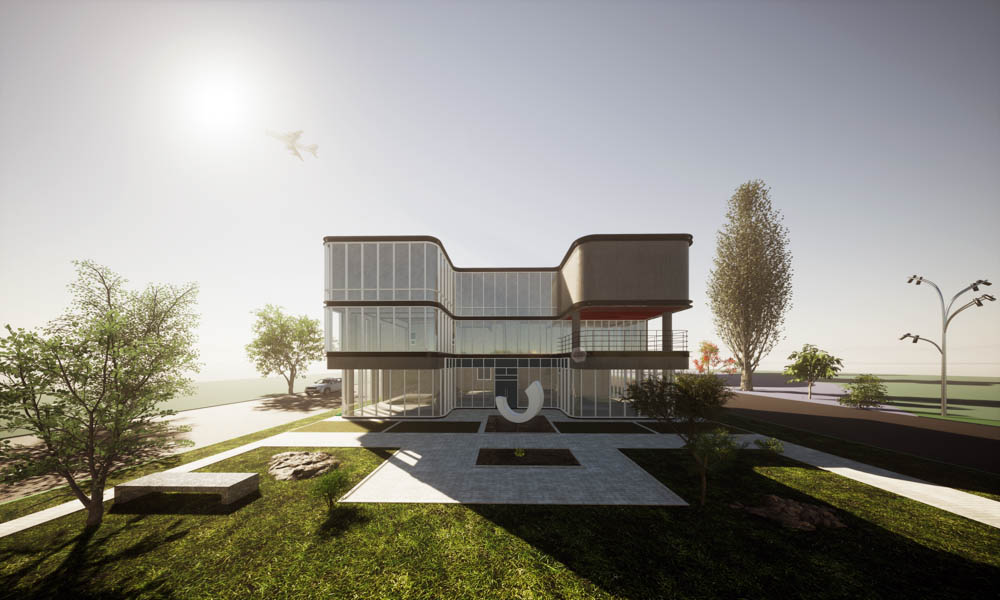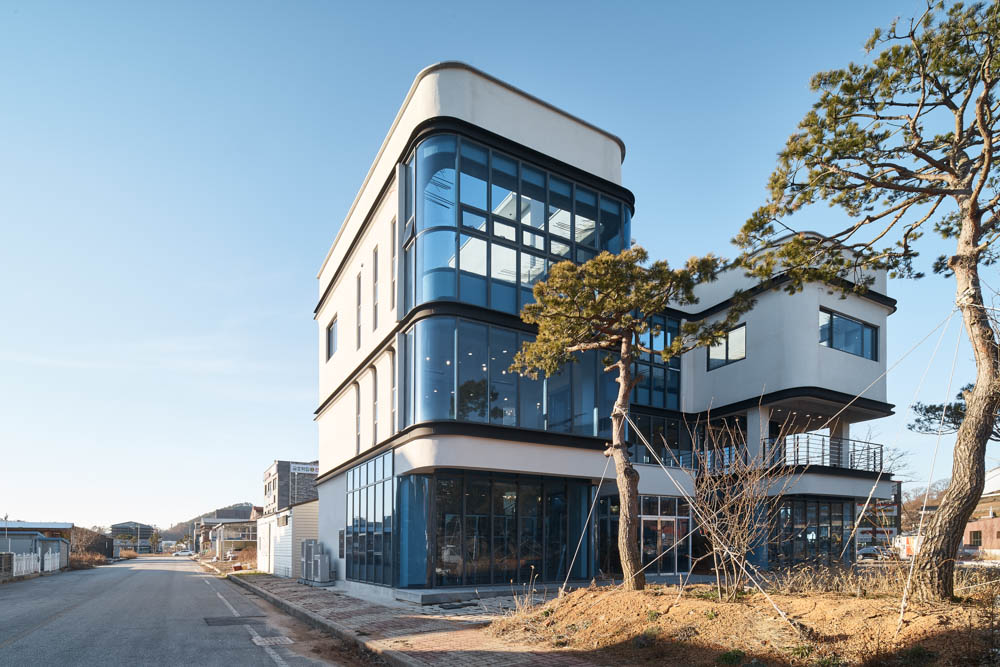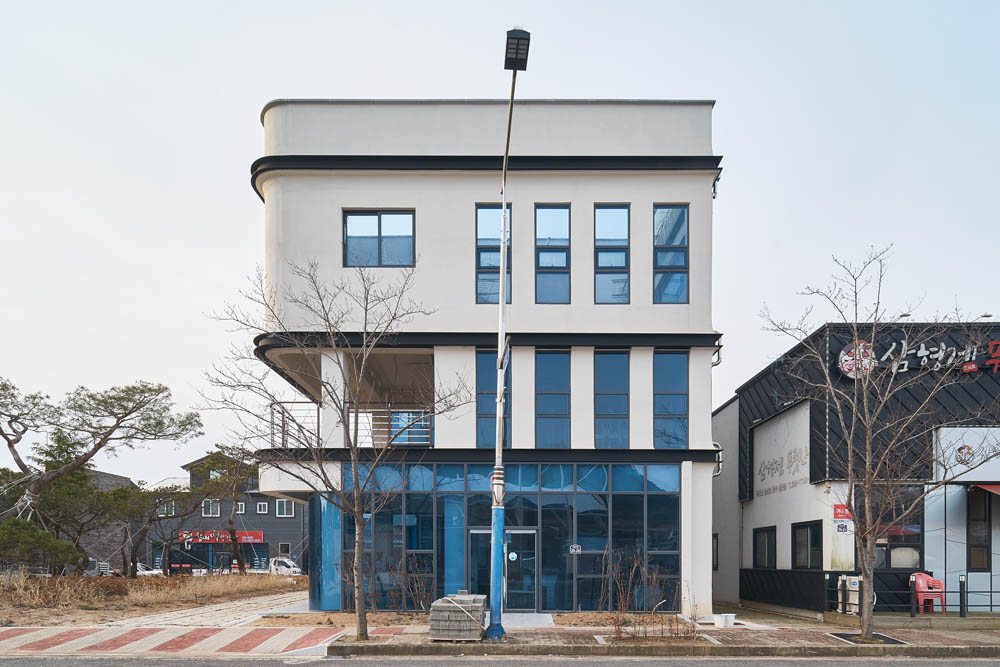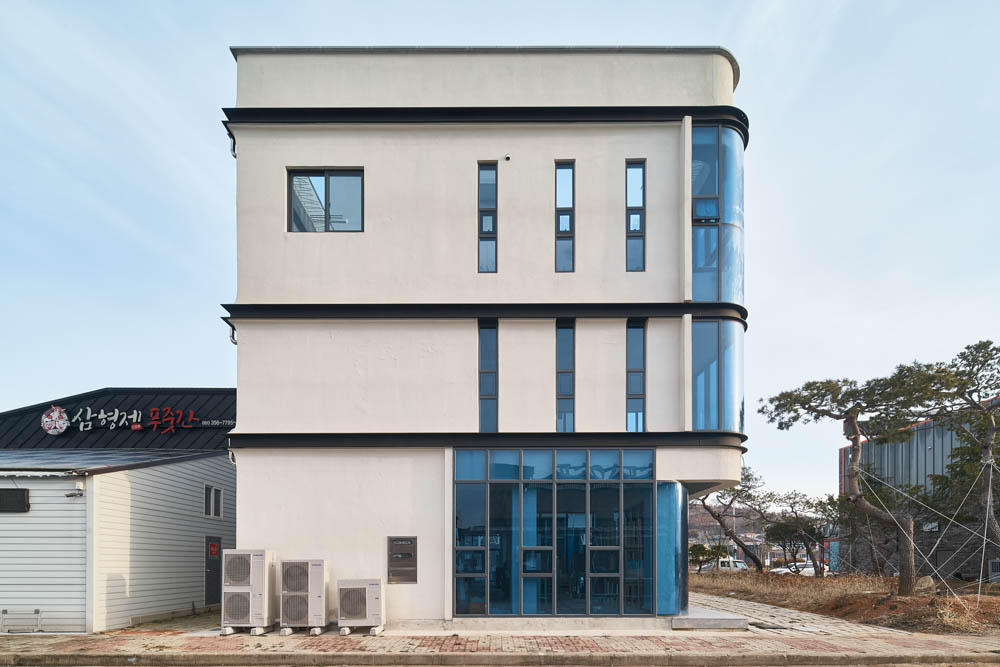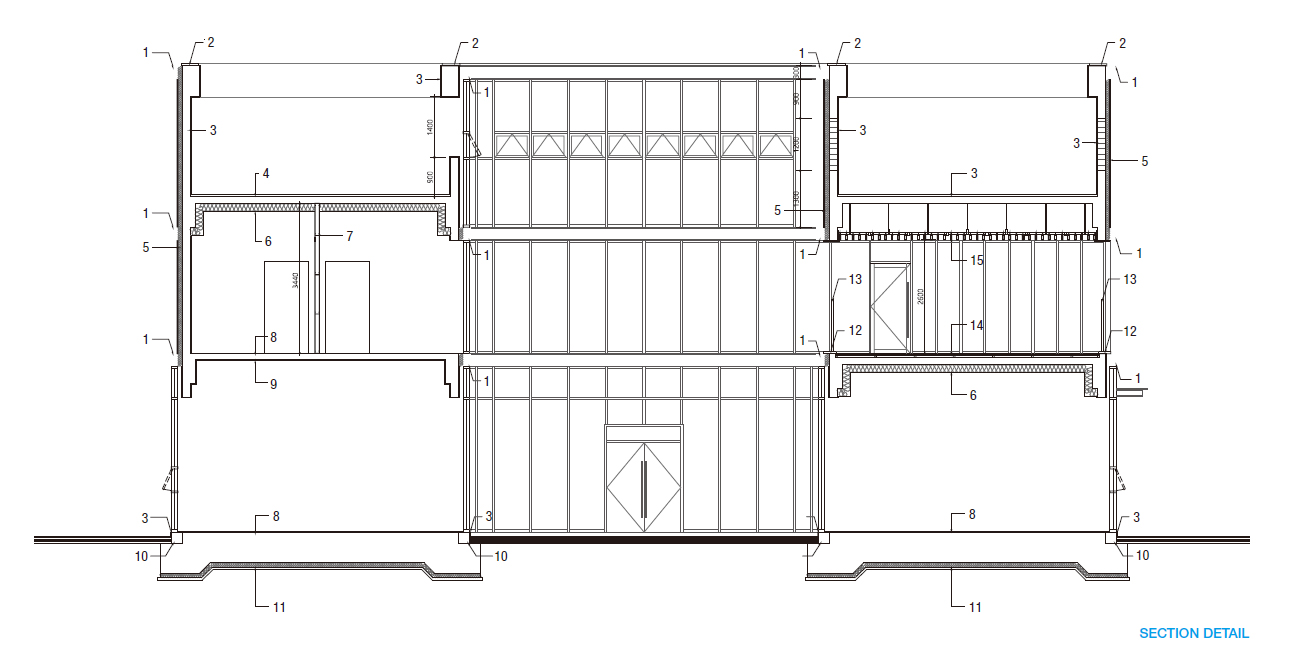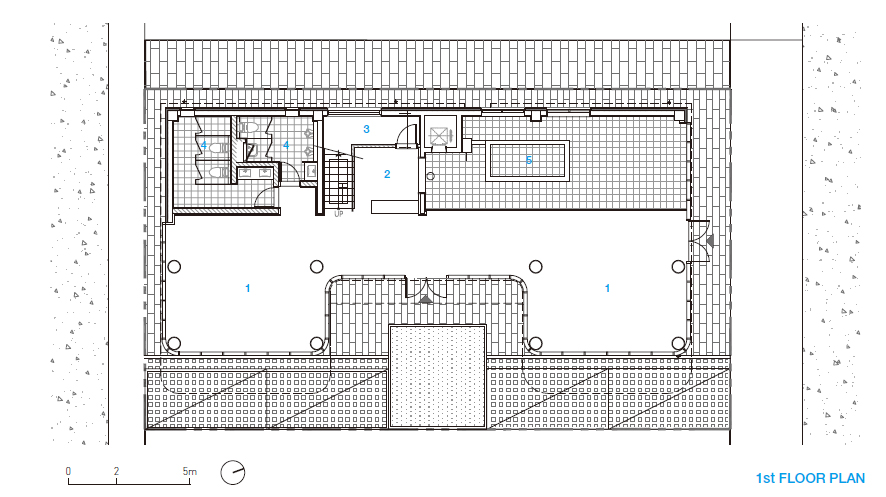 Architect osm Architect + Prof. Yongseon Joo(Honam Univ.)
Location Beopseongpo-ro, Beopseong-myeon, Yeonggwang-gun, Jeollanam-do, Republic of Korea
Program Neighborhood living facility
Site area 335.80m2
Building area 200.51m2
Gross floor area 390.85m2
Building scope 3F
Building to land ratio 59.71%
Floor area ratio 116.39%
Design period 2019. 10 - 2020. 12
Construction period 2020. 1 - 10
Completion 2020. 10
Principal architect Sangmok Oh
Project architect Yongseon Joo Design team Giseong Park, Dain Yoe, Junmin Seo
Structural engineer BUNDO Structure Technology office Co., LTD.
Mechanical engineer HWASUNG ENG
Electrical engineer HWASUNG ENG
Construction JANGWON Construction Co., LTD.
Client Yeonggwang-Gun
Photographer MasilWIDE(Yongsu Kim)
해당 프로젝트는 건축문화 2021년 3월호(Vol. 478)에 게재 되었습니다.

The project was published in the March, 2021 issue of the magazine(Vol. 478).
---
마실와이드 | 등록번호 : 서울, 아03630 | 등록일자 : 2015년 03월 11일 | 마실와이드 | 발행ㆍ편집인 : 김명규 | 청소년보호책임자 : 최지희 | 발행소 : 서울시 마포구 월드컵로8길 45-8 1층 | 발행일자 : 매일