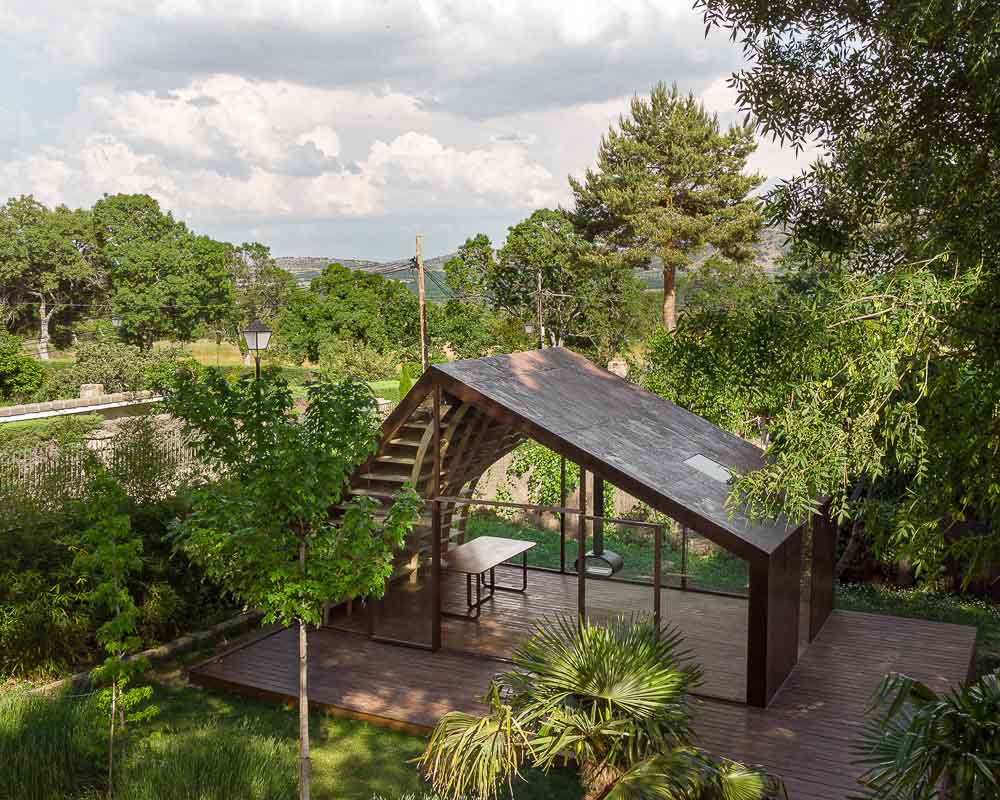 MuDD architects designed and built a writer's cabin for a children's book writer in the north of madrid, spain. The client wanted an evocative space that gave her inspiration for her future books. The cabin is located in the heart of a green landscape and offers a space for meditation and motivation.
The project is the first of its kind for MuDD architects, where digital fabrication combined with highly skilled master builders is used in the same project for common daily use. Part of the challenge was to design a cabin-like architecture with a contemporary twist. The architects found art in the simplest lines and wrapped the inside with a local maple wood envelope. They used simon LED lights on the envelope to highlight the large roof volume and the perimeter line of the terrace. other lighting fixtures with dimers allow the writer to change the ambiance of the place.
Furthermore, some little lights are placed inside the oversized bookshelves giving the effect of fireflies. Two technical lights placed 4 meters high, lit the main table of the writer. The continuous envelope of the cabin roof is made of folded oxidized iron. The finishing and tones are controlled by the level of oxidation. The architects custom-made an extremely thin oxidized iron frame for each main façade allowing the laminated glass to offer total integration of the house into the stunning garden.
The most challenging part but as well one of the most important parts of the house are the highly complex curvy bookshelves adapted to the very specific sloped high roofs of the house. Locally sourced pine wood is used and purposely left natural to contrast with the maple syrup finishing of the maple inside the cladding panels. These bookshelves create a sensation of movement held still in a time where the heavyweight of both the horizontal and verticals are counterbalancing the weight of the high roof.
The bookshelves are composed of 100 different pieces cut with CNC where different sorts of dry assembly were tested in order to have the most discrete effect possible. At the highest point in the ceiling, a cast black iron chiminea is hung, creating a sense of equilibrium in the cabin. The terrace of the house is in seamless continuation with the wooden floor of the indoor. This project's biggest challenge doesn't lie in the techniques that require a huge number of hours for both digital and manual construction but mostly in the level of emotion the client has towards reaching perfection for her dream house.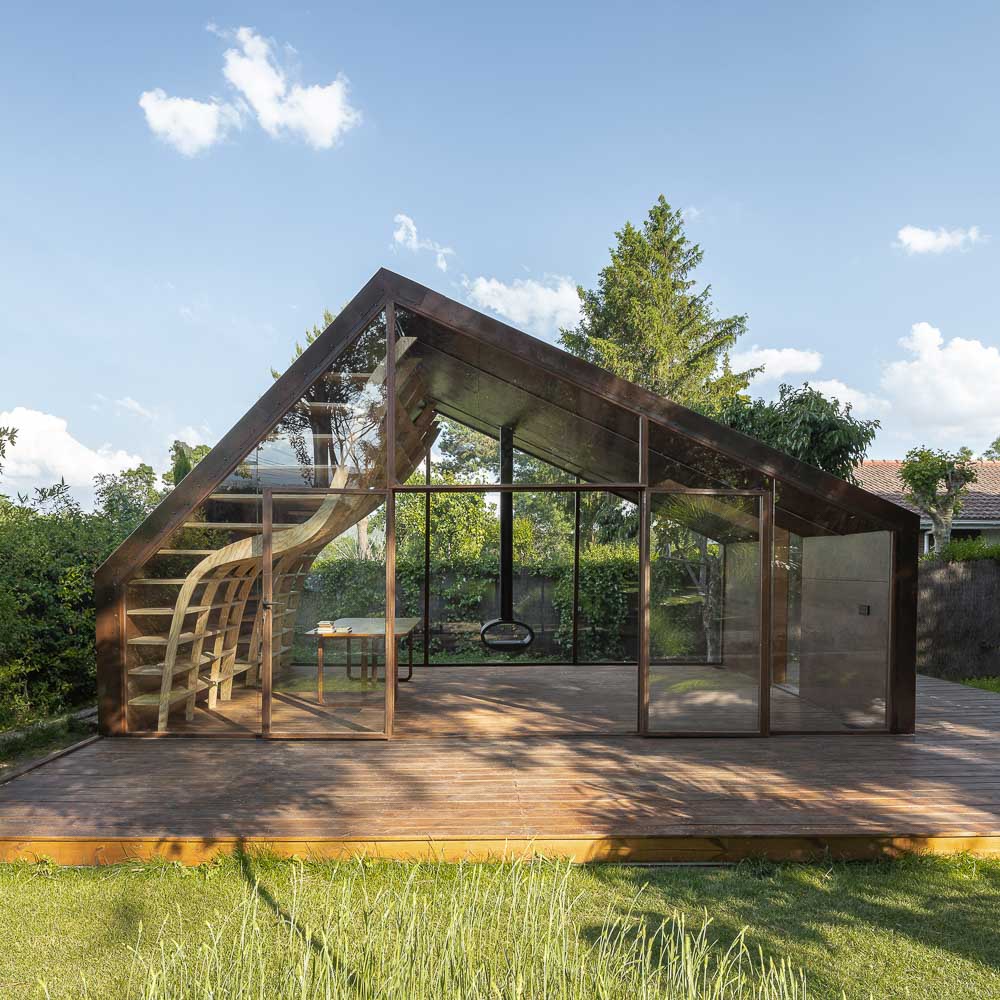 작가의 오두막집
'작가의 오두막집'은 스페인 마드리드 북쪽에 사는 동화작가를 위한 작은 집이다. 건축주는 책에 대한 영감을 불러일으킬 수 있는 공간을 원했다. 정원의 중심에 있는 작가의 오두막집은 명상하거나 동기를 만들어줄 수 있는 공간이다.
이 프로젝트는 디지털 패브리케이션과 매우 숙련된 건축 장인이 함께, 일상에 사용되는 공간을 만든 첫 프로젝트다. 우선 오두막이지만 현대적인 반전이 있는 건축물을 디자인하고자 했다. 건축가는 가장 단순한 선에서 아름다움을 만들어냈고, 내부는 지역 재료인 단풍나무로 감쌌다. 큰 지붕 볼륨과 테라스 경계선을 강조하기 위해 외피에는 simon LED 조명을 사용했다. 조광기가 있는 다른 조명 기구들로 건축주는 공간의 분위기를 바꿀 수 있다.
또한, 대형 책장 안에 작은 조명을 설치해 마치 반딧불이처럼 보이게 연출했다. 4m 높이에 있는 두 개의 메인 조명은 작가의 테이블을 비춘다. 오두막 지붕의 연속적인 외피는 접힌 산화철로 만들어져, 산화의 수준에 따라 외피의 색이 달라진다. 건축가는 각 주요 파사드에 극도로 얇은 산화철 프레임을 맞춤 제작하여 접합 유리가 집과 멋진 정원을 이어줄 수 있도록 했다.
가장 어려운 부분이었지만, 가장 중요했던 매우 복잡한 곡선의 책장은 박공지붕의 경사에 딱 맞게 만들어졌다. 현지에서 구할 수 있는 소나무를 사용했고, 외부 패널 내부의 단풍나무 마감과 대조되도록 의도적으로 자연스러운 질감으로 마무리했다. 이 책장은 수평과 수직의 무거운 무게가 높고 무거운 지붕의 무게와 균형을 맞추고, 시간이 정지된 듯한 감각을 만들어낸다.
책장은 CNC로 절단된 100개의 다른 조각으로 구성되어 있으며, 가능한 가장 분산된 효과를 내기 위해 다양한 종류의 건식 조립 테스트를 했다. 천장의 가장 높은 지점에는 검은색 주철 키미네아가 걸려 있어, 오두막집에 균형감을 준다. 이 집의 테라스는 실내의 나무 바닥과 매끄럽게 이어진다. 이 프로젝트의 가장 큰 도전은 디지털과 수작업 시공이 아닌, 건축주가 꿈꾸는 집을 완성할 수 있게 하는 감성의 수준에 있었다.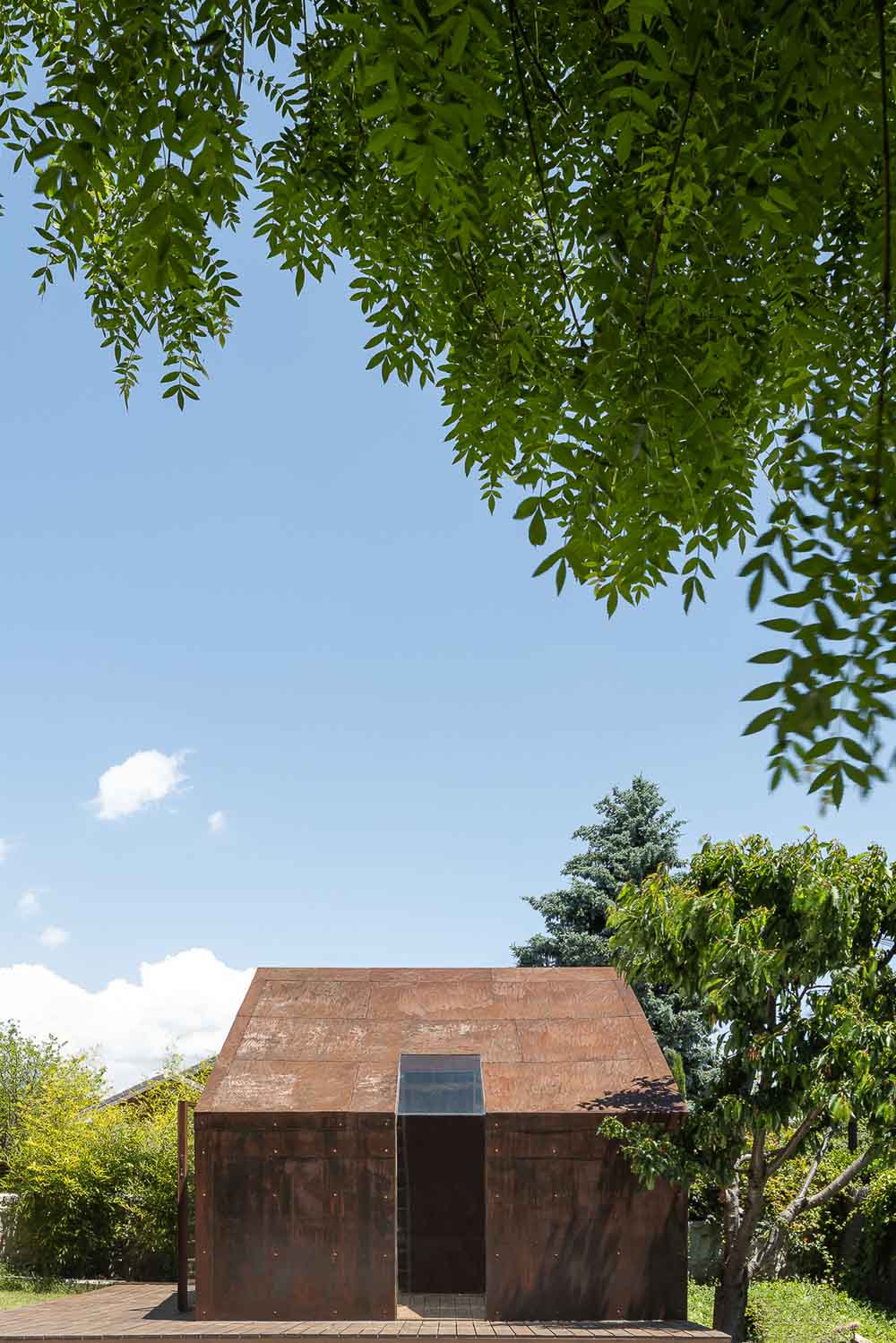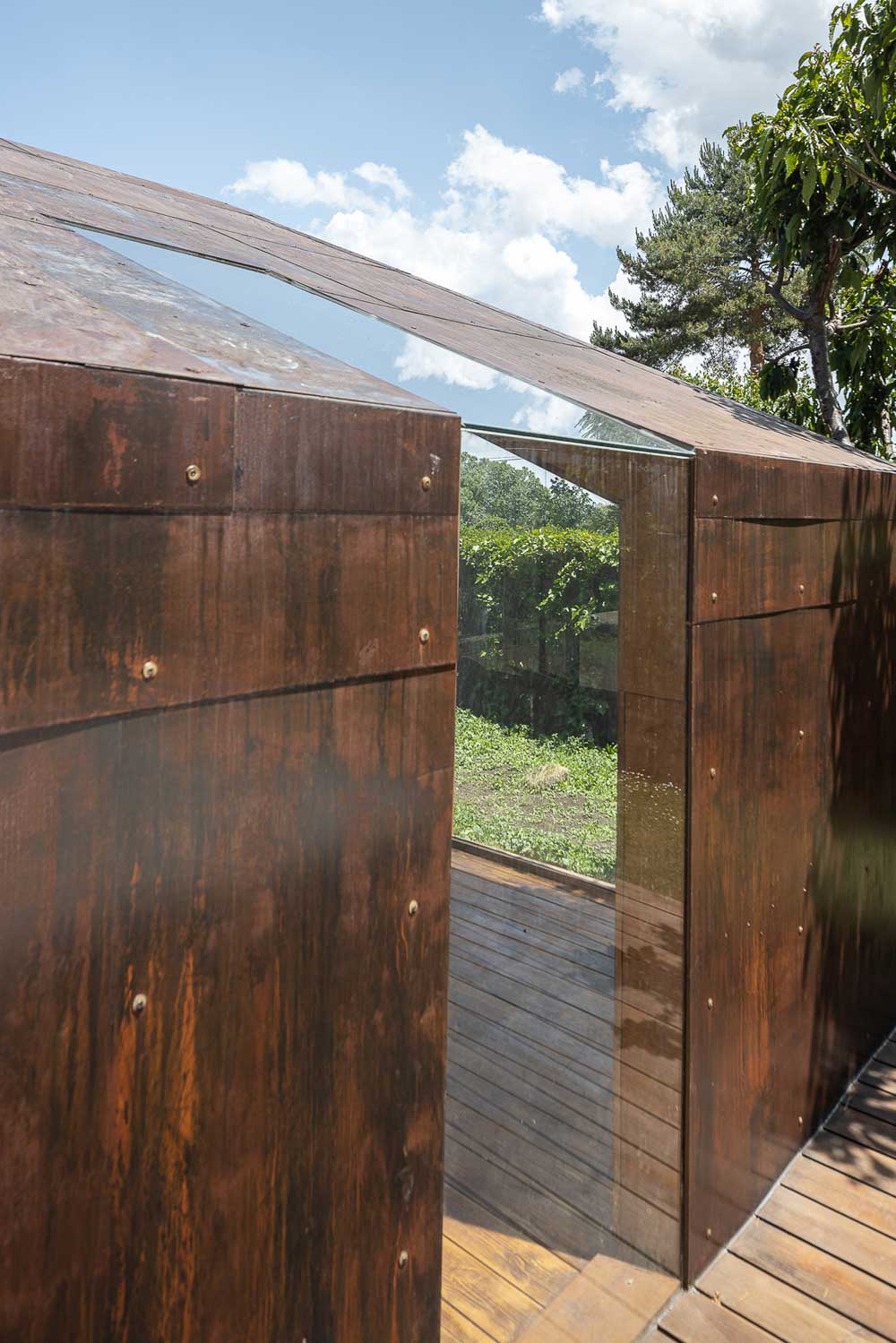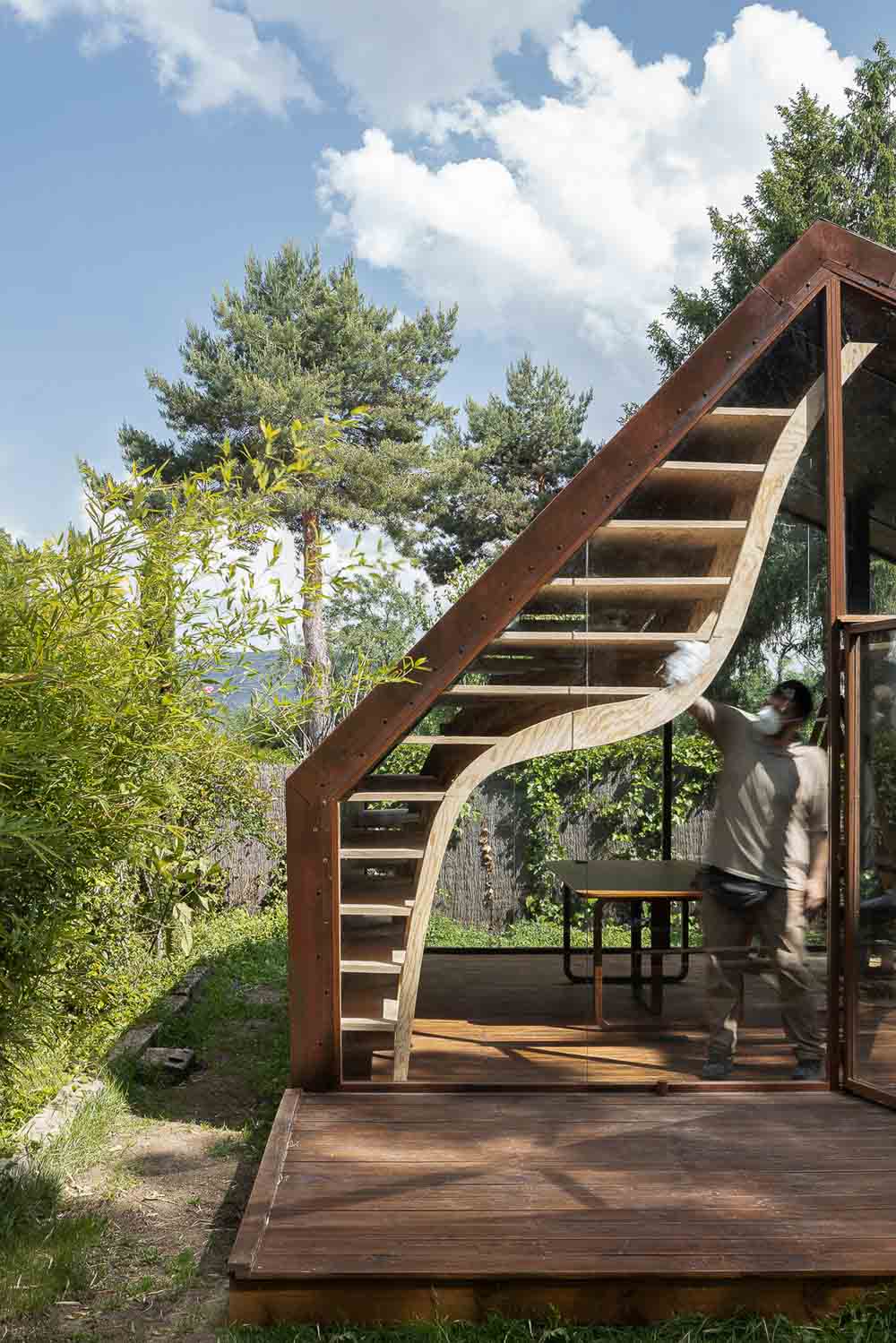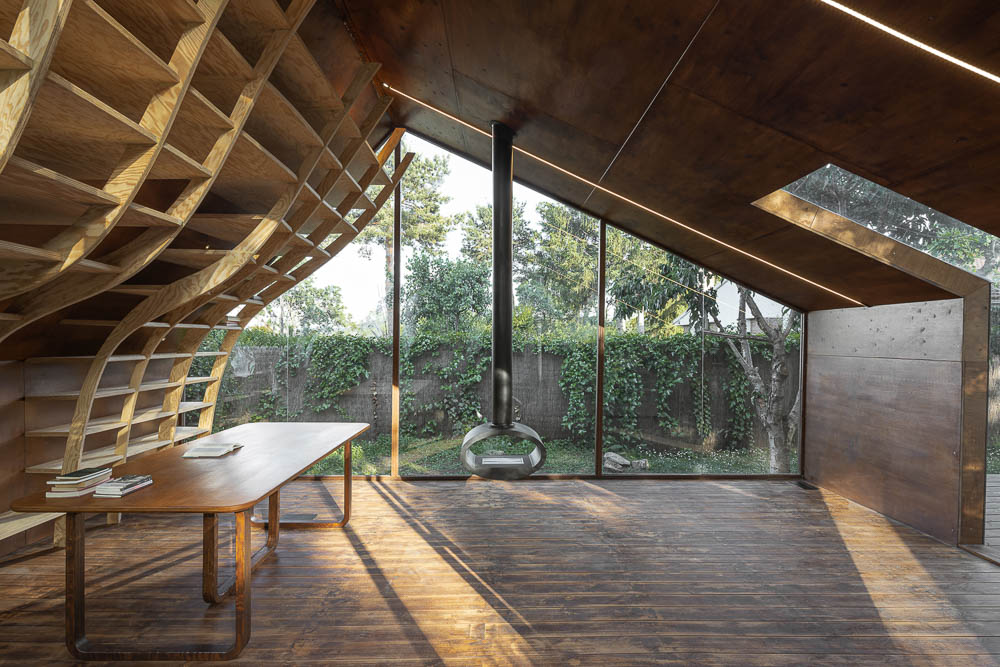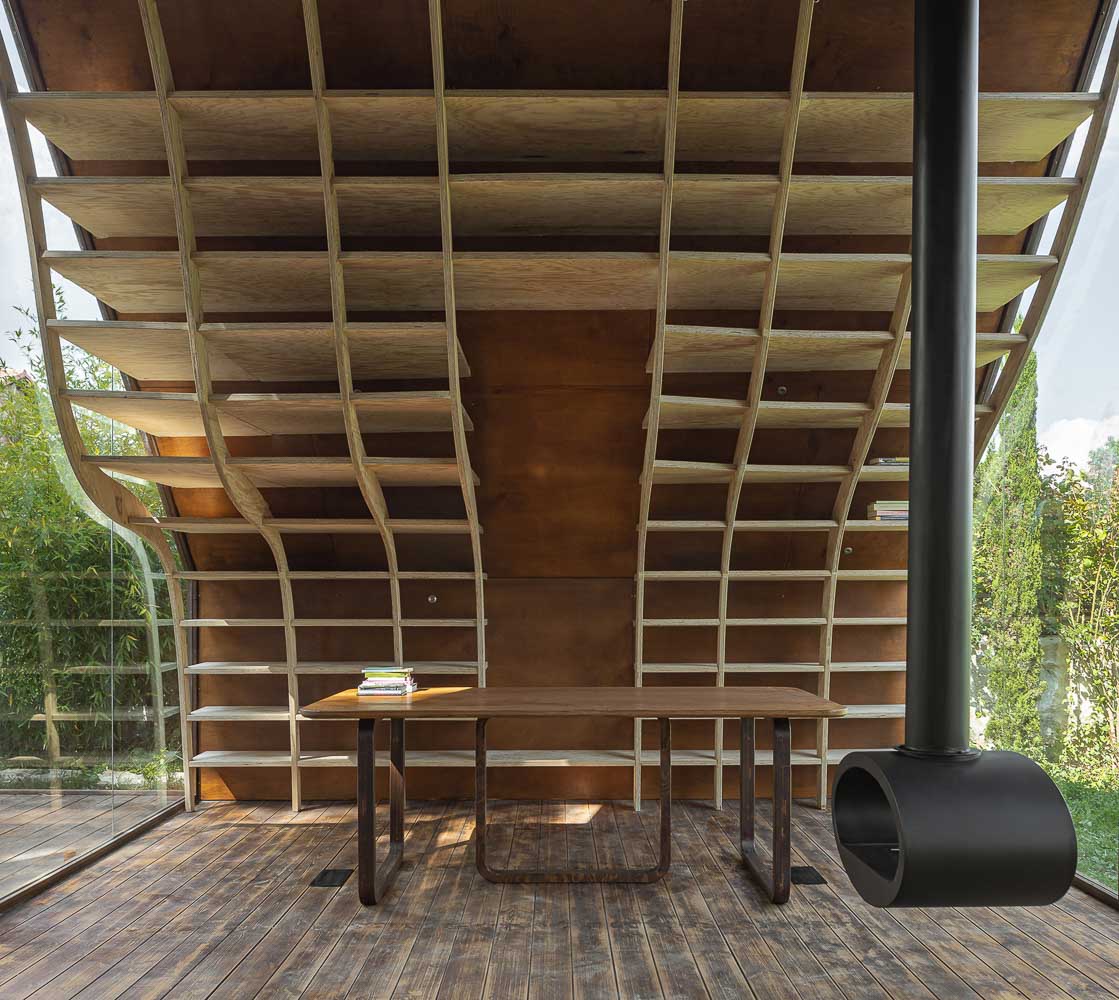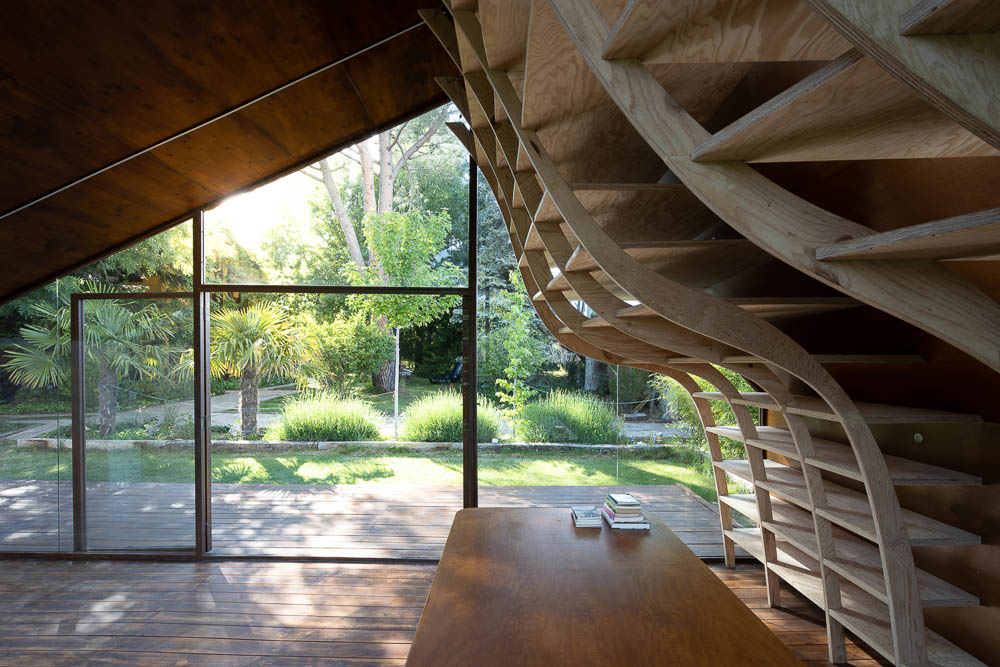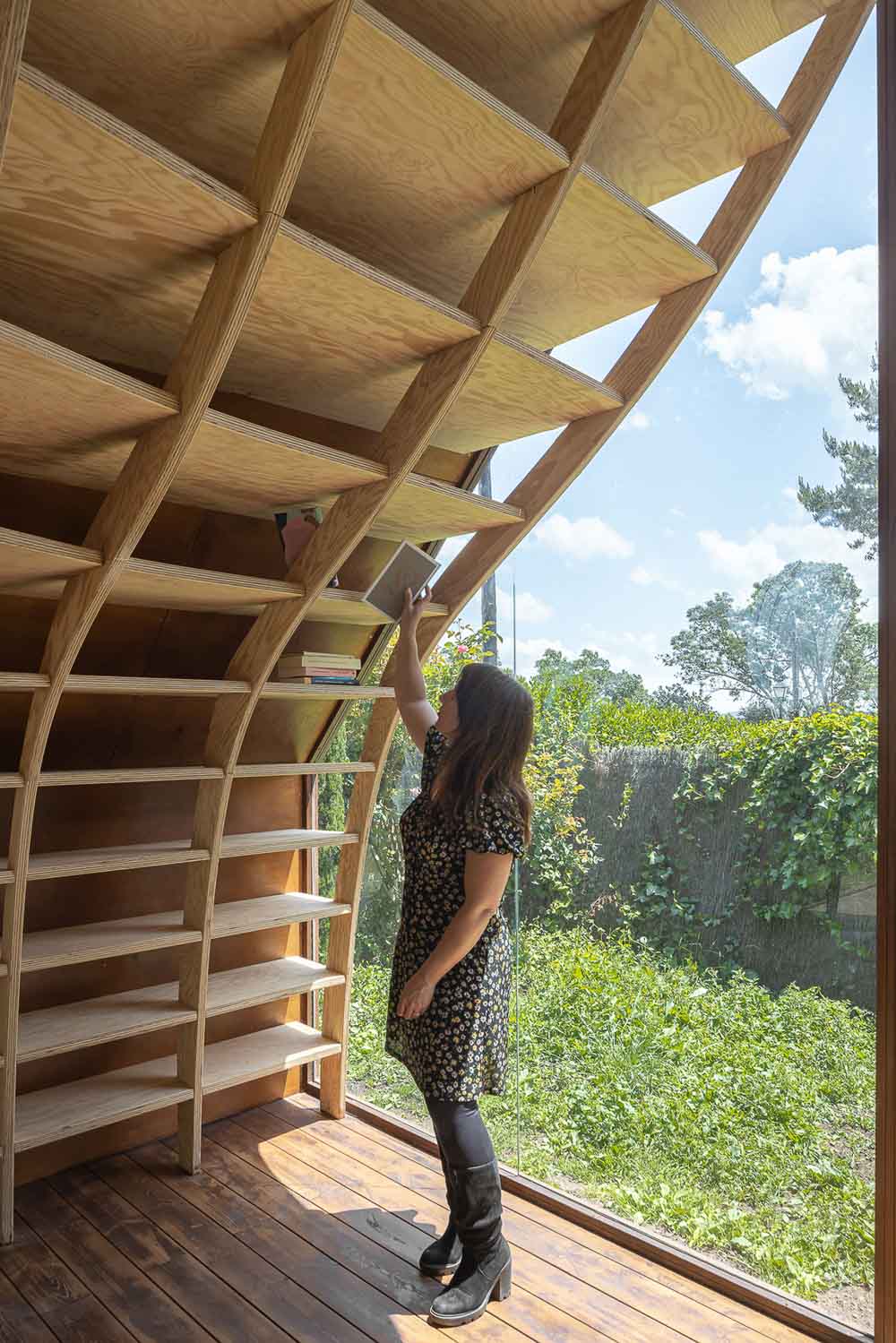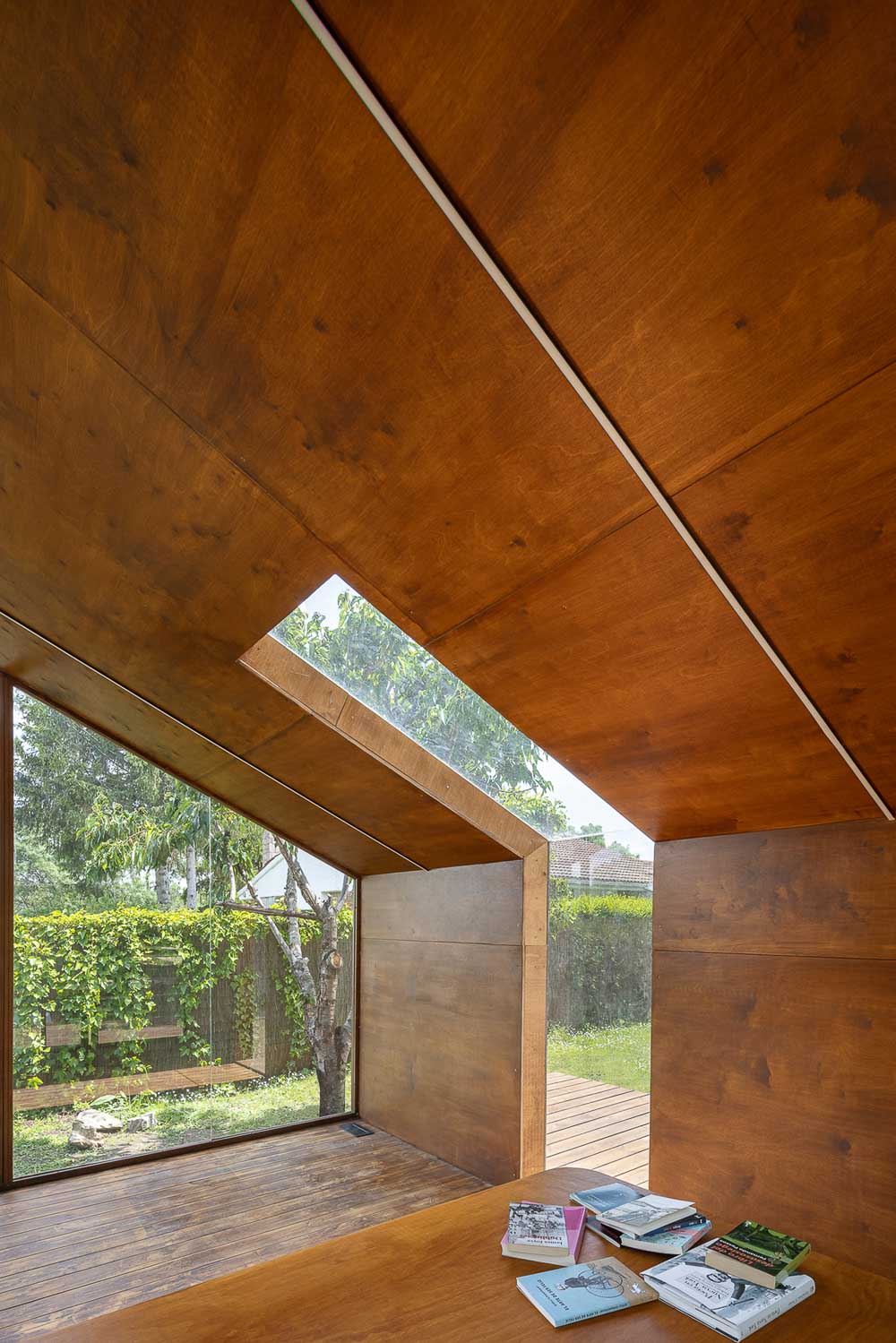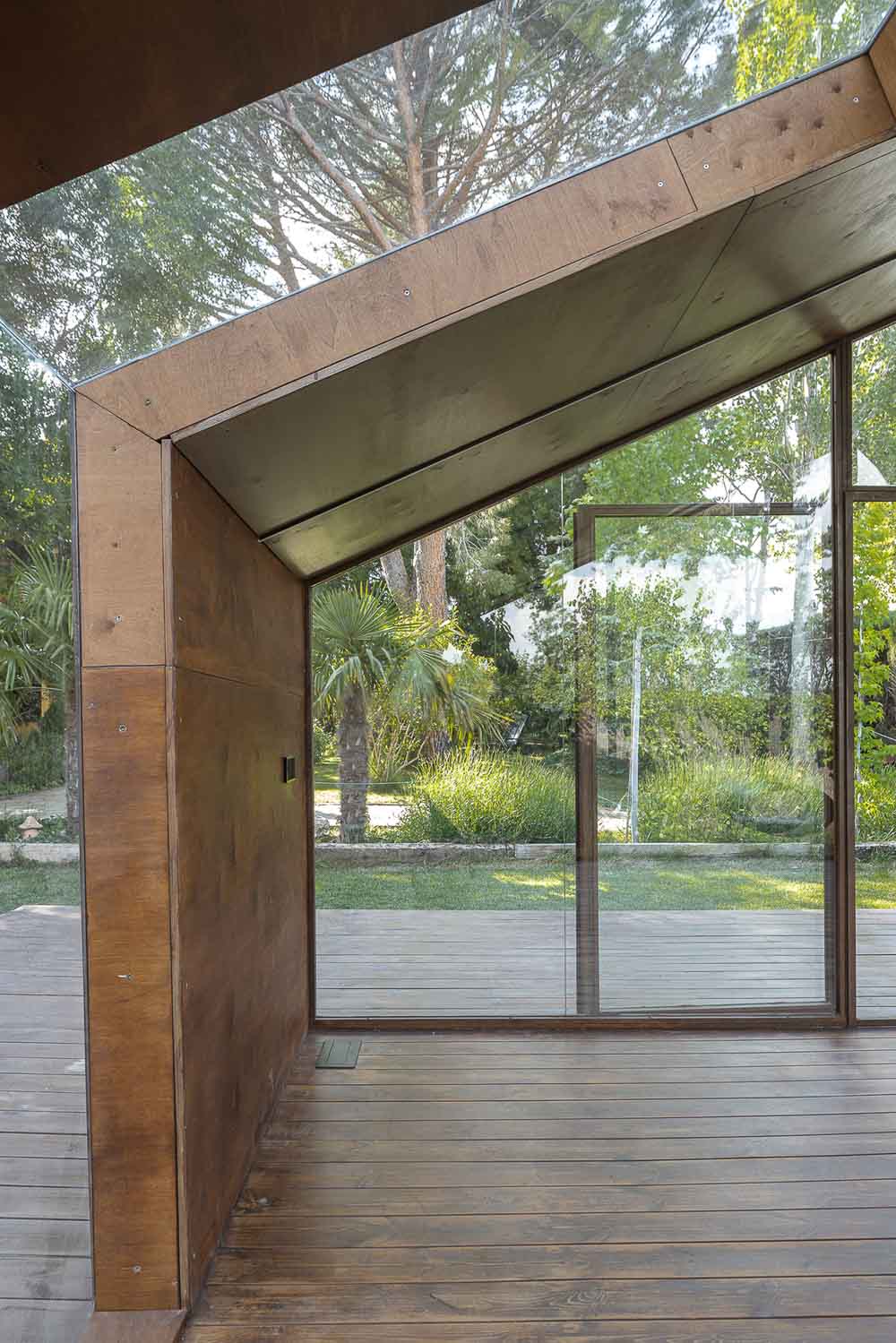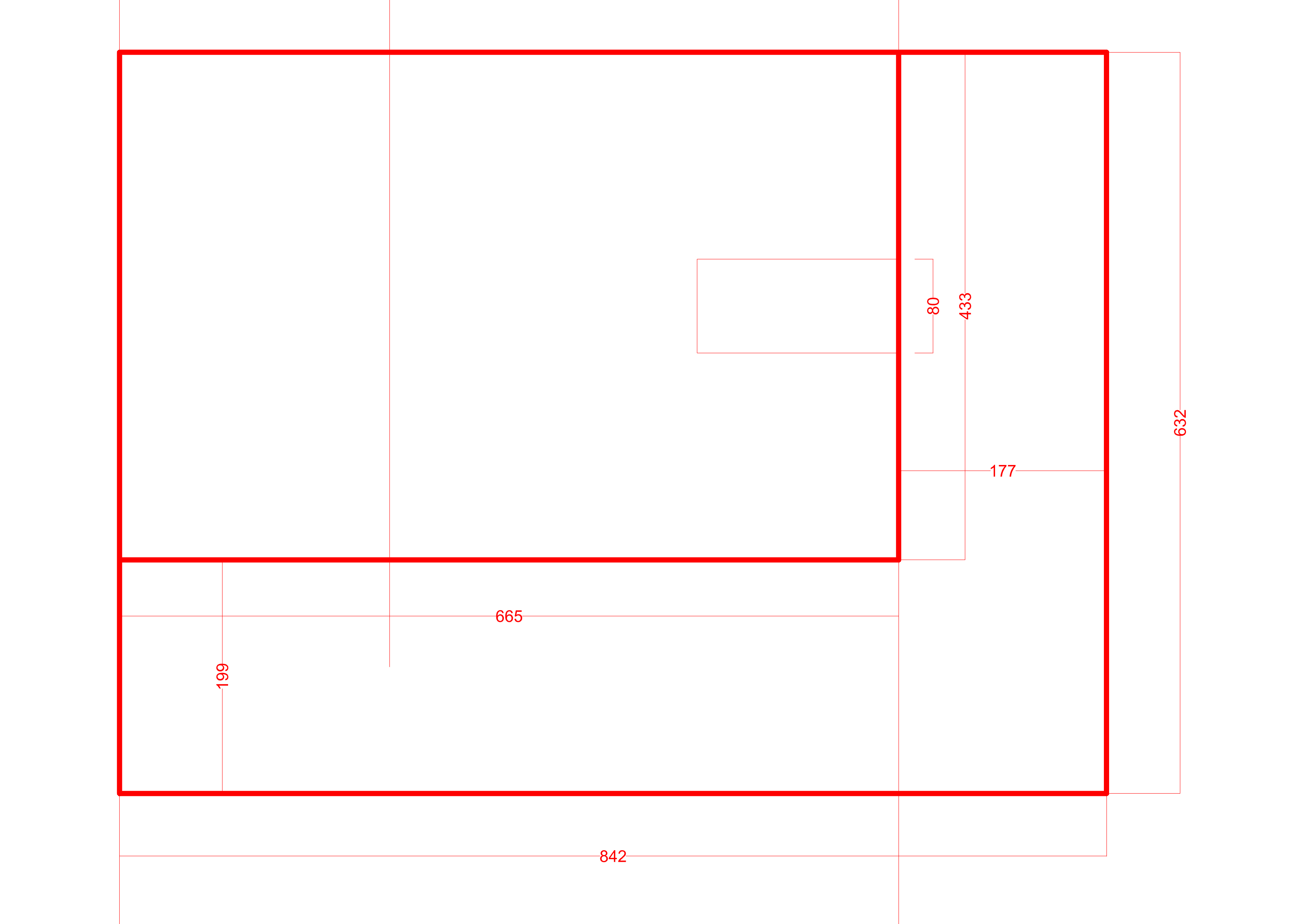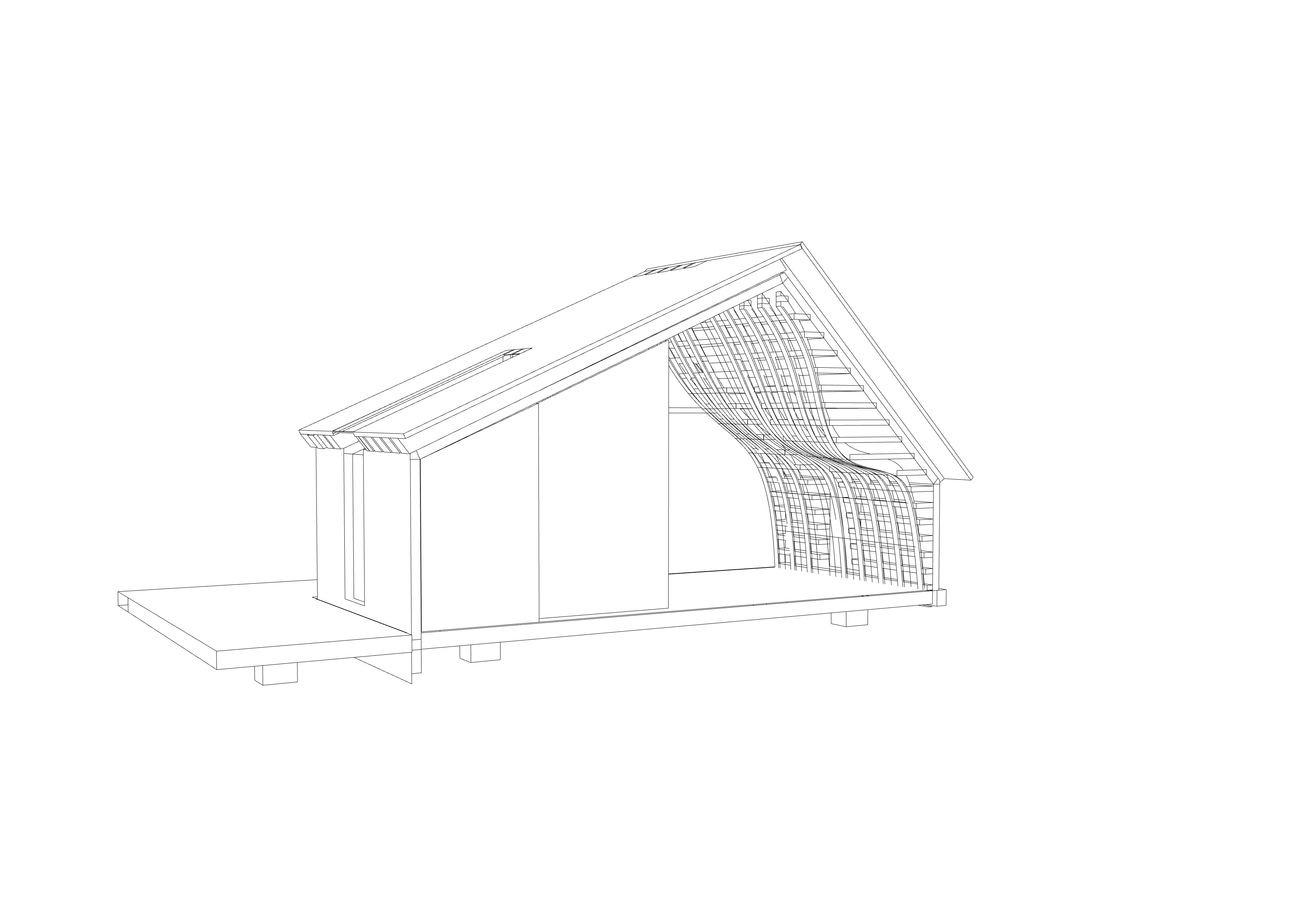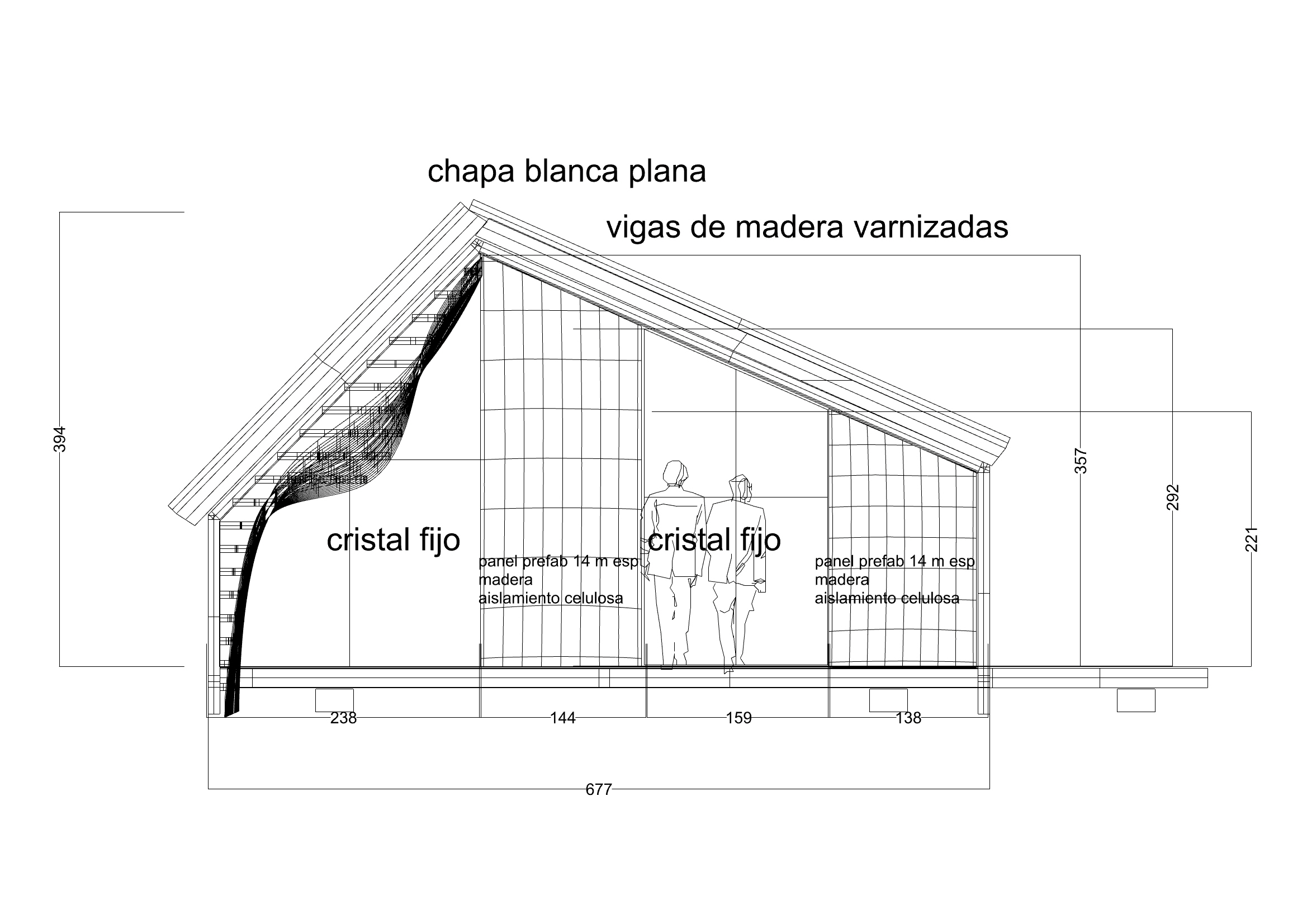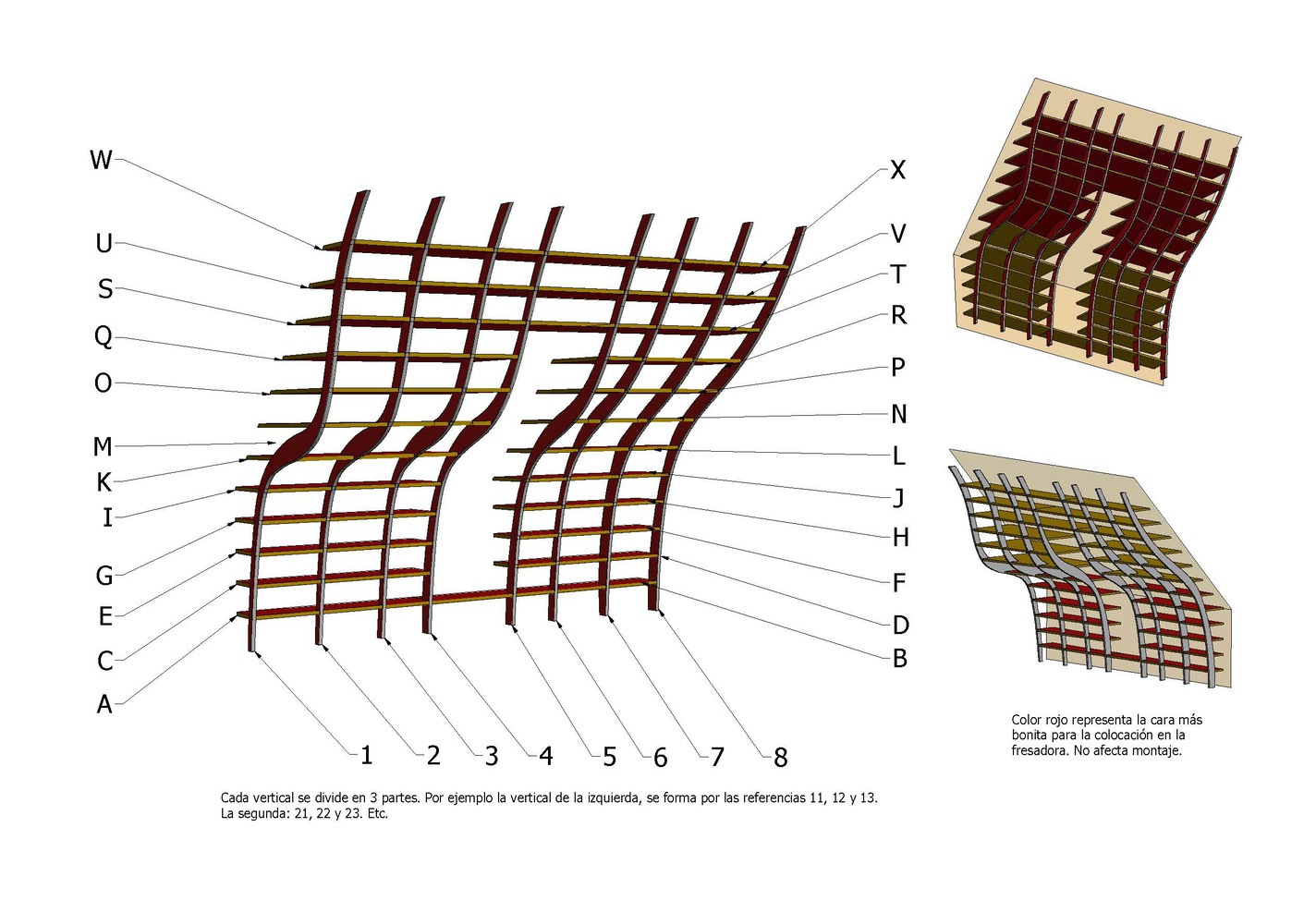 Architect MuDD Architects
Location Madrid, Spain
Building area 27㎡
Building scope 1F
Completion 2021
Project architect MuDD Architects
Photographer Nacho Villa


해당 프로젝트는 건축문화 2022년 9월호(Vol. 496)에 게재되었습니다.
The project was published in the September, 2022 recent projects of the magazine(Vol. 496).
---
마실와이드 | 등록번호 : 서울, 아03630 | 등록일자 : 2015년 03월 11일 | 마실와이드 | 발행ㆍ편집인 : 김명규 | 청소년보호책임자 : 최지희 | 발행소 : 서울시 마포구 월드컵로8길 45-8 1층 | 발행일자 : 매일