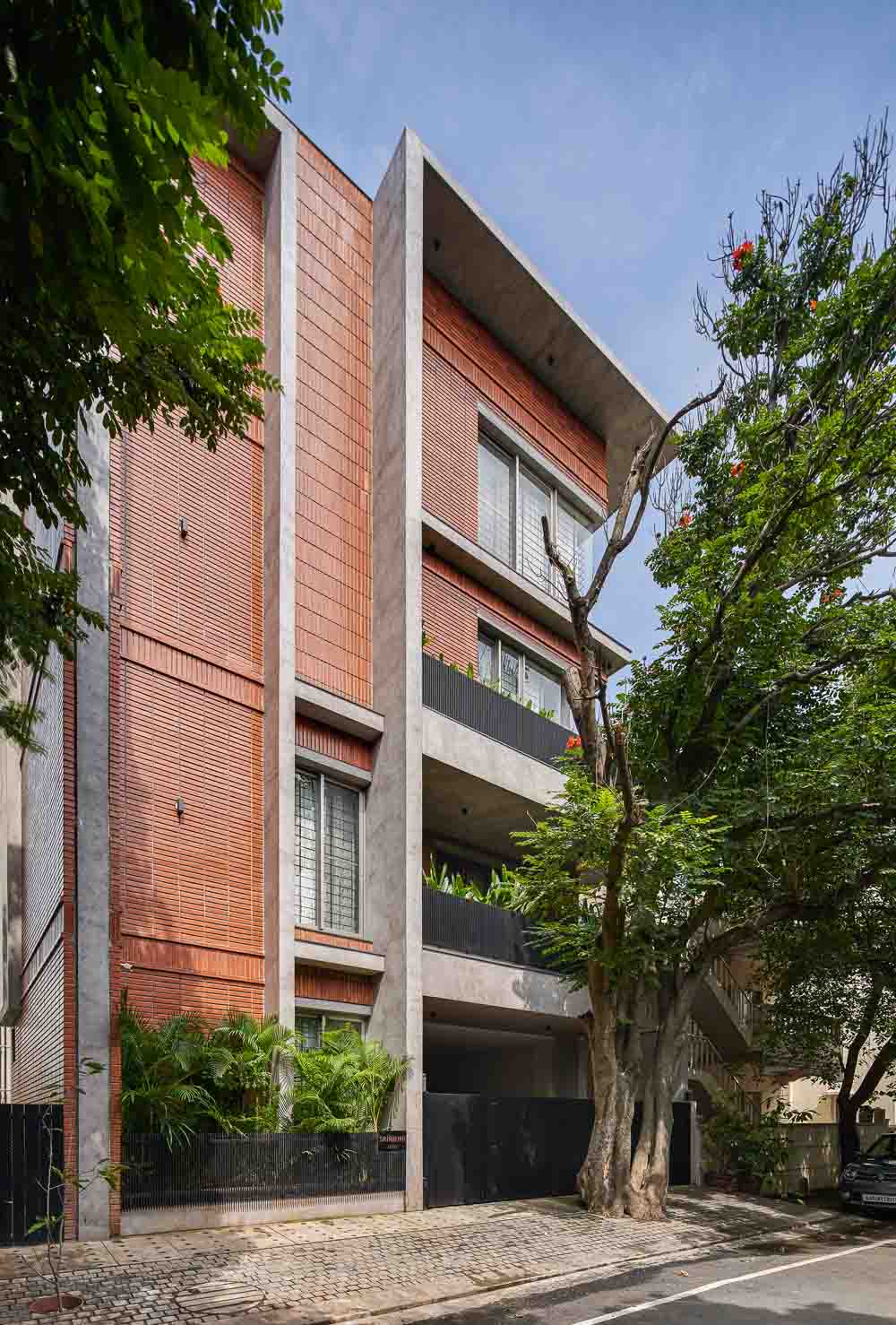 Anchored in a serene neighbourhood of Bengaluru city, there stands a unique work of architecture snugly tucked into a quadrilateral plot of land. The uniqueness of the architecture lies in its simplicity of form and palette, tastefully moulded in brick cladding and liquid stone to ideally suit the streetscape of the surrounding locale. Taking inspiration from its striking brick materiality that largely envelopes its elevation, the building is aptly called Brick veil. The 4-story abode elegantly towers over the landscape and faces the Southern skies in all its earthy glory. Its warm appeal perfectly complements the moderatelycool climatic conditions of a high-altitude city like Bengaluru. The building also showcases a strategic play of vertical surfaces with an unpolished finish that adds an organic charm to the architecture. The 3-dimensional element of the building gets further emphasised in the form of idyllic spill out balconies slathered with lush landscapes along the edge, seen on the upper floors. The planters complement the terracotta cladding, giving the impression of a fresh vertical garden. Portions of the building facade also showcase brick jaalis that facilitate privacy and re-engineer the quality of natural light entering into double-height communal spaces in the abode. Likened to functional art forms, the jaalis aesthetically uplift the building inside and out. In line with the simplicity of the facade, the building sweeps across the landscape in an orthogonal layout. The journey into the property begins from the stilt floor layout that accommodates a spacious parking lot for four cars, a home office and a home theatre. The habitable spaces start to unfold in the higher floor levels, accessible via an elongated pedestrian staircase that offsets alongside the building leading towards the entrance threshold from the street level. The ground floor level accommodates the communal activities of the home, including a living, dining and kitchen, and one guest bed & bath. An exploration of double-height spaces commences from this floor plate via strategic staggering of upper floor levels. A healthy social-life balance is key to the city kin, and an alfresco terrace on the second floor creates just the right space for entertaining. With spacious cast-in-situ seating and bar space, the terrace becomes conducive to a lovely social gettogether. A tasteful blend of simplicity and artfulness trickles into the interior compositions of Brick Veil.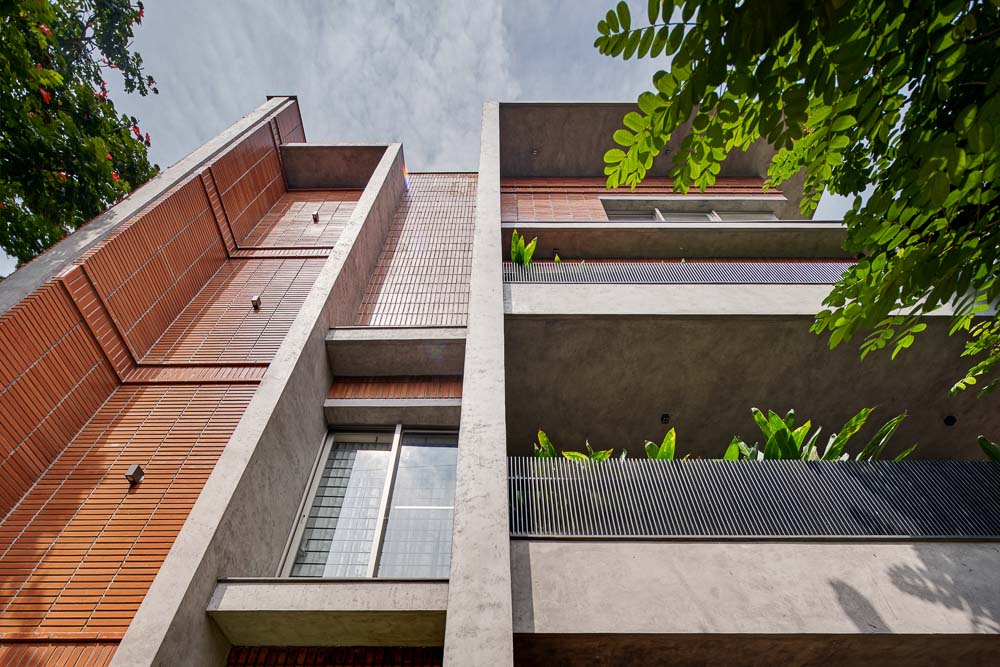 브릭베일 하우스
브릭베일 하우스는 벵갈루루시 조용한 지역에 들어선 주택이다. 사각형 부지에 딱 맞는 형태로 지어졌으며, 입면은 주변의 거리와 어우러지는 벽돌과 석재로 세련되게 마감되어 있다. 벽돌은 건물의 높은 곳까지 감싸고 있으며, 이 모습에서 '브릭베일'이라는 이름이 지어졌다. 총 4층의 주택은 풍경 너머로 우아하게 선 있다. 땅이 주는 아름다운 자연과 남쪽 하늘을 바라볼 수 있도록 구성되어 있다. 건축물에서 느껴지는 따스한 분위기는 고지대인 벵갈루루의 선선한 기후 조건을 보완해준다. 무광으로 마감 처리된 수직 표면은 건축물의 유기적인 매력을 더해주는 전략적 역할을 한다. 위 층에서 보이는 가장자리를 따라 보여지는 무성한 주변 풍경은 목가적인 발코니의 형태를 돋보이게 해준다. 테라코타 클래딩을 보완하여 인상적인 신선한 수직형 정원을 만들어냈다. 벽돌로 만들어진 입면은 사생활을 보호해주고 단차가 있는 공용 공간으로 스며드는 자연 채광을 조절해주는 커튼의 역할을 한다. 이렇게 미적인 부분과 구조적인 부분을 모두 만족시키는 벽돌 입면은 건물 안팎으로 이 집만의 아름다움을 완성해준다. 건물 내부에는 4대의 자동차가 주차 가능한 넓은 주차장, 홈 오피스와 홈 시어터로도 활용 가능한 공간이 있다. 거주 공간은 높은 층에 있으며 건물 옆에 있는 길쭉한 보행자 계단을 통해 입구와 도로가 있는 레벨까지 갈 수 있다. 1층은 거실, 식당, 주방, 손님용 침대와 욕실이 있고 가정의 공용 공간도 있다. 단층이 있는 공간을 살펴 보면 상층을 비트는 전략을 바닥판에서 위층까지 적용하였다. 균형 있는 건강한 사회 생활은 도시족이 되는 열쇠이며 2층의 야외 테라스는 손님을 접대하기에 좋은 공간이다. 넓은 좌석과 바가 있는 테라스는 사교 모임에 애정을 쏟게 만들어 줄 것이다. 브릭베일 하우스의 내부 디자인은 단순하면서도 세련된 기교들이 스며들어 있다.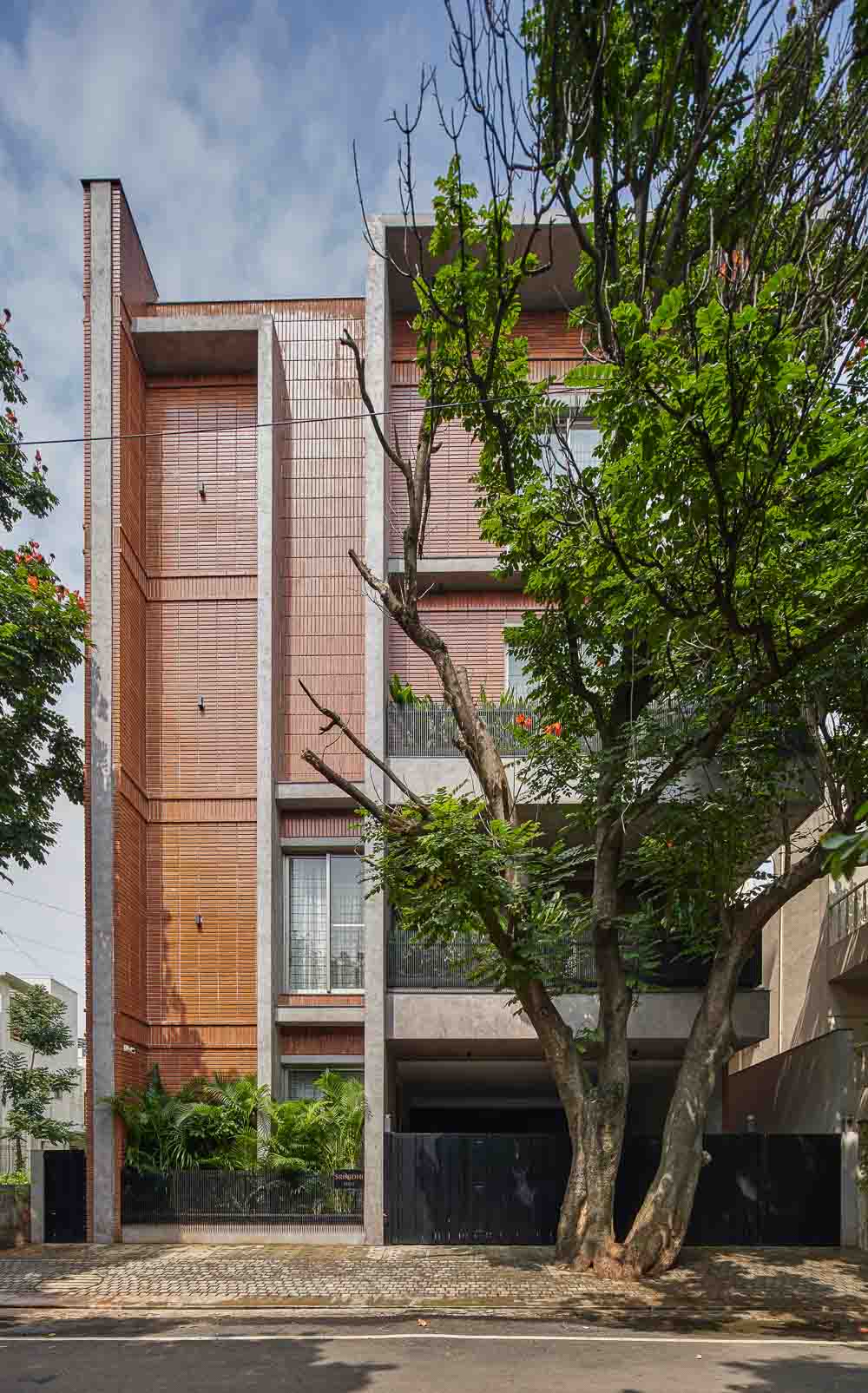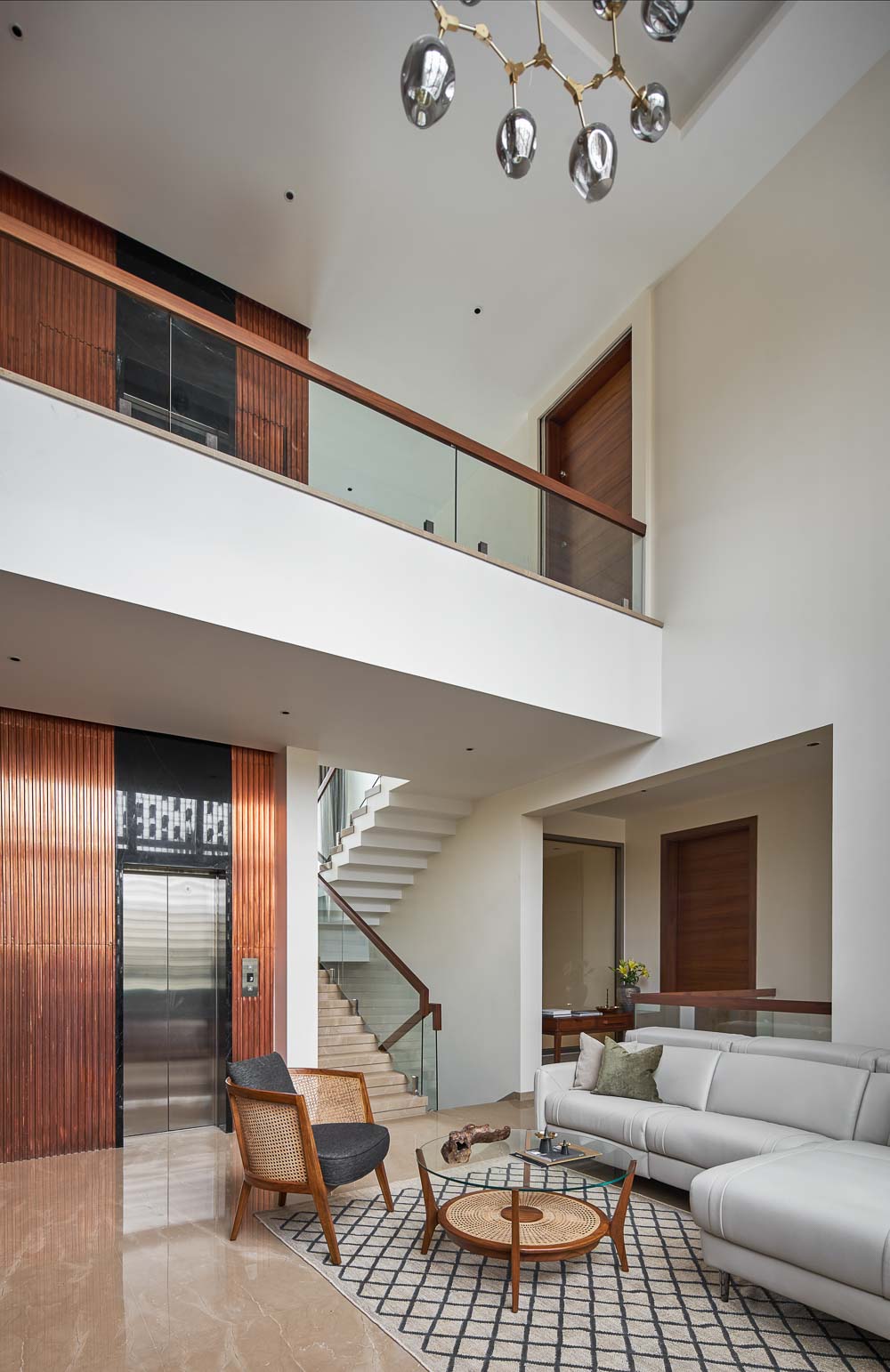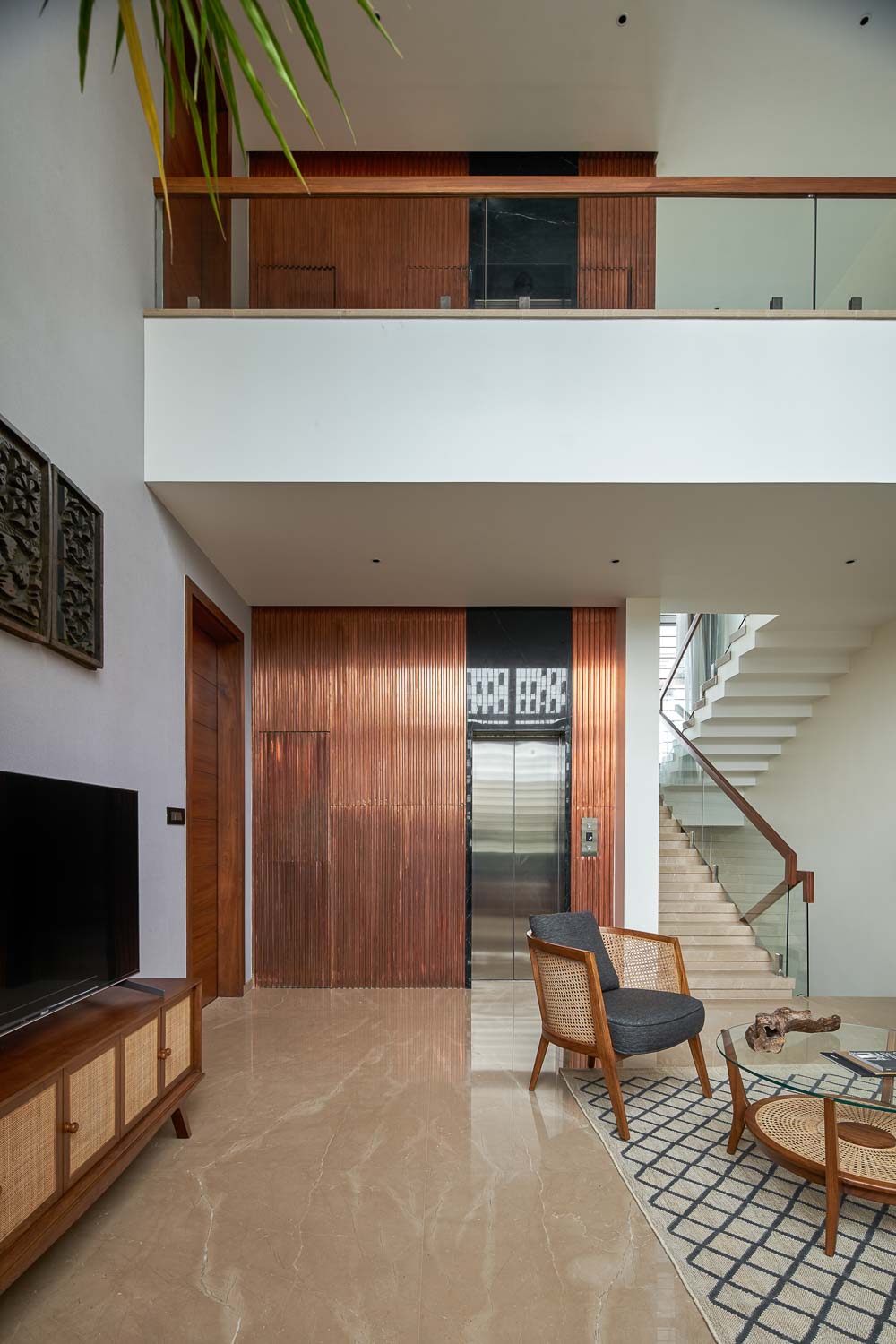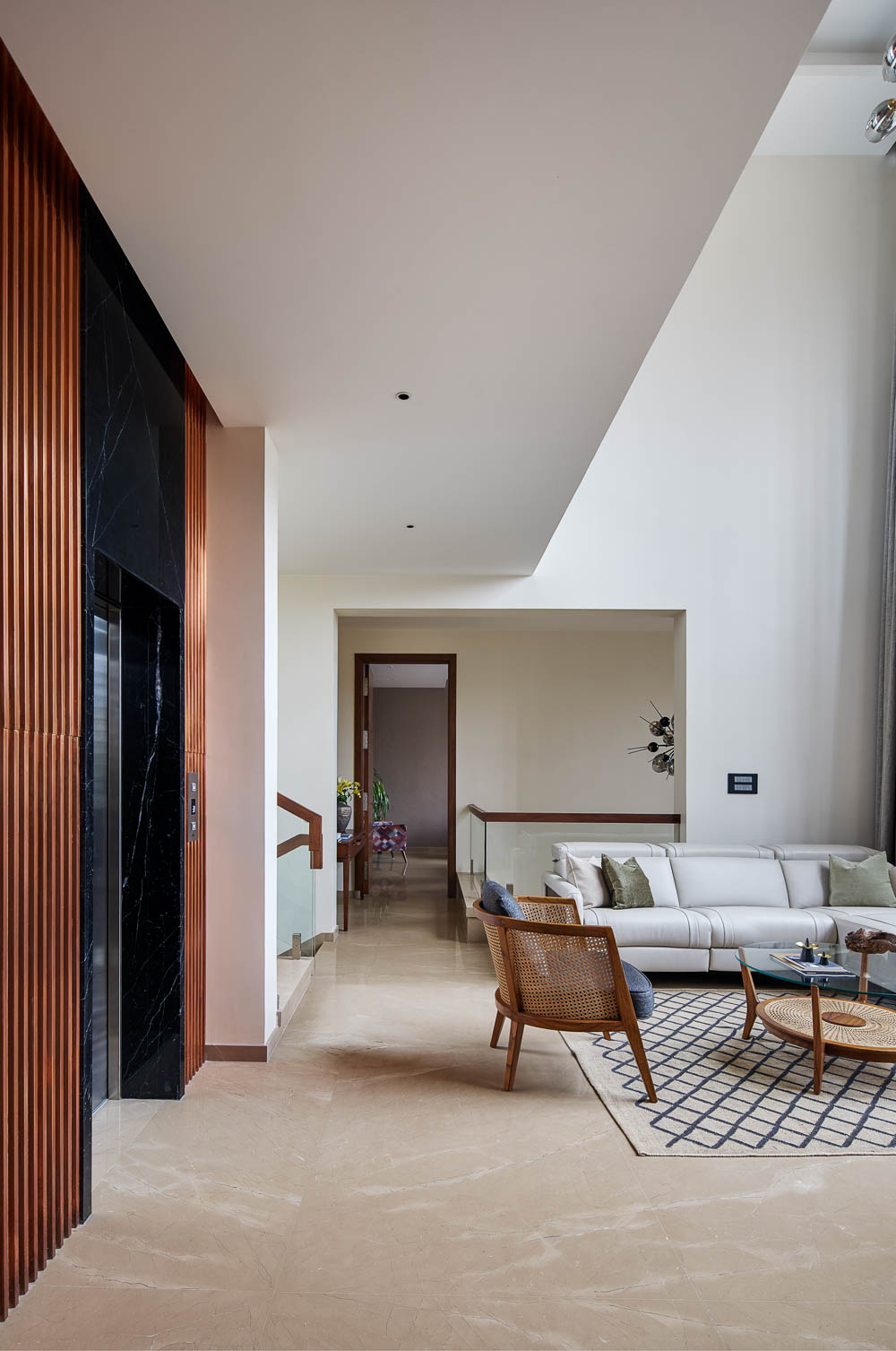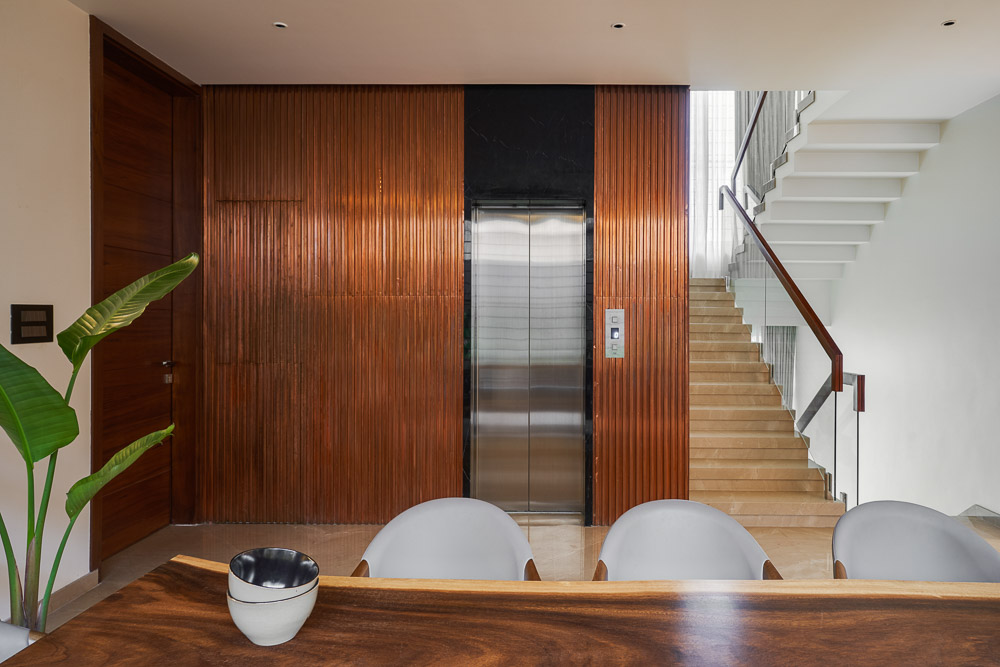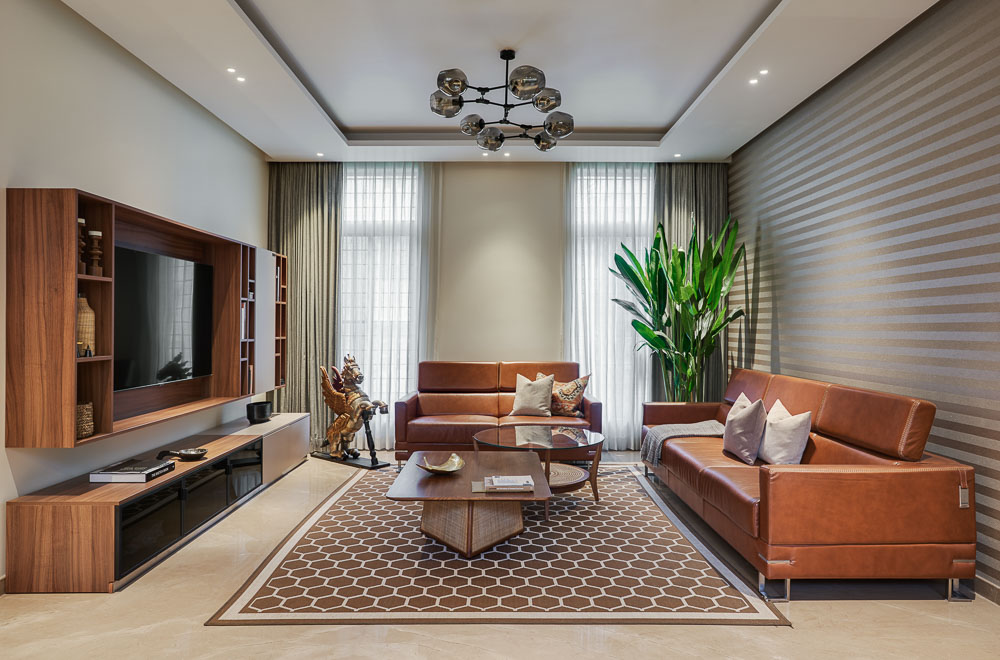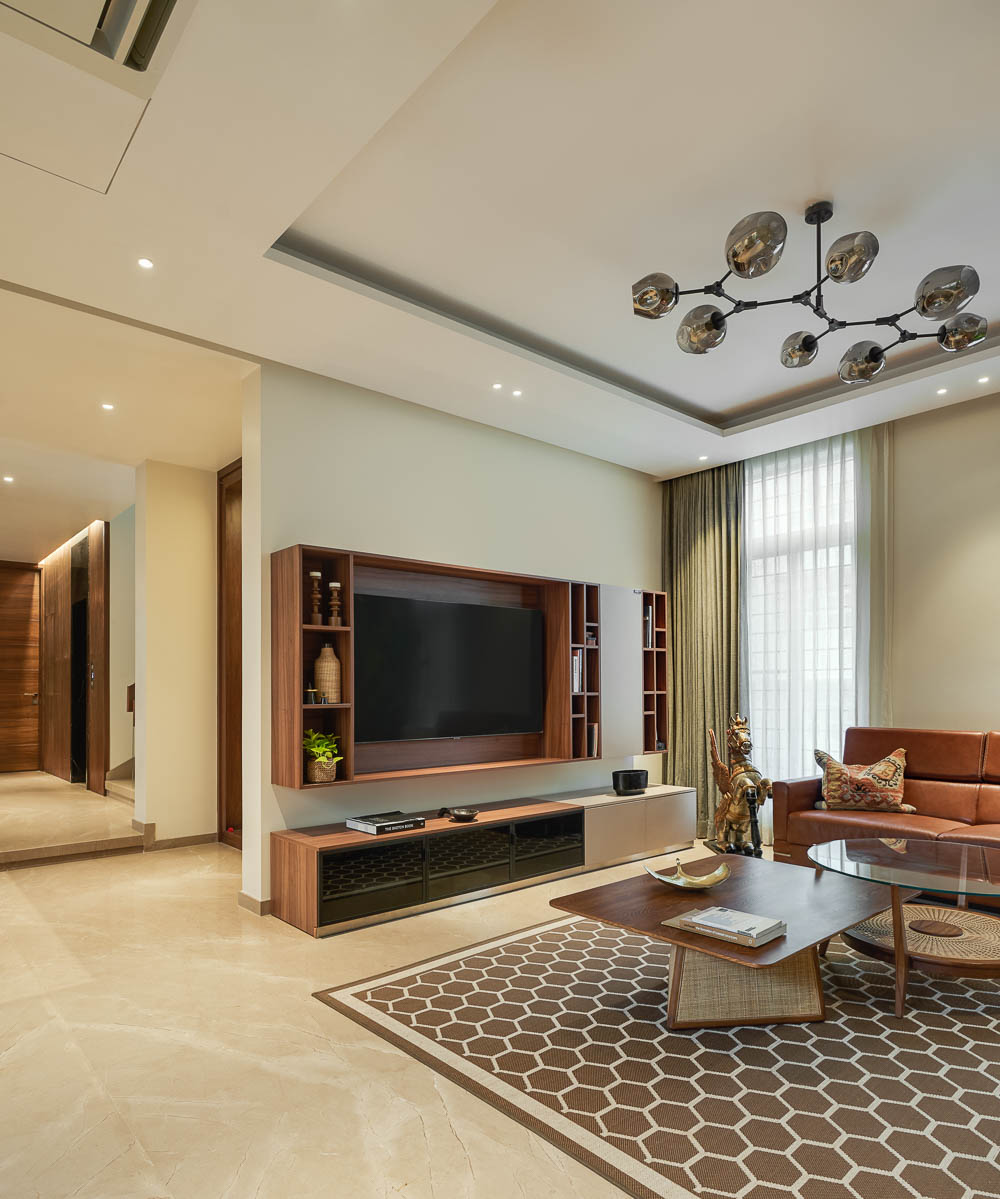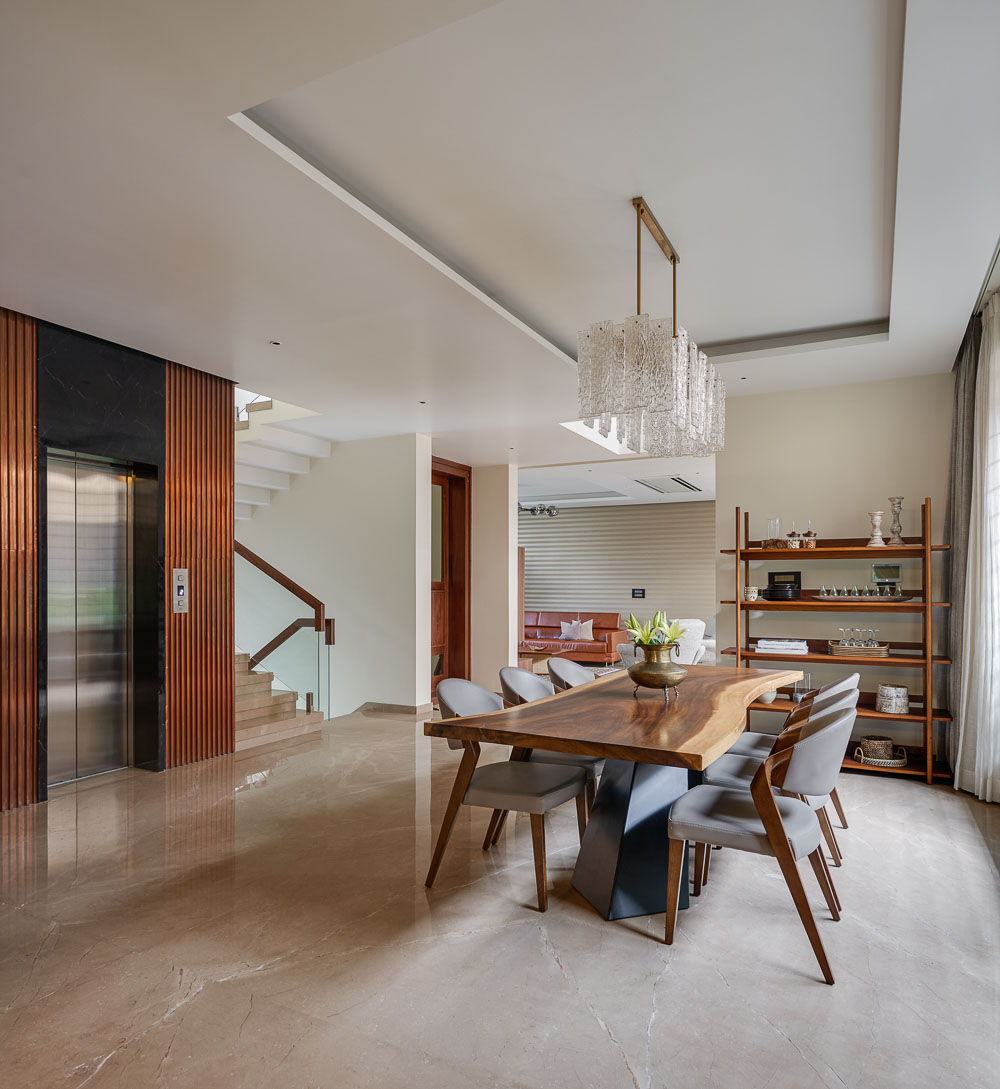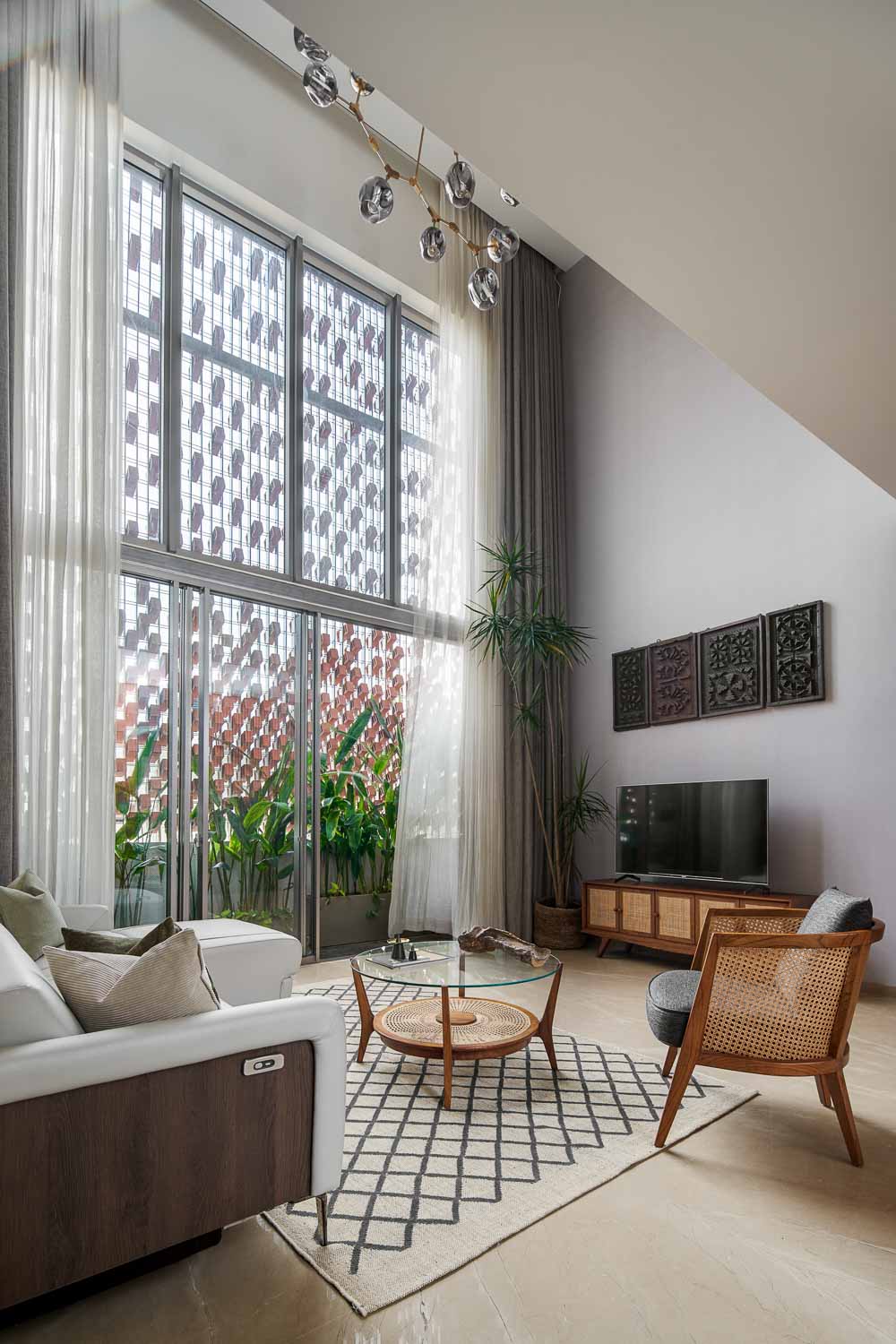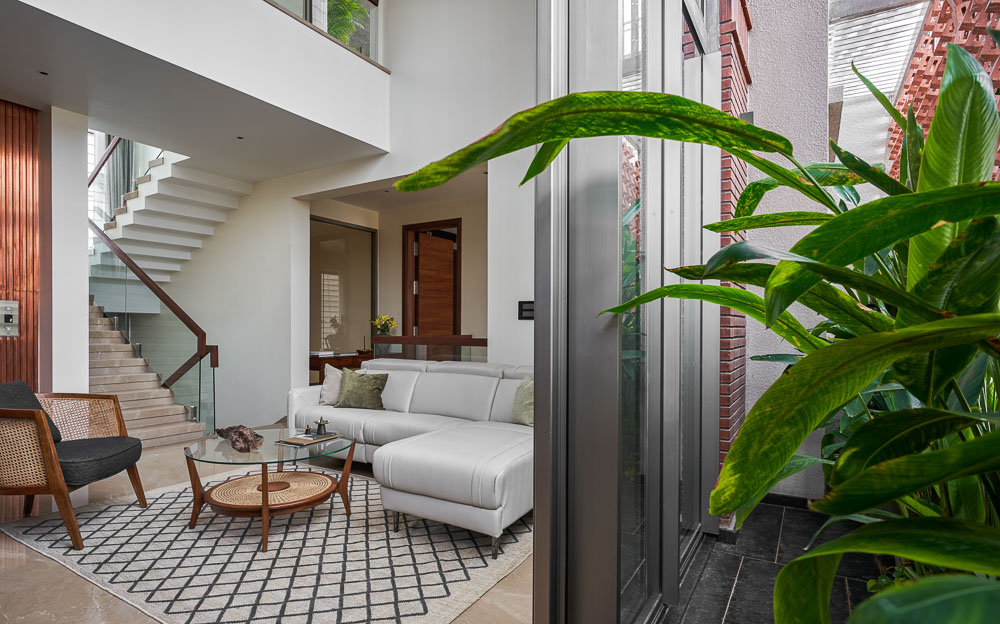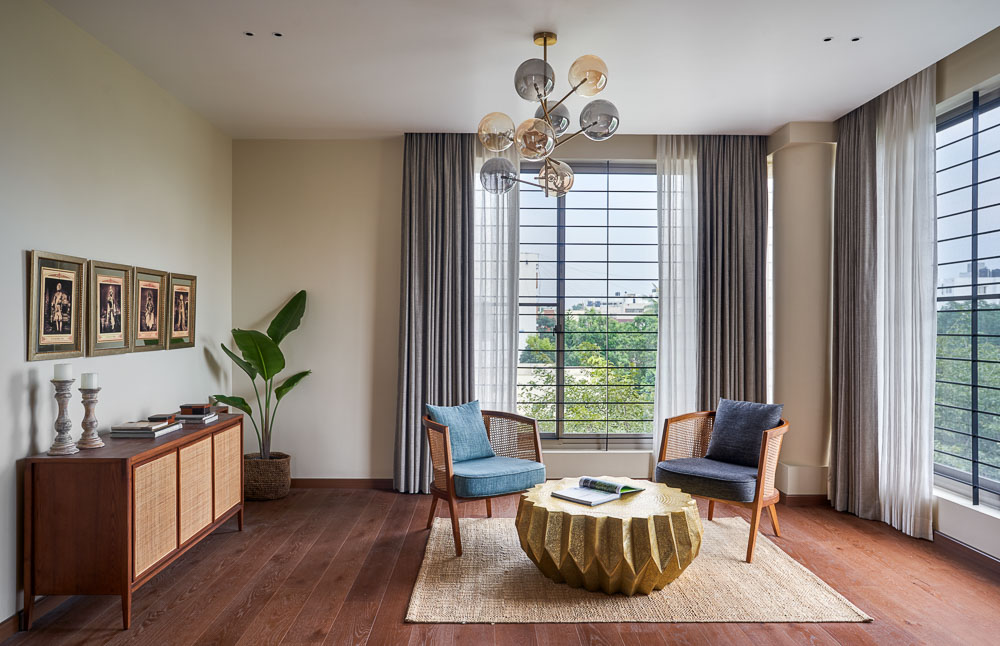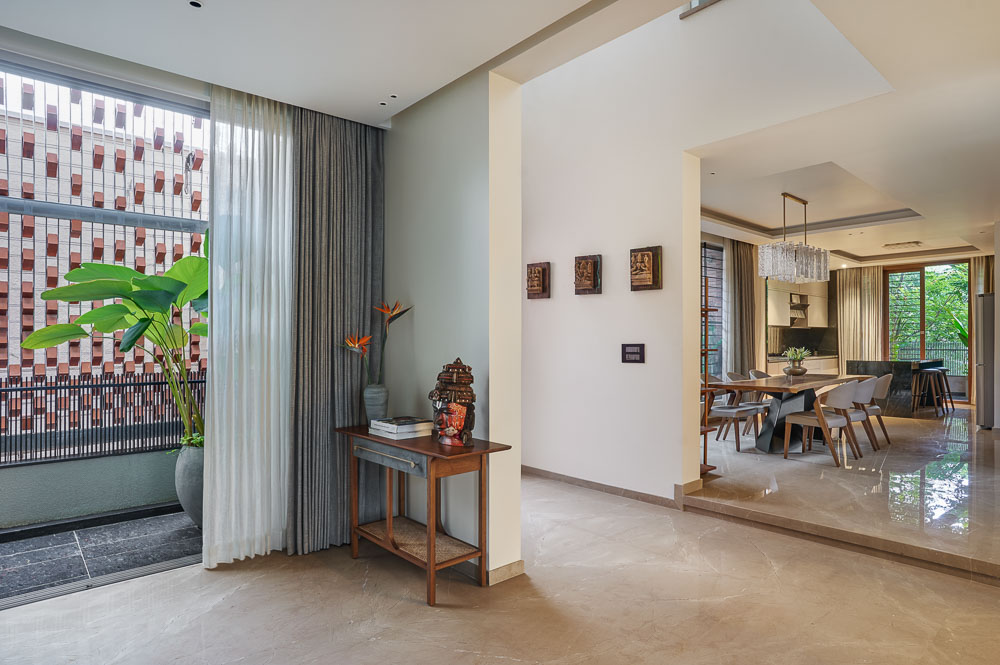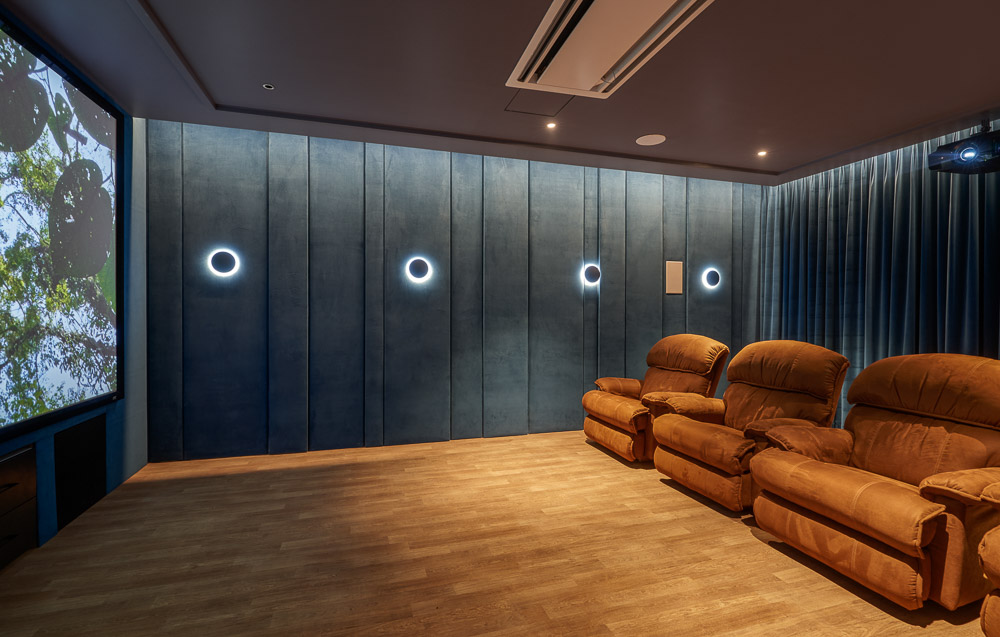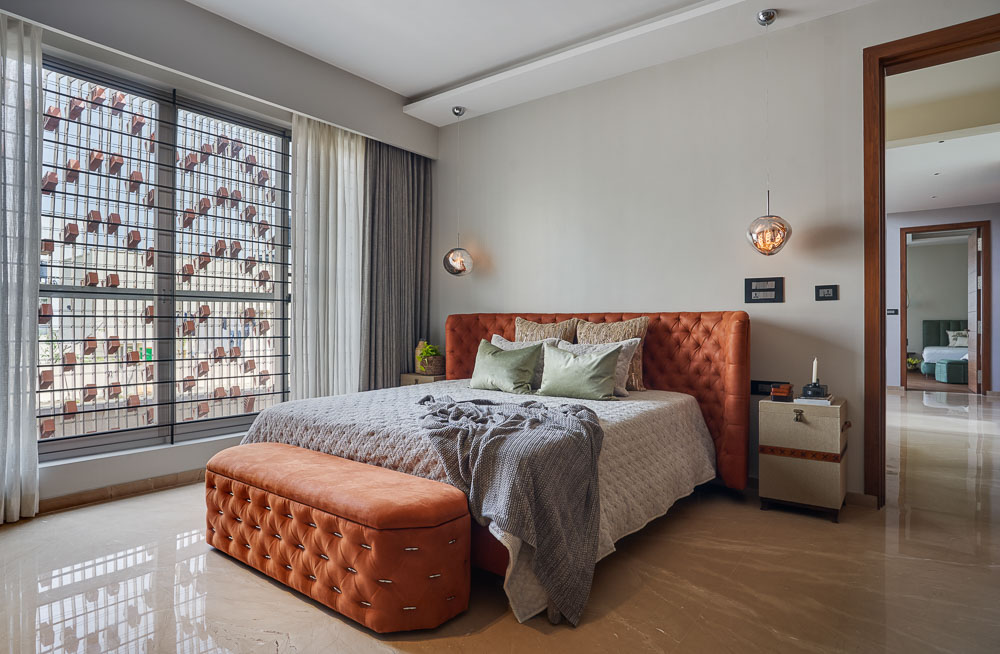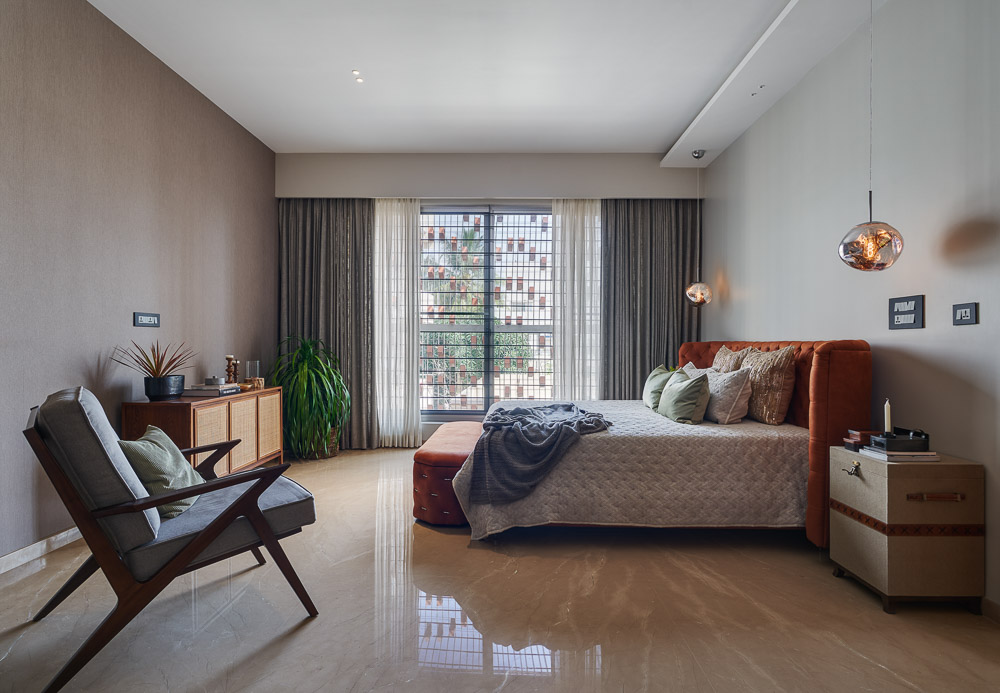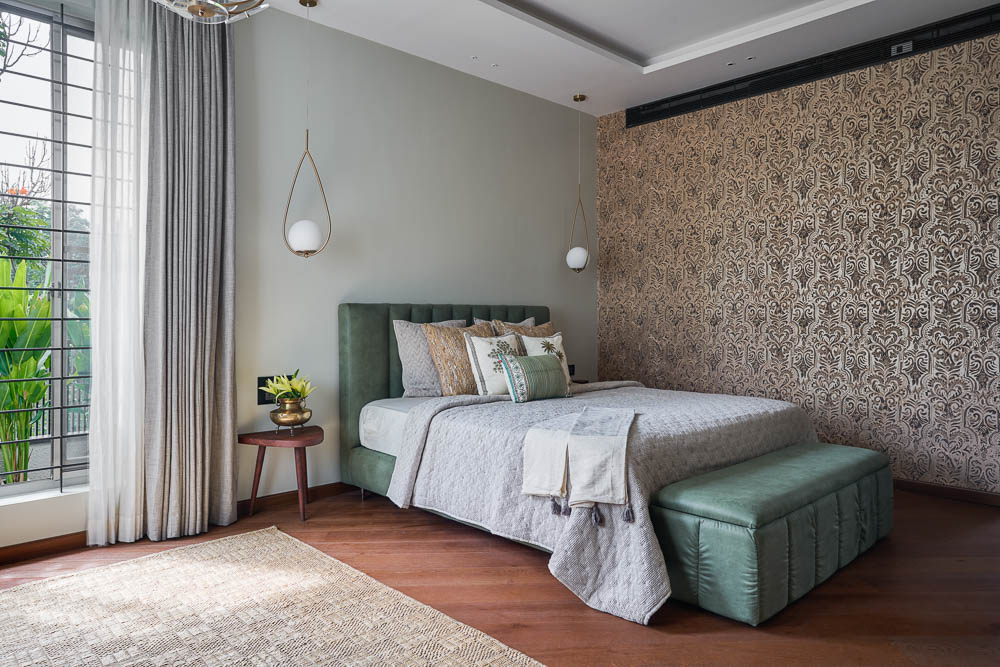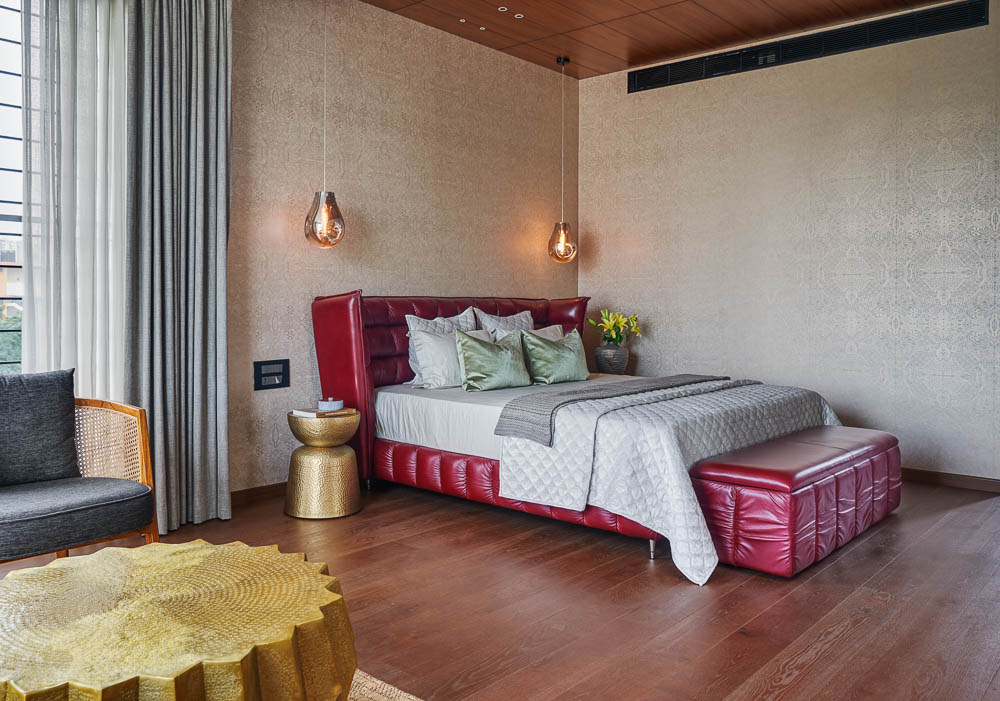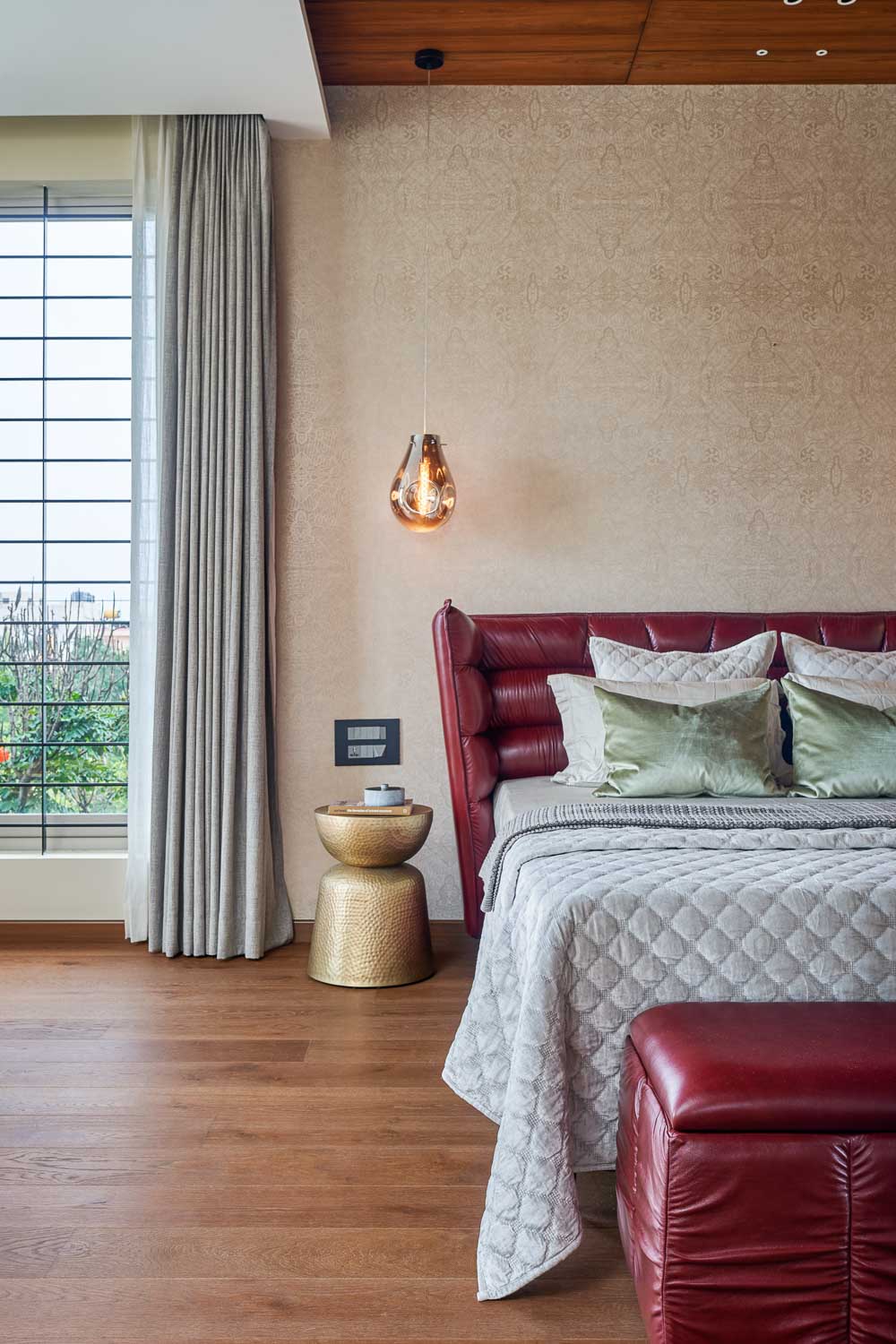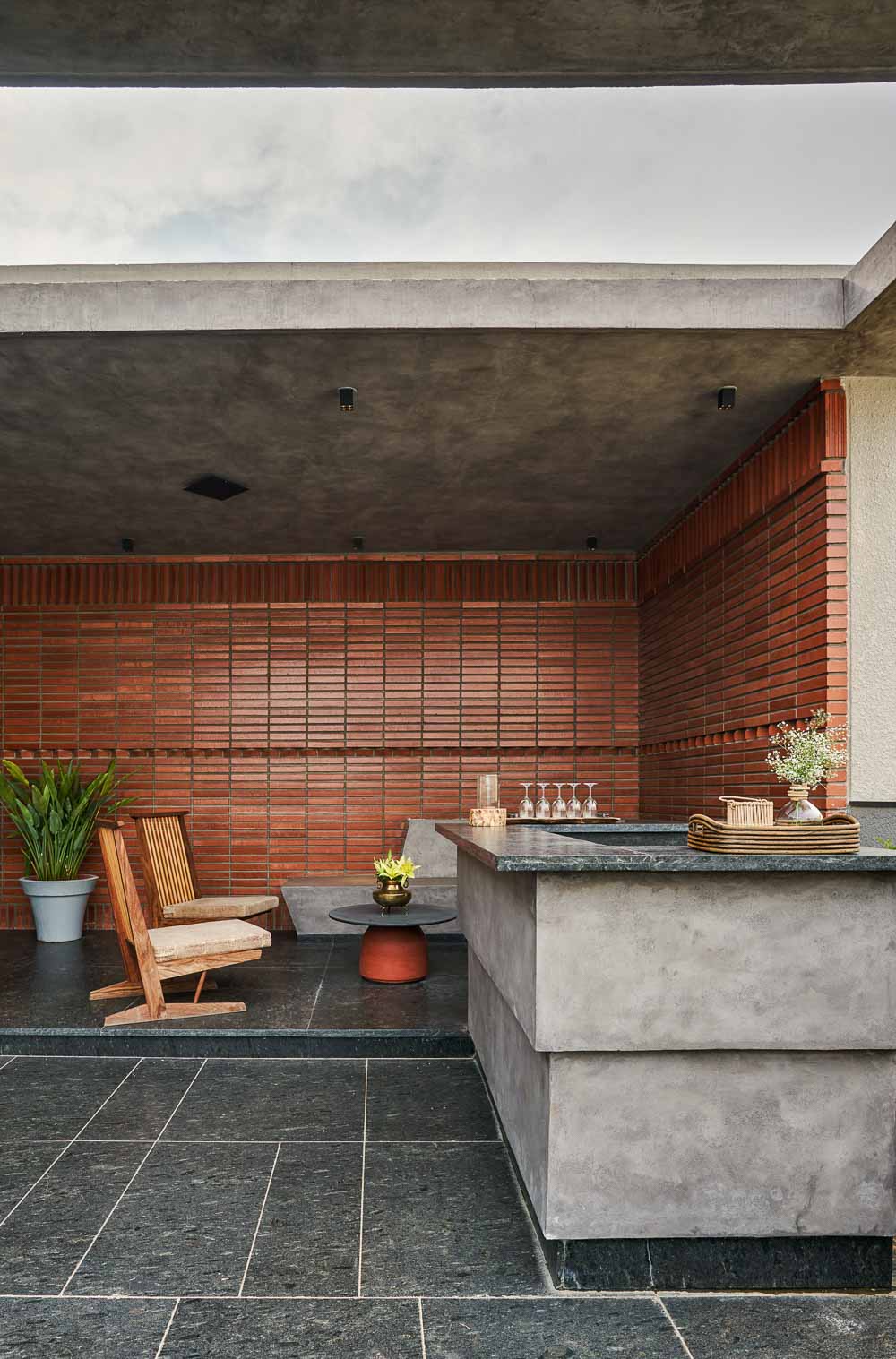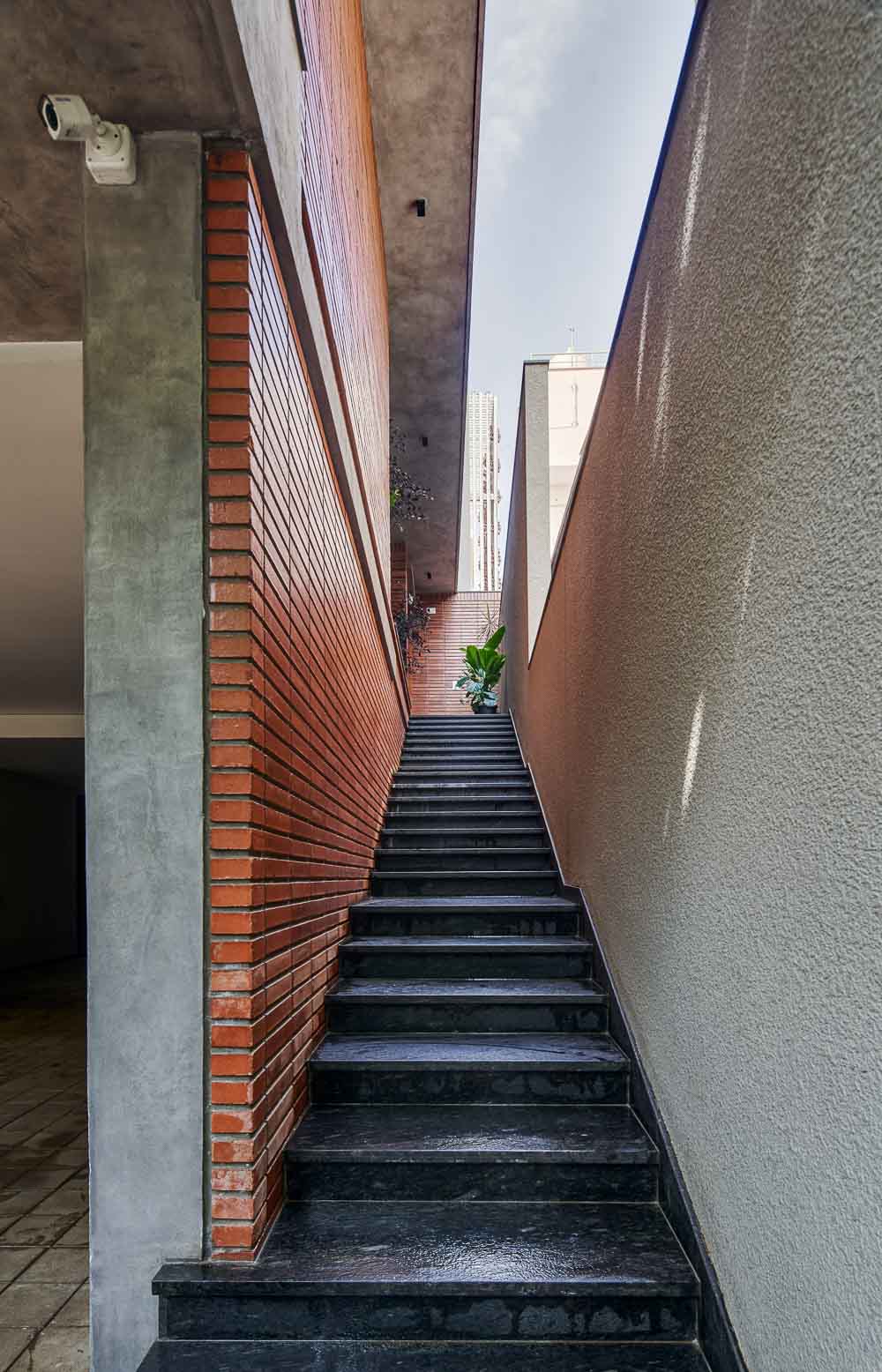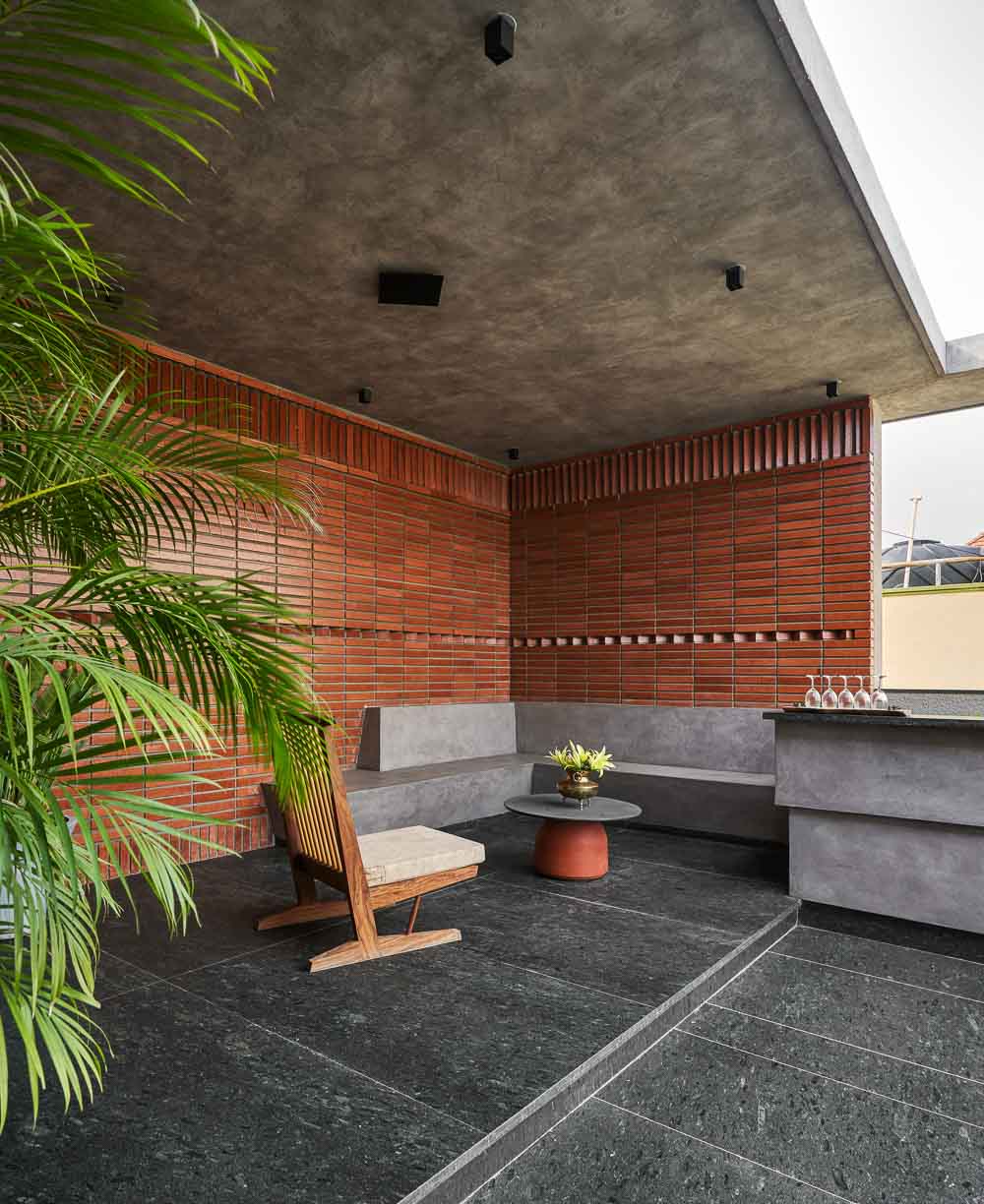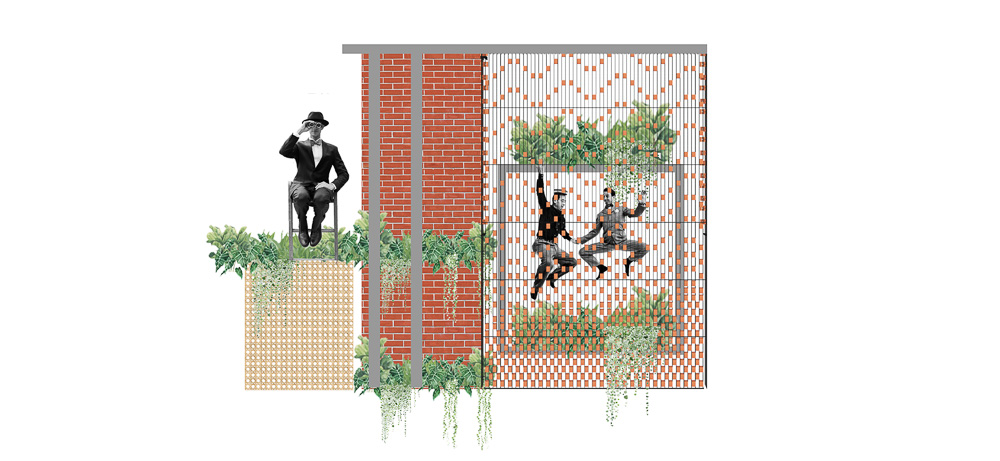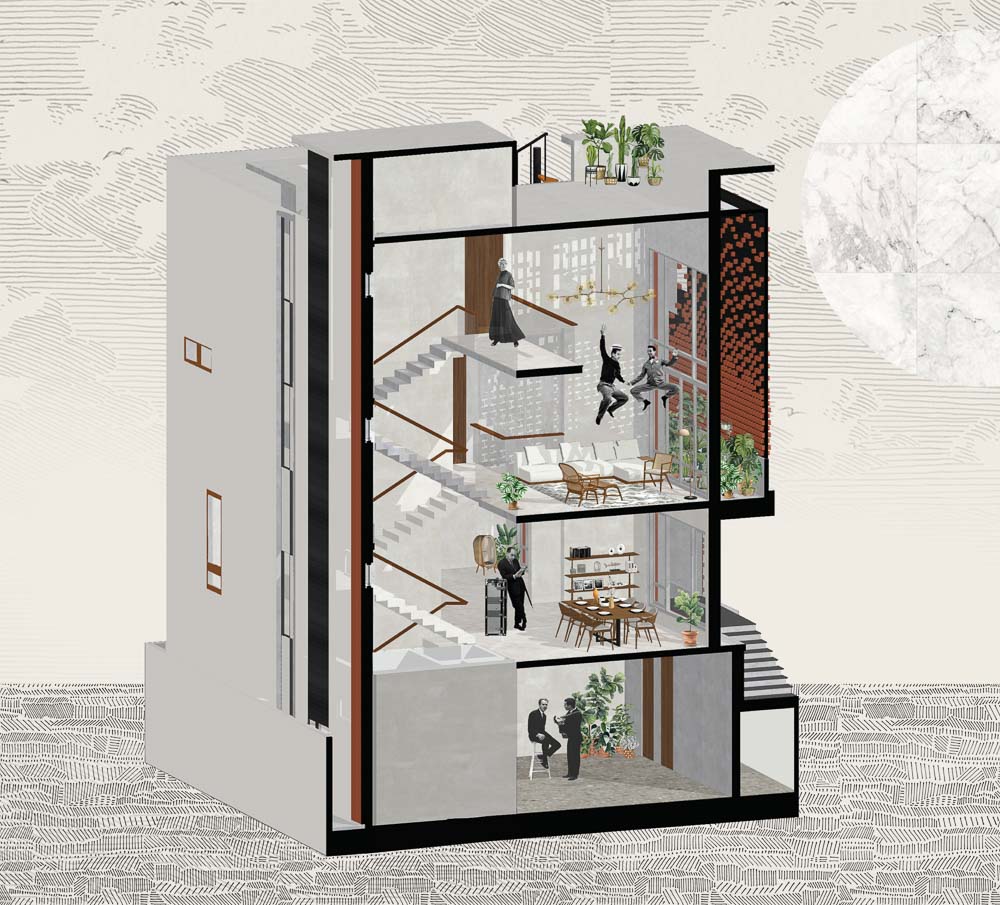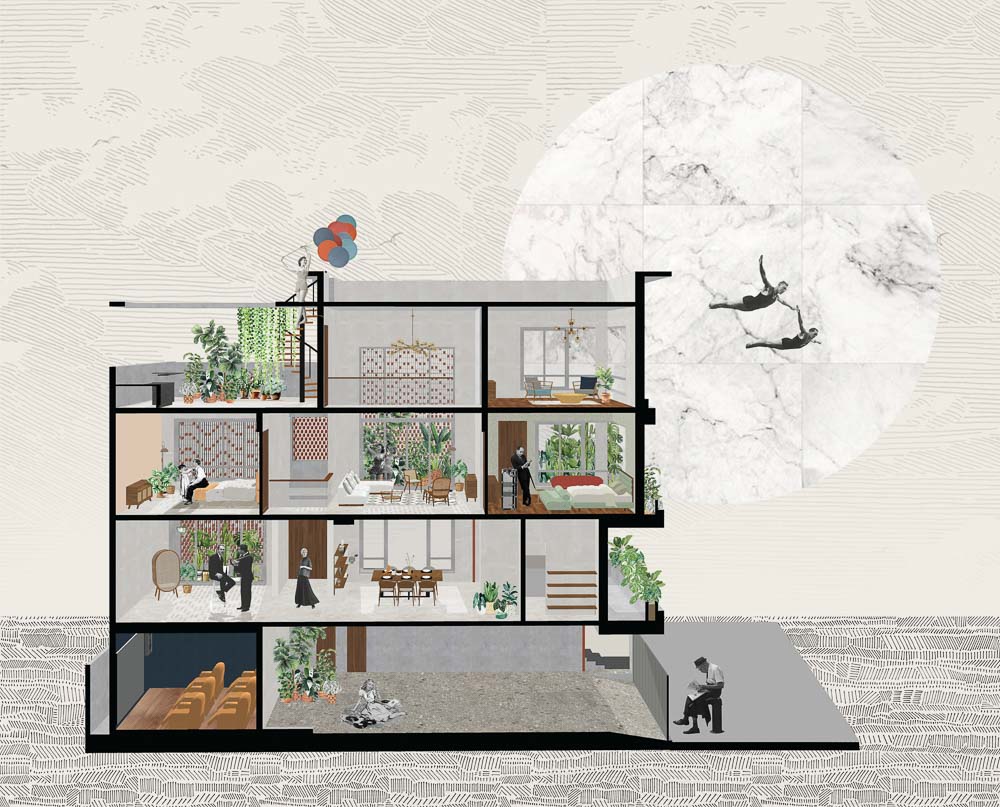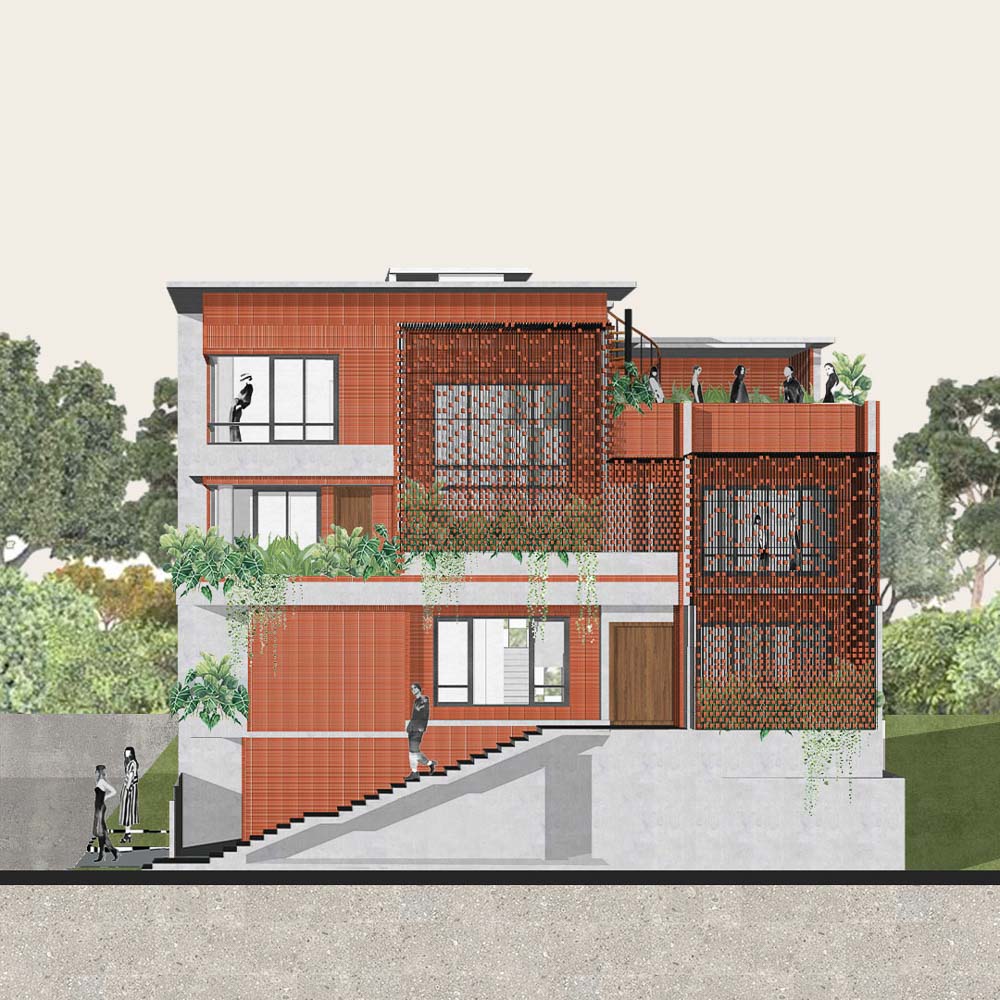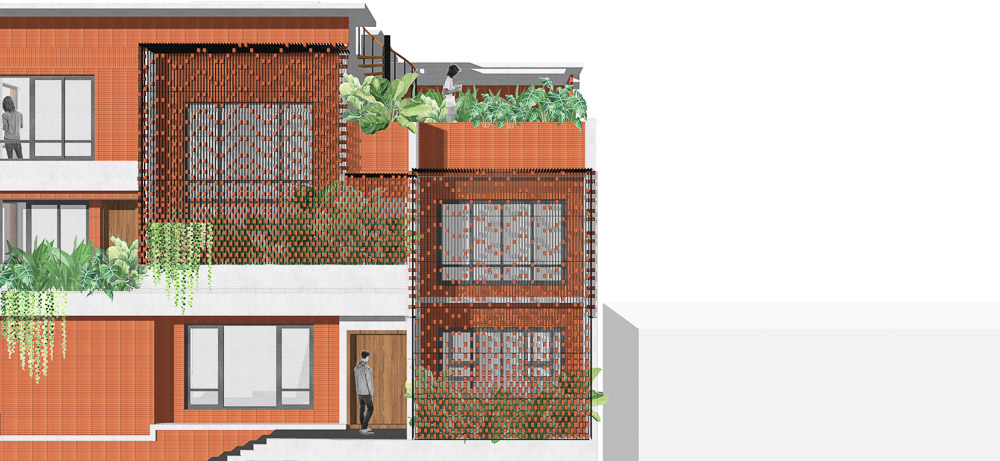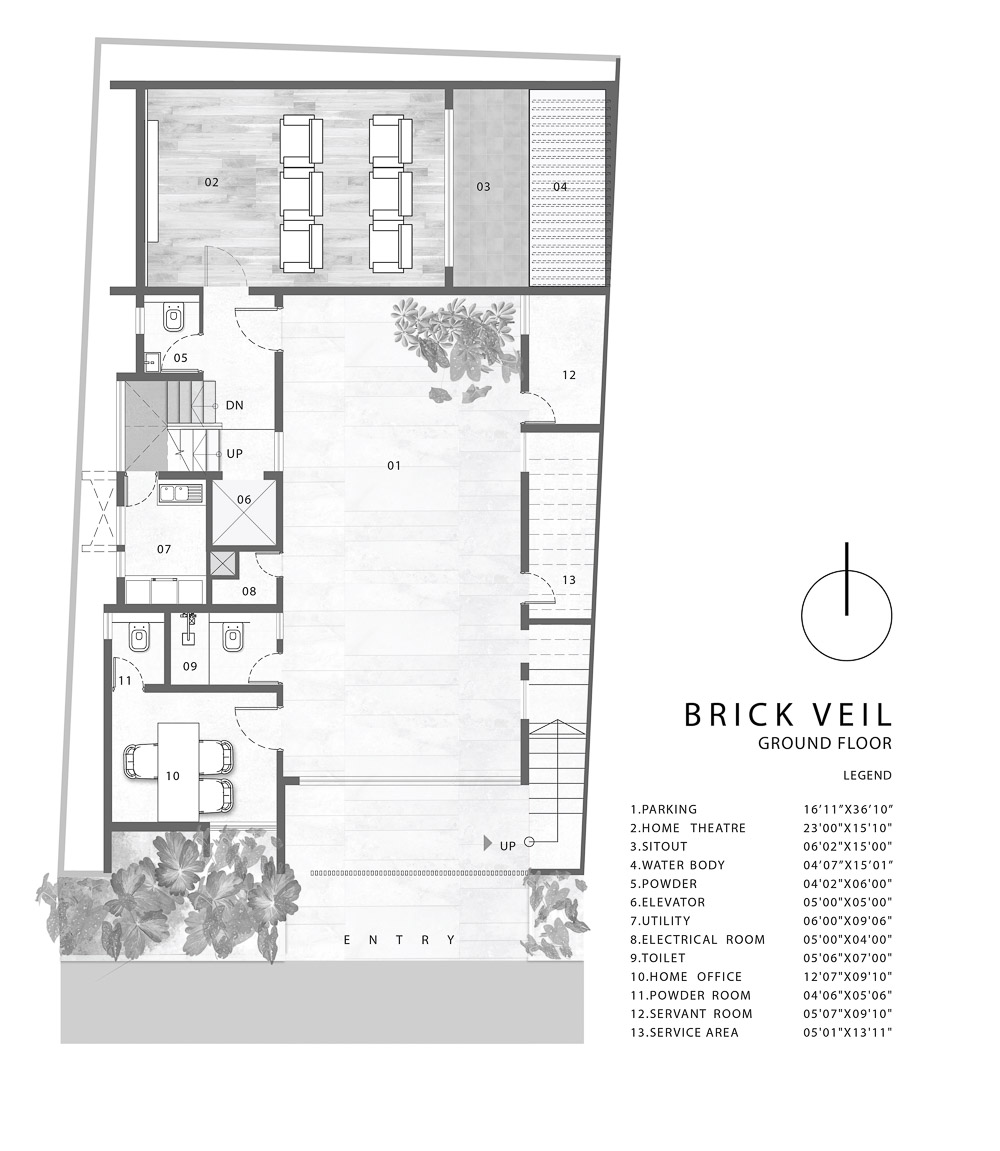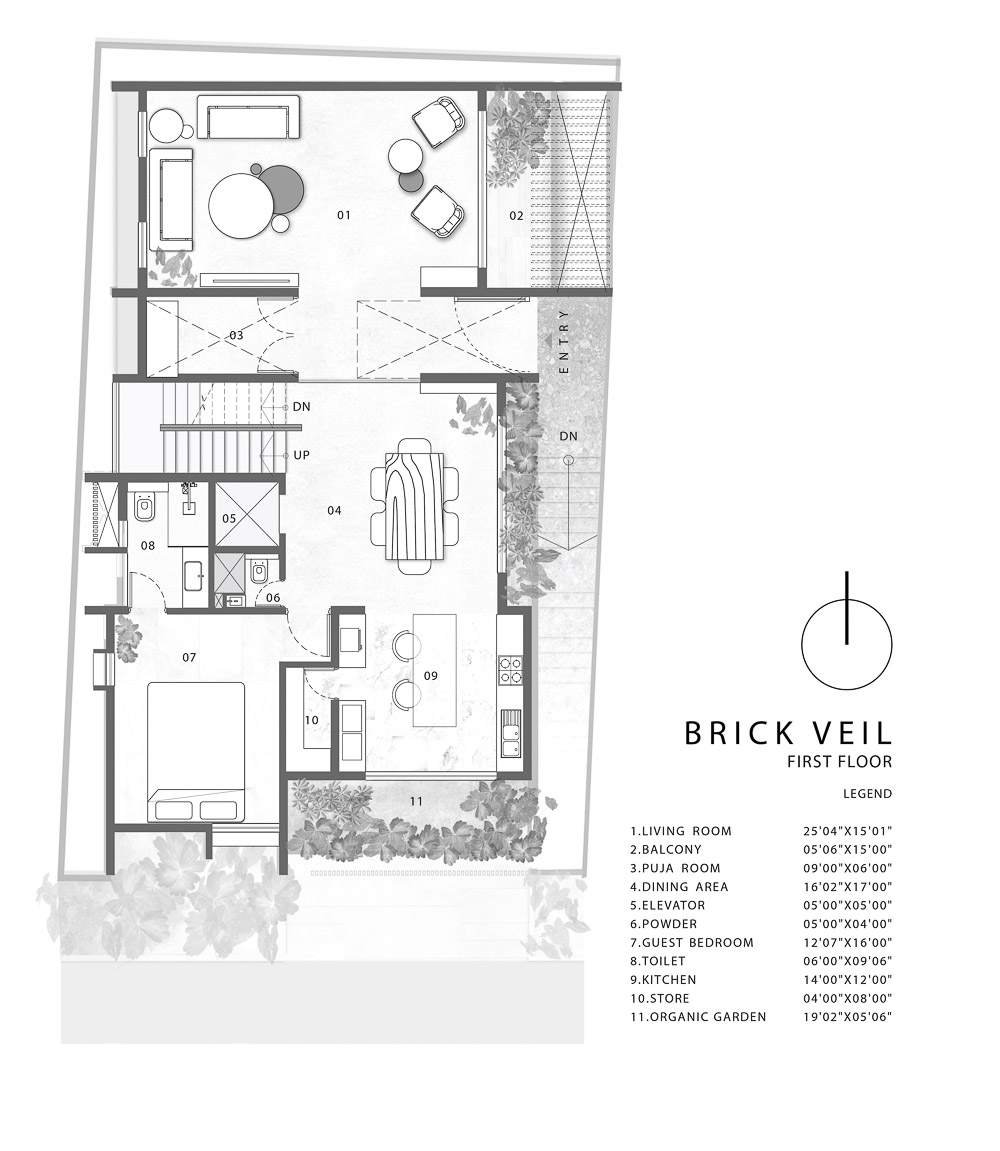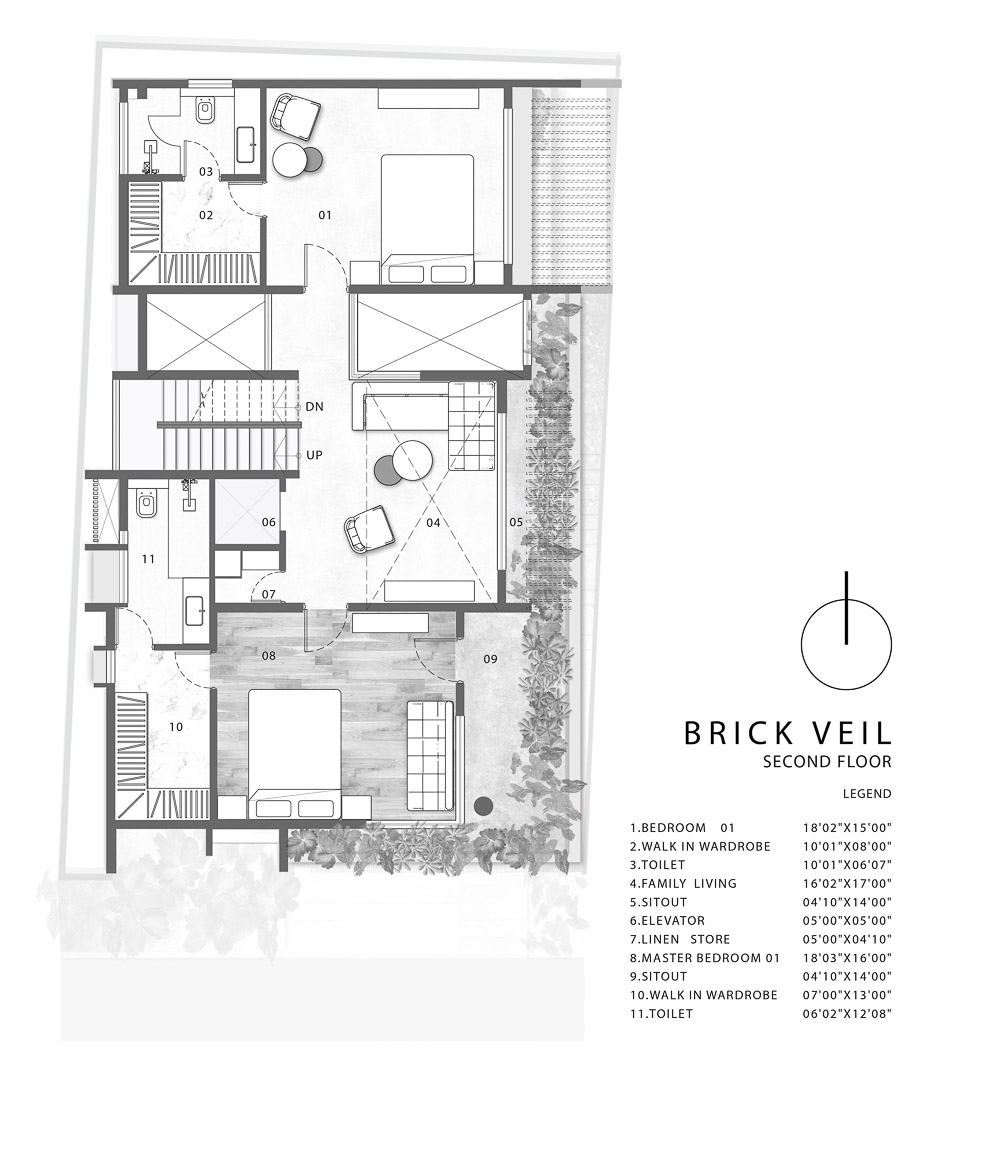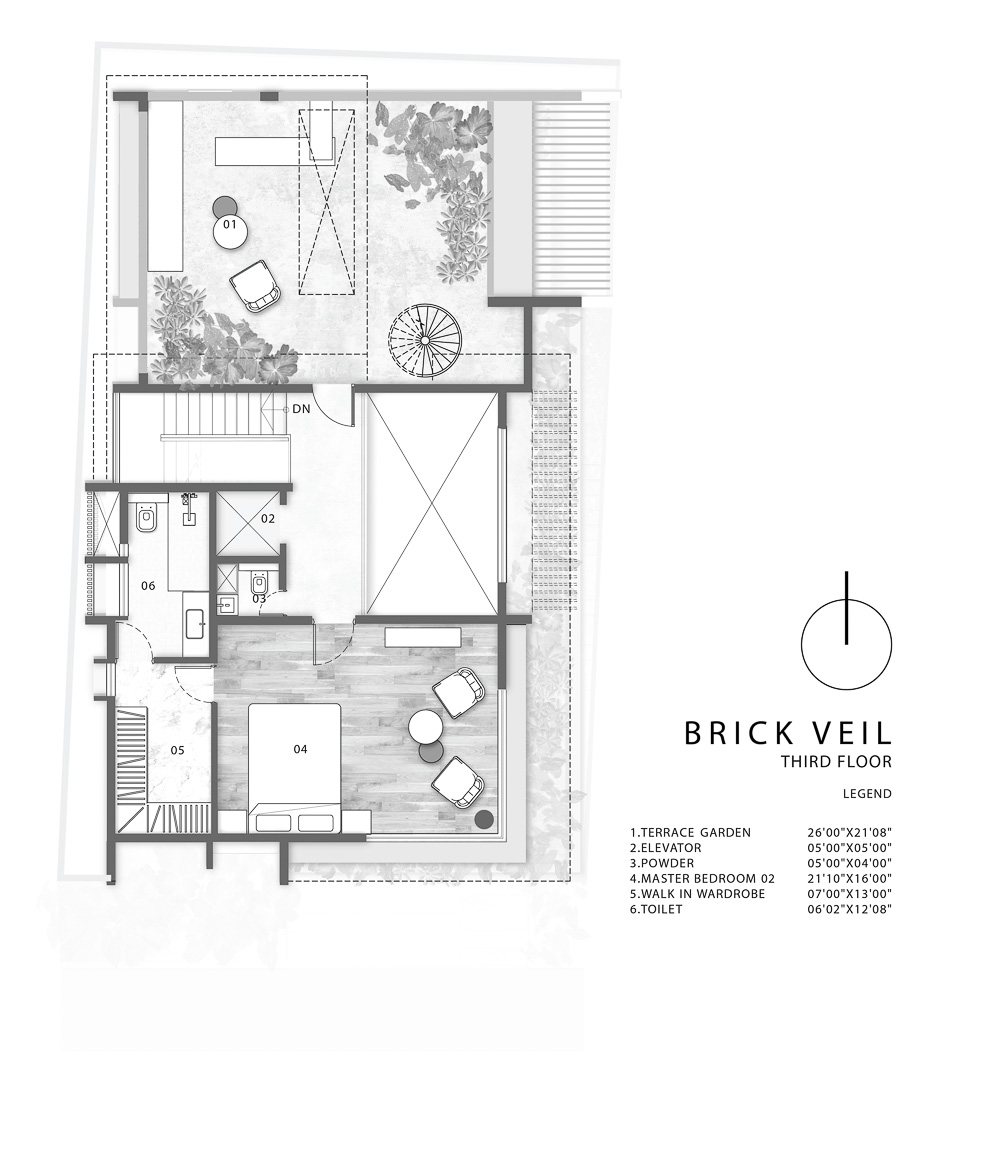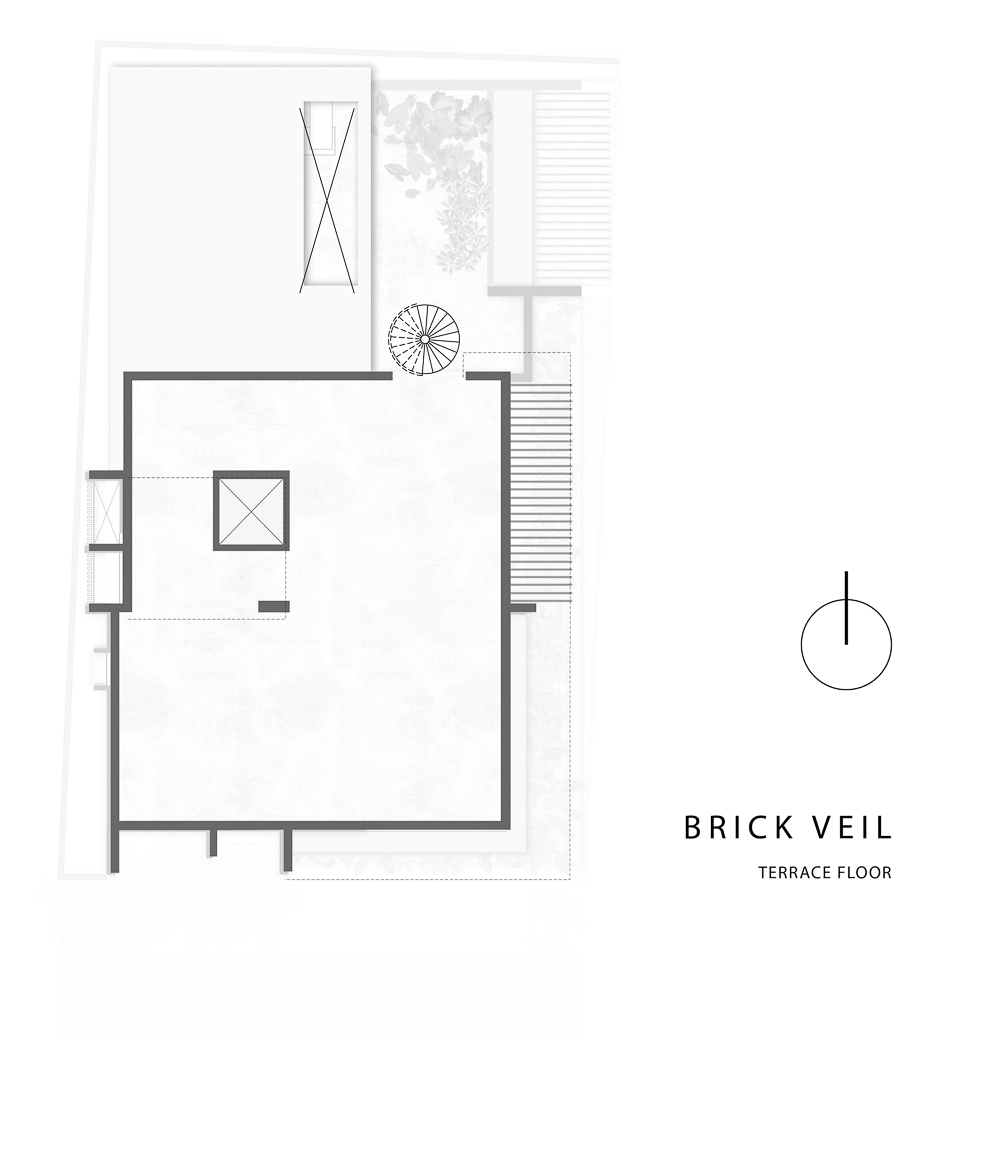 Architect Haarsha Architects │ 하르샤 아키텍츠
Location Bengaluru, India
Program Residence
Site area 223㎡
Gross floor area 650㎡
Design period 2018
Completion 2021
Principal architect Haarsha
Project architect Haarsha
Design team Sarika, Harshitha, Chethan
Engineer MANJUNATH CONSULTANTS
Landscape HAARSHA ARCHITECTS
Consultants SANKALPA
Client SREENIVAS AND MOHAN
Photographer SHAMANTH PATIL
해당 프로젝트는 건축문화 2022년 7월호(Vol. 494)에 게재되었습니다.
The project was published in the July, 2022 recent projects of the magazine(Vol. 494).
---
마실와이드 | 등록번호 : 서울, 아03630 | 등록일자 : 2015년 03월 11일 | 마실와이드 | 발행ㆍ편집인 : 김명규 | 청소년보호책임자 : 최지희 | 발행소 : 서울시 마포구 월드컵로8길 45-8 1층 | 발행일자 : 매일