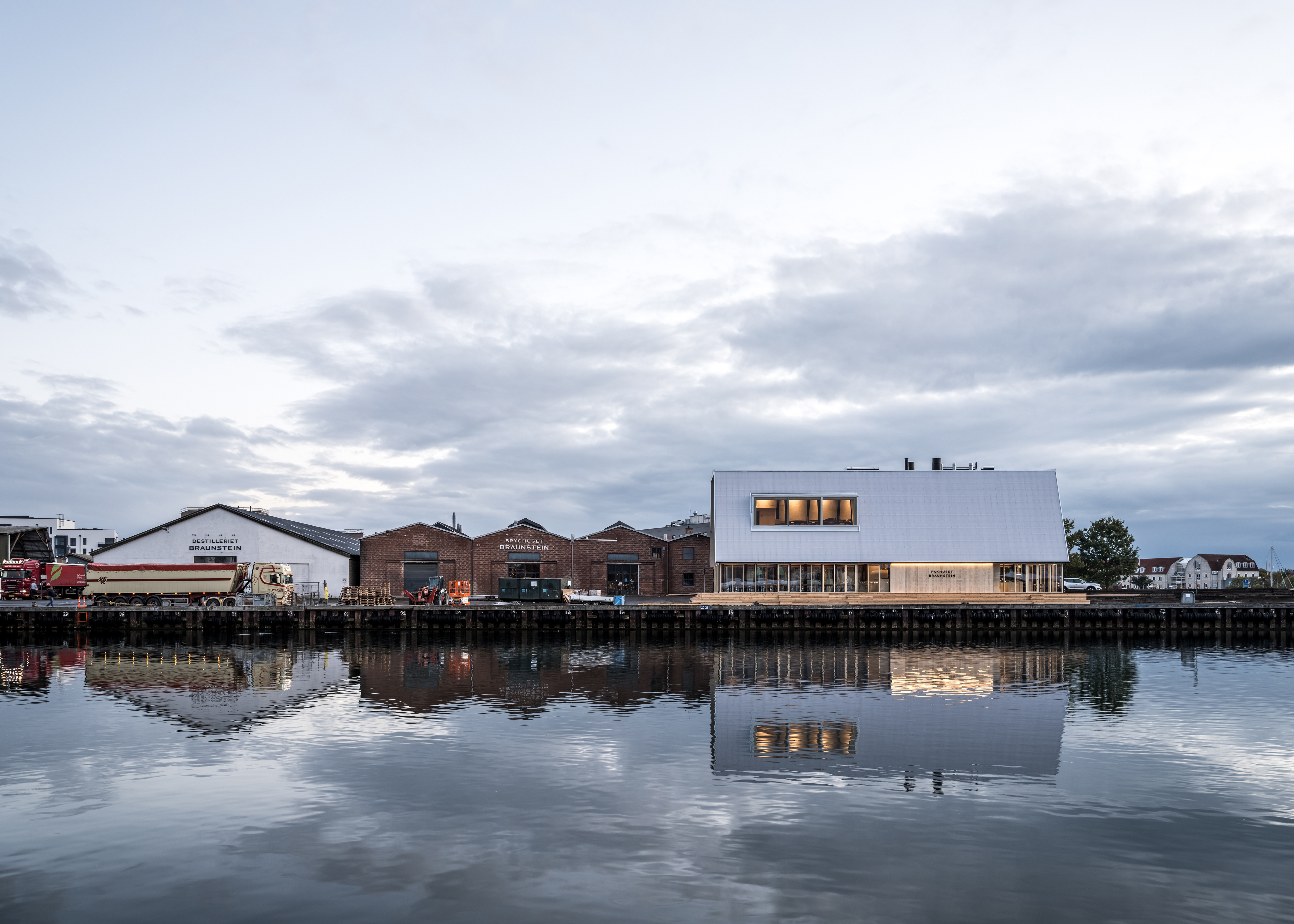 A new taphouse, at the harbour of Danish city Koege, will welcome the more than 15.000 yearly visitors to the nearby micro-brewery Braunstein and offer activities for the local community. Copenhagen-based ADEPT is behind the building that is designed for disassembly to meet a potential temporary lease of land.
For the next decade, the recently completed Taphouse by ADEPT will act as the visitors center for the Braunstein brewery and at the same time establish a natural local meeting place supporting community initiatives and activities.
The building stands on stretch of municipality owned harbour quay that is considered a potential part of the city's climate adaption strategy. To adapt to this possible temporary lifespan, the Braunstein Tap-house is 'designed for disassembly' to make recycling of building components an realistic option if the building cannot stay – either by re-completing the entire building at a different location or by using the materials as part of other projects.
"It was important to us to design the Braunstein Taphouse as a locally anchored building that supports the idea of a new local meeting place. The significant gables are inspired by some of the old warehouses at the harbor, which is part of making the building a natural part of the raw maritime identity", explains Anders Lonka, from ADEPT. He continues: "Because of the possibility of a limited lifespan for the building, we have worked with principles from 'design for disassembly', which means that the house is constructed with only mechanical joints and no paintwork."
The Taphouse is composed of few and sustainable materials that as far as possible are not mixed. This has reduced the volume of waste from the construction considerable compared to similar constructions. The building is based on simple tectonic principles, and is completed with mechanical joints only. All primary wall surfaces are without paint or grout. Wooden floors are laid with waste product from nearby flooring manufacturer Junckers. The large roof surfaces are made from click-joint polycarbonate, while wood facades are made from the CO2 neutral Accoya that is certified Cradle2Cradle Gold, FSC as well as the Danish eco-label Svanemaerket. The Taphouse is partly self-sufficient with electricity from solar panels and natural ventilation reduce the need for mechanical ventilation.
The Braunstein Taphouse is located at the transition point between the city and the harbor and act as a gateway to the harbour that underlines the connection between water and city. The ground floor of the building accommodates a café at one end and a restaurant at the other, while the upstairs spaces are used by local community activities and private events.
The historic buildings and the raw industrial atmosphere at the harbour inspired the architecture and the urban spaces around it. The result is a clean cut architecture that underlines the identity of the harbour in a locally anchored project - both belonging and completely its own.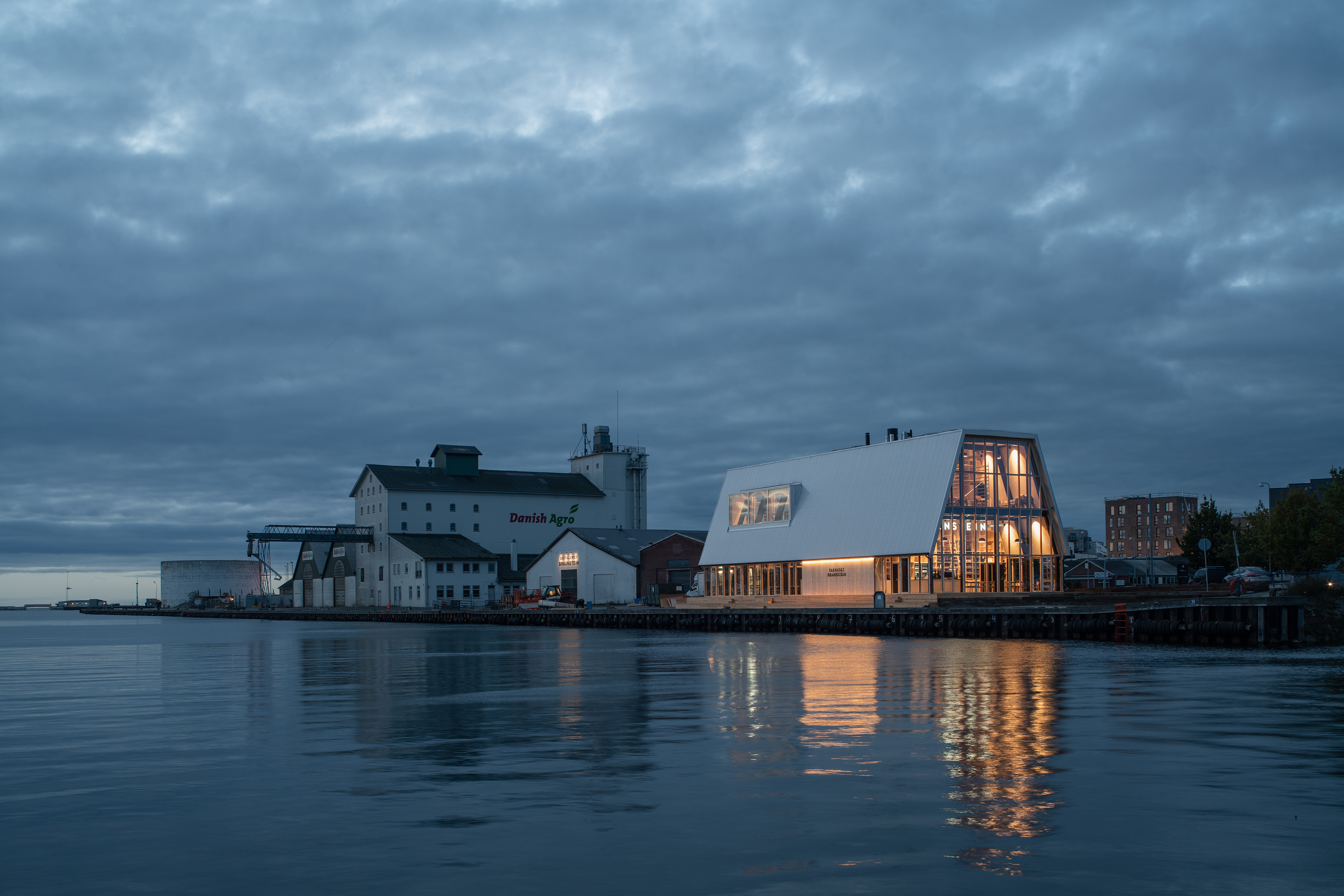 덴마크 코이에의 항구에 있는 브라운스타인 탭하우스는 인근의 소규모 양조장인 브라운스타인에 발걸음을 하는 연간 15,000명 이상의 방문객을 맞이하고 지역 사회를 위한 활동을 제공하고자 2020년 완공되었다. 이 탭하우스는 향후 10년 동안 브라운스타인 양조장의 방문자 센터 역할을 하는 동시에 지역사회의 계획 및 활동을 지원하는 자연스러운 지역 만남의 장소로 구축될 것이다.
이 건물은 도시의 기후 적응 전략의 잠재적인 부분으로 간주되는 시 소유의 항구 부두에 있다. 이런 임시 수명에 적응하기 위해 브라운스타인 탭하우스는 건물을 유지할 수 없는 경우 건물 전체를 다른 위치에서 다시 완성하거나 다른 프로젝트의 일부로 재료를 사용하는 등 건물 구성 요소의 재활용을 현실적인 옵션으로 만들기 위해 '분해를 위한 설계'로 진행되었다.
"브라운스타인 탭하우스를 새로운 지역사회 회의 장소에 대한 아이디어를 지원하는, 지역적으로 정착된 건물로 설계하는 것이 중요했습니다. 특별한 박공은 이 건물을 가공되지 않은 해양 정체성의 자연스러운 부분으로 만드는 항구의 오래된 창고에서 영감을 얻었습니다."라고 ADEPT의 안데르스 론카(Anders Lonka)가 설명한다. 그는 이어서 "건물의 수명이 제한적일 가능성이 있기 때문에 우리는 '분해를 위한 설계'의 원칙에 따라 작업했습니다. 즉, 페인트칠 없이 기계식 조인트로만 구성되어 있다는 의미입니다."라고 덧붙였다.
탭하우스는 가능한 한 혼합되지 않은 소수의 지속 가능한 재료로 구성되었다. 이를 통해 유사한 건축물에 비해 건설에서 발생하는 폐기물의 양을 상당히 줄였다. 건물은 단순한 구조적 원리를 기반으로 하며 기계적 조인트만으로 완성되었다. 모든 기본 벽 표면에는 페인트나 그라우트가 없다. 나무 바닥에는 인근 바닥재 제조업체 Junckers의 폐기물을 깔고, 대형 지붕 표면은 클릭 조인트 폴리카보네이트로 만들어졌으며 목재 파사드는 Cradle2Cradle Gold, FSC 및 덴마크 환경 라벨 Svanemaerket 인증을 받은 CO2 중립 Accoya로 만들어졌다. 탭하우스는 태양열 패널의 전기로 어느 정도 자급자족할 수 있으며 자연 환기는 기계적 환기의 필요성을 줄여준다.
브라운스타인 탭하우스는 도시와 항구 사이의 전환점에 위치하며, 물과 도시의 연결을 강조하는 항구의 관문 역할을 한다. 건물의 1층은 한쪽 끝에는 카페가 있고 다른 한쪽에는 레스토랑이 있으며, 위층은 지역사회 활동 및 개인 행사로 사용된다. 항구의 역사적인 건물과 가공되지 않은 산업 분위기가 건축물과 그 주변의 도시 공간에 영감을 주었다. 그 결과 지역적으로 고정된 프로젝트에서 항구의 정체성을 강조하는 깔끔한 건축이 탄생했다.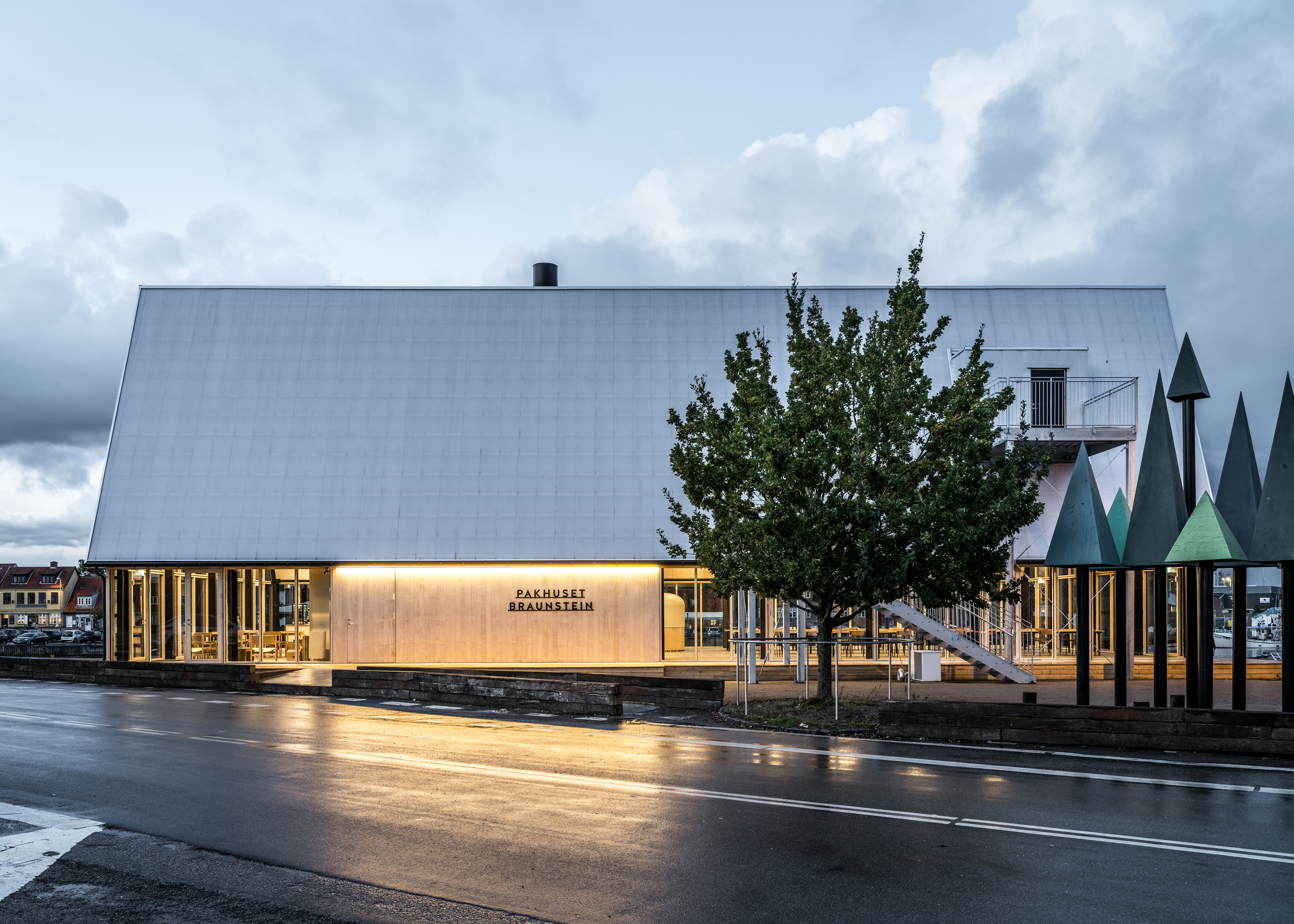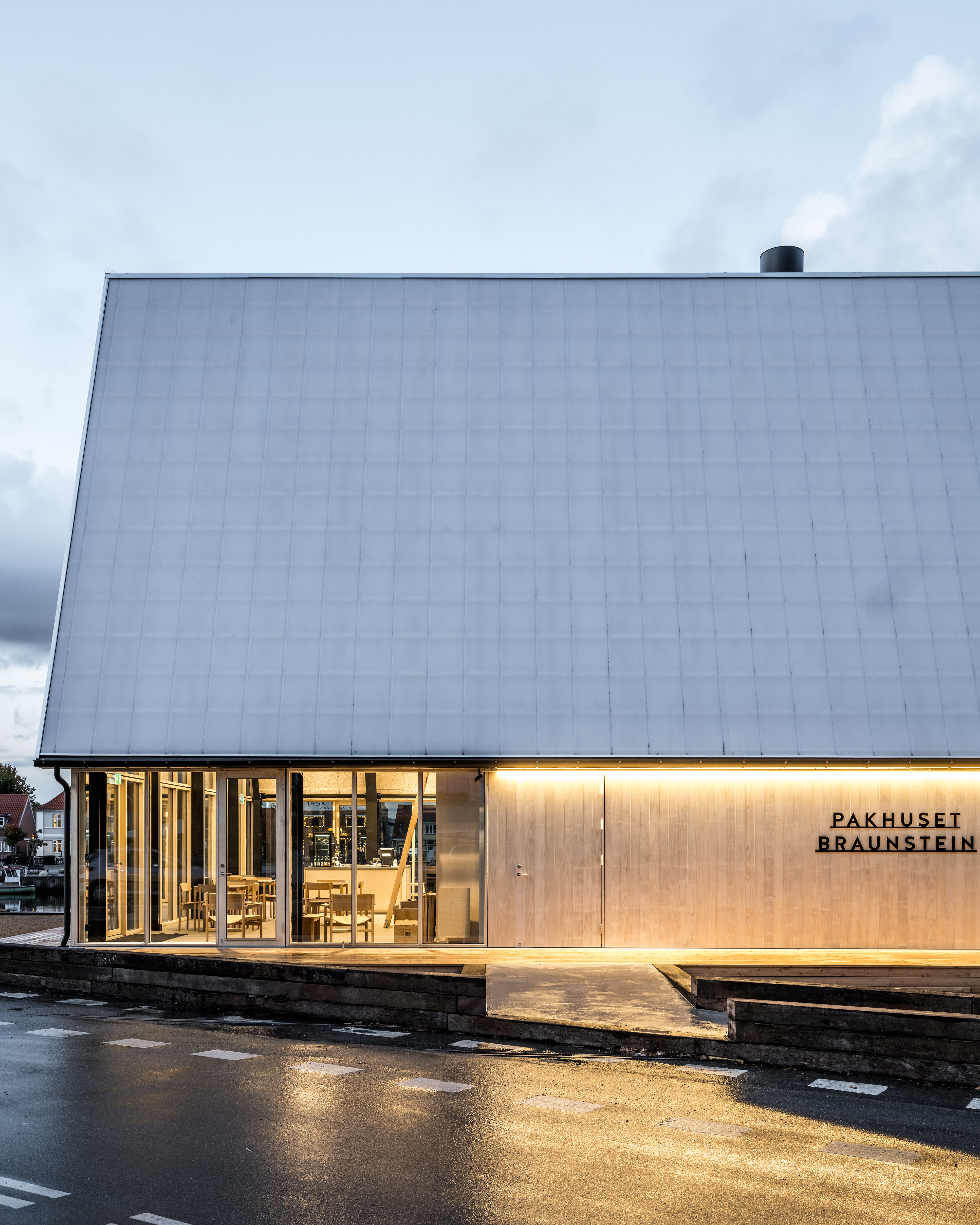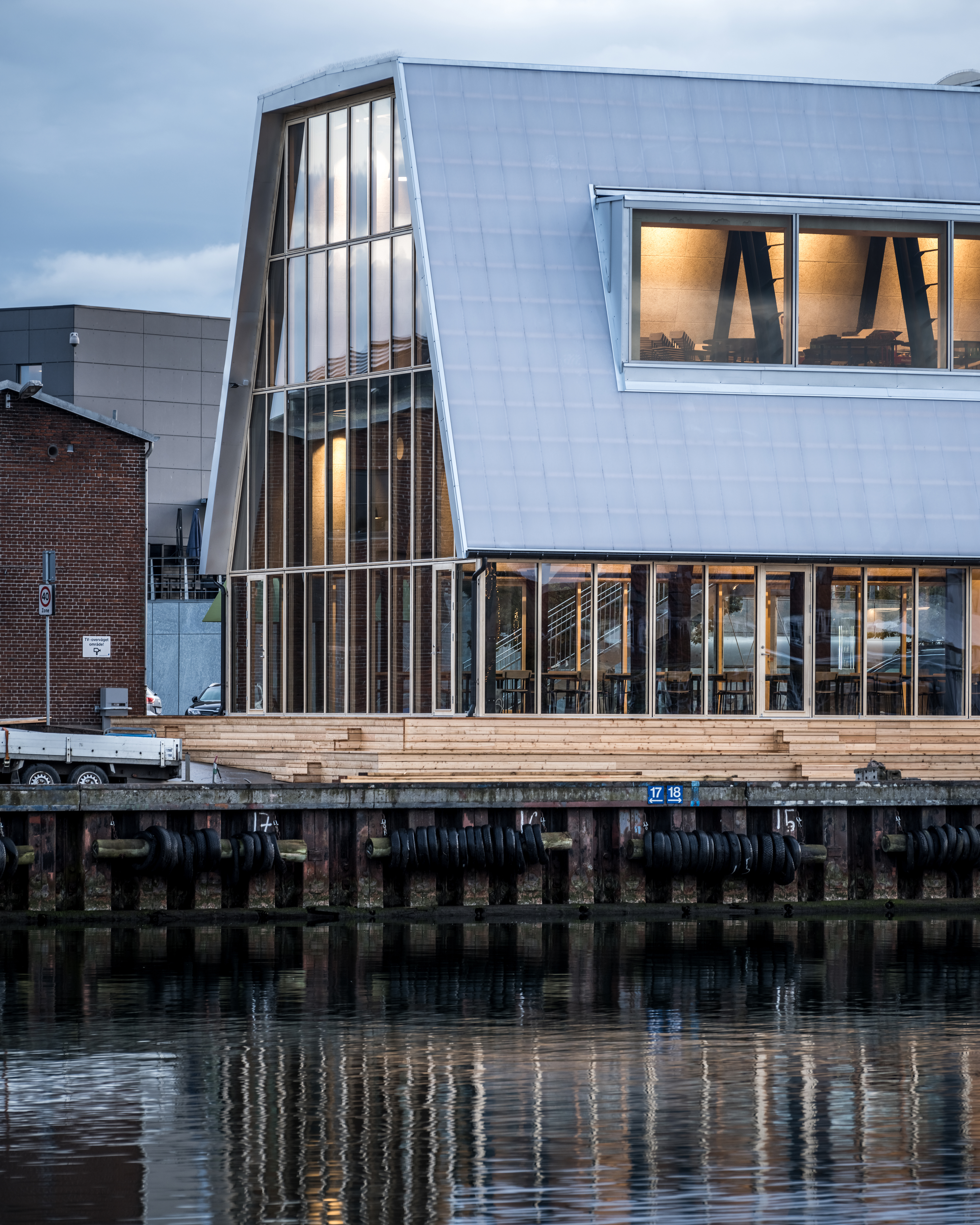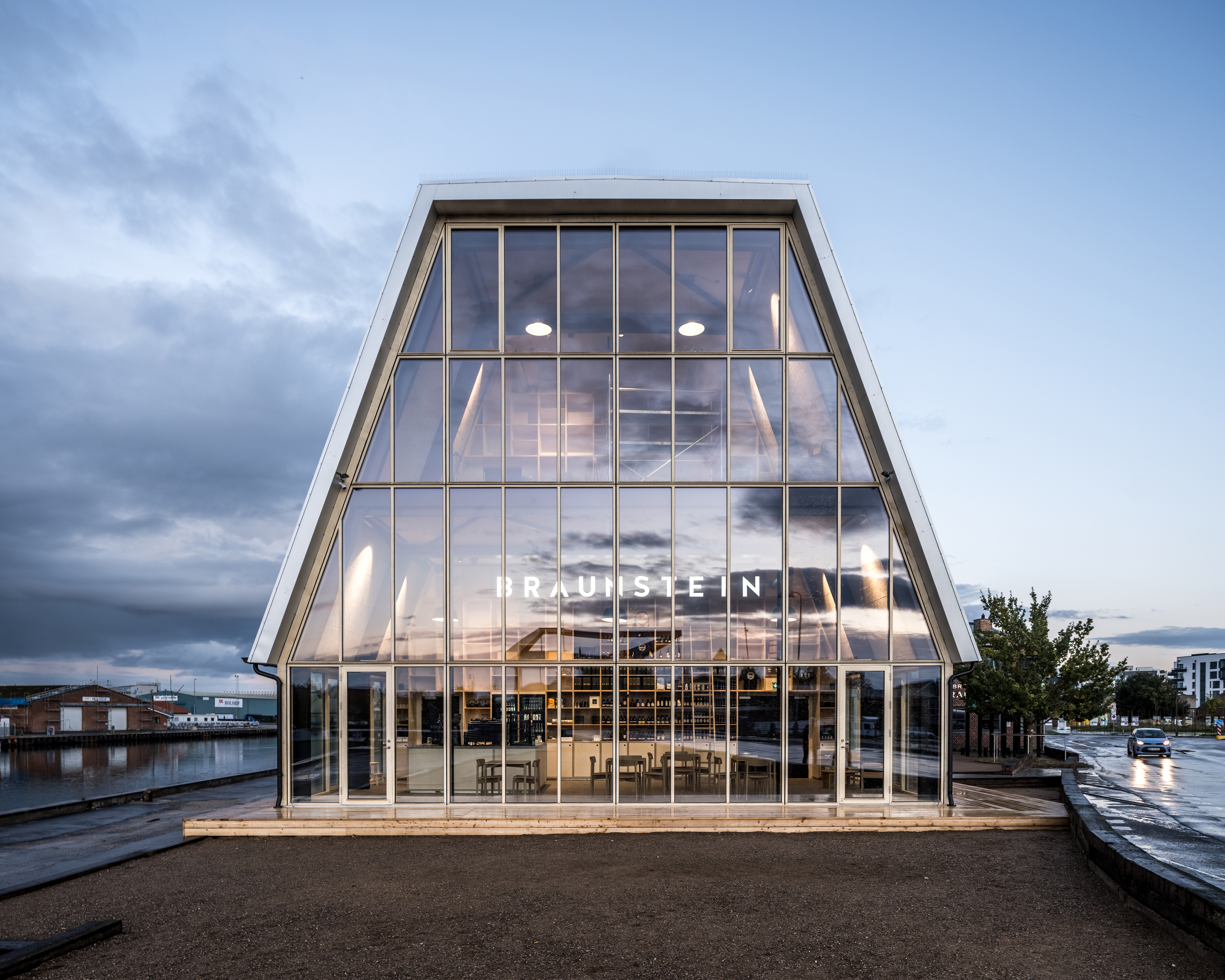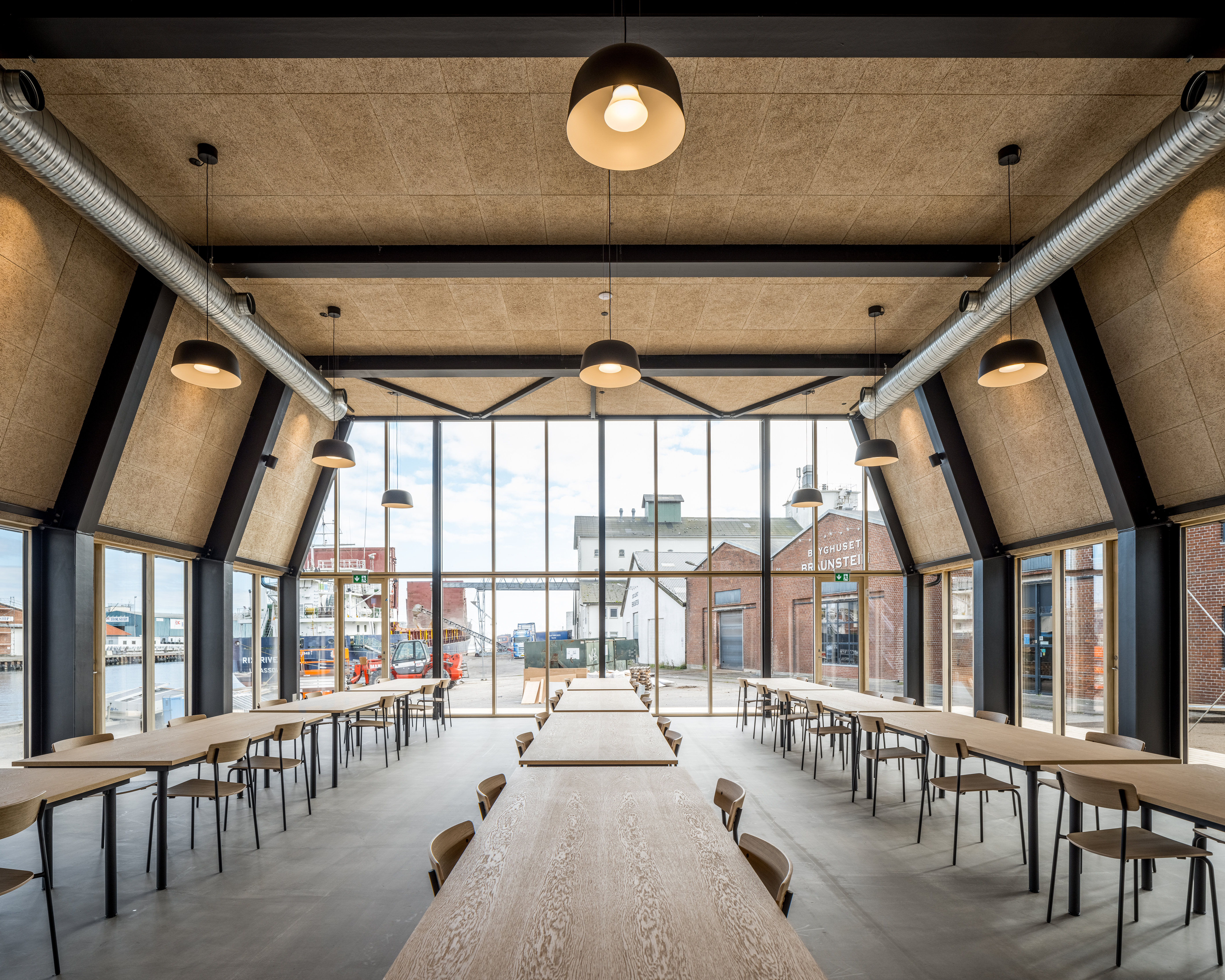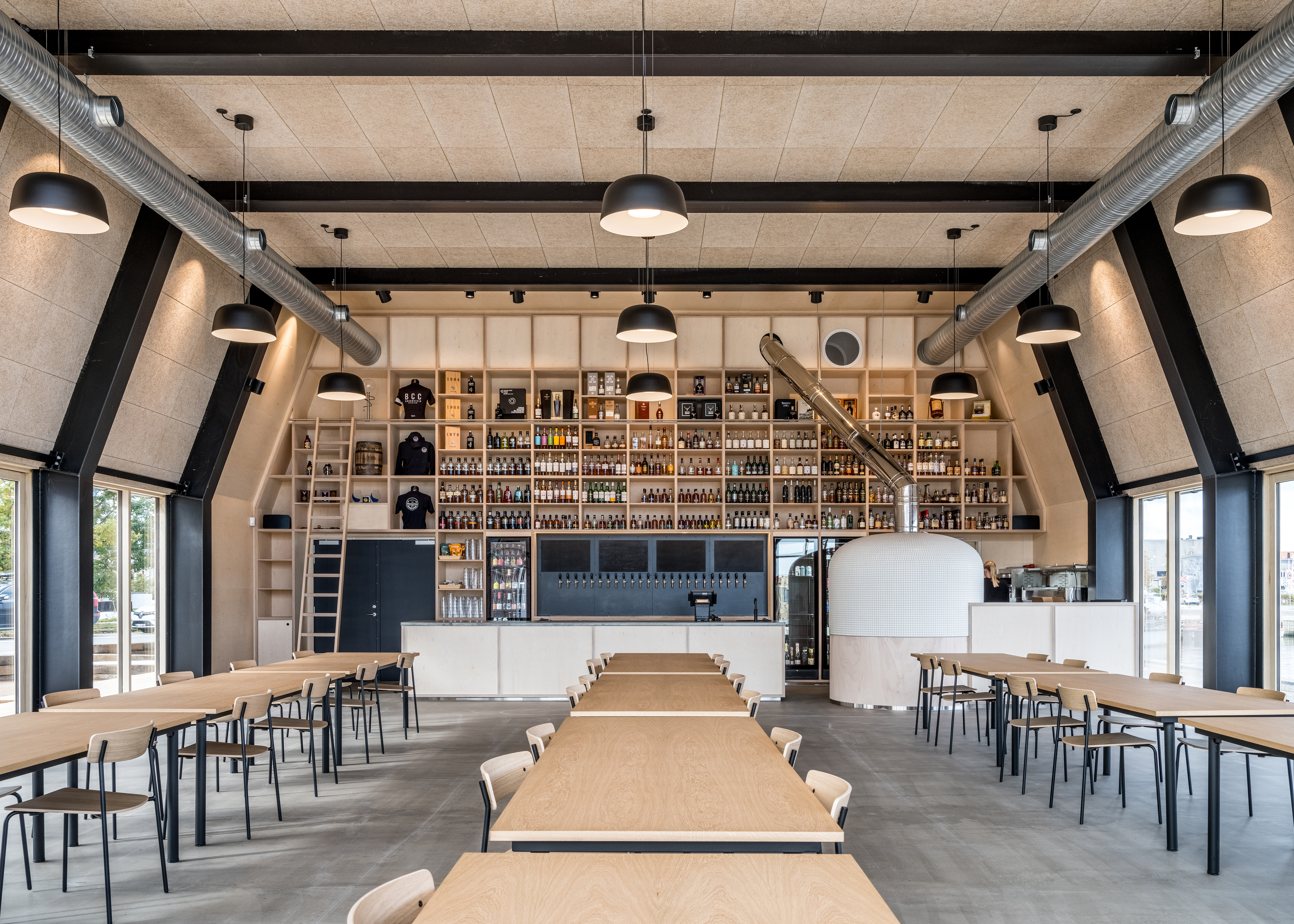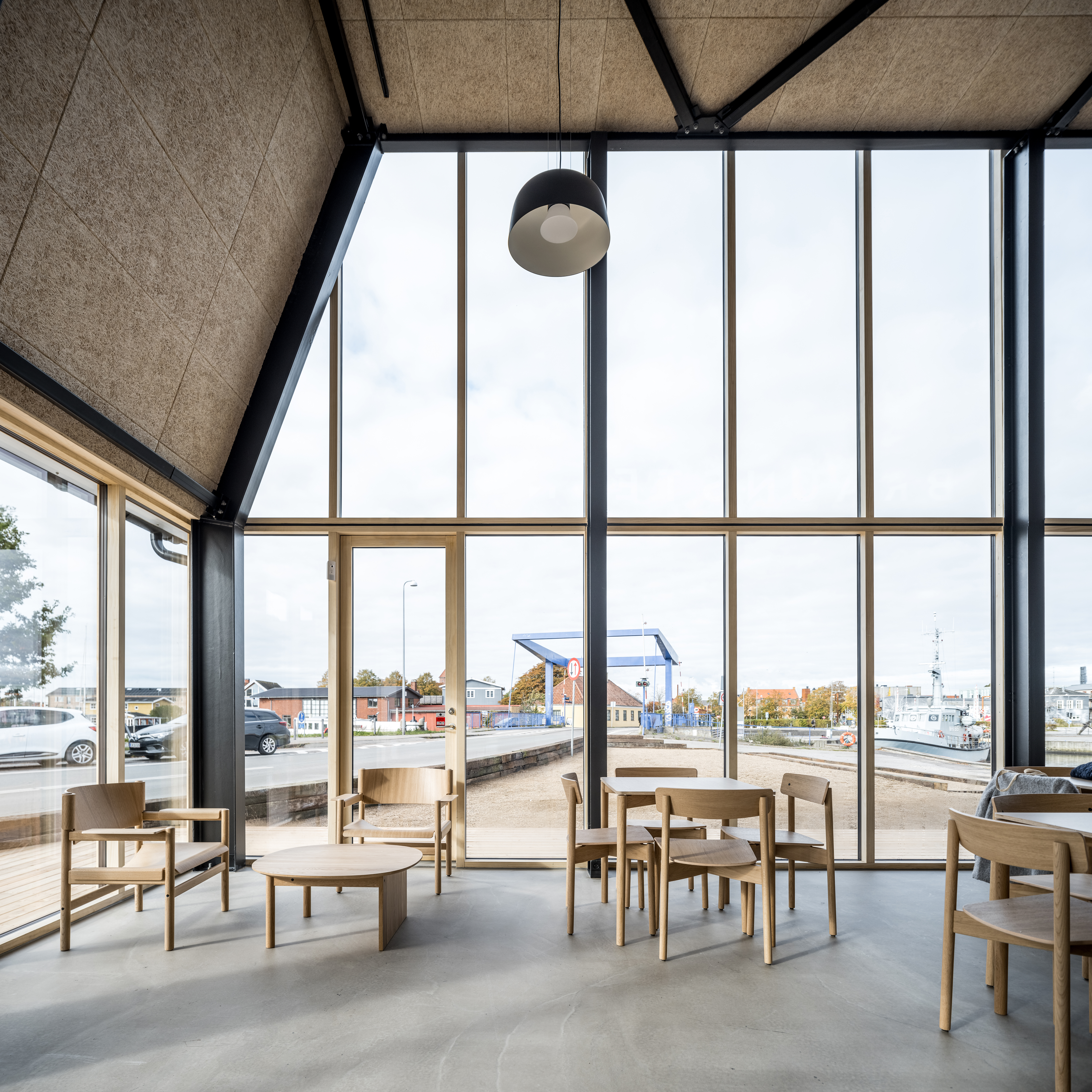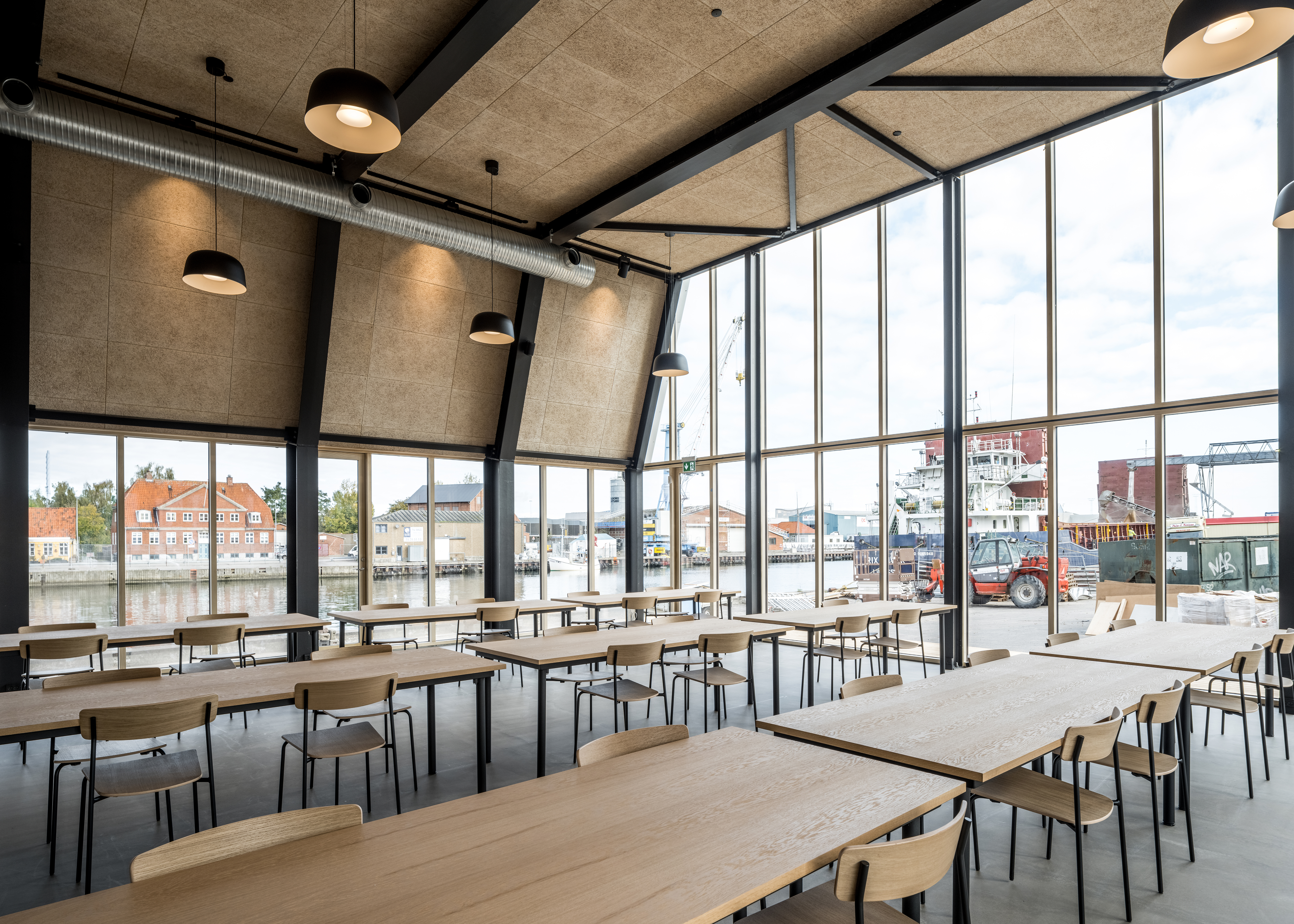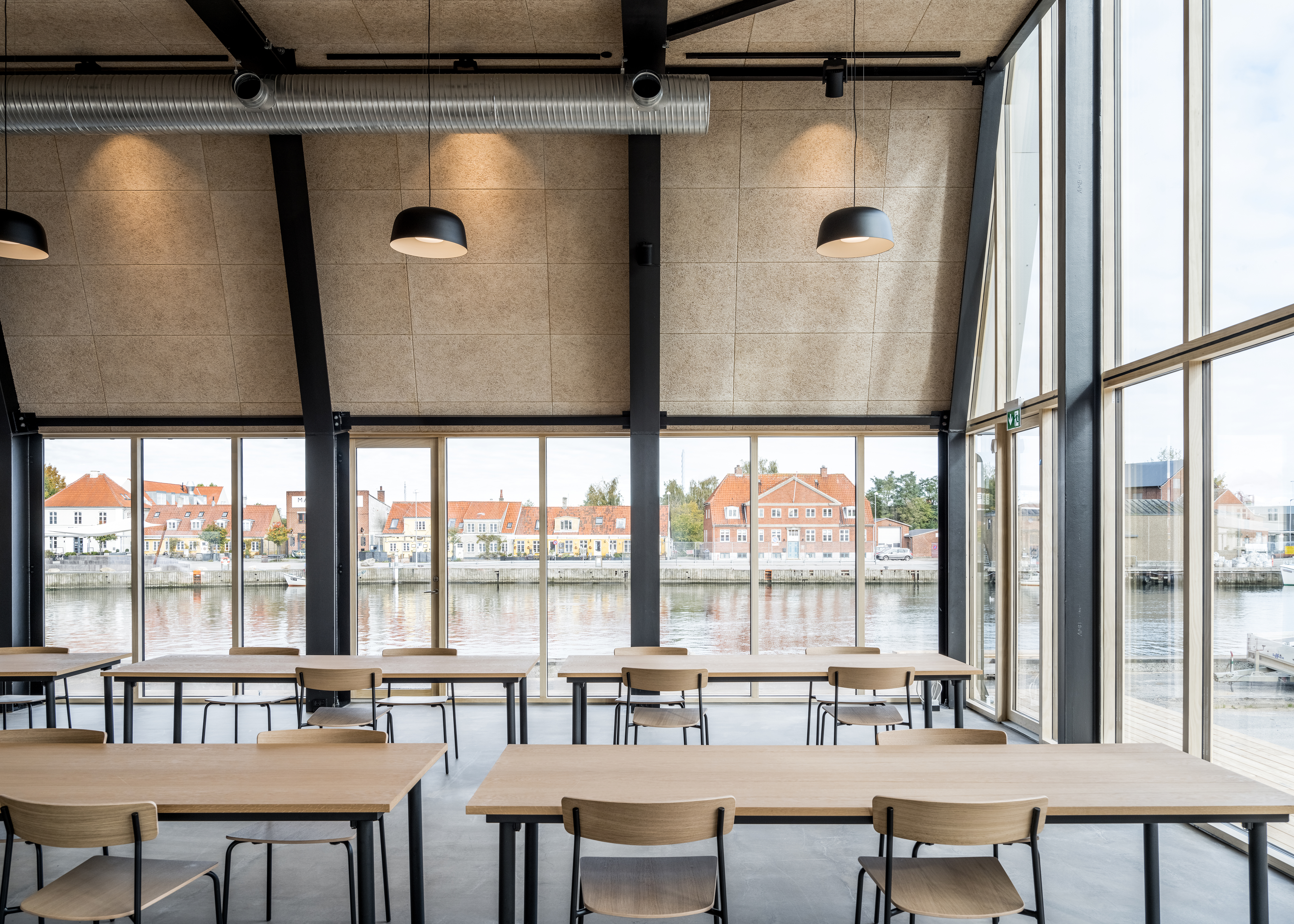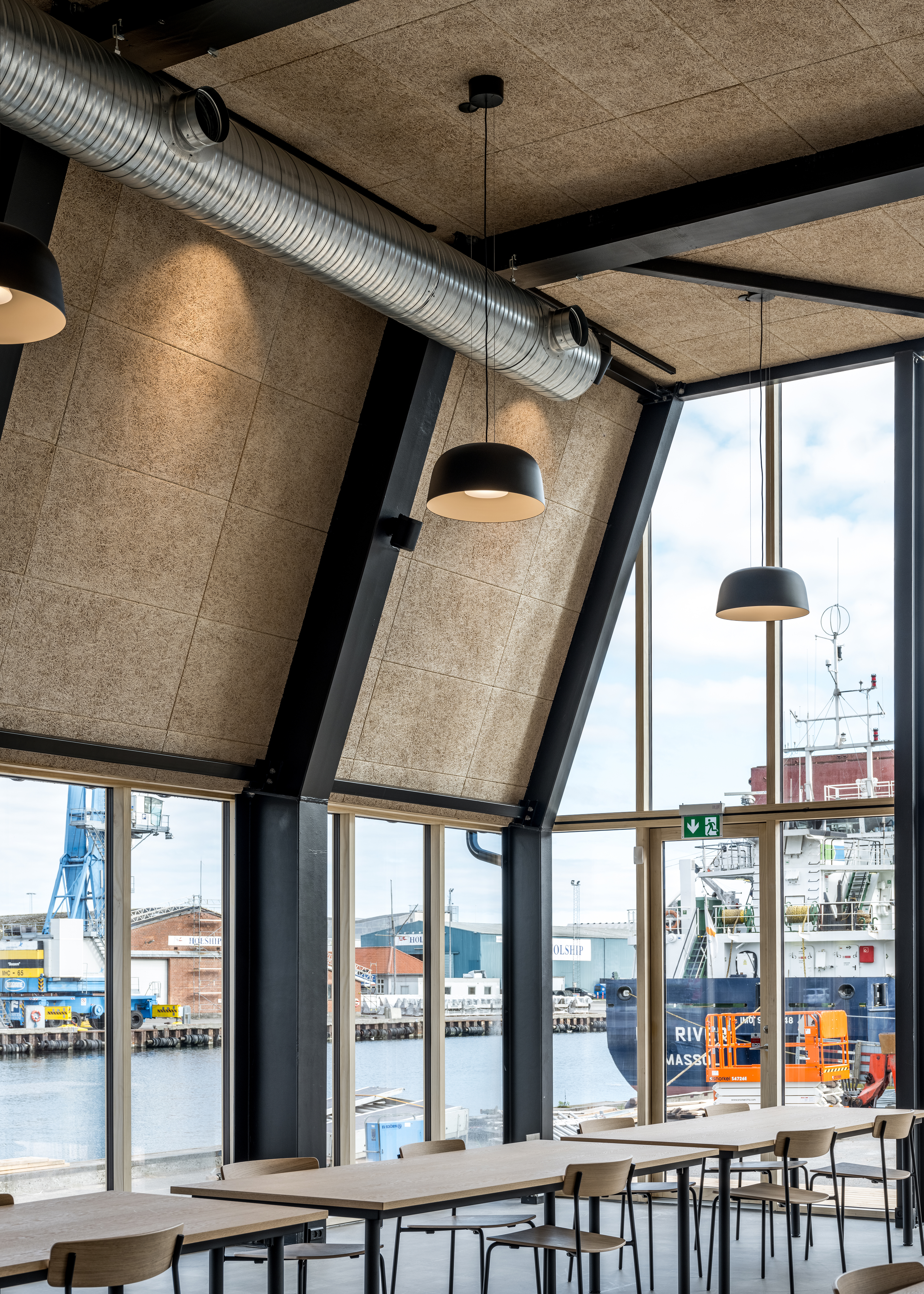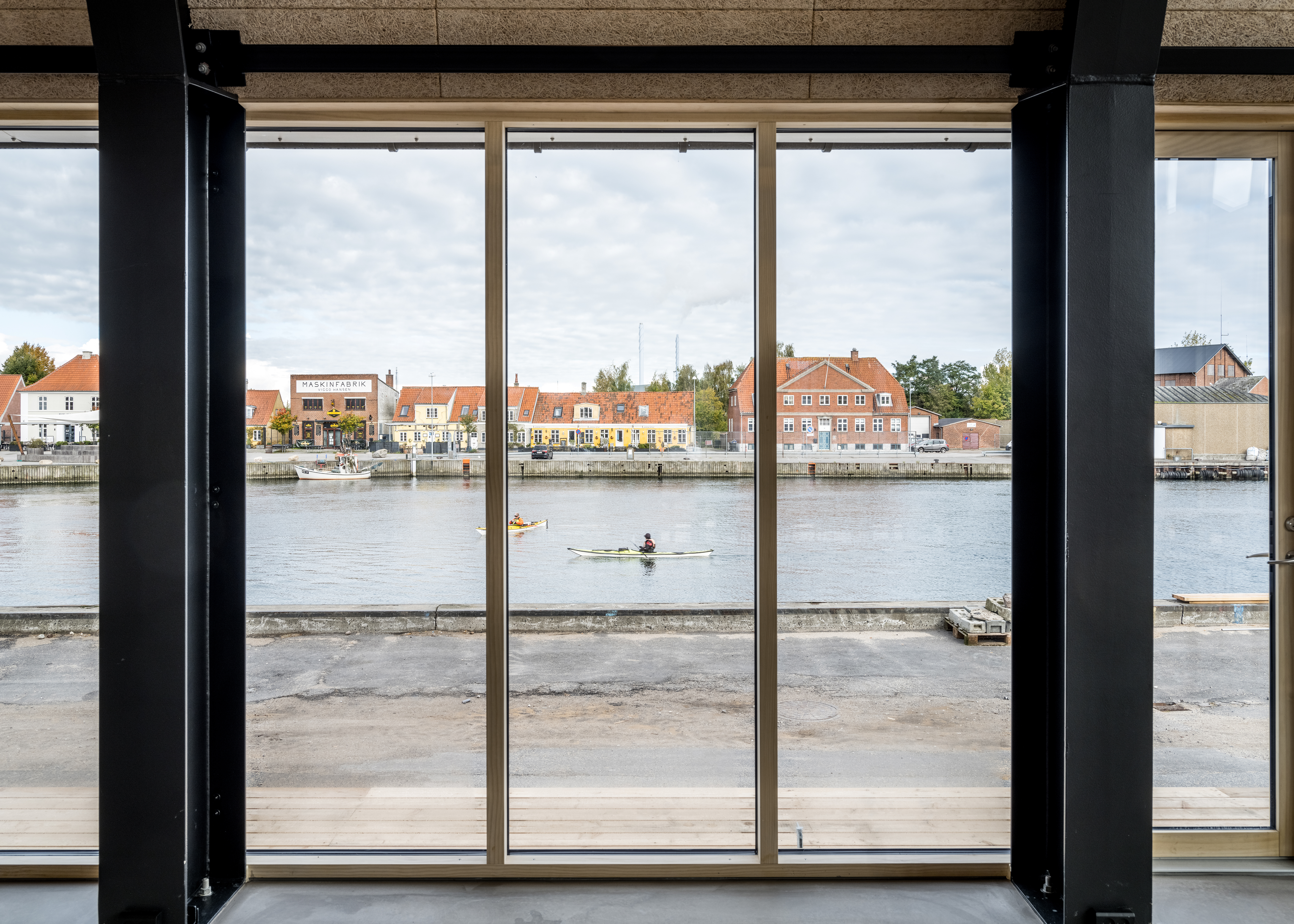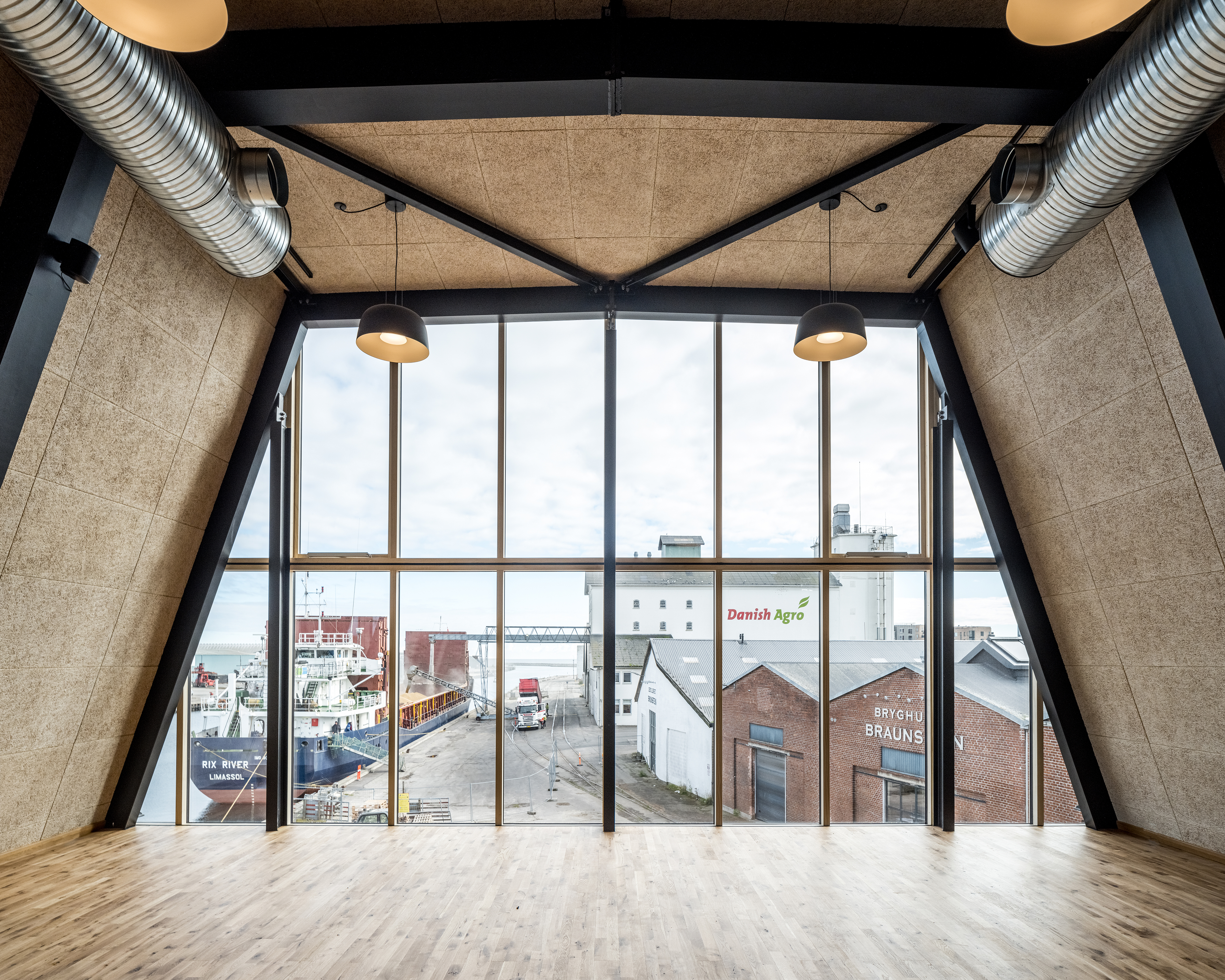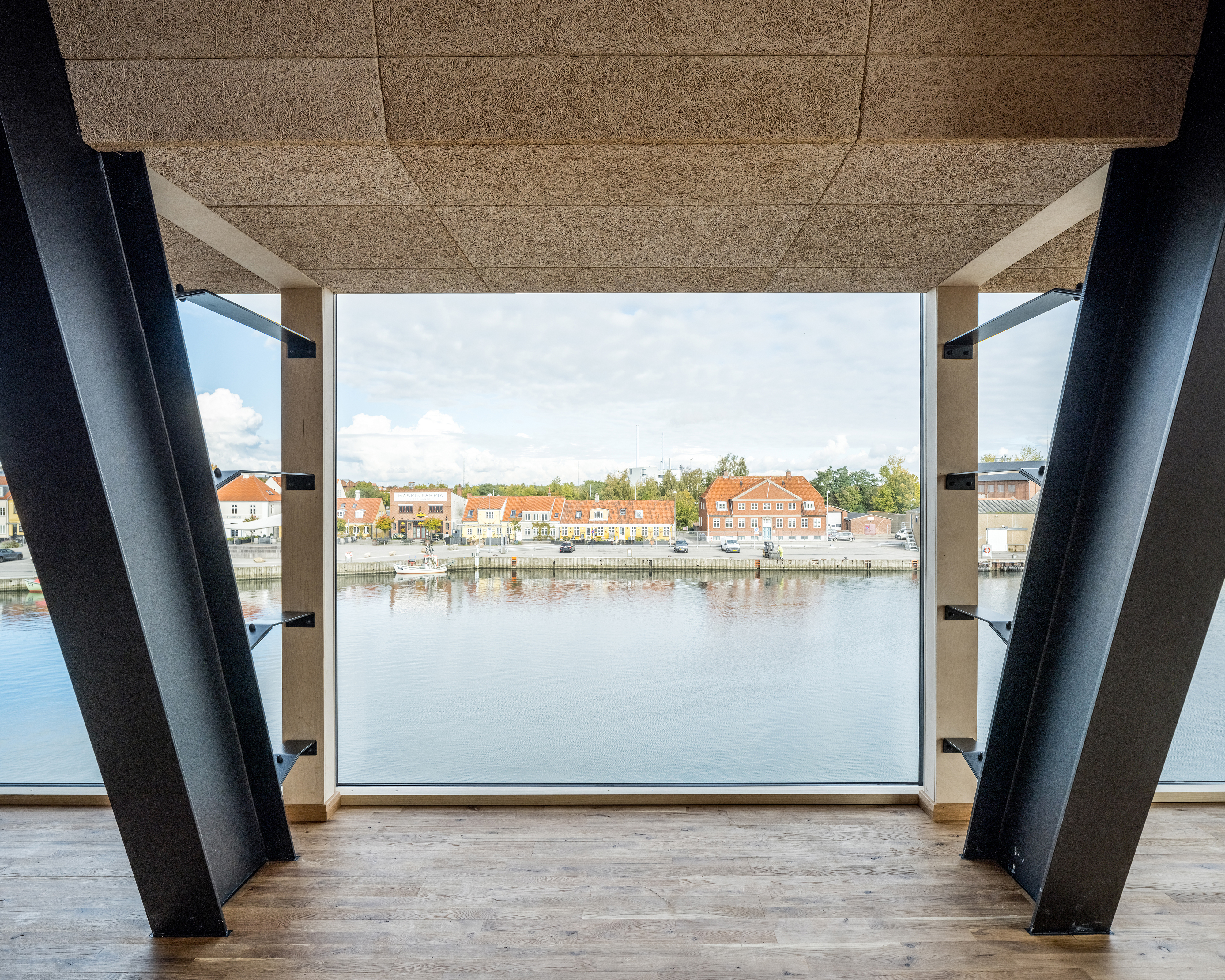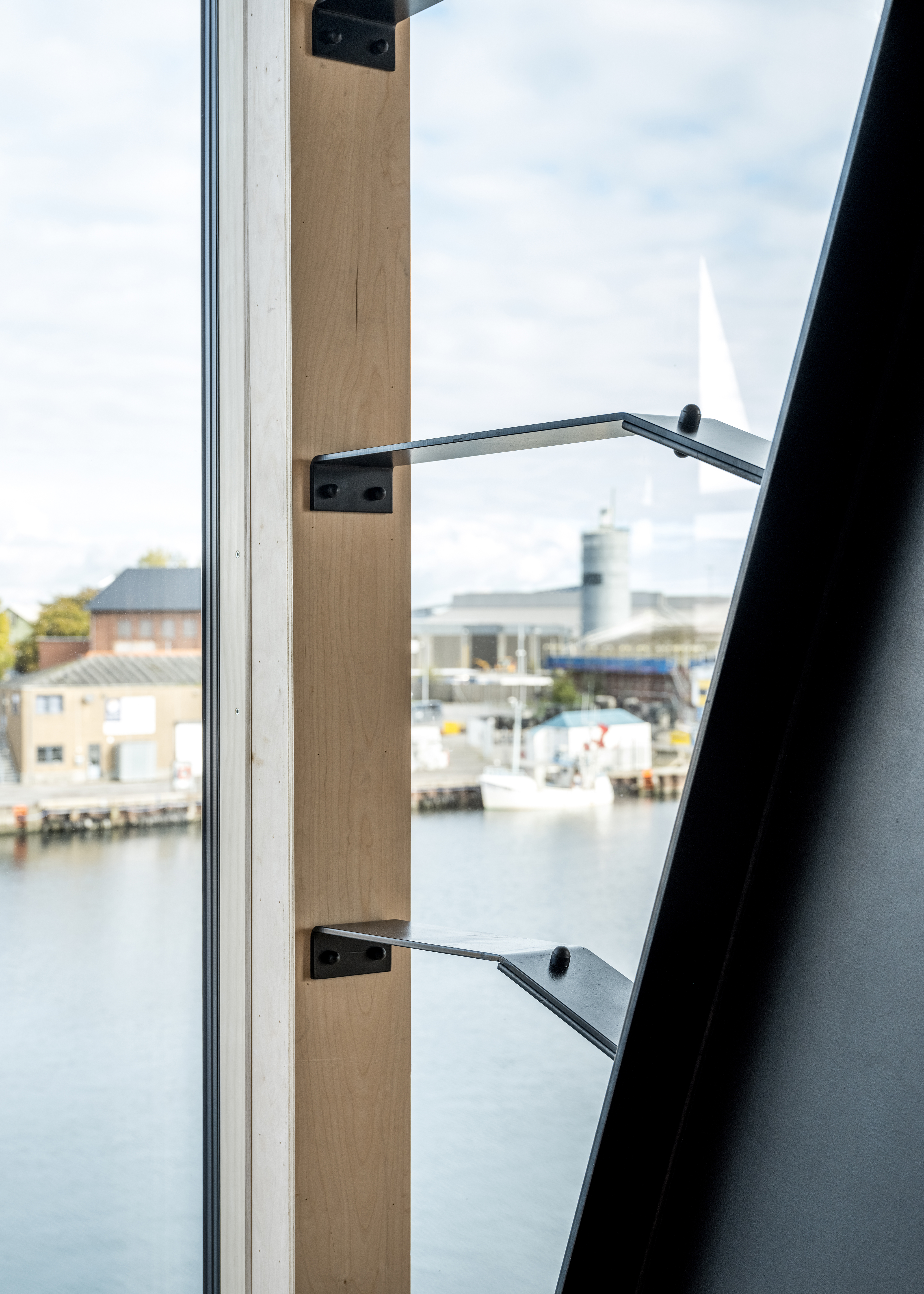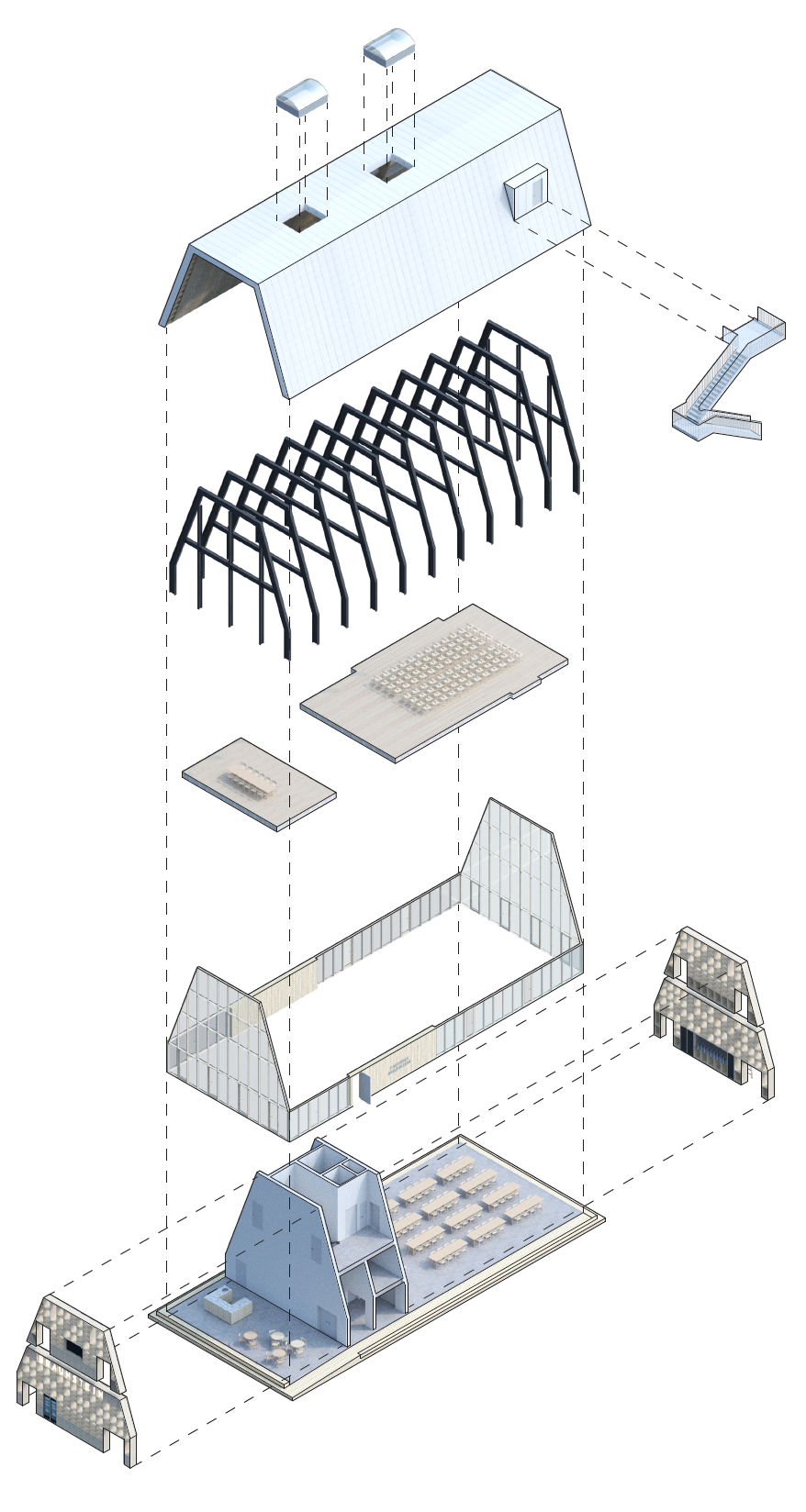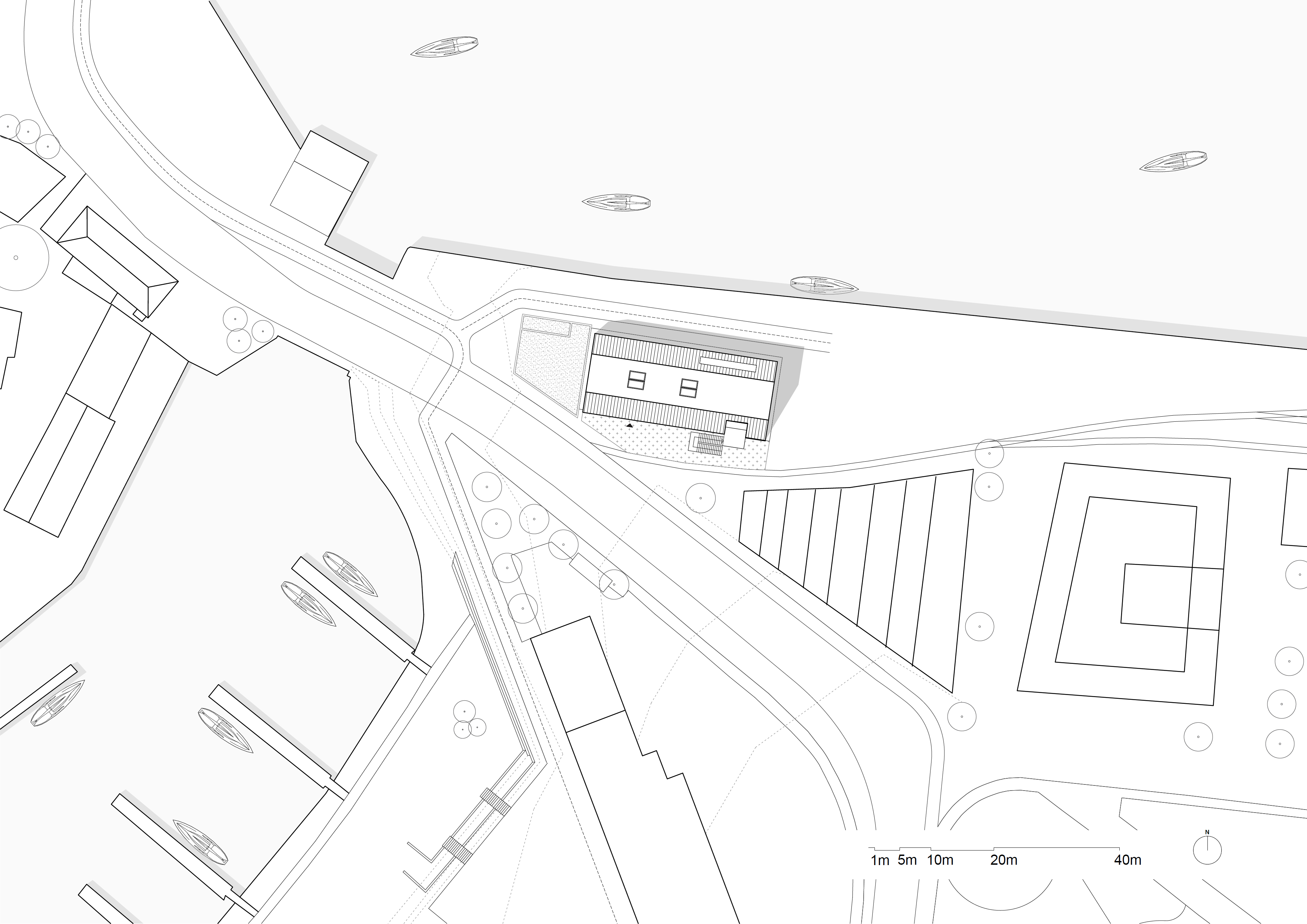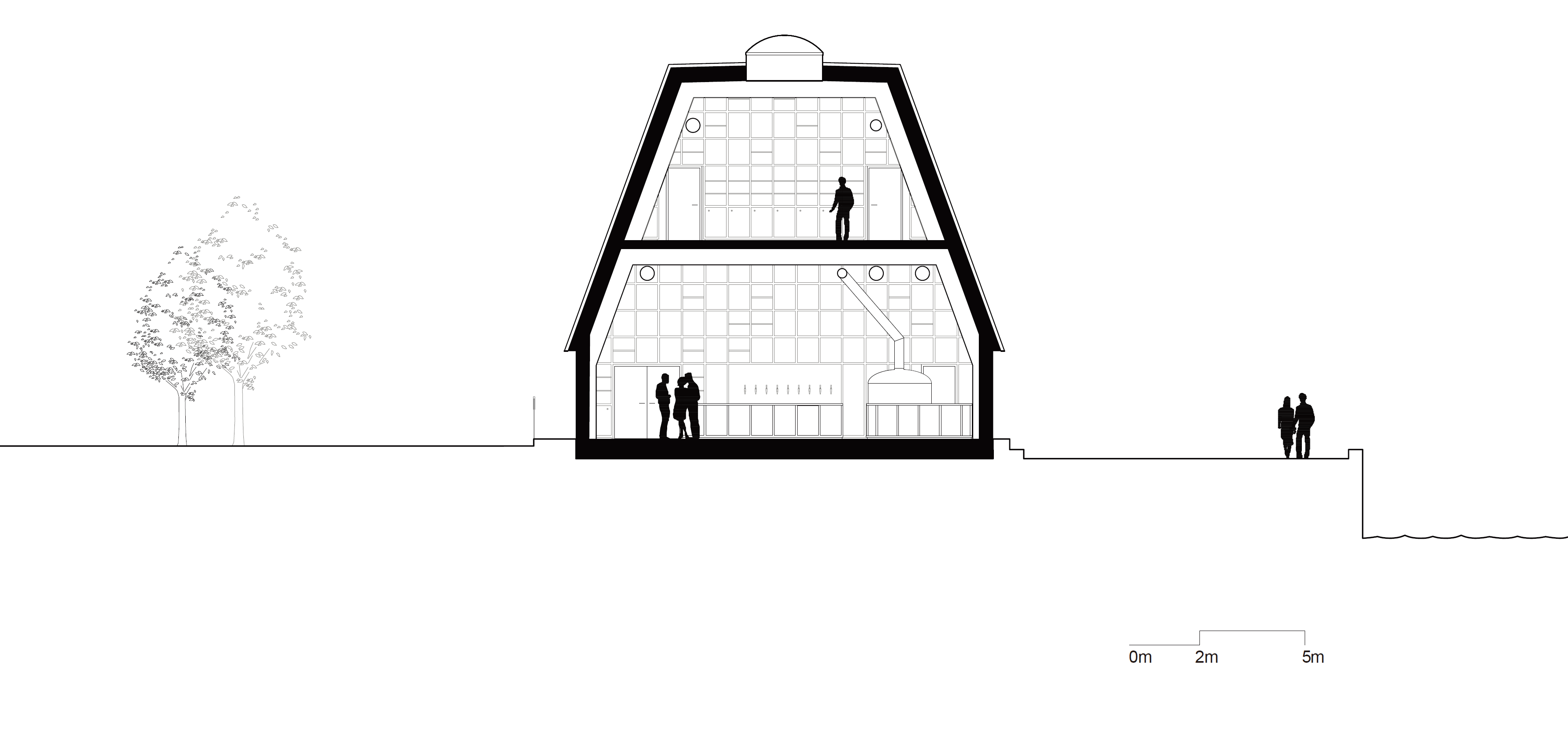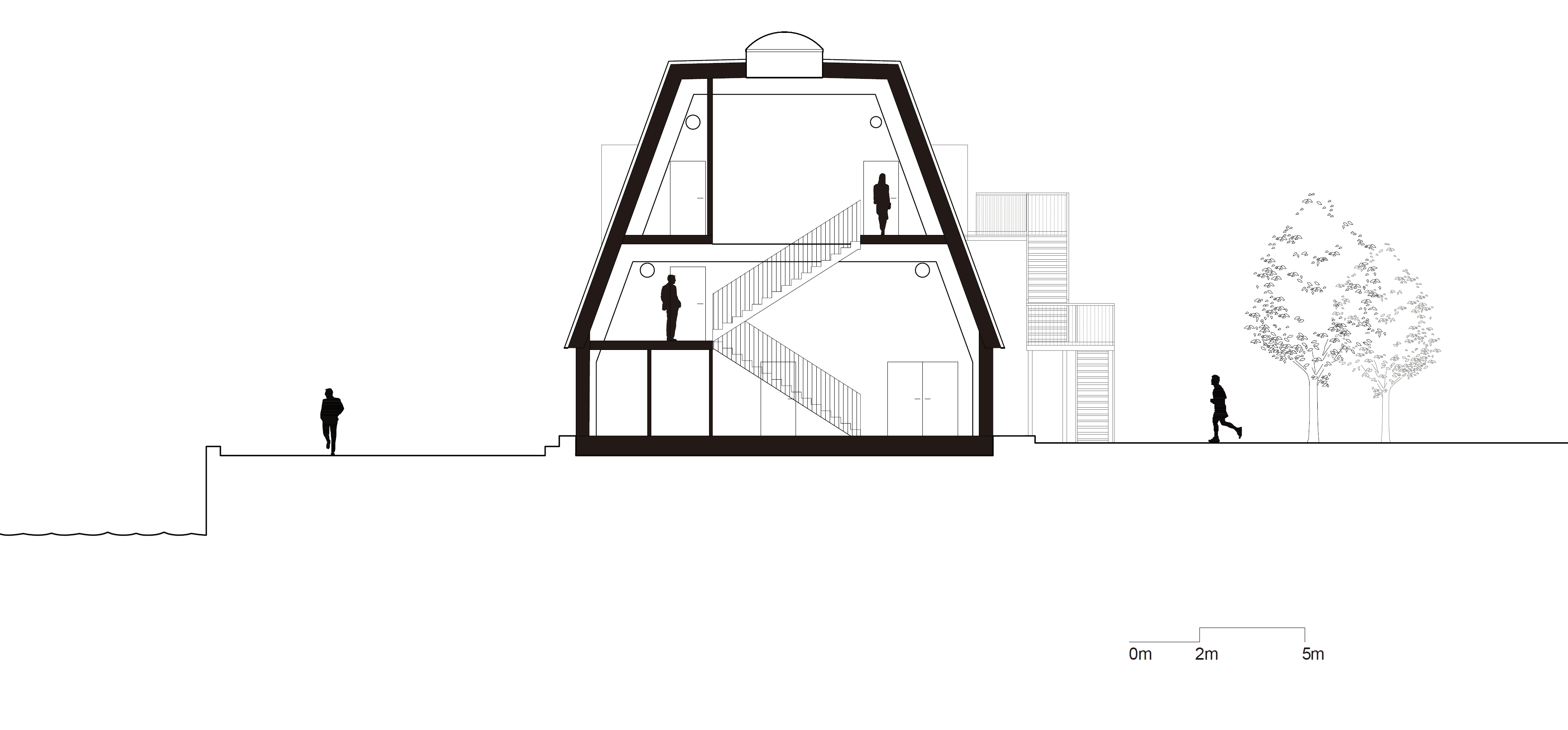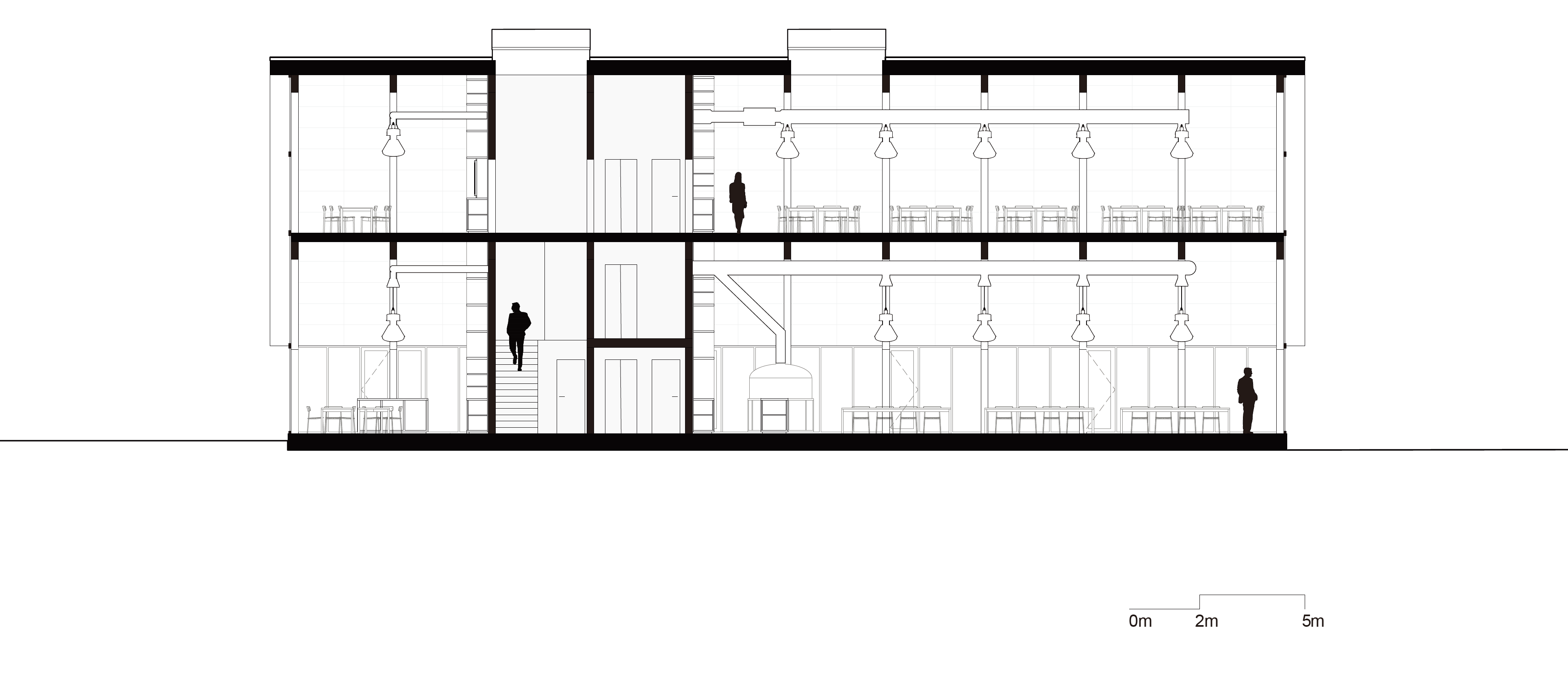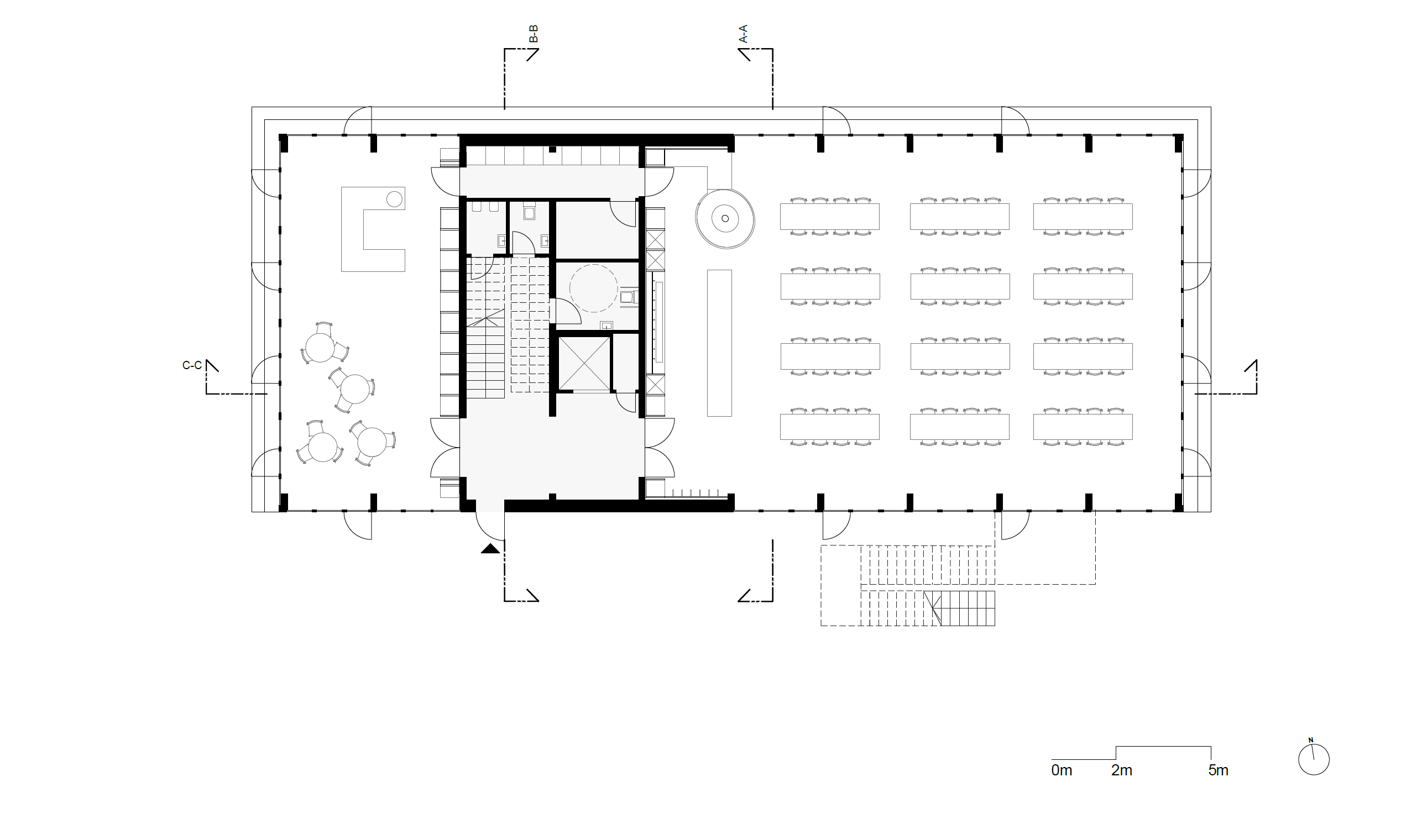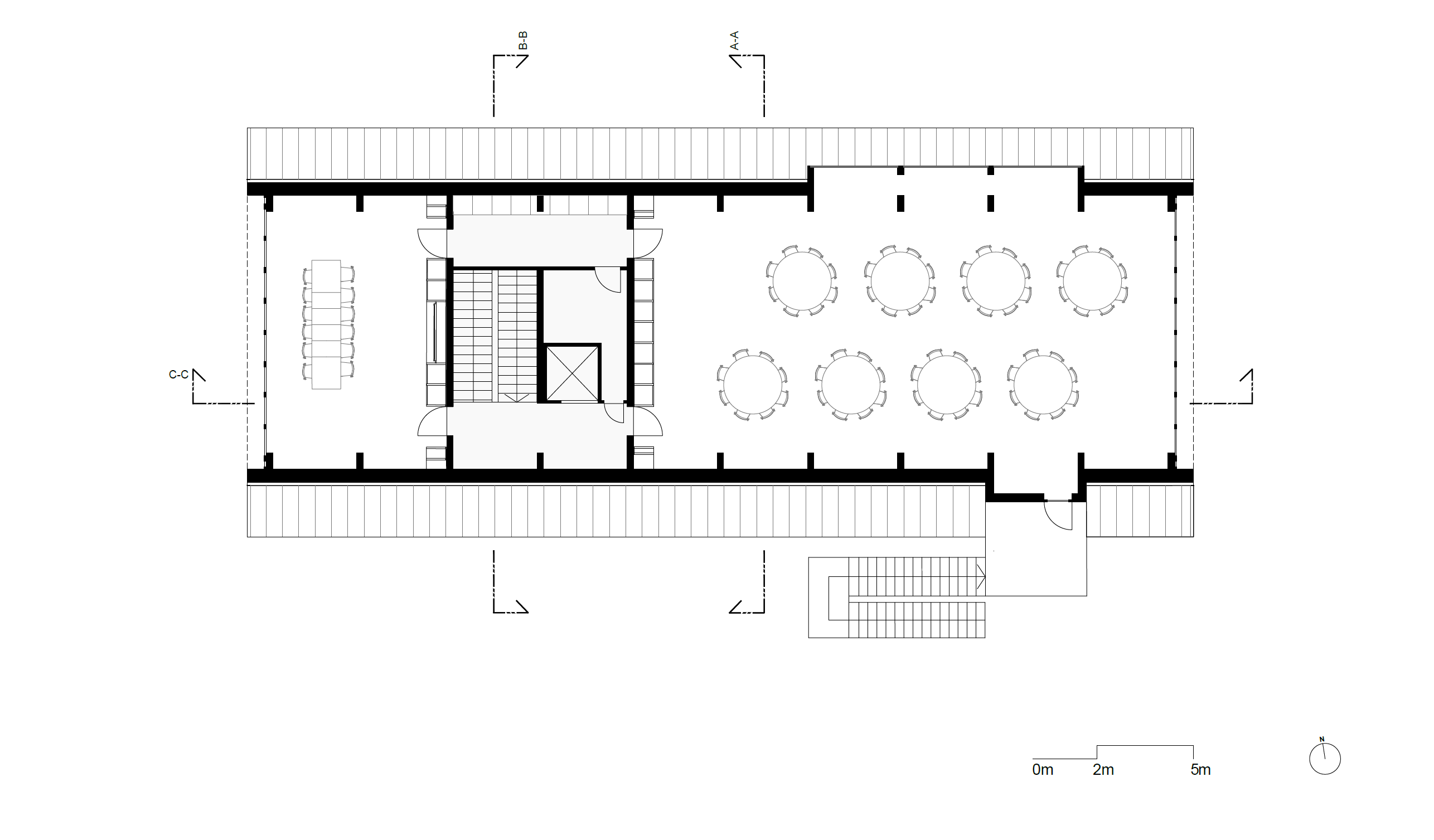 Architects ADEPT
Location Køge, Denmark
Completion 2020
Building area 1,000㎡
Collaboration HPH Totalbyg
Client Braustein Brewery
Photographer Rasmus Hjortshøj Coast Studio
---
마실와이드 | 등록번호 : 서울, 아03630 | 등록일자 : 2015년 03월 11일 | 마실와이드 | 발행ㆍ편집인 : 김명규 | 청소년보호책임자 : 최지희 | 발행소 : 서울시 마포구 월드컵로8길 45-8 1층 | 발행일자 : 매일