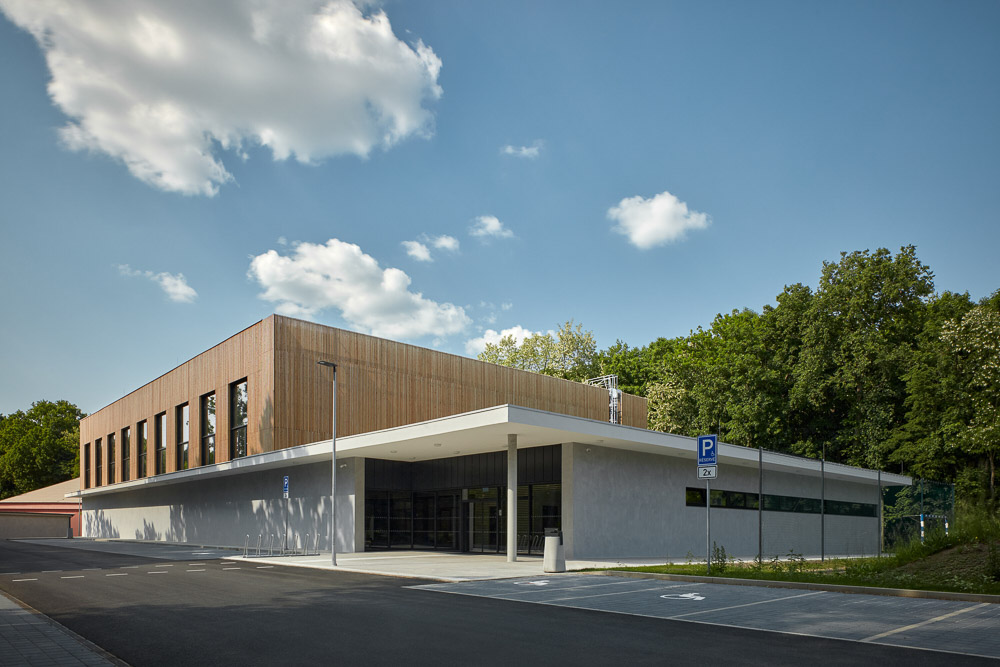 Clients brief was to build a sports hall with facilities and a seating tribune next to the Elbe river. The proposal won 1st place in architectural competition.The plot is located at the north-east edge of the Kolín town, close to the tennis courts and an athletic stadium. This sport facilities ansamble is enclosed by deciduous forest and is accesed by a cycle path by the Elbe river. The proposal is influenced by the surrounding flatness of the terrain, where it's easy to bicycle. By the friendly atmosphere of the nearby town.
By the slow flow of Elbe River and by the plot location in the woods. The concept is based on a low single storey building, roofed with an overlapping cantilever and the wooden mass of the elevated hall. The cantilever delimitates the low part of the building what brings a small-scale friendly atmosphere. The high wooden lantern is peaking over the lower part. The big windows illuminating the interior refer to the Czech tradition of Sokol sports halls with the optimistic spirit in the state-founding interwar period. The layout plan is based on a simple decision to place the whole program on one floor. Everything is easily accessible while enabling a sufficient control and overview for the receptionist desk. The entrance hall flows into a buffet. It's possible to connect or divide the two spaces if necessary. Dressing rooms, toilets and technical rooms follows in this lower part of the building. Entrances to the playing field are separated for visitors and players. The building structure is founded on a monolithic reinforced concrete slab and the vertical support structure is made of precast reinforced concrete columns. The roof trusses are glued laminated timber with a 32m spans. The wall structure infill between the columns is of precast concrete panels. The whole structure is thermal insulated with ETICS. In the interior, acoustic sealing and cladding is introduced. The object is heated and partly cooled with a heat pumps. A small is photovoltaic power plant is installed on the lower roof. The interior can be ventilated naturally, in the winter and summer season the ventilation is managed by the instrumentation control system. The building is energetically passive.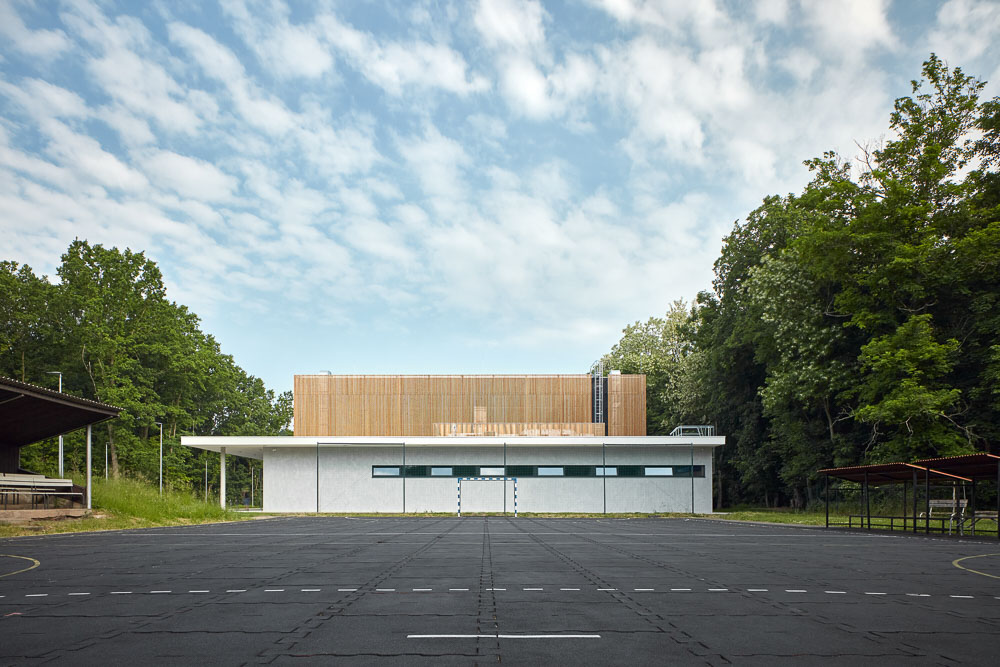 보르키 체육장은 코린 마을의 북동쪽 가장자리 엘베 강 옆 부지에 낙엽성 숲으로 둘러싸인 곳에 세워졌다. 가까이에는 테니스 코트와 육상 경기장이 있고, 엘베 강을 따라서는 자전거 도로가 나 있는 곳으로 기존에 지역에 조성되어 있는 평탄하고 한가로운 마을 분위기와 주변 시설들과의 연계 등이 고려된 설계공모 당선작에 따라 지어졌다.
체육장은 넓은 연단을 가진 실내 체육 시설이며, 캔틸레버 구조로 만들어진 넓고 높은 홀로 구성된 단층 건물이다. 이 캔틸레버 부분으로 목재 부분과 지상과 닿은 부분을 구분한다. 내부로 빛을 끌어들이는 큰 창문은 체코의 소콜 스포츠 홀이 가졌던 전통적 형태를 반영한 것이며, 건국됐던 시기의 낙천적인 정신을 계승한다. 전체 프로그램은 한 층에 배치되어, 시설 관리자들에게는 관리와 통제를 용이하게 하면서 이용자들에게는 어디든 쉽게 접근할 수 있도록 한다. 입구 홀에서는 간이 식당으로도 연결된다. 필요에 따라서는 두 공간을 연결하거나 분할할 수 있다. 탈의실, 화장실, 기술실 등은 건물 아래쪽에 배치되어 있다. 경기장 출입구는 방문객과 선수들을 위해 분리되어 있습니다. 건물은 일체화된 철근 콘크리트 슬래브 위에 세워졌으며 수직 지지 구조는 프리캐스트 철근 콘크리트 기둥으로 만들어졌다. 지붕 트러스는 32m 폭의 목재다. 기둥 사이의 벽 구조 주입구는 프리캐스트 콘크리트 패널이다. 전체 구조는 ETICS로 단열되고 있다. 내부에는 음향 밀폐 및 클래딩이 도입되었으며, 열 펌프로 가열되고 부분적으로 냉각된다. 작은 태양광 발전소는 아래 지붕에 설치되어 있으며, 실내 공간에는 자연스러운 환기가 일어나도록 고려되어 있다. 뿐만 아니라 겨울철과 여름철에는 계측제어시스템에 의해 환기가 관리된다.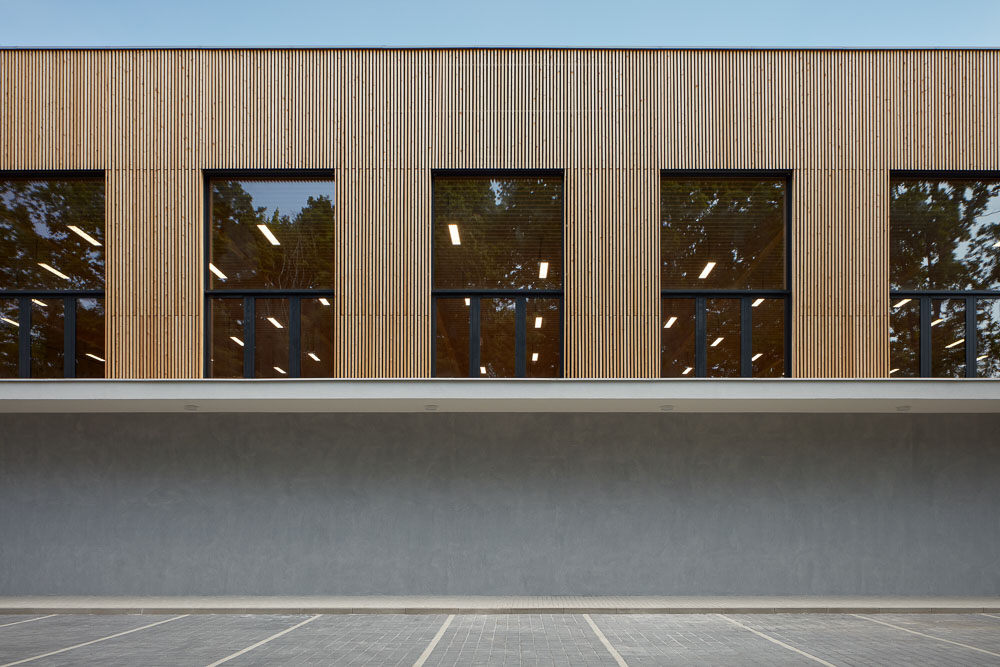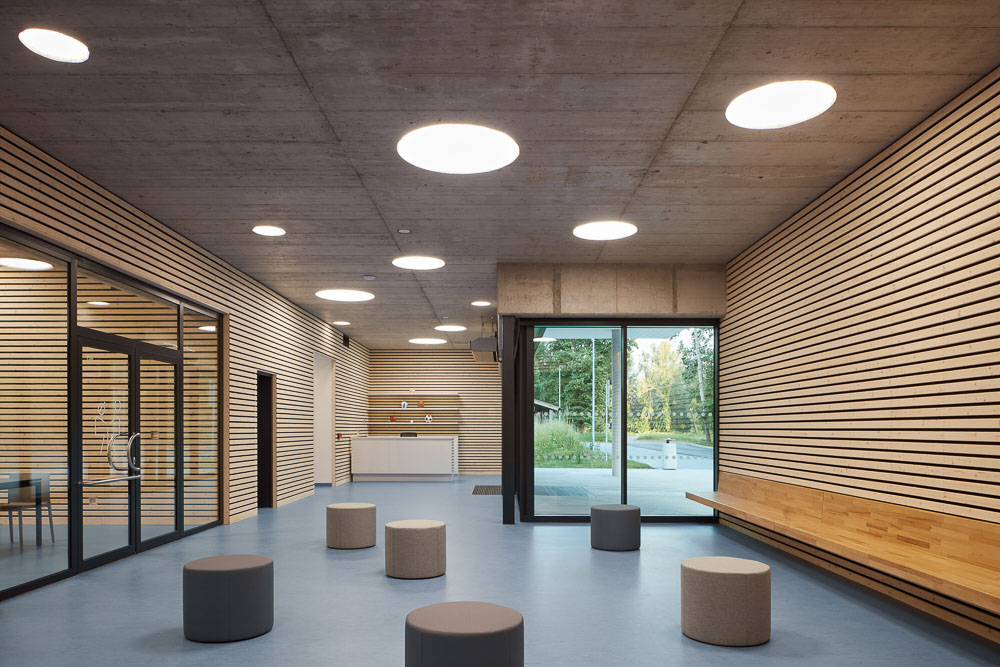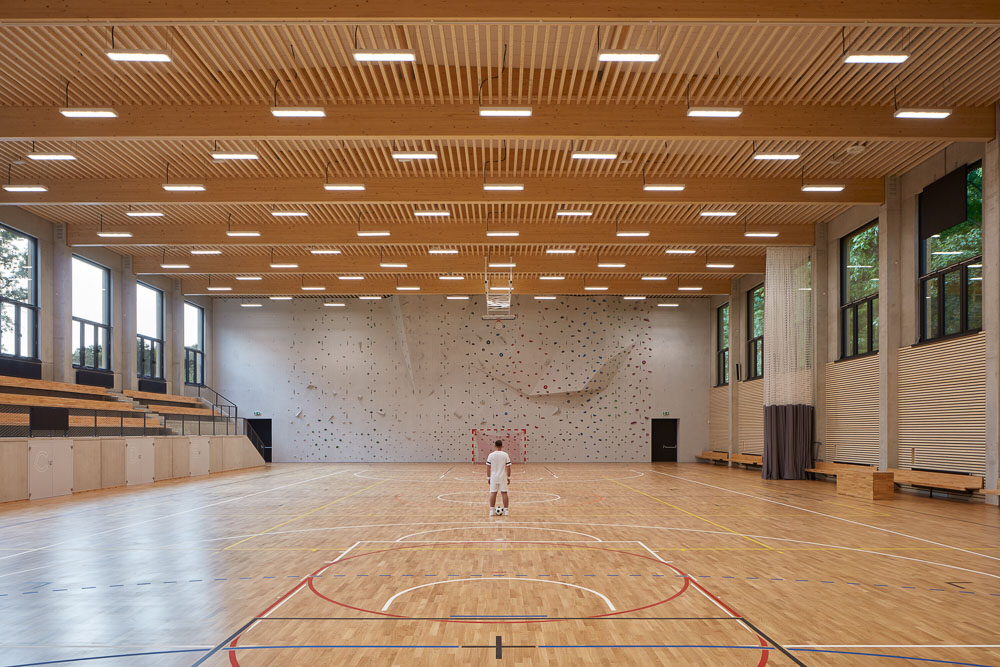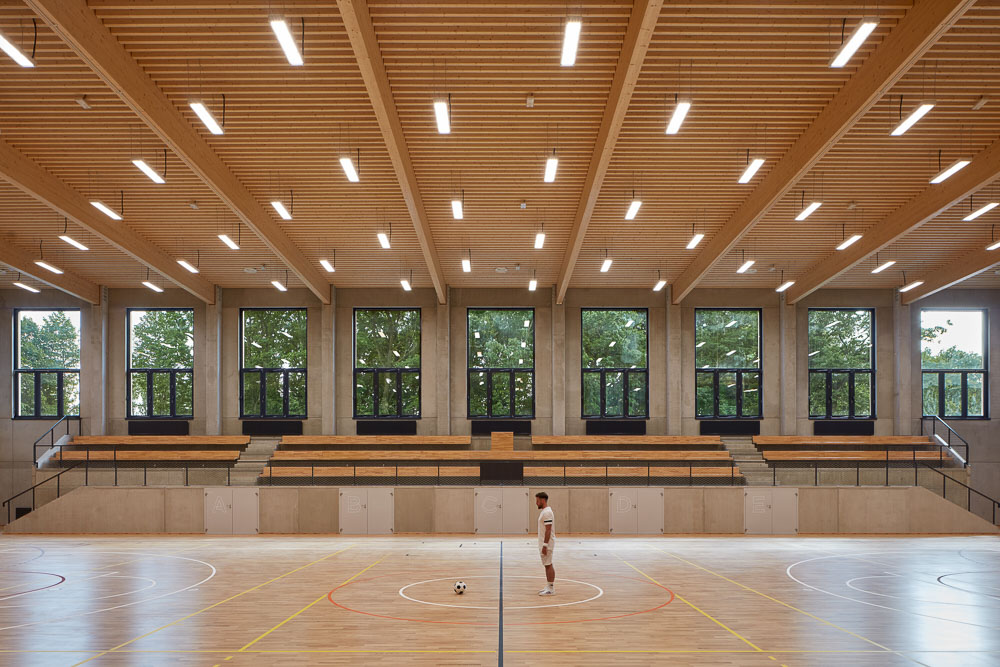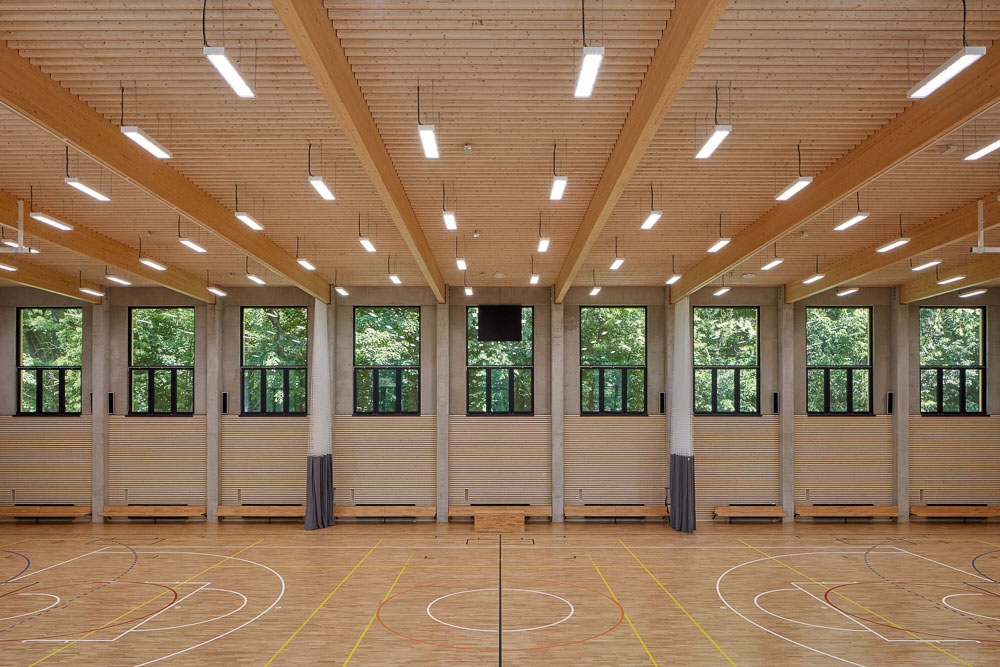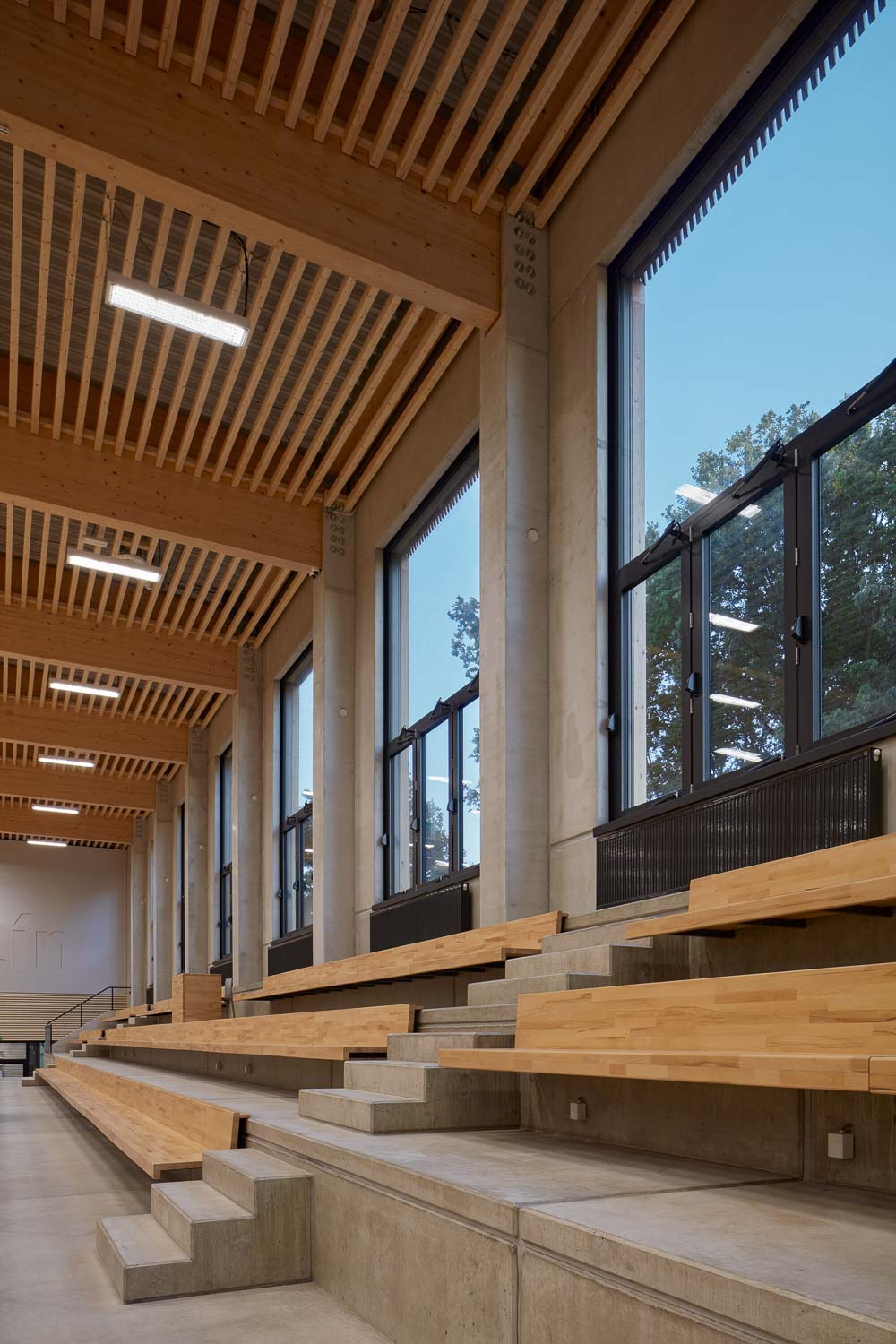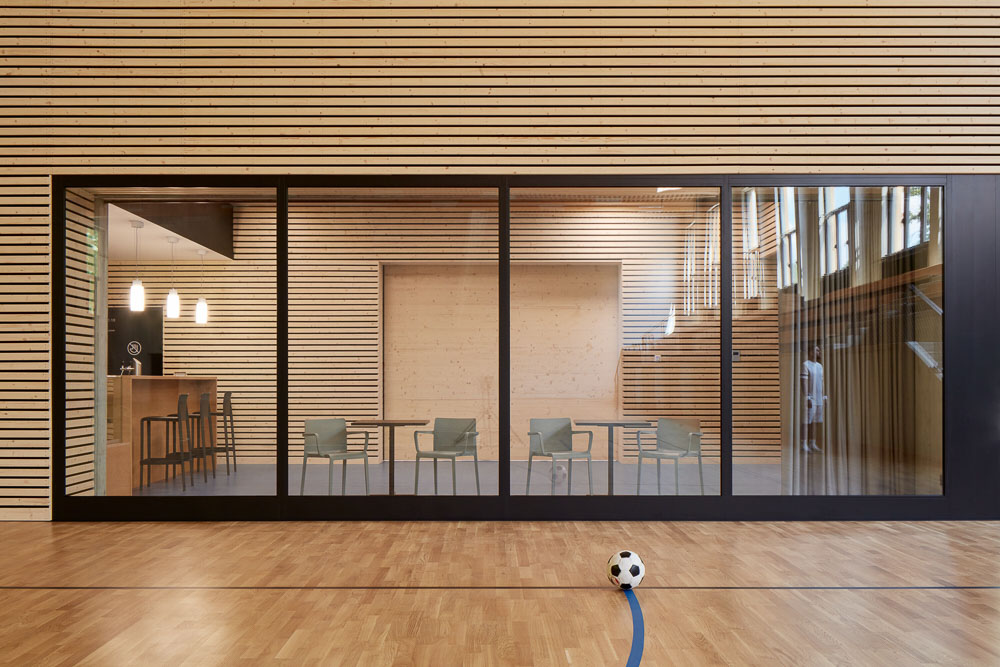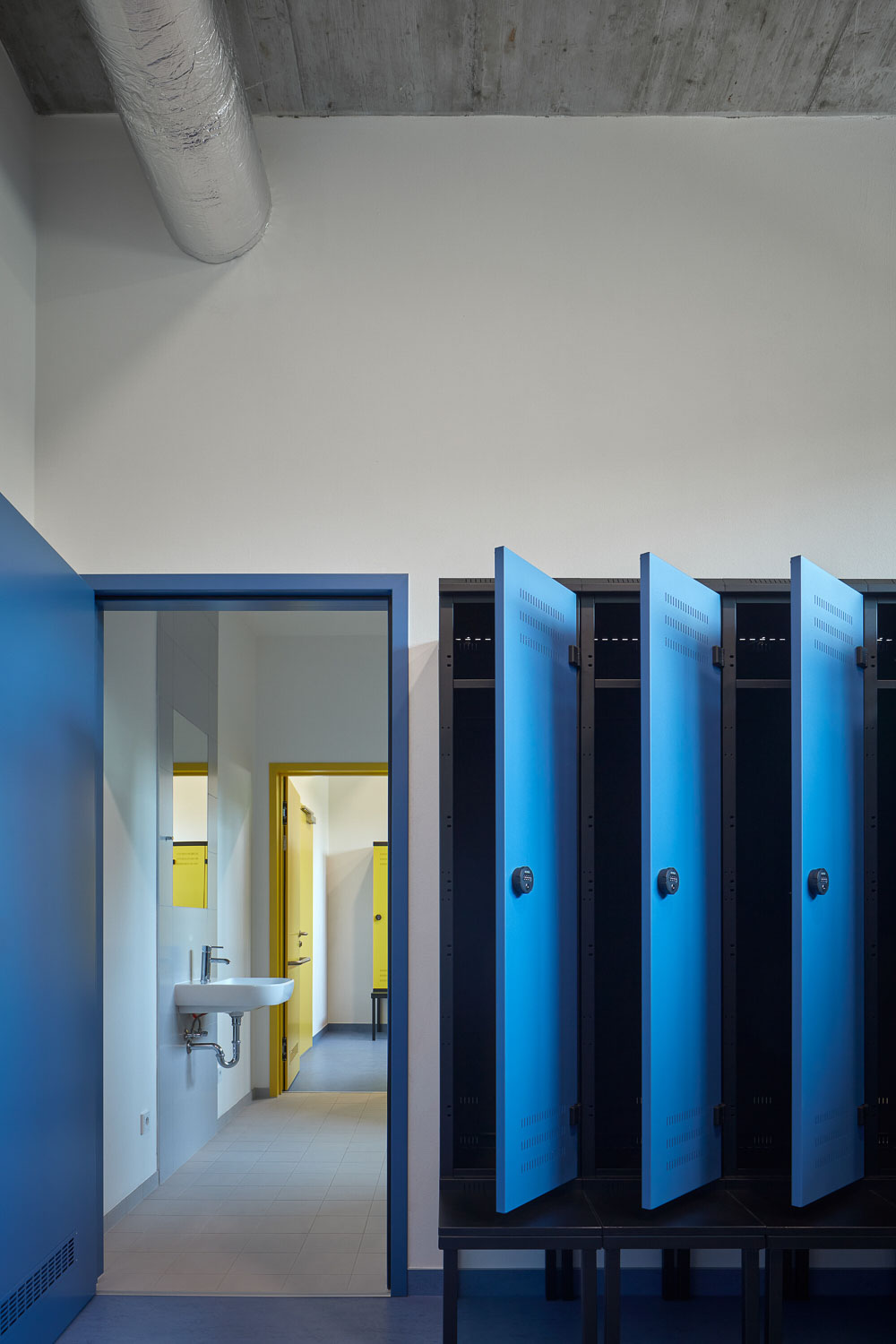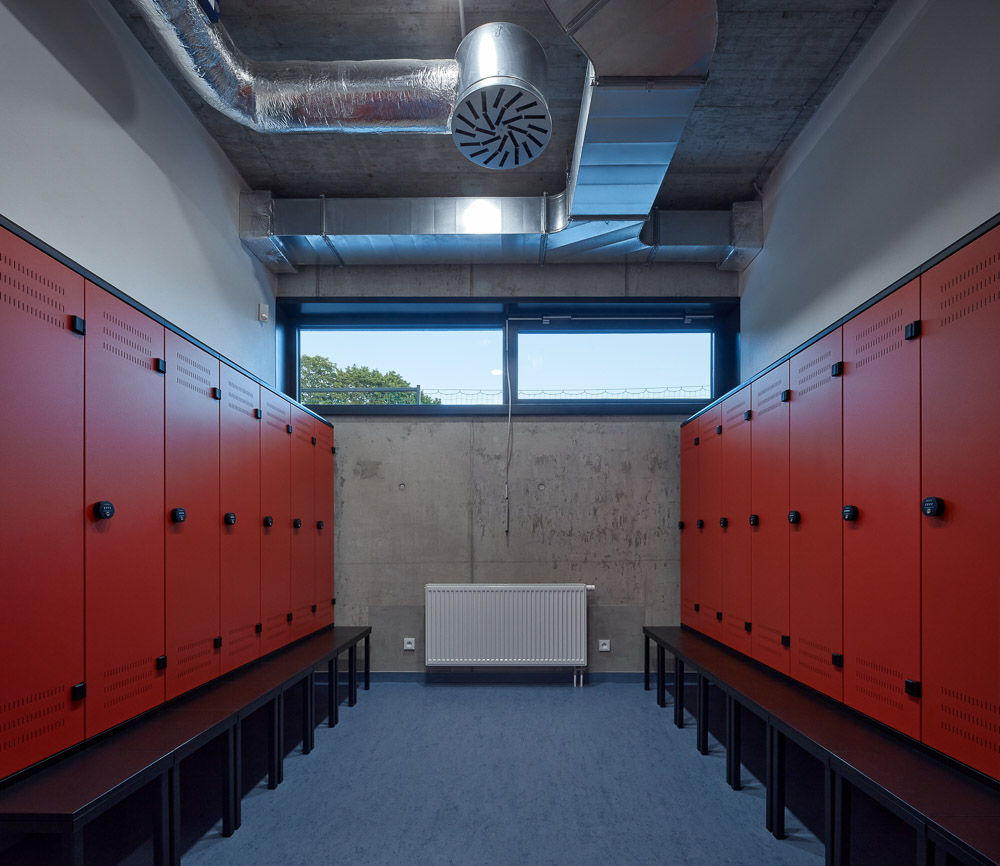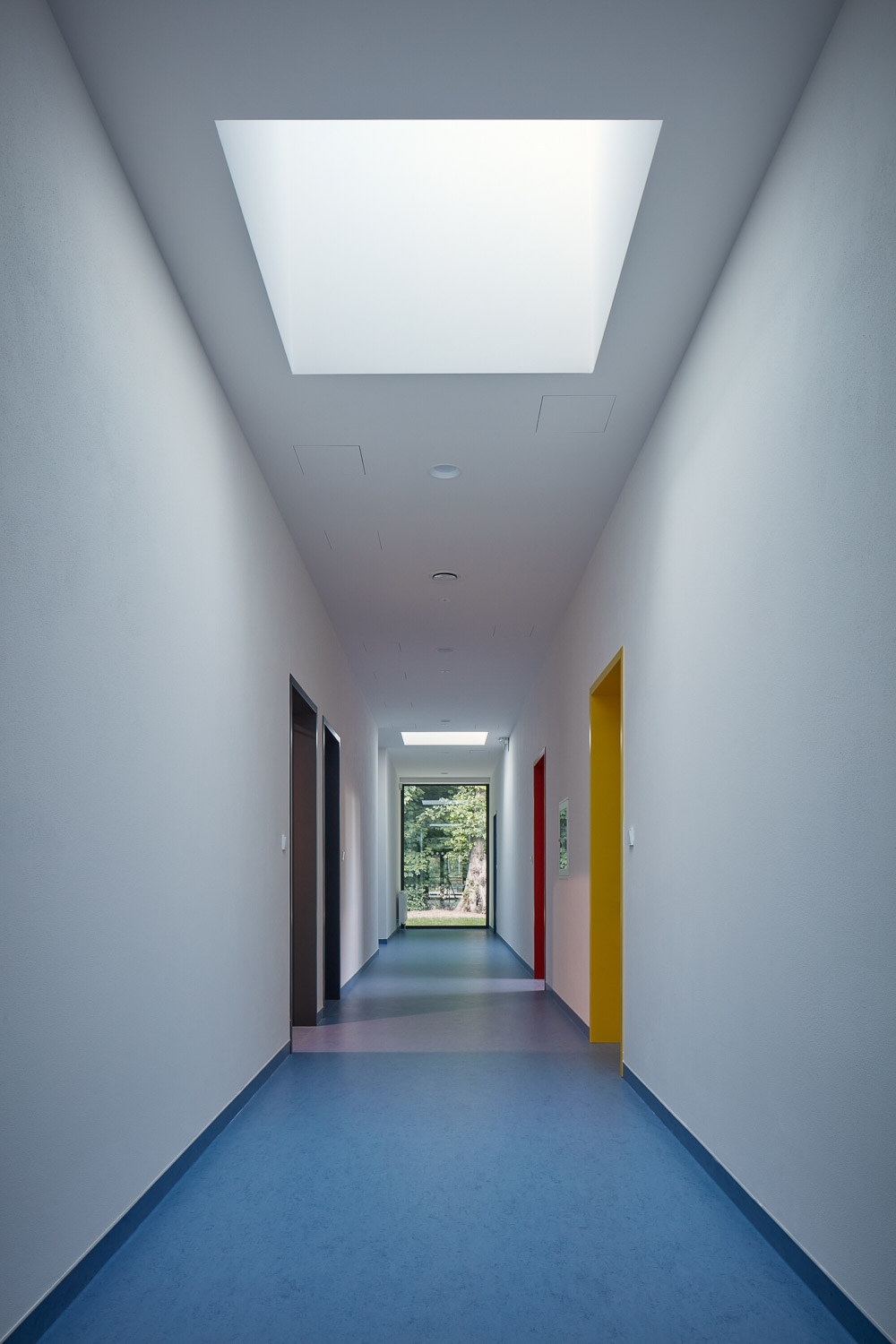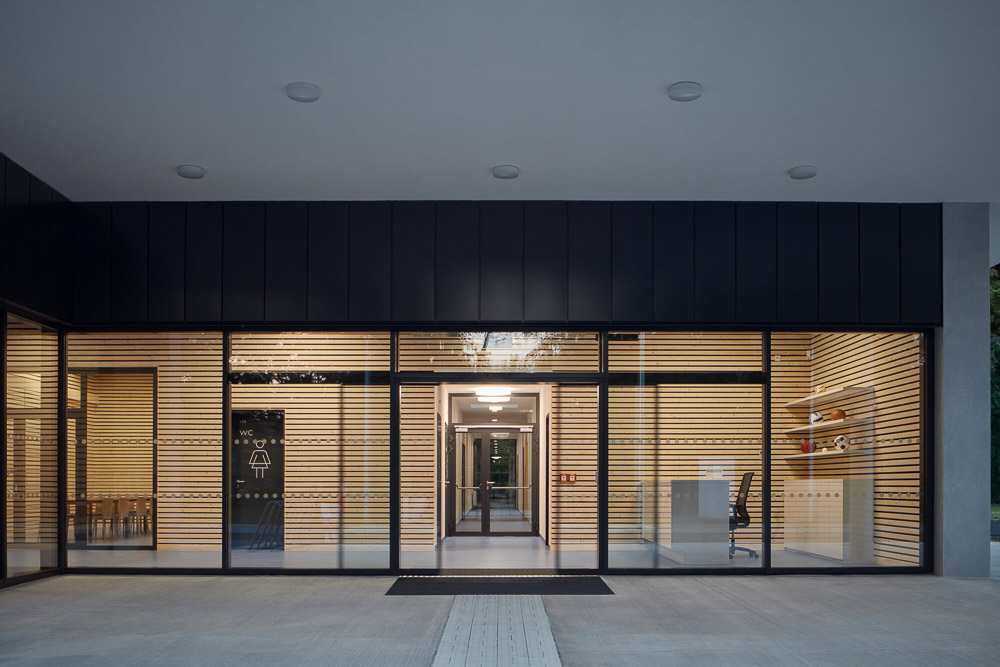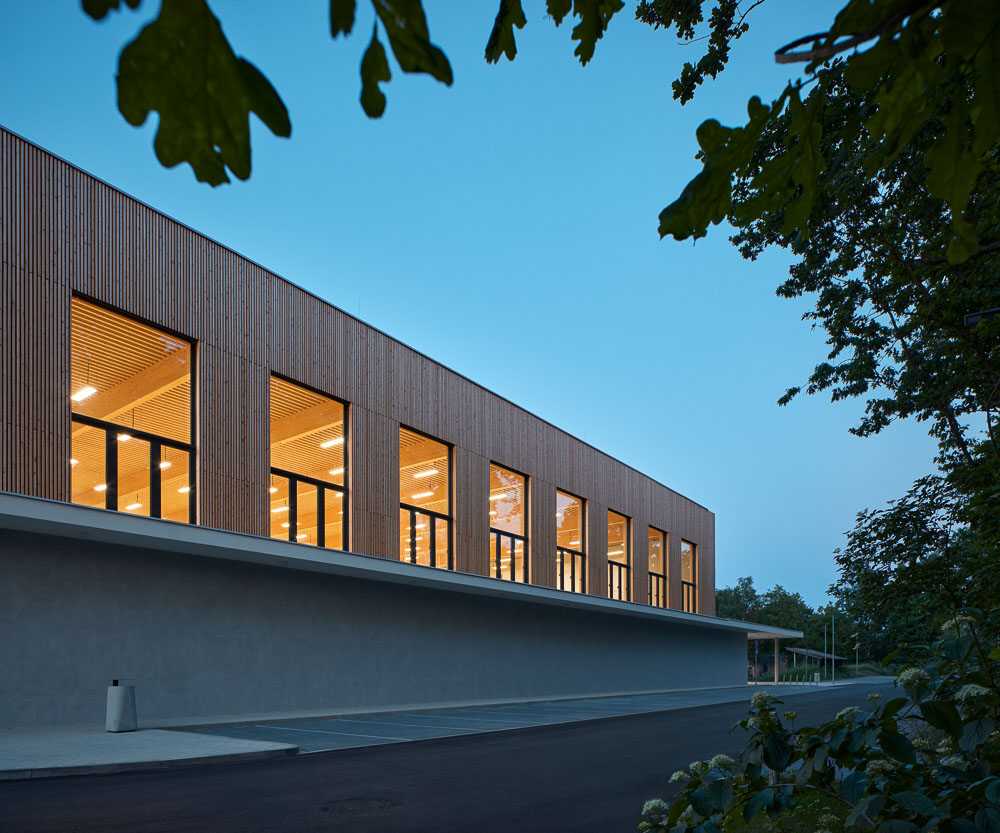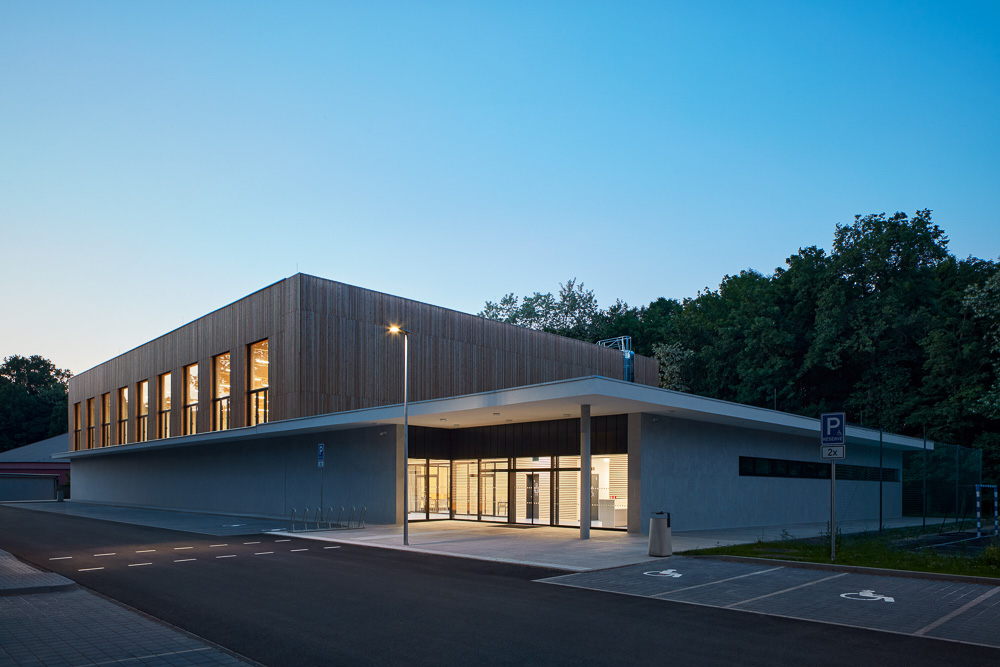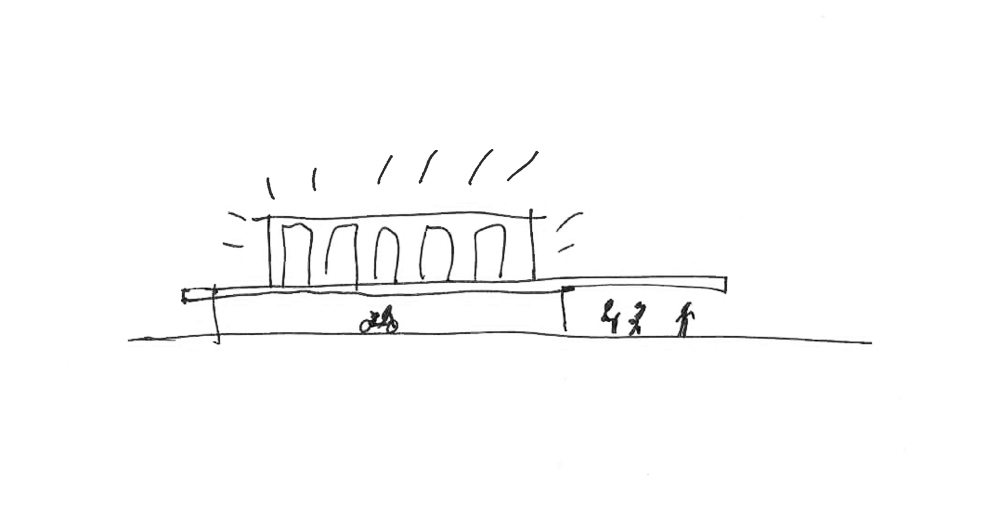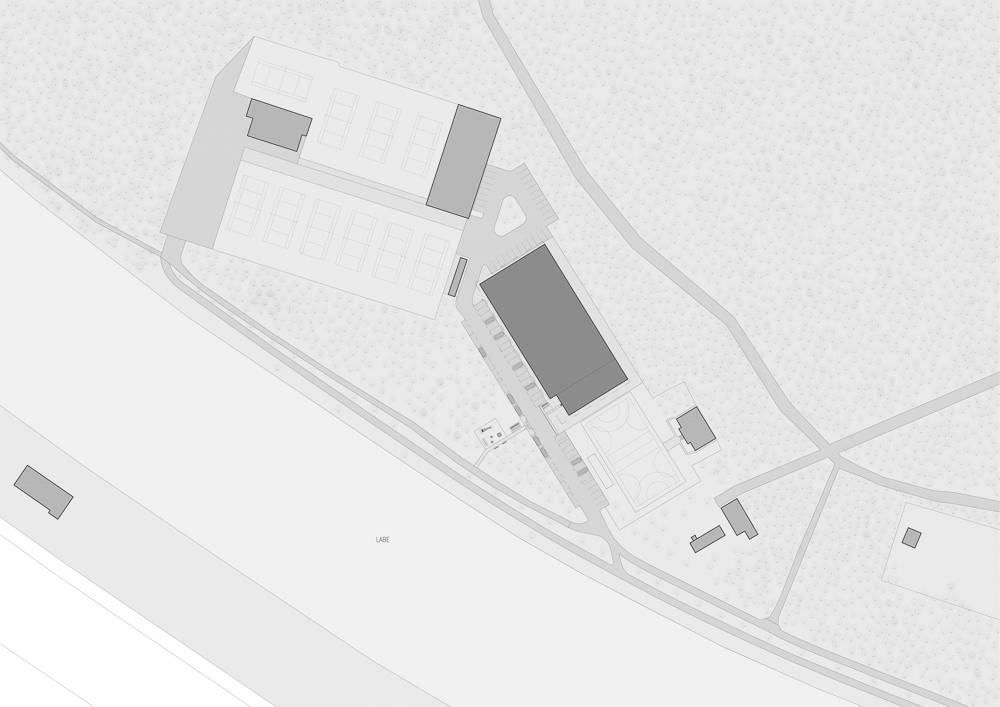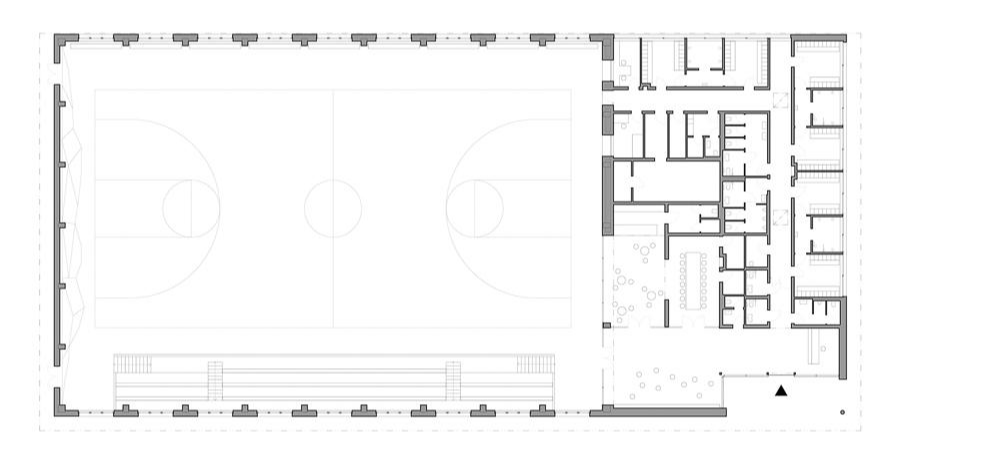 Architects OV-ARCHITECKTI
Location Prague, Czech Republic
Site area 7,635㎡
Building area 2,300㎡
Design period 2017 - 2019
Completion 2021
Principal architect Štěpán Valouch, Jiří Opočenský
Client Municipality of Kolín
Collaborator (General constructor) Strabag / (Graphics) Ryjukyju
Photographer BoysPlayNice
해당 프로젝트는 건축문화 2021년 12월호(Vol. 487)에 게재되었습니다.
The project was published in the December, 2021 recent projects of the magazine(Vol. 487).
---
마실와이드 | 등록번호 : 서울, 아03630 | 등록일자 : 2015년 03월 11일 | 마실와이드 | 발행ㆍ편집인 : 김명규 | 청소년보호책임자 : 최지희 | 발행소 : 서울시 마포구 월드컵로8길 45-8 1층 | 발행일자 : 매일