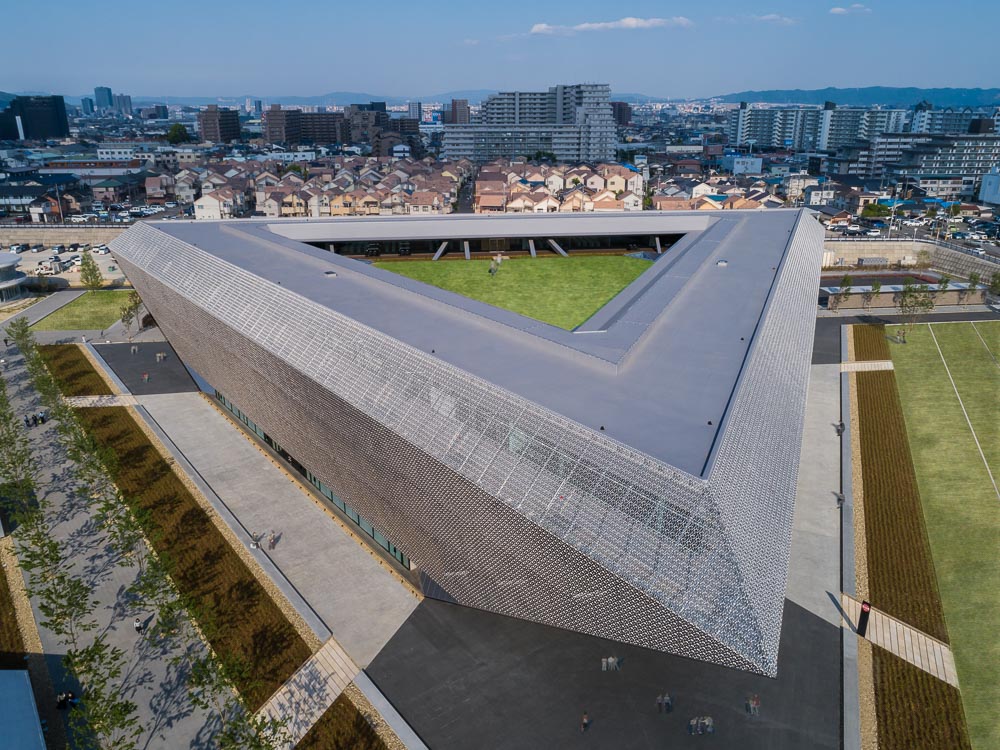 Located in the leafy city of Ibaraki in northern Osaka Prefecture, this project forms the core of the Ibaraki Smart Community, which occupies the 185,000㎡ site of a former Toshiba factory. The 40,000㎡ facility will serve as a new campus for about 3,600 students at Otemon Gakuin University, or about half the student population.
In order to attract people and concentrate activity in one area, we layered functions inside a single building. The aim was to create a complex that welcomes diverse individuals, stimulates interest, invites exploration, and provides a place to spend time. We selected a triangular footprint as the most efficient shape for centralizing the excitement and energy of academic activity in a single space, and angled each corner of the building steeply inward to create inviting "gates" to enter through.
Inside this Academic-Ark, as we named the building, visitors are greeted by a massive, floating silver volume in the main hall. The volume contains a library packed with those treasures of the learning space, books. A "book trail" encircles this centripetal space, flanked by six large classrooms on both the second and third floors and twenty-one small classrooms on the fourth and fifth floors. A large void between the library and the book trail allows for visibility between floors, making apparent the energy created by a learning site where individuals both see and are seen by each other.
Environmentally sustainable design elements include a cast stainless steel screen façade featuring a motif of cherry blossoms, the university flower, which both expresses the school's identity and reduces the environmental load by sixty percent in summer. The rooftop garden on the fifth floor and the triangular corridor-like terrace covered by large eaves that encircles the garden reduce heat entering the building from the roof as well as provide a place for students to enjoy the gentle breezes as they relax or study.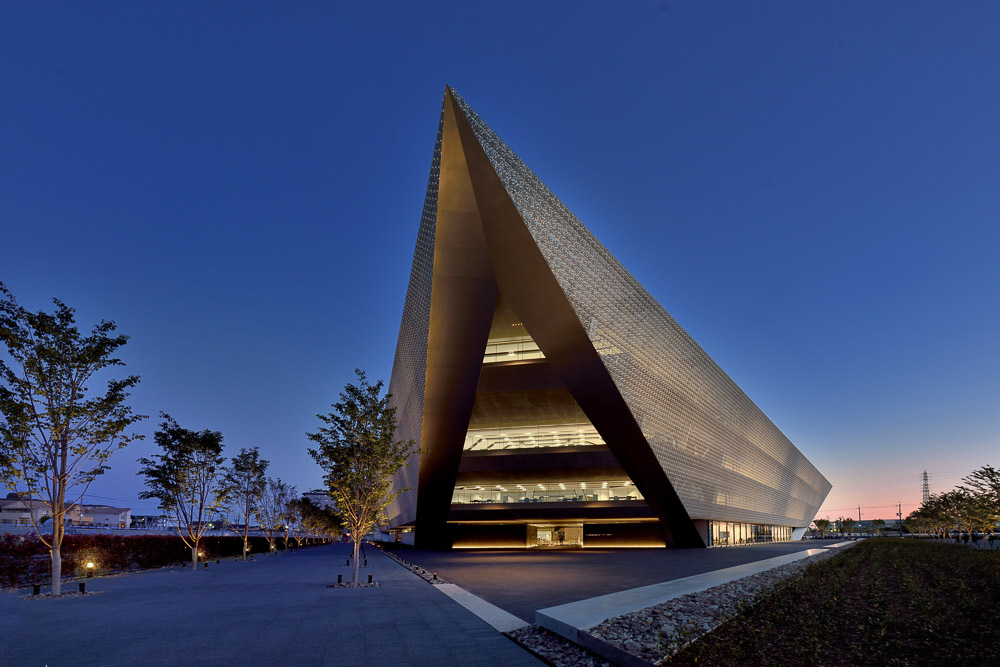 지식을 담는 삼각형의 방주, 아카데미-아크 오테몬가쿠인 대학교

이 건물은 기존 도시바 공장 부지 속 이바라키 스마트 공동체의 중심에 있다. 이 시설은 약 3,600여 명의 오테몬가쿠인 대학교 학생들을 위한 새로운 캠퍼스로서의 역할을 한다.
사람들을 끌어들이고 다양한 활동들을 한 영역에 집중시키기 위해 미츠비시 지쇼 세케이는 단일 건물에 각 기능들을 모았다. 건축가의 목표는 다양한 사람들 개개인을 환영하고, 흥미를 자극하며, 탐험하고 시간을 보낼 수 있는 공간을 제공하는 복합단지를 만다는 것이었다. 디자인팀은 삼각형 형상을 학문적 활동과 에너지를 집중시키기 가장 효율적인 형태라고 생각했다. 그리고 출입을 위한 환대 공간을 위해 건물의 각 모서리를 안쪽으로 가파르게 깍아냈다.
아카데미 아크(Academic-Ark)로 들어서면 방문자는 메인 홀에 떠있는 거대한 은색 볼륨을 맞이한다. 이 공간은 학습과 책이라는 보물들로 채워진 도서관을 포함한다. "책의 길"은 이 중심 공간을 둘러싸며, 측면에는 2층과 3층에 6개의 큰 강의실, 4층과 5층에 21개의 작은 강의실이 위치해 있다. 도서관과 책의 길 사이 거대한 보이드 공간은 각 층간에 열린 시야를 제공한다.
교화인 벚꽃을 모티프로 하는 스테인리스 스틸 스크린 파사드는 지속 가능한 디자인 요소로써, 학교의 정체성을 표현하고 여름에는 환경 부담을 60%까지 줄여준다. 5층의 옥상정원과 정원을 둘러싼 거대한 지붕으로 가려진 삼각형의 복도형 테라스는 지붕으로부터 전해지는 열을 감소시키며 학생들이 쉬거나 공부하면서 부드러운 바람을 즐길 수 있는 공간을 제공한다.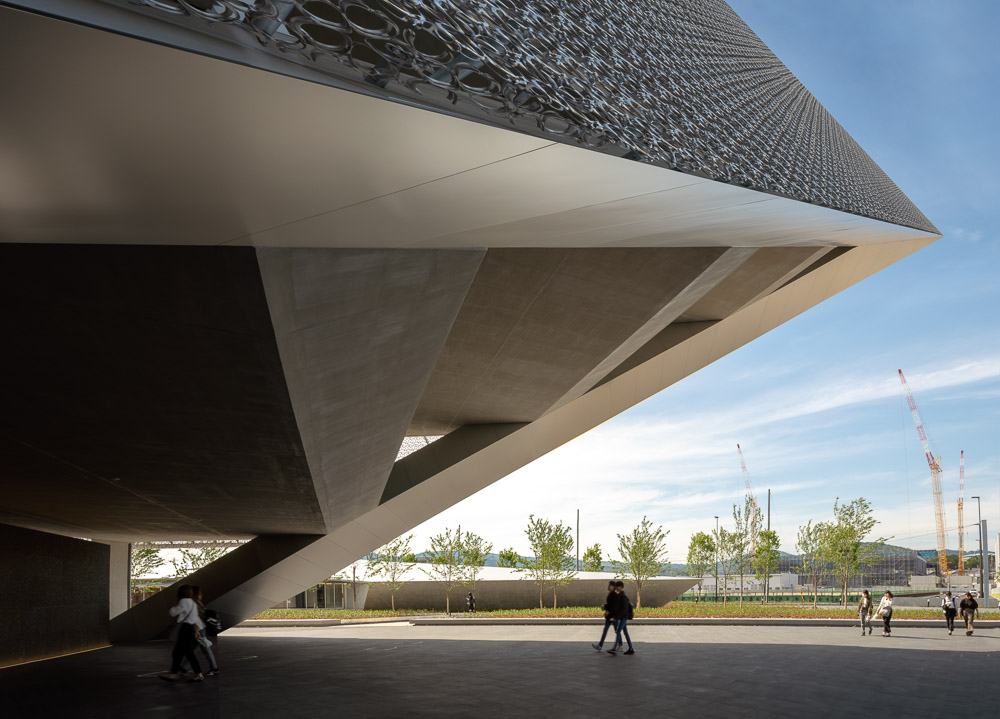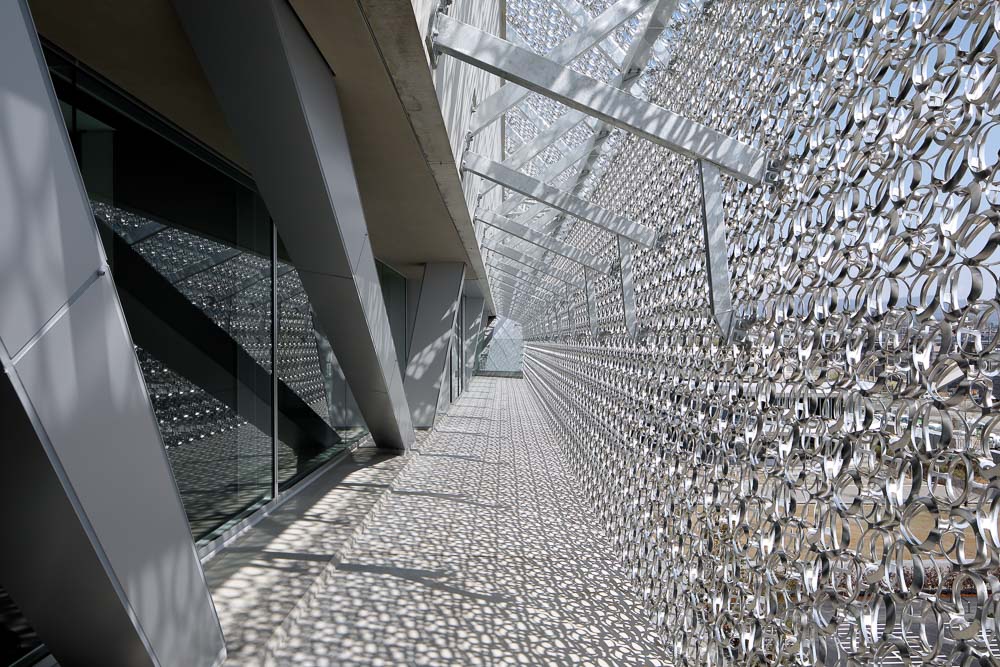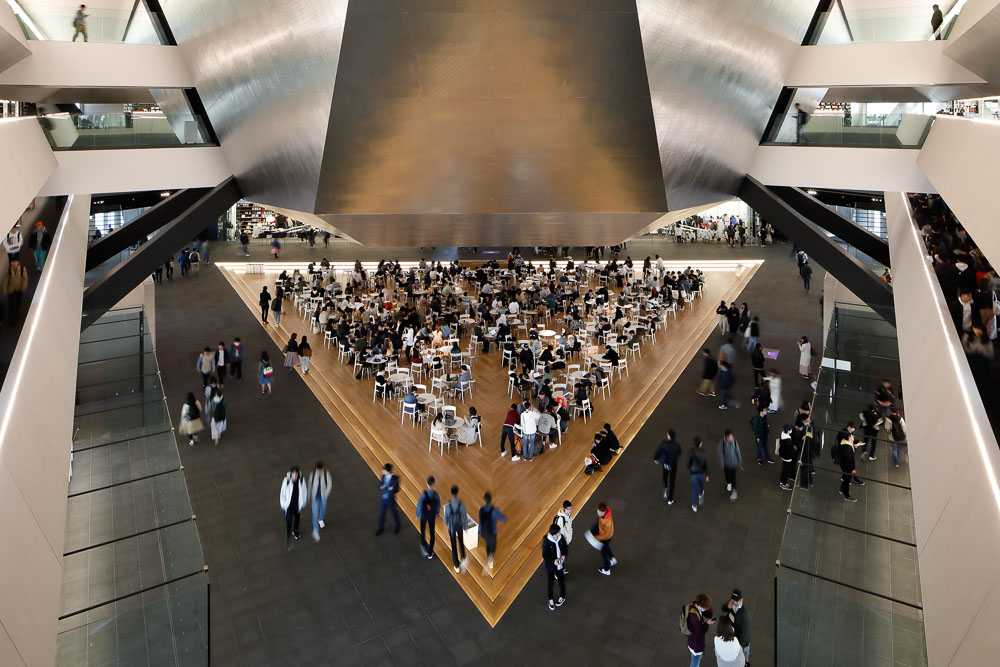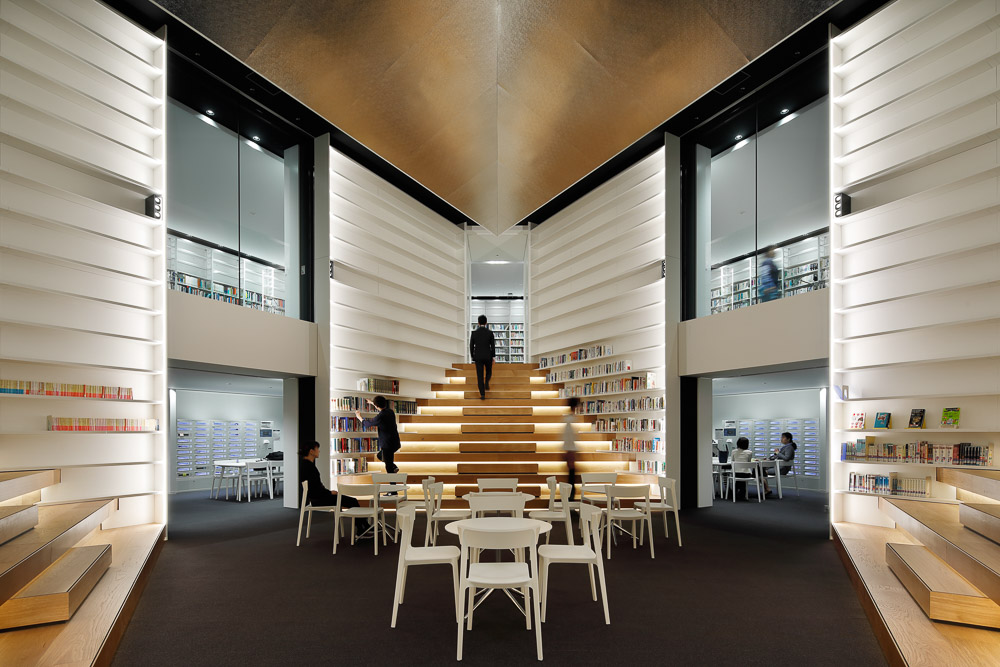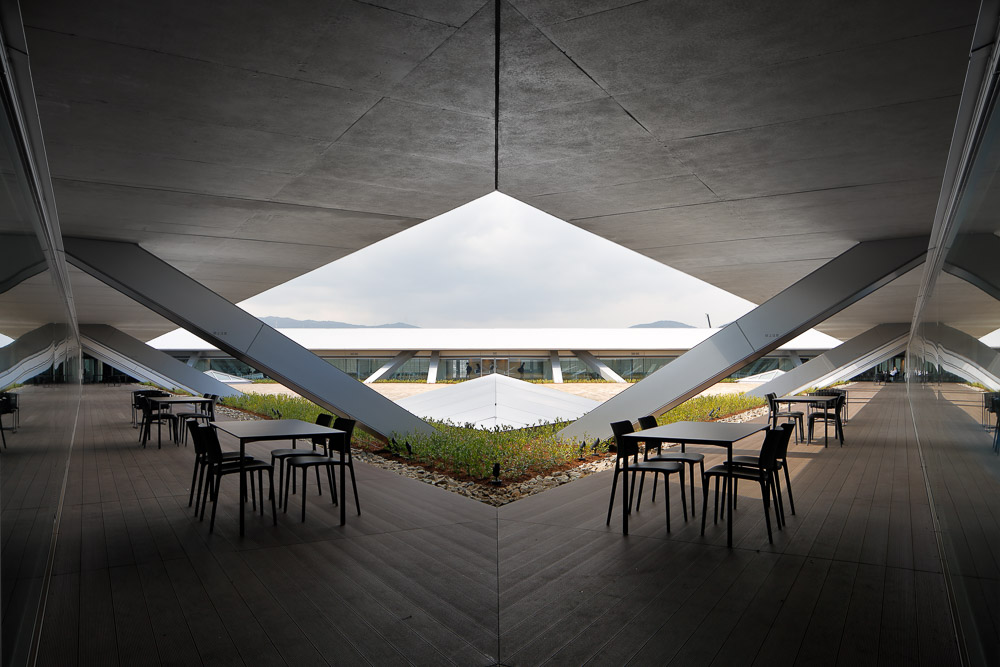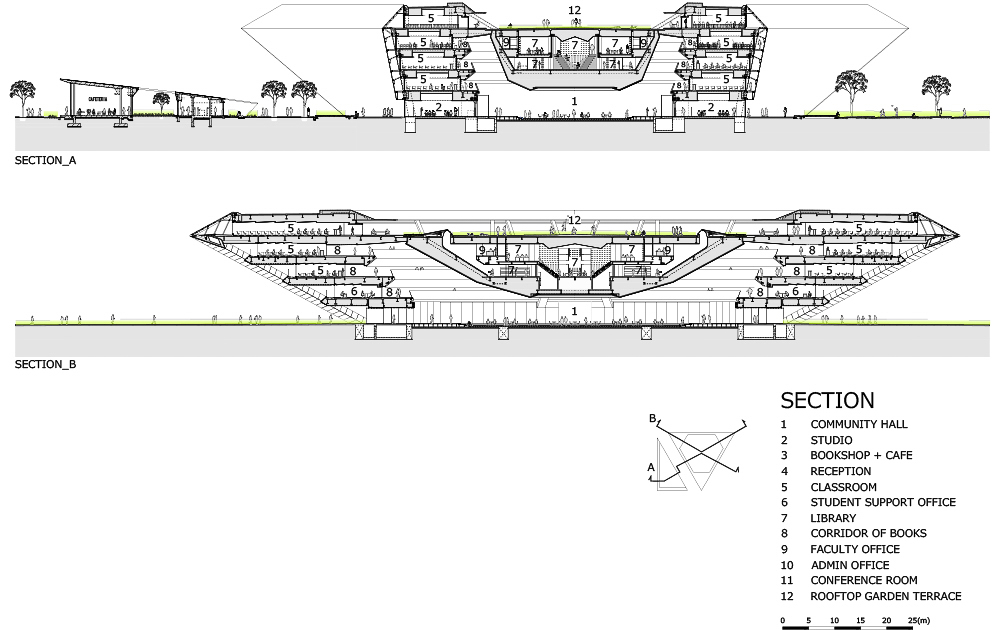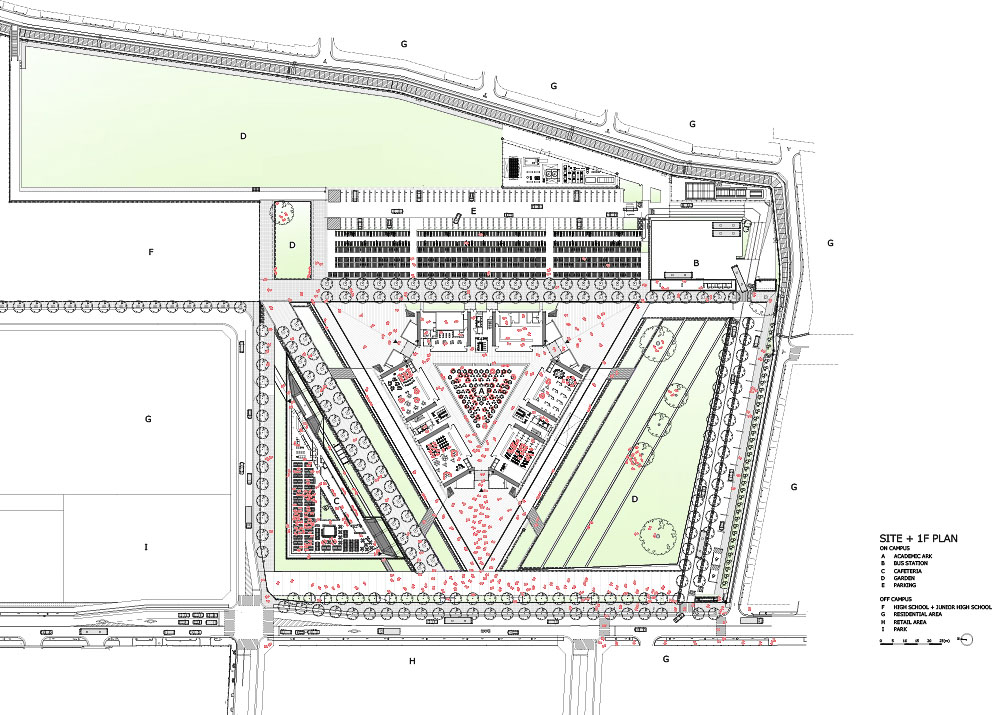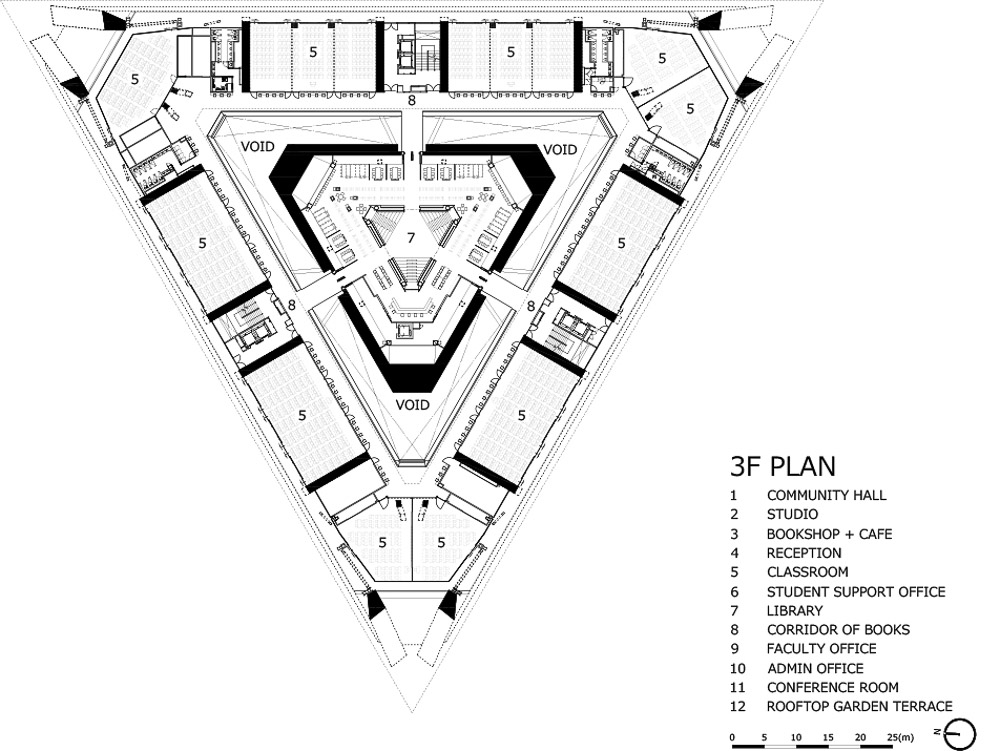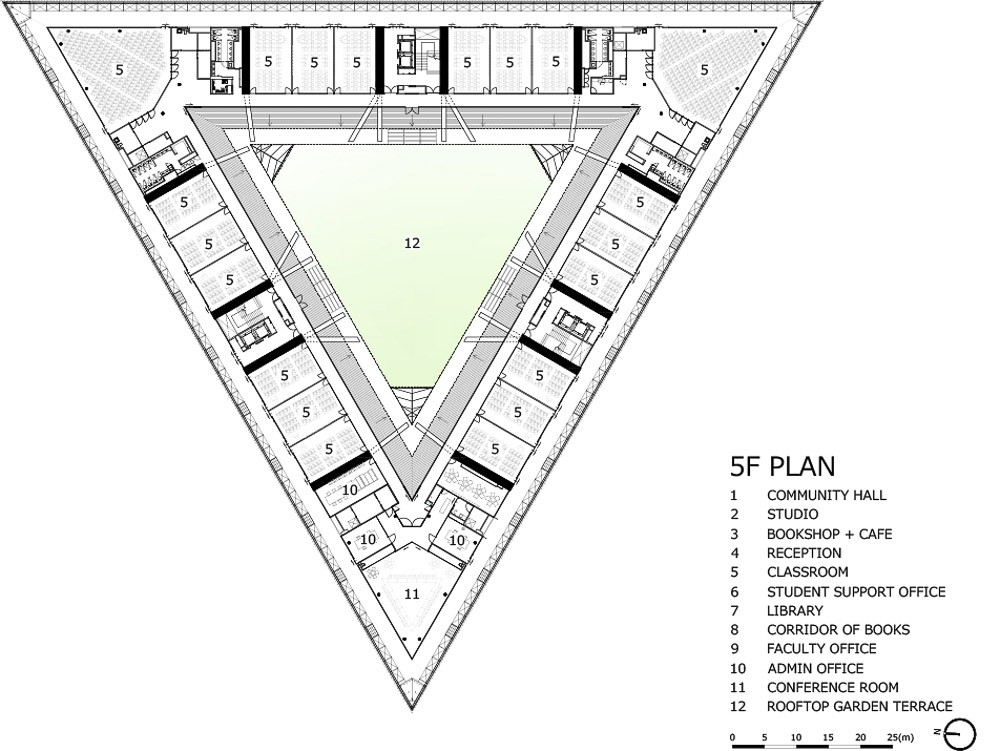 Architect Mitsubishi Jisho Sekkei Inc.
Location Osaka, Japan
Program Education
Site area 64,415.05㎡
Building area 6,752.94㎡
Gross floor area 20,409.53㎡
Building scope 5F
Building to land ratio 19.89%(Including other facilities)
Floor area ratio 52.73%(Including other facilities)
Design period 2016. 11 - 2017. 5
Construction period 2017. 9 - 2019. 3
Principal architect Yasuhiro Sube
Project architect Keisuke Aneha
Design team Mitsubishi Jisho Sekkei. Inc Structural engineer Kenji Nagayama
Mechanical engineer Yuka Muto
Electrical engineer Satoko Uda
Construction Takenaka Corporation
Client Otemon Gakuin
Photographer Shinkenchiku-sha, Hisao Suzuki, Naoomi Kurozumi, Masao Nishikawa


해당 프로젝트는 건축문화 2021년 9월호(Vol. 484)에 게재되었습니다.
The project was published in the September, 2021 issue of the magazine(Vol. 484).
---
마실와이드 | 등록번호 : 서울, 아03630 | 등록일자 : 2015년 03월 11일 | 마실와이드 | 발행ㆍ편집인 : 김명규 | 청소년보호책임자 : 최지희 | 발행소 : 서울시 마포구 월드컵로8길 45-8 1층 | 발행일자 : 매일