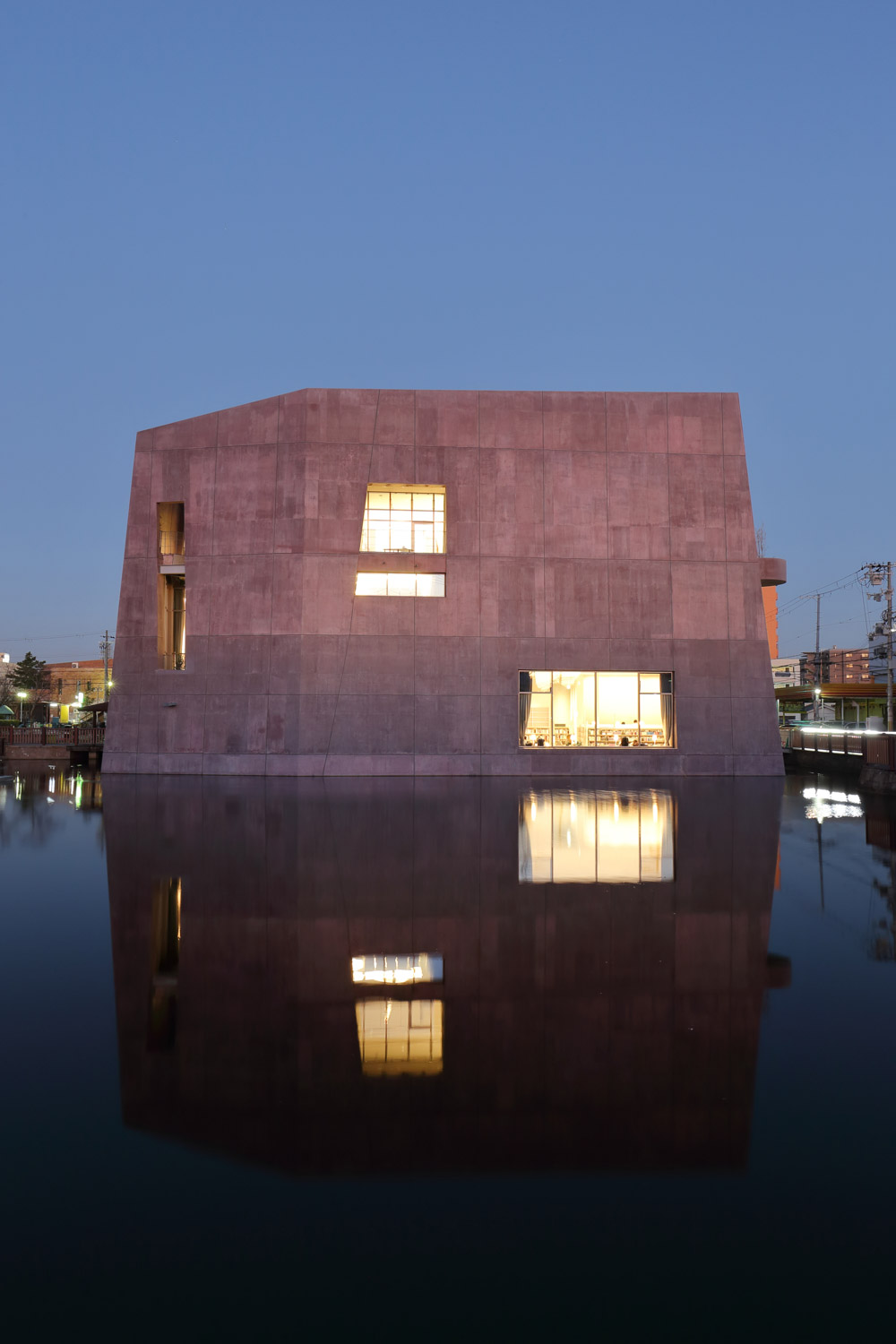 This project in Matsubara, Osaka Prefecture replaced an existing library on the same site. The original building was located adjacent to a reservoir pond in a park where many of the city's cultural facilities are concentrated, and the client intended to fill in the pond to build the new structure. Firms were asked to submit proposals addressing both design and construction. Our winning proposal viewed the pond-side site as a unique project condition, and instead of filling it in, suggested building the library directly out into the water. The proposal received high marks for both its creativity and its streamlining of the construction process and budget.
When we visited Matsubara, we were struck by the reservoir ponds and ancient tombs dotted throughout the city. These man-made structures were on a much larger scale than the residential neighborhoods surrounding them, and over the course of many years had come to resemble natural landforms. They brought to mind civil engineering projects on a grander scale than architecture, reflecting our own project's unique conditions—that is, a library built in a pond.
This led us to envision a building with outer walls standing powerfully in the water, more similar to a civil engineering project than an architectural one. In order to protect the building from water, absorb horizontal force during earthquakes, and provide the needed insulation, we chose to construct these walls from 600mm reinforced concrete, three times thicker than what is normally used. We included only as many windows as were needed to provide the natural light and ventilation for a pleasant reading environment. The gradually staggered floors reveal glimpses of the adjacent floors, resulting in a unified space. The spiraling circulation route gives rise to rich sensorial experiences as patrons move multidimensionally through the book-filled space and also pulls air through the building. The building's concrete surface bears varied patterns from the rough plywood formwork used to construct it, creating a texture that seamlessly absorbs the changes brought about by time. Within this building, a sense of the grand scale of time evoked by the massive outer walls coexists with a sense of everyday time evoked by the rippling water and passing pedestrians and bicyclists.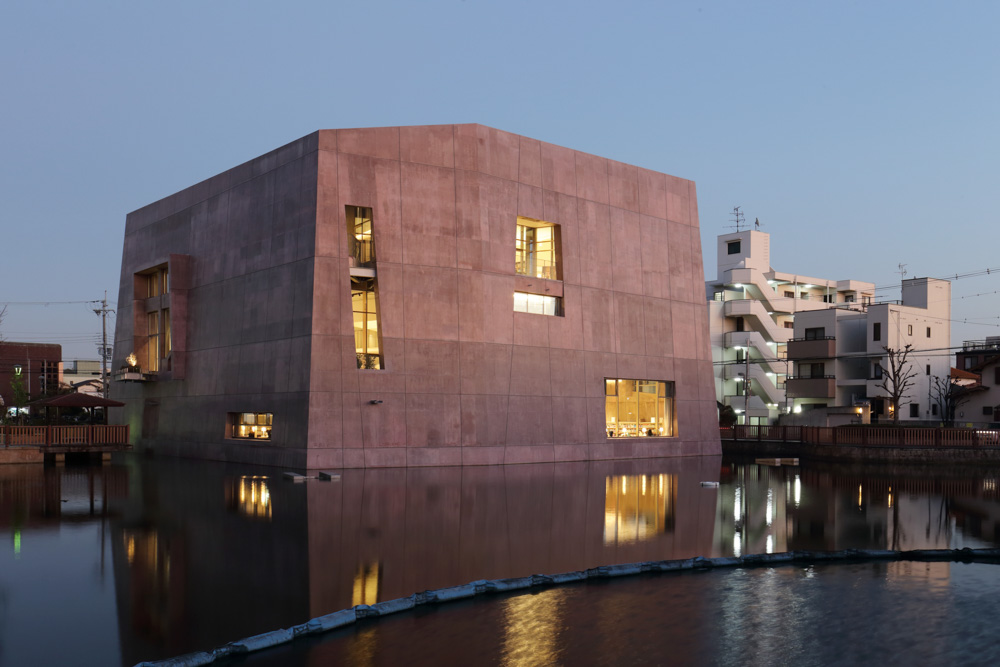 연못에 떠 있는 듯한 상상력의 공간, 마츠바라시립도서관
오사카현 마츠바라 지역의 시립도서관은 원래 대지에 있던 기존의 도서관을 대체하여 지어진 건축물이다. 기존의 건축물은 여러 문화적 시설들이 집중되어 있는 공원 안 작은 연못에 인접하여 있었는데, 마츠바라 시는 새로운 건축물을 지어 이 연못을 메우고자 공모를 개최했었다. 공모에서 당선된 마루. 아키텍처의 제안은 연못과 인접한 시립도서관의 대지를 독특한 시선으로 바라봤으며, 이 연못을 메우는 대신 도서관을 물속에 직접 짓는 것을 제안했다. 그 제안은 독창성과 건설 공정 및 비용 간소화의 측면에서 높은 점수를 받았다.
기존의 마츠바라는 연못과 점처럼 분포된 고대 무덤들에 의해 대지로 가는 길이 막혀 있었다. 이런 구조물들은 인근 주거 시설보다 훨씬 더 큰 규모여서, 세월이 지남에 따라 자연적인 지형을 닮아가고 있었다. 마츠바라시립도서관은 이러한 독특한 지형적 지역적 조건들이 반영됐고, 연못 위 건축물을 짓기 위하여 고차원의 토목공학적 구상이 동반되었다. 마치 토목 프로젝트가 진행되는 것 같았던 이 도서관은 물속에서 튼튼하게 서 있을 수 있는 외벽을 가져야 했다. 물로부터 구조체를 보호할 수 있어야 했으며, 지진 발생 시에는 수평력을 흡수하는 장치도 필요했다. 먼저, 건축물은 단열성능을 보장하기 위하여 일반적으로 사용되는 것보다 3배 더 두꺼운 600mm 두께의 철근콘크리트 벽들로 건설됐다. 그리고 쾌적한 독서 환경 조성을 위한 자연광과 통풍이 잘 일어날 수 있는 창문을 필요한 만큼 설치했다. 점차 출렁이는 바닥들은 인접한 바닥을 살짝 드러내며 통합된 공간을 만든다. 상승하는 순환로는 이용객들이 책으로 가득 차있는 공간을 통과하여 다차원적으로 이동하며, 고조되고 풍부한 감각적 경험을 할 수 있게 한다. 도서관 외벽의 콘크리트 표면은 건설을 위해 사용된 합판 거푸집 공사로 거칠고 다양한 패턴들을 지니면서 시간에 따른 변화를 균일하게 흡수하는 질감을 만들어낸다. 마츠바라의 새로운 시립도서관은 잔물결이 이는 곳에서 물과 보행자, 자전거 타는 사람들이 함께 만들어가는 일상의 감각들을 공유하는 곳이자, 거대한 외벽에 의해 느껴지는 시간에 대한 감각을 환유하는 시간을 가질 수 있는 공공도서관이다.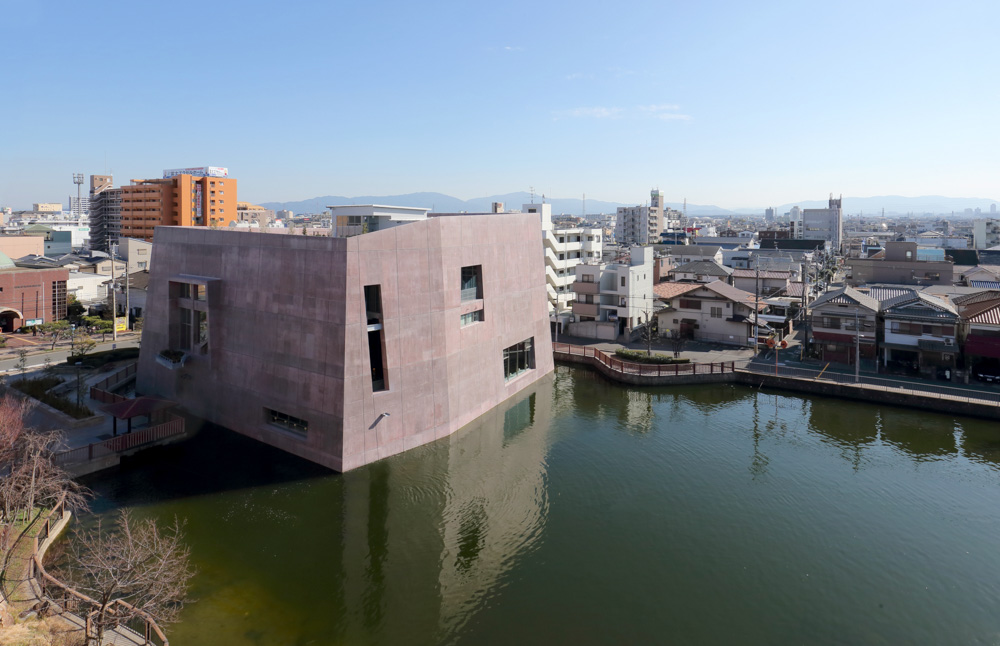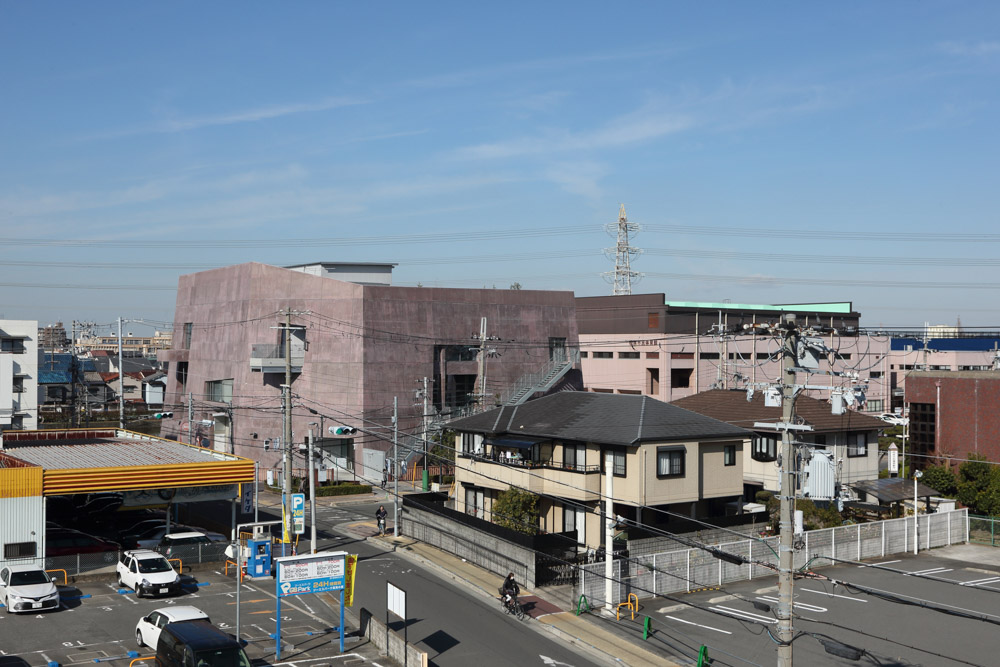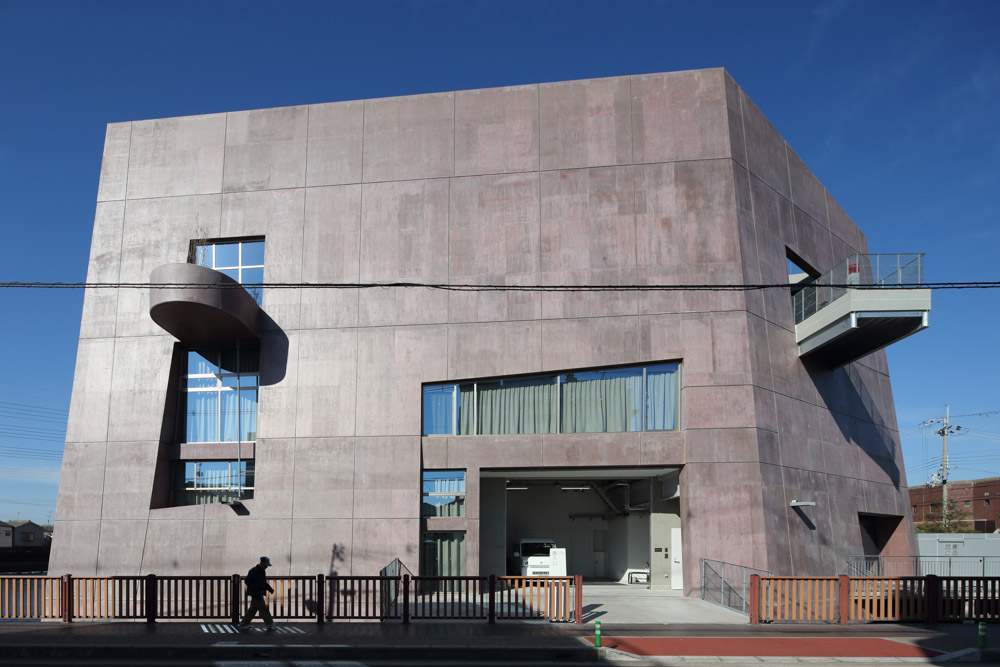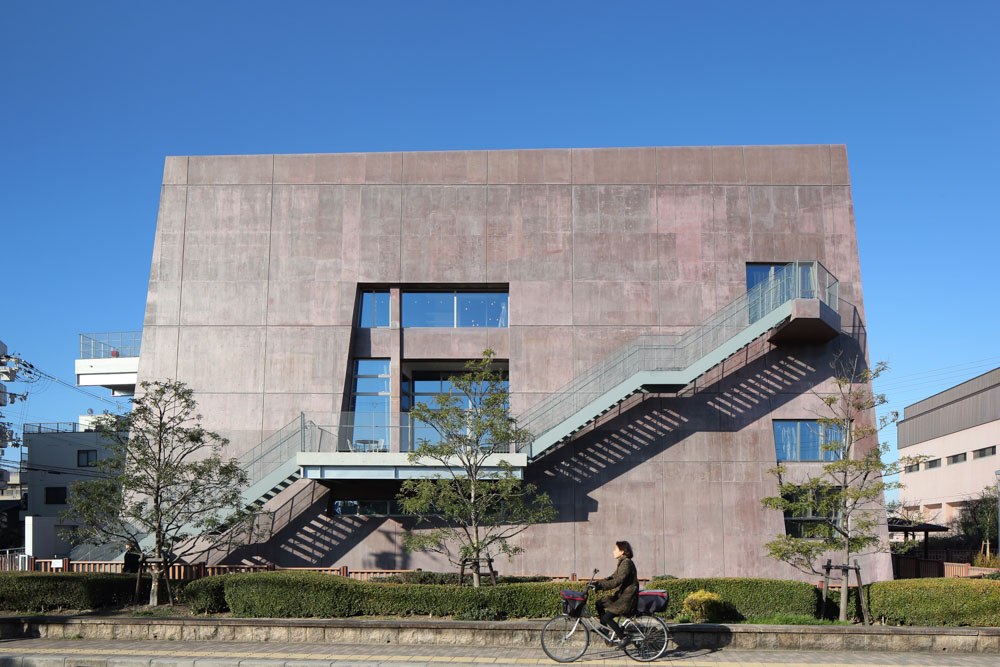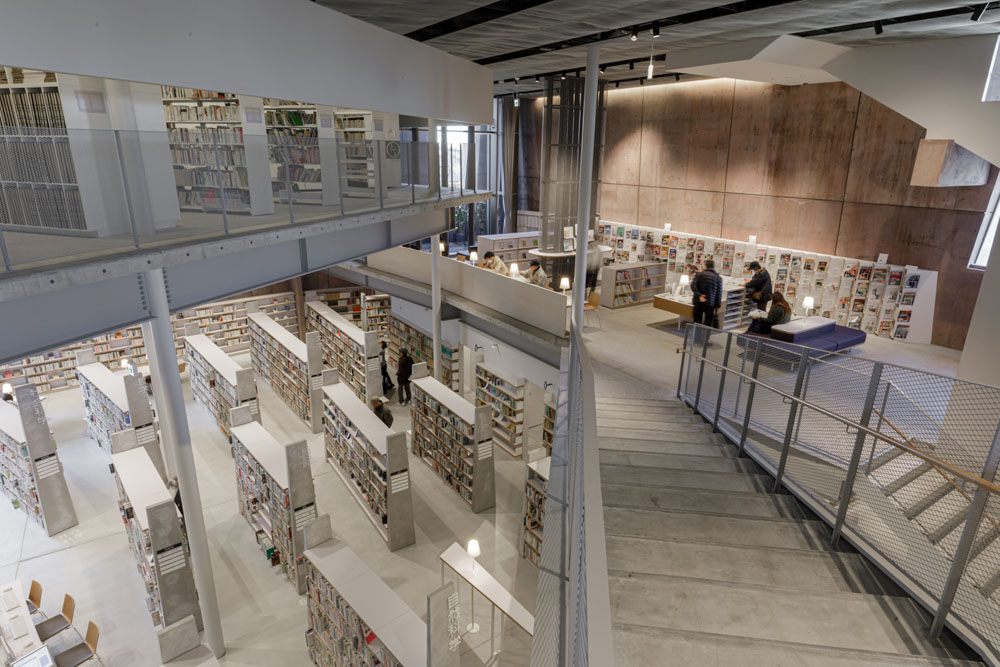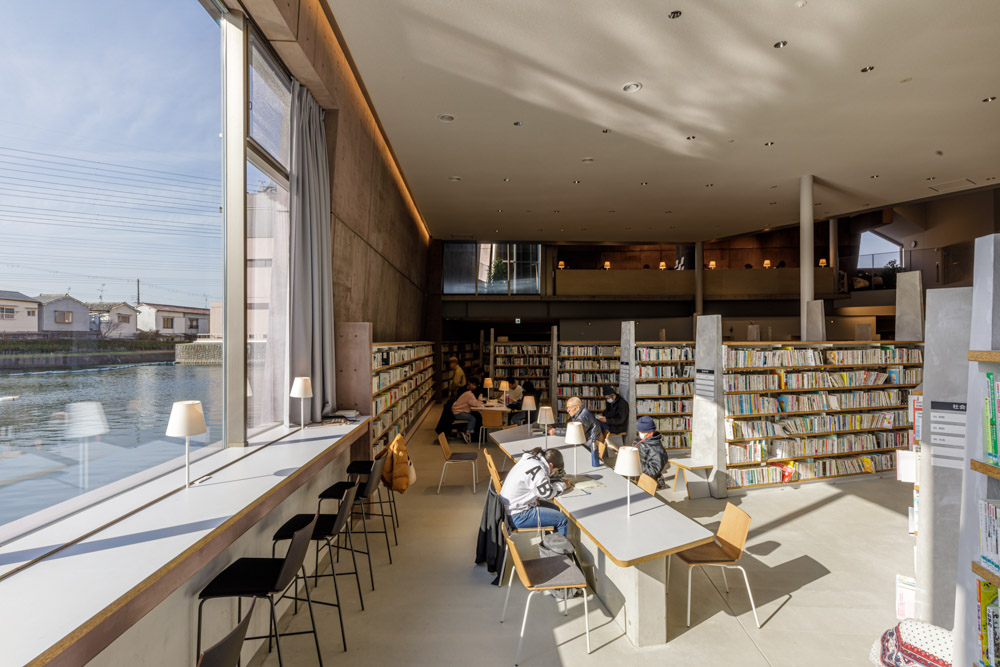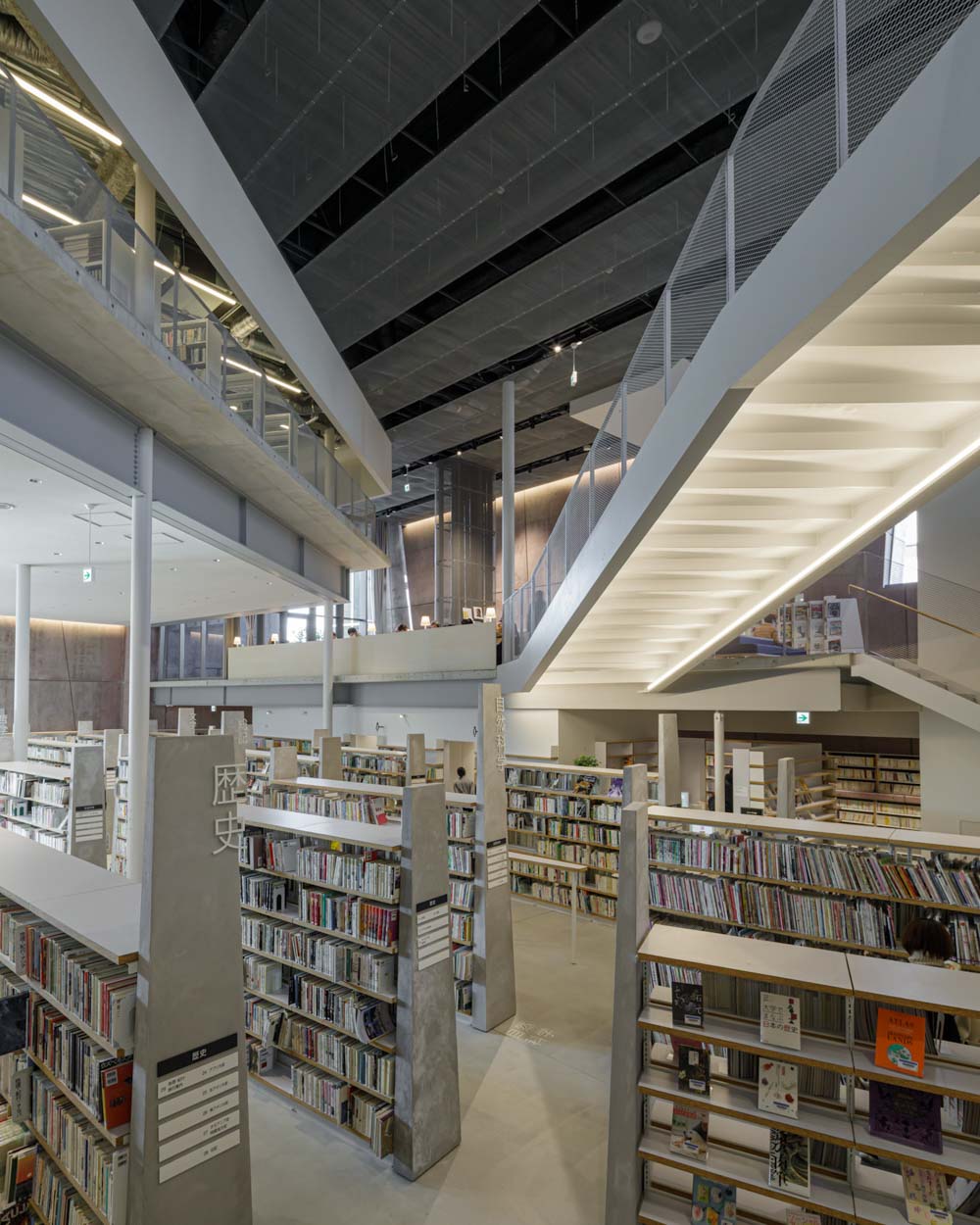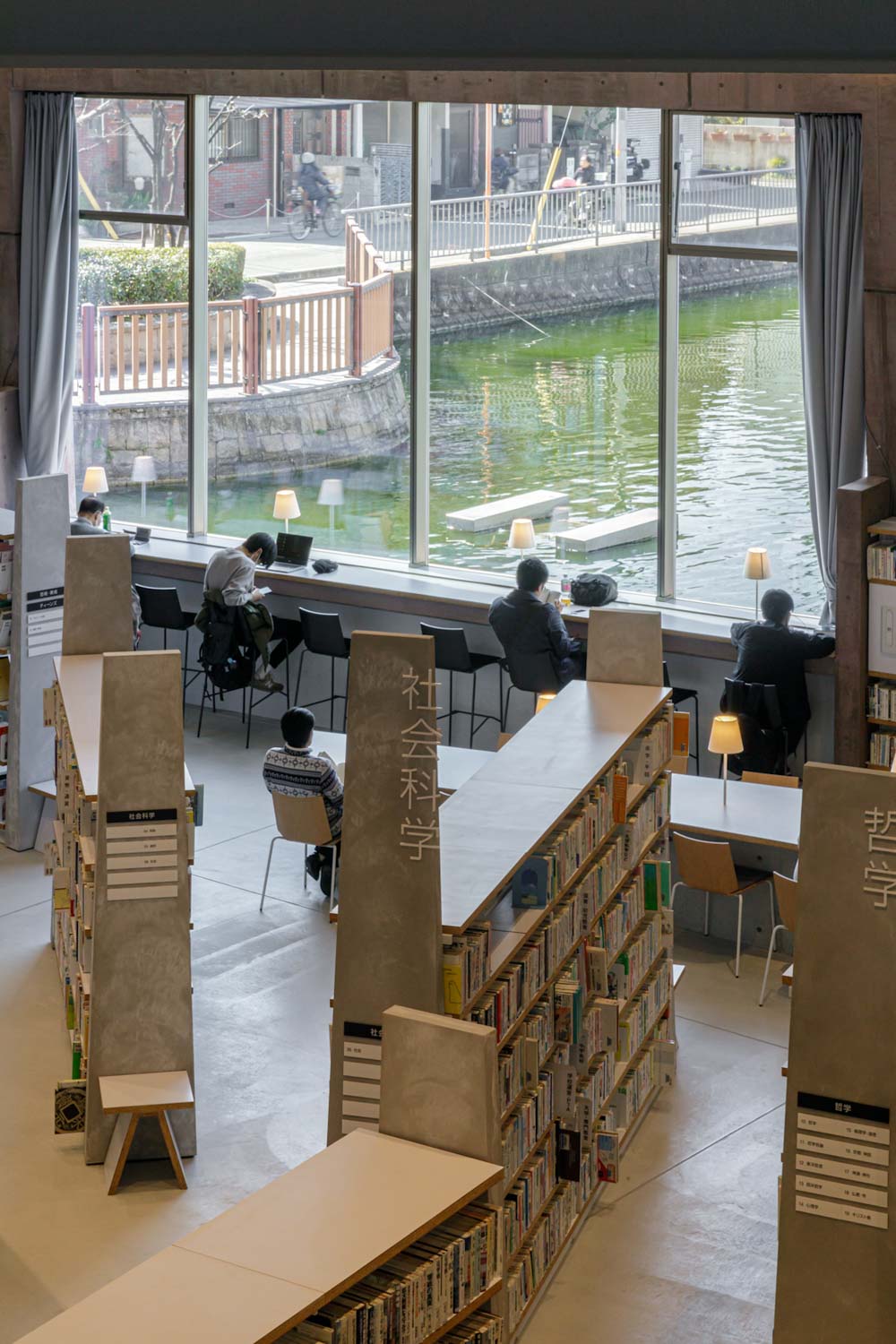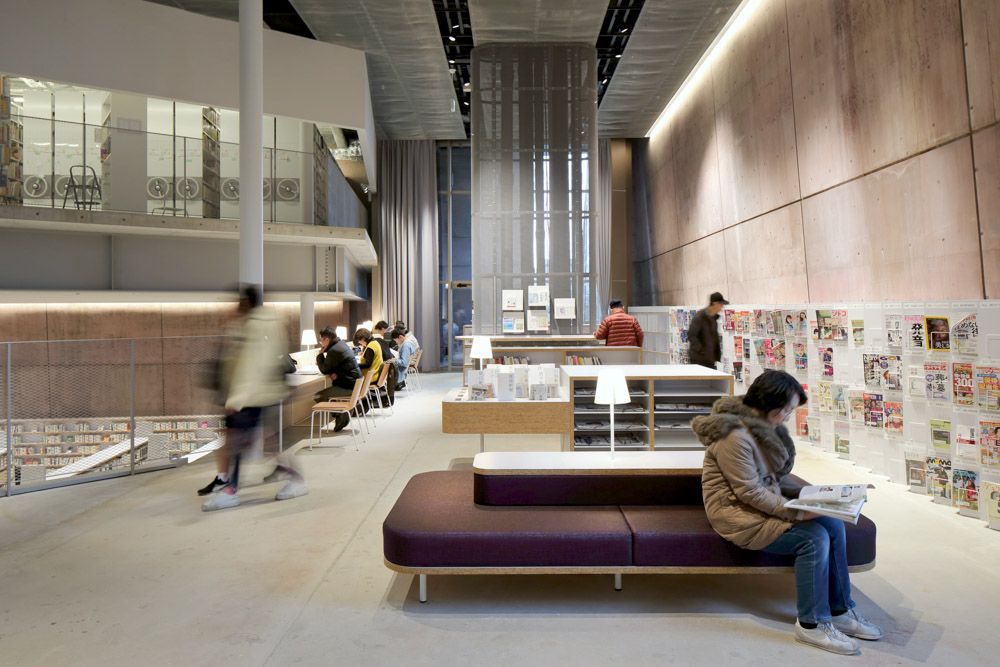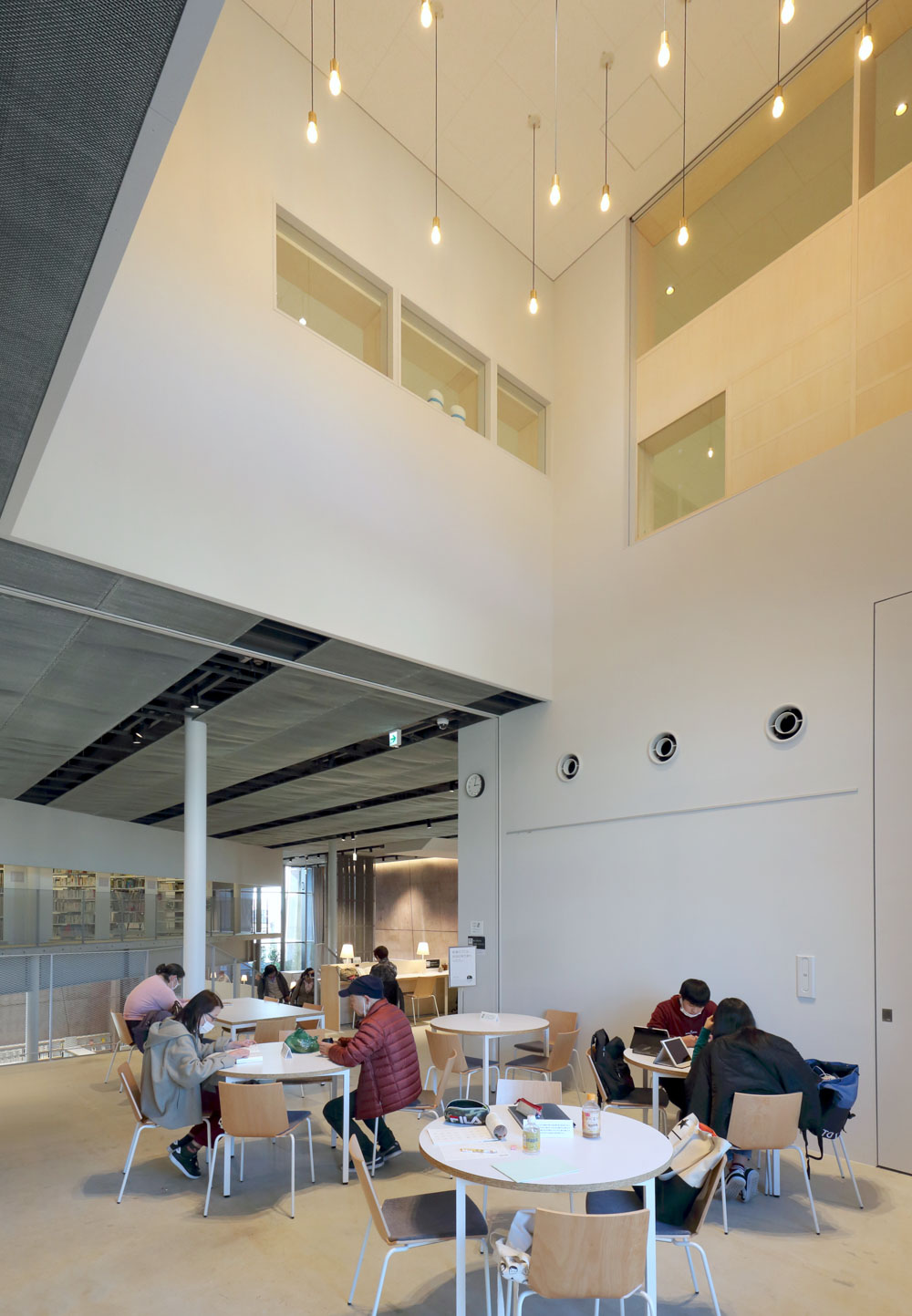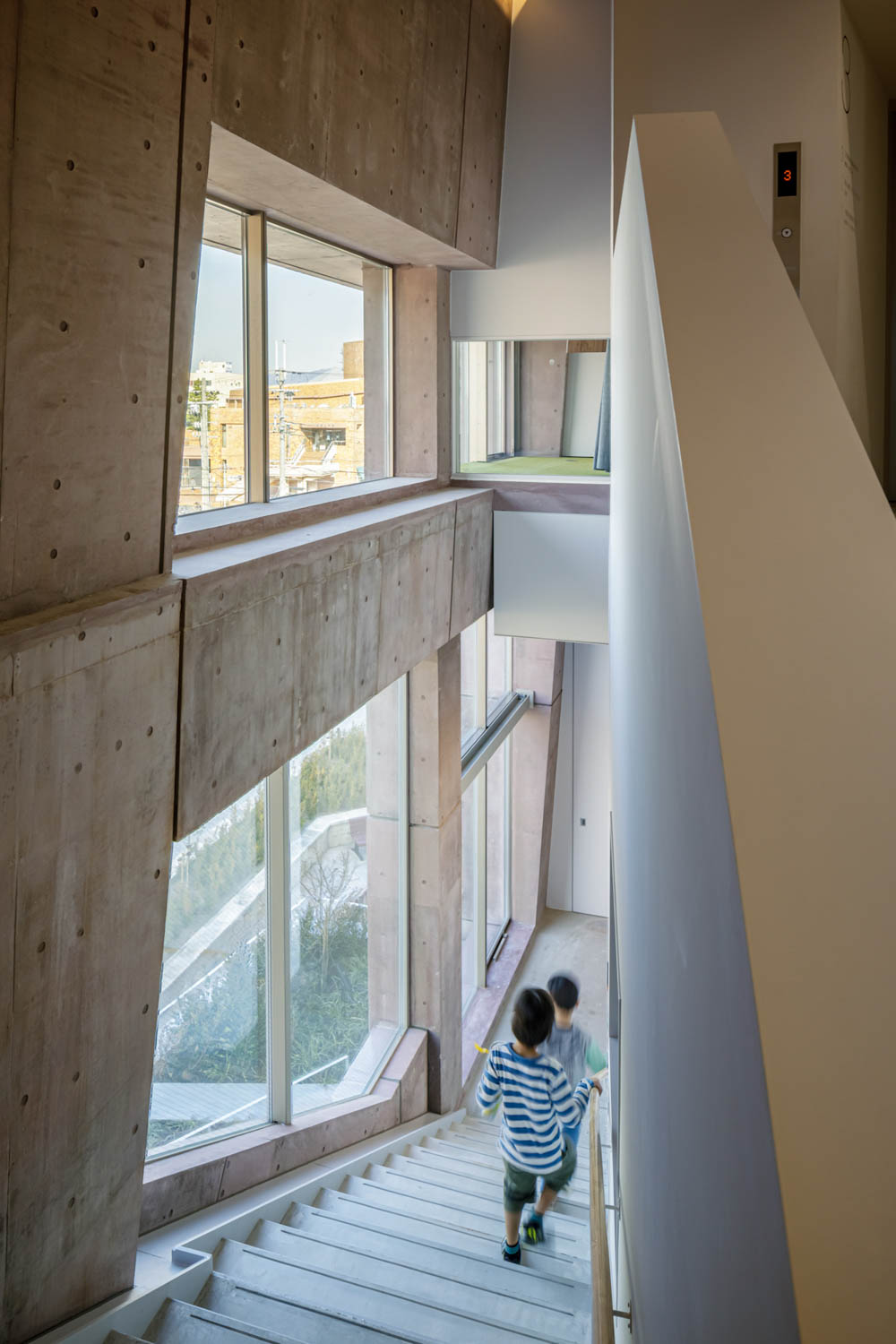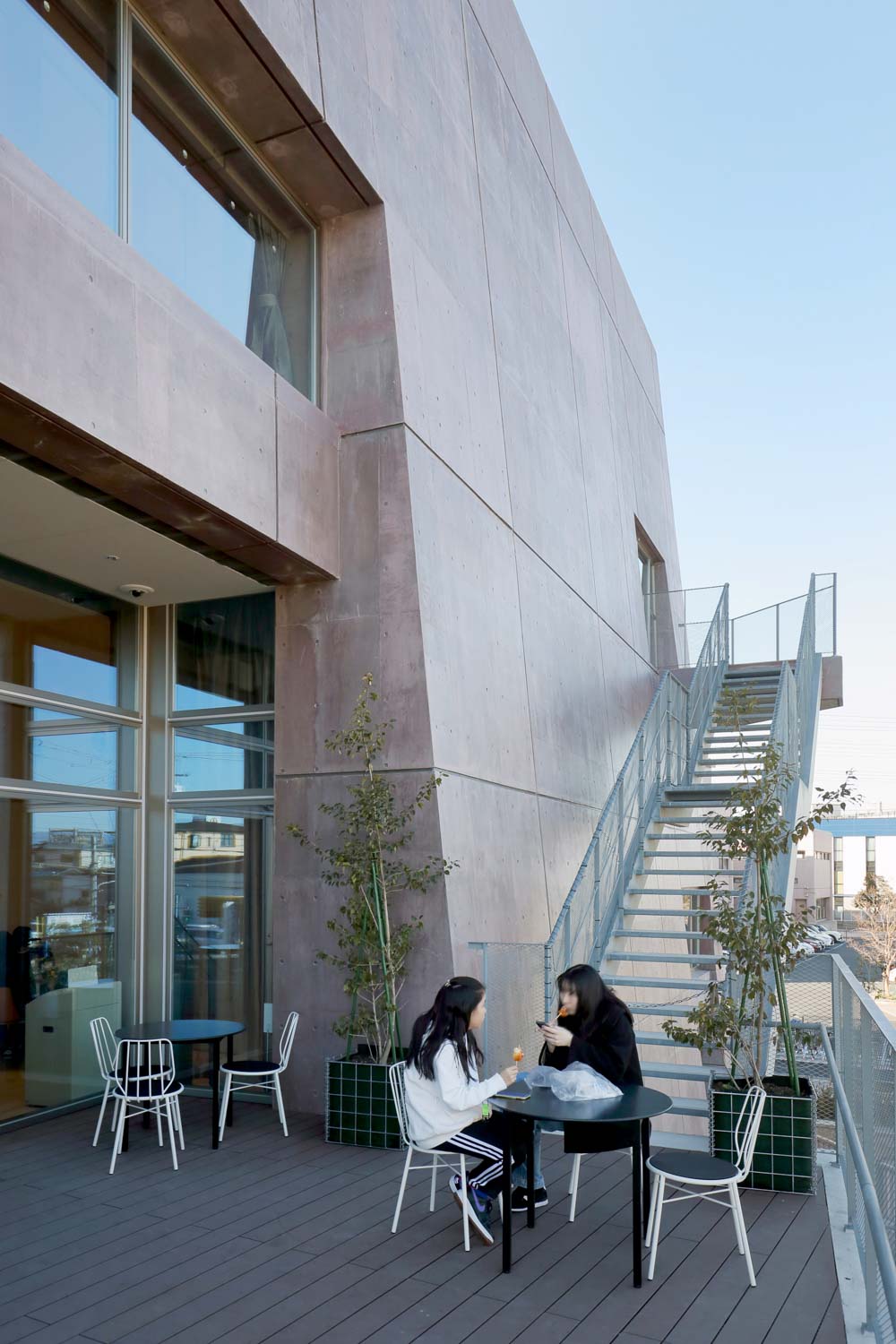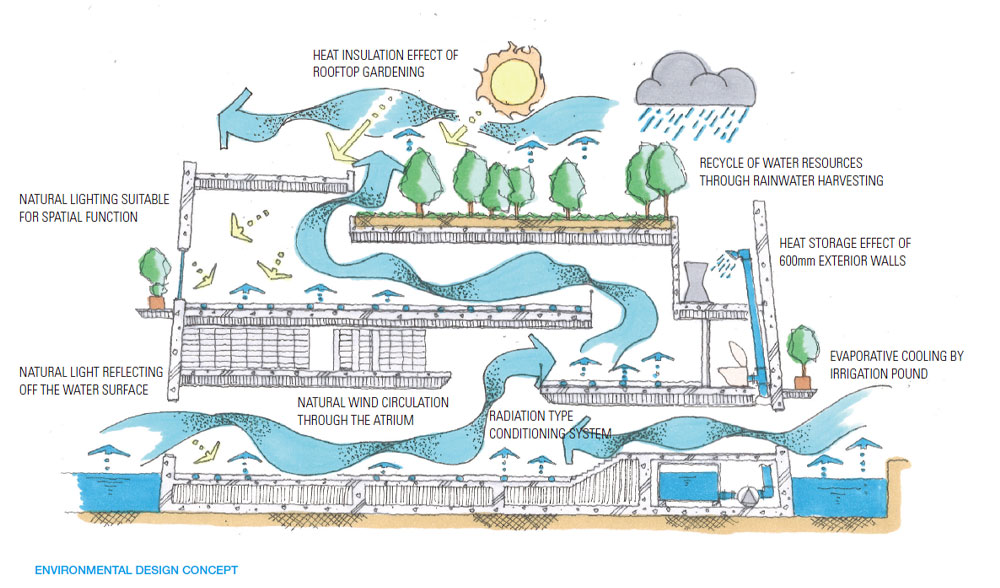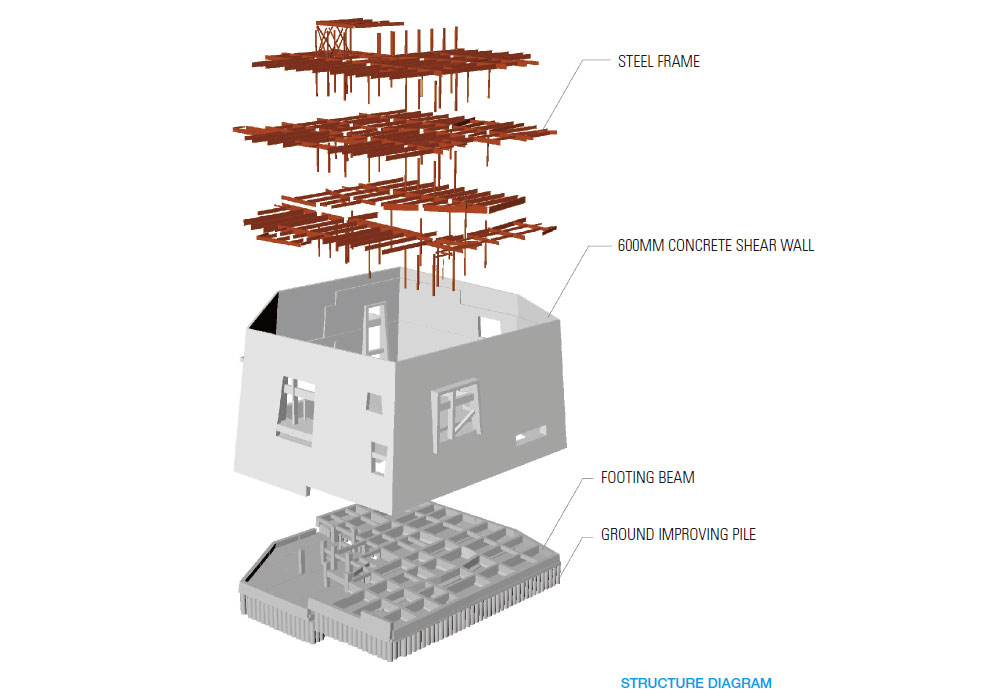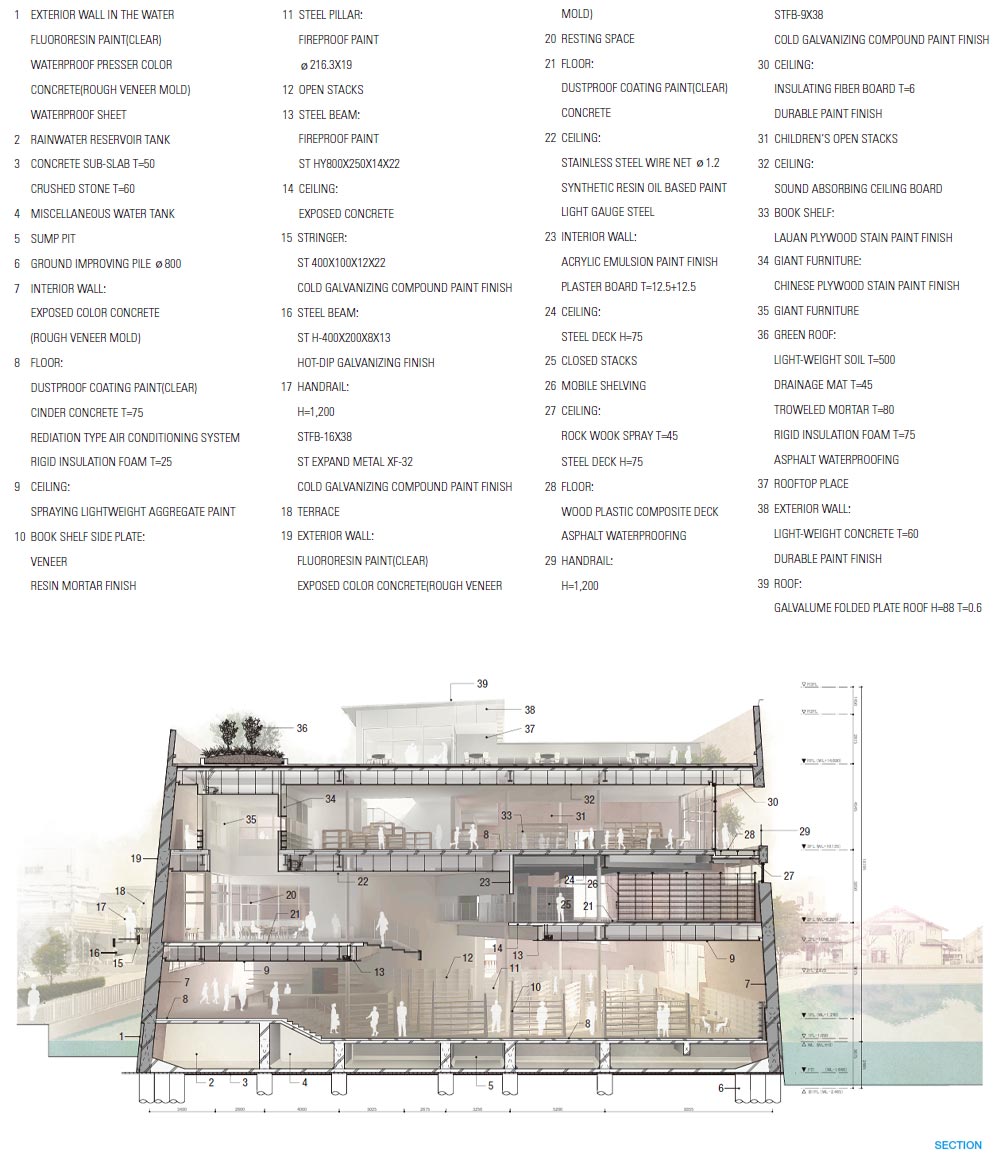 Architect Yohei Takano + Sachiko Morita / MARU. architecture
Location Matsubara-City, Osaka, Japan
Program Library
Site area 1,643.57㎡
Gross floor area 2,987.33㎡
Building scope 3F
Principal architect Yohei Takano, Sachiko Morita
Project architect Yohei Takano, Sachiko Morita, Takanori Kodama, Takashi Naotsuska
Structural engineer Arup
MEP, Environmental engineer Arup
Construction KONOIKE Construction Co., Ltd.
Photographer Kai Nakamura, Shinkenchiku-sha

해당 프로젝트는 건축문화 2021년 8월호(Vol. 483)에 게재 되었습니다.
The project was published in the August, 2021 issue of the magazine(Vol. 483).
---
마실와이드 | 등록번호 : 서울, 아03630 | 등록일자 : 2015년 03월 11일 | 마실와이드 | 발행ㆍ편집인 : 김명규 | 청소년보호책임자 : 최지희 | 발행소 : 서울시 마포구 월드컵로8길 45-8 1층 | 발행일자 : 매일