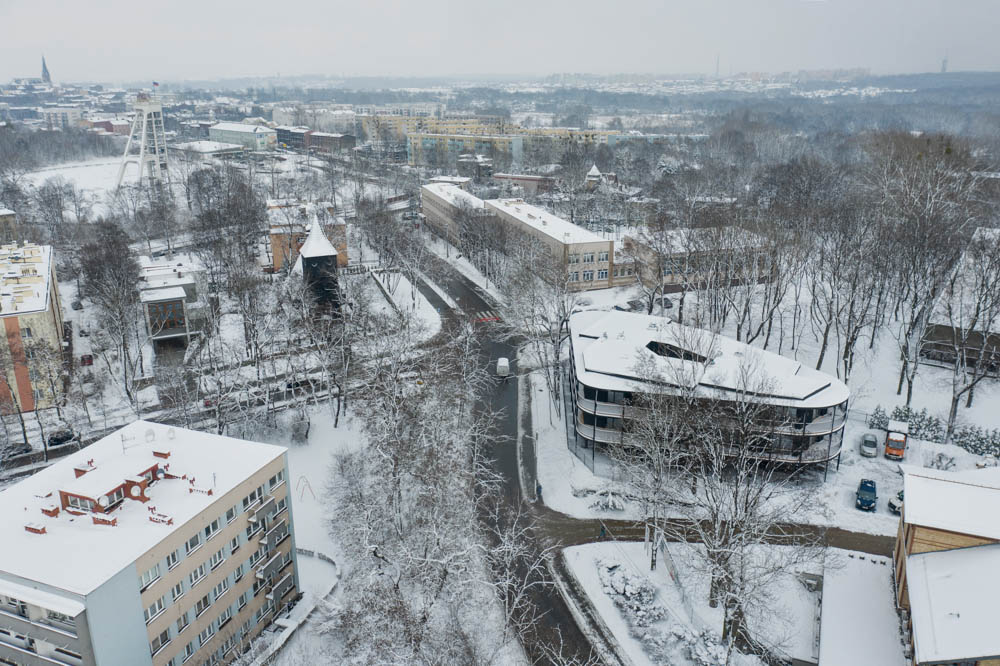 The unique context of the place and the potential negative consequence of implementing a new tissue in this area meant that the decision to shape a new building was not easy and had to refer directly to these guidelines. The idea of the building resulted from the irregular polygonal shape of the area intended for development. Creating the form step by step, first of all: the solid was formed in accordance with the function of the apartments, optimizing their function into the shape of an irregular polygon. Then, a perimeter line was marked along the plot boundaries and the block of flats was surrounded with balconies to obtain a panoramic opening to the surroundings. In the next step, to open the view to the surroundings, the block was dressed in wooden viewing terraces with various surfaces around it, an internal break in the form was introduced by implementing a patio to illuminate the internal parts of the apartments (bathrooms and entrance areas to the apartments) and the floor of the residential part was raised by one level, leaving undeveloped ground floor as a space for social interactions of residents and additional external functions. In the last step, the rhythm of the elevation was shaped. Vertical divisions of the façade were introduced, creating expressive regular squares arranging the freely formed volume of the building.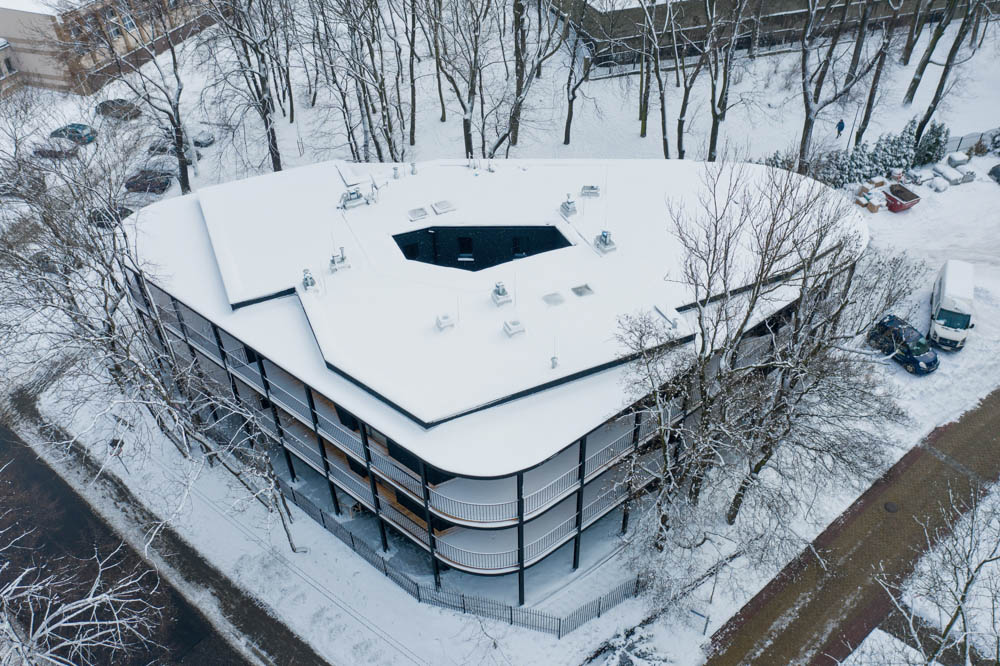 Despite the fact that it looks like one coherent apartment building, it was designed as a complex of four single-family, two-apartment group buildings. The building has been divided into four independently functioning parts, in which there are a total of eight apartments and the ground floor of the building is mostly empty space serving as a common part of all residents and the zone of entrances to the buildings with technical rooms. Each of the apartments has access to a terrace of various widths along its outer perimeter, and to a patio, which additionally illuminates the entrance areas to the apartments and the bathroom.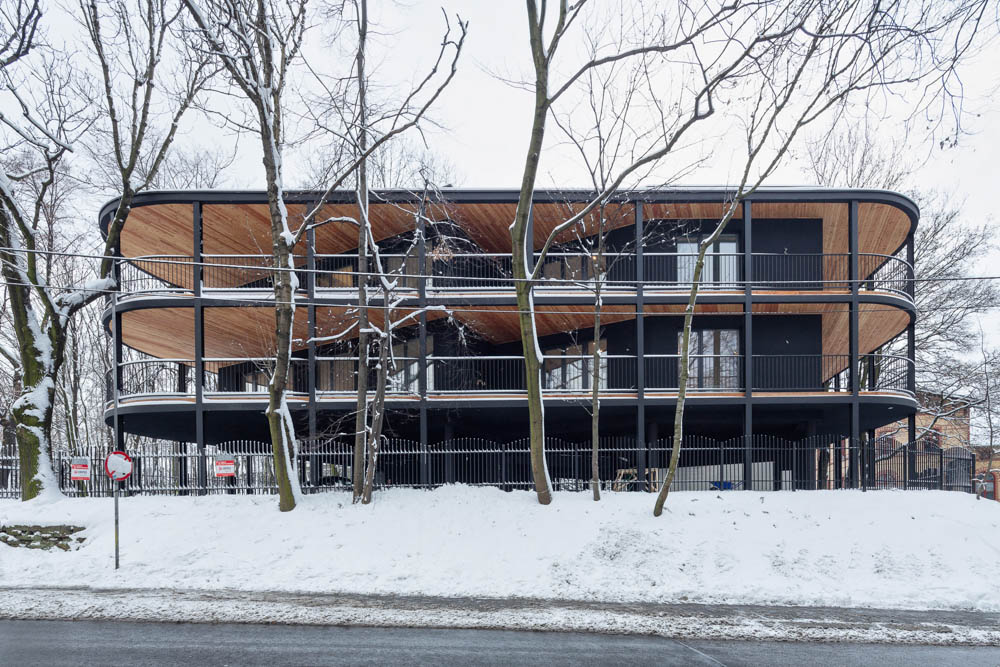 공동주택 레덴은 대지의 독특한 맥락 사이 세워진 파라노마형 목재 테라스를 가진 공동주택이다. 건축물의 아이디어는 지역의 불규칙한 다각형 주변 건축물에게 영향을 받아 디자인됐다. 전체적인 형태는 불규칙 다각형의 형태에 따라 기능이 부여되며 기본적인 아파트의 기능을 수행할 수 있도록 만들어졌다. 대지 경계를 따라 만들어진 건축물은 기능 중심적으로 짜인 평면을 빙 둘러싸는 파노라마형 개방 테라스로 이뤄진다. 이 테라스는 넓게 펼쳐진 주변 경치의 전망을 개방하고, 블록은 그 주위의 다양한 표면들을 갖춘 목재 전망 테라스다. 또한, 가운데 중정을 두어 아파트 내부 깊은 곳까지 자연광이 스며들도록 고려됐다. 세대가 배치된 주거 지역은 1층부터 이어지는 것이 아닌 2층부터 나오며, 1층의 공간은 거주민들의 사회적 교류 및 부가적인 외부 기능들을 위한 공간으로 남겨져 있다. 뿐만 아니라, 자유로운 주거공간과 삶의 활기가 표현된 자유로운 입면이 이 공간을 더욱 풍부한 공간으로 보이게 한다.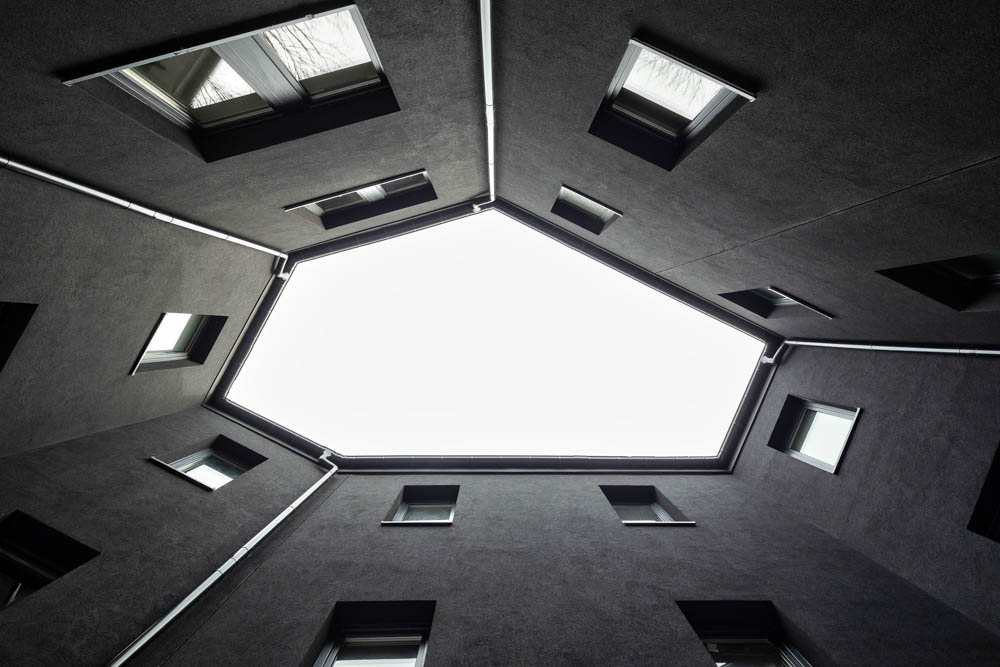 건축물의 부피감을 정사각형으로 표현하는 이 방법은 파사드를 다채롭게 만들고, 수직으로 분할되기도 한다. 네 가족을 위한 하나의 평면이 두 개 더해져, 이 공동주택은 총 8세대가 입주 가능하다. 건축물의 1층은 대부분 모든 거주자들의 공용 공간 역할을 해주는 빈 공간이 있다. 각 세대들은 그 외부 경계에 따라 다양한 폭을 가진 테라스 및 부가적으로 입구 영역에서 아파트와 화장실까지 빛을 비춰주는 중앙 아트리움이 이 거주지의 접근성을 높인다.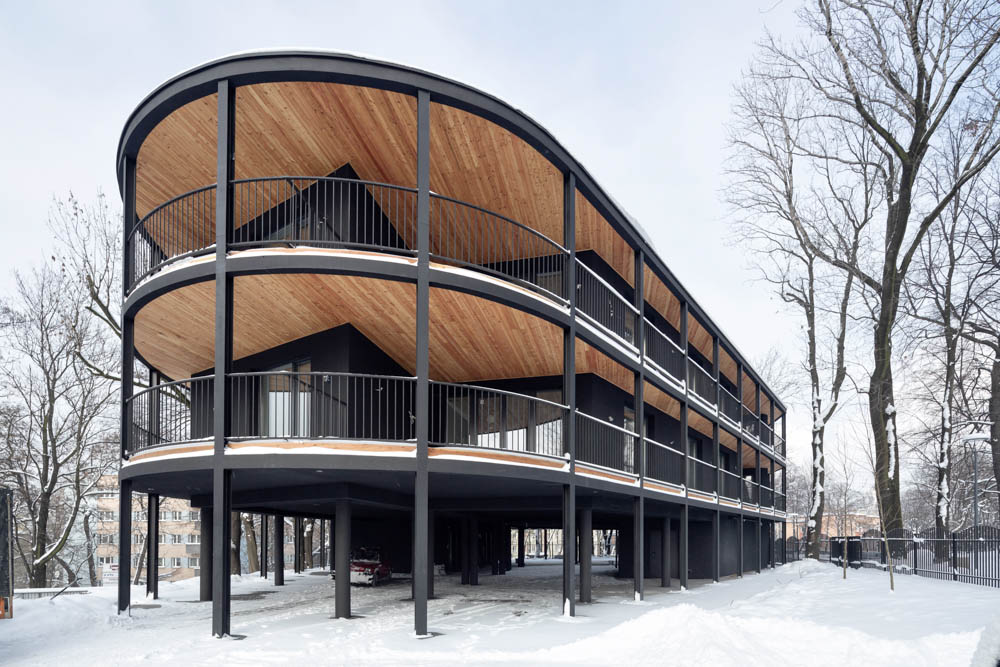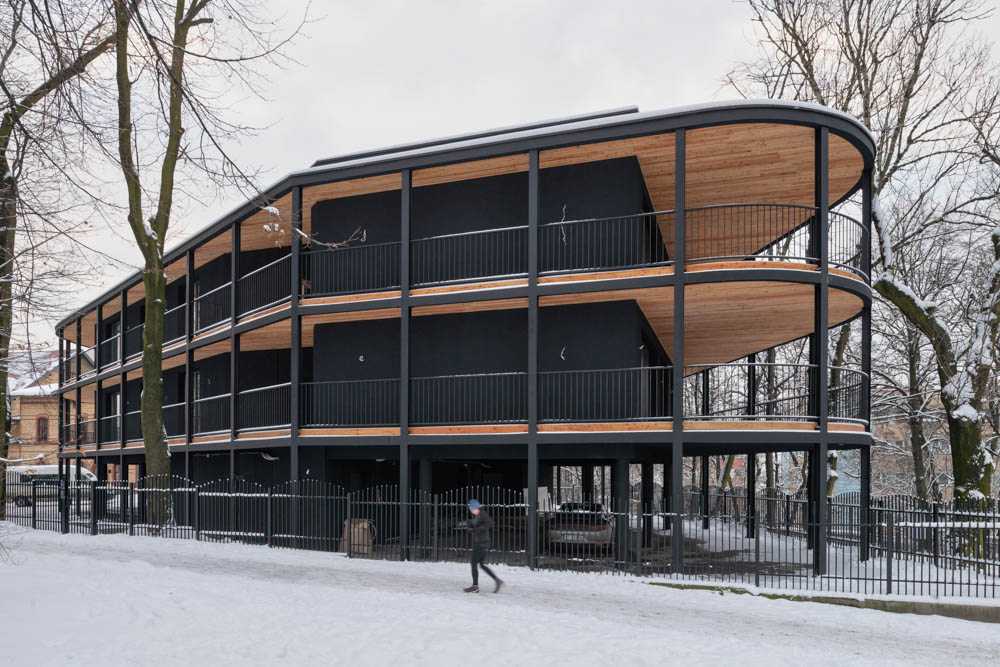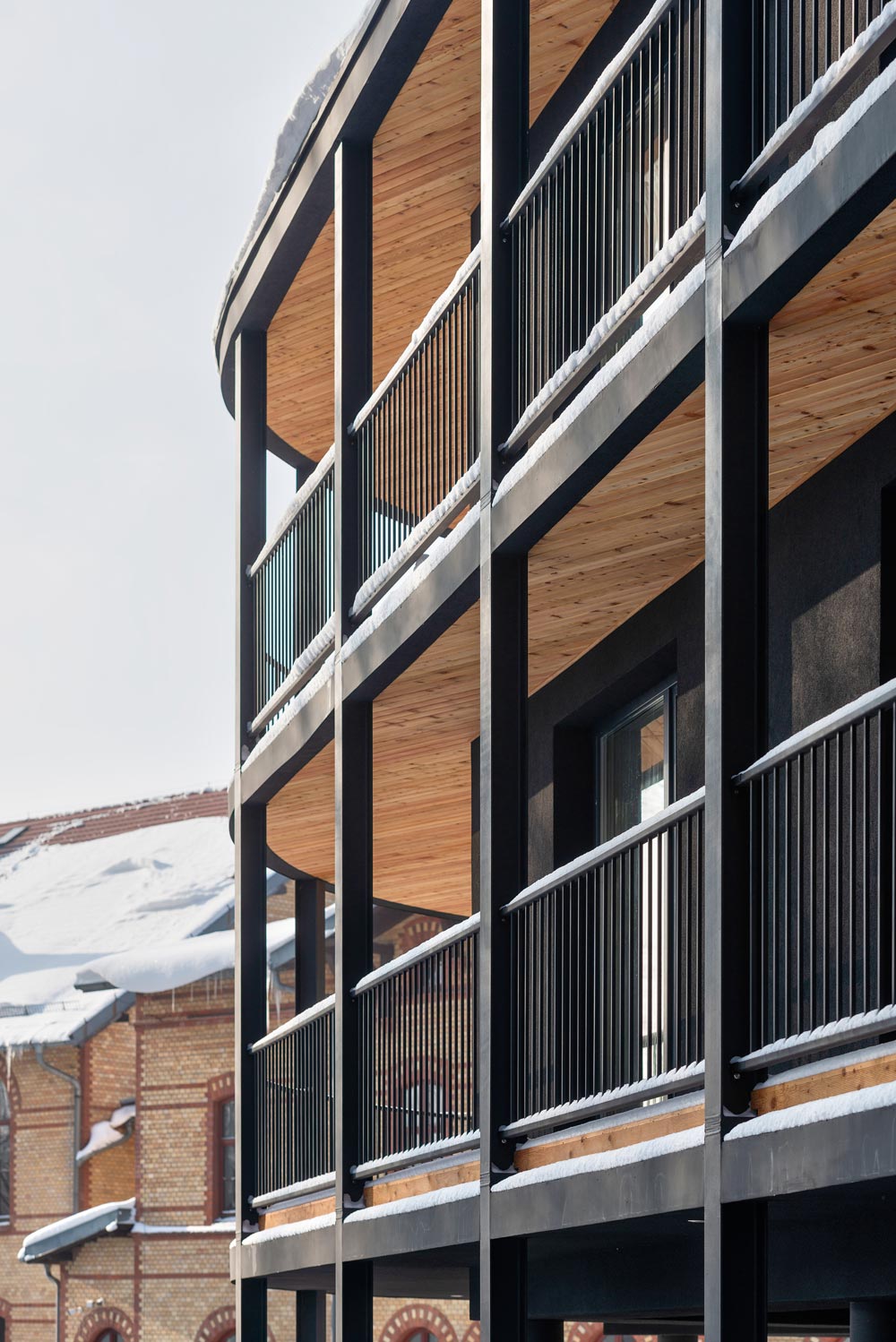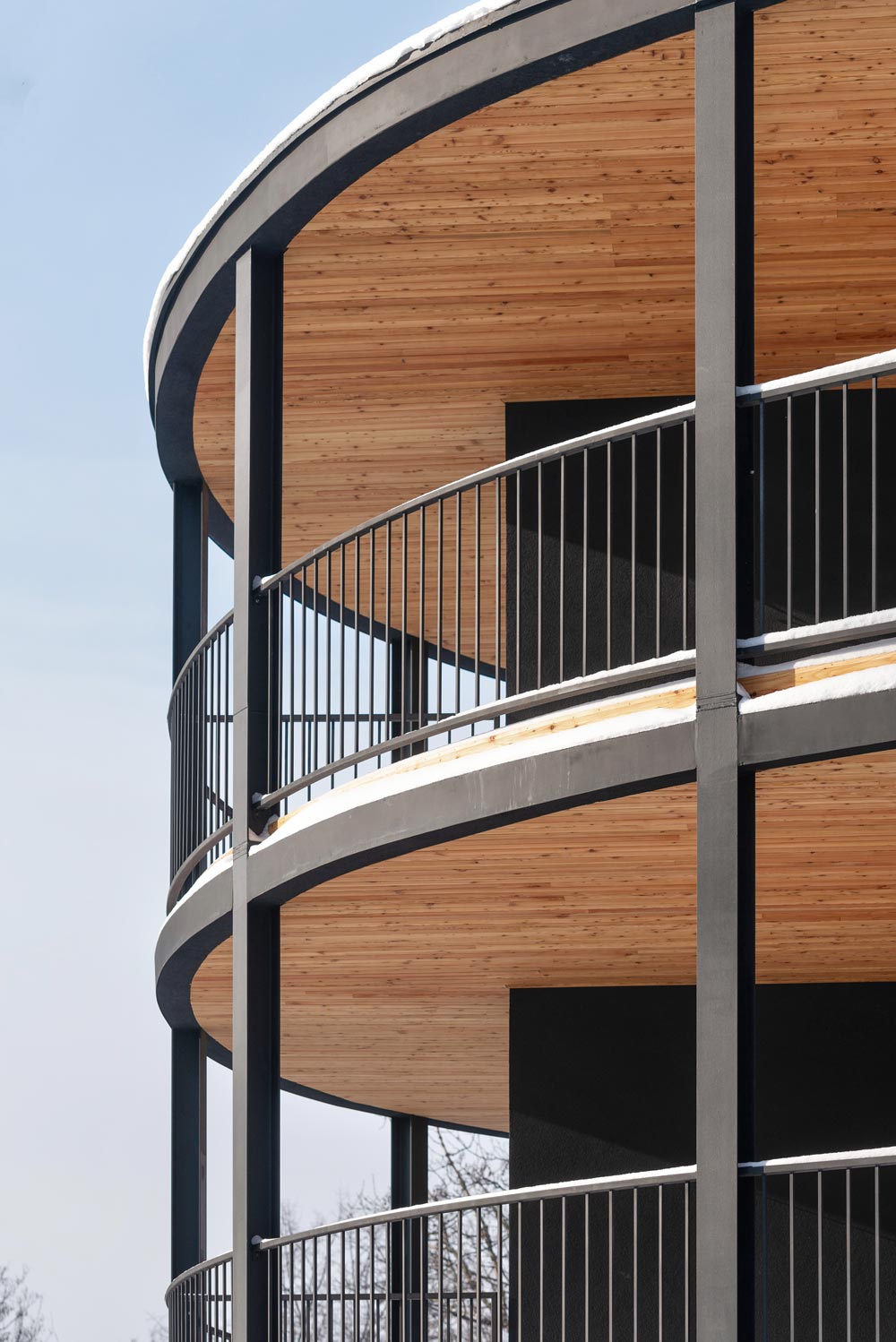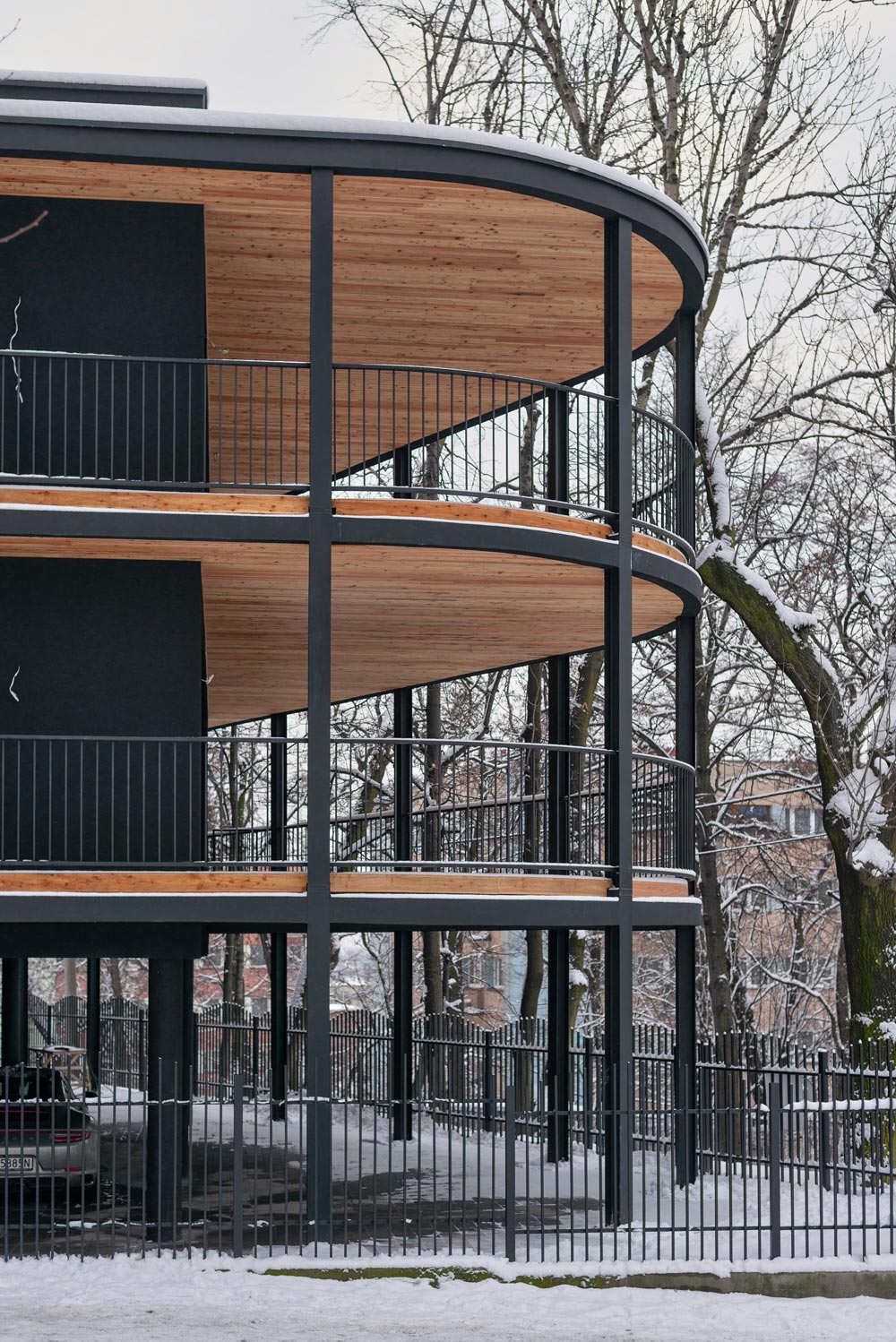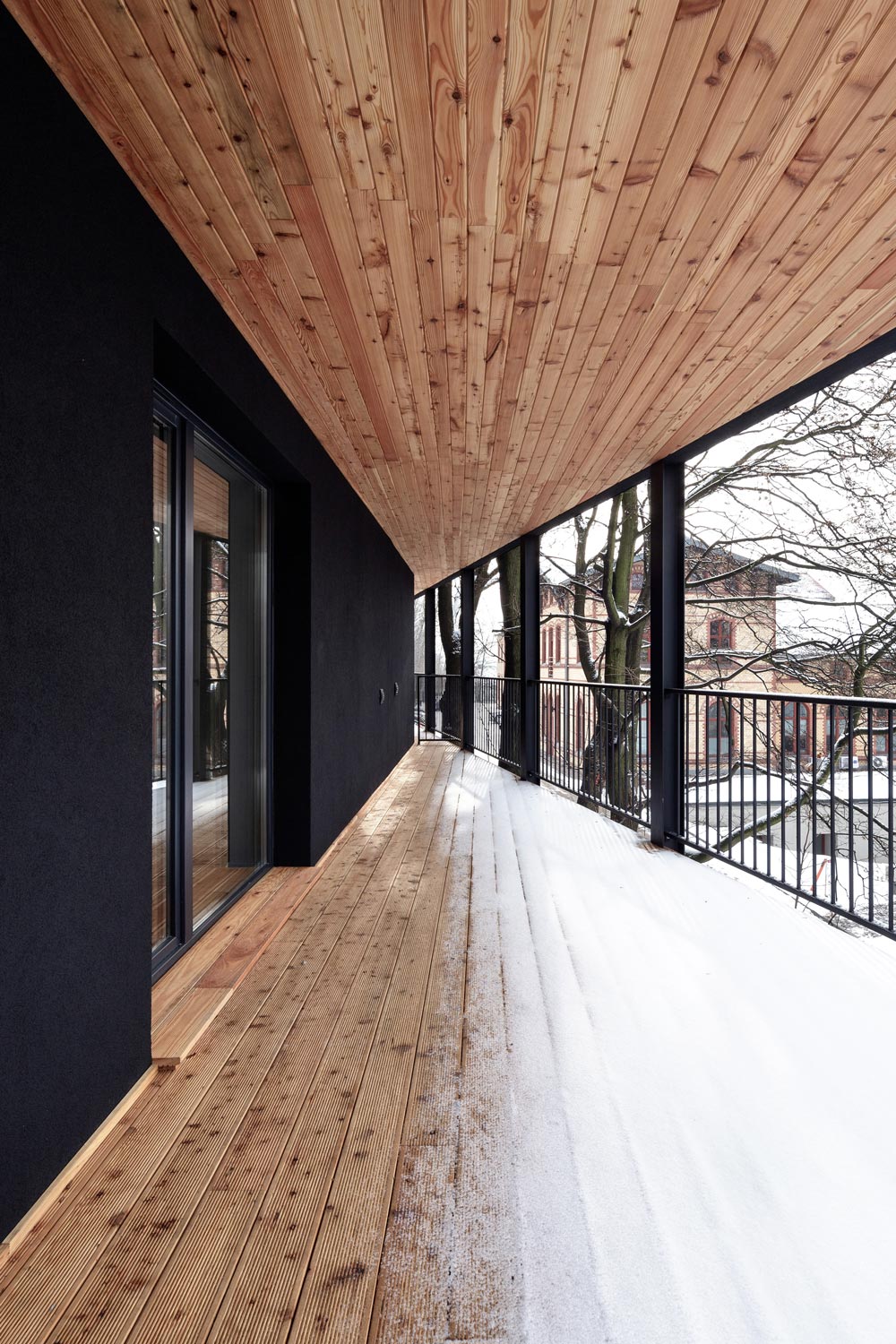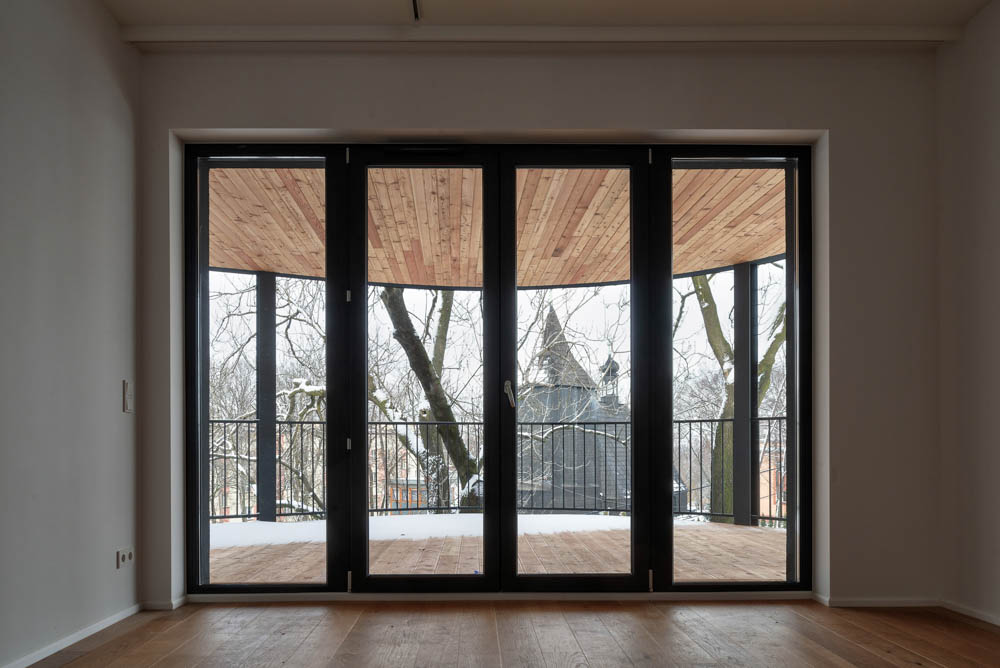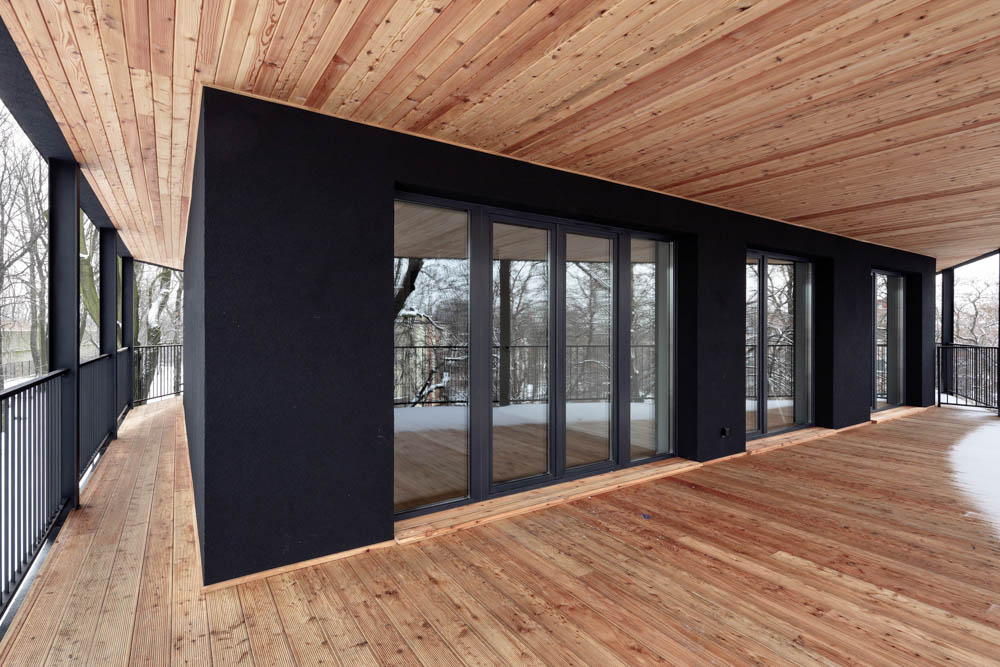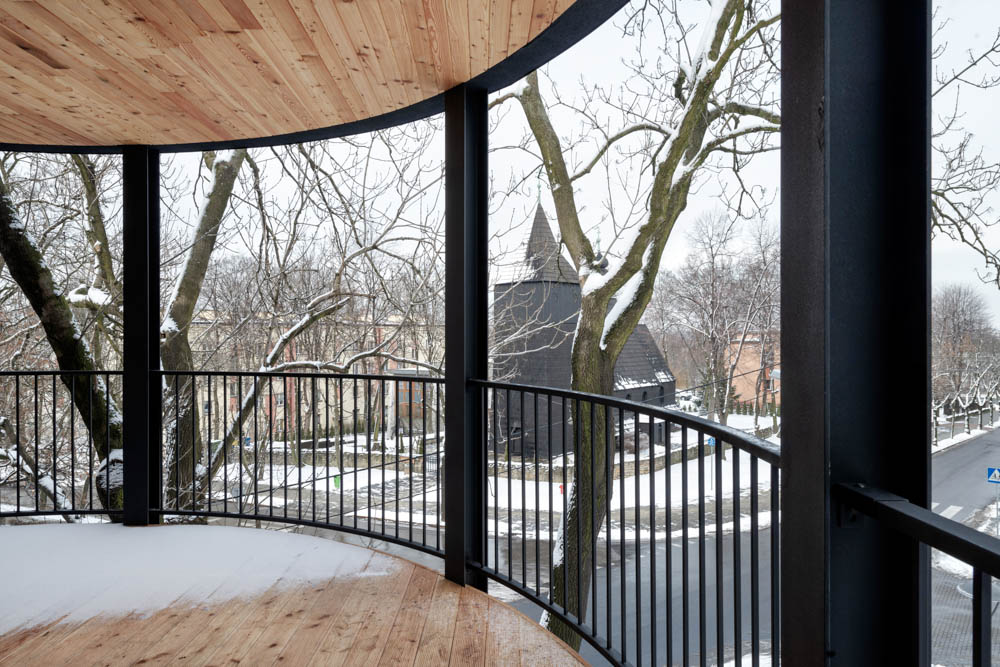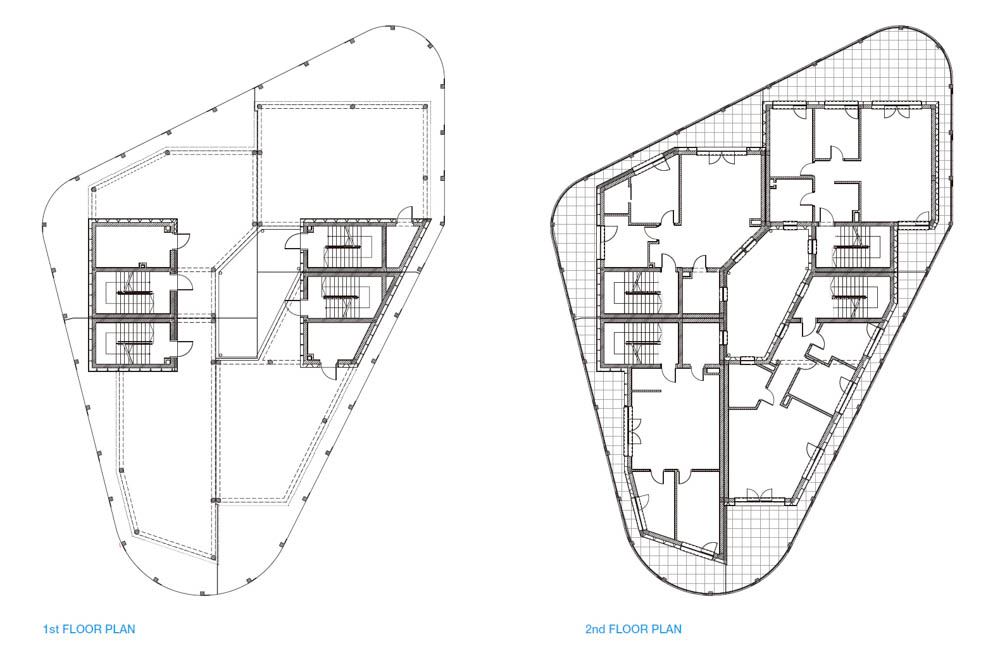 Architect ARCHITEKT MACIEJ FRANTA
Location Chorzow, Poland
Site area 1,200m2
Building area 360m2
Total floor area 600m2
Design period 2018. 3 - 2019. 3
Construction period 2019. 3 - 2020. 12
Completion 2021
Principal architect Maciej Franta
Project architect Maciej Franta
Electrical engineer Janusz Zygulski
Construction Rafa Hoffmann
Client Aleksander Weiss
Photographer Tomasz Zakrzewski
해당 프로젝트는 건축문화 2021년 6월호(Vol. 481)에 게재 되었습니다.

The project was published in the June, 2021 issue of the magazine(Vol. 481).
---
마실와이드 | 등록번호 : 서울, 아03630 | 등록일자 : 2015년 03월 11일 | 마실와이드 | 발행ㆍ편집인 : 김명규 | 청소년보호책임자 : 최지희 | 발행소 : 서울시 마포구 월드컵로8길 45-8 1층 | 발행일자 : 매일