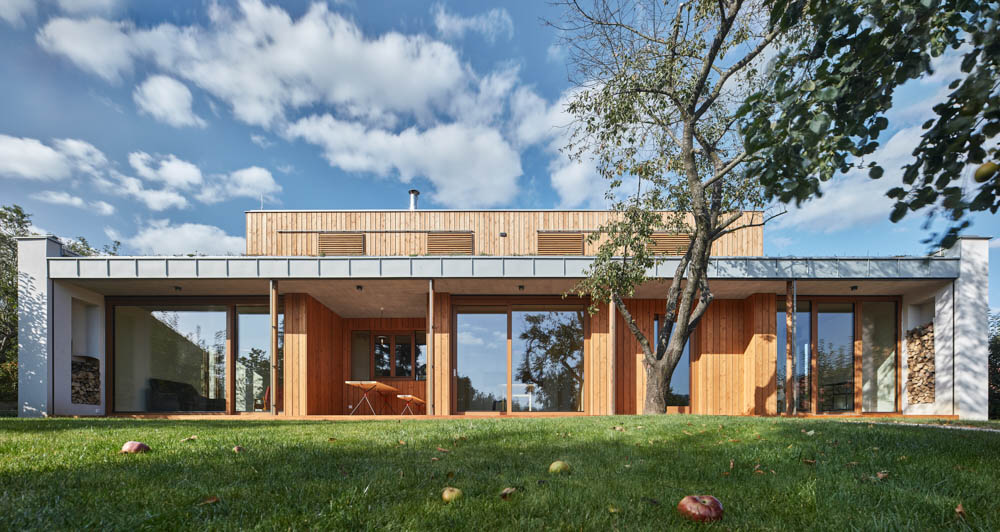 This project was to design a house for a family of four. They wanted the house to fit gently between the surrounding houses of the original built-up area and the trees of the old garden, to be able to take advantage of the views and natural resources.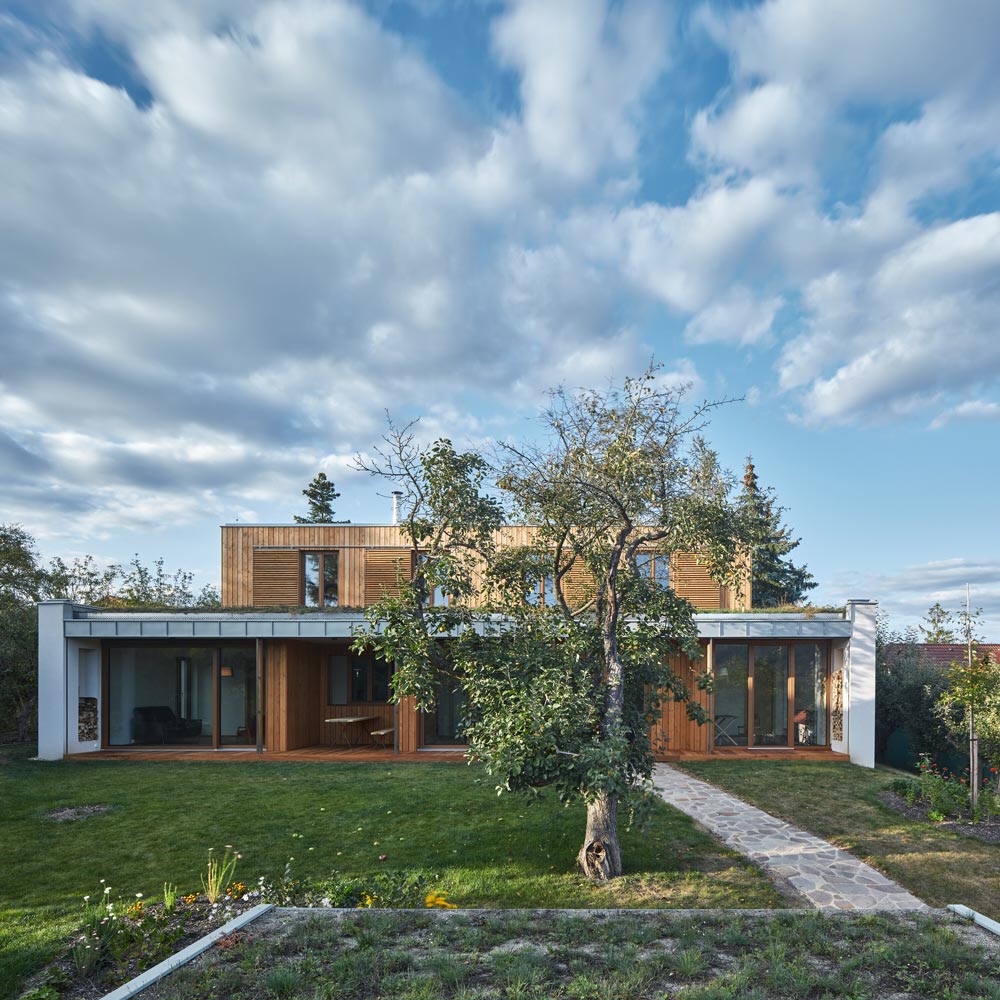 The plot is situated near Prague, on the southern slope above the Berounka river with a beautiful view of the Brdy hills. In the design concept, the designer wanted to use the maximum allowed space for building the house on the land and to concentrate most of the functions of the house, for easy access, on the 1st floor(social and parents' part), and a smaller children's part upstairs. they stretched the main mass of the house as much as possible between the eastern and western borders in order to create the longest possible southern facade - warming up / heating the house by the sun during the heating season. The summer sun, on the other hand, is naturally shaded by the recessed glazed façade (porch).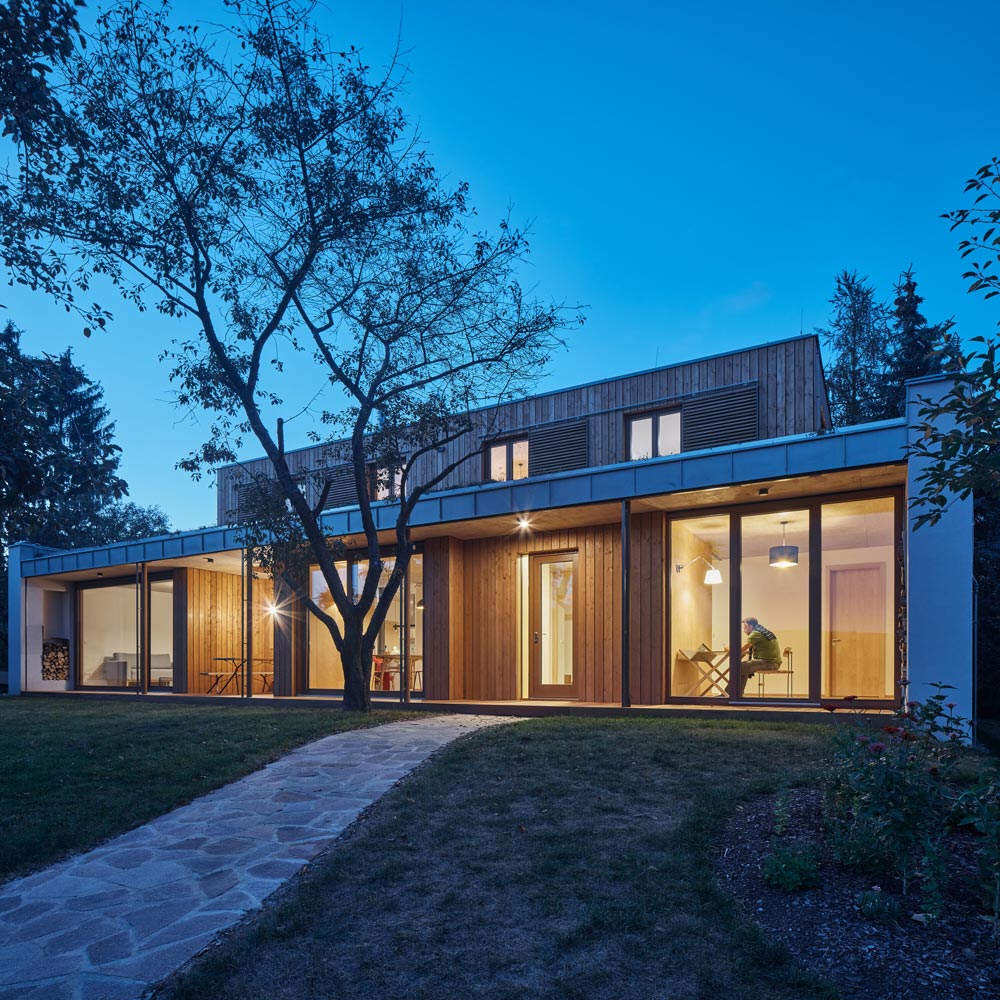 The designer tried to place the house on the plot as high as possible to get the best views of the region from the house, we also considered neighbouring buildings(privacy) and had in mind old mature trees. As a result, we decided to place the house roughly in the middle of the plot and at the same time, we created two gardens - a southern sunny orchard and a northern shady grove. The main 1st floor of the house is made of solid material of ceramic blocks(without external insulation) and partitions, and is covered by a concrete ceiling(feeling safe). The roof above the 1st floor is designed as a garden, a meadow with butterflies. On top of it, there is a light wooden shed/hut, as a place for teenagers.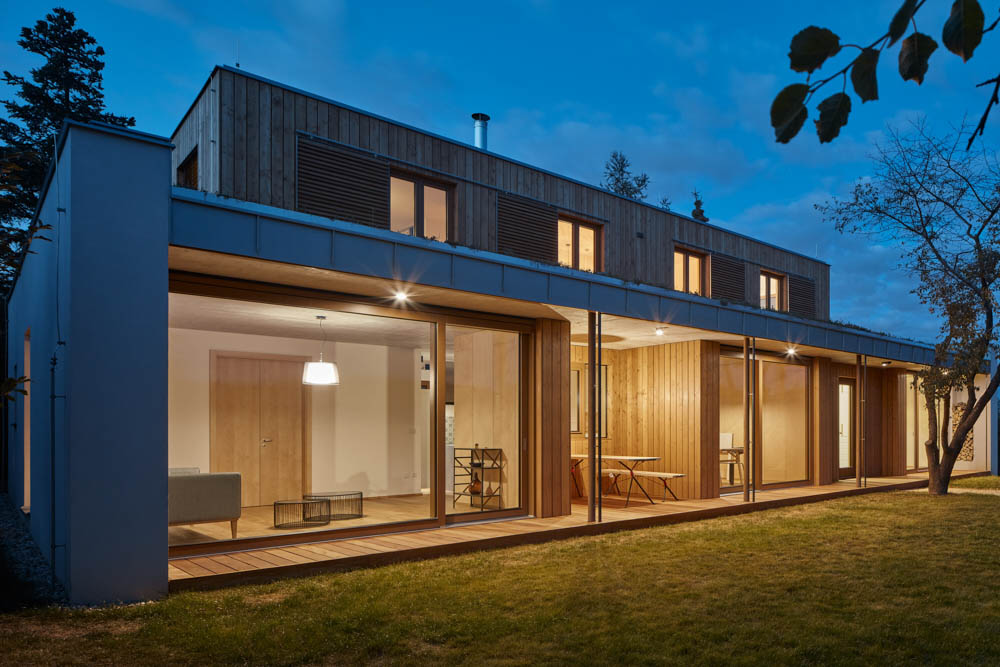 Access to the house is via a wavy path leading from the main road. The garage was placed in the lower part and thus not obscuring the views from the living area. Behind the house, there is a garden house with a sauna, attached to part of the original hut. The layout of the 1st floor is divided into a southern social and northern private part. The southern part has five segments, one of which is the entrance hall. Along the entire south wall is a recessed porch, the space between the inside and outside areas. On the wooden floor, there are two children's rooms in the corners with a common central hall and access to the roof garden. The most beautiful views.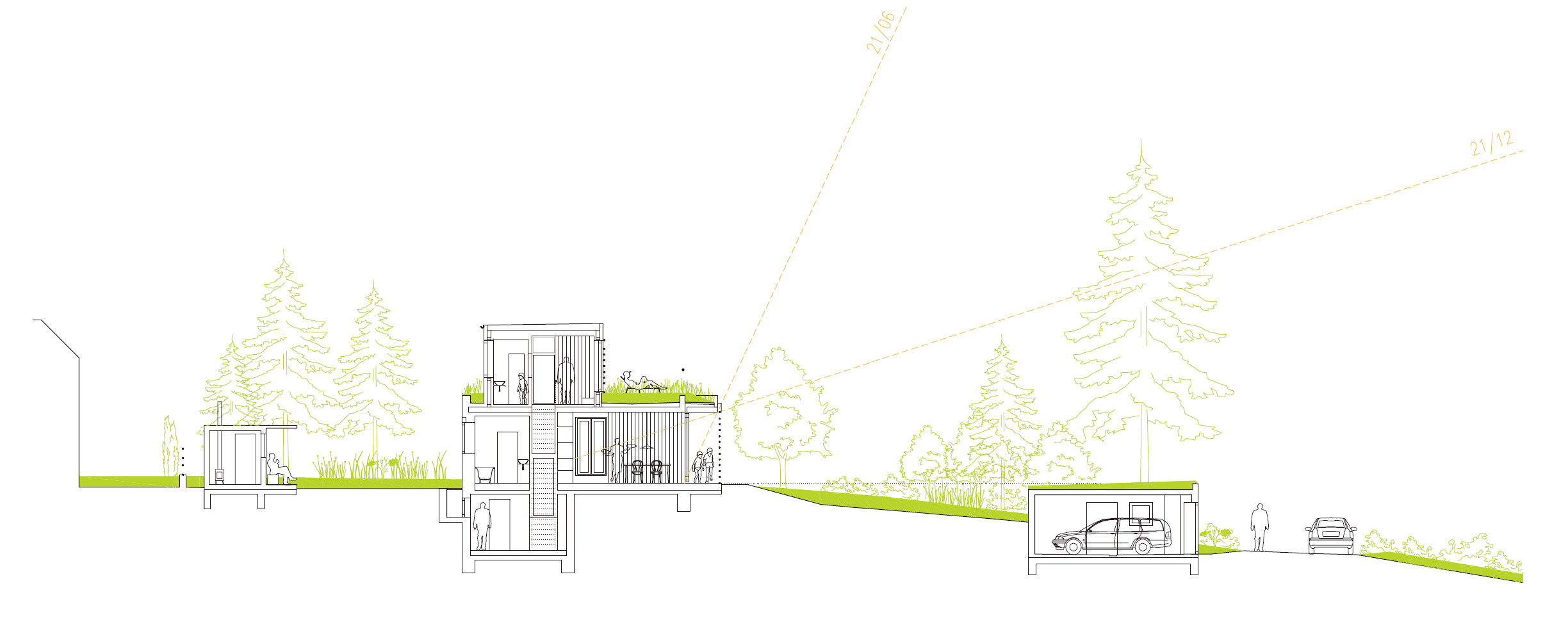 이 프로젝트는 4인 가족을 위한 집으로 계획됐다. 건축주는 주변의 집과 오래된 정원의 나무들 사이에 이 집이 완만하게 들어맞아 경관과 천연자원을 활용할 수 있기를 원했다.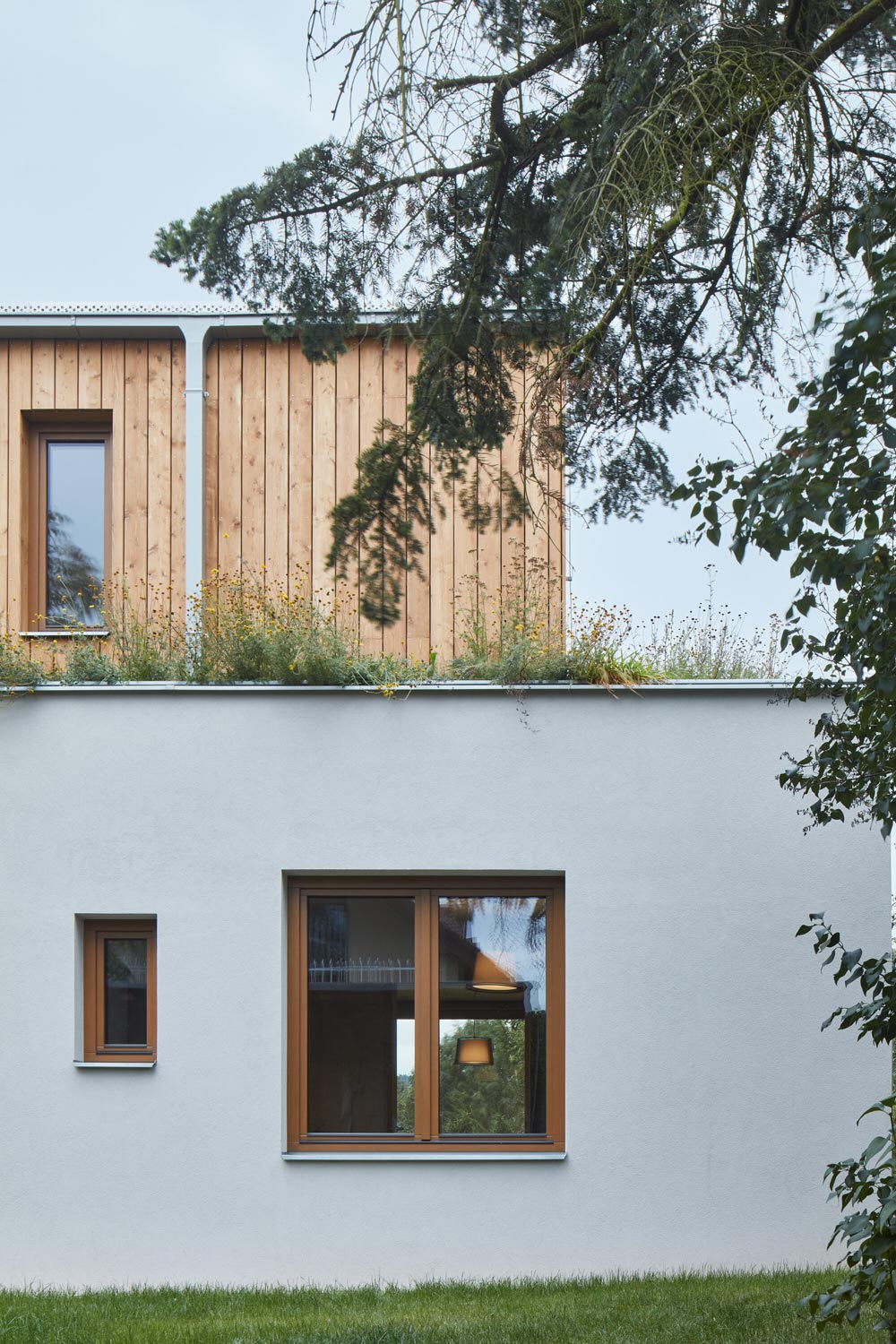 대지는 브르디 언덕이 아름다운 경치를 자랑하는 베룬카 강 위의 남쪽 비탈에 있는 프라하 근처에 위치해 있다. 설계 개념에서 설계자는 대지 위에 집을 지을 수 있는 최대 허용 공간을 사용하고 집의 대부분의 기능을 접근하기 쉽도록 1층(공용 및 부모 공간 부분)과 2층에 작은 아이들 공간을 집중시키길 원했다. 그들은 낮 시간 동안 자연광으로 집을 따뜻하게 하기 위해 가능한 긴 남쪽의 정면을 만들기를 원했다. 그래서 동쪽과 서쪽의 대지 경계 사이의 볼륨을 높였다. 반면, 여름에는 자연광이 움푹 들어간 유리 파사드에 의해 자연적으로 차광된다.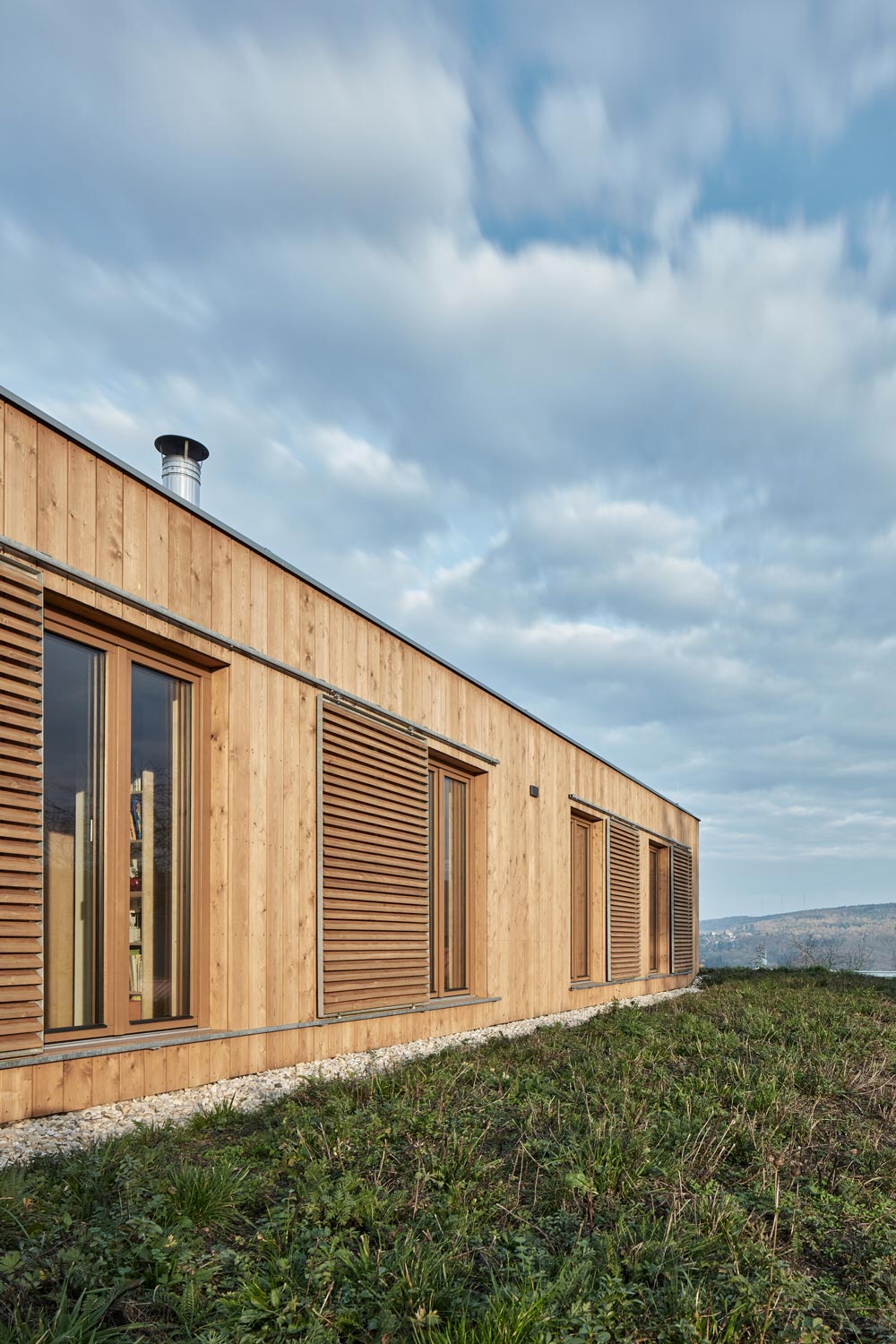 디자이너는 집에서 지역의 가장 좋은 전망을 얻기 위해 집을 가능한 한 높게 배치하려고 했고, 그러면서 이웃 건물(사생활)도 고려했으며, 대지에 오래된 나무 한 그루도 염두에 두고 있었다. 그 결과, 집을 대지의 한가운데에 두기로 결정했고, 동시에 남부의 햇볕이 잘 드는 과수원과 북부의 그늘진 숲이라는 두 개의 정원을 만들기로 했다. 주택의 1층은 세라믹 블록(외부 단열 없음)과 칸막이로 된 견고한 재질로 만들어졌으며 콘크리트 천장(안전한 느낌)으로 덮여 있다. 1층 지붕은 정원으로, 나비가 있는 초원으로 설계되었다. 그 위에는 십대 아이들을 위한 공간으로 가벼운 나무 창고/헛간이 있다.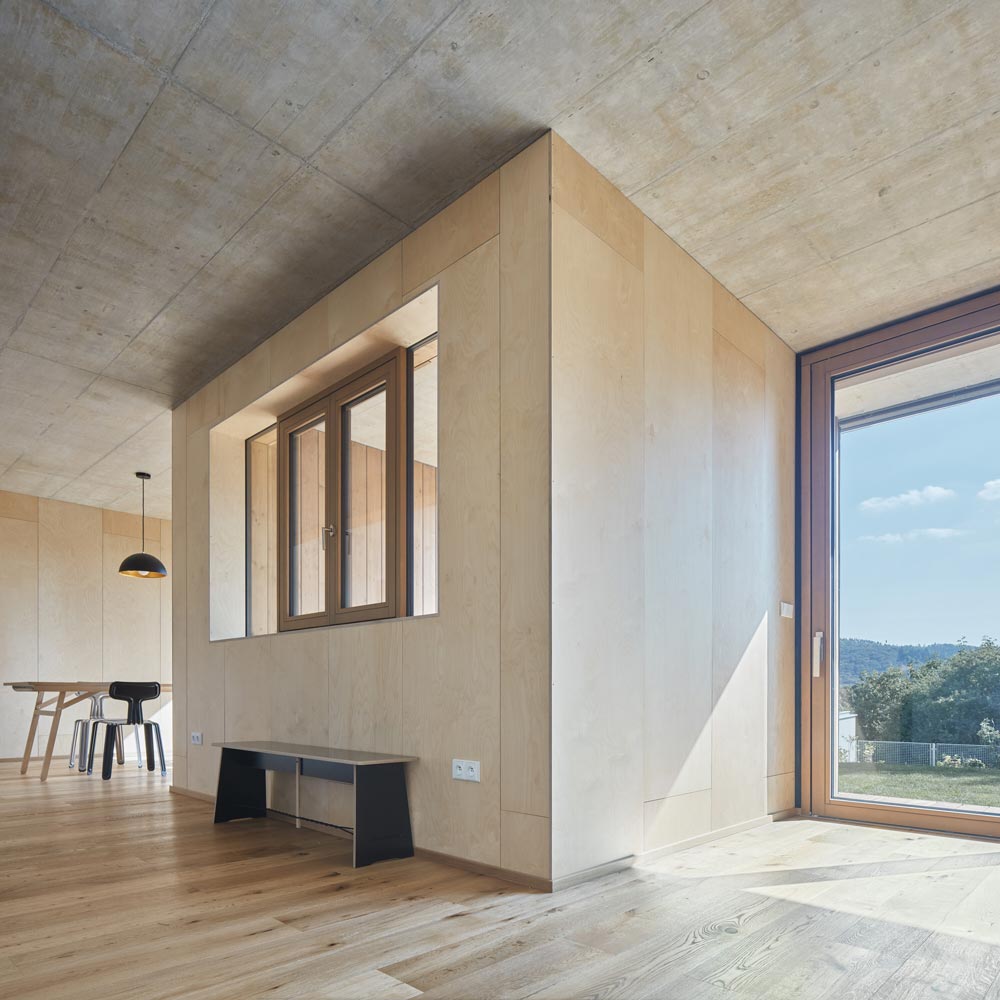 집으로의 접근은 주요 도로에서 이어지는 물결 모양의 경로를 통해 이루어진다. 집 뒤에는 원래 오두막의 일부에 사우나가 딸려 있는 정원의 집이 있다. 1층의 배치는 남쪽의 공공영역과 북쪽의 사적 공간으로 나뉜다. 남쪽 부분에는 5개의 구역이 있으며 그중 하나는 현관이다. 남쪽 벽 전체를 따라 내부와 외부 영역 사이의 공간인 움푹 들어간 현관이 있다. 마루에는 중앙홀이 하나 있고 지붕 정원이 있는 모퉁이에 두 개의 아이방이 있다. 이곳에서는 가장 아름다운 경치를 바라볼 수 있다.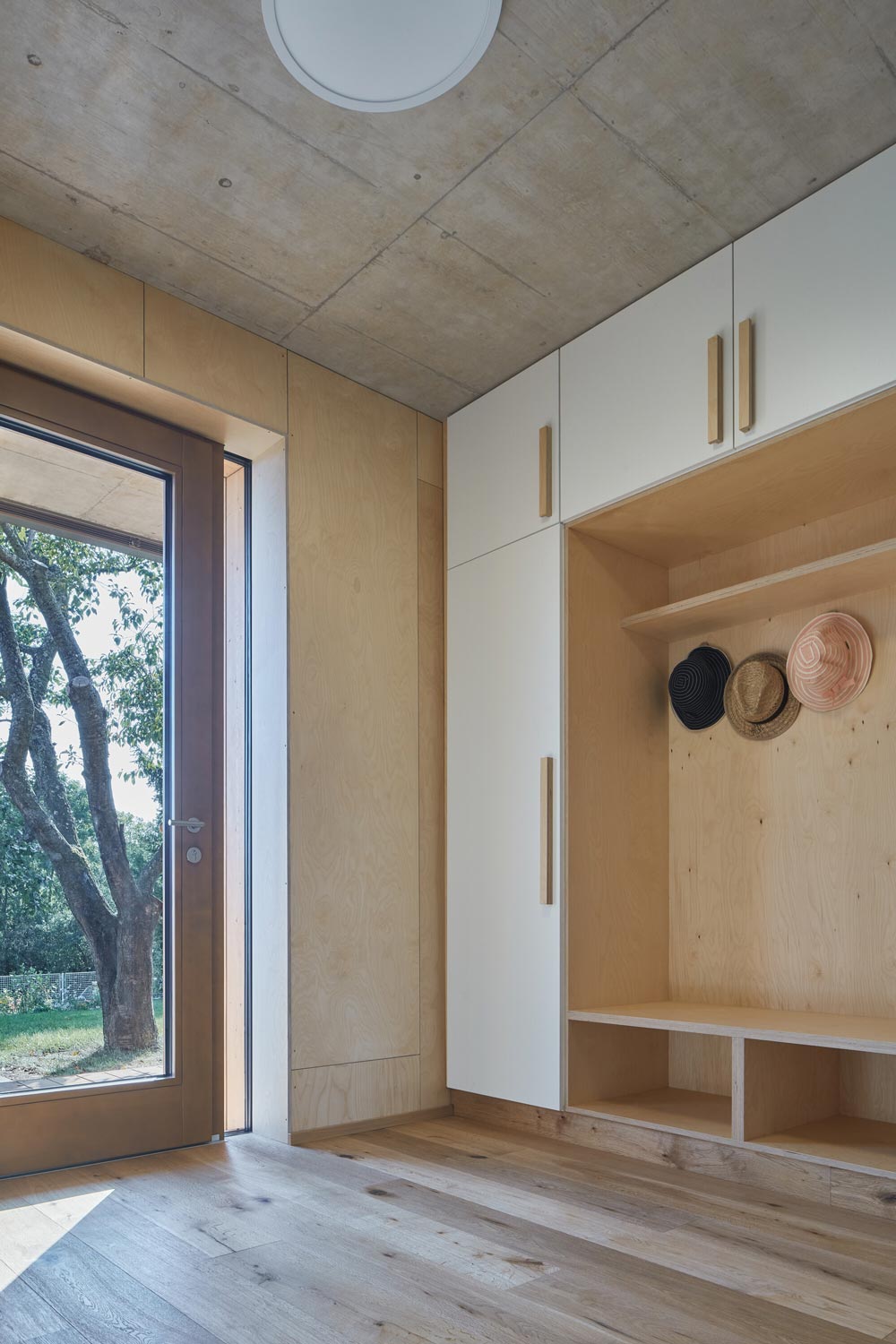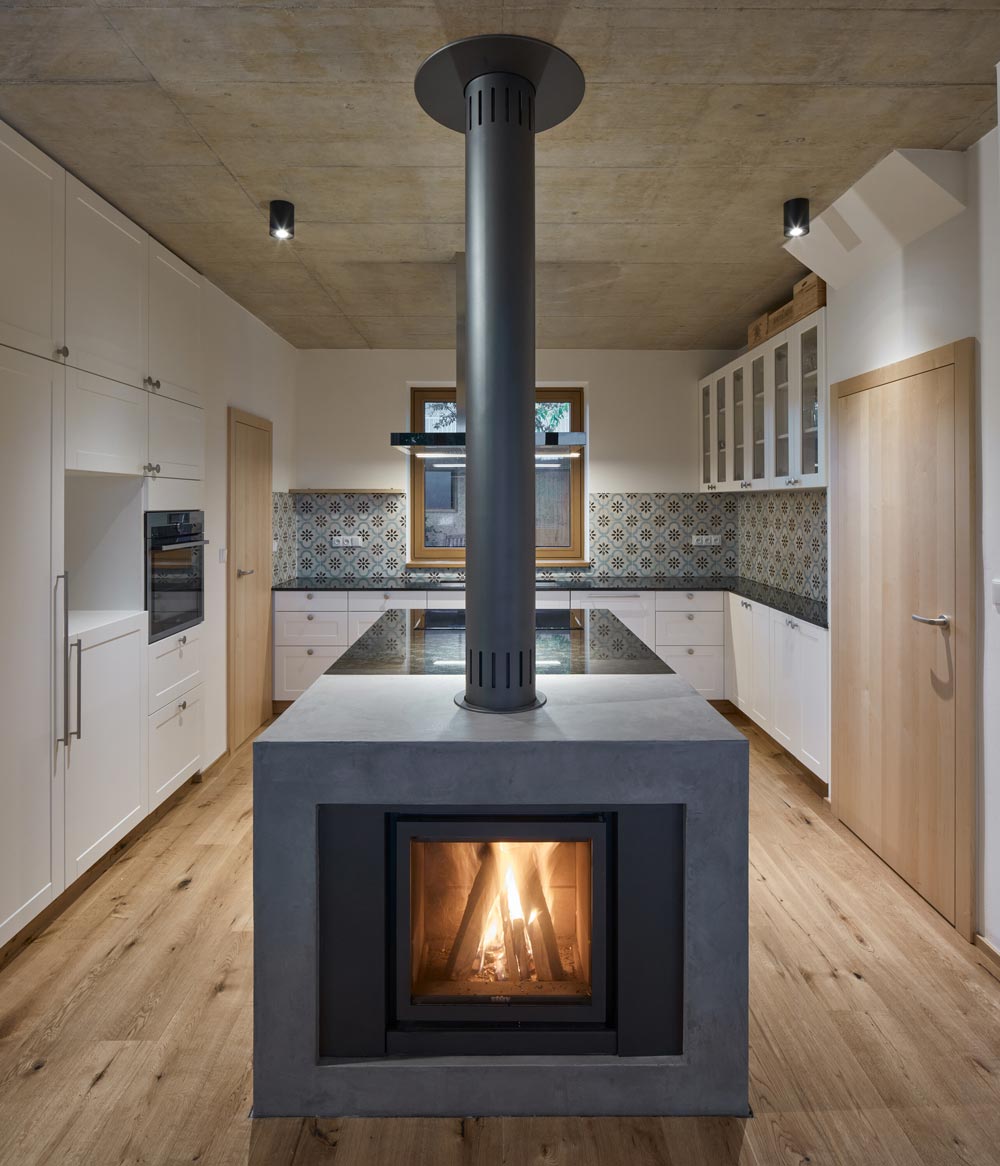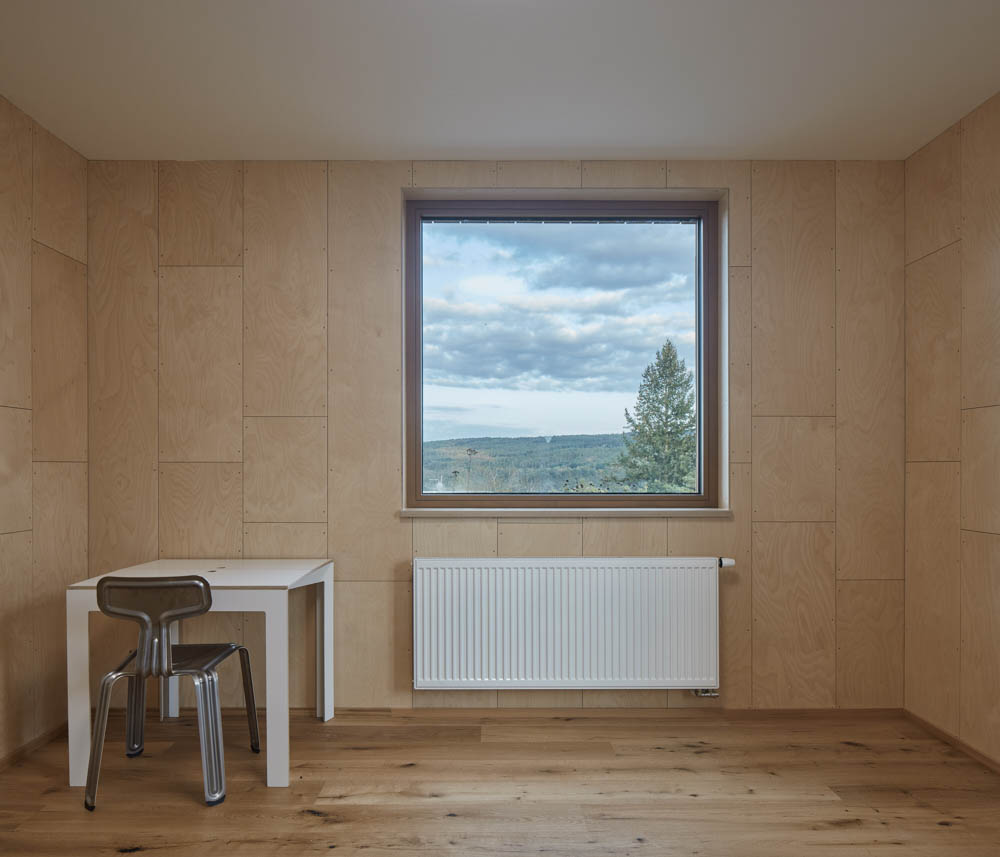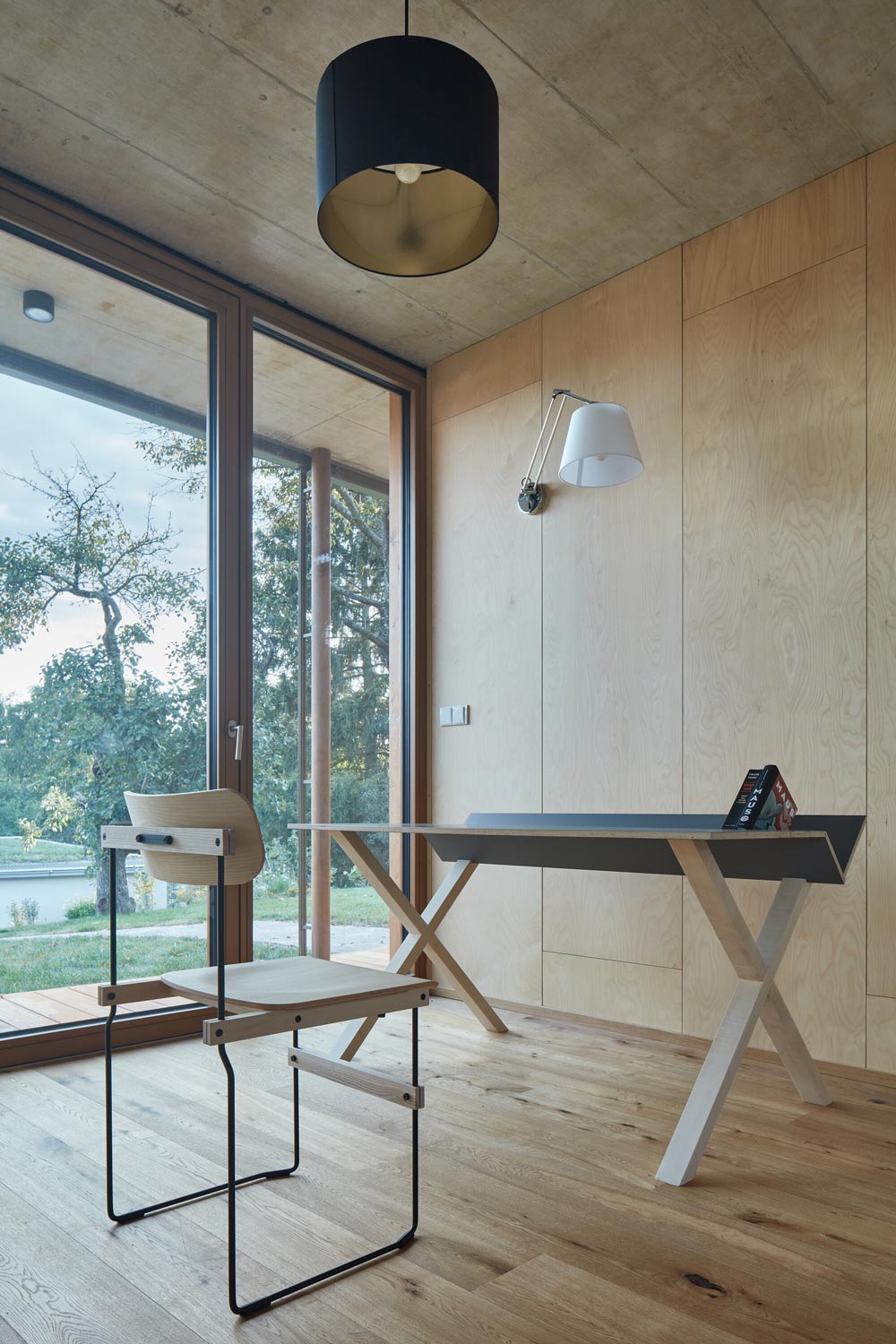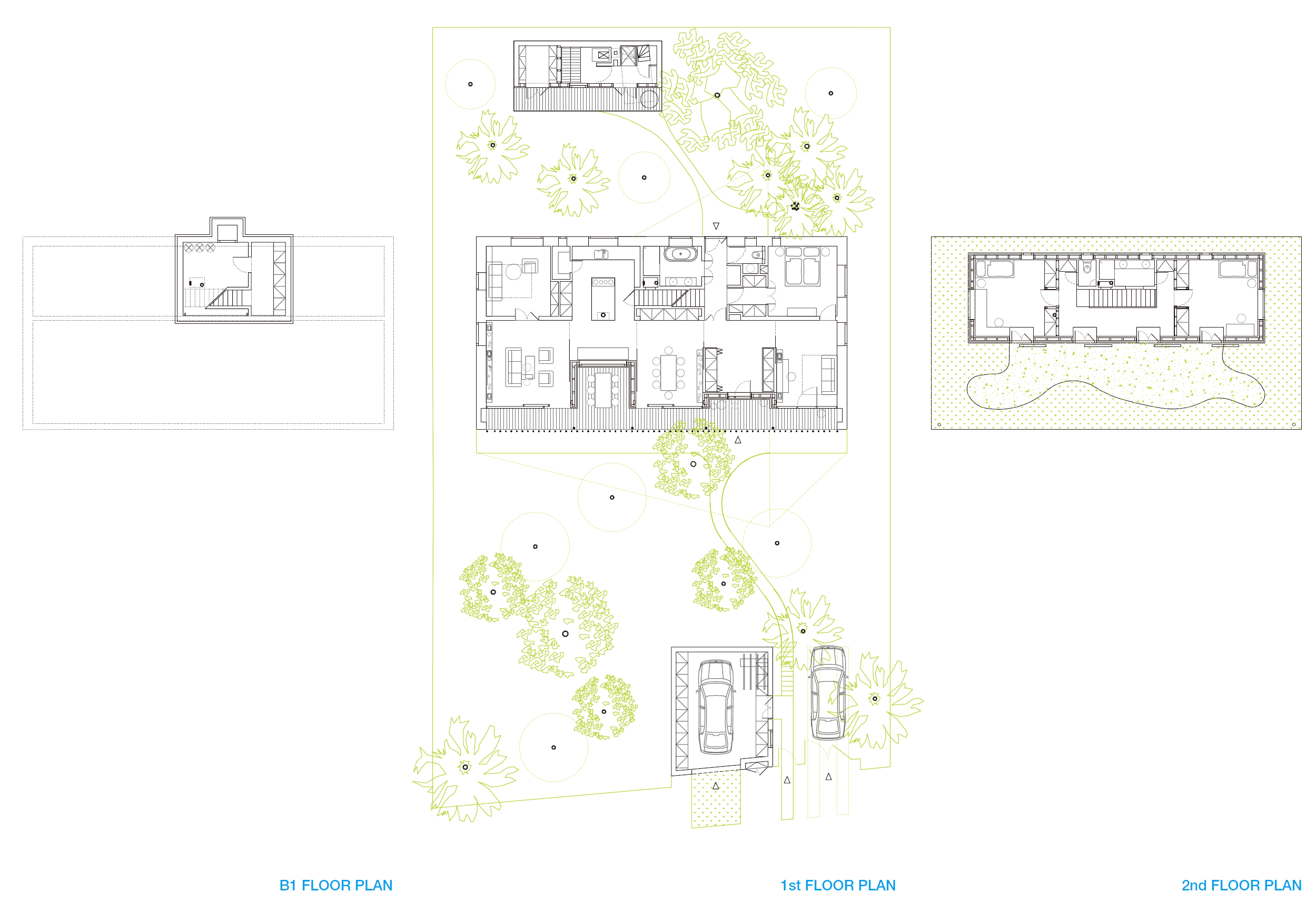 Architect kaa-studio
Location Černošice, Prague, Czech Republic
Program House
Site area 925m2
Building area 190m2
Gross floor area 260m2
Project period 2016
Completion 2020
Project architect Kamila Holubcová, Antonín Holubec
Engineer Tomáš Zima
Construction Petr Louma
Photographer BoysPlayNice
해당 프로젝트는 건축문화 2021년 5월호(Vol. 480)에 게재 되었습니다.

The project was published in the May, 2021 issue of the magazine(Vol. 480).
---
마실와이드 | 등록번호 : 서울, 아03630 | 등록일자 : 2015년 03월 11일 | 마실와이드 | 발행ㆍ편집인 : 김명규 | 청소년보호책임자 : 최지희 | 발행소 : 서울시 마포구 월드컵로8길 45-8 1층 | 발행일자 : 매일