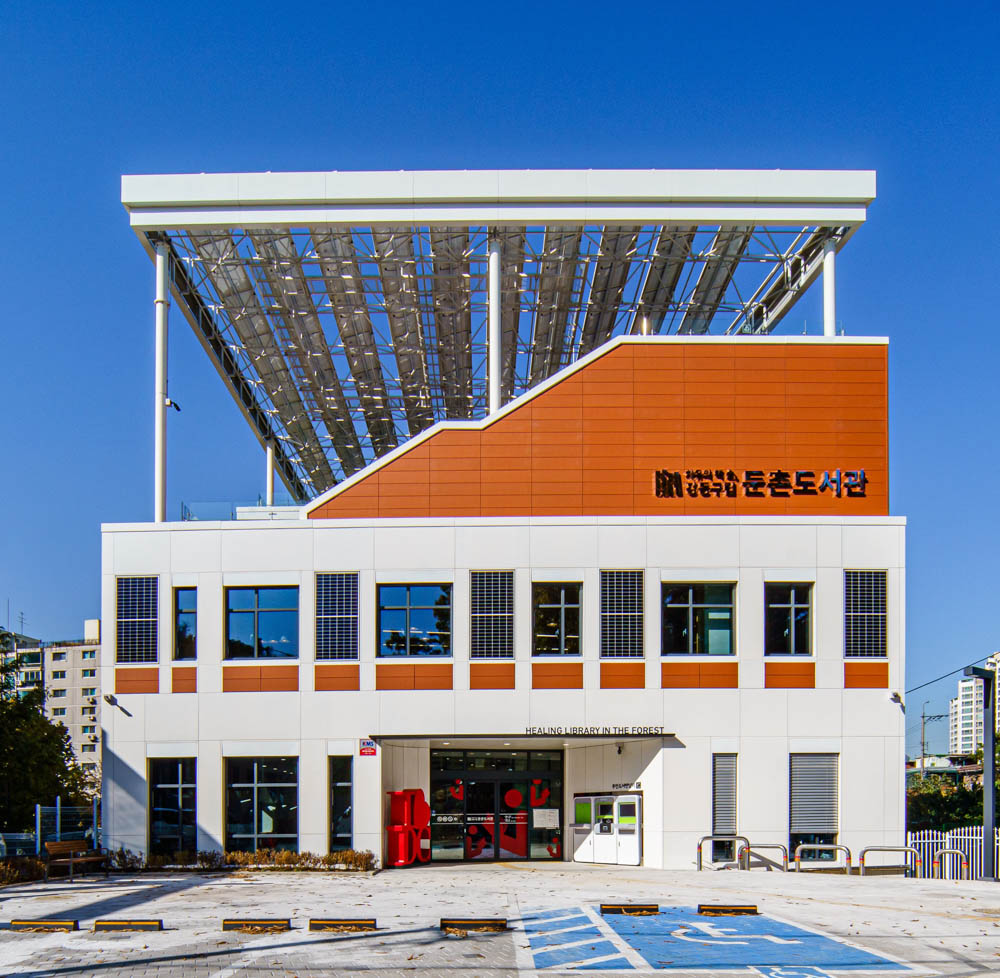 Dunchon Library has four characteristics. First, Dunchon Library embraces Iljasan mountain. Iljasan mountain can be seen when one ascends the staircase located on the third-floor exterior reading deck. Second, it is a space where one can read while freely moving between the indoor reading room and the outdoor reading deck. In particular, the terraced reading deck can hold author meetings, book concerts and club meetings. Third, it is a space where the rooftop garden and solar panels coexist. Both the creation of a resting space and production of electric power are possible, as the solar module was combined with the upper structure of the rooftop garden. It is a zero-energy library with the highest energy performance in Korea as it has obtained a 1+++ Building Energy Efficiency rating and a grade 4 Zero Energy Building certificate (54% independence).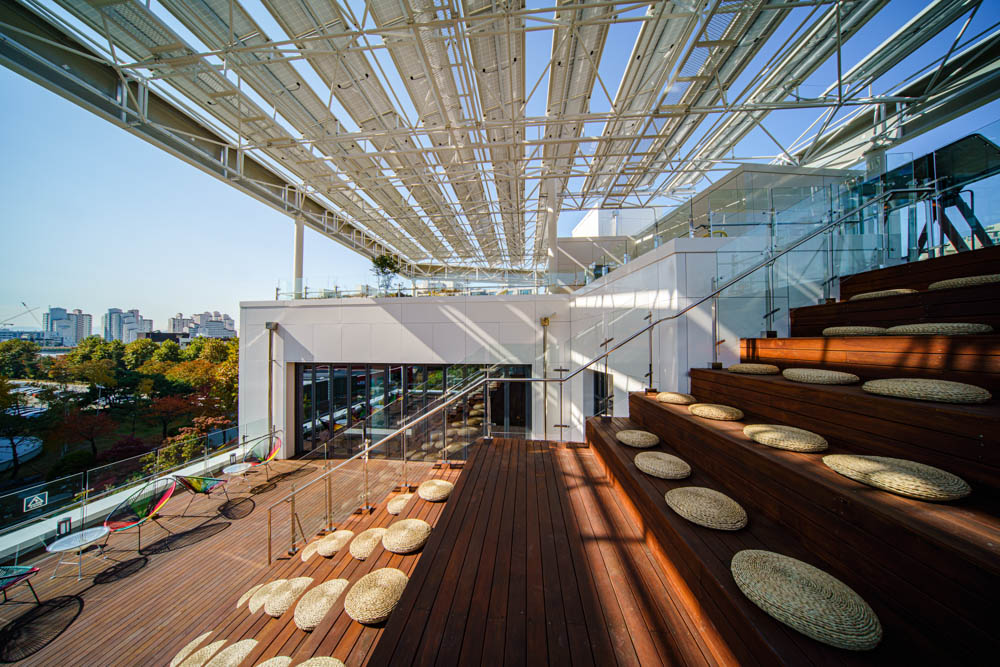 In order to embody DunChon library as a zero-energy building, a passive design element technique was introduced. An energy recovery ventilator was introduced while securing air-tightness performance, and heat loss due to heat bridges was minimized by applying an exterior insulation method. Cooling energy consumption was minimized by using triple glass system windows and external solar control devices. Through such energy-saving design technologies and materials, we were able to realize a library free from ultra-fine particles, yellow dust, the intense heat and severe cold. The power produced by the solar modules on the roof and the elevation can cover a significant portion of the energy used by the building (cooling, heating, hot water, ventilation, lighting, etc.). Furthermore, the building's energy consumption and solar power production can be measured separately by hour, day of the week, and season.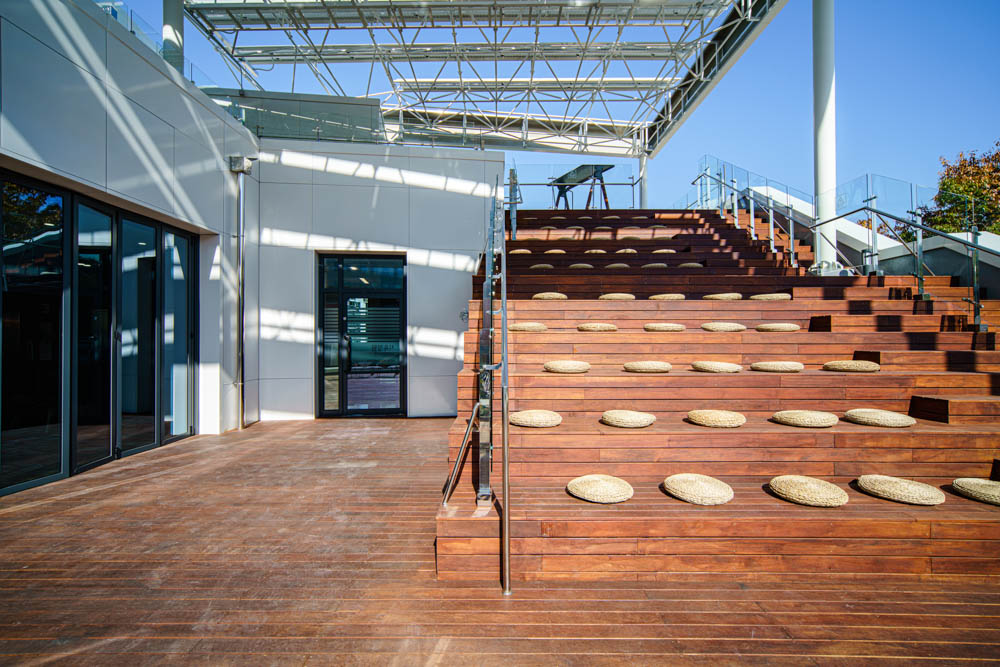 Residents will experience a pleasant environment through the energy-saving design technology and clean energy production technology hidden in a small library of a neighborhood. Dunchon Library is another example of the possibility that human beings and planet Earth can achieve sustainable development. Written by: Myungjoo Lee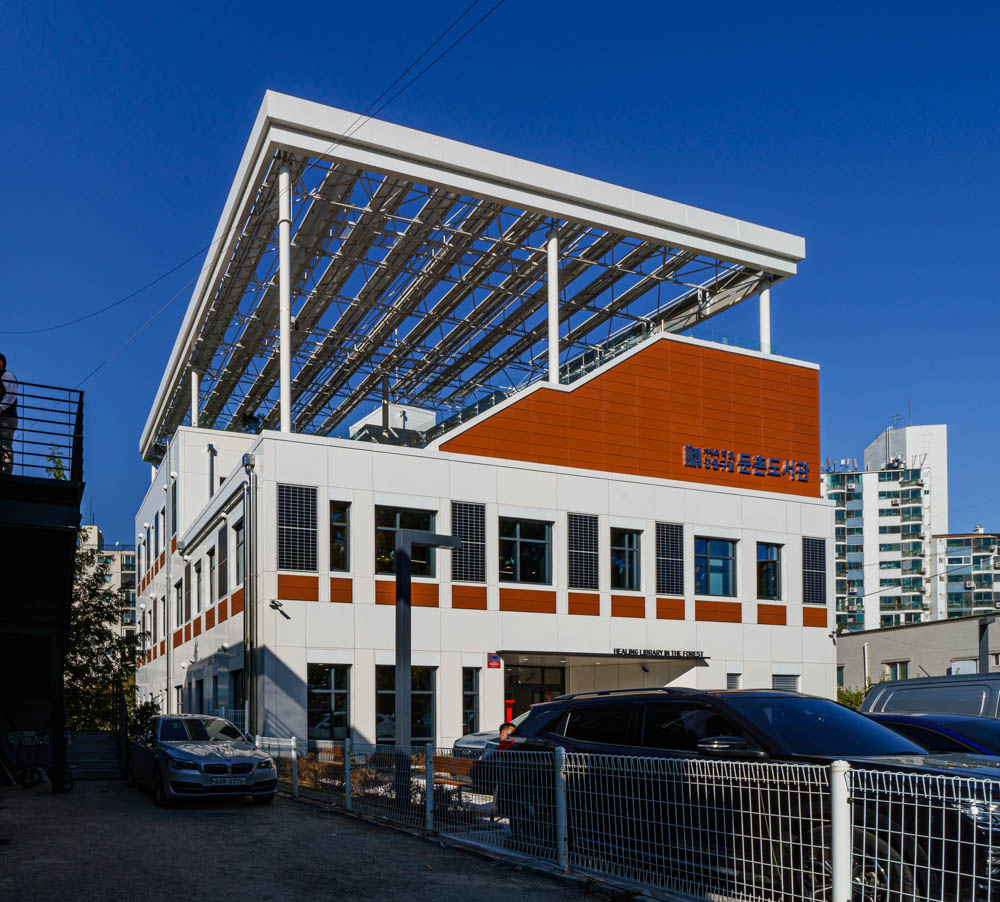 둔촌도서관은 4가지 특징을 가지고 있다. 첫 번째 특징은 열린 도서관 계획이다. 3층 외부 독서데크에 위치한 계단을 오르면서 일자산을 바라볼 수 있다. 두 번째는 실내 열람실과 실외 독서데크를 자유롭게 오가면서 책을 읽을 수 있는 공간이라는 것이다. 특히 계단식 독서데크에서는 저자간담회, 북콘서트, 동아리 모임도 가능하다. 셋째, 옥상정원과 태양광이 상생하는 도서관이다. 태양광 모듈을 옥상정원 상부 구조물과 결합하여 휴식공간 조성과 전력생산이 모두 가능하다. 마지막으로 둔촌도서관은 건축물에너지효율등급 1+++, 제로에너지건축물 4등급(자립률 54%) 인증을 취득한 국내 최고 에너지성능의 제로에너지 도서관이다.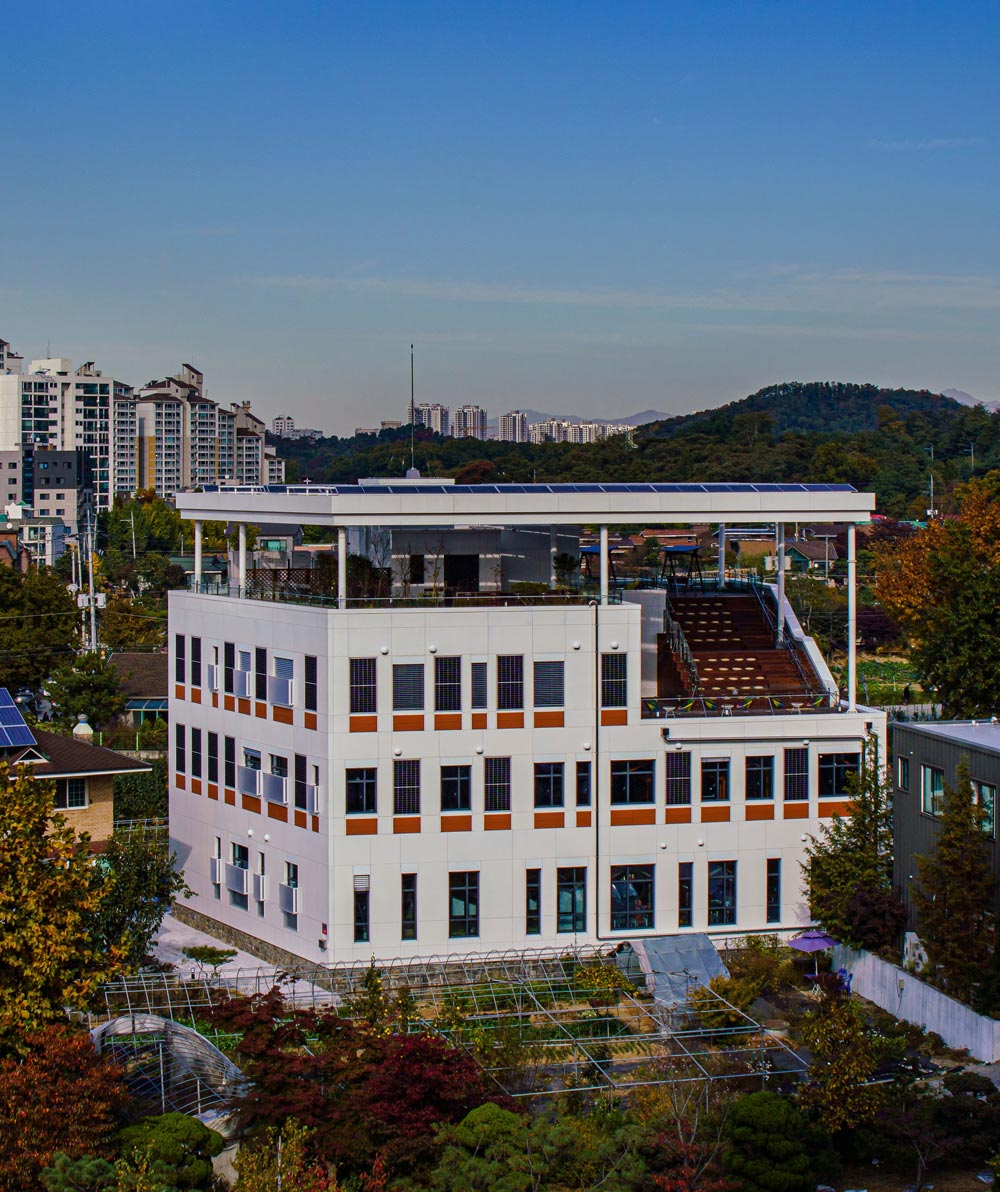 둔촌도서관을 제로에너지 건축물로 실현하기 위해 패시브설계 요소 기술을 도입했다. 기밀성능을 확보하면서 열회수형 환기장치를 도입했으며, 외단열공법을 적용하면서 열교로 인한 열손실 부위를 최소화한다. 3중유리 시스템창호와 외부 일사조절장치를 활용하여 냉방에너지 소비량을 최소화했다. 이러한 에너지절약 설계기술과 자재를 통해 초미세먼지와 황사, 폭염 그리고 혹한에도 걱정 없는 도서관을 구현할 수 있게 됐다. 지붕과 입면의 태양광 모듈에서 생산한 전력은 건물에서 사용하는 에너지(냉방, 난방, 온수, 환기, 조명 등)의 상당 부분을 충당할 수 있다. 또한, 시간별, 요일별, 계절별로 건물에서 사용하는 에너지 소비량과 태양광 발전 생산량을 분리 계측할 수 있도록 계획됐다.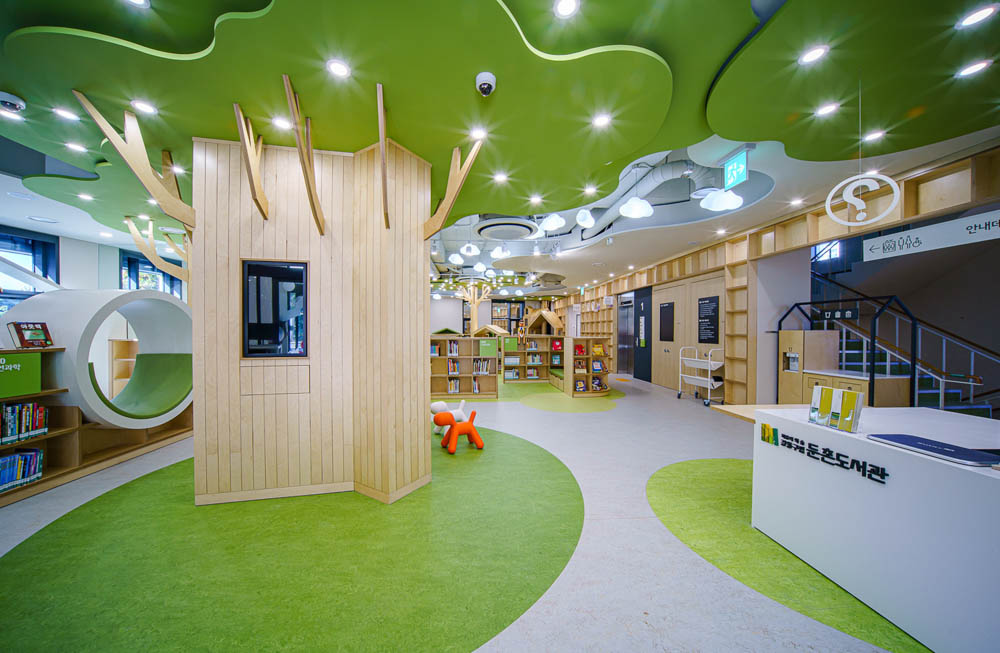 동네의 작은 도서관에 숨겨진 에너지절약 설계기술과 청정에너지 생산기술을 통해 주민들은 쾌적한 환경을 경험하게 될 것이다. 둔촌도서관은 인간과 지구가 지속가능한 발전을 할 수 있다는 가능성을 보여주는 또 하나의 사례다. 글: 이명주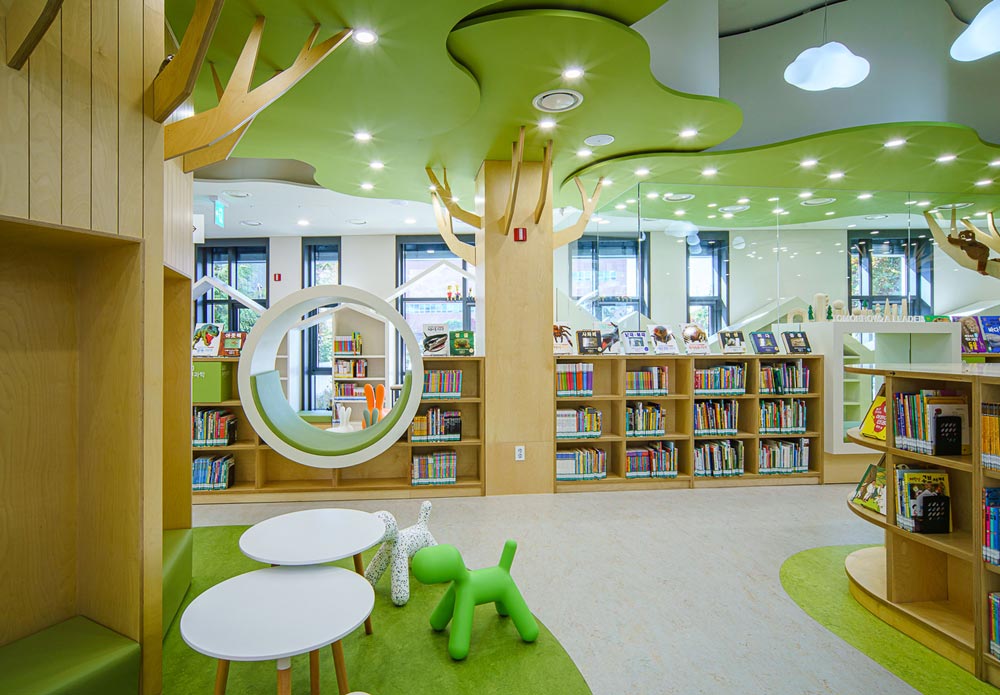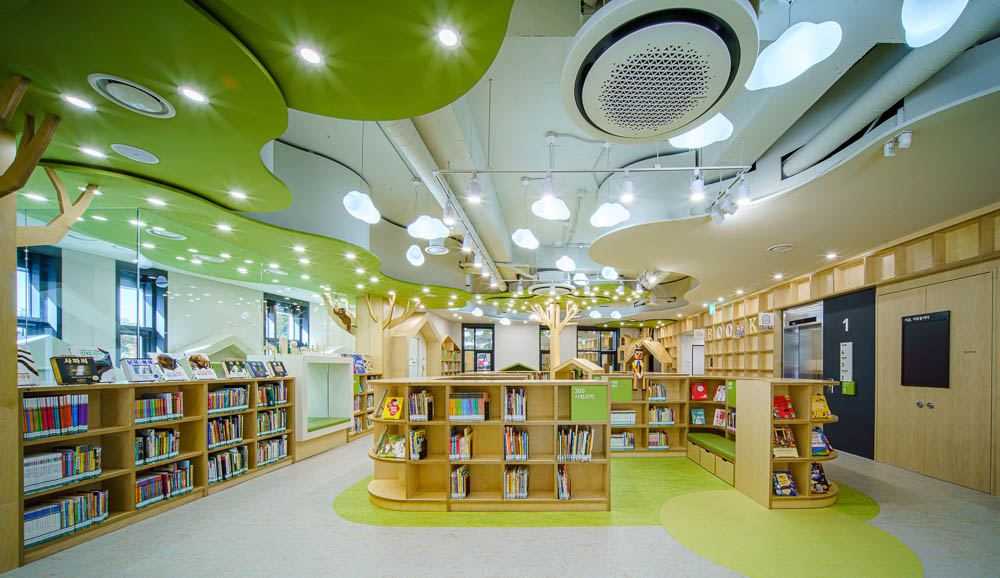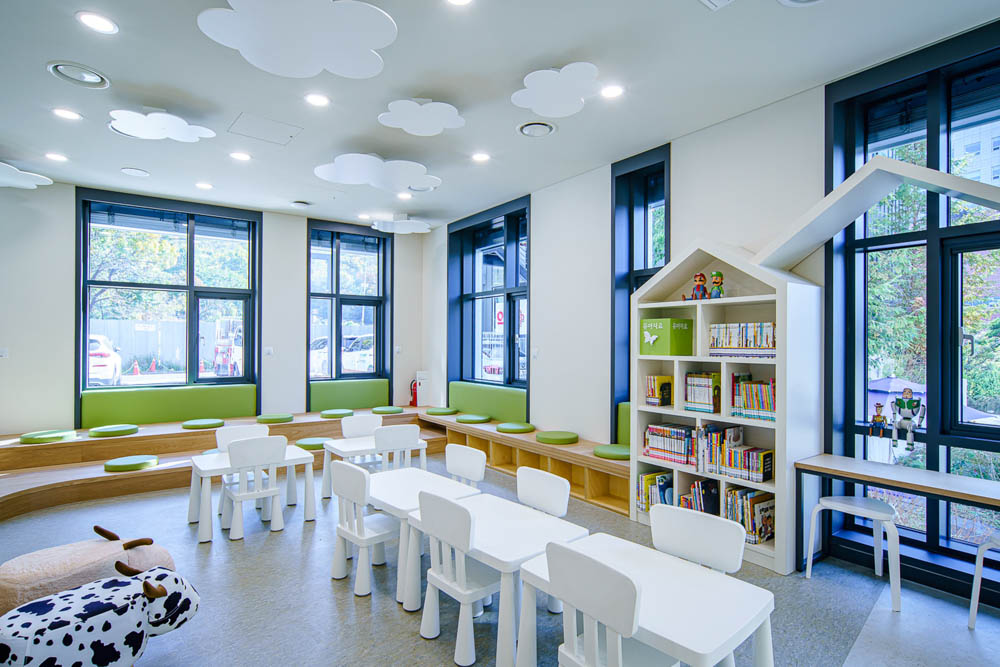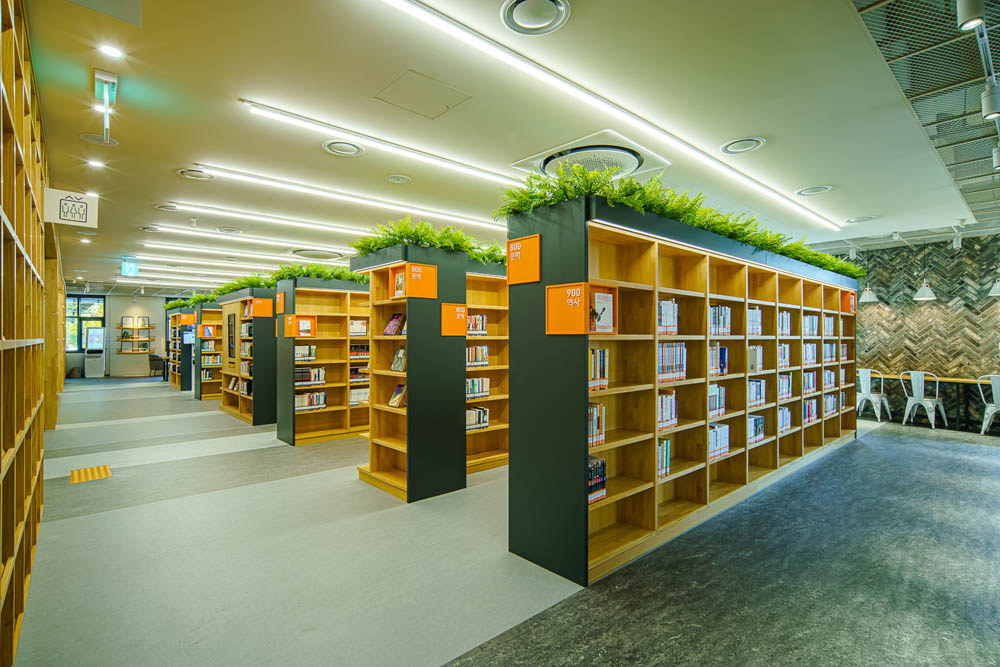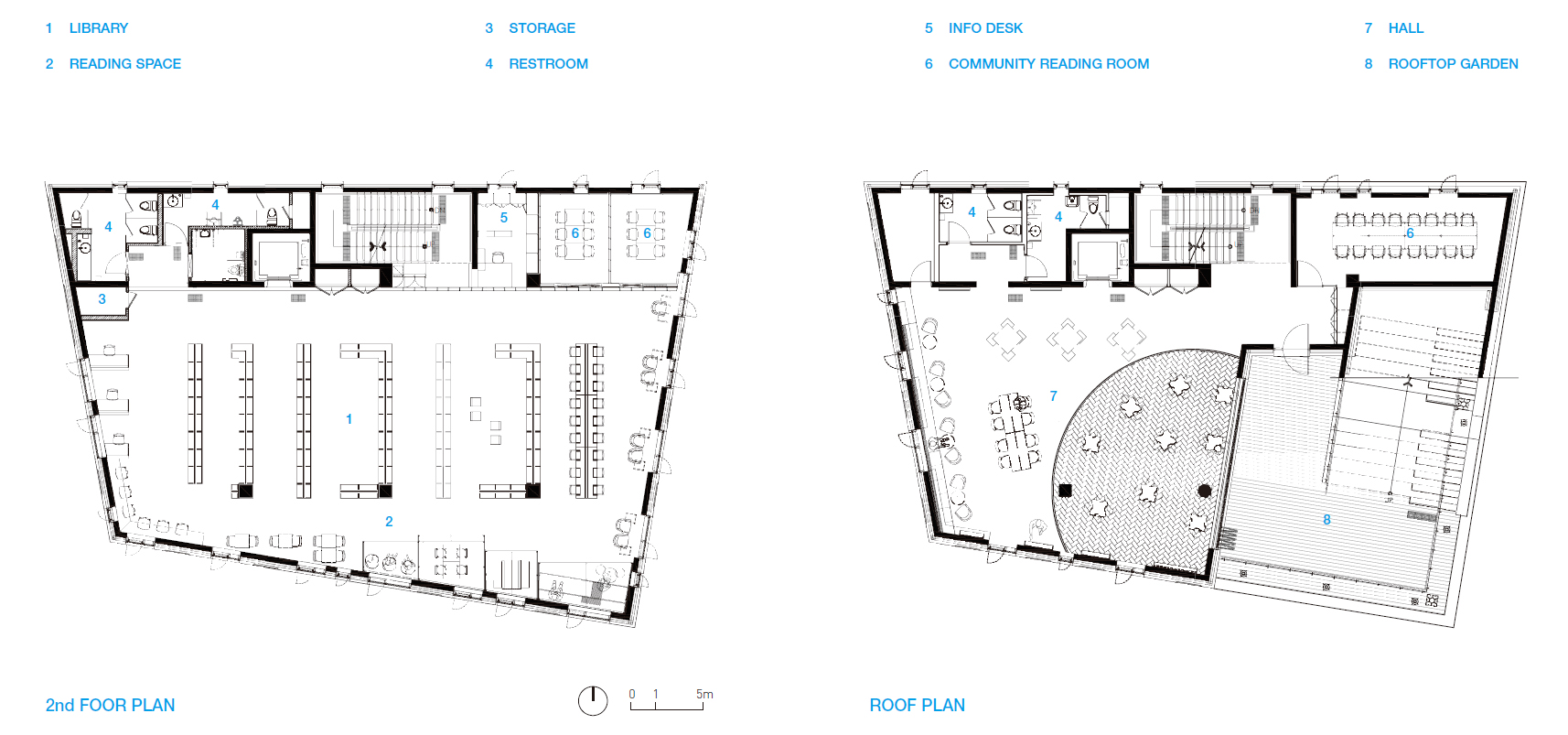 Architect ZED ARCHITECTS CO.,LTD
Location Dongnam-ro, Gangdong-gu, Seoul, Republic of Korea
Program Library
Site area 793.0m2
Building area 378.31m2
Gross floor area 996.98m2
Building scope 3F
Building to land ratio 47.71%
Floor area ratio 125.72%
Completion 2020. 11
Principal architect Myoungju Lee, Joong Seok Cho
Client Gangdong-gu Office
Photographer Eungshin Lee
해당 프로젝트는 건축문화 2021년 4월호(Vol. 479)에 게재 되었습니다.

The project was published in the April, 2021 issue of the magazine(Vol. 479).
---
마실와이드 | 등록번호 : 서울, 아03630 | 등록일자 : 2015년 03월 11일 | 마실와이드 | 발행ㆍ편집인 : 김명규 | 청소년보호책임자 : 최지희 | 발행소 : 서울시 마포구 월드컵로8길 45-8 1층 | 발행일자 : 매일